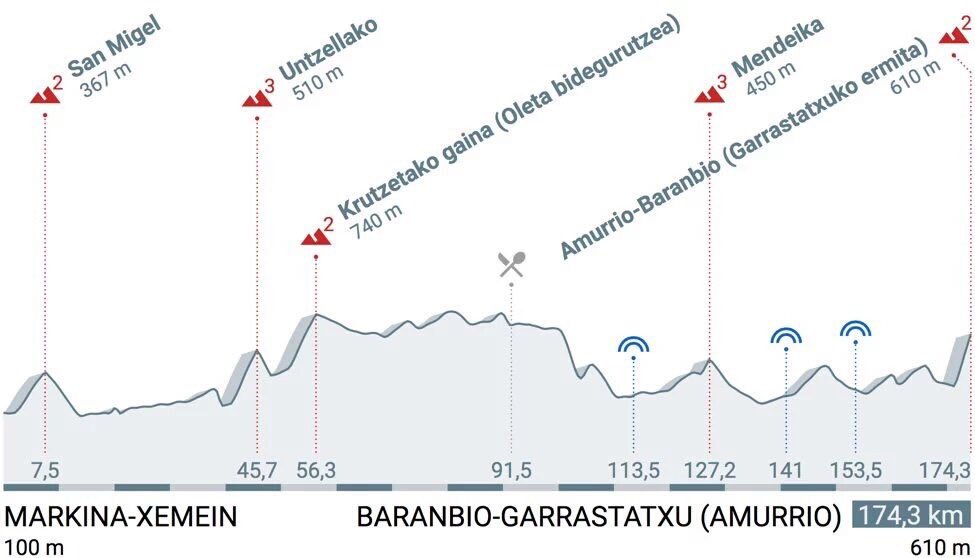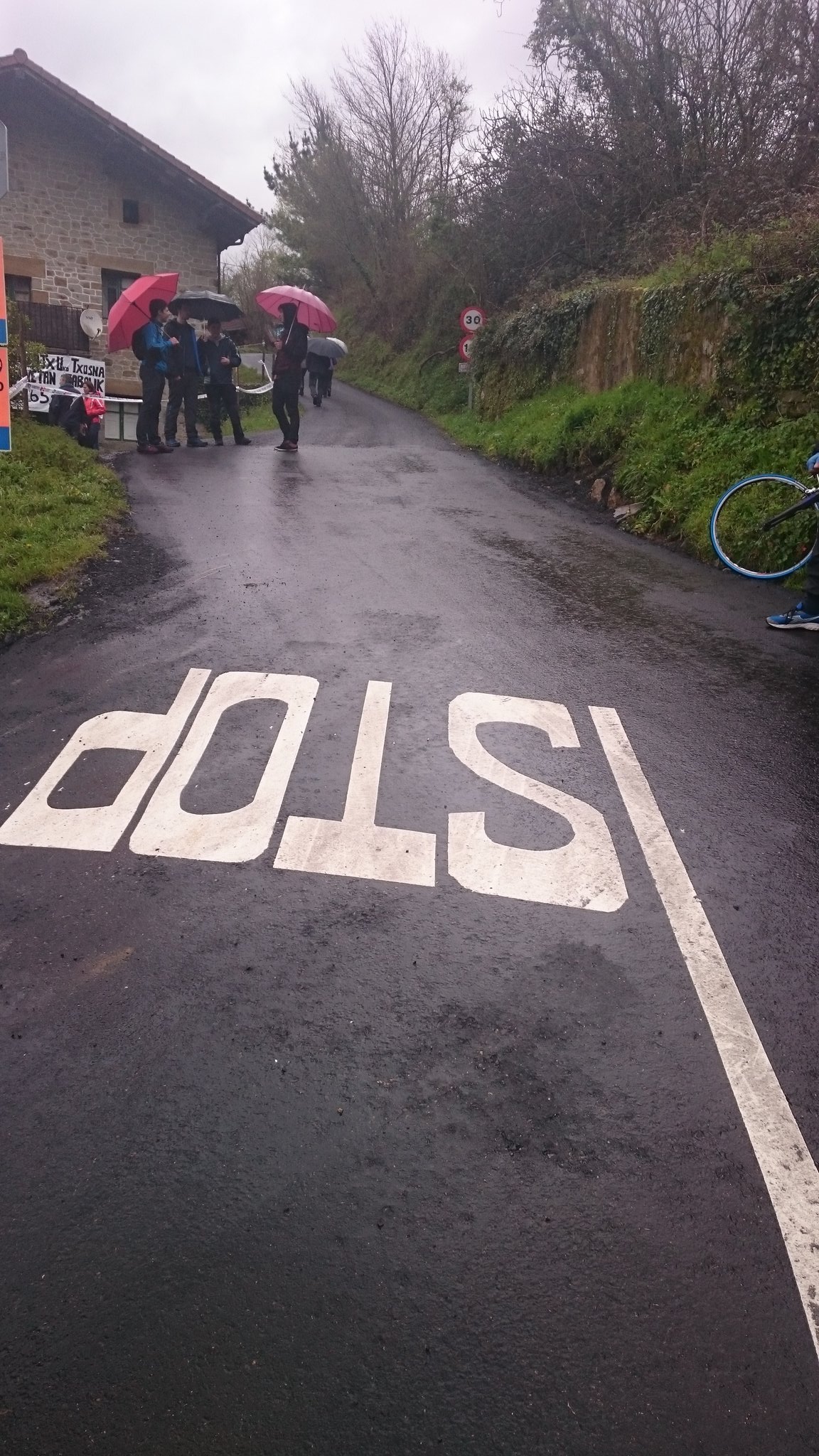 A new day and

a whole set of options

: that's why I love

stage races

. It isn't just about the winner, the strongest and the luckiest in that singular day.

It's the most about strategy, attacking at the right moment and saving energy for the rest, and waiting and calculating and managing your chances.
Then the lovely Basque landscape...!

savage mountains, dark green forests...

Modern towns and modern large highways aren't great to see, I agree. But Euskal Herria is now building in a different style, just look to Bilbao. Ah... this is much more than a bike race!
Today the

break

took a bit longer to go away. Four riders are up the road: Denifl, Meintjes, Petilli and Madrazo. After 30 km they have 1'30" . After 63 km Meintjes and Petilliits have been dropped so the break-away is reduced to

Denifl

and

Madrazo

. The gap is 4'20". And it's

raining

.
67 km to go the gap is 3'34". Remember in this race there are no bonification but there is a special classification for the

intermediate sprints

. News come that the jury

cancealed

them today due to oil on the road.

Delika Canyon waterfall!

what a magic! Meanwhile

Mendeika

: the penultimate climb, 3th cat. Team

Astana is controlling

and the gap remains about 3'30''. 44 km to go

Lastra

attacks from the peloton to get the 1 point as 3rd at the KOM. Then he almost stops waiting for Edet who followed, and didn't look happy. By the way

Edet grabbed the Mountain Jersey

yesterday and he wants to keep it today. Indead Lastra and Edet keep

arguing

. News come Louis Meintjes and Sergio Paulinho abandoned.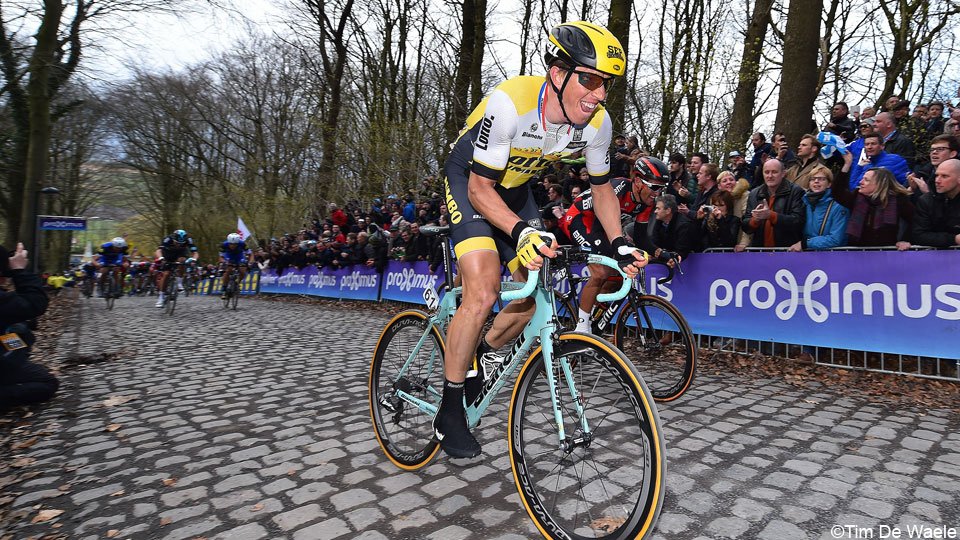 37 km to go Denifl and Madrazo have 3'48" on Lastra and Edet and 4'05" on the peloton. A Trek rider

crashed

while coming back with bottles from the car. He's

Kiel Reijnen

. Behind the crash the peloton split and now some riders have to chase. 20 m to go, last - and sole -

intermediate sprint

: no sprint and Denifl gets it. In the peloton Katusha is pulling but Edet goes taking the last 1 point. He's also leading the Sprints classification. Gap is down to 1'40" . 16 km to go OmarFraile has a rear wheel puncture. KOM for the break, and

Madrazo is the virtual mountain leader.

Now the race is approaching the last climb. Fight for position on the large road. 11 km to go and the break is caught. Team Sky go in front. The pace is very high.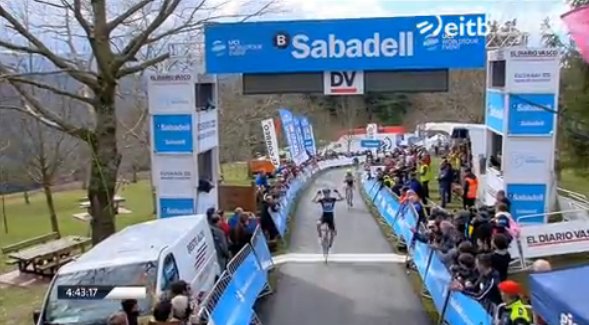 Garrastatxu
and its
Ermita.
The road is narrowing. Contador is in pole position as well as Purito Rodriguez. 12 % average, 20 % maximum.

Landa attacks. Kelderman

goes on counter with

Vuillermoz

. They have a gap. Vuillermoz s losing the wheels. Kelderman keeps going, Landa glued. The peloton looks still. Big selection.
Last km. Costa attacks, Contador follows with Quintana and Rodriguez. Landa and Kelderman have 10''.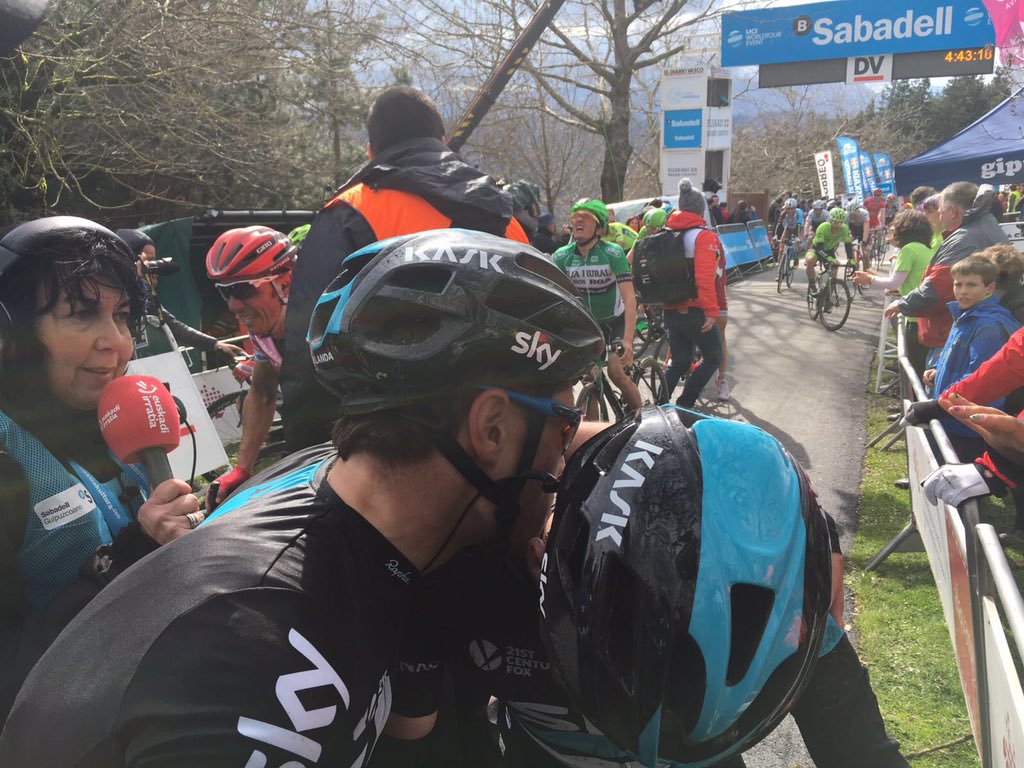 Landa launches the sprint. Kelderman doesn't give up. Landa wins: stage and Jersey.

Behind Henao, Sanchez and Contador. A great day for Team Sky but Wilco Kelderman is poor class.
Mikel Landa: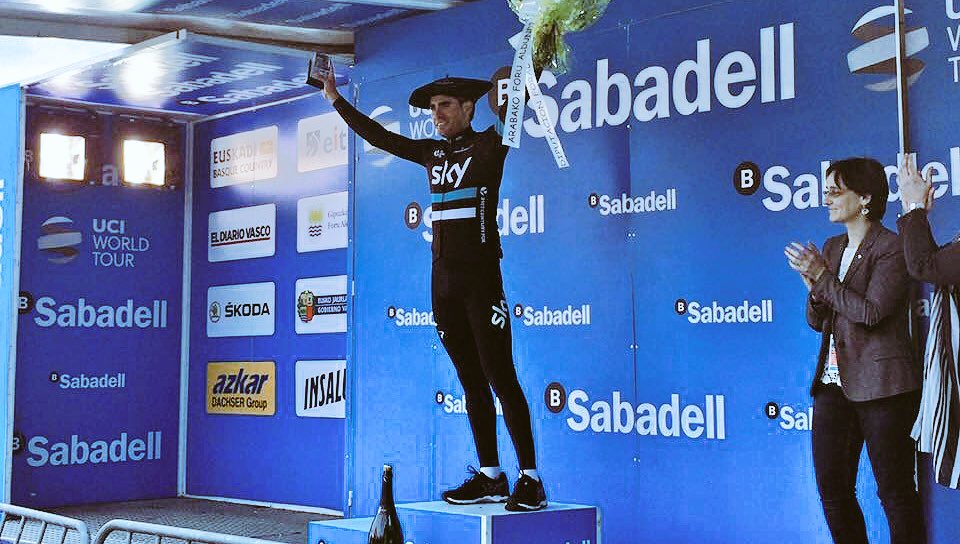 "It's really nice. Never in my wildest dreams did I think I could win today - I'm really happy.
The climb was very close to my house, just 15 km away, and I know it very well. That really helped me get the win.
Me and Sergio are first and third after the first mountain stage which is very important and great motivation for us. We are going to fight for the overall victory."
Wilco Kelderman: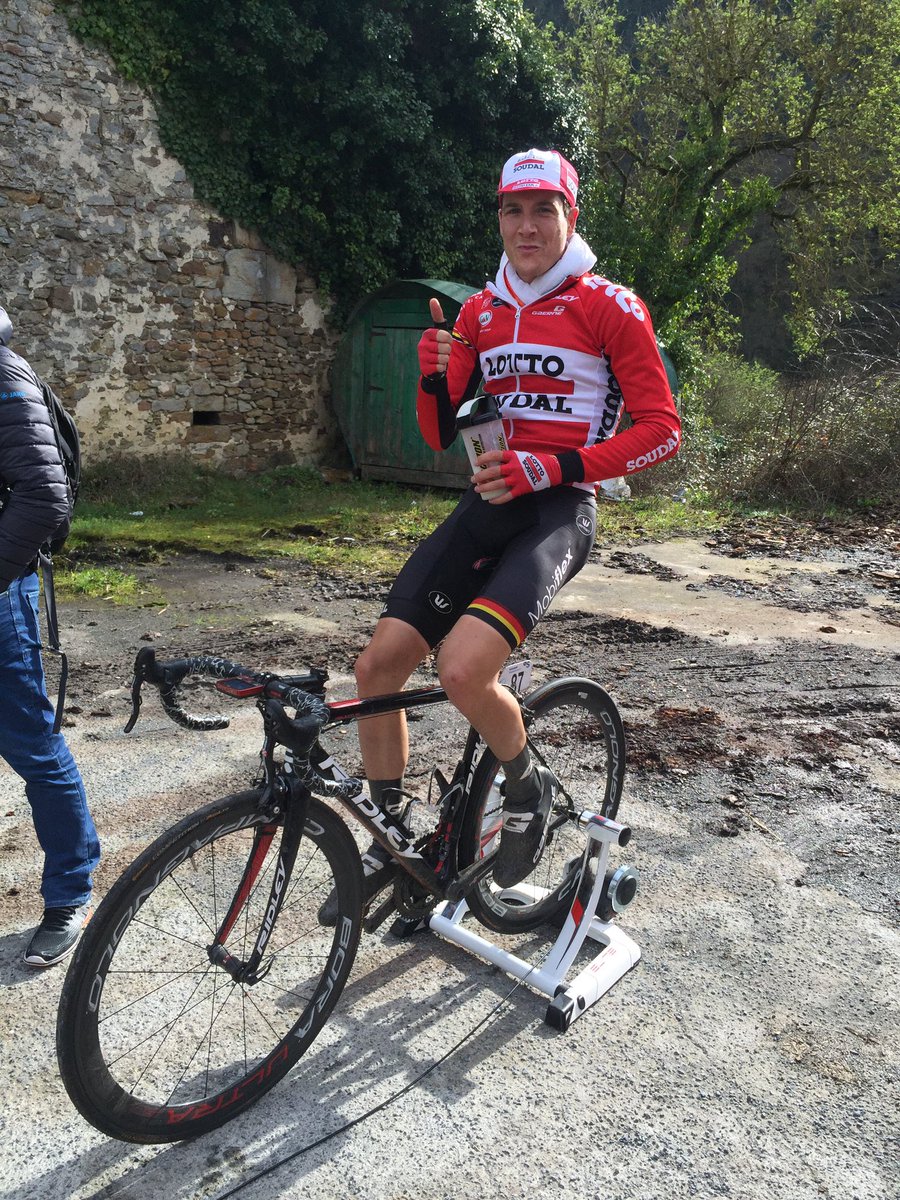 "It was a very tough stage. It was raining and we were riding on a plateau, so it was extra cold. Victor Campenaerts crashed in the beginning of the stage and I fell over him. That was annoying, but it didn't change my goal. The final climb was steep, so I wanted to set my own pace, and I did. When Landa took the lead, I had to push myself immediately. He was a little stronger than me, unfortunately, but we did a good job as a team."
Alberto Contador: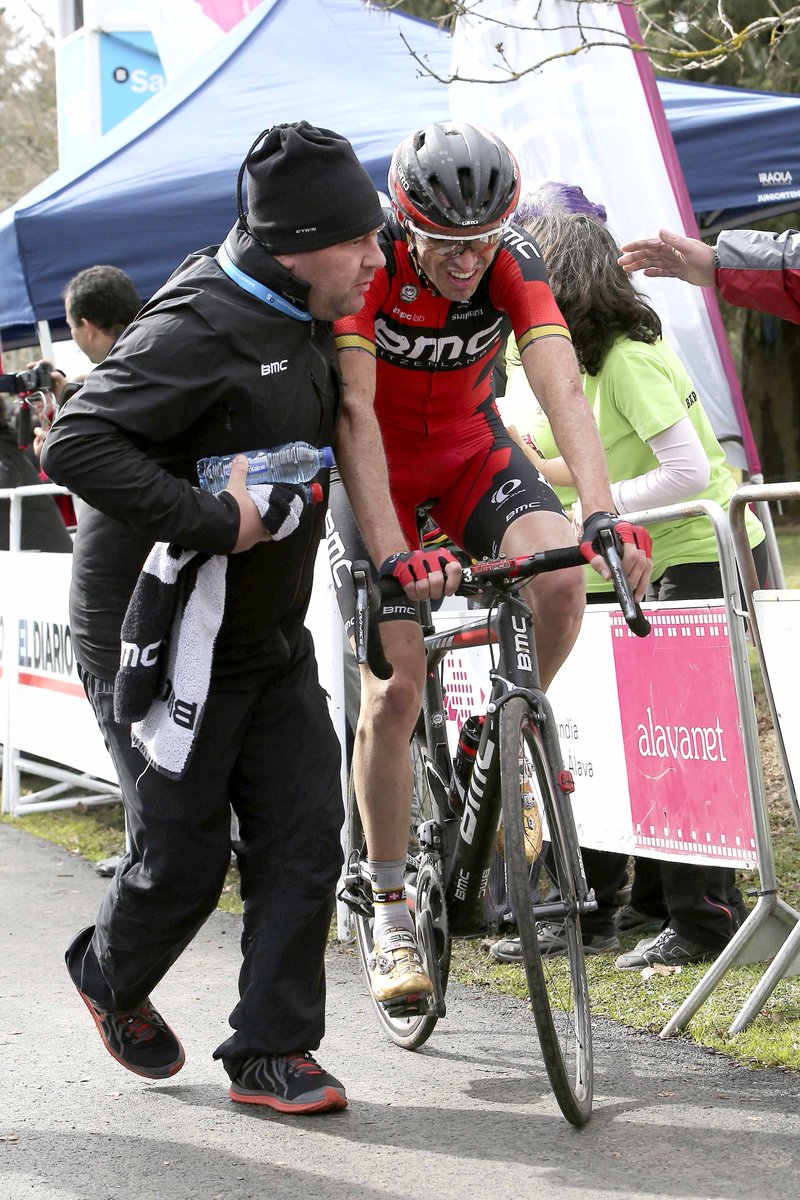 "It was a tough stage, mainly because of the weather as it rained in the first part and it was quite cold. We knew we had to be well-positioned ahead of the last climb and that's what we did. During the climb nobody was taking any responsibility. Although I was feeling in good form, I was reluctant to take all the responsibility by myself and pull to reach the two escapees. That's why I decided to wait. I think I erred in Catalunya by taking too much things in charge, so I was a bit more cautious here.
At the end, we lost a few seconds against some riders. But what I take from the day is that the legs are there and the race is still open. There are still three road stages ahead and a final time-trial. Although we have to take this race day by day, given the weather conditions as well, I think that the time-trial will decide the Vuelta al Pais Vasco."
Bauke Mollema:
"Before I came here I was a bit afraid of these first two days after being sick last week, and in the end, I only lost 10 seconds on most of the GC guys. I think it can only get better from this point on.
On Sunday I did a recon of this climb with Haimar (Zubeldia), so I knew it was a really hard climb. However, in training it always feels easier than in the race. Although it's good to know the climb, you really just go full gas up it, you don't think. It was more important to see the kilometers going into the climb, so you know when and where you have to be in front, and that helped. Laurent (Didier) and then Fabio helped me into the turn to the climb, so we were in good position. Those are the moments that everyone wants to be in front and we were well placed so we could save some energy in the first meters of the climb. After, when the attacks came, I just did my own pace. I felt that I missed a bit the explosiveness, but kept coming back a few times, I kept fighting. In the last few hundred meters, I lost some seconds on most of the favorites, and that is always a pity.
The next two days should be a little easier – although there are never easy days here – and then the final two days will be decisive for the GC."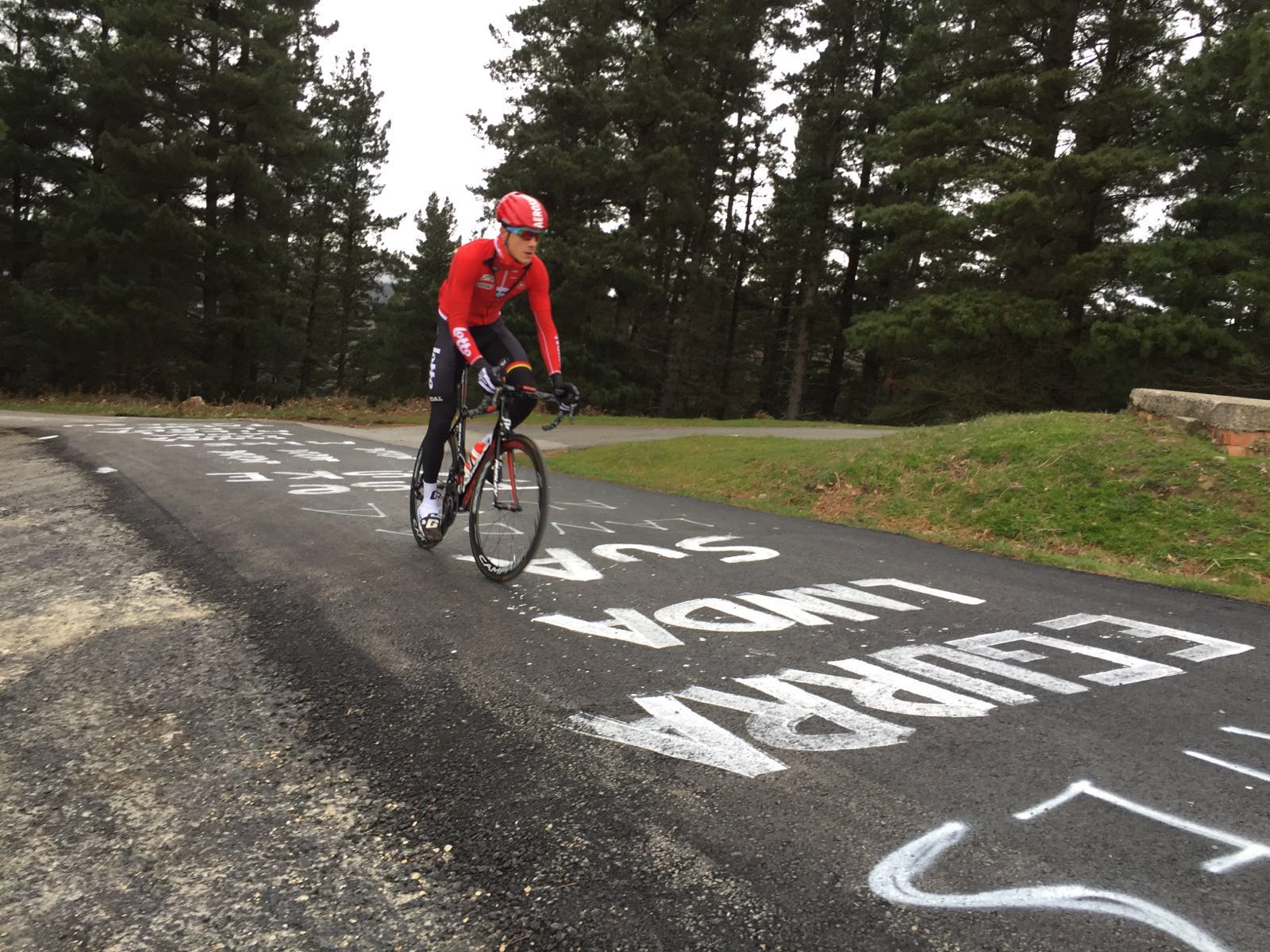 Louis Vervaeke:
"This was the first time that I really had the chance in the team to go for the general classification. I was pretty nervous at having this opportunity, because it meant that I had riders of the calibre of Tony Gallopin and Maxime Monfort pulling for me during the race. To have riders like these, who have produced so many good results of their own throughout their careers, help me made me a bit nervous, but at the same time, I really wanted to prove something to the team, which has given me this opportunity. I came twelfth, so I think that I did well today. Looking forward, I believe that a top ten position is possible this week. And so I'm very happy that I didn't let down the team and the belief they have put in me. Overall I'm very happy with my race so far."
Warren Barguil:
"I was not in the best of shapes today but the guys did a great job in supporting me all today. On the uphill finish, I shifted a too heavy gear in the final 500 meters and that's the reason why I lost a bit of time. But I am optimistic about my progress and I look forward to the upcoming races."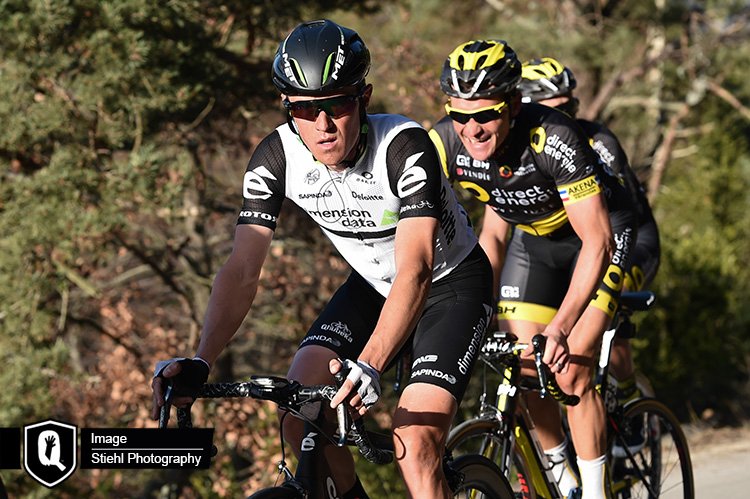 Serge Pauwels:
"The finish was up a very steep goat path. Position at the bottom was crucial and the guys helped me out there and then I gave it my best shot. I am not explosive enough to do a super result on a steep climb like this but I was happy to be up there in the select group of riders for a long time."
RESULTS
STAGE
1
11
LANDA, Mikel
SKY
04h 43' 17"
2
178
KELDERMAN, Wilco
TLJ
04h 43' 18"
+01"
3
12
HENAO, Sergio Luis
SKY
04h 43' 22"
+05"
4
41
SANCHEZ, Samuel
BMC
04h 43' 26"
+09"
5
51
CONTADOR, Alberto
TNK
04h 43' 28"
+11"
6
91
PINOT, Thibaut
FDJ
04h 43' 30"
+13"
7
111
COSTA, Rui
LAM
04h 43' 32"
+15"
8
21
QUINTANA, Nairo
MOV
04h 43' 32"
+15"
9
171
GESINK, Robert
TLJ
04h 43' 32"
+15"
10
95
REICHENBACH, Sebastien
FDJ
04h 43' 32"
+15"
11
1
RODRIGUEZ, Joaquim
KAT
04h 43' 32"
+15"
12
87
VERVAEKE, Louis
LTS
04h 43' 32"
+15"
13
181
BILBAO, Pello
CJR
04h 43' 36"
+19"
14
3
SPILAK, Simon
KAT
04h 43' 37"
+20"
15
65
CRADDOCK, Lawson
CPT
04h 43' 39"
+22"
16
151
ARU, Fabio
AST
04h 43' 39"
+22"
17
62
SLAGTER, Tom Jelte
CPT
04h 43' 41"
+24"
18
75
LATOUR, Pierre-Roger
ALM
04h 43' 43"
+26"
19
121
MOLLEMA, Bauke
TFS
04h 43' 43"
+26"
20
126
FELLINE, Fabio
TFS
04h 43' 43"
+26"
21
195
JEANNESSON, Arnold
COF
04h 43' 43"
+26"
22
161
BARGUIL, Warren
TGA
04h 43' 43"
+26"
23
106
PAUWELS, Serge
DDD
04h 43' 48"
+31"
24
78
VUILLERMOZ, Alexis
ALM
04h 43' 50"
+33"
25
131
MARTIN, Daniel
EQS
04h 44' 00"
+43"
26
101
ANTON, Igor
DDD
04h 44' 00"
+43"
GC
1
11
LANDA, Mikel
SKY
25
2
178
KELDERMAN, Wilco
TLJ
20
-5
3
12
HENAO, Sergio Luis
SKY
16
-9
4
41
SANCHEZ, Samuel
BMC
14
-11
5
51
CONTADOR, Alberto
TNK
12
-13
6
91
PINOT, Thibaut
FDJ
10
-15
7
111
COSTA, Rui
LAM
9
-16
8
21
QUINTANA, Nairo
MOV
8
-17
9
171
GESINK, Robert
TLJ
7
-18
10
95
REICHENBACH, Sebastien
FDJ
6
-19
11
1
RODRIGUEZ, Joaquim
KAT
5
-20
12
87
VERVAEKE, Louis
LTS
4
-21
13
181
BILBAO, Pello
CJR
3
-22
14
3
SPILAK, Simon
KAT
2
-23
15
65
CRADDOCK, Lawson
CPT
1
-24
MOUNTAIN and SPRINT
1. Edet