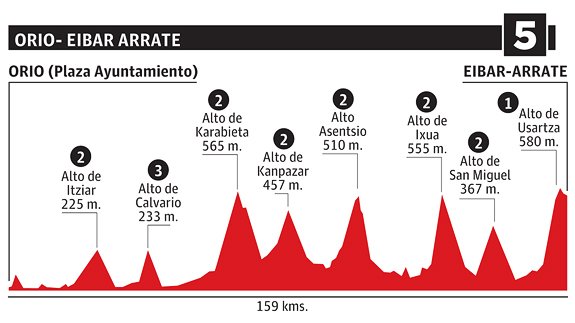 NOT a quiet day!
Itziar

, first climb of the day: 1. DENIFL (IAM, 143), 2. ROSA (AST, 156), 3. EDET (COF, 194),
After 33 km

the riders in front are 18

: Denifl, Zubeldia, Berhane, Woods, Belkov, Roy, Rosa, Ferrari, Geschke, Edet, Armee, P Velits, Plaza Moinard, Anacona, Martens and Perilli.
Kalbario, second clib of the day: 1. ROSA (AST, 156), 2. DENIFL (IAM, 143), 3. EDET (COF, 194).
But

Team Sky doesn't like

this break and the

gap is down to 30". The peloton to split. Rosa goes solo.
After 61 km there is

a large chasing group

including: Belkov, Silin, Lopez, Anacona, Plaza, Txurruka, Moinard, Peter Velits, Rolland, Woods, Monfort, Armee, Roy Berhane, Ulissi, De Plus, Verona, Zubeldia, Geschke, Martens, Ferrari, Denifl, Bagot and Edet.
Karabieta,

3rd climb of the day: 1. ROSA (AST, 156), 2. DENIFL (IAM, 143), 3. VERONA (EQS, 138). News come that Kiryenka abandoned.
Armee, Monfort, Edet and Verona

attacked and are trying to join Rosa. 70 km to go Rosa has 1'00" to these four, 2'35" to the larger chasing group and 3'45" to the peloton.

Kanpanzar

, 4th climb of the day:

1. ROSA (AST, 156), 2. ARMEE (LTS, 83), 3. MONFORT (LTS, 82), After 92 km

Aru crashes but is back in the peloton

. 51 km to go Rosa has 2'24" on Armee, Monfort, Edet and Verona, 4'10" on big chase and 6'01" on peloton Dan Martin abandoned, as well as Zandio, Hesjedal and Slagter.

Asentzio

, 5th climb of the day: 1. ROSA (AST, 156), 2. ARMEE (LTS, 83), 3. EDET (COF, 194).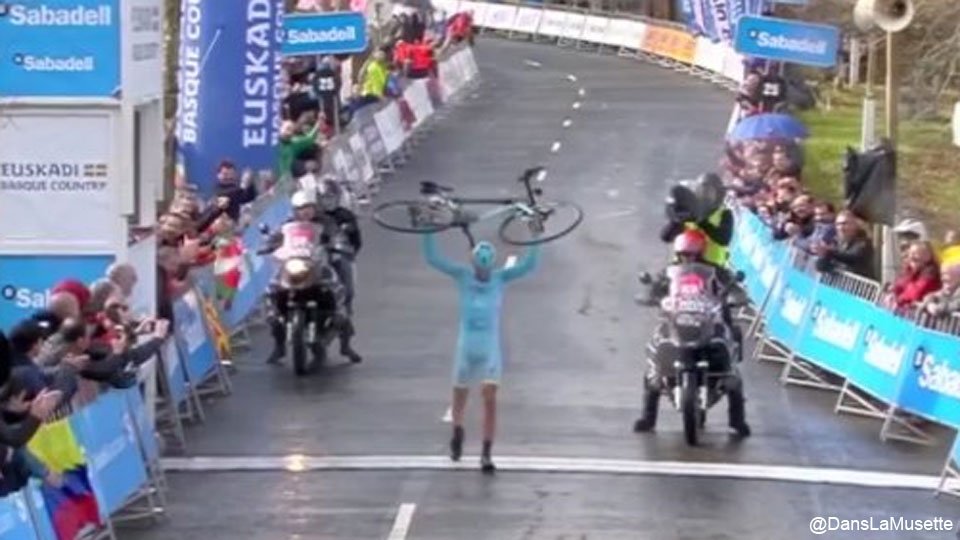 It seems that also Fabio Aru abandoned. No: he's still there. No: he is not! For sure Gerrans abandoned.

Izua

, the 6th climb of the day, short but nasty. The peloton caught the chasing group, only the four riders remain in the middle, then Rosa solo.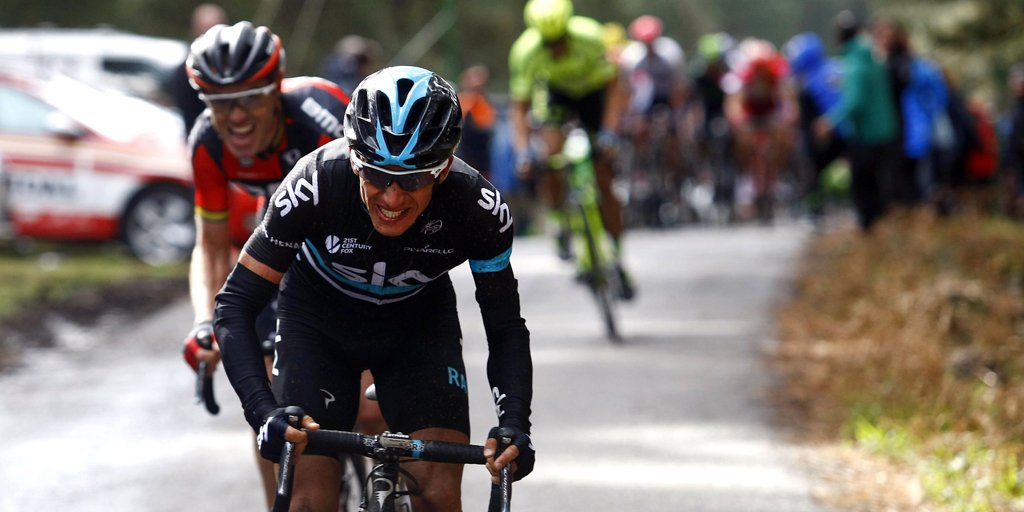 Cold and rain. The peloton is decimated.

Bauke Mollema is still there. Simon Yates crashed and abandoned.

The last four chasers are caught too. Gap is 3'35''.

Jan Bakelants, Jelle Vanandert and Tim Wellens abandoned.

Rosa conquere the KOM in the cheering Basque crowd

. The peloton is down to 14 riders, the rest is scattered all over the climb. At the KOM a few others managed to come back to the front. It would be interesting to know the names... As far as the

results for Izua

: 1. ROSA (AST, 156), 2. MONFORT (LTS, 82), 3. ARMEE (LTS, 83), 4. VERONA (EQS, 138). It seems that

Monfort and Armee

still have a 50'' adavantage on the group with the favourites.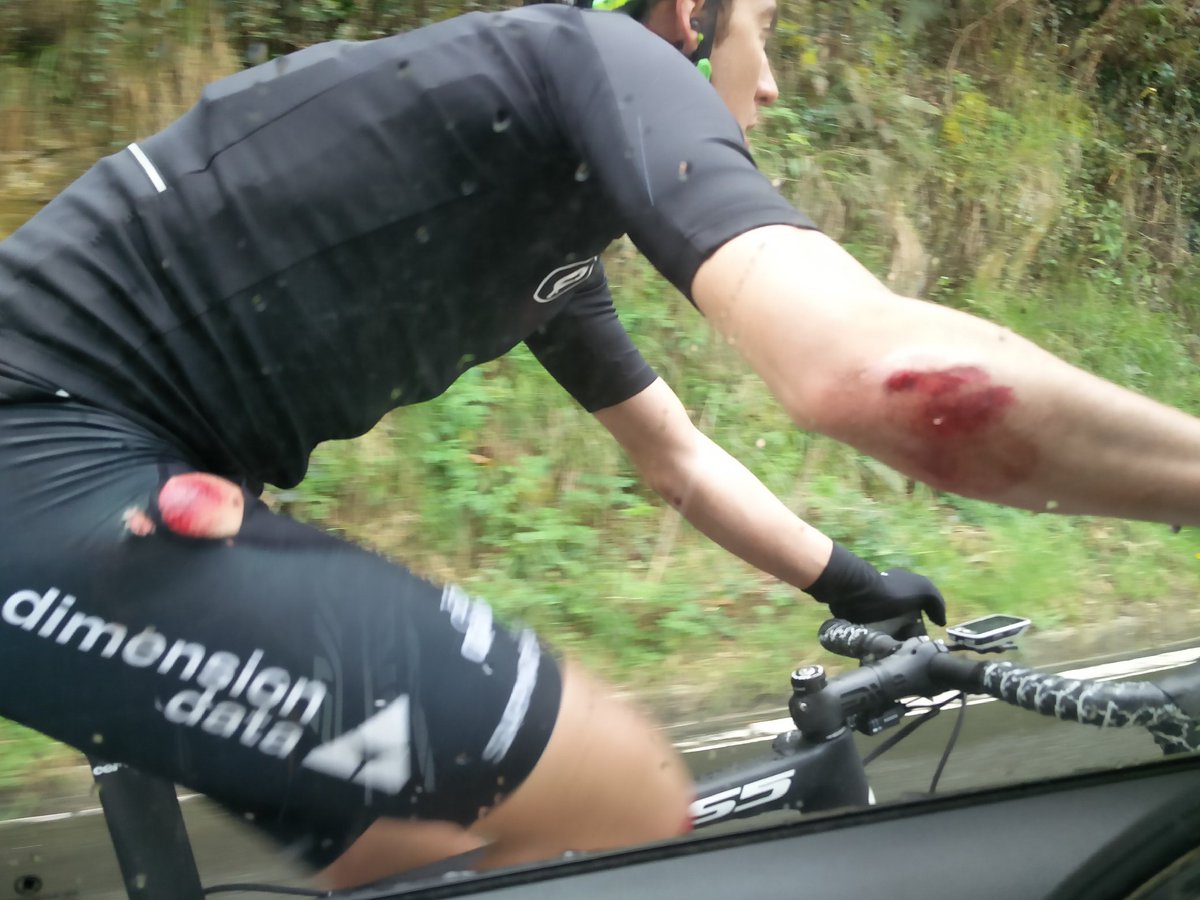 Fraile crashed :/

23 km to go

Rosa

has 4'15" on Armee and Monfort and 6'35" on select GC group. Three riders attacked from the peloton:

Landa, Lopez

and another one.

Urkaregi

, the 7th climb of the day. Rosa is still solo. Landa, Lopez,

Verona

and

Clarke

are chasing. Mollema has been dropped but he's back to the reduced peloton.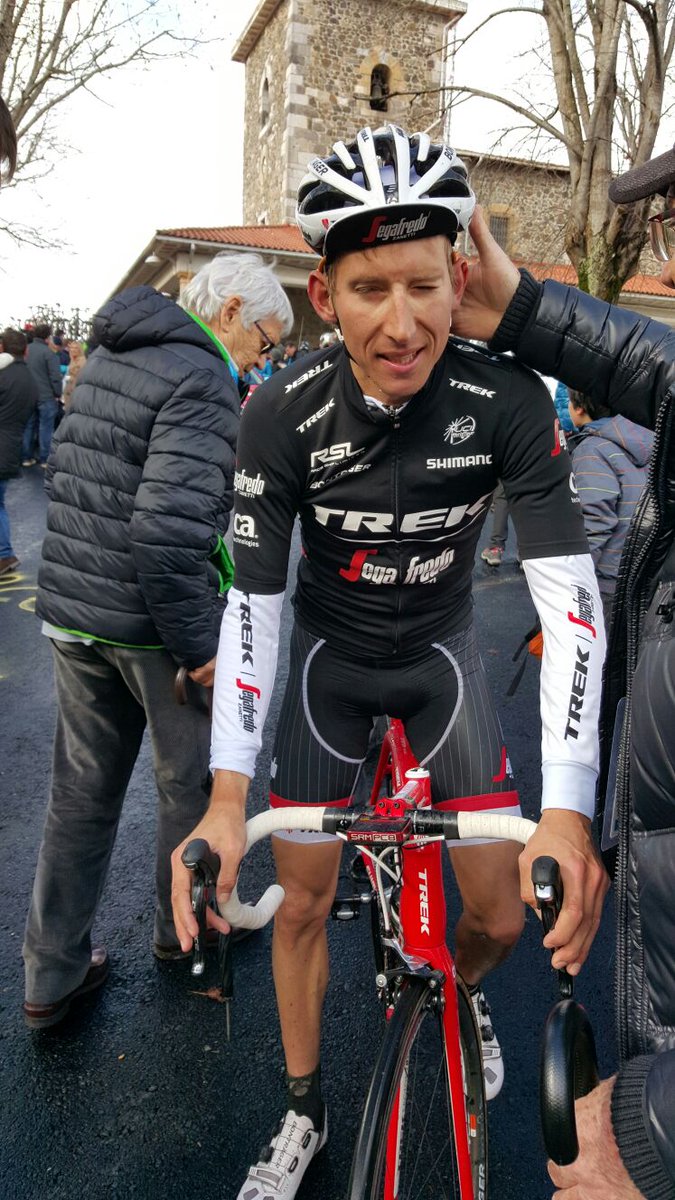 15 km to go

Serge Pauwels attacks and joins

the Landa's group. They are 6' behind Rosa and 30" ahead of the favourites. The gap between Landa and Kelderman is 30'' at the moment, they are 7'' in the GC so... Landa is back in the leader jersey... virtually. Perez in doing all the work, Landa on his wheel and the two others completely passive. In the peloton Team Sky is NOT pulling of course. Somebody say that mororbikes give them a push instead...

Aerate

, the 8th and last climb of the day. Lopez finished his job. 5 km to go. Kelderman is a lion, but he's alone: no mates, no help. Now

Contador attacks and Henao follows. Atop the climb there is the sun and a lot of people screaming

. Rosa is the 1st. Contador and Henao passed Landa and the rest. Then the group of Kelderman comes.

Last km for Rosa

and an advantage of almost 4' on the first chasing group, Henao and Contador.

A short descent, then the line. Rosa stops, rises the bike and walks across. He has won.

Henao and Contador arrive together but Henao is 2nd and Contador 3rd. So Henao is in Yellow. Mission accomplished for Team Sky.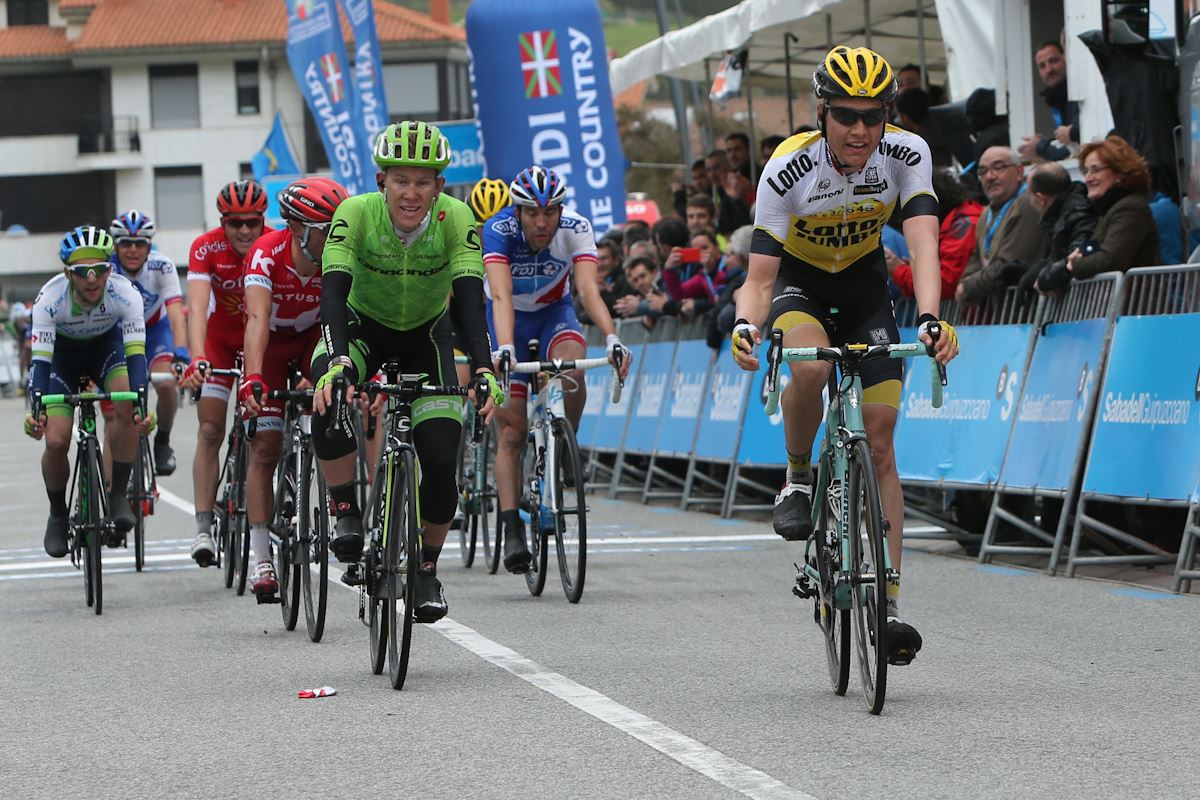 Wilco Kelderman:
"Victor Campenaerts took t
he turn first and he had to correct a little bit. I braked heavily and slipped away into the gutter. I didn't crash heavily, but had to change bikes. I was in trouble on the penultimate climb. That was a long and steep one. I was a little bit behind on top of it, but was able to bridge immediately. I'm satisfied with the way I finished this stage, though. I'm still in a good position."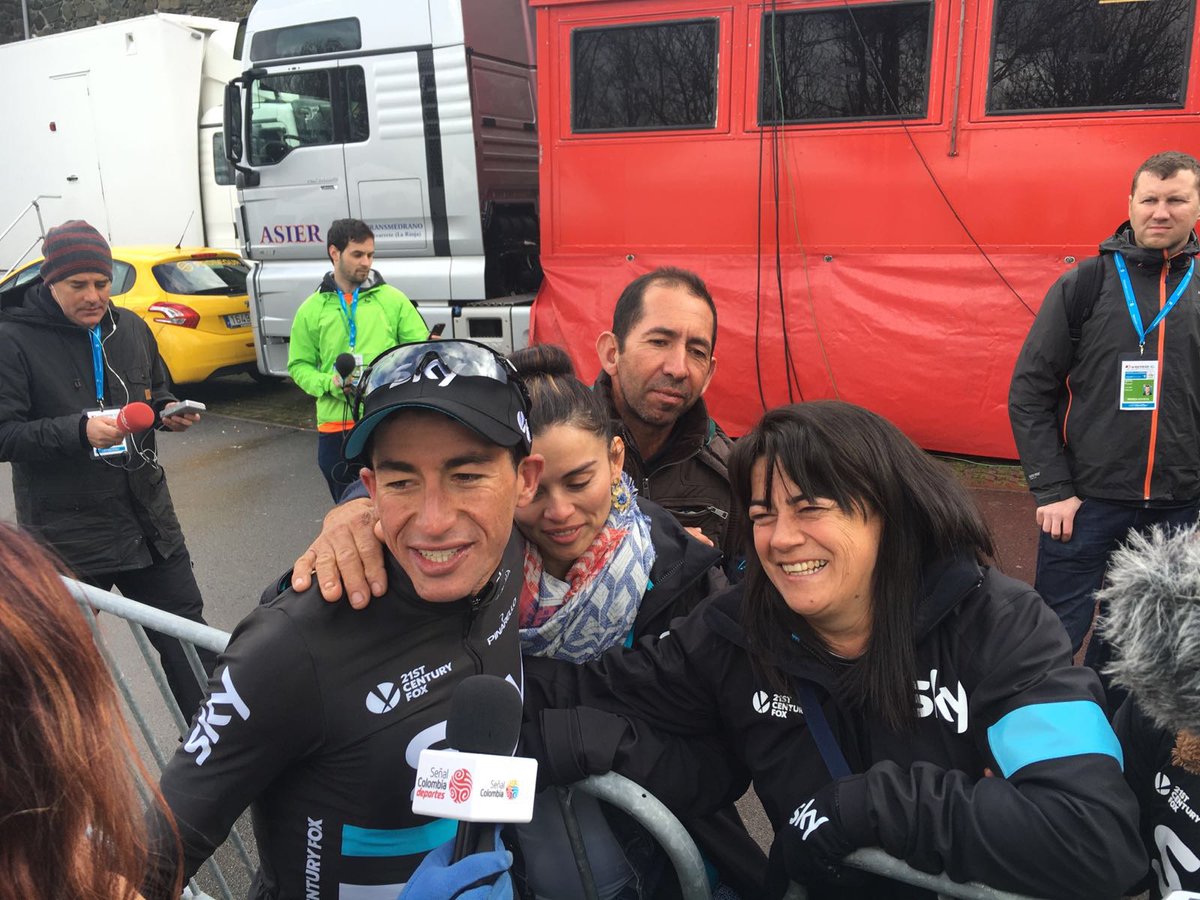 Sergio Henao:
"Tomorrow I'm going to give everything to achieve the victory, for the fans, for the love I get here, for the race"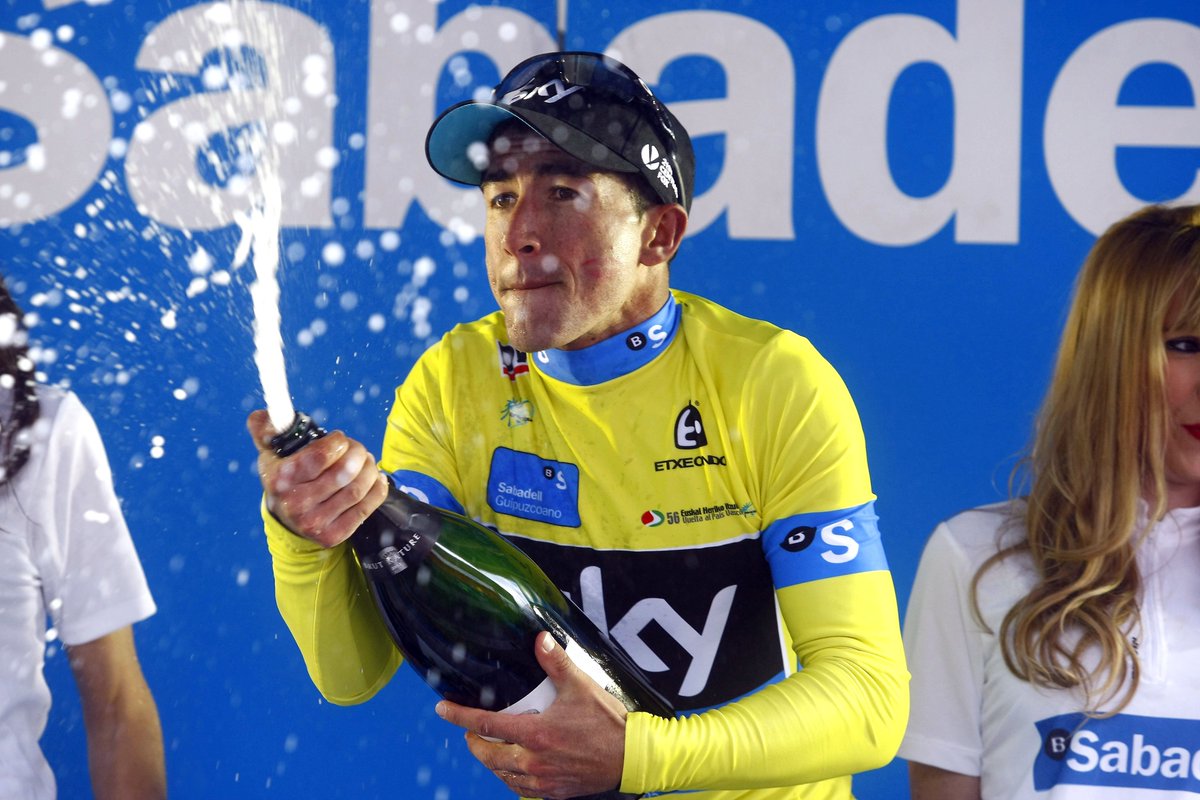 "I'm really happy. I've fought really hard every day to take the leader's jersey and I finally have it!
When me and Alberto [Contador] went to the front we both wanted to gain time ahead of tomorrow's time trial and we worked well together.
The team did a super job today and I'm really happy with all my team-mates. Tactically today we did a great job today too - Mikel's attack before the last climb forced the other teams to work. Everyone has been super focused across the week.
It's a hillier course than last year and the uphill sections will be really important. The time trial suits me better this year."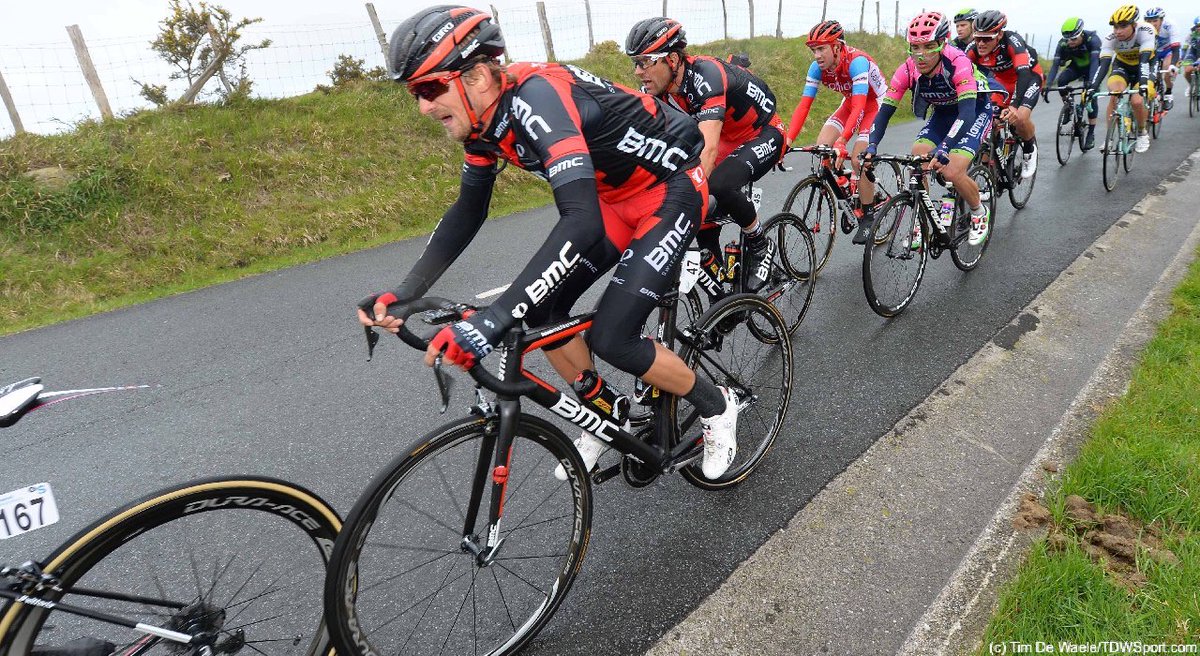 Samuel Sánchez:
"Today was a super hard day. It was really, really tough with all of those climbs. But I'm happy to still be in the top five on GC. I was still up there in the final climb and the team did a really good job of protecting me today.
I'm looking forward to giving it one more go in the time trial tomorrow as it's going to be very hard. I've had a good five days of racing so far and have been happy with my legs and my form."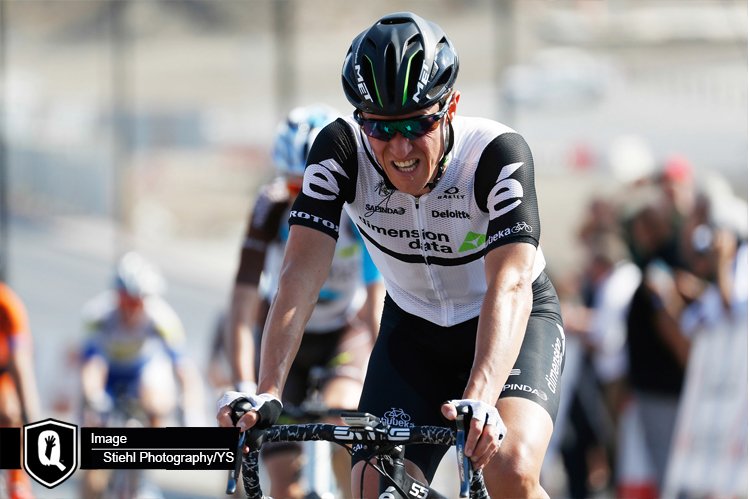 Serge Pauwels:
"This was a very hard stage. The weather was again pretty bad and there were a lot of climbs. On the steepest climb of the day I felt pretty good and decided to anticipate and to attack on the descent. Then Landa came across on the next climb and so we had a little advantage to start the finishing climb ahead of the Contador group. There I rode my own rhythm to finish top 10. I am happy with the result as this is the highest level of racing you can get."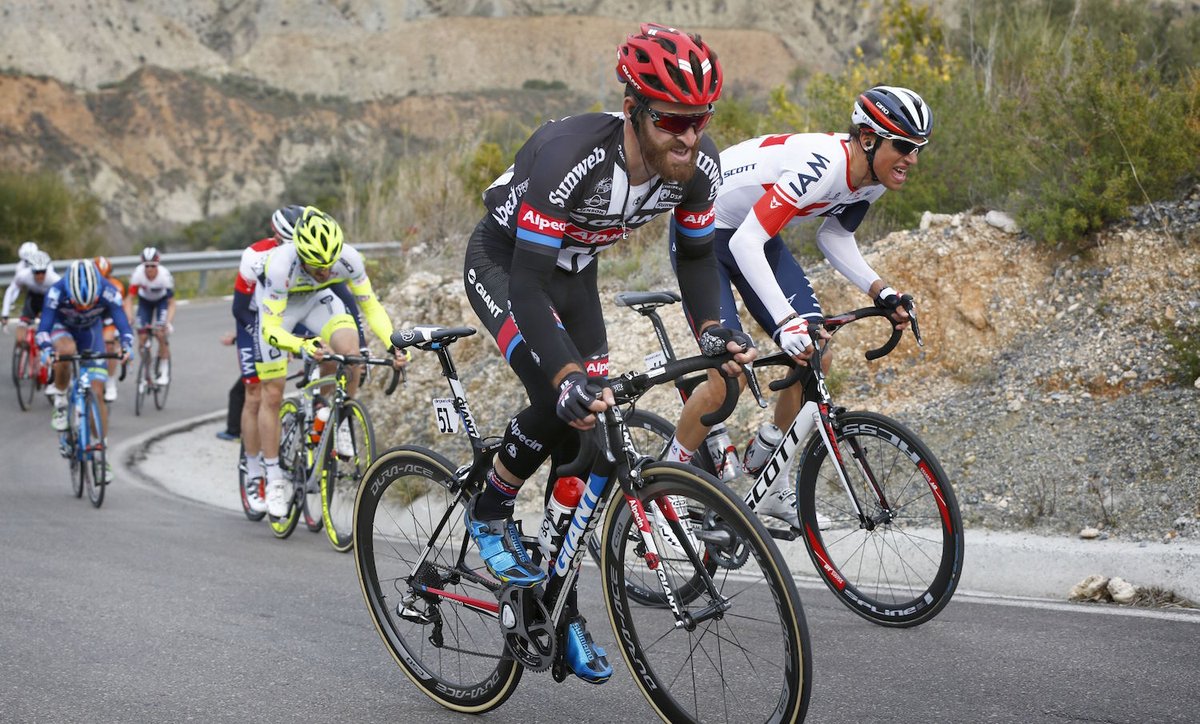 Warren Barguil:
"I started to feel bad half way during the stage, I was having a headache and I felt sick. On the second of the last climbs, my condition got worse and I had to step off the bike. I am dissapointed as the team rode so well during the whole week. Now I will focus on the Ardennes races and I hope I will be healthy for those races."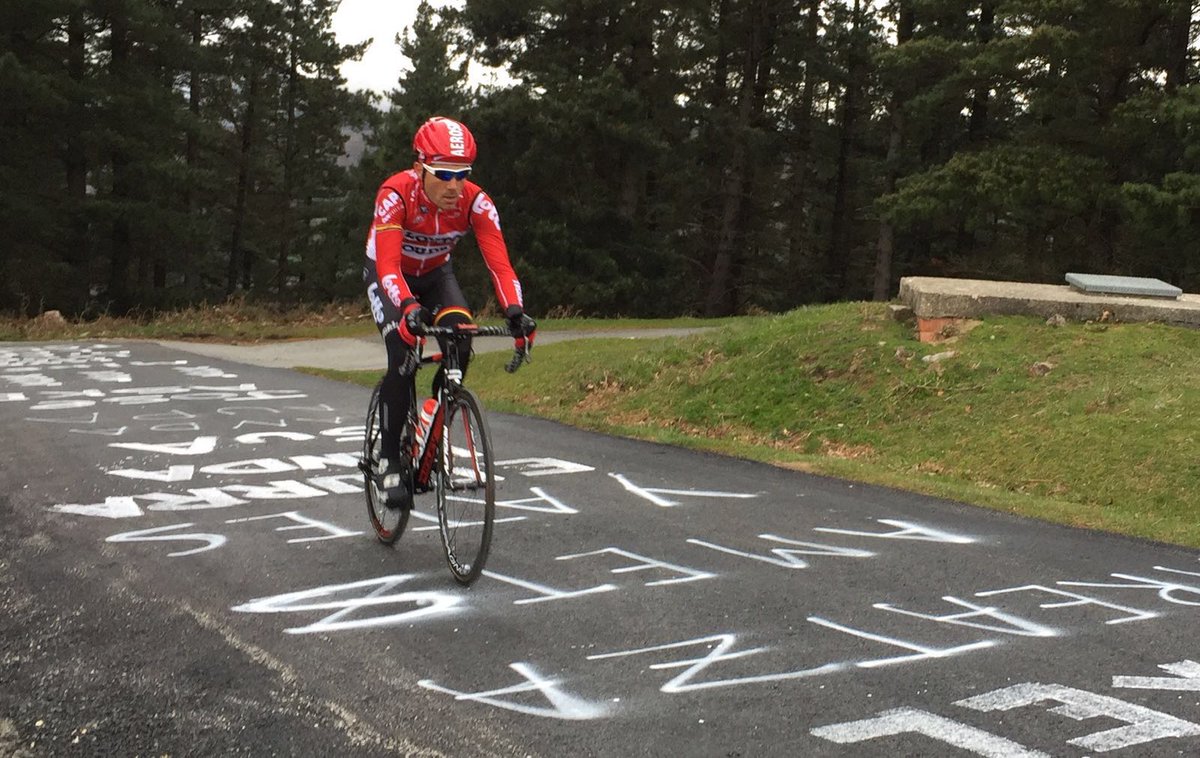 Maxime Monfort:
"It was our aim to get into the breakaway today. Sander was the first one to get into a break of about fifteen riders. Then I was the next to bridge the gap, followed by a few other riders as well. There was a group of about 24 out in front, and Diego Rosa – who went on to win the stage – attacked pretty early from that bunch. I initially thought that move wouldn't succeed, however he obviously had the legs today. On the climb, Sander and I managed to break away from the others on the downhill. At the moment, we were about one minute behind Rosa, and I thought it might be possible for us to contest the stage win. However, Rosa showed he was very strong, and on the next climb, he took almost another minute's advantage on us, so at that point I thought we would be fighting it out for second place. I really thought that securing second place was possible, particularly because Sander and I were working well together. However, the battle for the general classification was going on behind us, so it ultimately wasn't possible. However, I think we put on a very aggressive race today. Also important is that Louis was able to keep up there in the general classification, so it was a good day for us."
RESULTS
STAGE
1. Diego Rosa
2 Henao +3:13
3 Contador +3:13
4 Rodriguez +3:15
5 Pinot +3:15
GC
1 Henao
2 Contador +6
3 Pinot +10
4 Rodriguez +12
5 Sanchez +31
6 Quintana +38
7 Craddock +1:00
8 Costa +1:09
9 Reichenbach+1:11