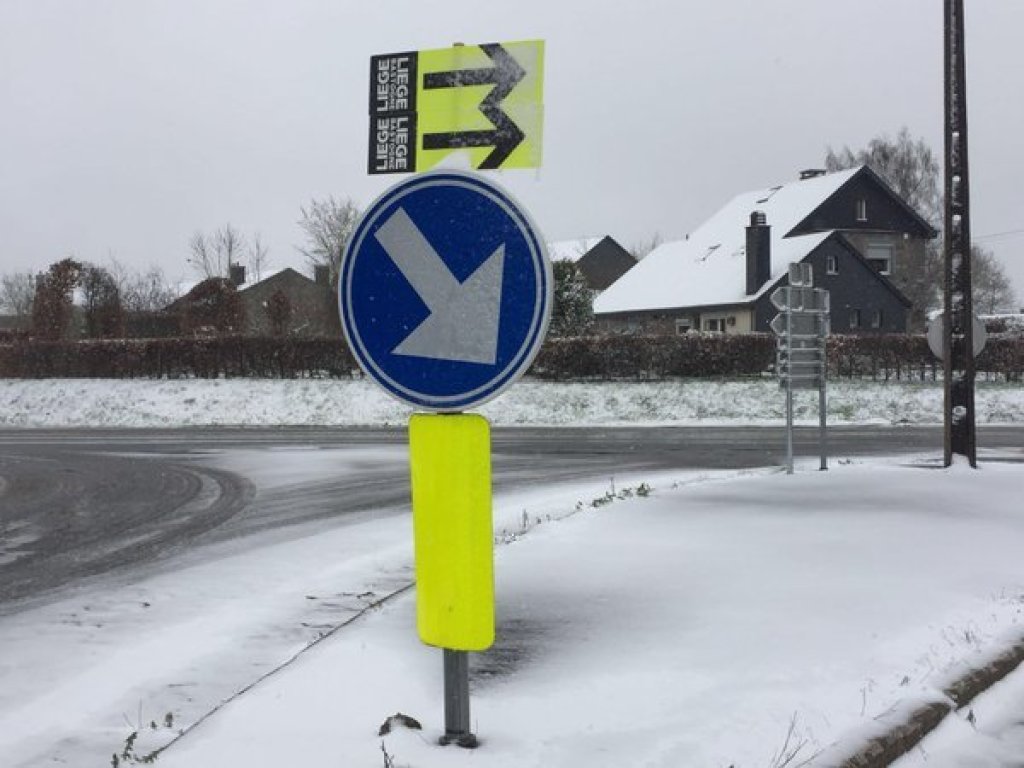 Rain and snow!

what a weather for Liège-Bastogne-Liège! as if it wasn't already a very hard race... At least the organisers have got a

plan B

: in order to avoid the worst of the snow

r

iders will skip the section from km 45 to km 75.

It seems that no extreme weather protocol meeting was held as rider's delegate Kristof Vandewalle was ill... Is maybe the case to nominate a vice?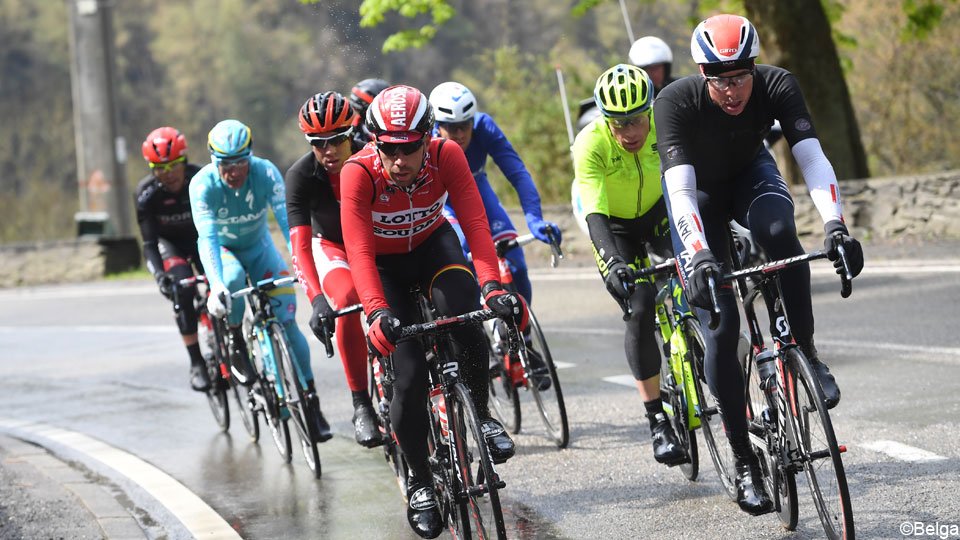 La Roche-en-Ardenne

, 2.8 km at 6.2%..

A break is away

, including Tiralongo, De Gendt, Roy, Laengen, Brutt, De Marchi, Edet and Benedetti. They have a good gap, about 7', but

that's a long, tachtical race.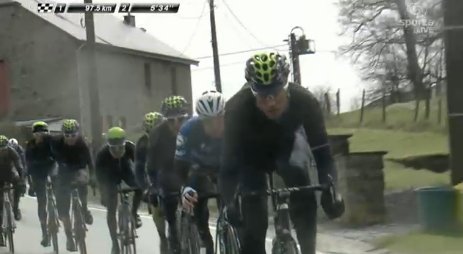 Côte de Saint-Roch

, 1km at 11.2%: the peloton started the serious chase. Now it's

dry

and a little sunny but still very

cold

.

Côte de Wanne

: 2.8km at 7.4%. The gap is 4'19" 80 km to go.

Cote de la Haute-Levee

.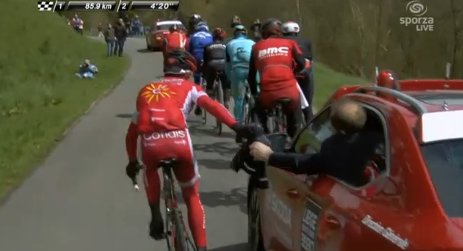 On the break is

raining again

, and very hard. Now the peloton gets in the rain storm too. There is also a strong

crosswind

. Rain turns in

snow, big flakes are falling on the race

.

Col du Rosier

: 4.4km at 5.9%. They are in the feed zone but it's going to be

hard to eat

today... still it's vital, always and especially in this cold.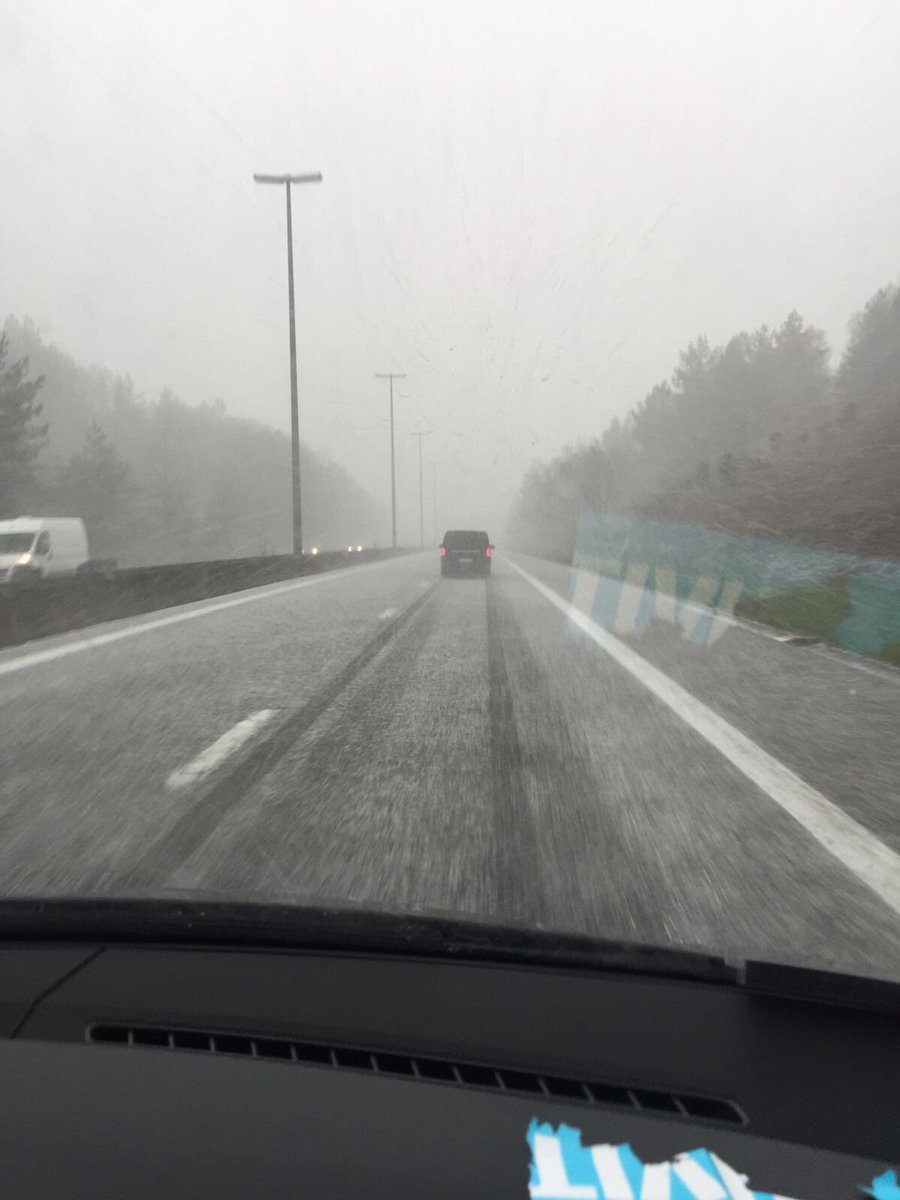 The sun shines again! what a crazy weather! and how

hard

it makes it for riders forced to pass through all these

changes of temperature

! 51 km to go

Voeckler attacks with

Calemejane, Adam Yates follows and they get a few meters, but the move is soon neutralised

and only Voeckler

is still away. Tony

Gallopin crashed off.

54 km to go the gap is just 1'45". The break is down to De Marchi, Edet and De Gendt. 46 km to go

Poljanski, Thurau, Van der Sande and Vliegen attack

from the peloton.

Cote de La Redoute

: 2 km, 8.9%.

Laengen

is back with the front group.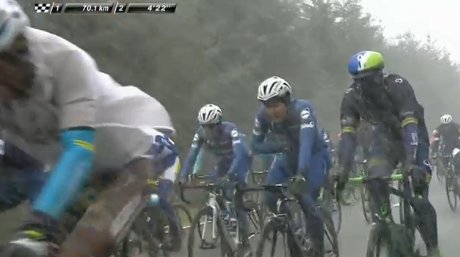 Edet goes, De Marchi follows

. Behind

Voeckler is caught

. WOW!

Eavy snow on La Redoute!

Roche-aux-Faucons, Saint-Nicolas and Rue Naniot are the last climbs left on the way to Liège.

De Gendt

joined the front group.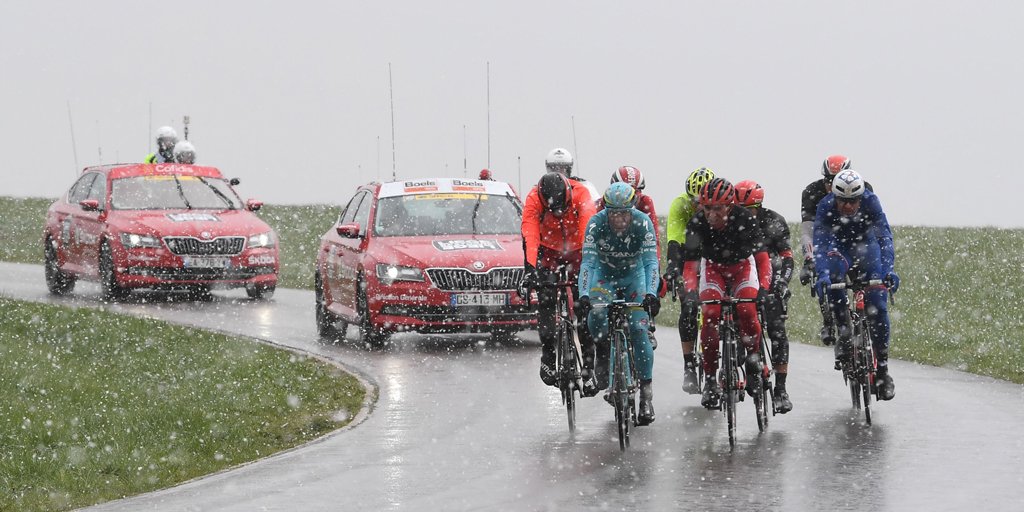 31 km to go we have the

first attacks

from the peloton. Andriy

Grivko

has got a gap. He joins De Gendt but they are caught. Edet and De Marchi remains in front. 26 km to go a

crash

brings down several riders

Majka

included.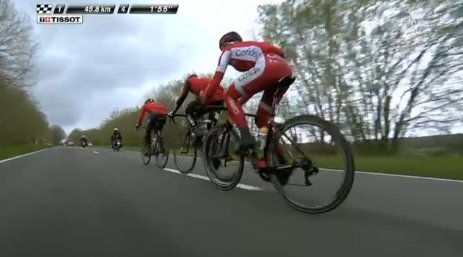 La Roche-aux-Faucons

: 1300 meters, 11%.

break over

. Race on?

Nobody attack

. 18 km to go

Carlos Betancur

- in shorts - gets off the peloton! he gets a slight gap but his move is

neutralised

by Etixx-QS. In Ans, in the

deluge

.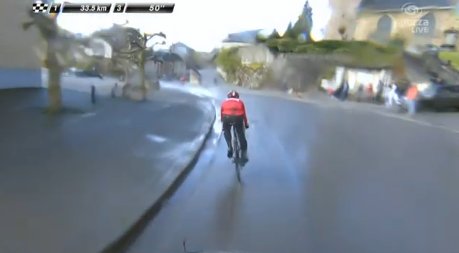 Cote de Saint-Nicolas

: 1200 meters, 8.6%. 9.5km to go

Kwiatkowski, Betancur and Grivko

have a small gap. But they are

caught

. Betancur keeps attacking but the peloton reacts. At the back Vincenzo

Nibali is dropped

.

Bardet

attacks!

Rosa

goes on conter,

Zakarin

follows. All

caught.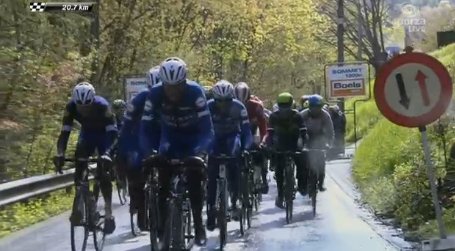 Cote de la Rue Naniot,

600 meters, 10.5%,

paved

, 2500 m from the finish.

Albasini, Rui Costa, S. Sanchez and Poels

are in the lead.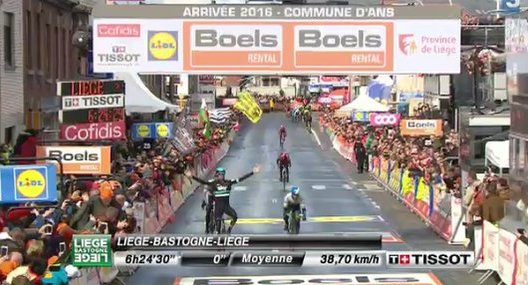 Last km, the slight climb and the descent. The sprint.

Wout Poels launches it, no fear

. Albasini is in a perfect position but waits too long.

Wout Poels wins!

Good one for Team Sky!
Wout Poels: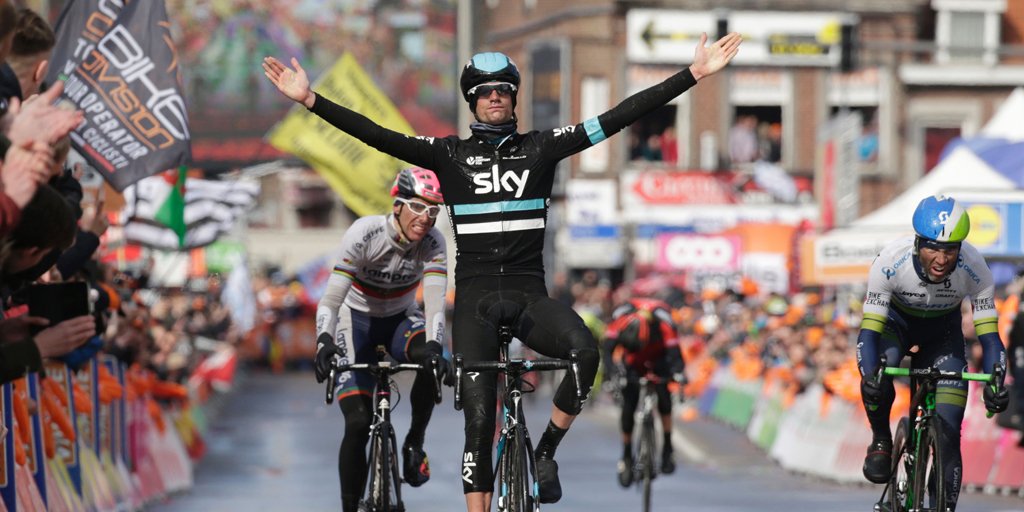 "It's unbelievably. I'm really happy and I still can't believe I won Liege-Bastogne-Liege. It's a really nice victory that's for sure!
To be able to win the first Monument for the team, especially a team like this, is really special. I'm riding with the best riders in the world. It's a huge win for the team and also for myself.
I know I'm quite fast but I also knew that guys like Albasini were quick too. After 260km no sprint is the same. I think everyone was really tired from the cold, rain, snow and everything else the weather threw at us today. I did a good sprint and luckily it was enough to win Liege-Bastogne-Liege!"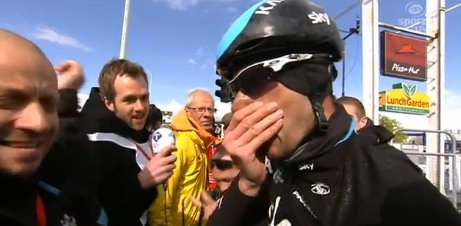 Michael Albasini: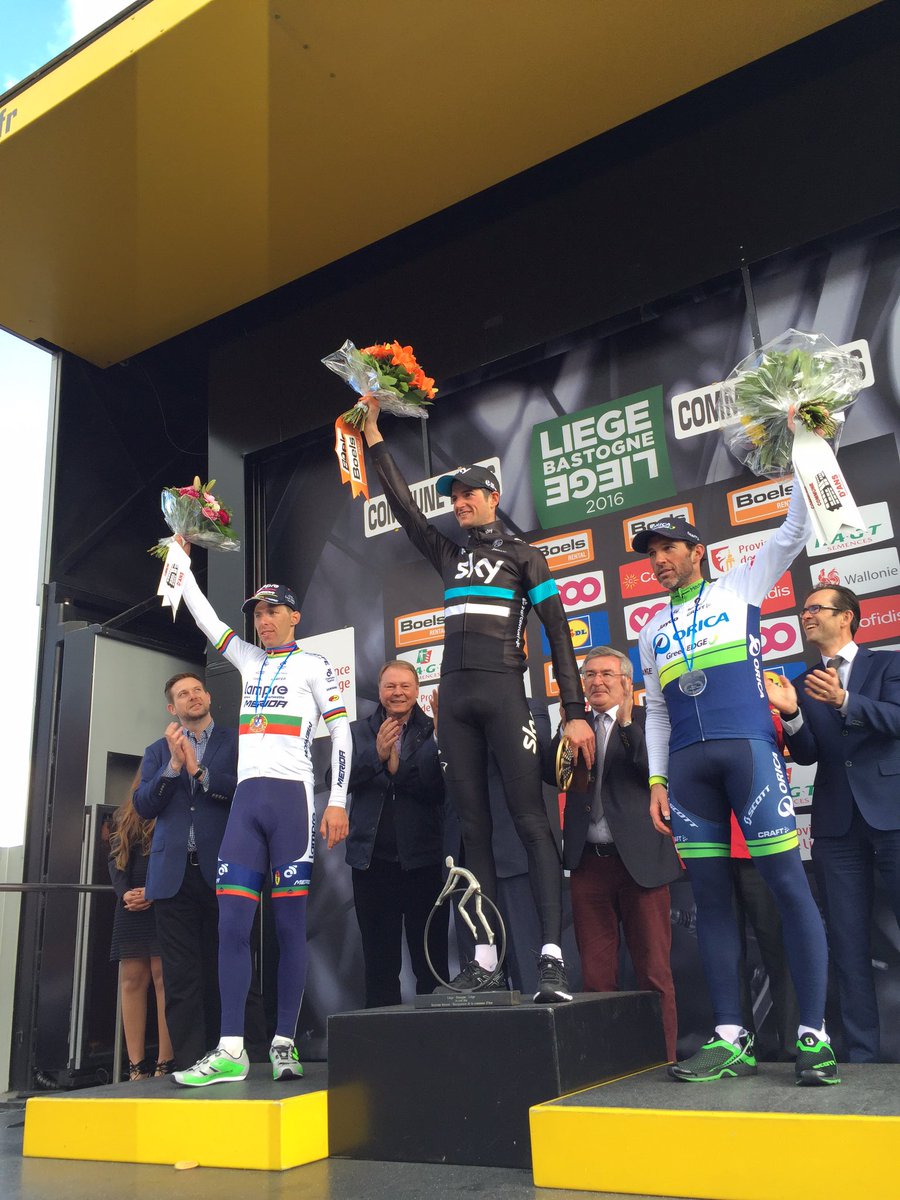 "It was really tough out there. In those kinds of conditions you are always thinking about staying as warm and dry as possible especially towards the end.
We had stripped off some layers going into the final and then it snowed again, it was really demanding. It was close at the end, I felt good and I tried a couple of times to get away but I didn't quite have the legs in the last few metres.
Maybe it's too soon to be happy about second place but I think in the days to come I will pretty happy about it."
Chris Froome:
"What an epic day of racing! Reliving it on TV, it was worse than it looked out there 😄❄️ Congrats @WoutPoels! 🙌#LBL"
Pieter Serry:
"The Ardennes are over. Happy with current form. Did everything I could for our team and finished as 39th today."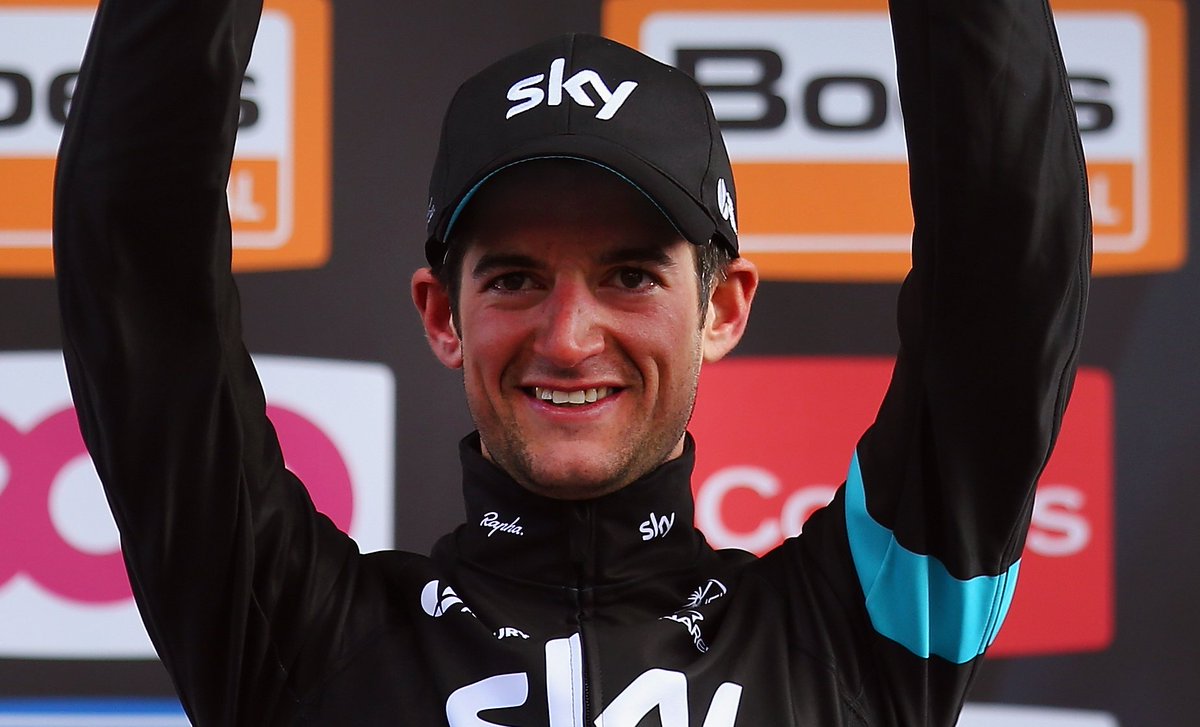 Dan Martin:
"Just ran out of legs. Thank you to our young @Etixx_QuickStep boys. We've learnt so much this week and will be back stronger #WayToRide"
"Honestly, I wouldn't change anything I did today. I just missed some power in the legs at the finish, as the cold took its toll on me. It was important to keep believing you'll feature in the final, which I did, but in the end this wasn't enough, as all of the sudden my legs stopped working and I had no more power left, so I got dropped".
Bauke Mollema:
"What a day in Belgium. Snow, cold, rain, everything. Congrats @WoutPoels!!"
Maxime BOUET
"J'ai eu la chance de faire Milan San remo, l'étape gavia stelvio du Giro sous la neige et Neige Bastogne Neige... 😬❄️⛷"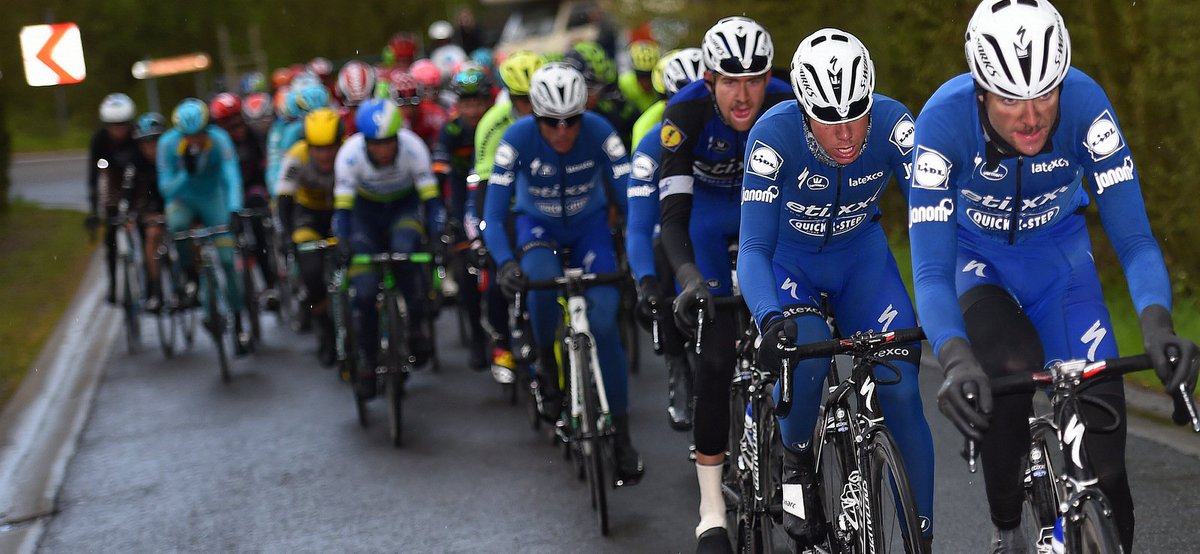 Patrick Lefevere:
"Not the result we came for #LiegeBastogneLiege but in this weather I can't blame my team @Etixx_QuickStep congrats to my youngsters".
Julian Alaphilippe:
"I am happy for completing the race. It was terrible today: snow, hail, rain, you name it, we had it all. I gave everything and finished the race empty on the inside."
MORE TO COME
RESULTS
1 Poels
2 Albasini
3 Costa
4. S.Sanchez,
5. Zakarin,
6.Bardet,
7.Kreuziger,
8. Rodriguez,
9. Mollema,
10. Rosa.