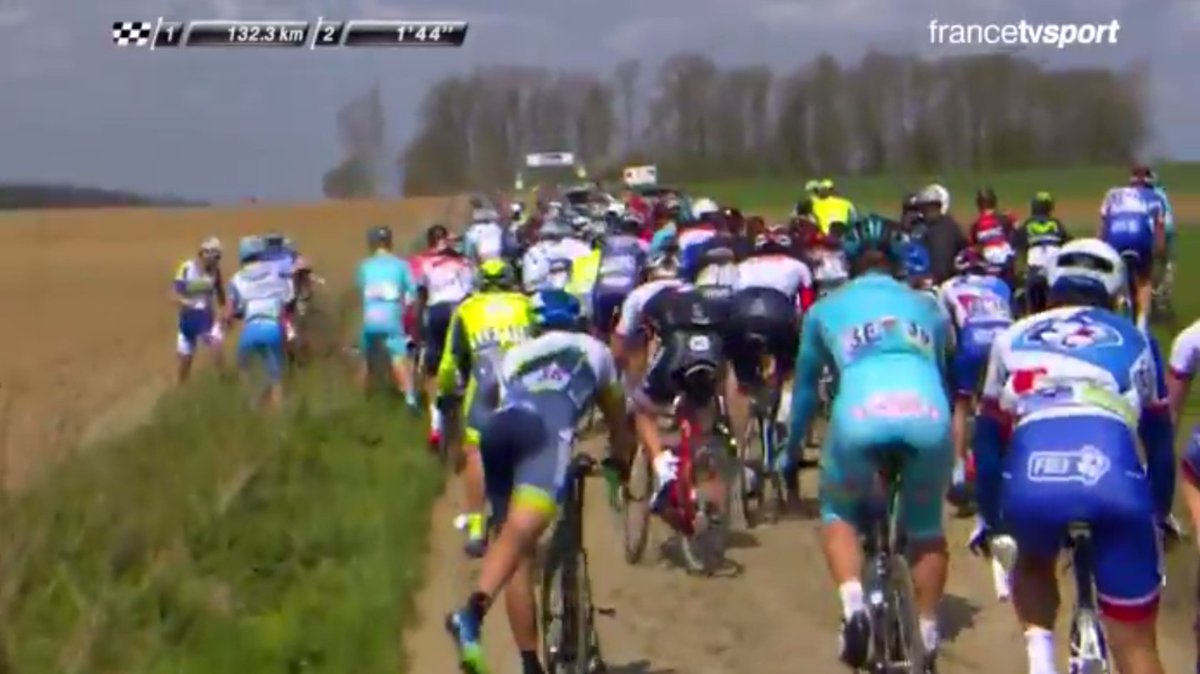 Ok, let me say it straight: I'm disappointed. That has been

one of the craziest Roubaix I have ever seen, breathtaking and cruel.

The

winner

is

unespected

but no doubt he deserved to win because it was his

15 times on this cobbles

and he spent

the whole day in the break.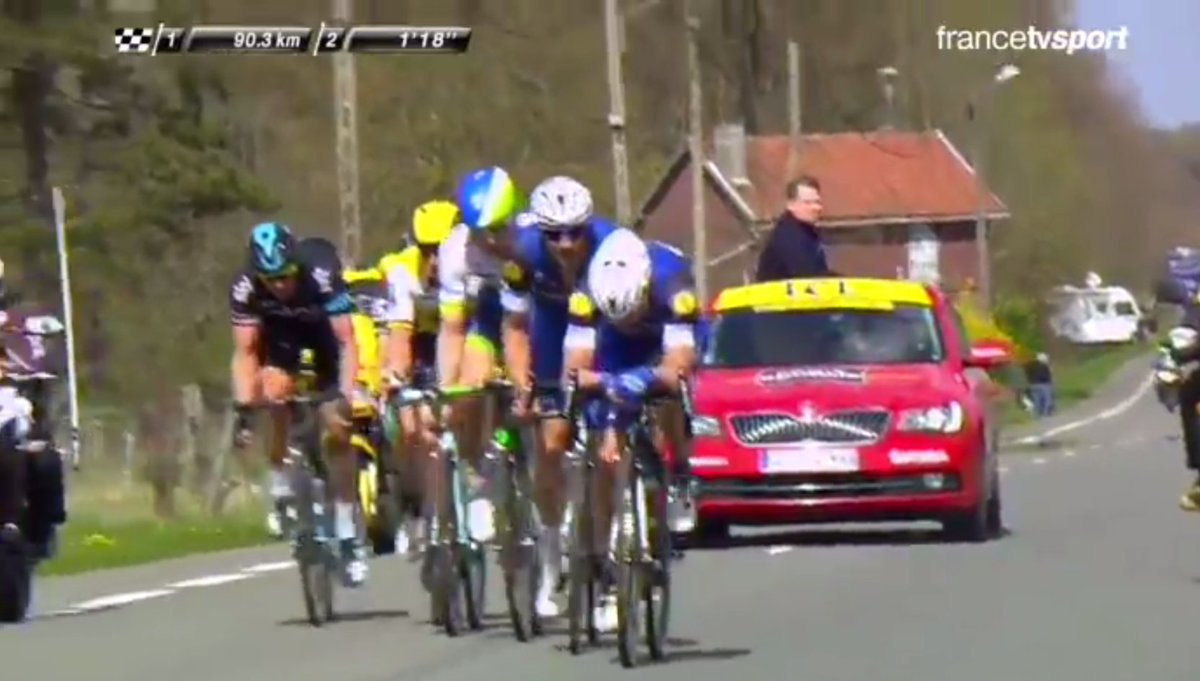 But Sep Vanmarcke almost raced the perfect race today

: no bad luck, great shape, great technique, great strategy and a lot of courage.

Still the victory disapeared in the distance once again, like a mirage.





257.5 km,

27 cobbled sectors

(52.8 km). Let me call them name by name, like in rosary of pain: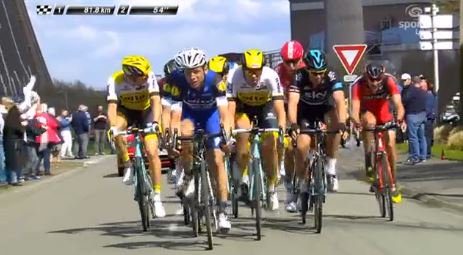 27

Troisvilles (km 98.5 - 2200 m)

3

stars
26

Viesly (km 105 - 1800 m)

3
25

Quievy (km 108 - 3700 m)

4
24

Saint-Python (km 112.5 - 1500 m)

2
23

Vertain (km 120.5 - 2300 m)

3
22

Capelle-Ruesnes (km 127 – 1700 m)

3
21

Quérénaing - Maing (km 133.5 - 2500 m)

3
19

Haveluy (km 149.5 - 2500 m)

4
18

Trouée d'Arenberg (km 158 - 2400 m)

5
17

Wallers - Hélesmes. dit « Pont Gibus » (km 164 - 1600 m)

3
16

Hornaing (km 170.5 - 3700 m)

4
15
Warlaing - Brillon (km 178 - 2400 m)
3
14
Tilloy - Sars-et-Rosières (km 181.5 - 2400 m) 4
12
Orchies (km 193 - 1700 m)
3
11
Auchy-lez-Orchies - Bersée (km 199 - 2700 m)
4
10
Mons-en-Pévèle (km 204.5 - 3000 m)
5
9
Mérignies - Avelin (km 210.5 - 700 m)
2
8
Pont-Thibaut (km 214 - 1400 m)
3
7
Templeuve - Moulin de Vertain (km 220 - 500 m)
2
6a
Cysoing - Bourghelles (km 226.5 - 1300 m)
3
6b
Bourghelles - Wannehain (km 229 - 1100 m) 3
5
Camphin-en-Pévèle (km 233.5 - 1800 m)
4
4
Le Carrefour de l'Arbre (km 236.5 - 2100 m)
5
3
Gruson (km 238.5 - 1100 m)
2
2
Hem (km 245.5 - 1400 m)
2
1
Roubaix (km 252 - 300 m)
1
Many attacks, a break-away eventually.

114 km to go

a big crash just before the forest of Aremberg. The peloton splits

.

The race is over for Fabian Cancellara and Peter Sagan in spite they don't know it yet and don't give up.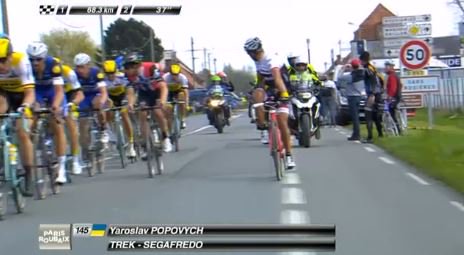 85 km to go: the break is still away, then a group comes with

Boonen

, Tony Martin,

Stannard

, Boasson Hagen, Wagner and Durbridge.

Vanmarcke is chasing solo

at about 30'' and 80 km to go he joins. Behind, about 3' from the leaders, a group with

Sagan and Cancellara. Time to name the break:
DECLERCQ T.192TSV
DANIEL M.153ALM
PUCCIO S.65SKY
ERVITI I.221MOV
BACKAERT F.132WGG
HAYMAN M.55OGE
POPOVYCH Y.145TFS
NIELSEN M.57OGE
JANSE VAN RENSBURG R.207DDD
BOZIC B.122COF
CHAVANEL S.
In the first chasing group

there are:
LE BON J.166FDJ
ROWE L.61SKY
BURGHARDT M.21BMC
SARAMOTINS A.47IAM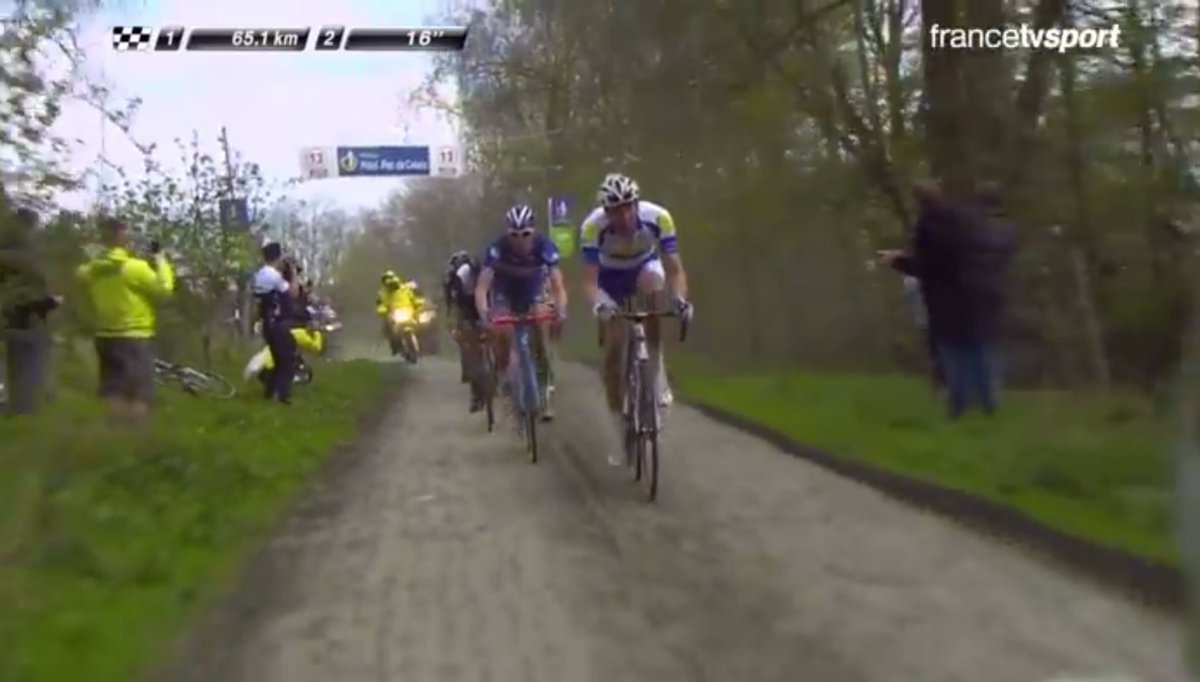 SIEBERG M.77LTS
KUMP M.215LAM
WAGNER R.97TLJ
HAUSSLER H.41IAM
MARTIN T.14EQS
DURBRIDGE L.54OGE
VAN POPPEL D.67SKY
MOSCON G.64SKY
WYNANTS M.
In the second chasing group

there are, amongh the others,

Sagan, Cancellara, Stuyven and Tmpstra.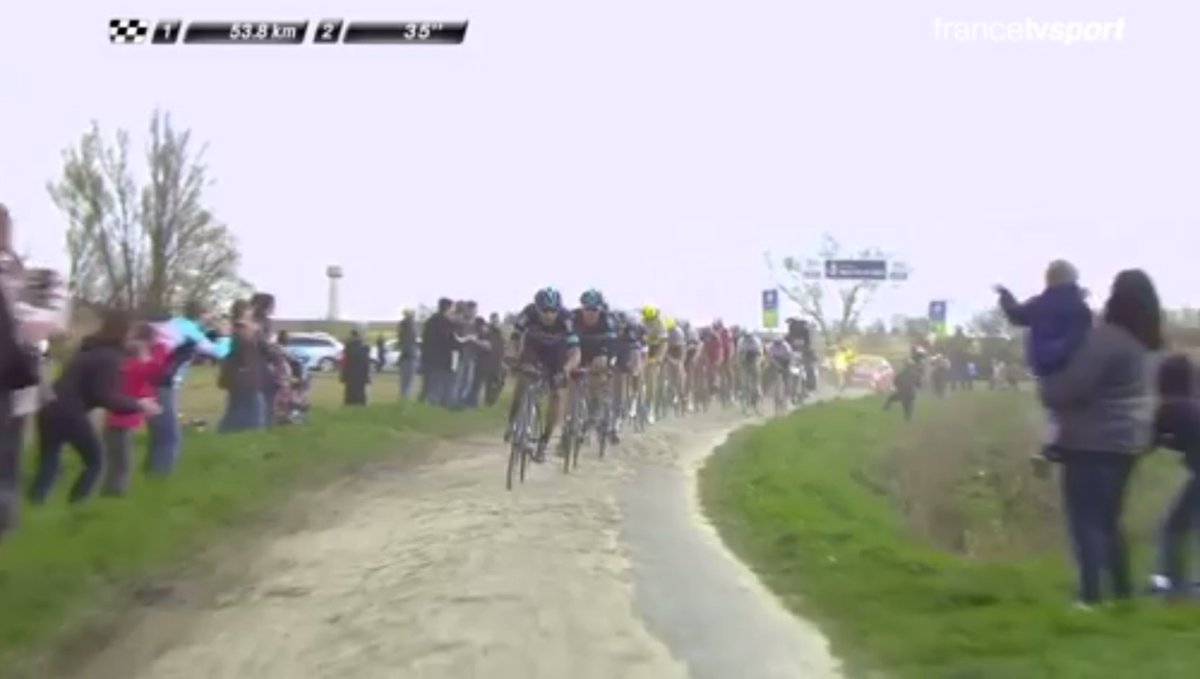 75 km to go: in front

Hayman goes solo but he's quickly caugh

.

Team Trek stops Popovich to help Cancellara

.

The first chasing group joins the break

.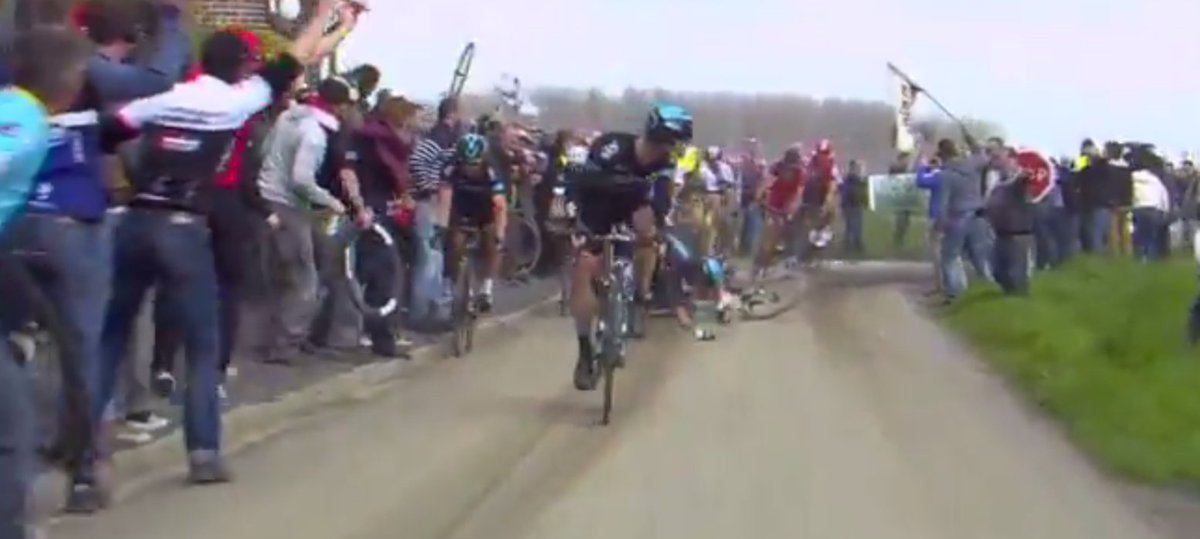 56 km to go

Sagan and Cancellara are 34'' behind

. In front Moscon

crash

and brings down Rowe. Then Puccio goes down. Stannard goes but the gap is down to 30''. Rowe manages to come back.
The

front group

include now: Wynants, Saramotins, Sieberg, Erviti, Rowe, Boonen, Stannard, Haussler, Boasson Hagen, Hayman and Vanmarcke.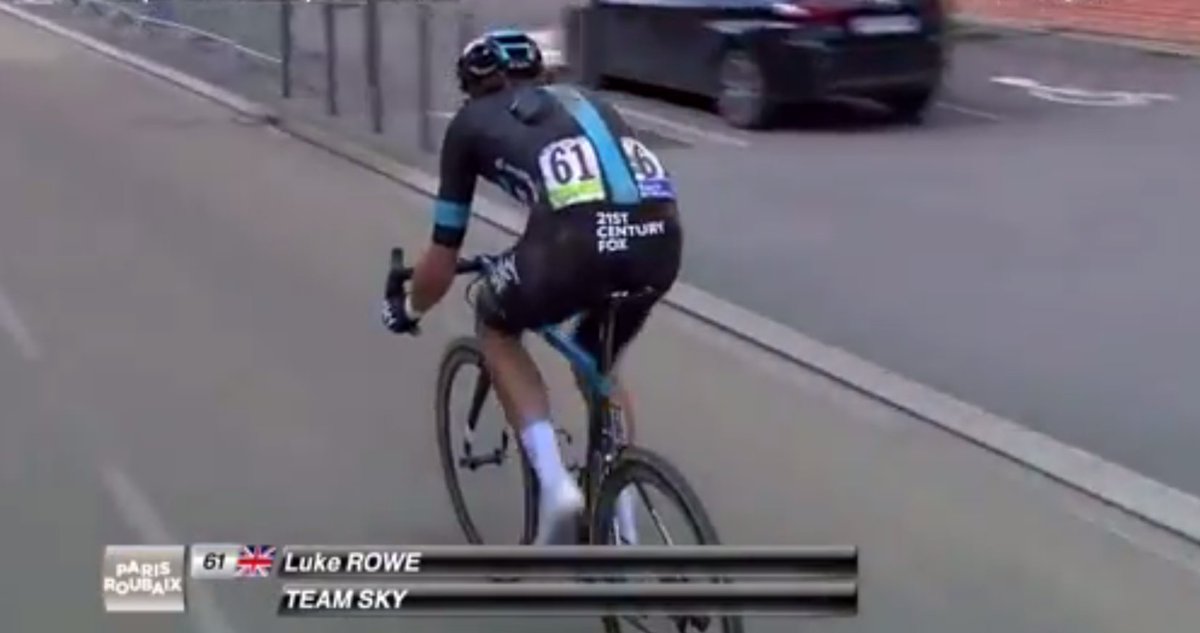 Mons-en-Pevele: Sep Van Marcke attacks. Stannard follows.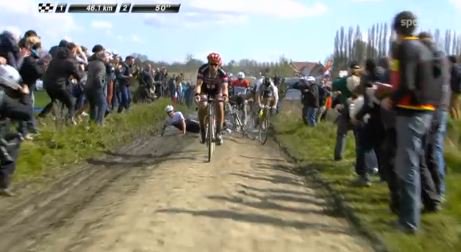 Behind Cancellara badly falls in front of Sagan who avoid to crash and passes by:

44 km to go his gap is 1'. Much more for

Fabian Cancellara

who, covered on mud, is chasing solo: he's 3' from the leader and 2' to the Sagan's group.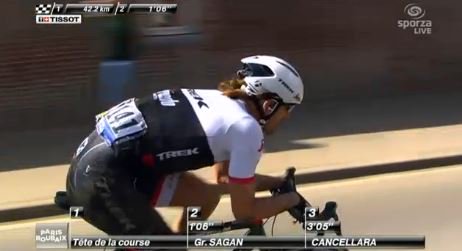 37 km to go the front group include Boonen, Hayman, Stannard, Erviti, Saramotins, Boasson Hagen, Vanmarke, Rowe, Sieberg and Haussler. In the chasing group there are Burghardt, Durbridge, Van Baarle, Sagan, De Backer, Naesen, Petit, Wynants and Sinkeldam, but

Sagan are doing all the work

.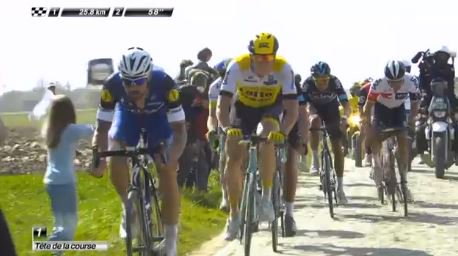 30 km to go Boonen tests the terrain: the first one to respond are Vanmarcke and Stannard. Back together.

The race is now

in the crosswind

:

Rowe

goes in front, Stannard on his wheel, and

splits the group

. Saramontis is dropped. Stannard is first on the next cobbled sector, the Hayman, Boonen, Vanmarcke and Boasson Hagen. The winner is in this group.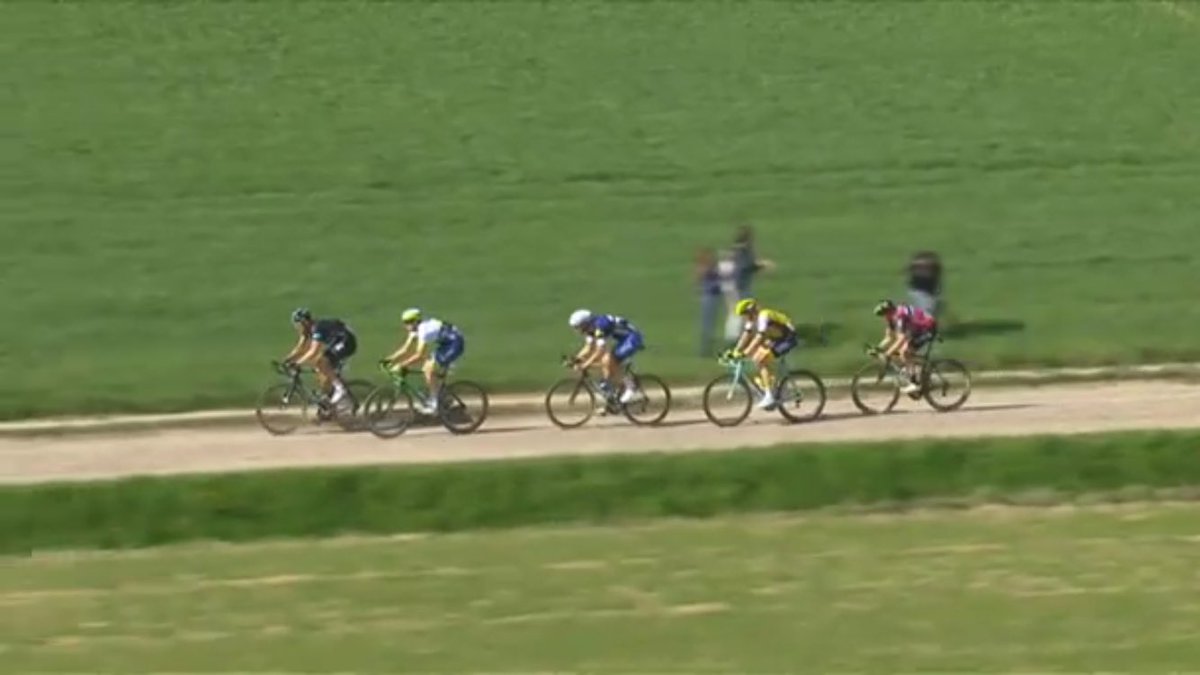 Carrefour de l'Arbre: Vanmarcke attacks. He gets a gap. ALLEZ SEP!

13 km to go Vanmarcke has 10" but they are chasing hard. 11 km to go he's

caught

. Still he takes the lead on sector 2, the last 1400 metres of serious cobbles. It's over and on the taramac

Stannard attacks. Vanmarcke closes the gap. Back together.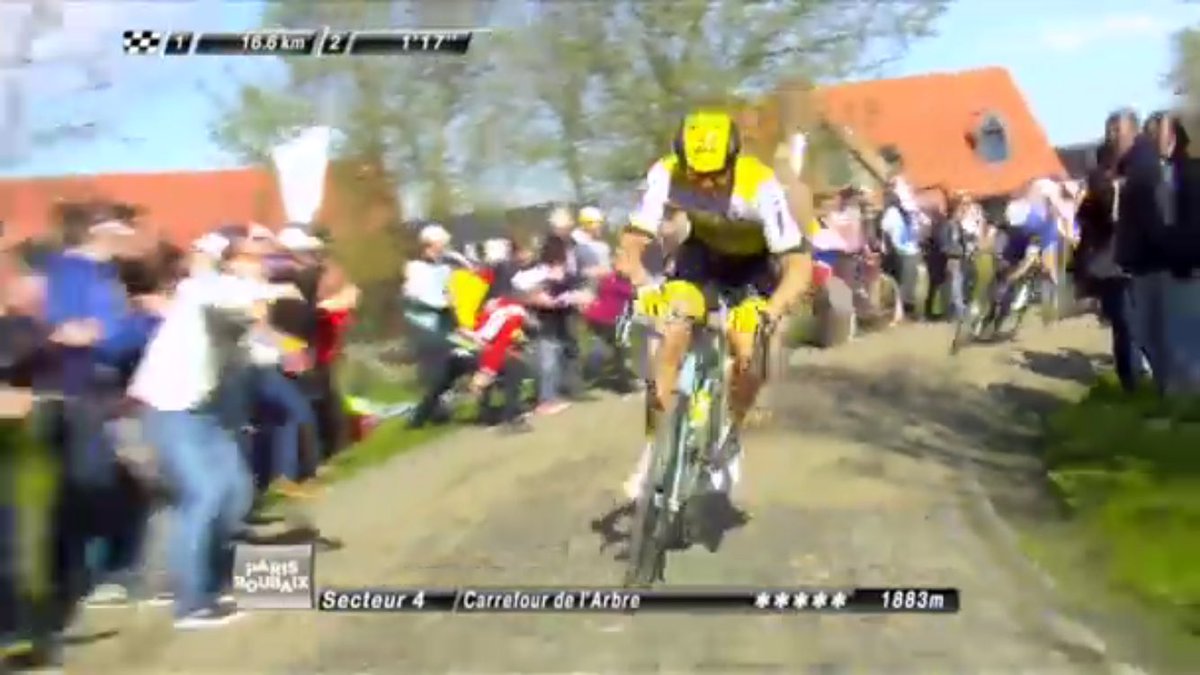 Already in Roubaix each one tries to go solo

but only one succeeds, the last expected:

Mathew Hayman.

In the velodrome he has a little gap but

it's going to be a sprint.

Tom Boonen looks smart, Vanmarcke seems too slow...

on the line the Australian is first. Surprised like everybody else!
When

Cancellara

enters the velodrome, the crowd tributes him a warm welcome... or better

a tender, long farewell.

The last Roubaix? really? But what a Roubaix has been...!
Mathew Hayman: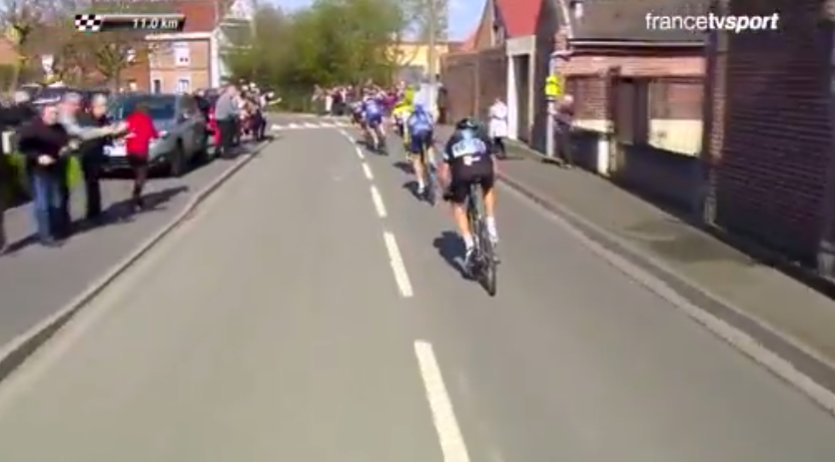 "I can't believe it. I broke my arm five weeks ago and I missed all the racing, I raced in Spain last week. This is my favourite race. It is the race I dreamed of winning."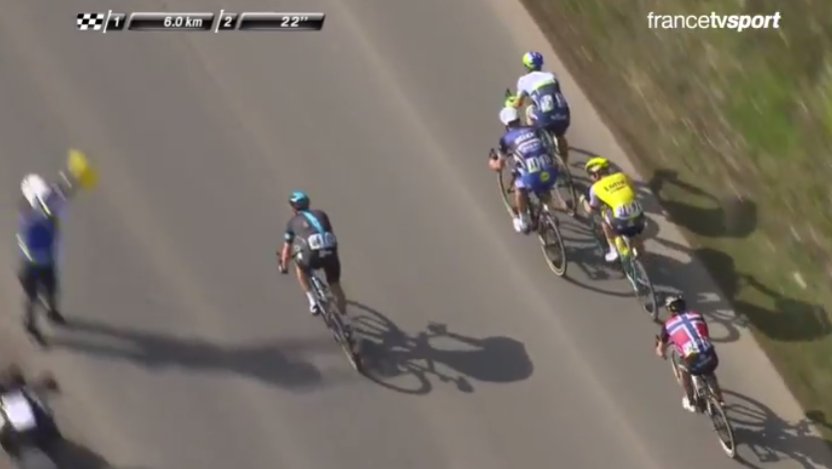 "I still can't believe it. I've had enough bad luck in Paris-Roubaix in the last fifteen years. Everything went right today, I was in a good place mentally, I was relaxed and I was trying not to put pressure on myself.
With one kilometre to go I was thinking that I would be happy just to be on the podium. I had a feeling that my legs were pretty good and I was happy to ride with Tom (Boonen) until the finish line but then it all came back together for the last lap.
I've been riding some track recently after breaking my arm five weeks ago. My legs were feeling pretty good going into the finishing straight when I started my sprint, I could see Tom's tyre underneath my arm but I managed to keep going."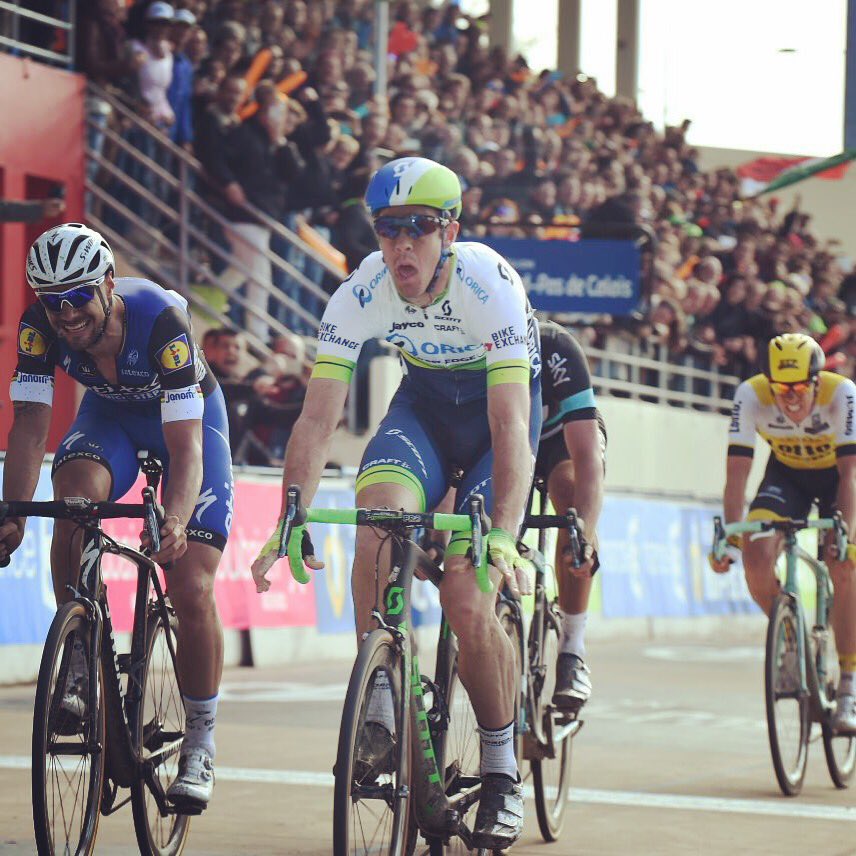 Edvald Boasson Hagen:
"It was hard but good. I was able to stay out of trouble for the most part but the last 10km was really hard, with a lot of attacks. It wasn't possible to get better than 5th but it is the best result I have had at Paris-Roubaix so far so that is good, but obviously you would want more and to get a podium."
Tiesj Benoot: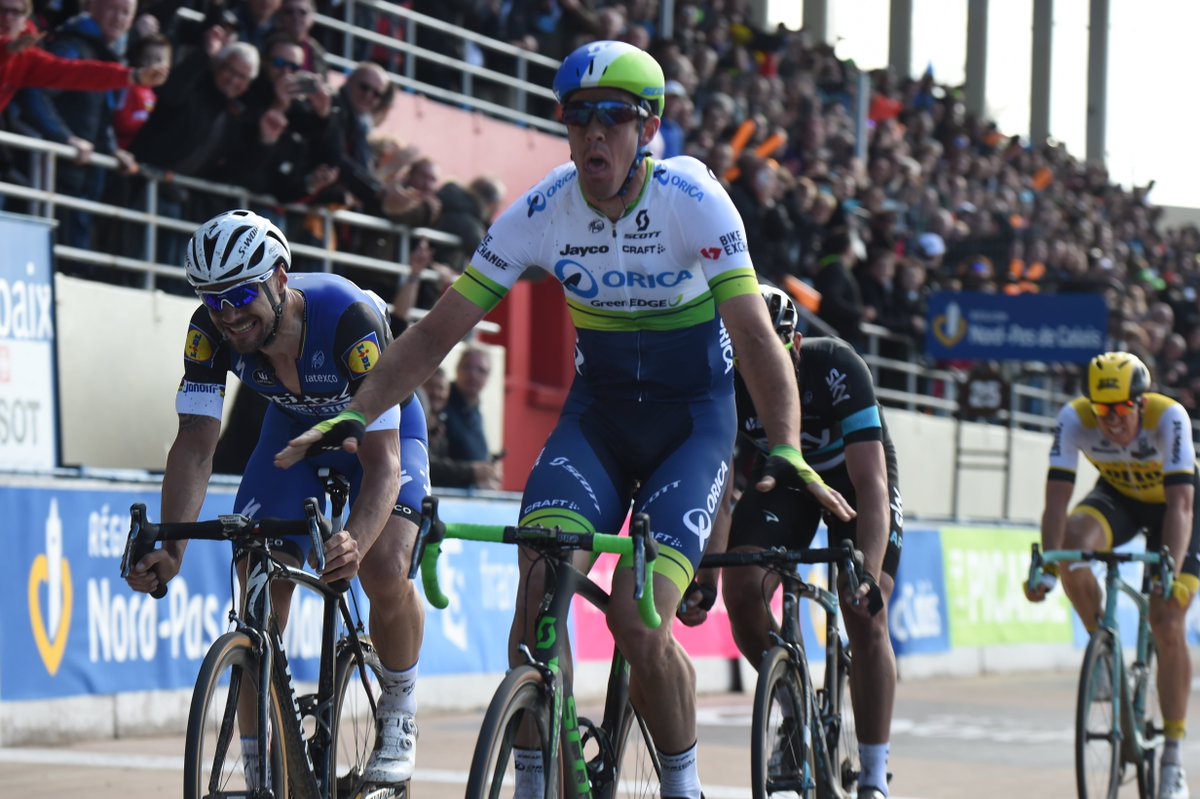 "Feeling was good after my crash last week, but flat tire on Arenberg.. Looks like luck is not on my side these classics.."
Sep Vanmarcke: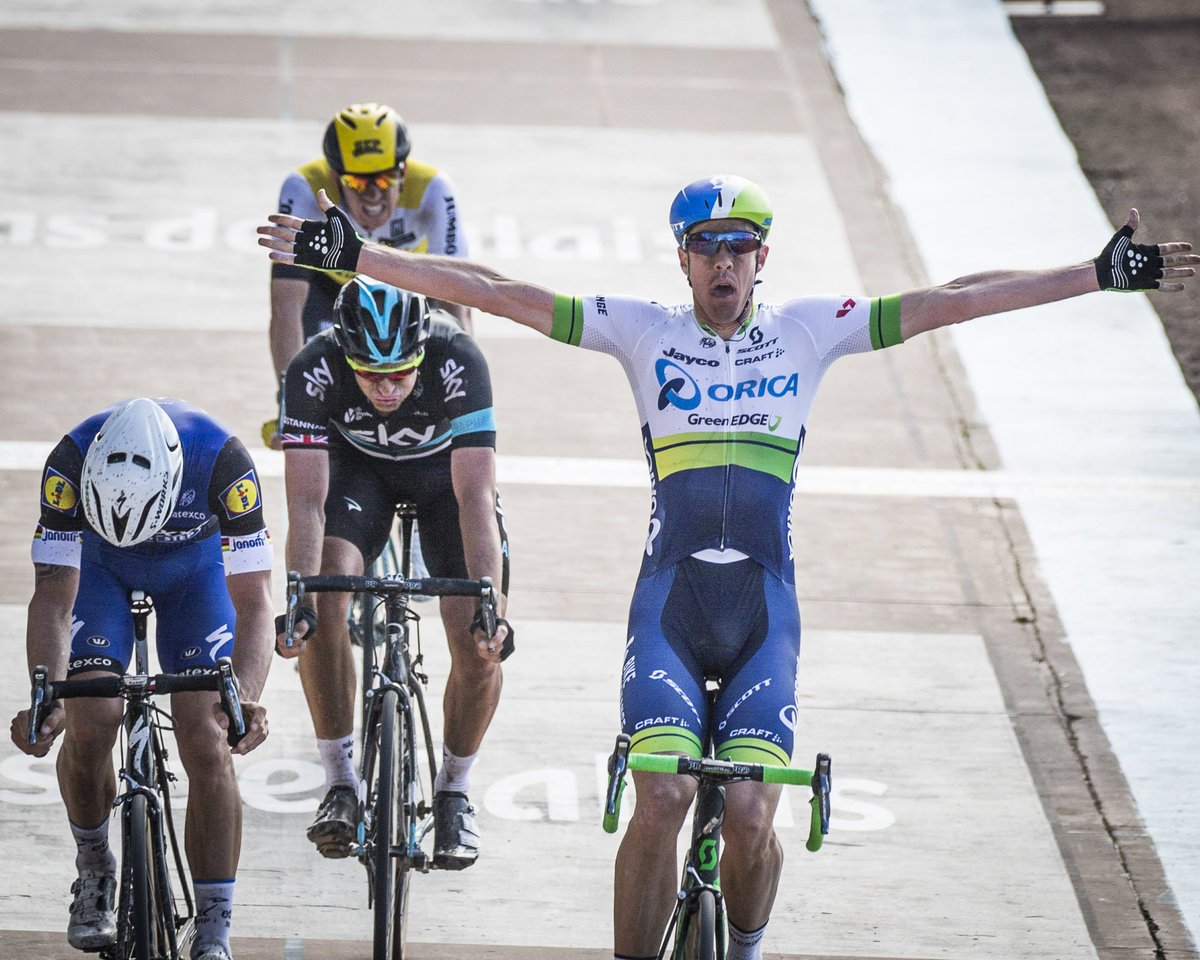 "It was a special race today. It was a big fight from the beginning. We were in front with a small group of riders already early in the race. That was a perfect scenario for me. The team did a great job, as well. We were in front with six men at one point. I had a puncture one time and Tom Van Asbroeck brought me back. Not everyone was working in the first group, though, but we had to keep riding so the group with Sagan (Tinkoff) wasn't able to come back.
I chose Carrefour de l'Arbre to try afterwards. I had a gap, but maybe I'm experienced enough to give something extra and hold it. I have the feeling that I was the best on the cobbles, but it wasn't good enough. Our team took the initiative and we deserved a top three result."
Peter Sagan:
"Everybody before was asking me if I was going to win or not but this is Paris-Roubaix and you never know what is going to happen. It's a great race, and really historic, but one that is very hard to win. All of the teams come here and make their own strategies for the race, and today the two favourites were caught behind a crash while other teams had numbers at the front to control things. I was involved in two crashes already before the Arenberg sector and I was already in the second group there and without any cooperation at the front it was hard to get back.
Oscar had a heavy crash and some of the others also came down - it was a crazy day."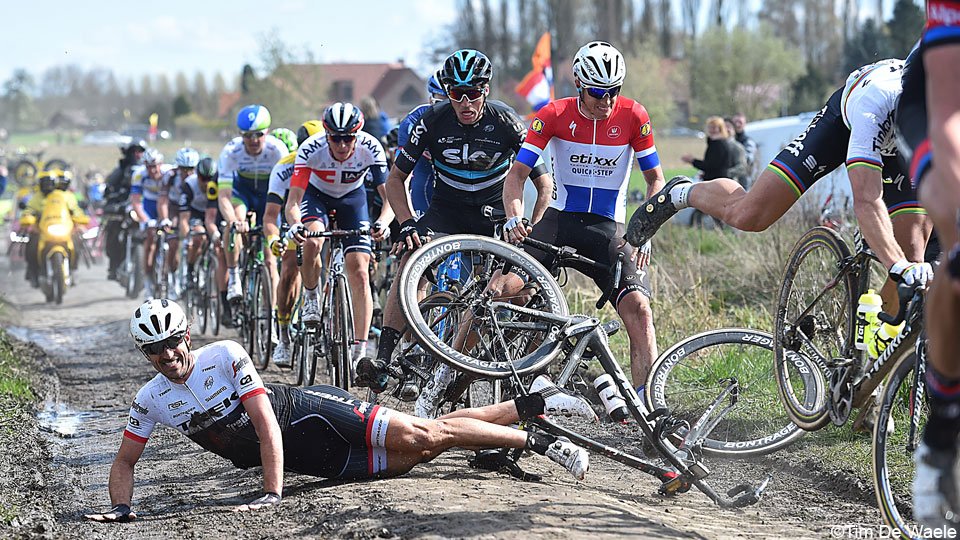 Fabian Cancellara:
"The first crash I had to jump into the field and back, the second was just unlucky, and then the third was just like ice-skating, and I could do no nothing, it was over. Roubaix was gone. Everything started well. Good sleep, good breakfast, Popo in the break so we had a perfect situation and then suddenly things turned differently.
I knew it was going to be hard after the split, but also knew it is never over because Roubaix is a tough race. I just kept fighting. It was my last effort, and I knew that if you give up, then it is really over. I gave up maybe 10 or 15kms after my crash because I knew there it was impossible.
That's Roubaix; I knew it was going to be a special race since it was not everywhere dry.
I knew to stay up at the front, [to be] careful and really focused for every sector, but yeah… if you ride on second position or on last position, you can do nothing against a crash when it comes. Hard?
Somehow yes, but somehow noLast week was harder (to accept), and I am just happy it is over. I was quite relaxed when I entered the velodrome. This was a different feeling than Flanders; there it was a battle to the end.
I mean, even crashing on the velodrome in front of my fans I don't care, because one crash more or less changes nothing for my career. I am just happy in another way, but not happy about the race. Just happy it is done."
Jasper Stuyven:
"In the big crash in sector 21 we were only a little bit back. But Etixx (Quick Step) and LottoNL-Jumbo pulled hard because they knew Fabian and Sagan were behind. It was a little bit chaotic for us at this moment: Boy and Marco crashed, Greggy had flatted, so we were a little bit all over.
I had to start working pretty early, and I think everything was still looking okay when Fabian made his acceleration. Then when Fabian crashed, we lost everything."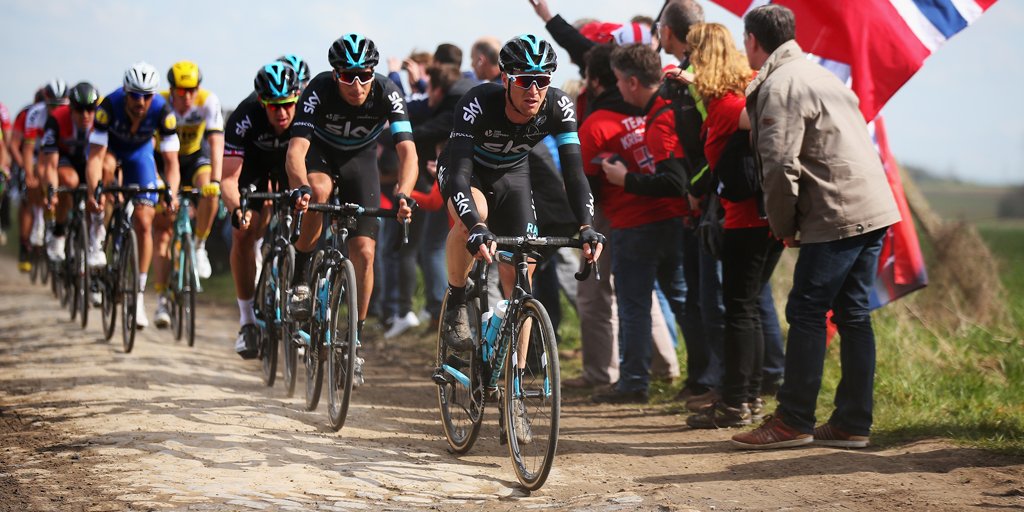 Luke Rowe:
"We crashed on the section before Pevele. Then I had to chase so hard to get back. I knew then that was the one big effort of the day done. So as soon as I came back I said to Yogi 'I'm all yours man, just tell me what to do and I'll do it.' It was kind of a waiting game and then when we were coming into the section before Carrefour we knew the wind would be like that. It was just a case of trying to thin that group down so we could launch an attack there. Everyone gives something to someone and the whole team were incredible. They gave us so much. The way it turned out, I gave everything I had for Yogi. He just finished on the podium in what I consider to be the biggest Monument in the world so I'm super happy for him.
We were probably the best represented out there. We had Puccio in the original break and then five guys behind - four after Arenberg. So we had the numbers and the team had guys riding this race for the first time. Gianni was here for the first time and he's pulling a group of 20 along with all the hitters in it. When you have guys like that stepping it up just spurs you on and you want to be just as good."
Team Sky Doctor Derick Macleod about Elia Viviani:
"Elia is doing very well which is good news. He thought he'd anticipated the crash and saw it happen in front of him. He managed to come to a stop on the right by the barrier when the motorbike went into him.
He went to the hospital and the X-rays revealed he has no fractures. He's got a few bruises and abrasions and he's a bit sore obviously, but we're really thankful he's got no significant injuries. We expect him to make a quick recovery."
MORE TO COME
1

Mathew Hayman (Aus) Orica-GreenEdge

5:51:53

2

Tom Boonen (Bel) Etixx - Quick-Step

3

Ian Stannard (GBr) Team Sky

4

Sep Vanmarcke (Bel) Team LottoNl-Jumbo

5

Edvald Boasson Hagen (Nor) Dimension Data

0:00:03

6

Heinrich Haussler (Aus) IAM Cycling

0:01:00

7

Marcel Sieberg (Ger) Lotto Soudal

8

Aleksejs Saramotins (Lat) IAM Cycling

9

Imanol Erviti Ollo (Spa) Movistar Team

0:01:07

10

Adrien Petit (Fra) Direct Energie

0:02:20

11 Peter Sagan (Svk) Tinkoff Team 12 Maarten Wynants (Bel) Team LottoNl-Jumbo 13 Oliver Naesen (Bel) IAM Cycling 14 Luke Rowe (GBr) Team Sky 15 Ramon Sinkeldam (Ned) Team Giant-Alpecin 16 Dylan Van Baarle (Ned) Cannondale Pro Cycling 17 Bert De Backer (Bel) Team Giant-Alpecin 18 Luke Durbridge (Aus) Orica-GreenEdge 0:04:40 19 Marcus Burghardt (Ger) BMC Racing Team 0:05:48 20 Christophe Laporte (Fra) Cofidis, Solutions Credits 0:06:18 21 Gijs Van Hoecke (Bel) Topsport Vlaanderen - Baloise 22 Frederik Backaert (Bel) Wanty - Groupe Gobert 23 Koen De Kort (Ned) Team Giant-Alpecin 24 Zakkari Dempster (Aus) Bora-Argon 18 25 Tom Van Asbroeck (Bel) Team LottoNl-Jumbo 26 Florian Senechal (Fra) Cofidis, Solutions Credits 27 Maarten Tjallingii (Ned) Team LottoNl-Jumbo 0:06:28 28 Maxime Daniel (Fra) AG2R La Mondiale 0:07:12 29 Nikias Arndt (Ger) Team Giant-Alpecin 30 Mark Cavendish (GBr) Dimension Data 31 Preben Van Hecke (Bel) Topsport Vlaanderen - Baloise 32 Marco Marcato (Ita) Wanty - Groupe Gobert 33 Salvatore Puccio (Ita) Team Sky 34 Damien Gaudin (Fra) AG2R La Mondiale 35 Andre Greipel (Ger) Lotto Soudal 0:07:24 36 Matteo Trentin (Ita) Etixx - Quick-Step 37 Borut Bozic (Slo) Cofidis, Solutions Credits 38 Gianni Moscon (Ita) Team Sky 0:07:26 39 Jasper Stuyven (Bel) Trek-Segafredo 0:07:35 40 Fabian Cancellara (Swi) Trek-Segafredo 41 Stefan Kueng (Swi) BMC Racing Team 0:11:14 42 Bert Van Lerberghe (Bel) Topsport Vlaanderen - Baloise 43 Magnus Cort Nielsen (Den) Orica-GreenEdge 44 Bernhard Eisel (Aut) Dimension Data 45 Mike Teunissen (Ned) Team LottoNl-Jumbo 46 Timo Roosen (Ned) Team LottoNl-Jumbo 0:12:55 47 Bjorn Thurau (Ger) Wanty - Groupe Gobert 0:14:22 48 Alexander Kristoff (Nor) Team Katusha 0:14:23 49 Taylor Phinney (USA) BMC Racing Team 50 Michael Morkov (Den) Team Katusha 51 Juraj Sagan (Svk) Tinkoff Team 52 Robert Wagner (Ger) Team LottoNl-Jumbo 53 Jesse Sergent (NZl) AG2R La Mondiale 54 Andreas Schillinger (Ger) Bora-Argon 18 55 Scott Thwaites (GBr) Bora-Argon 18 56 Reto Hollenstein (Swi) IAM Cycling 57 Kenny De Haes (Bel) Wanty - Groupe Gobert 58 Antoine Duchesne (Can) Direct Energie 59 Vicente Reynes (Spa) IAM Cycling 60 Jonas Vangenechten (Bel) IAM Cycling 61 Danny Van Poppel (Ned) Team Sky 62 Alan Marangoni (Ita) Cannondale Pro Cycling 63 Laurens De Vreese (Bel) Astana Pro Team 64 Benoit Jarrier (Fra) Fortuneo - Vital Concept 65 Lars Ytting Bak (Den) Lotto Soudal 66 Sebastien Minard (Fra) AG2R La Mondiale 67 Viacheslav Kuznetsov (Rus) Team Katusha 68 Guillaume Van Keirsbulck (Bel) Etixx - Quick-Step 69 Jean-Pierre Drucker (Lux) BMC Racing Team 70 Jack Bauer (NZl) Cannondale Pro Cycling 71 Roy Curvers (Ned) Team Giant-Alpecin 72 Reinardt Janse Van Rensburg (RSA) Dimension Data 73 Nikolay Trusov (Rus) Tinkoff Team 74 Pavel Brutt (Rus) Tinkoff Team 75 Francis Mourey (Fra) Fortuneo - Vital Concept 76 Tony Martin (Ger) Etixx - Quick-Step 77 Jens Keukeleire (Bel) Orica-GreenEdge 0:14:48 78 Jurgen Roelandts (Bel) Lotto Soudal 79 Dimitri Claeys (Bel) Wanty - Groupe Gobert 80 Evaldas Siskevicius (Ltu) Delko Marseille Provence KTM 0:16:52 81 Christophe Laborie (Fra) Delko Marseille Provence KTM 82 Shane Archbold (NZl) Bora-Argon 18 83 Johan Le Bon (Fra) FDJ 84 Sebastian Langeveld (Ned) Cannondale Pro Cycling 85 Marko Kump (Slo) Lampre - Merida 0:16:57 86 Yaroslav Popovych (Ukr) Trek-Segafredo 87 Wouter Wippert (Ned) Cannondale Pro Cycling 0:18:30 88 Jan Barta (Cze) Bora-Argon 18 89 Rick Zabel (Ger) BMC Racing Team 90 Roy Jans (Bel) Wanty - Groupe Gobert 91 Robin Stenuit (Bel) Wanty - Groupe Gobert 92 Gediminas Bagdonas (Ltu) AG2R La Mondiale 93 Rudiger Selig (Ger) Bora-Argon 18 94 Frederik Frison (Bel) Lotto Soudal 95 Steven Tronet (Fra) Fortuneo - Vital Concept 96 Floris Gerts (Ned) BMC Racing Team 97 Maxime Farazijn (Bel) Topsport Vlaanderen - Baloise 98 Markel Irizar (Spa) Trek-Segafredo 99 Vegard Breen (Nor) Fortuneo - Vital Concept 100 Tom Stamsnijder (Ned) Team Giant-Alpecin 101 Marco Haller (Aut) Team Katusha 102 Gregory Rast (Swi) Trek-Segafredo 103 Ryan Mullen (Irl) Cannondale Pro Cycling 104 Sander Helven (Bel) Topsport Vlaanderen - Baloise 105 Matt Brammeier (Irl) Dimension Data 106 Luka Pibernik (Slo) Lampre - Merida 107 Yohann Gene (Fra) Direct Energie 108 Kristijan Koren (Slo) Cannondale Pro Cycling 109 Cyril Lemoine (Fra) Cofidis, Solutions Credits 110 Zdenek Stybar (Cze) Etixx - Quick-Step 111 Hugo Houle (Can) AG2R La Mondiale 112 Marc Sarreau (Fra) FDJ 113 Lieuwe Westra (Ned) Astana Pro Team 114 Tiesj Benoot (Bel) Lotto Soudal 115 Iljo Keisse (Bel) Etixx - Quick-Step 116 Hugo Hofstetter (Fra) Cofidis, Solutions Credits 0:18:42 117 Jay Robert Thomson (RSA) Dimension Data 0:24:45 118 Twan Castelijns (Ned) Team LottoNl-Jumbo 119 Luka Mezgec (Slo) Orica-GreenEdge DNF Yannick Martinez (Fra) Delko Marseille Provence KTM DNF Martin Laas (Est) Delko Marseille Provence KTM DNF Benjamin Giraud (Fra) Delko Marseille Provence KTM DNF Fredrik Strand Galta (Nor) Delko Marseille Provence KTM DNF Romain Combaud (Fra) Delko Marseille Provence KTM DNF Mikel Aristi (Spa) Delko Marseille Provence KTM DNF Phillip Gaimon (USA) Cannondale Pro Cycling DNF Francisco Ventoso (Spa) Movistar Team DNF Jasha Sütterlin (Ger) Movistar Team DNF Dayer Quintana (Col) Movistar Team DNF Nelson Oliveira (Por) Movistar Team DNF Javier Moreno (Spa) Movistar Team DNF Juan Jose Lobato (Spa) Movistar Team DNF Jorge Arcas Pena (Spa) Movistar Team DNF Federico Zurlo (Ita) Lampre - Merida DNF Xu Gang (Tpe) Lampre - Merida DNF Roberto Ferrari (Ita) Lampre - Merida DNF Chun Kai Feng (Tpe) Lampre - Merida DNF Mario Costa (Por) Lampre - Merida DNF Davide Cimolai (Ita) Lampre - Merida DNF Tyler Farrar (USA) Dimension Data DNF Nick Dougall (RSA) Dimension Data DNF Stijn Steels (Bel) Topsport Vlaanderen - Baloise DNF Jonas Rickaert (Bel) Topsport Vlaanderen - Baloise DNF Tim Declercq (Bel) Topsport Vlaanderen - Baloise DNF Alexandre Pichot (Fra) Direct Energie DNF Julien Morice (Fra) Direct Energie DNF Fabien Grellier (Fra) Direct Energie DNF Sylvain Chavanel (Fra) Direct Energie DNF Boris Vallee (Bel) Fortuneo - Vital Concept DNF Daniel Mclay (GBr) Fortuneo - Vital Concept DNF Yauheni Hutarovich (Blr) Fortuneo - Vital Concept DNF Franck Bonnamour (Fra) Fortuneo - Vital Concept DNF Olivier Le Gac (Fra) FDJ DNF Ignatas Konovalovas (Ltu) FDJ DNF Daniel Hoelgaard (Nor) FDJ DNF Murilo Antonio Fischer (Bra) FDJ DNF Mickael Delage (Fra) FDJ DNF Matthieu Ladagnous (Fra) FDJ DNF Nico Denz (Ger) AG2R La Mondiale DNF Sebastien Turgot (Fra) AG2R La Mondiale DNF Boy Van Poppel (Ned) Trek-Segafredo DNF Stijn Devolder (Bel) Trek-Segafredo DNF Tom Devriendt (Bel) Wanty - Groupe Gobert DNF Michael Van Staeyen (Bel) Cofidis, Solutions Credits DNF Kenneth Van Bilsen (Bel) Cofidis, Solutions Credits DNF Gert Joeaar (Est) Cofidis, Solutions Credits DNF Michal Kolár (Cze) Tinkoff Team DNF Michael Gogl (Aut) Tinkoff Team DNF Oscar Gatto (Ita) Tinkoff Team DNF Adam Blythe (GBr) Tinkoff Team DNF Michael Schwarzmann (Ger) Bora-Argon 18 DNF Alexander Porsev (Rus) Team Katusha DNF Nils Politt (Ger) Team Katusha DNF Vladimir Isaychev (Rus) Team Katusha DNF Jelle Wallays (Bel) Lotto Soudal DNF Jasper De Buyst (Bel) Lotto Soudal DNF Elia Viviani (Ita) Team Sky DNF Christian Knees (Ger) Team Sky DNF Andrew Fenn (GBr) Team Sky DNF Svein Tuft (Can) Orica-GreenEdge DNF Mitchell Docker (Aus) Orica-GreenEdge DNF Sam Bewley (NZl) Orica-GreenEdge DNF Roger Kluge (Ger) IAM Cycling DNF Gatis Smukulis (Lat) Astana Pro Team DNF Arman Kamyshev (Kaz) Astana Pro Team DNF Dmitriy Gruzdev (Kaz) Astana Pro Team DNF Maxat Ayazbayev (Kaz) Astana Pro Team DNF Lars Boom (Ned) Astana Pro Team DNF Manuel Quinziato (Ita) BMC Racing Team DNF Daniel Oss (Ita) BMC Racing Team DNF Niki Terpstra (Ned) Etixx - Quick-Step DNF Nikolas Maes (Bel) Etixx - Quick-Step DNF Lars Van Der Haar (Ned) Team Giant-Alpecin DNF Soren Kragh Andersen (Den) Team Giant-Alpecin OTL Ryan Anderson (Can) Direct Energie OTL Matthias Brandle (Aut) IAM Cycling OTL Sam Bennett (Irl) Bora-Argon 18 OTL Marco Coledan (Ita) Trek-Segafredo DNS Jacopo Guarnieri (Ita) Team Katusha