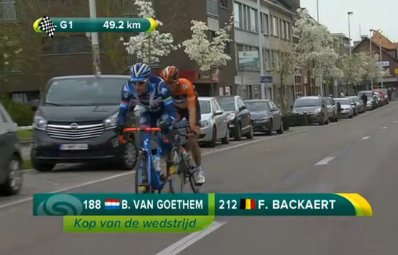 There is

a break

and 63 km to go Westra, Helven, De Vries, Tronet, Denz and Kiendys have 1'01" on the peloton. The break is

caught 54 km to go. Backaert and van Goethem

attack. Van Goethem goes, Backaert and Sanz are chasing. The peloton is at 30" 46 km to go.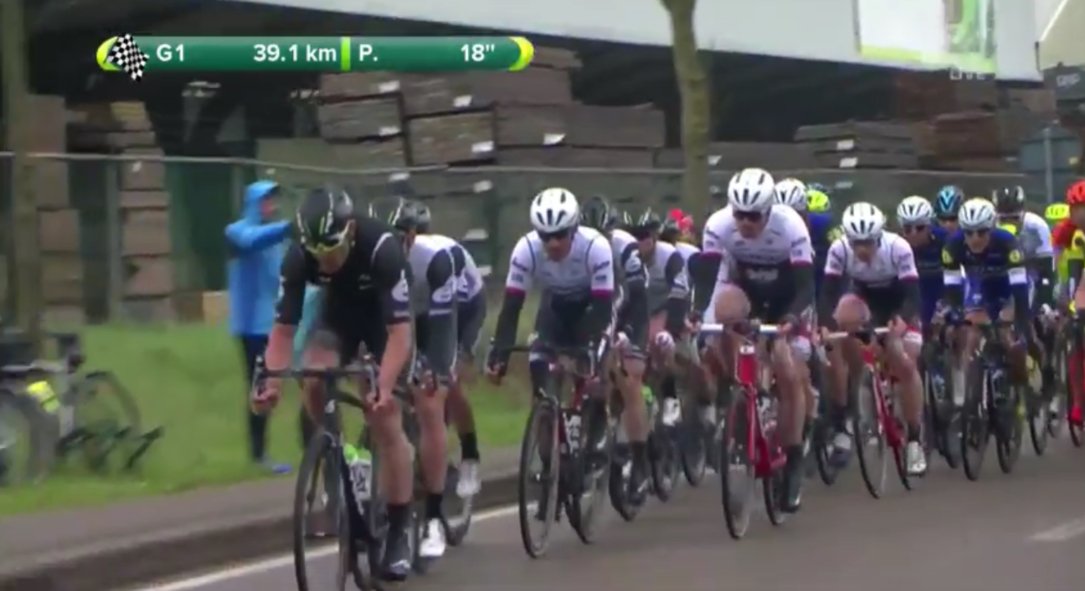 Van Goethem and Backaert are

caught

.

The peloton split.

23 km to go. At the

sprint

, about 50 riders and

Marcel Kittel wins

.
Marcel Kittel: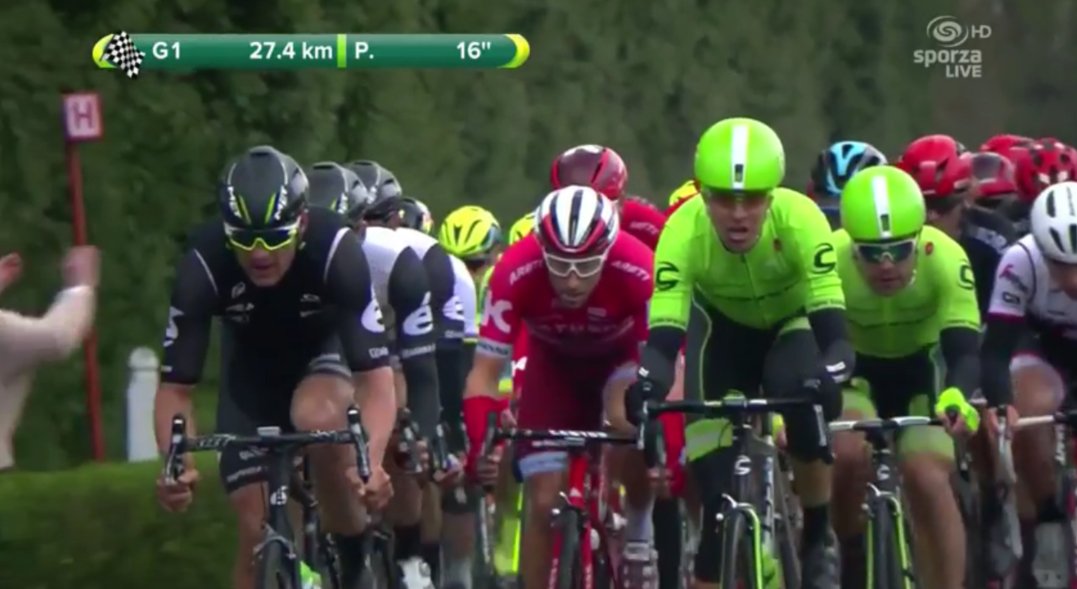 "I don't do this for numbers or for records. I just race because I love this and I love winning races. Of course, I'm glad to take the victory, just as having a team that supports me 100% and helps me get the most out of my talent makes me very happy.
The new finale was good and this meant there were no more crashes, but it's also true that the race was more difficult than in the past, because of the wind which stretched out the peloton. We knew it would be tricky, so our goal was to come at the front with two kilometers to go and we did that. My teammates were excellent, and thanks to them, nobody could pass us. I started my sprint with around 200 meters to go and it wasn't easy, but I gave my all and when Cavendish came around, I managed to keep my advantage. It's my biggest win of the season and looking at the start list, which included almost all the top names of the game, it gives me even more confidence for my next races."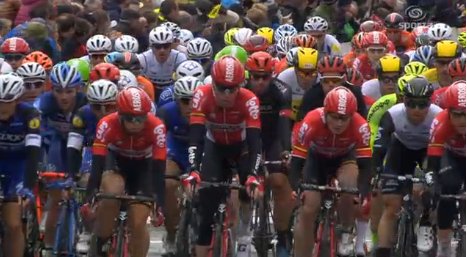 Mark Cavendish:
"Team Dimension Data for Qhubeka did a great job for me today. Jay Thomson was controlling it from the beginning. When we hit the circuits the team made sure I was always in the best position at the decisive points. It was getting wet and windy at the end and we thought it might split near the finish but the guys did an incredible job to keep me up there obviously. We wanted Reinie and Tyler there with me for the final but they had a job to do earlier on. At the end I had Tyler, and we talked about it before, if we didn't have a team anymore then Tyler would make sure he was with me in case I had any trouble. I was a little bit late going actually, when I saw 150m I thought there was still 50 more meters so I thought I better go now. I came with some good speed and when I came alongside Kittel I thought I had the better of him. When I was alongside him though he was just able to pull that little bit more out, it was something I was used to be able to do but not anymore. What can I say, it was Marcel Kittel that beat me so we can be happy with how the team rode. Obviously I am disappointed to not be able to finish their work off but we can take confidence from riding well together."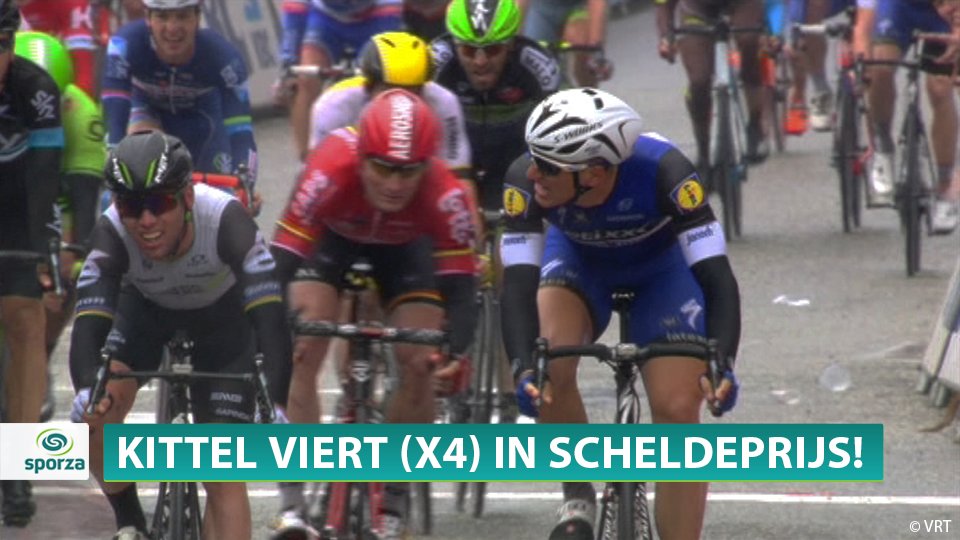 André Greipel

:
"We knew for sure it would be a bunch sprint because a lot of teams participated with a strong sprinter. The initial plan was to give a small group some advantage, then Frederik Frison could control the gap together with a few riders of other teams.
After that it was important to be at the front of the peloton in the finale with as many riders as possible, because of the strong wind that wasn't easy. We decided beforehand that we wanted to participate in the sprint. A victory would be fantastic but we also needed to be realistic. Due to a severe rib injury (which André incurred in Volta ao Algarve, LTS) the spring season got disturbed for me. I was unable to do specific sprint trainings and I never had a great feeling on the bike. Today I just wanted to participate in the bunch sprint. Because of the tailwind in the final road to the finish line I'd planned to take the initiative. But then it became clear that I can't compete with Mark Cavendish and Marcel Kittel at this moment.

I can't complain about the way I did my sprint today, I'm very happy with this third place. Sunday I'll participate in Paris-Roubaix, that's always a special race. You can't predict what will happen and I really look forward to this race. After that I'll have a short rest period and then I'll prepare myself for the Giro d'Italia. I know what to do, optimizing my sprint speed."
Erik Baška:
"I'm disappointed that no teams were pulling, as with an easy tempo everyone was fighting for position and it got quite nervous in the bunch. If it had been faster then I would have been able to get into a better position and have been further up there at the end. It was great to have the team helping me today though, and good to learn from having the responsibility in the race."
Edward Theuns:
"It was a wet and dangerous sprint. Etixx (Quick Step) pulled really hard in the final kilometer, it was all in one line and just about holding the wheel and then sprinting in the last 200 meters.
I was a little bit short for the podium, but I am happy finishing behind these three guys. I was able to stay on their wheels, and they did not sprint away from me in the end; I was even battling against Greipel for third. I was there, and that is good for me."
Danny Van Poppel:
"It was close. I was pretty tired but I gave it a go and did the best I could.
The plan was for Viviani but he was pretty far back, so I had a go. I ran out of energy and so it was too bad but I suppose it's a god sign for me.
I feel strong now and don't have any pain in my knee. It'll take time to get back up to my level but I know that I can do it.
I'm ready to suffer on Sunday in the hope of reaching the Roubaix finish, that is my first goal I would really have liked to show myself in the Classics, but I that will have to wait before another year."
RESULTS
1 Kittel
2 Cavendish
3 Greipel
4 Theuns
5 Bonifazio
6 Danny Van Poppel
7 Arndt
8 Wippert
9 Groenewegen
10 McLay