The Ronde is

my favourite

one day race amongh the

Classics of the North

. Even more than Roubaix, because it's more tactical, more 'cycling' I dare to say, whereas Roubaix is a totally 'sui generis' race.
The 100 Walls' race are all crowded and screaming, full of Flanders' flags.
A Tour de France winner can be a contender here - hardly in the Roubaix hell - and the opposite is also true. In the past that was more often the case, recently it's rare.
This year it's the 100th Ronde, an even more precious victory, especially for a Belgian rider, and My favourite is

Sep Vanmarcke

.

Sunny

and relatively warm. A

break

is already away, including Imanol Erviti, Hugo Houle, Wesley Kreder, Lukas Pöstlberger, Gijs Van Hoecke and Federico Zurlo. Kenny De Haes and Roy Curvers follow at 1' 07 ", the peloton is at 1 ' 27" and the gap keeps increasing. 154 km to go the peloton is at 4'04", Curvs gave up while Kenny Dehaes is chasing solo at 1'52".
Oude Kwaremont

, the first wall of the day: 500 metres long, cobbled, with a maximum gradient of over 11%. On the way to de

Kortekeer

- 1000 m, 6.6% average -

a large

crash

in the peloton brings down several riders, including Edvald

Boasson Hagen

and Arnaud

Démare who abandoned.

Also Thomas fell, fortunately on the grass. Sep

Vanmarcke

has got a problem, with his bike, maybe he fell too and has to stop waiting for his team car. new bike, Lotto Jumbo stops and two mates help him to come back. 133 km to go he catches the tail of the peloton.

Eikenberg

now. Mark Renshaw abandoned too.

Wolvenberg

. Pöstlberger lost contact with the front group due to mechanical problems. The peloton is at 4'13" . Kenny Dehaes is caught. 129 km to go HUGE

crash. Tiesj Benoot

remains on the ground. Farrar fell too but he's back racing.

Kerkgate

. News come that

Benoot abandoned.

Stuyven crashed and is now chasing solo behind his team car. He catches the tail of the peloton just before the start of the next hill. Marcus Burghardt abandoned.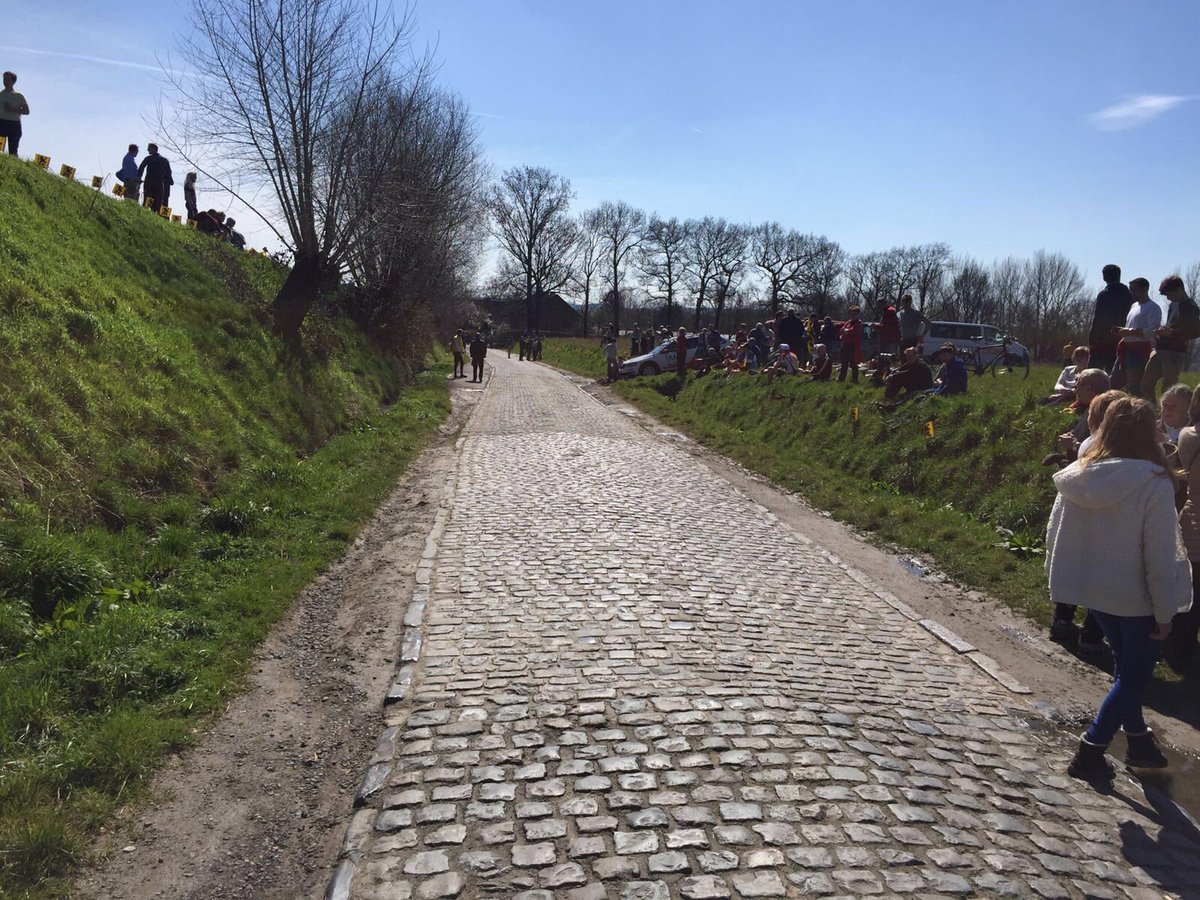 Molenberg:

460 meters, 7% average. 119 km to go gap is 2'28". Martin and Stannard in front

split the peloton

. Cancellara is in the first chasing group, Stuyven and two other Trek riders are not and pullin to close the gap.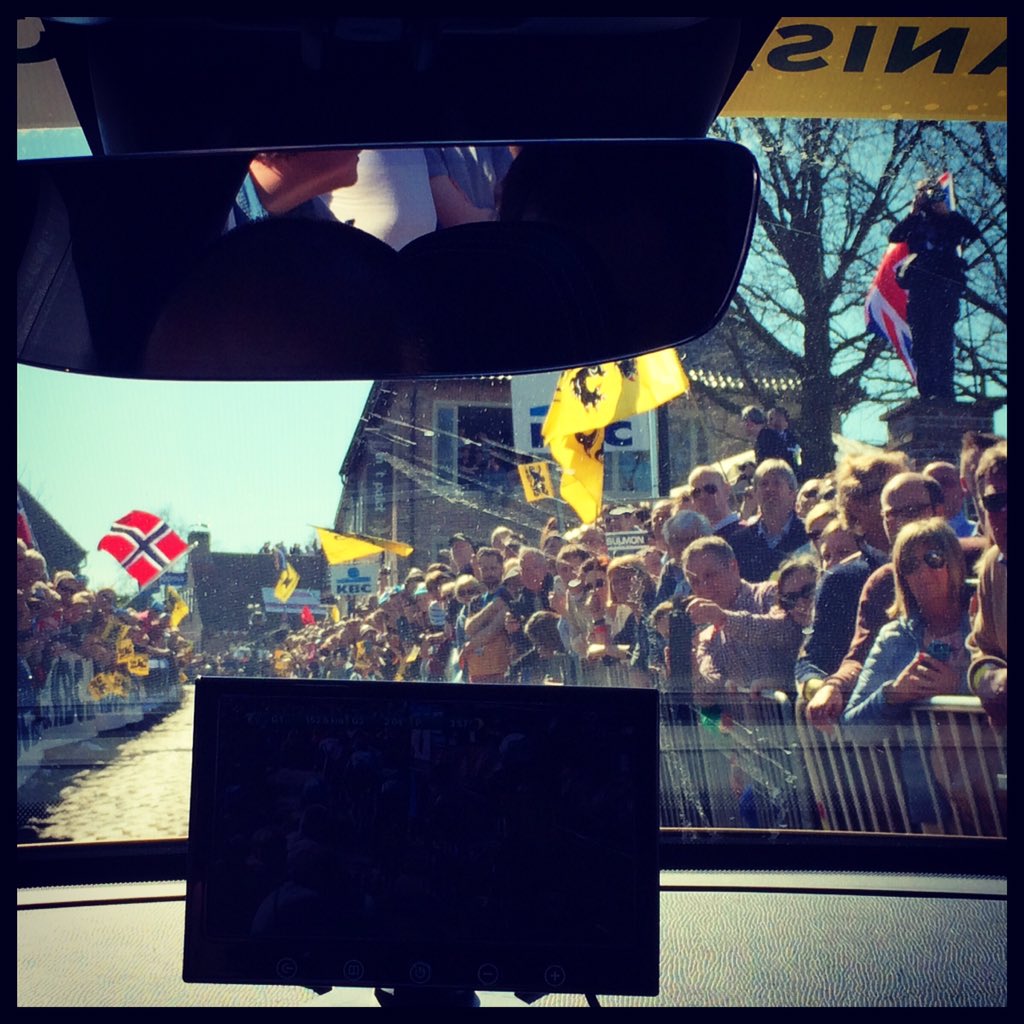 Paddestraat:

Kreder is dropped.

The peloton is

back together

just before the start of the

Haaghoek

cobbled sector. A new

mechanical problem

forces

Vanmarcke

to stop at the team car to fix the bike.

Boom!

another big crash and

several BMC rider

S on the ground!

Van Avermaet is crying.

Phinney and Oss are back on bike.

Leberg

:

Greipel speeds up, Politt follows and they get a gap

.

Berendries

:

only

Van Hoecke and Erviti are still ahead. 90 km to go two riders got off the peloton.

Valkenberg -

540 metres long maxing out at 12.8% - 88km to go Van Hoecke and Erviti have 36" on Greipel and Politt, 1'10" on Van Hecke and van Ginneken and 1'29" on the peloton.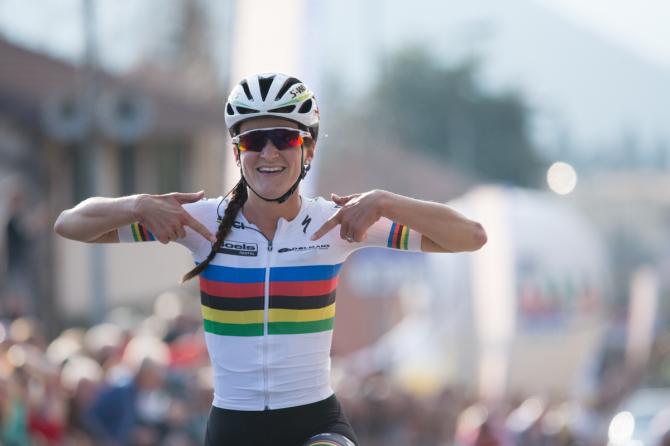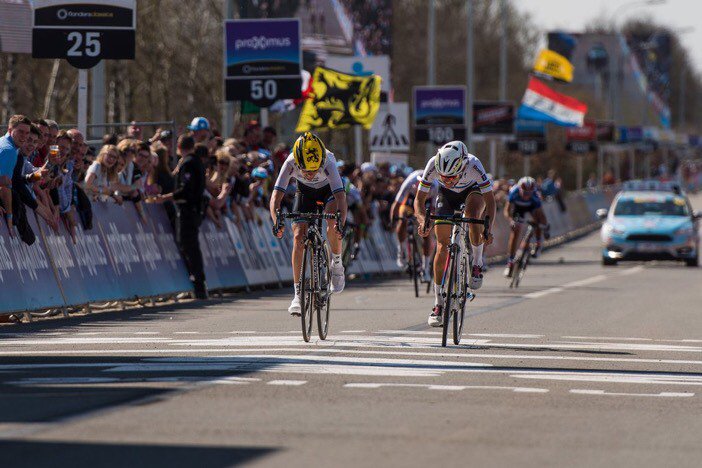 Meanwhile the

women race

is on the oude kwaremont now, 10 riders including Armitstead, Johansson, Longo Borghini, Blaak, van Dijk, Guarnier, Ferrand Prevot, Niewadoma, van Vleuten, Ratto, Lichtenbergare leading 17 km to go.

Johansson and Armitstead

are trying to escape. They get a gap. At the photofinish

Armitstead wins

.
In the men race, Greipel and Politt caught Houle.

Claeys

and

Gruzdev

got off the peloton too and are trying to bridge. Seven riders in front as the chase suceeded.

Kapperij:

77.5km to go Van Hoecke, Erviti, Greipel, Politt and Houle have 1'32" on the peloton. Lars Boom gets a mechanical and has to change the back wheel. News come that

Van Avermaet broke his collarbone

. Oude-Kwaremont:

Vandenbergh and van Baarle attack

and gt a gap.

Paterberg

-

360 meters, 12.9% average, 22% maximum.

The peloton split

.

45 km to go Greipel attacks! Next is Koppenberg.

Greipel is back with the break.

Stuyven, Waeytens, Ligthart, Weening, Duchesne, Moinard and Stannard got some advantage on the peloton while at the back riders are climbing on foot. 42 km to go Politt, Greipel, Erviti and Claeys are still in front. Vandenbergh and Van Baarle join.

Mariaborenstraat

: 40 km to go

Stannard attacks from the peloton

.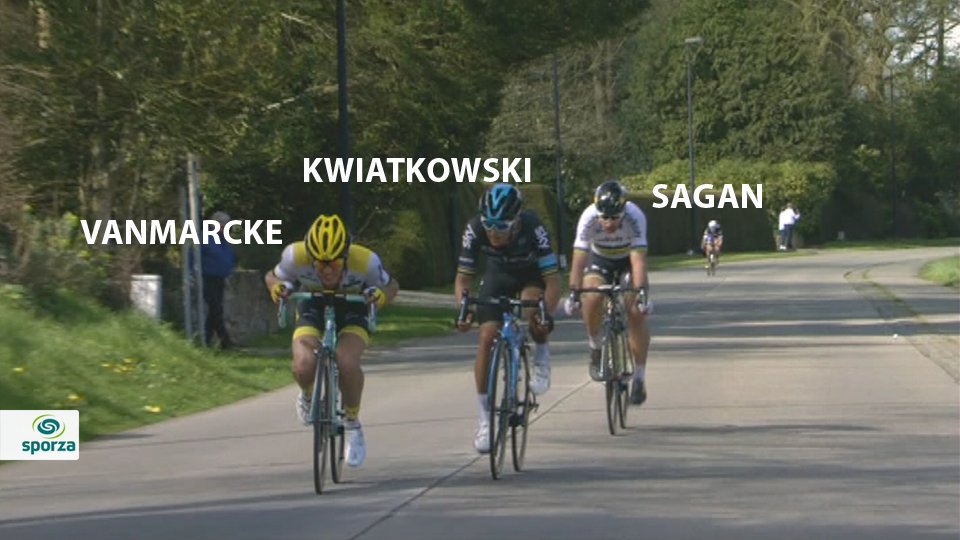 Steenbeekdries

. 38km to go.

Roelandts

gets off the peloton and tries to follow but he's caught and dropped on the

Taaienberg

. The peloton exploded. There is

a strong chasing group

with also Cancellara, Sagan, Vanmarcke, Rowe, Devolder, Gatto, Keukeleire, De Vreese, Trentin and Stybar. Some other riders join, including Boasson Hagen.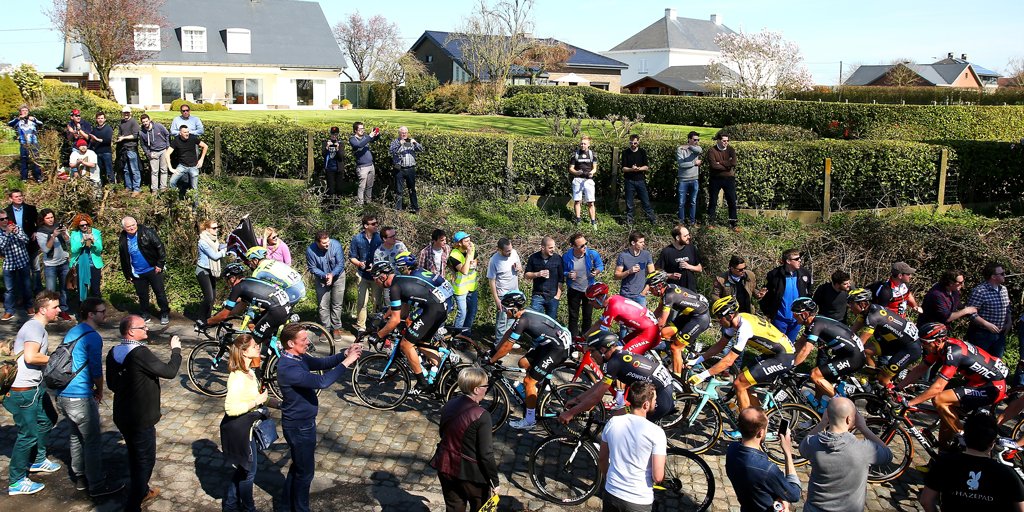 32 km to go

Kwiatkowski attacks, Sagan on his wheel. Vanmarcke joins

. Allez Sep!!! what a big opportunity!! Trentin and Oss are trying to bridge. 28.5 km to go Greipel, Claeys, Erviti, Gruzdev, Vandenbergh and Van Baarle have 38" on Kwiatkowski, Vanmarcke and Sagan, and 59" on the peloton. Trek is leading the chase but only Devolder is still with Cancellara.

23 km to go the 3 attackers join the break-away

. The gap is just a 25''.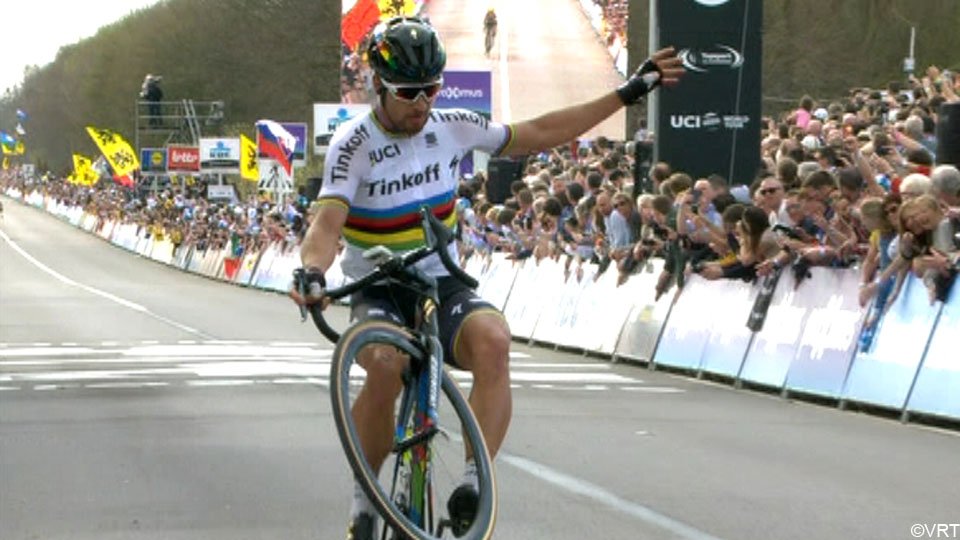 Oude Kwaremont

. The two group merge.

Sagan and Vanmarcke go, Cancellara is coming!

6.2 km to go Vanmarcke and Sagan have 10" on Cancellara, 15" on Vandenbergh, Terpstra, Erviti and Claeys.

Cancellara is caught

.

Paterberg

, the last climb! NO! Vanmarcke gets dropped and

Sagan goes solo!

Cancellara joins Vanmarcke, they chase together. The rest is dropped.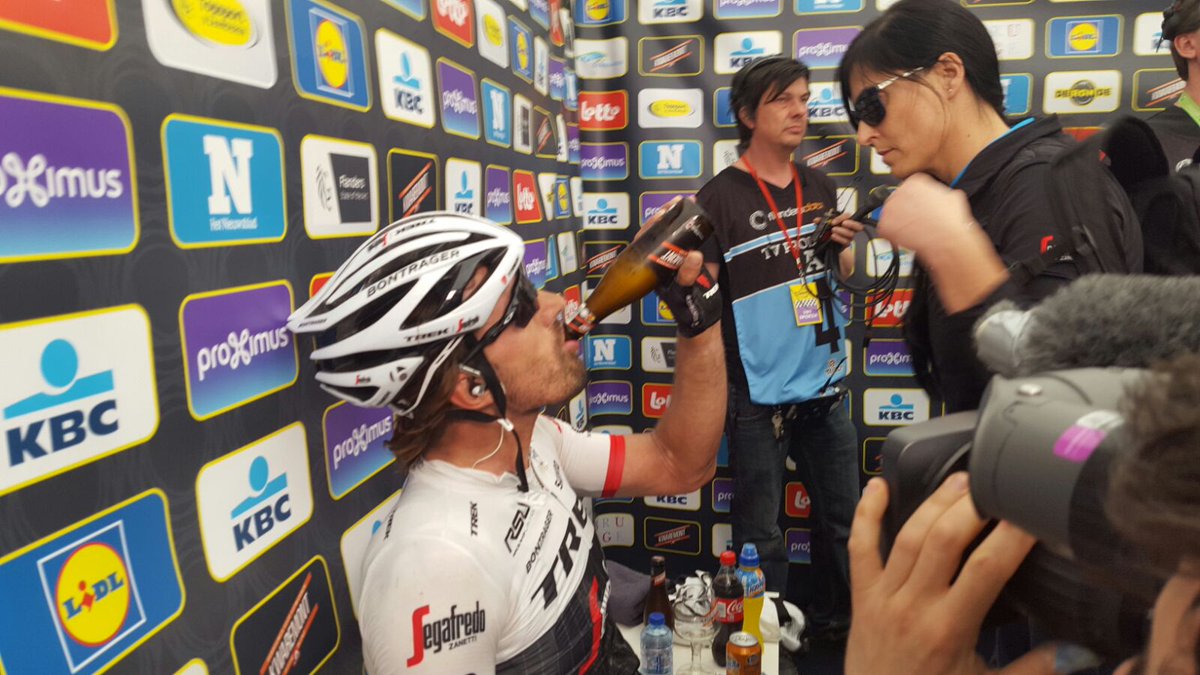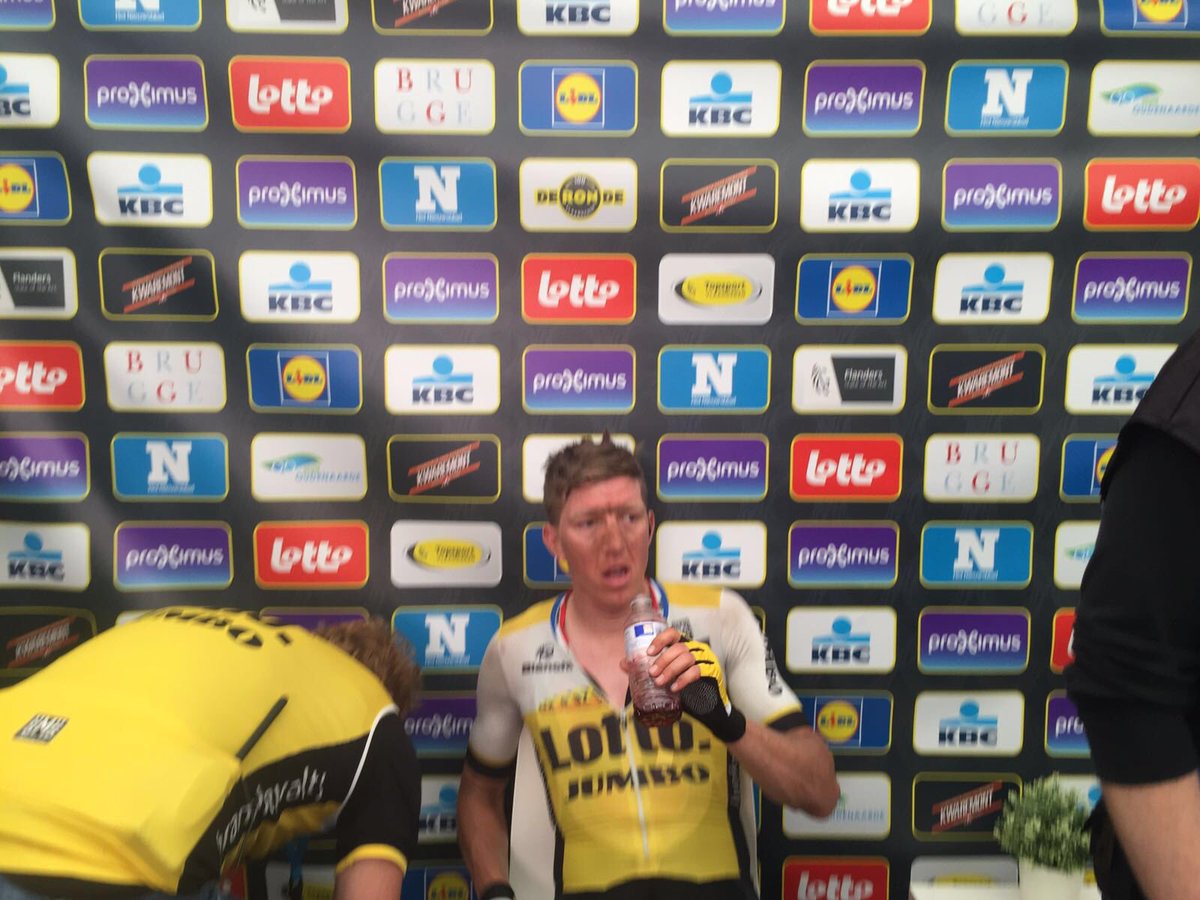 11 km to go the gao is 12'' but growing.

On Cancellara's wheel, Sep Vanmarcke MUST stay cool!

do NOT think!

8 km till Oudenaarde

, gap is 17 seconds. 6 km to go gap is 13". 1.5 km to go gap is 25". Canecllara wants to win but is Vanmarcke managing his energies now to sprint for 2nd at least? os is he still giving all to catch Sagan? No.

Sagan wins.

Vanmarcke doesn't even try to sprint. Cancellara waves to the crowd. And of course Sagan offers a wheelie. WHAT A RACE!


Elizabeth Armitstead:

"It was a really strange race with just two in the front. We had to commit. I didn't leave anything for the sprint. Emma's fast, and I didn't underestimate her.

It was a poker game in the end. I didn't have any radio, so I didn't know what was happening.

It's really special to win, and to win in the rainbow jersey is even more special. It was the perfect day.

Everyone had their role and everyone did it really well. Up until the Kanarieberg, I never touched the wind. Christine [Majerus] was taking care of me from the start. She did that really well. I was never out of position, and it made a big difference today.

It came over the radio that Ellen [van Dijk] should make the race harder over Oude Kwarement. The race was still too much together. My plan was to go on the Paterberg, and we needed it to be more aggressive so that I could get away.

Ellen set a really fierce pace over the Oude Kwarement that sort of brought everyone on their knees.

Johansson

didn't give me a single turn into Paterberg, and I thought: 'I'll still make this work. I'll attack her on Paterberg' and I tried, but I couldn't get her off my wheel.

A couple kilometres after the Paterberg, Emma decided to work, and we worked together until the final kilometre.

I needed her to open the sprint before me, and she did. At that point, it's not about who is fastest, it's who is freshest. I was tired, and you could see that in my sprint. It was a race all the way to the line.

I knew in my gut that I had won because I knew my momentum took me over the top of her. Generally you know in that situation, but I didn't dare risk it. I knew for certain when she congratulated me.

I'm delighted but it's also a big relief. I've got that win, that career goal done, and now it's all about shifting focus. It's a good way to start putting the spring behind me and thinking about Rio.

The secret to our success?

We train really, really hard, and we have no social life."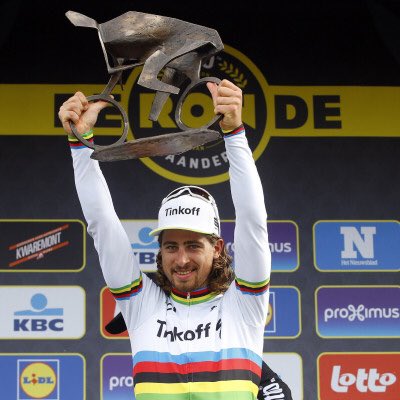 Peter Sagan:
"You have to think about the two riders who died last week – it was very sad. I want to dedicate my win to them and to Maciej Bodnar who had a crash in training. I want to wish him well and see him back in the group soon.
It was a super hard race from the start until the finish, we were always going full gas and I had a bit of a problem after 100km, having to change both wheels. There were a lot of crashes – thank you to all the team they did a great job."
Fabian
Cancellara:
"When I think about it, second is not first. First is history. I didn't win but… yeah.
Today I tried to deliver a great race, but we did not have the best luck on our side. In the beginning, we had a lot of mechanical problems, we were involved in crashes, and I think Jasper changed like three times the bike. But in the end, everyone did their maximum; I did the maximum.
Second is still a big thing. I was quite emotional this morning, and still now, after so may tries to still finish second I think is not bad. Let me sleep over it and I will be happy. But still I was aiming for history. But I think Peter showed today that he managed everything well and is the deserved winner. I think I was just missing this one second there when Kwiatkowski with Sagan went, and Sep went as well. I was trusting on Stijn (Devolder) and the collaboration from the others. But in the end, we saw that the race was really, really tough today; from the beginning until to the end it was almost full gas, and with all the crashes.
I am super happy with the work Stijn did at the end. Also Jasper. We lost Gregy (Rast) too early to a mechanical when Dirk (Demol, director) was helping Jasper. With all the problems we had we never had the chance to dictate the race today. I was running behind you could say instead of dictating the race. I collaborated good with Sep, and yeah we tried to come as close as possible. But like I say as always, I am not Superman. You have to push and give everything, and that is what I did. The one thing is, I missed that one second, and maybe there I can find a little disappointment, but in the end, it is how it is. There are no excuses. There are no excuses. Sep and I could not catch Peter, he was the strongest. Thank you Flanders."
Sep Vanmarcke:
"I returned in the peloton, but I noticed the damage of my crash. My bike broke and it took a while before I was back in the race. I had changed the position of my saddle on purpose, just before the race, and I didn't have the chance to do that with my second bike as well. After 170 kilometres, I suffered.
My team-mates gave it all to bring me back in the race. Maarten Wynants did a lot of work in the beginning of the final. I was still feeling good on the climbs. When Sagan and Kwiatkowski attacked, I felt that it was going to be the decisive moment in the race. I had to close the gap to them immediately. Behind me, there was a moment of doubt and that was a perfect situation for me."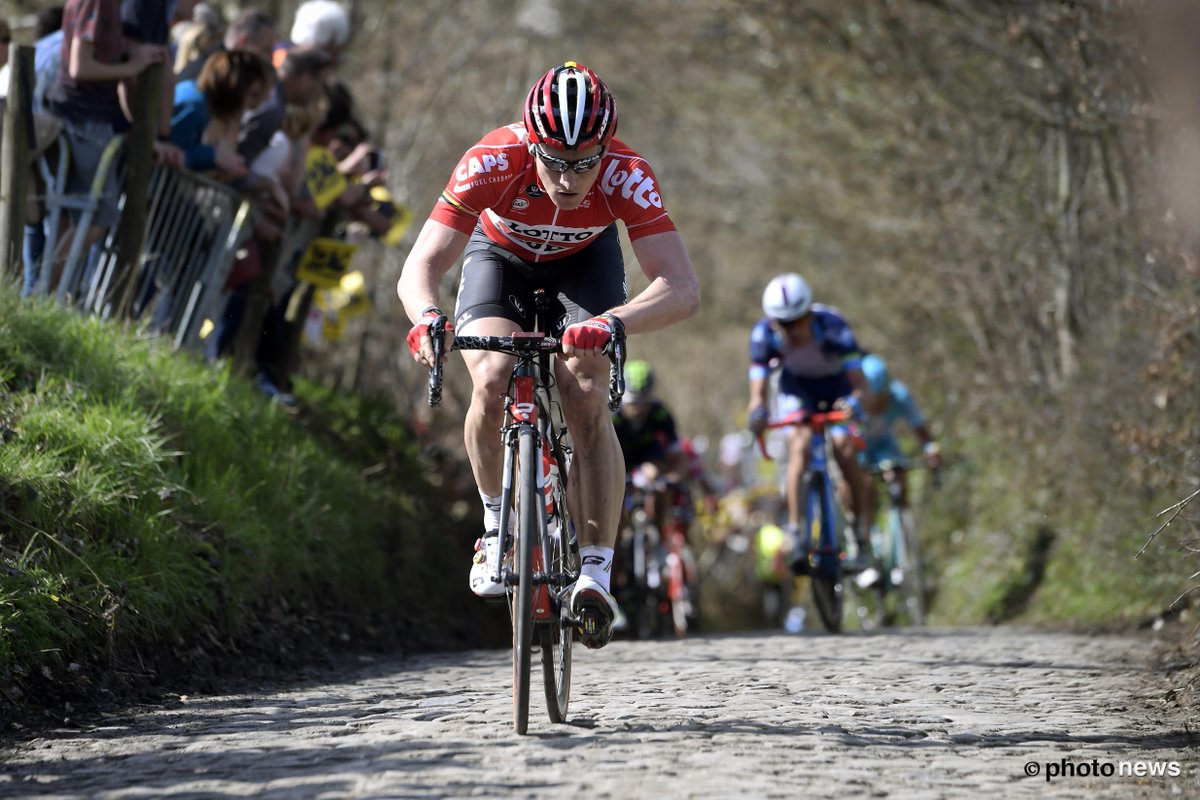 Lotto-Saudal about Tiesj Benoot:
"Bad luck for Lotto Soudal just before the race was halfway, in between the Eikenberg and Molenberg. A water bottle fell out of the bottle cage of another rider and Tiesj Benoot couldn't avoid it. The chances of another strong result for Tiesj, who was fifth in his first Ronde last year, were gone. The young Belgian hit his face on the ground. He also has many abrasions on his hands, arms and legs. Tiesj had a deep cut on his left elbow which needed to be stitched and his left shoulder is bruised. How long Tiesj will be out isn't sure yet. Next week will be decided if racing is still an option this spring."
RESULTS
Women
1
Elizabeth Armitstead (GBr) Boels Dolmans Cycling Team
3:43:27
2
Emma Johansson (Swe) Wiggle High5
3
Chantal Blaak (Ned) Boels Dolmans Cycling Team
0:00:02
4
Megan Guarnier (USA) Boels Dolmans Cycling Team
5
Elisa Longo Borghini (Ita) Wiggle High5
6
Eleonora Van Dijk (Ned) Boels Dolmans Cycling Team
7
Annemiek Van Vleuten (Ned) Orica-AIS
8
Pauline Ferrand Prevot (Fra) Rabo Liv Women Cycling Team
9
Claudia Lichtenberg (Ger) Lotto Soudal Ladies
10
Katarzyna Niewiadoma (Pol) Rabo Liv Women Cycling Team
0:00:08
11
Gracie Elvin (Aus) Orica-AIS
0:00:59
12
Jessie Daams (Bel) Lotto Soudal Ladies
13
Rossella Ratto (Ita) Cylance Pro Cycling
14
Olga Zabelinskaya (Rus) Bepink
15
Amanda Spratt (Aus) Orica-AIS
0:02:00
16
Coryn Rivera (USA) UnitedHealthcare Women
0:02:03
17
Lisa Brennauer (Ger) Canyon-SRAM
18
Joelle Numainville (Can) Cervelo Bigla Pro Cycling Team
19
Elena Cecchini (Ita) Canyon-SRAM
20
Maria Giulia Confalonieri (Ita) Lensworld-Zannata
21
Amy Pieters (Ned) Wiggle High5
22
Malgorzta Jasinska (Pol) AlÈ Cipollini
23
Brianna Walle (USA) Tibco-Silicon Valley Bank
24
Anna Van Der Breggen (Ned) Rabo Liv Women Cycling Team
25
Sarah Roy (Aus) Orica-AIS
26
Lauren Kitchen (Aus) Hitec Products
0:03:23
27
Jolien D'hoore (Bel) Wiggle High5
0:03:26
28
Lotta Lepistö (Fin) Cervelo Bigla Pro Cycling Team
29
Sheyla Gutierrez Ruiz (Spa) Cylance Pro Cycling
30
Eugenia Bujak (Pol) BTC City Ljubljana
31
Ashleigh Moolman-Pasio (RSA) Cervelo Bigla Pro Cycling Team
32
Sofie De Vuyst (Bel) Lotto Soudal Ladies
33
Lotte Kopecky (Bel) Lotto Soudal Ladies
34
Tiffany Cromwell (Aus) Canyon-SRAM
35
Elizabeth Williams (Aus) Orica-AIS
36
Anna Zita Maria Stricker (Ita) INPA - Bianchi
37
Eileen Roe (GBr) Lares-Waowdeals Women Cycling Team
38
Rasa Leleivyte (Ltu) Aromitalia Vaiano
39
Emilia Fahlin (Swe) AlÈ Cipollini
40
Julie Leth (Den) Hitec Products
41
Emilie Moberg (Nor) Hitec Products
42
Alison Jackson (Can) Twenty16 - Ridebiker
43
Cecilie Uttrup Ludwig (Den) Team BMS Birn
44
Susanna Zorzi (Ita) Lotto Soudal Ladies
45
Linda Melanie Villumsen (NZl) UnitedHealthcare Women
46
Saartje Vandenbroucke (Bel) Topsport Vlaanderen-Etixx-Guill D'or
47
Floortje Mackaij (Ned) Team Liv-Plantur
48
Lucinda Brand (Ned) Rabo Liv Women Cycling Team
49
Thalita De Jong (Ned) Rabo Liv Women Cycling Team
50
Christine Majerus (Lux) Boels Dolmans Cycling Team
51
Valerie Demey (Bel) Topsport Vlaanderen-Etixx-Guill D'or
52
Kaat Hannes (Bel) Lensworld-Zannata
53
Joanne Kiesanowski (NZl) Tibco-Silicon Valley Bank
54
Kelly Van Den Steen (Bel) Topsport Vlaanderen-Etixx-Guill D'or
55
Leah Kirchmann (Can) Team Liv-Plantur
56
Polona Batagelj (Slo) BTC City Ljubljana
57
Audrey Cordon (Fra) Wiggle High5
58
Amélie Rivat (Fra) Poitou-Charentes.Futuroscope.86
59
Flavia Oliveira (Bra) Lensworld-Zannata
60
Marie Vilmann (Den) Team BMS Birn
61
Nicole Brändli (Swi) Servetto Footon
62
Katie Hall (USA) UnitedHealthcare Women
63
Evelyn Stevens (USA) Boels Dolmans Cycling Team
64
Alena Amialiusik (Blr) Canyon-SRAM
65
Kaitlin Antonneau (USA) Twenty16 - Ridebiker
66
Alison Tetrick (USA) Cylance Pro Cycling
67
Anna Plichta (Pol) BTC City Ljubljana
68
Monique Van De Ree (Ned) Lares-Waowdeals Women Cycling Team
0:04:12
69
Lenore Pipes (Gum) Bepink
0:04:14
70
Clara Koppenburg (Ger) Cervelo Bigla Pro Cycling Team
71
Chanella Stougje (Ned) Parkhotel Valkenburg Continental Team
72
Janneke Ensing (Ned) Parkhotel Valkenburg Continental Team
73
Carlee Taylor (Aus) Team Liv-Plantur
74
Marta Bastianelli (Ita) AlÈ Cipollini
75
Laura Massey (GBr) Drops Cycling Team
0:04:41
76
Jennifer George (GBr) Drops Cycling Team
77
Jessica Cerra (USA) Twenty16 - Ridebiker
78
Alice Maria Arzuffi (Ita) Lensworld-Zannata
79
Sharon Laws (GBr) Podium Ambition Pro Cycling p/b Club La Santa
80
Tetiana Riabchenko (Ukr) INPA - Bianchi
0:05:43
81
Tatiana Guderzo (Ita) Hitec Products
0:06:10
82
Soraya Paladin (Ita) Top Girls Fassa Bortolo
83
Nina Kessler (Ned) Lensworld-Zannata
0:07:03
84
Leah Thomas (USA) Twenty16 - Ridebiker
85
Jip Van Den Bos (Ned) Parkhotel Valkenburg Continental Team
86
Esra Tromp (Ned) Parkhotel Valkenburg Continental Team
87
Alexis Ryan (USA) Canyon-SRAM
88
Anouska Koster (Ned) Rabo Liv Women Cycling Team
89
Špela Kern (Slo) BTC City Ljubljana
90
Rozanne Slik (Ned) Team Liv-Plantur
91
Sofia Arreola (Mex) Twenty16 - Ridebiker
0:08:17
92
Ilona Hoeksma (Ned) Parkhotel Valkenburg Continental Team
93
Diana Peñuela (Col) UnitedHealthcare Women
94
Alicia Gonzalez Blanco (Spa) Lointek
95
Iris Slappendel (Ned) UnitedHealthcare Women
96
Chloe Hosking (Aus) Wiggle High5
97
Oxana Kozonchuk (Rus) Lensworld-Zannata
98
Sofia Bertizzolo (Ita) Astana Pro Team
99
Lex Albrecht (Can) Bepink
0:11:15
100
Loren Rowney (Aus) Orica-AIS
101
Jesse Vandenbulcke (Bel) Lares-Waowdeals Women Cycling Team
102
Anna Potokina (Rus) Servetto Footon
0:12:02
103
Ilaria Sanguineti (Ita) Bepink
0:12:35
104
Silvia Valsecchi (Ita) Bepink
0:14:00
105
Alba Teruel Ribes (Spa) Lointek
106
Katia Ragusa (Ita) Servetto Footon
0:15:53
107
Rachele Barbieri (Ita) Cylance Pro Cycling
0:15:56
108
Sara Penton (Swe) Lares-Waowdeals Women Cycling Team
109
Lauren Komanski (USA) Tibco-Silicon Valley Bank
110
Elena Franchi (Ita) Aromitalia Vaiano
DNF
Natalie Van Gogh (Ned) Parkhotel Valkenburg Continental Team
DNF
Louise Norman Hansen (Den) Team BMS Birn
DNF
Margriet Helena Kloppenburg (Den) Team BMS Birn
DNF
Jermaine Post (Ned) Parkhotel Valkenburg Continental Team
DNF
Pauliena Rooijakkers (Ned) Parkhotel Valkenburg Continental Team
DNF
Barbara Guarischi (Ita) Canyon-SRAM
DNF
Stephanie Pohl (Ger) Cervelo Bigla Pro Cycling Team
DNF
Charlotte Becker (Ger) Hitec Products
DNF
Janicke Gunvaldsen (Nor) Hitec Products
DNF
Valentina Scandolara (Ita) Cylance Pro Cycling
DNF
Lauren Stephens (USA) Tibco-Silicon Valley Bank
DNF
Emily Collins (NZl) Tibco-Silicon Valley Bank
DNF
Lauren Hall (USA) Tibco-Silicon Valley Bank
DNF
Sara Mustonen (Swe) Team Liv-Plantur
DNF
Julia Soek (Ned) Team Liv-Plantur
DNF
Annie Ewart (Can) UnitedHealthcare Women
DNF
Roxane Fournier (Fra) Poitou-Charentes.Futuroscope.86
DNF
Greta Richioud (Fra) Poitou-Charentes.Futuroscope.86
DNF
Aude Biannic (Fra) Poitou-Charentes.Futuroscope.86
DNF
Coralie Demay (Fra) Poitou-Charentes.Futuroscope.86
DNF
Eugénie Duval (Fra) Poitou-Charentes.Futuroscope.86
DNF
Jelena Eric (Srb) BTC City Ljubljana
DNF
Ursa Pintar (Slo) BTC City Ljubljana
DNF
Tereza Medvedova (Svk) Bepink
DNF
Tatiana Antoshina (Rus) Astana Pro Team
DNF
Kseniia Dobrynina (Rus) Astana Pro Team
DNF
Natalya Sokovnina (Kaz) Astana Pro Team
DNF
Ane Santesteban Gonzalez (Spa) AlÈ Cipollini
DNF
Anna Trevisi (Ita) AlÈ Cipollini
DNF
Dalia Muccioli (Ita) AlÈ Cipollini
DNF
Lieselot Decroix (Bel) Lotto Soudal Ladies
DNF
Eva Buurman (Ned) Parkhotel Valkenburg Continental Team
DNF
Kelly Druyts (Bel) Topsport Vlaanderen-Etixx-Guill D'or
DNF
Gilke Croket (Bel) Topsport Vlaanderen-Etixx-Guill D'or
DNF
Jessy Druyts (Bel) Topsport Vlaanderen-Etixx-Guill D'or
DNF
Abby-Mae Parkinson (GBr) Servetto Footon
DNF
Maria Vittoria Sperotto (Ita) Servetto Footon
DNF
Molly Meyvisch (Bel) Servetto Footon
DNF
Lara Vieceli (Ita) INPA - Bianchi
DNF
Ana Maria Covrig (Rom) INPA - Bianchi
DNF
Sara Olsson (Swe) INPA - Bianchi
DNF
Claudia Cretti (Ita) INPA - Bianchi
DNF
Monia Baccaille (Ita) Aromitalia Vaiano
DNF
Beatrice Bartelloni (Ita) Aromitalia Vaiano
DNF
Alessia Bulleri (Ita) Aromitalia Vaiano
DNF
Alessia Martini (Ita) Aromitalia Vaiano
DNF
Shana Van Glabeke (Bel) Lares-Waowdeals Women Cycling Team
DNF
Sarah Rijkes (Aut) Lares-Waowdeals Women Cycling Team
DNF
Gloria Rodriguez Sanchez (Spa) Lointek
DNF
Rocio Del Alba Garcia Martinez (Spa) Lointek
DNF
Aurore Verhoeven (Fra) Lointek
DNF
Maria Del Mar Bonnin Palou (Spa) Lointek
DNF
Sara Headley (USA) Podium Ambition Pro Cycling p/b Club La Santa
DNF
Gabriella Shaw (GBr) Podium Ambition Pro Cycling p/b Club La Santa
DNF
Grace Garner (GBr) Podium Ambition Pro Cycling p/b Club La Santa
DNF
Elizabeth-Jane Harris (GBr) Podium Ambition Pro Cycling p/b Club La Santa
DNF
Claire Rose (GBr) Podium Ambition Pro Cycling p/b Club La Santa
DNF
Camilla Møllebro (Den) Team BMS Birn
DNF
Pernille Mathiesen (Den) Team BMS Birn
DNF
Christina Siggaard (Den) Team BMS Birn
DNF
Tine Rasch Hansen (Den) Team BMS Birn
DNF
Irene Bitto (Ita) Top Girls Fassa Bortolo
DNF
Nicole Dal Santo (Ita) Top Girls Fassa Bortolo
DNF
Nadia Quagliotto (Ita) Top Girls Fassa Bortolo
DNF
Elena Leonardi (Ita) Top Girls Fassa Bortolo
DNF
Asja Paladin (Ita) Top Girls Fassa Bortolo
DNF
Rebecca Durrell (GBr) Drops Cycling Team
DNF
Lucy Shaw (GBr) Drops Cycling Team
DNF
Tamiko Butler (Ant) Drops Cycling Team
DNF
Sophie Coleman (GBr) Drops Cycling Team
Men
1
Peter Sagan (Svk) Tinkoff Team
6:10:37
2
Fabian Cancellara (Swi) Trek-Segafredo
0:00:25
3
Sep Vanmarcke (Bel) Team LottoNl-Jumbo
0:00:28
4
Alexander Kristoff (Nor) Team Katusha
0:00:49
5
Luke Rowe (GBr) Team Sky
6
Dylan Van Baarle (Ned) Cannondale Pro Cycling
7
Imanol Erviti (Spa) Movistar Team
8
Zdenek Stybar (Cze) Etixx - Quick-Step
9
Dimitri Claeys (Bel) Wanty - Groupe Gobert
10
Niki Terpstra (Ned) Etixx - Quick-Step
11
Lars Boom (Ned) Astana Pro Team
12
Geraint Thomas (GBr) Team Sky
13
Stijn Vandenbergh (Bel) Etixx - Quick-Step
0:00:56
14
Alexey Lutsenko (Kaz) Astana Pro Team
0:01:00
15
Tom Boonen (Bel) Etixx - Quick-Step
16
Daniel Oss (Ita) BMC Racing Team
0:01:02
17
Jurgen Roelandts (Bel) Lotto Soudal
0:01:16
18
Laurens De Vreese (Bel) Astana Pro Team
19
Jean-Pierre Drucker (Lux) BMC Racing Team
20
Scott Thwaites (GBr) Bora-Argon 18
21
Jens Keukeleire (Bel) Orica-GreenEdge
22
Oliver Naesen (Bel) IAM Cycling
23
Edvald Boasson Hagen (Nor) Dimension Data
24
Marco Marcato (Ita) Wanty - Groupe Gobert
25
Jakob Fuglsang (Den) Astana Pro Team
26
Oscar Gatto (Ita) Tinkoff Team
0:01:45
27
Michal Kwiatkowski (Pol) Team Sky
0:01:57
28
André Greipel (Ger) Lotto Soudal
0:02:01
29
Michael Morkov (Den) Team Katusha
30
Gijs Van Hoecke (Bel) Topsport Vlaanderen - Baloise
0:02:03
31
Damien Gaudin (Fra) AG2R La Mondiale
32
Ian Stannard (GBr) Team Sky
0:02:09
33
Sylvain Chavanel (Fra) Direct Energie
0:05:35
34
Matteo Trentin (Ita) Etixx - Quick-Step
35
Juan Jose Lobato Del Valle (Spa) Movistar Team
0:07:19
36
Luka Mezgec (Slo) Orica-GreenEdge
37
Tom Devriendt (Bel) Wanty - Groupe Gobert
38
Edward Theuns (Bel) Trek-Segafredo
39
Tom Van Asbroeck (Bel) Team LottoNl-Jumbo
40
Lars Ytting Bak (Den) Lotto Soudal
41
Jasper De Buyst (Bel) Lotto Soudal
42
Roger Kluge (Ger) IAM Cycling
43
Marcel Sieberg (Ger) Lotto Soudal
44
Mickael Delage (Fra) FDJ
45
Juraj Sagan (Svk) Tinkoff Team
46
Adrien Petit (Fra) Direct Energie
47
Sjoerd Van Ginneken (Ned) Roompot - Oranje Peloton
48
Timo Roosen (Ned) Team LottoNl-Jumbo
49
Frederik Backaert (Bel) Wanty - Groupe Gobert
50
Jasha Sütterlin (Ger) Movistar Team
51
Stijn Steels (Bel) Topsport Vlaanderen - Baloise
52
Antoine Duchesne (Can) Direct Energie
53
Magnus Cort Nielsen (Den) Orica-GreenEdge
54
Gatis Smukulis (Lat) Astana Pro Team
55
Toms Skujins (Lat) Cannondale Pro Cycling
56
Mike Teunissen (Ned) Team LottoNl-Jumbo
57
Jesse Sergent (NZl) AG2R La Mondiale
58
Zakkari Dempster (Aus) Bora-Argon 18
59
Berden De Vries (Ned) Roompot - Oranje Peloton
60
Stefan Kueng (Swi) BMC Racing Team
61
Taylor Phinney (USA) BMC Racing Team
62
Tim Declercq (Bel) Topsport Vlaanderen - Baloise
63
Pim Ligthart (Ned) Lotto Soudal
64
Andrey Amador Bikkazakova (CRc) Movistar Team
65
Roy Curvers (Ned) Team Giant-Alpecin
66
Alexandre Pichot (Fra) Direct Energie
67
Bert De Backer (Bel) Team Giant-Alpecin
68
Reto Hollenstein (Swi) IAM Cycling
69
Jaroslaw Marycz (Pol) CCC Sprandi Polkowice
70
Vegard Stake Laengen (Nor) IAM Cycling
71
Luke Durbridge (Aus) Orica-GreenEdge
72
Christian Knees (Ger) Team Sky
73
Andreas Schillinger (Ger) Bora-Argon 18
74
Preben Van Hecke (Bel) Topsport Vlaanderen - Baloise
75
Filippo Pozzato (Ita) Southeast - Venezuela
76
Alan Marangoni (Ita) Cannondale Pro Cycling
77
Gianni Moscon (Ita) Team Sky
78
Sébastien Minard (Fra) AG2R La Mondiale
79
Yaroslav Popovych (Ukr) Trek-Segafredo
80
Markel Irizar Aranburu (Spa) Trek-Segafredo
81
Jacopo Guarnieri (Ita) Team Katusha
82
Salvatore Puccio (Ita) Team Sky
83
Bjorn Thurau (Ger) Wanty - Groupe Gobert
84
Dmitriy Gruzdev (Kaz) Astana Pro Team
85
Jan Barta (Cze) Bora-Argon 18
86
Pavel Brutt (Rus) Tinkoff Team
87
Zico Waeytens (Bel) Team Giant-Alpecin
88
Reinardt Janse Van Rensburg (RSA) Dimension Data
89
Nils Politt (Ger) Team Katusha
90
Mitchell Docker (Aus) Orica-GreenEdge
91
Maarten Wynants (Bel) Team LottoNl-Jumbo
92
Pieter Weening (Ned) Roompot - Oranje Peloton
93
Ramon Sinkeldam (Ned) Team Giant-Alpecin
94
Stijn Devolder (Bel) Trek-Segafredo
0:07:32
95
Maarten Tjallingii (Ned) Team LottoNl-Jumbo
0:12:48
96
Murilo Antonio Fischer (Bra) FDJ
97
Olivier Le Gac (Fra) FDJ
98
Yohann Gene (Fra) Direct Energie
99
Iljo Keisse (Bel) Etixx - Quick-Step
100
Simone Ponzi (Ita) CCC Sprandi Polkowice
101
Michal Golas (Pol) Team Sky
102
Adrian Kurek (Pol) CCC Sprandi Polkowice
103
Josef Cerny (Cze) CCC Sprandi Polkowice
104
Federico Zurlo (Ita) Lampre - Merida
105
Tomasz Kiendys (Pol) CCC Sprandi Polkowice
106
Jesper Asselman (Ned) Roompot - Oranje Peloton
107
Nikolas Maes (Bel) Etixx - Quick-Step
108
Michael Gogl (Aut) Tinkoff Team
109
Ryan Anderson (Can) Direct Energie
110
Ignatas Konovalovas (Ltu) FDJ
111
Hugo Houle (Can) AG2R La Mondiale
112
Tony Martin (Ger) Etixx - Quick-Step
113
Marco Haller (Aut) Team Katusha
114
Sebastian Langeveld (Ned) Cannondale Pro Cycling
115
Michel Kreder (Ned) Roompot - Oranje Peloton
116
Sergey Lagutin (Rus) Team Katusha
117
Tyler Farrar (USA) Dimension Data
118
Jasper Stuyven (Bel) Trek-Segafredo
DNF
Aleksei Tcatevich (Rus) Team Katusha
DNF
Viacheslav Kuznetsov (Rus) Team Katusha
DNF
Adam Blythe (GBr) Tinkoff Team
DNF
Michal Kolár (Svk) Tinkoff Team
DNF
Nikolay Trusov (Rus) Tinkoff Team
DNF
Tiesj Benoot (Bel) Lotto Soudal
DNF
Jelle Wallays (Bel) Lotto Soudal
DNF
Grégory Rast (Swi) Trek-Segafredo
DNF
Marco Coledan (Ita) Trek-Segafredo
DNF
Greg Van Avermaet (Bel) BMC Racing Team
DNF
Manuel Quinziato (Ita) BMC Racing Team
DNF
Michael Schär (Swi) BMC Racing Team
DNF
Marcus Burghardt (Ger) BMC Racing Team
DNF
Bram Tankink (Ned) Team LottoNl-Jumbo
DNF
Robert Wagner (Ger) Team LottoNl-Jumbo
DNF
Matt Brammeier (Irl) Dimension Data
DNF
Nick Dougall (RSA) Dimension Data
DNF
Bernhard Eisel (Aut) Dimension Data
DNF
Mark Renshaw (Aus) Dimension Data
DNF
Jay Robert Thomson (RSA) Dimension Data
DNF
Gediminas Bagdonas (Ltu) AG2R La Mondiale
DNF
Maxime Daniel (Fra) AG2R La Mondiale
DNF
Nico Denz (Ger) AG2R La Mondiale
DNF
Sébastien Turgot (Fra) AG2R La Mondiale
DNF
Andriy Grivko (Ukr) Astana Pro Team
DNF
Lieuwe Westra (Ned) Astana Pro Team
DNF
Jack Bauer (NZl) Cannondale Pro Cycling
DNF
Alberto Bettiol (Ita) Cannondale Pro Cycling
DNF
Matti Breschel (Den) Cannondale Pro Cycling
DNF
Kristoffer Skjerping (Nor) Cannondale Pro Cycling
DNF
Arnaud Demare (Fra) FDJ
DNF
Marc Sarreau (Fra) FDJ
DNF
Matthieu Ladagnous (Fra) FDJ
DNF
Johan Le Bon (Fra) FDJ
DNF
Heinrich Haussler (Aus) IAM Cycling
DNF
Martin Elmiger (Swi) IAM Cycling
DNF
Dries Devenyns (Bel) IAM Cycling
DNF
Aleksejs Saramotins (Lat) IAM Cycling
DNF
Davide Cimolai (Ita) Lampre - Merida
DNF
Gang Xu (Chn) Lampre - Merida
DNF
Chun Kai Feng (Tpe) Lampre - Merida
DNF
Roberto Ferrari (Ita) Lampre - Merida
DNF
Marko Kump (Slo) Lampre - Merida
DNF
Sacha Modolo (Ita) Lampre - Merida
DNF
Luka Pibernik (Slo) Lampre - Merida
DNF
Jorge Arcas Pena (Spa) Movistar Team
DNF
Nelson Filipe Santos Simoes Oliveira (Por) Movistar Team
DNF
Dayer Uberney Quintana Rojas (Col) Movistar Team
DNF
Francisco José Ventoso Alberdi (Spa) Movistar Team
DNF
Sam Bewley (NZl) Orica-GreenEdge
DNF
Jack Haig (Aus) Orica-GreenEdge
DNF
Svein Tuft (Can) Orica-GreenEdge
DNF
Søren Kragh Andersen (Den) Team Giant-Alpecin
DNF
Nikias Arndt (Ger) Team Giant-Alpecin
DNF
Koen De Kort (Ned) Team Giant-Alpecin
DNF
Albert Timmer (Ned) Team Giant-Alpecin
DNF
Jonas Rickaert (Bel) Topsport Vlaanderen - Baloise
DNF
Amaury Capiot (Bel) Topsport Vlaanderen - Baloise
DNF
Bert Van Lerberghe (Bel) Topsport Vlaanderen - Baloise
DNF
Pieter Vanspeybrouck (Bel) Topsport Vlaanderen - Baloise
DNF
Jérôme Baugnies (Bel) Wanty - Groupe Gobert
DNF
Kenny De Haes (Bel) Wanty - Groupe Gobert
DNF
Kevin Van Melsen (Bel) Wanty - Groupe Gobert
DNF
Shane Archbold (NZl) Bora-Argon 18
DNF
Ralf Matzka (Ger) Bora-Argon 18
DNF
Michael Schwarzmann (Ger) Bora-Argon 18
DNF
Lukas Pöstlberger (Aut) Bora-Argon 18
DNF
Nikolay Mihaylov (Bul) CCC Sprandi Polkowice
DNF
Michal Paluta (Pol) CCC Sprandi Polkowice
DNF
Patryk Stosz (Pol) CCC Sprandi Polkowice
DNF
Romain Cardis (Fra) Direct Energie
DNF
Julien Morice (Fra) Direct Energie
DNF
Kai Reus (Ned) Roompot - Oranje Peloton
DNF
Wesley Kreder (Ned) Roompot - Oranje Peloton
DNF
Ivar Slik (Ned) Roompot - Oranje Peloton
DNF
Andrea Dal Col (Ita) Southeast - Venezuela
DNF
Giuseppe Fonzi (Ita) Southeast - Venezuela
DNF
Matteo Draperi (Ita) Southeast - Venezuela
DNF
Mirko Tedeschi (Ita) Southeast - Venezuela
DNF
Mirko Trosino (Ita) Southeast - Venezuela
DNF
Enrique Sanz (Spa) Southeast - Venezuela
DNS
Andrea Fedi (Ita) Southeast - Venezuela