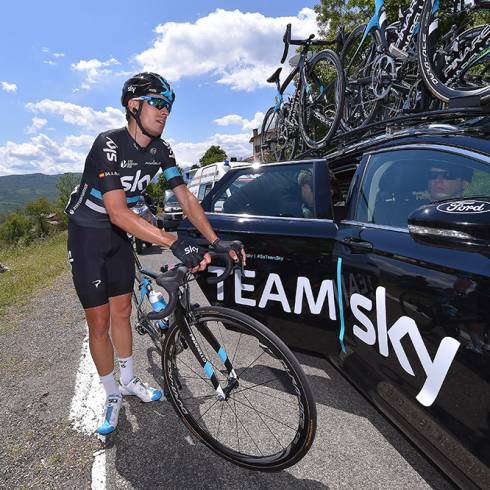 I'm back from Pescia and honestly shocked: non only because of this farcical contest but for

Mikel Landa's sudden abandon.

He's ill it seems.

He felt bad last night,

lost 7' on

the first climb - La Collina

- failed to come back in spite of the help of his team mates Nieve and Lopez and eventually quit.

An intestinal bug

, so they day but lets wait for official news.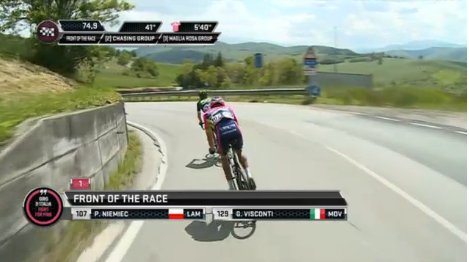 It's an hard stage. There was a break-away

- Niemic, Visconti and Boem - but 80 km to go they have been

caught by the first chasing group

. The peloton is 6' behind.
My son was at the start with his Team Aquila so will have pictures.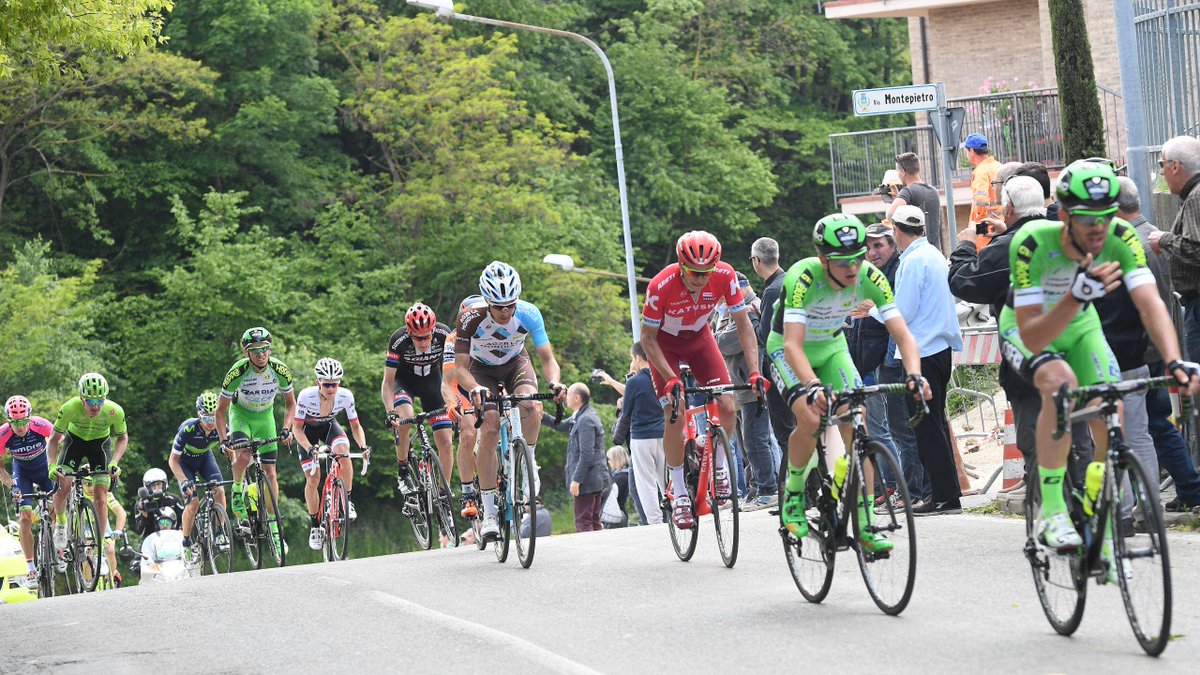 The front group

includes: Guillaume

Bonnafond

(AG2R La Mondiale), Nicola

Boem

(Bardiani CSF), Stefano

Pirazzi

(Bardiani CSF), Giulio

Ciccone

(Bardiani CSF), Darwin

Atapuma

(BMC Racing Team), Nathan

Brown

(Cannondale Pro Cycling), Damiano

Cunego

(Nippo - Vini Fantini), Georg

Preidler

(Team Giant-Alpecin), Egor

Silin

(Team Katusha), Ivan

Rovny

(Tinkoff Team), Riccardo Zoidl (Trek-Segafredo), Giovanni

Visconti

(Team Movistar).

Team Sky Doctor

Inigo Sarriegui said: "Mikel woke up early this morning feeling unwell with abdominal pains. It appears as though he has

a viral gastroenteritis

.

We will assess him at the team hotel and then determine the best course of treatment to ensure he recovers as quickly as possible."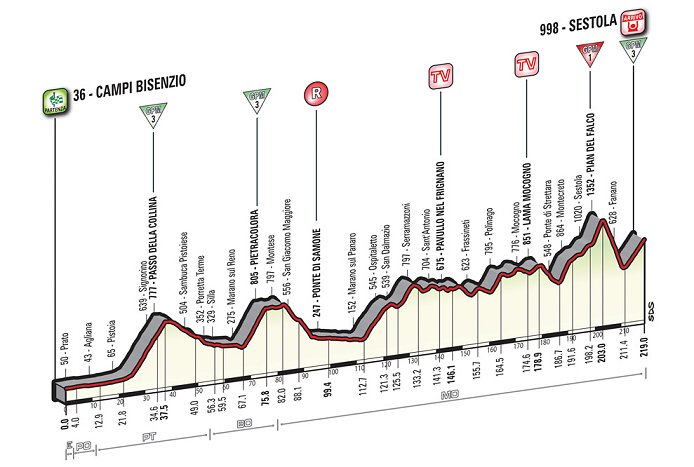 Etixx-QS

is leading the chase to defend Brambilla's Jersey while

Bardiani

is working to bring the break-away to the line. 50 km to go Boem gets dropped but manages to come back.
Lama Mocogno: Preidler

attacks for the intermediate sprin,. Pirazzi is 2nd and Ciccone 3rd.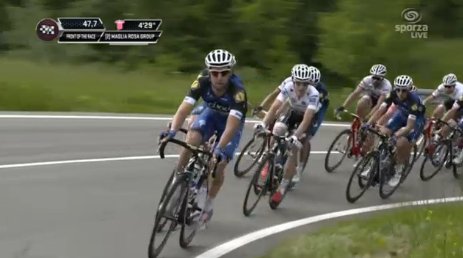 37 km to go

Team Astana takes the lead

. In front

Preidler keeps going

, Atapuma and

Bonnafond

chasing.

Pian del Falco

(1st cat-16.3km-avg 5.2%-max 13%): three riders in front, a chasing group losing pieces and the peloton that's going to explode... In front

Cunego joined

Atapuma and Bonnafond while Preidler went solo. 26 km to go.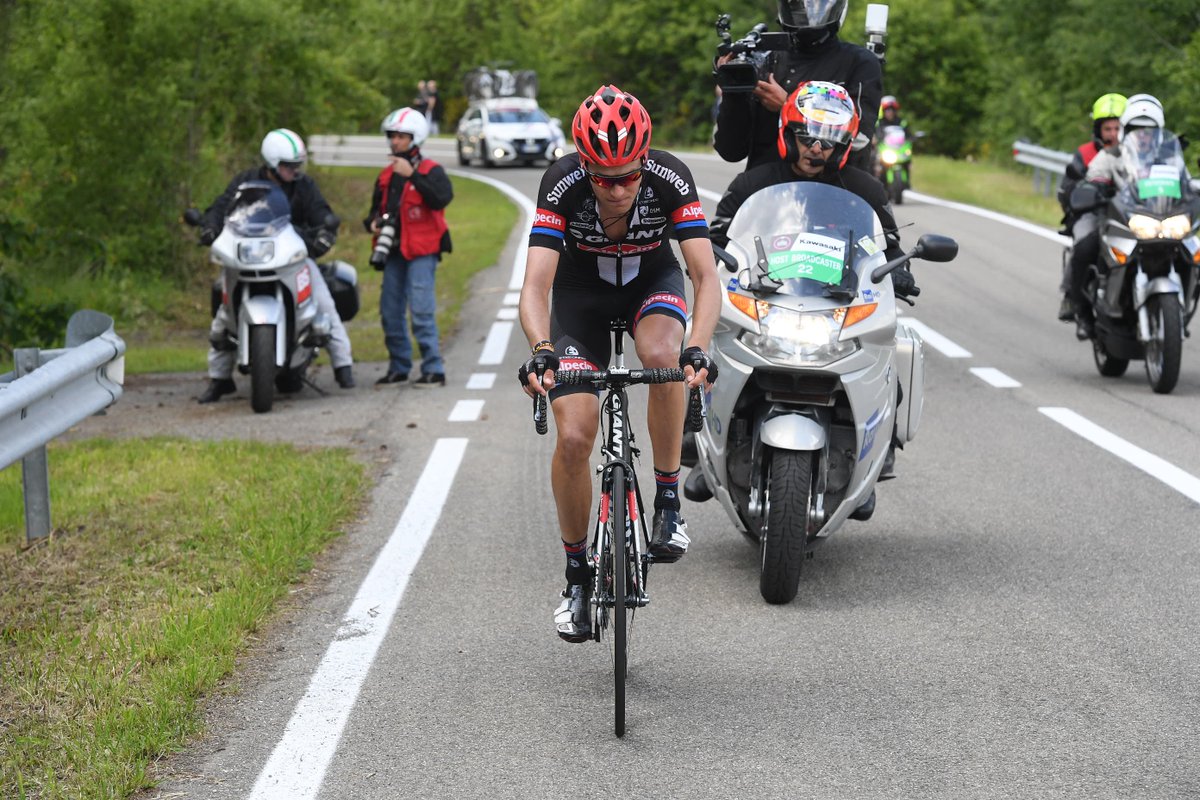 23 km to go the break-away is coming back together:

Preidler is still solo

but there are

six riders chasing -

Bonnafond, Ciccone, Atapuma, Brown, Cunego and Zoidl -

at 28". The peloton is at 3'48".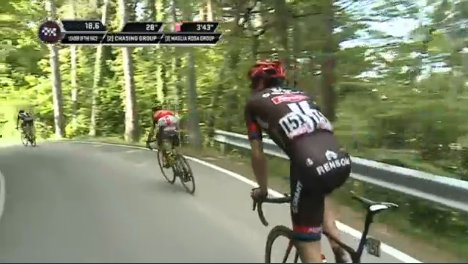 Tom

Dumoulin gets dropped

by the Pink Jerseys' group. Team

Astana

is setting an high pace. Escorted by his team mates

Brambilla resists. Pozzovivo and Valverde

are also there.

Preidler is caught

. 16 km to go

Brambilla is slightly dropped

. But Bob

Jungels

is in the front group.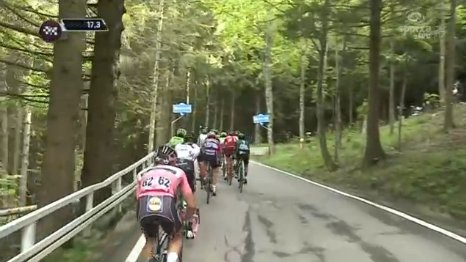 Cunego

attacks and

wins the KOM

: he's probably back in Blue. Descent:

Ciccone goes solo

while Cunego and Pirazzi have an unwilling contact...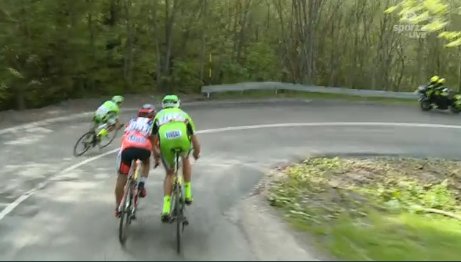 9 km to go

Pirazzi fell

but he's back on Bike. Also

Majka almost crashed

in a bend.

Brambilla is back

in the front group.

Amador

attacked and

got a gap

. Uran, Kruijswijk, Chaves, Hesjedal and Zakarin are in the group with Brambilla, Nibali, Valverde and Jungels. In this group there is

Sebastian Henao

: the new leader for Team Sky?

Brambilla

goes in front pulling very hard and suddenly move aside. He's obviously

working for Jungels

.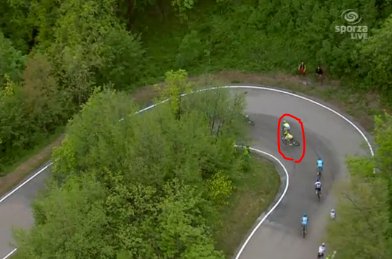 Ciccone

is solo at the last km. Solo he

wins. Amador

is still away,

fighting to grab the Pink.

2nd is Ivan Rovni. Amador joined the team mate Visconti and they are flying toward the finish. 3rd is Atapuma. 4th is Brown. 5th is Cunego. Then Amador comes with Visconti.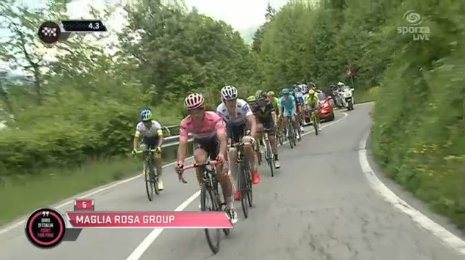 But the peloton is very close. Bob Jungels is the new Pink Jersey!
Giulio Ciccone:
"Today is the best day of my life. The emotions are massive. It's a feeling I can't describe – I don't have the words. I would like to thank everyone in my team on what is a really huge day.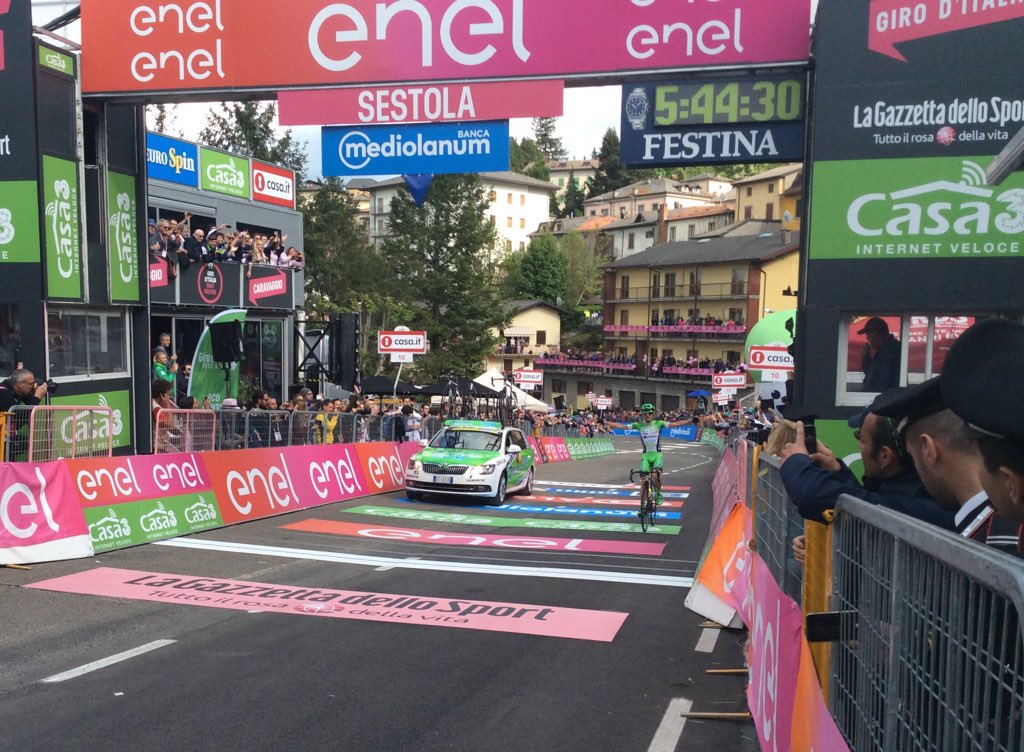 Another victory?
Why not? We will all try again. We are here for stage wins and we won't be happy with just one win. We won't rest on our laurels; we'll continue to fight."
Steven Kruijswijk: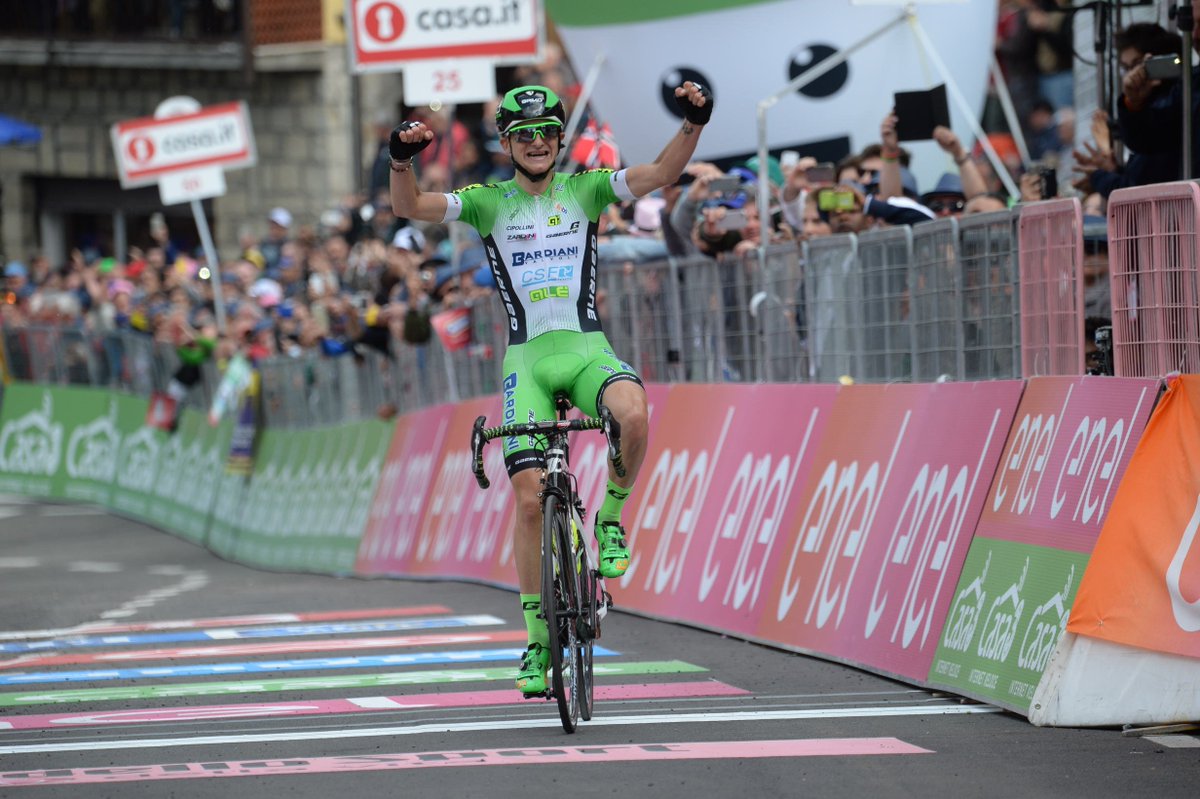 "I stayed in the group when Brambilla was droppedI saw that Jungels was good and I know Brambilla is a good descender. So I chose not to waist any energy. I felt good on that steep climb, but did not really see a chance to attack. In the final sprint, I lost some metres on Valverde but that's OK. I am happy with my form and the team. They are focused and I can see that well in the race. They are always there for me.
That was a shock. I made a mistake. I misjudged a corner. My rear wheel blocked. Fortunately, Majka was there and caught me. I apologised later. Majka also understood that I did not do it on purpose. But it was quite a shock.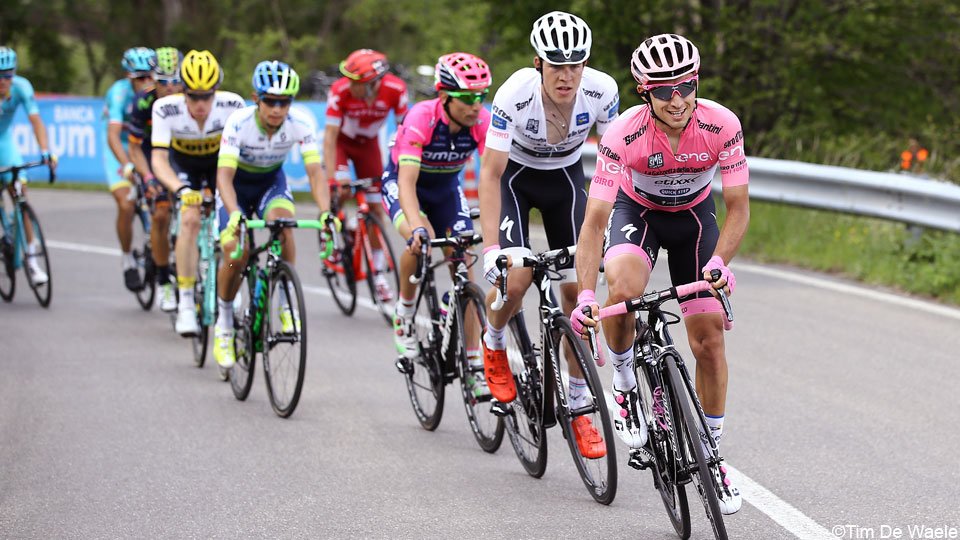 The final will be a moment to watch. There is still a climb 20 kilometres from the finish. I'll have to be at the front there. Maybe tomorrow Battaglin can do something and can go for the victory."
Georg Preidler: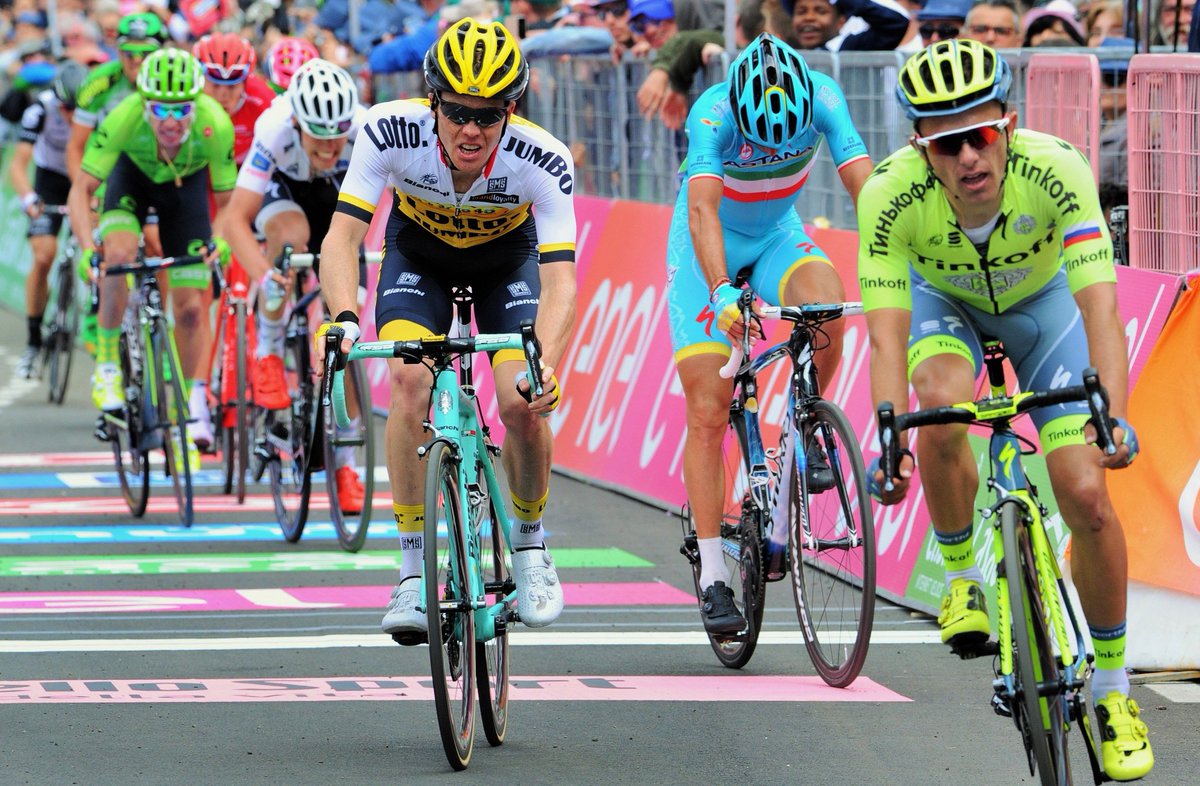 "One day it will work out...I keep punshing on the luck until it gives up and will be on my side!!! #keepchallenging"
"On the last part of the penultimate climb, I felt really good until 1.5km to go and then the chasers caught me and I lost my moral. Then passed me with 10km to the finish line and maybe I thought I could come back on the descent but the gap was too big.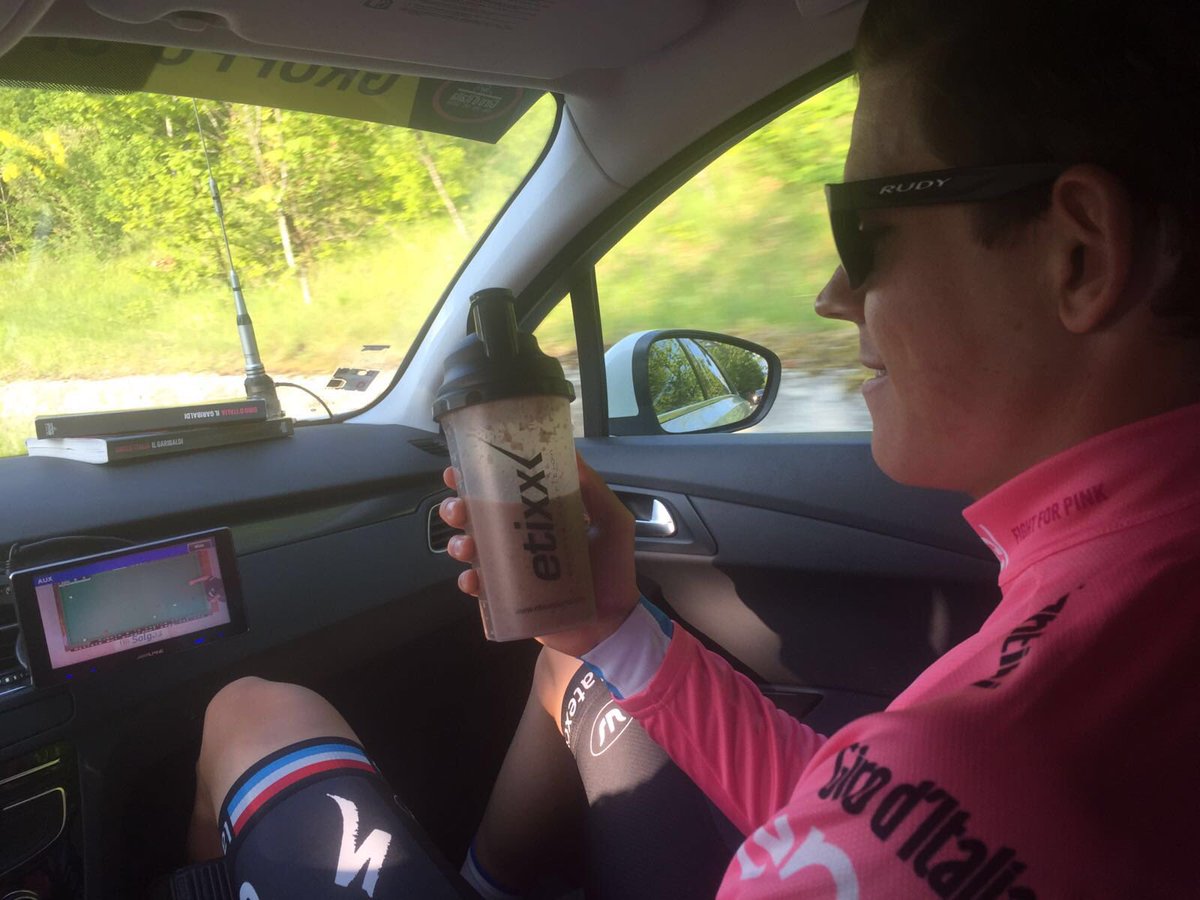 It was a big chance for me and I thought I could try like Simon when he won at the Tour de France last year. I am feeling in good shape at the moment so for sure I will try again to get myself in the breakaways in the upcoming stages."
Tom Dumoulin: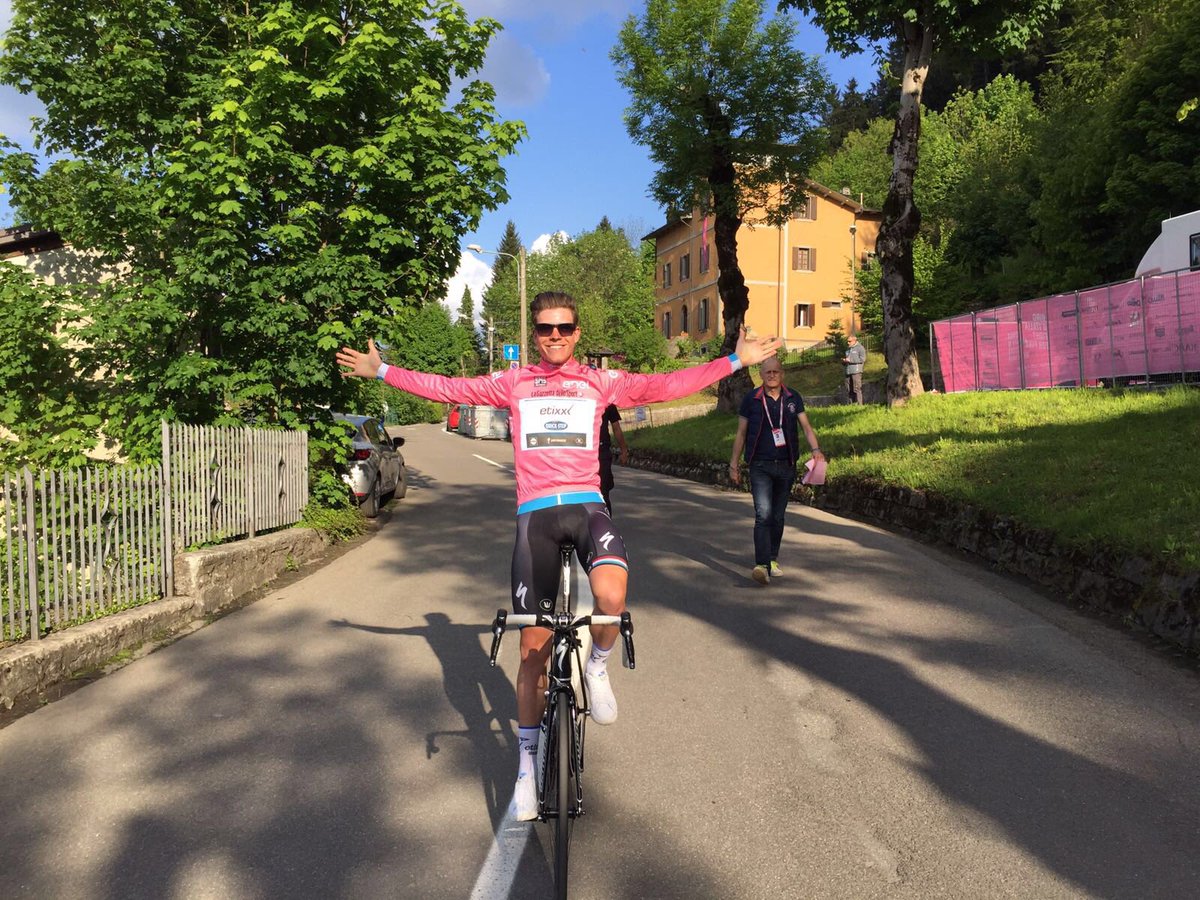 "It was a hard race and it was a little bit too much for me as I am tired now. My saddle sore was not too good today. In the beginning, it was actually worse but it got a little bit better at the end of the race. I would have hoped to recover more during the rest day. Right now I don't feel very good and we have to see how the situation develops."
Darwin Atapuma: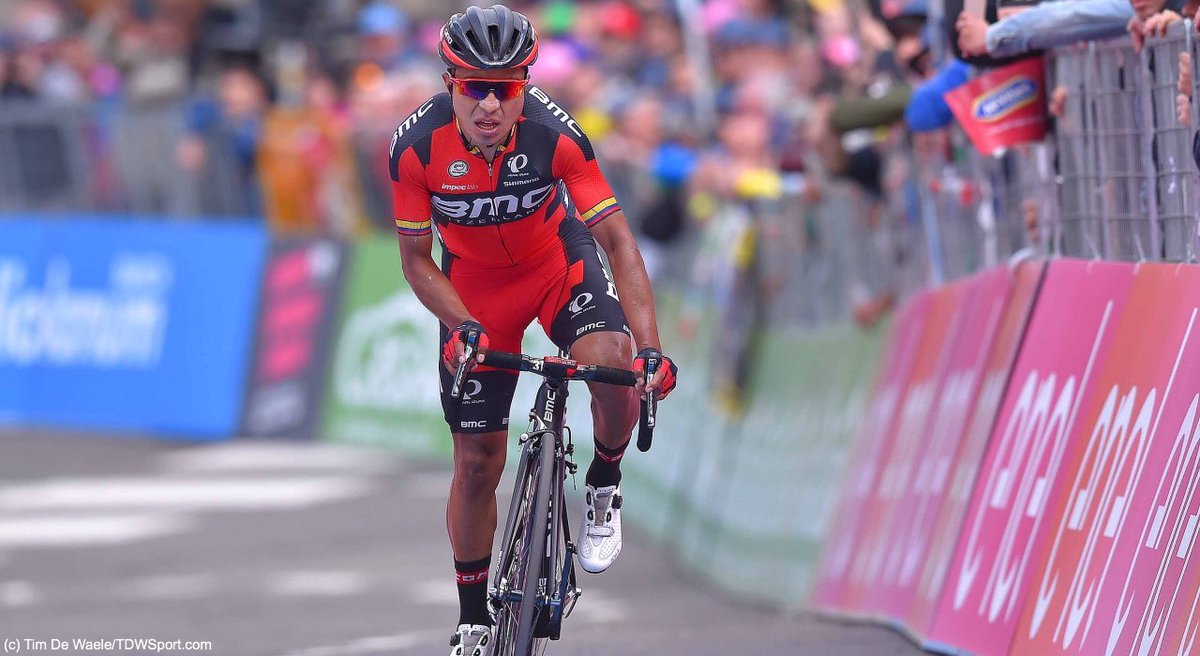 "I felt really good today and had good legs on the climbs. I was lacking a little bit when the last attack of three riders happened but I was able to slowly make my way back on the final climb. I'm really happy with third place because I didn't have anything left when I crossed the line, so I know I tried my best today.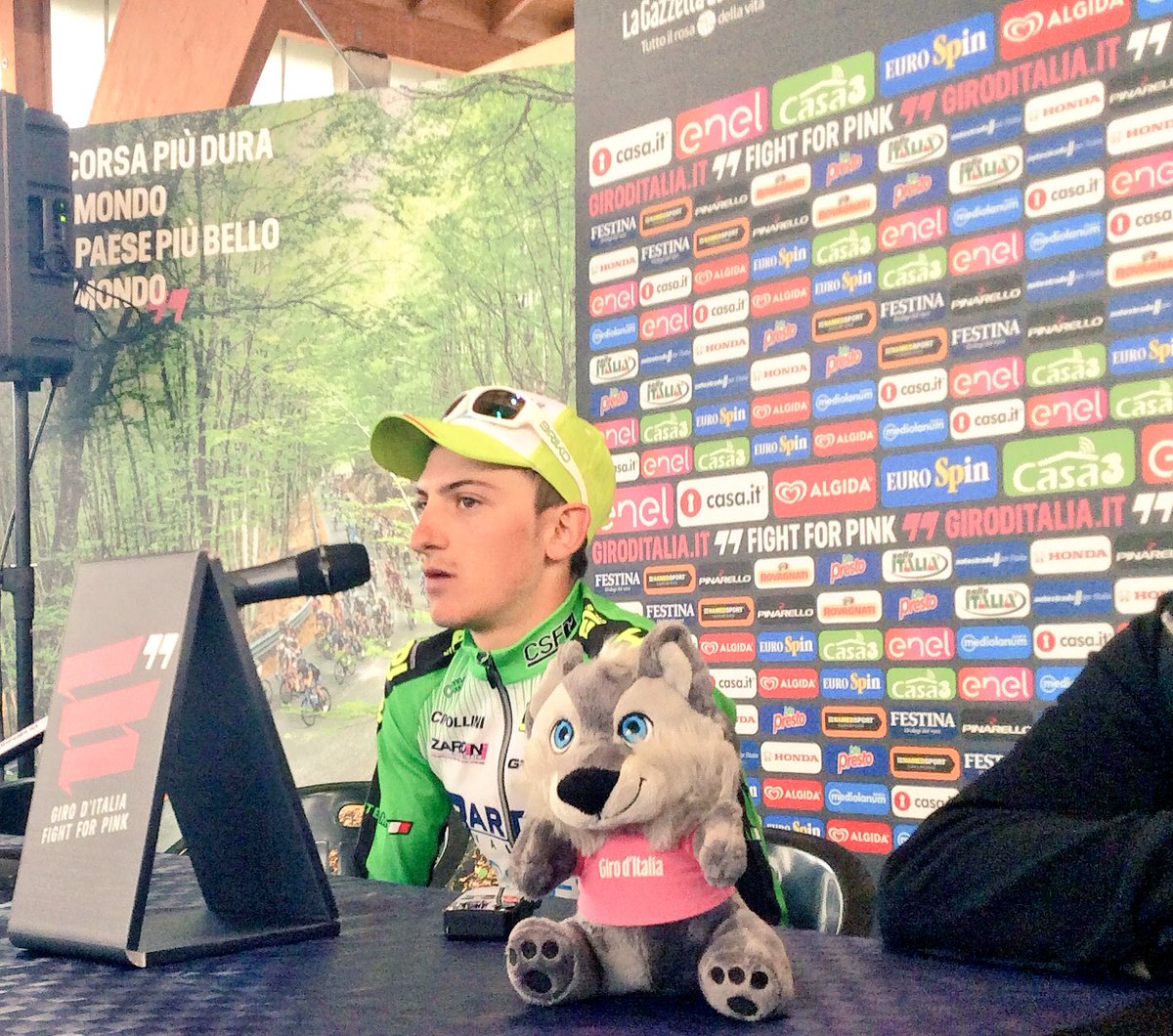 It was good to get the chance to get in the breakaway and test my legs on the climbs. I'/m hoping there will be some more stages that are suited to me, and I can get stronger and stronger with each stage."
Bob Jungels: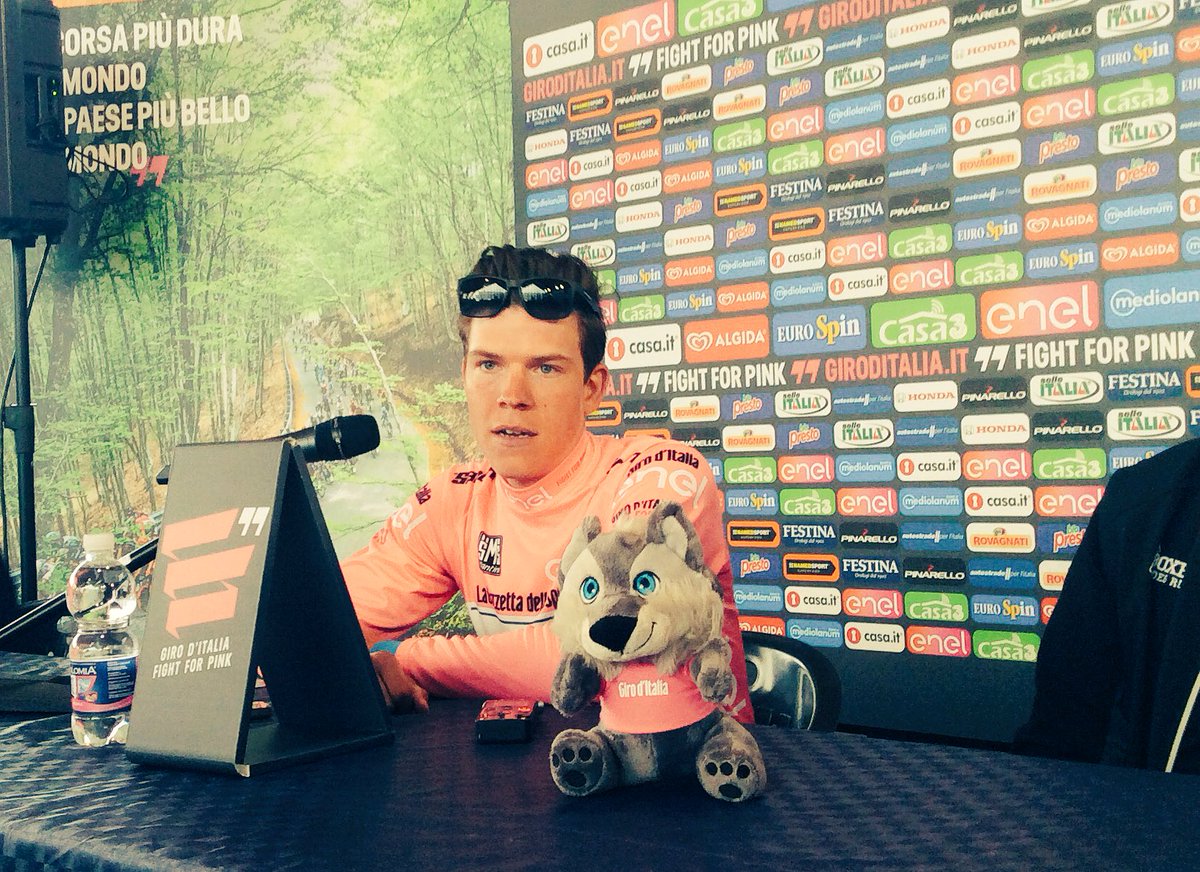 "The guys gave 100% today to keep this jersey, and I owe it to them, because without their help and strength it wouldn't have been possible to still have the maglia rosa this evening. Etixx – Quick-Step is a special team, and you could see that once again today. It's not often that the rider in the pink jersey works for a teammate and Brambi was fantastic today, so hats off to him.
I still can't believe what has just happened. It's definitely one of the best moments of my life and a great day not only for me, but also for the team and for Luxembourg. I want to dedicate this pink jersey to the entire team, it's a dream to have it. I hope to keep it for as long as possible, but it will also depend on our opponents. What I know is that we'll continue to fight hard at this race."
Gianluca Brambilla:
"I was put in difficulty by Astana on Pian del Falco and decided to pace myself once I got dropped. I was aware that I could come back on the descent and went full gas there. After rejoining the pack and finding out that Amador got away, I wanted to stay at the front and sacrifice myself for the team and ride for Bob. The whole team worked really hard for us and gave everything in the past days and I did this for them. I'm a little bit sad not to wear the pink jersey in my home region, but I'm very happy that the maglia rosa is still in the team and seeing Bob in the maglia rosa is a real pleasure".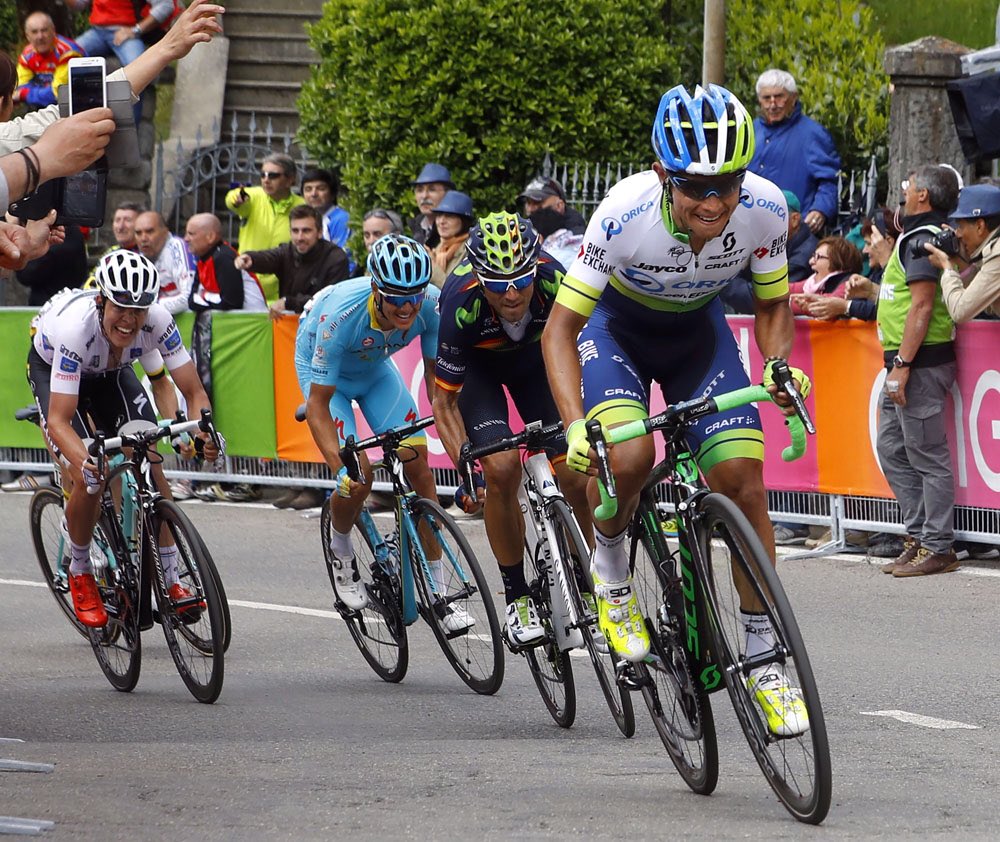 Alejandro Valverde:
"We've been up there, fighting all the way to the finish, doing a great job I think. We could have fared better, but we must remain happy with our gains today. What did not work today? It's something we keep to ourselves. We're doing well. You all could see how strong Andrey rode downhill; I tried to keep the others on a leash and not to disturb Andrey's way - it was the others' task to pull. All in all, we're satisfied with today's result."
MORE TO COME
RESULTS
STAGE
1 Ciccone
2 Rovny +42
3 Atapuma +1:20
4 Brown +1:53
5 Cunego +2:04
6 Amador +2:10
7 Visconti +2:11
8 Valverde +2:11
9 Chaves +2:11
10 Fuglsang
GC
1 Jungels
2 Amador +26
3 Valverde +50
4 Kruijswijk +50
5 Nibali +52
6 Brambilla +1:11
7 Majka +1:44
8 Fuglsang +1:46
9 Zakarin+2:08
10 Chaves +2:20