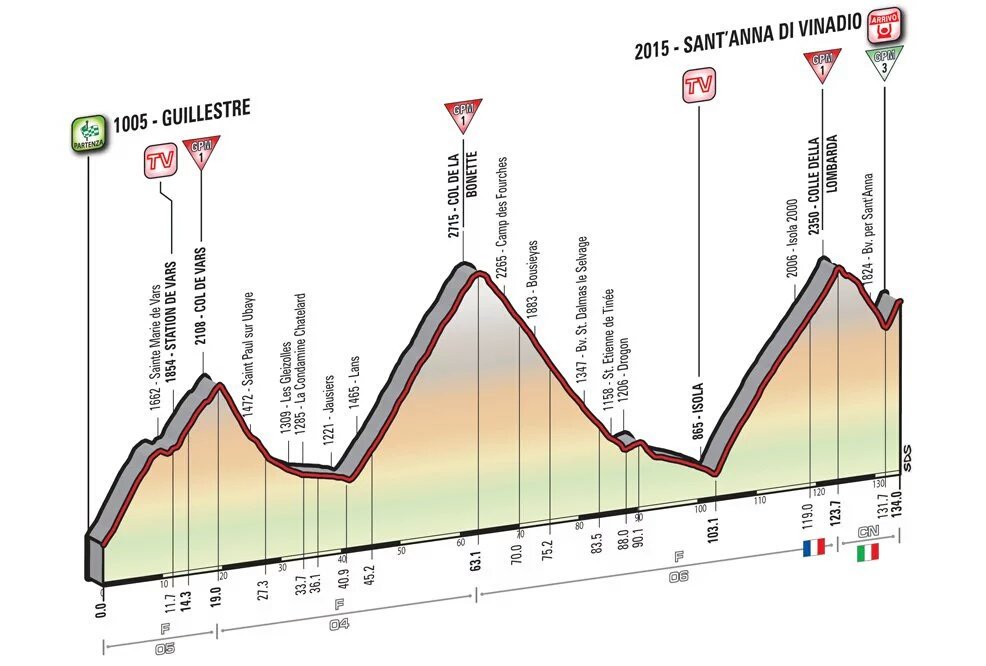 The last chance, to win or to lose, to attack and to resist, to insist.
134 km, 4 categorised climbs, 4100 m rise and drop.
Steven

Kruijswijk has a fractured rib but started

: "I will fight for the podium" he said.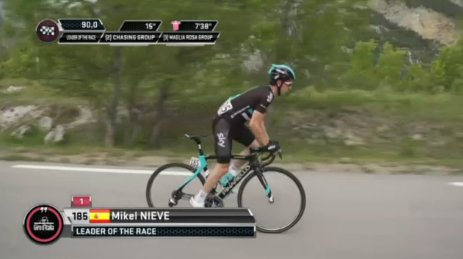 There is

a break-away

: Kangert, Atapuma, Dombrowski, Brambilla, Rybalkin, Foliforov, Denifl, Ulissi, Visconti, Taaramae and Nieve.
Col de Vars

(18.2 km at a 6% average gradient): Stefan

Denifl wins

the first KOM of the day on

Atapuma

and

Nieve.

The gap is about 6'.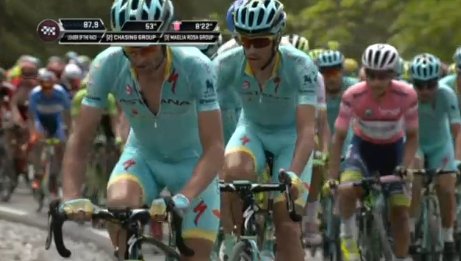 Col de la Bonnette (22.2 kilometers, 6.7% average, 10% maximum gradient):

Nieve attacks

and goes solo. 67 km to go Nieve has got a 1'13'' advantage on the front group and almost 7' on the peloton, where Team Astana is taking the lead. In front

Atapuma and Dombrowski

c

ounterattacked. Diego

Ulissi

instead is

losing contact.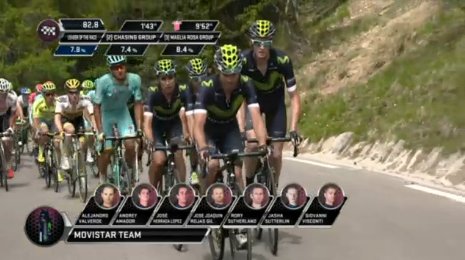 In the peloton

Movistar speeds up

and several riders are dropped, included Domenico Pozzovivo. Alejandro Valverde doesn't give up.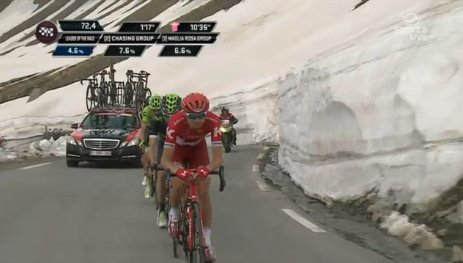 Mikel Nieve is pedaling very well, while there isn't collaboration in the chasing group.

Atapuma keeps attacking

, Taaramae and Brambilla are dropped but Foliforov, Visconti and Dombrowski respond. 76 km to go

Atapuma and Foliforov

have dropped the rest and are chasing together Nieve, 54'' ahead. Kangert, Dombrowski, Visconti follow, then there are Brambilla and Taaramae. The peloton is 10'43'' behind.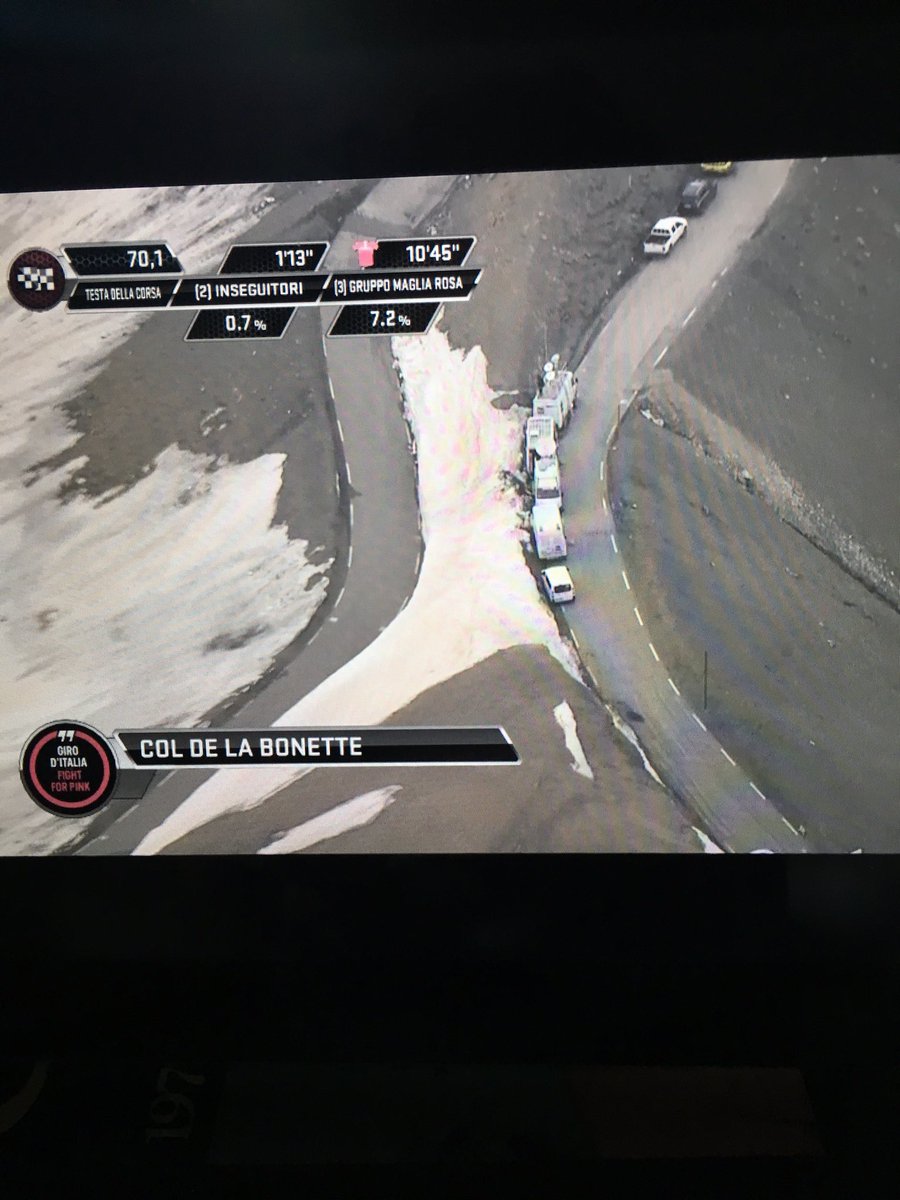 High mountain, rocky, bald and snowy

. 73.3km to go Nieve has 1'11" on Kangert, Atapuma, Dombrowski, Foliforov, Visconti and Taaramae - who are back together - and 10'29" on peloton. Mikel

Nieve conquere the KOM

and is descending the technical road. He's

virtually wearing the Blue Jersey

of the best climber in The Giro, and it's well deserved. 66 km to go Majka attacks. The gc riders respond,

still together

. Nieve is descending well, without taking risks but fast. 52 km to go his advantage is down to 24'' .

Diego Ulissi is back into the peloton.

43 km to go Nieve is caught. He basicly waited for the chasing group: the stage victory is now his goal and he needs to recover.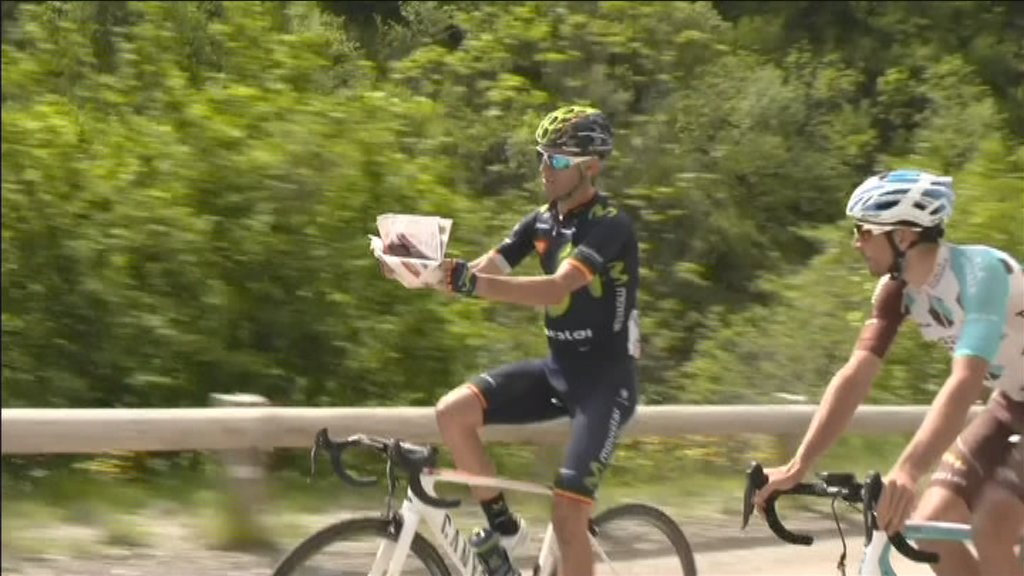 The Blue Jersey is definitely secured

.

Brambilla is chasing solo. at 1'.

Next climb is

Colle della Lombarda

(19.8 kilometers, 7.5% average gradient and sections of 12%).

Brambilla is back

in the break-away.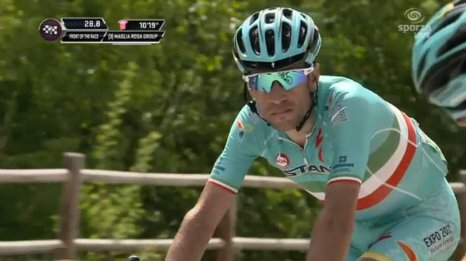 28 km to go

Dombrowski attacks

and

Atapuma

follows. They are together and climbing fast. 25 km to go

Visconti joins

. Behind Ulissi and Cunego are droppd as the Maglia Rosa's group starts the Colle della Lombarda. The gap is about 11'.

Pirazzi is chasing solo

. Atapuma keeps attacking but Visconti and Dombrowski respond.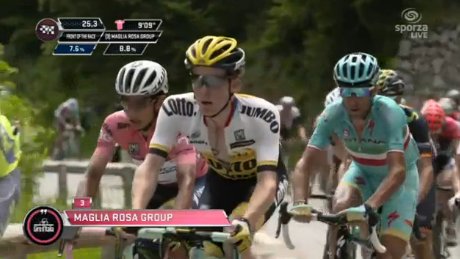 20 km to go,

Kangert and Taaramae are back with Atapuma, Visconti and Dombrowski. Nieve is a little dropped.

Behind Pirazzi is caught.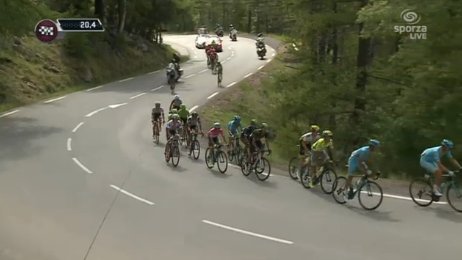 Scarponi is pulling very hard. He attacks with Nibali on his wheel.

The main contenders respond.

It's a very small group now, only 8 riders: Scarponi, Nibali, Kruijswijk, Valverde, Chaves, Jungels, Uran and Majka.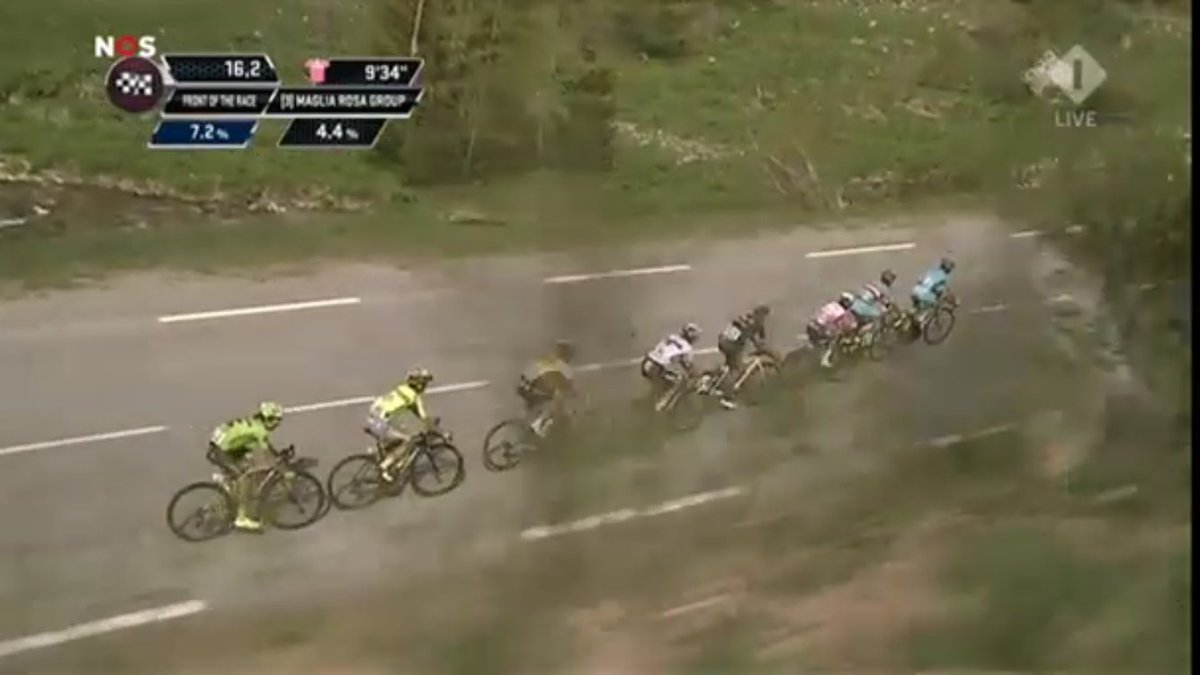 14 km to go

Atapuma attacks again, Visconti and Dombrowski follow

, the rest is dropped.

Taaramae

is back and now

goes solo

. He quickly gains a 15'' advantage. Behind there isn't collaboration.

Kangert

almost stopped and is

waiting

for Nibali.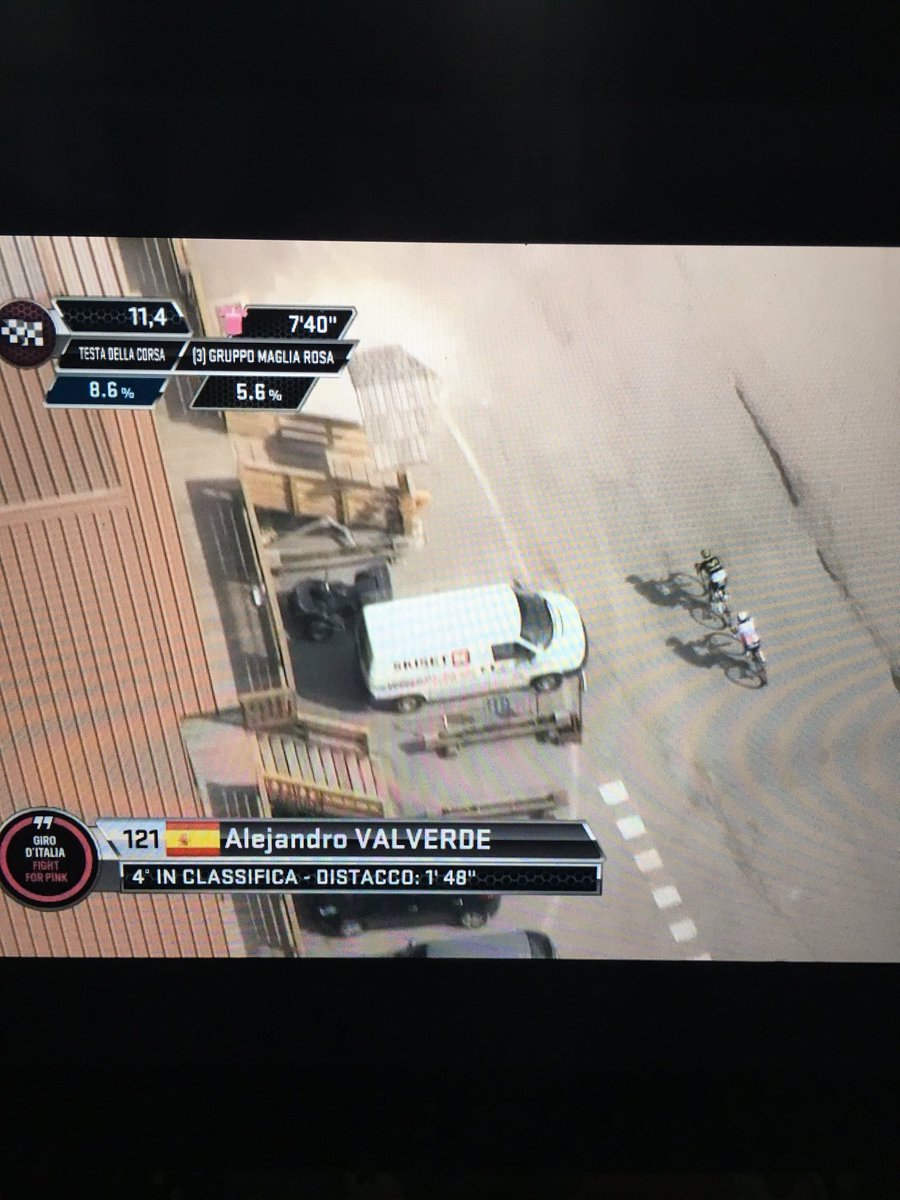 12 km to go

Nibali attacks, Chaves and Valverde follow.

The rest is dropped.

Nibali attacks again and nobody can respond.

He grabs a bottle and goes.

Chaves can barely keep Valverde's wheel.

10 km to go

Nibali joins Kangert

. But Chaves and Valverde aren't far, only 9'' behind. In front

Taaramae is at the KOM

.

Uran joins Chaves and Valverde

, goes in front and pulls. Taaramae wins the KOM and that means that

Nieve will keep his Blue.

Job done for Kangert as

Nibali goes solo

. His advantage is about 30''. 4 km to go

Chaves is losing contact. Uran and Valverde go

. Kruijswijk is coming back.

Nibali is virtually in Pink

.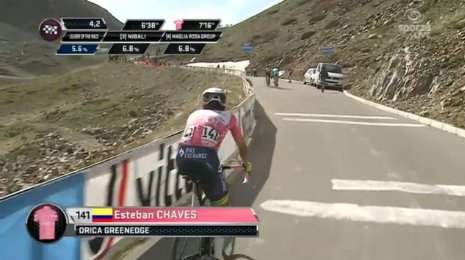 Descent

. Chaves is in the group with Kruijswijk. Nibali has got 1' advantage on Chaves. Last km for Rein Taaramae: oustanding ride for him and a well deserved victory. Nibali passed Visconti.

Atapuma

crosses the line on 2nd place. 3rd is Dombrowski. Last km for Nibali. Valverde and Uran are close, Chaves is 1' behind.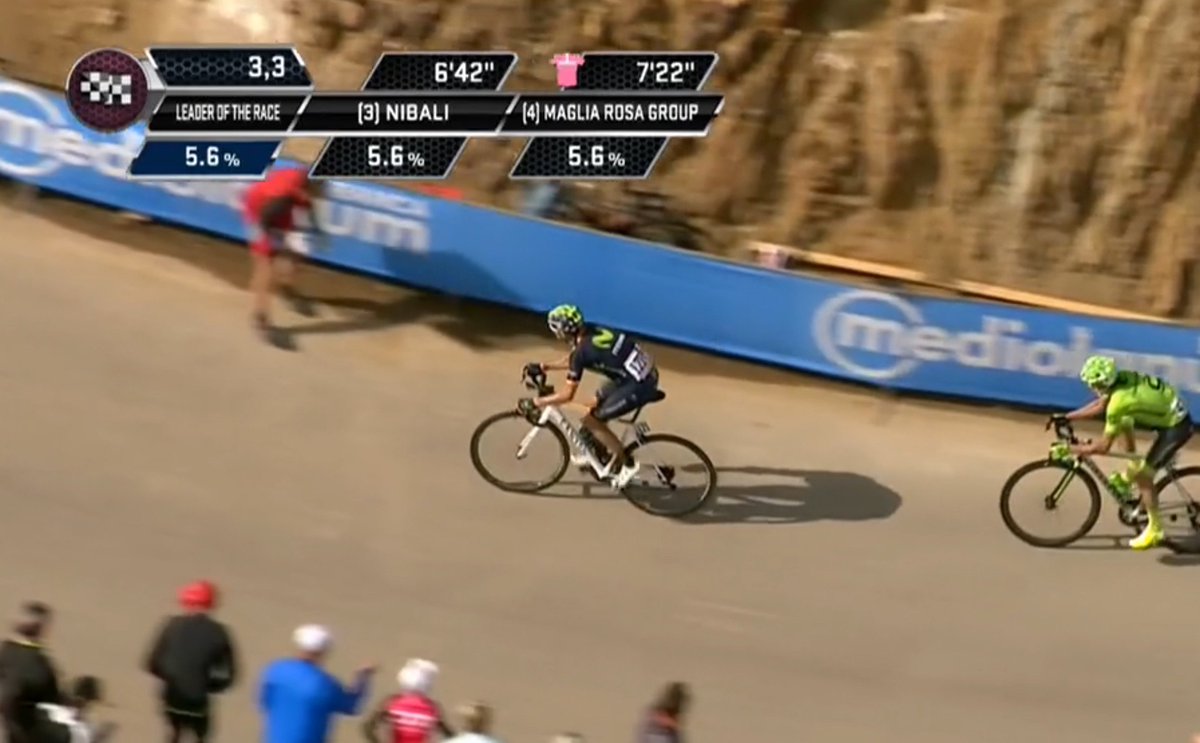 It's done:
Nibali crosses the line on 6th, and race leader.
Chaves' parents are the first ones going holding Nibali! then Alejandro Valverde.
C
ycling is great!
On stage, Vincenzo Nibali gives the champagne bottle to his fans, the Cannibali :)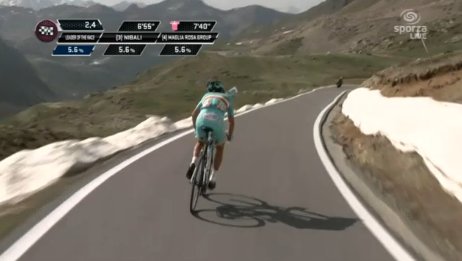 Mikel Nieve puts on the Blue Jersey

: he definitely saved Team Sky's Giro.

Bob Jungels

will bring to Luxembourg that

White

. The last time it was Andy Schleck.
Rein Taaramae: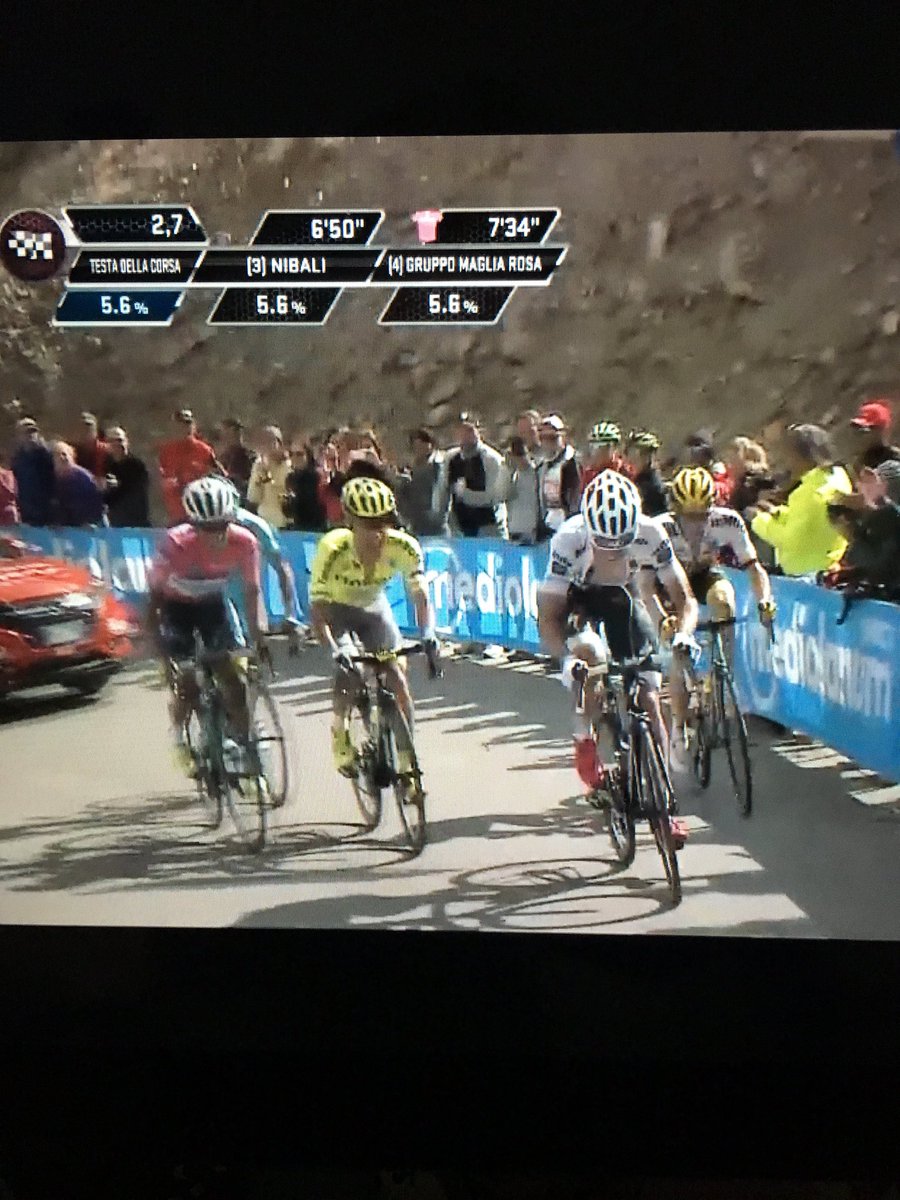 "I don't know if it's my best win, I also won a stage in the Vuelta, but a dream comes true when you win a stage in the Giro. It was my personal target. When [Ilnur] Zakarin crashed yesterday, I was really scared for him. It happened at 70-80kph. I was really scared he'd lose his life. I turned around to see, and when I saw that he sat up I realized he survived. It was really hard morale-wise to continue the race.
This morning I didn't feel very good, I caught the breakaway very late at the top of the climb, and it was really difficult. Once we crossed 2,000 metres, it suited me - yesterday was the same. I've stayed here for training camp three times, and I knew if I survived in the front when we got to 2,000 metres nobody could beat me. I know the reason - I stayed six weeks in altitude training camp - I could get a Colombian passport, maybe."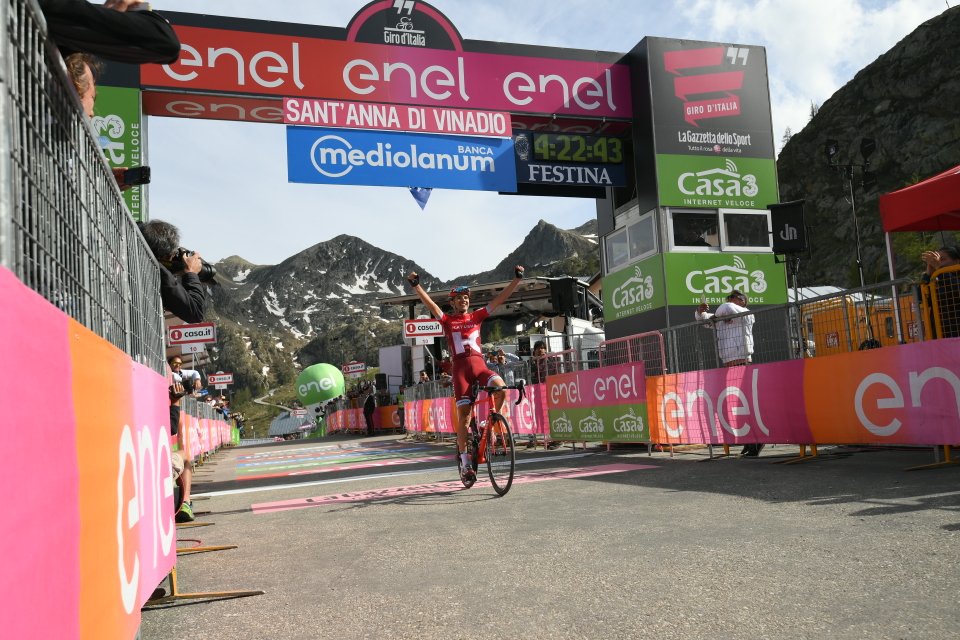 Vincenzo Nibali:
"What an incredible team! Michele Scarponi deserves a monument!"
"I understood that the people love me anyway, if I win they love me but if I don't win they love my as well. I started this Giro with the idea I had to over do. It was wrong."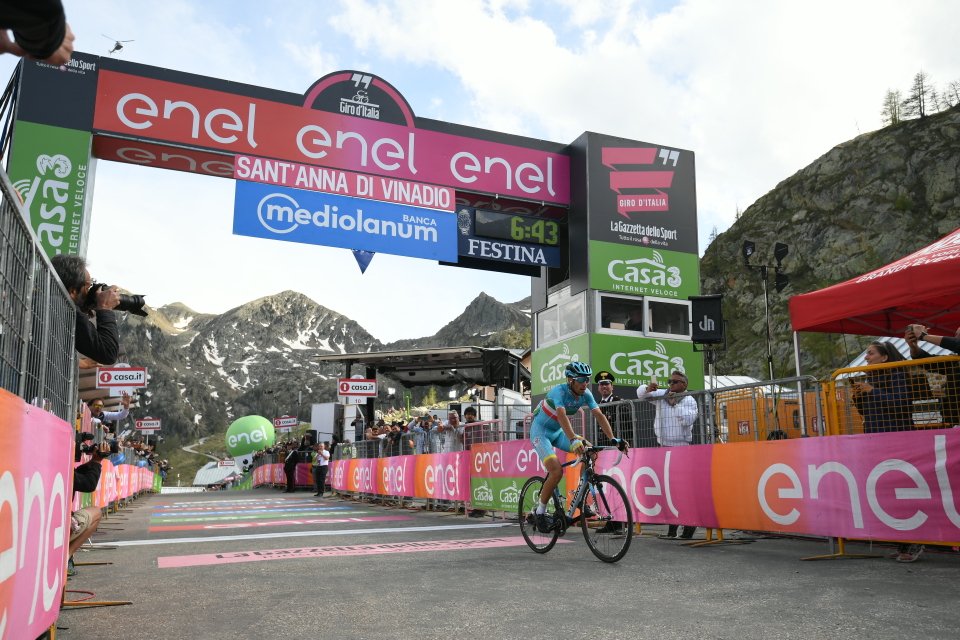 "The worst moment was during the uphill time trial. I talked a lot with Michele Scarponi last night, that was really important and helped me a lot."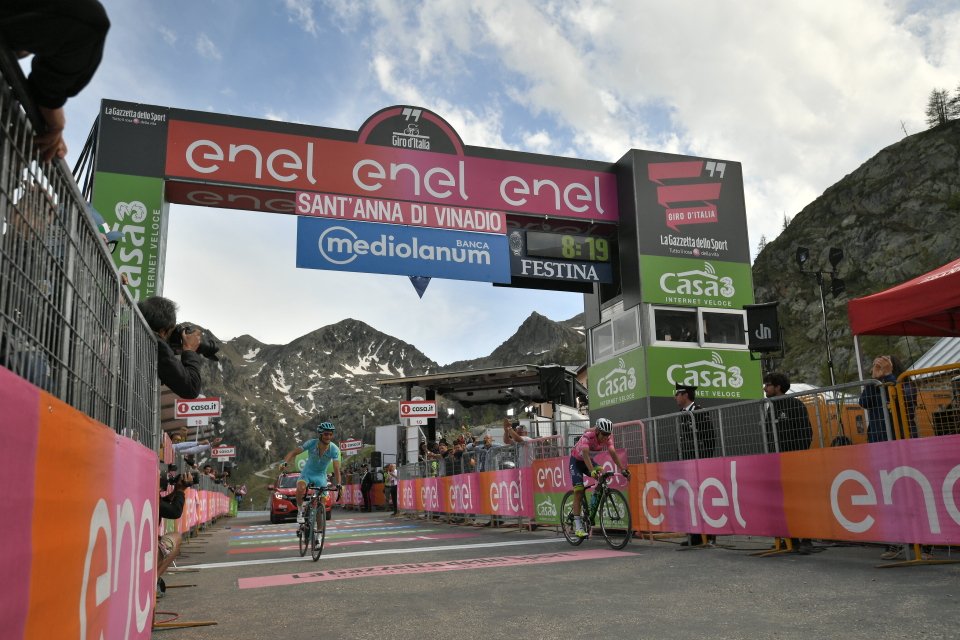 "I only believed it after the finish. I was there, listening to the speaker counting down the seconds. It was only when I understood I'd pulled it off that I could start to celebrate. Yesterday I realised that I was going very well at altitude and I was confident for today. On the Colle della Lombarda we kicked off our forcing. The entire team was magnificent.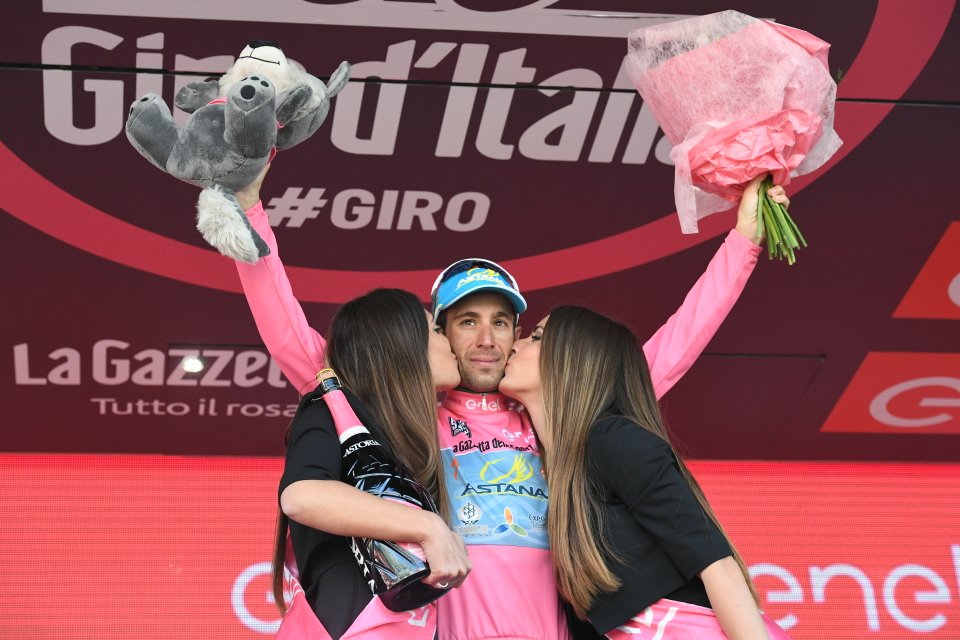 I was feeling good and in the finale, I asked Michele to up the pace. I'll have to build a monument to him. I didn't even believe it myself that we would manage it, but thanks to some great teamwork, we defied a lot of predictions.
This morning when I started, I wasn't afraid to win and I wasn't afraid to lose. After yesterday, I understood that I was going better than everyone else at high altitude.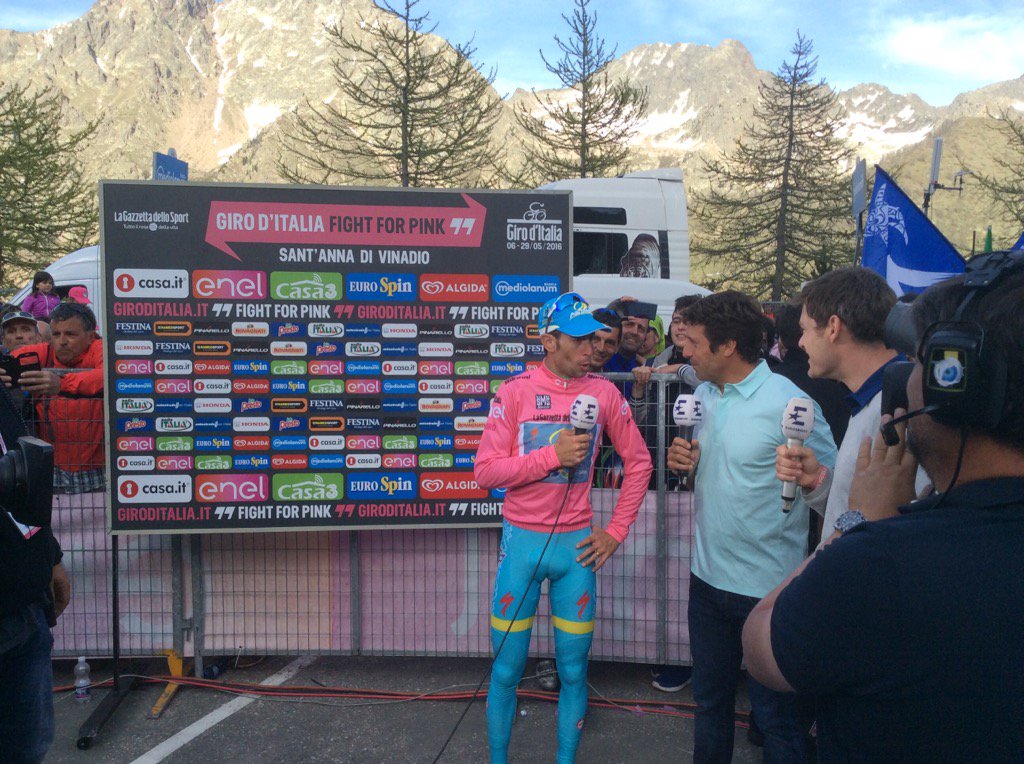 In short, yesterday I saw I was much better. These last few days were very important. It was a draining Giro. I started with the pressure of being favourite, but once I said to myself: 'Whatever happens, happens' I felt more free.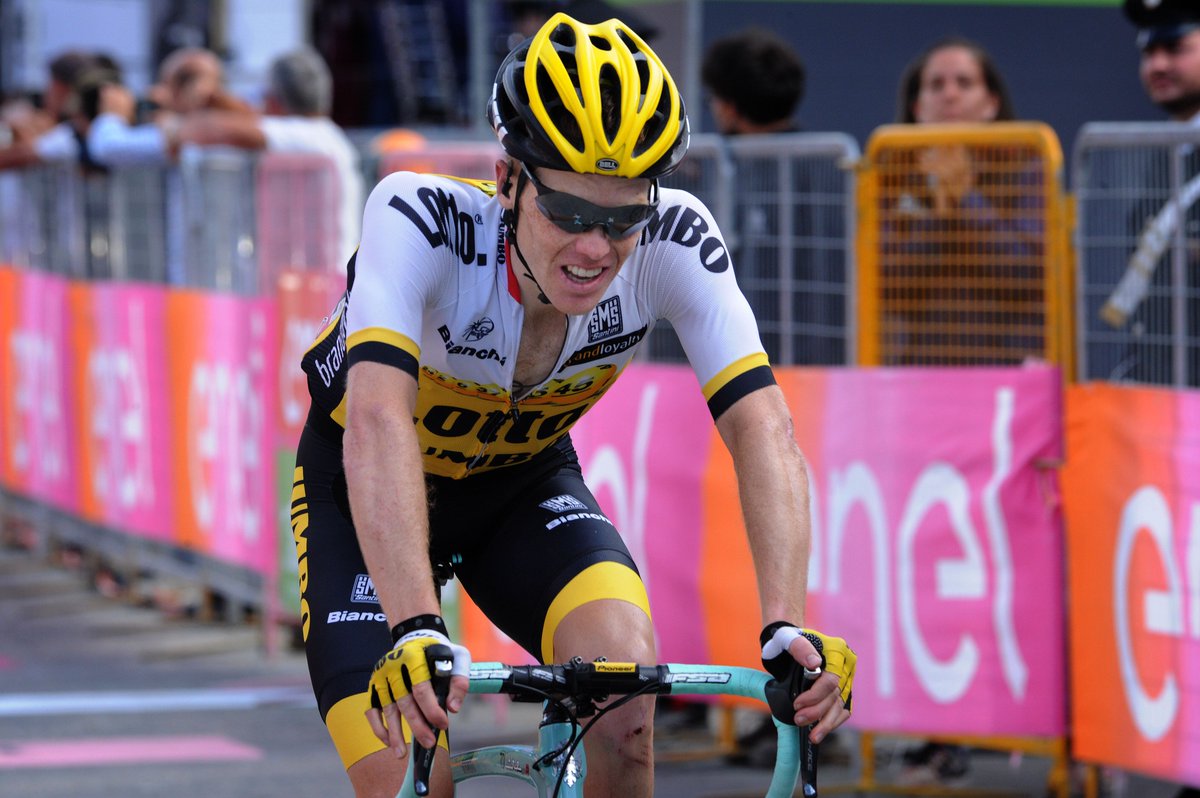 I spoke a lot with Michele [Scarponi] in my room and I began to realise that people loved me all the same, beyond what happened in this Giro.
That's what made me go well in this Giro. In my head, I set out with the desire to do too much and I was expecting something straightaway. I was too focused and I wasn't riding well. But then we realigned ourselves and we rode well this last week."
Esteban Chaves: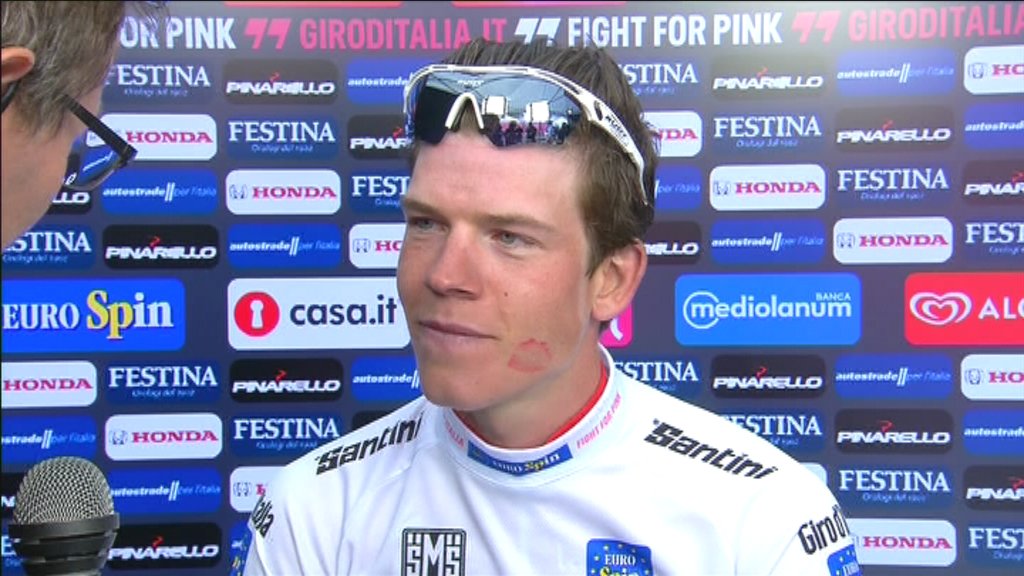 "I'm satisfied. If I have been told I was going to be on the Giro's podium 3 years ago I would haven't believed. I keep my smile, yes! This is just a bike race, there are more important things."
"Today was really hard. I don't want to make any excuses because we gave it everything today. I didn't have the legs and that's how it happened when I got dropped.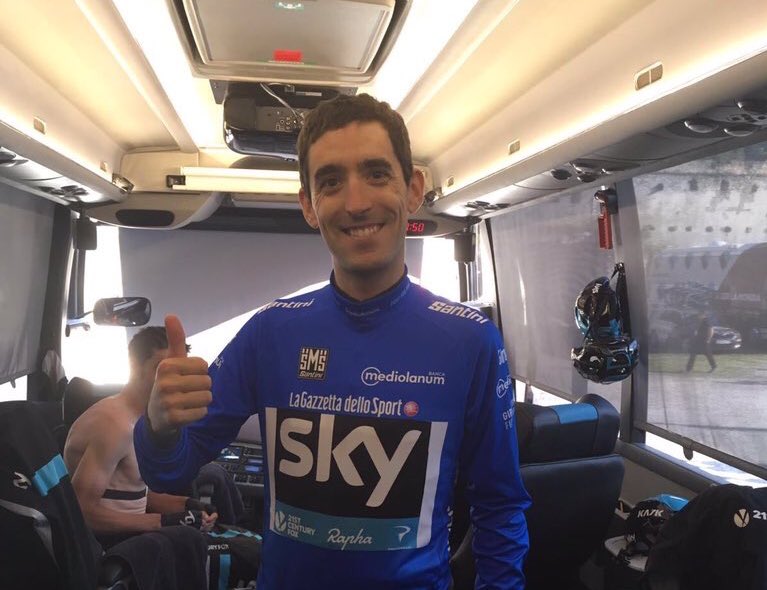 I am very proud of my teammates and how they were fighting, it has been an incredible Giro d'Italia and tomorrow we will have the last stage. After that we can celebrate everything we have achieved.
I really think that this is just the beginning for me and for ORICA-GreenEDGE in Grand Tour races so for sure other opportunities will come."
Steven Kruijswijk:
"I didn't suffer for three weeks to give it all up now. This last hard day was possible only because I suffered through the rest, but I am totally exhausted now. The only thing that was possible was to hold my top three spot because I lost the Giro yesterday. It's a shame that I'm standing here without the pink jersey now.
I did the best I could. I barely slept last night after my crash and I felt a lot of pain. I tried to ignore that pain. I wanted to forget everything and go to the finish line. I did. This was it."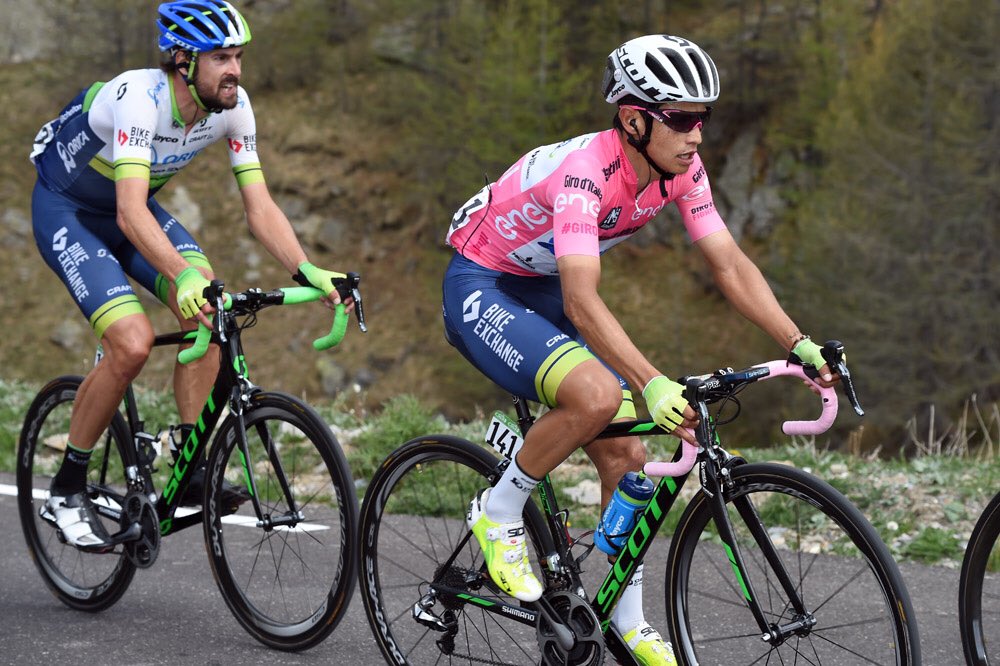 Darwin Atapuma: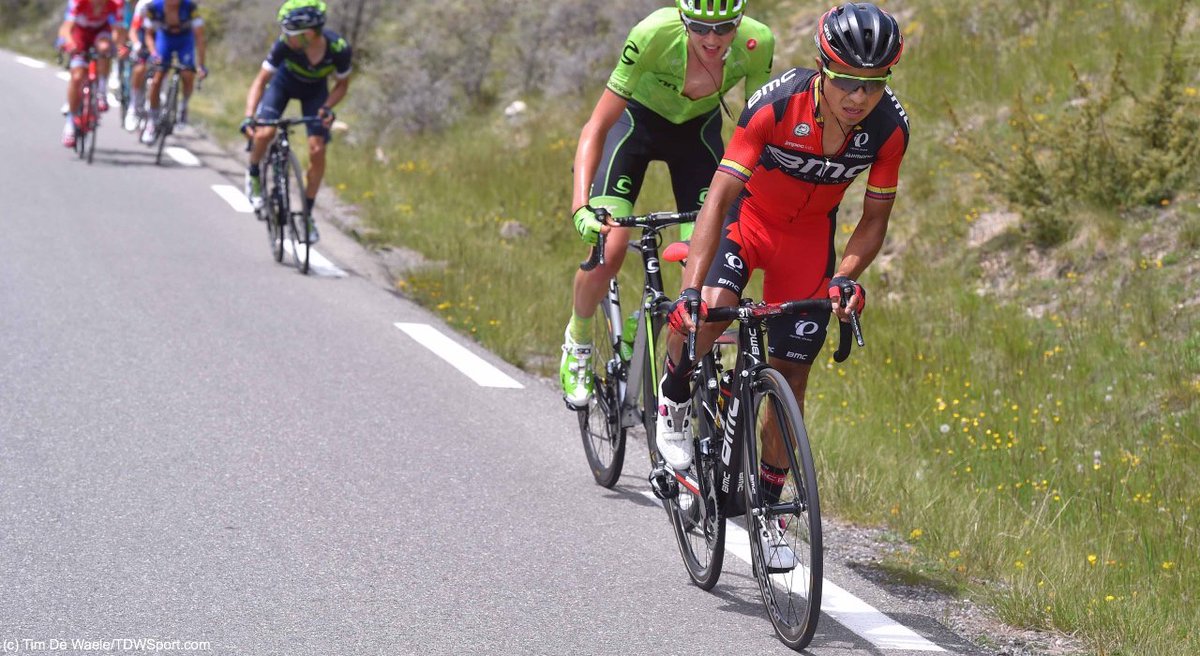 "I have nothing left. It was another incredibly tough stage. I gave it everything and felt really strong. In the end I think I underestimated Taaram ä e. He was the smartest rider out there today. I wasn't feeling good at the beginning of the last climb, but Dombrowski was and wanted me to pull. Then I felt better, but at that point we weren't pulling Taaram ä e back fast enough. I attacked again to try and bring him back but I ran out of kilometers and then the stage was over. In the end I think I have shown what I can do here at this year's Giro d'Italia but I'm disappointed to not have a stage win to show for it."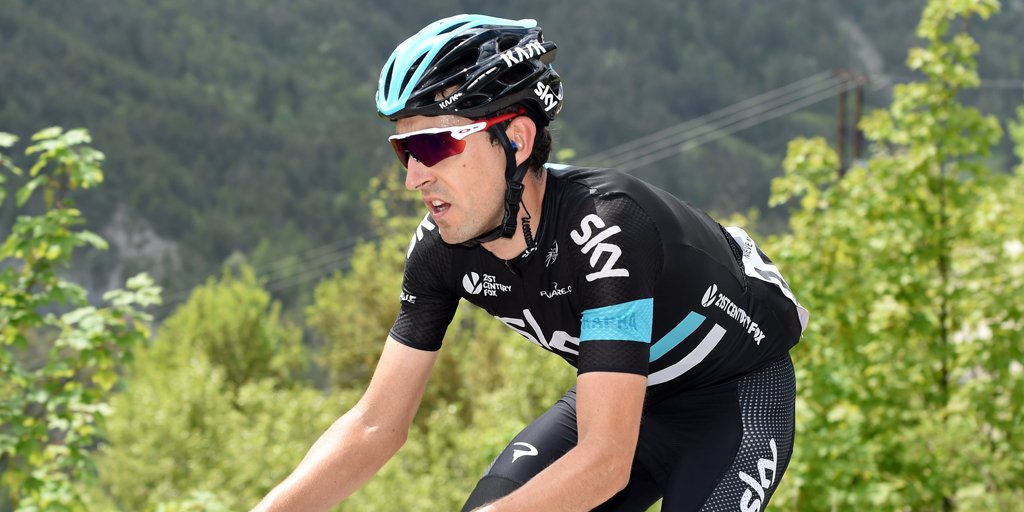 Team Sky DS Dario Cioni: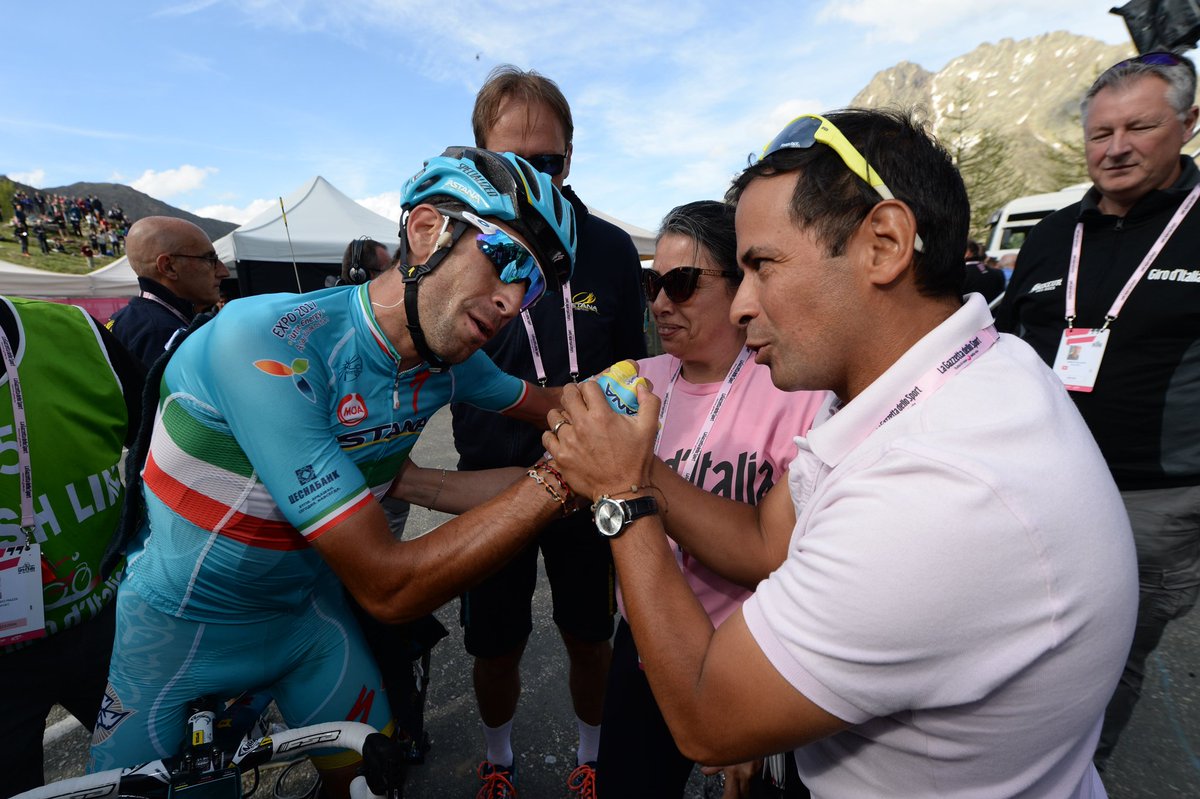 "The mountains jersey wasn't one of our pre-race goals but it became clear we could chase it after Mikel's stage 13 win. We knew if he could get to the last two days with good legs there was a good chance of winning the jersey.
I think the stage yesterday really gave him confidence and the plan today was to go for the mountains jersey and the stage - but the priority was the jersey, so it was crucial to be in the break.
Mikel is one of the best climbers in the world. When he was called up to the Giro at late notice we promised we would look after him and let him concentrate on the mountain stages and now he's got a stage win, a second place and the mountains jersey. That's a pretty big achievement. I'm sure he won't complain about this Giro!
We came to the Giro with one single goal which was to win it with Mikel [Landa] and on the side we hoped Elia [Viviani] could win some stages. Unfortunately Elia had to pull out and soon after so did Mikel, so it was a difficult situation.
The guys did well to bounce back and find new motivation - not just Mikel, but everyone. To react like this shows that they are very professional."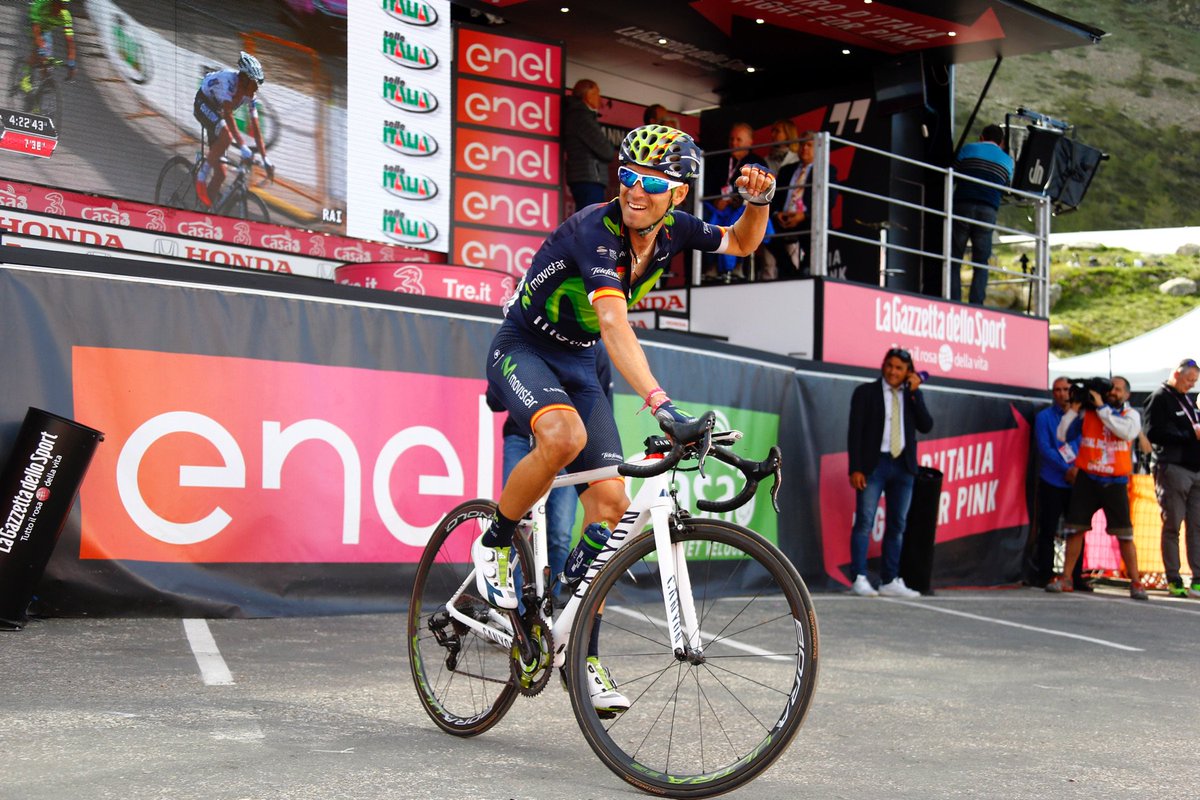 Alejandro Valverde:
"I'm extremely happy about today's. I think everyone could see it when I punched the air so hard after the finish, standing there, waiting for the overall podium to be confirmed. It seemed as if I had won the race myself. It wasn't easy at all, but we got that third place and we came so close to the second spot. It's nothing short of incredible for me. Being on the podium of all three Grand Tours is a phenomenal achievement for my career. And at the end, after struggling so much in altitude, it seemed like I got used to it, because my legs during the final climbs were fantastic. The job we did all day, from the first attacks in Vars, the whole team helping me out in the Col de la Bonette, plus that final hand from Visco in Sant'Anna... it was marvellous. So many 'tifosi' at the final slopes meant I didn't have any real time gaps coming from my earpiece, I couldn't hear them, but I knew I was putting time on those behind, that we were climbing strong and, with visuals against Nibali, even taking time back on him. The last two ascents - it all really went well. I can only be happy.
It was another surprising day to close a Giro with lots of changes, quite different from what fans and people around the race could expect for. Nibali? We knew he was going to be really strong again today, and into the stage, before his attack, we could feel he was going to drop Chaves behind. He truly deserves this final victory. I was stronger than him at some stages, while he beat me at others. Both of us, Chaves too, deserve to be on the podium. I consider myself a good rider, who gives everything for myself, my team, my fans. Stepping onto the Turin podium with my kids tomorrow will be a massive satisfaction."
Bob Jungels:
"What a stage again! Overwhelmed to finish off the work of my Etixx- Quickstep team mates like that".
"In the past two days I got better and better and it was a great feeling to see that I could stay with the main contenders. I recovered very well during this race and this played out in my advantage. As I previously said, this was my first Grand Tour in which I started with the clear goal of going for the GC. It wasn't easy against this field, but to finish 6th, wear the the maglia rosa for three days and claim the U25 classification it's something that makes me very proud.
The team did an incredible job, you could see that in every stage I had somebody around me. This team spirit brought me so far in the Giro and I have to thank the guys for their help and for how they protected me in the stressful and difficult situations. These three weeks were very important also because I got a confirmation of my riding style: I can gain time in the ITT and ride a steady pace in the mountains, and this is something that I can develop in the future."
Joe Dombrowski:
"I felt like I could win and I've wanted to win a mountain stage in this Giro since the start of the year. And this was really the one because it I know all the roads, my family was there with a kilometre to go. I wanted to win really bad today but it doesn't always work out.
We came here riding for Rigo (Rigoberto Uran) and that was the main thing and then as a secondary thing, if I could go for a stage that's what I wanted to do: to try to win a mountain stage. But you know… on almost every mountain day I've been up in the front doing something or trying something. Today was the closest I came to actually taking a stage.
If you want to win, unless you are going to win out of the GC group and follow the GC group, you have to try a lot. For me at this point, I can't take off from Nibali so I have to take my opportunities when they come and tried to do that every day that suits me.
I perhaps underestimated Taaramae.
He lives in Monaco and I know he trains out here too. He knows all the roads. On a climb like that when it is a bit headwind, a bit tactical and you have to use your energy in the right places … I think he rode a super good race.
I know the climb super well because Team Sky's come up here from Nice to train at altitude.
In the summer we do these DIY training camps up here; it's just a few of us Americans. It's kind of fun. We have done a bike packing trip. There's nothing up here so you have to bring all your groceries up from Nice. The riding is incredible if you are riding six hours a day. It's also only a little over an hour from Nice so on a rest day we just drive down and go to the beach.
I tried to attack at the bottom because I knew it was hard and then it was not has hard as afterward, so I wanted to make a bit of a selection. But there was a headwind coming up so it made it a bit tactical. I felt good, I was good, so I attacked a couple of times, followed some stuff and I think Visconti and myself weren't really expecting Taaramae to just chip off the front, there was a bit of hesitation. You look at the strongest guy and you follow him, and if somebody comes back you think: 'They are not going anywhere' but it turned out he was going somewhere.
You know I think I may be a little different than most riders in that for me the third week is usually easier than the first.
That's just because I think I am not super punchy or fast, but I can keep going and going. I think Grand Tours suit me. After the 2015 Vuelta I was pretty tired by the end but coming out of this Giro I feel better. I was talking to my roommate (Nate Brown). Like every stage is hard, it's hard during the stage, but I don't feel any more tired than at a hard training camp."
Rafal Majka:
"I saw I lacked the explosiveness that my opponents had - I think that was my weakest point this Giro. However, I feel that my form is good and I will look to perform much better at the Tour with Alberto. Maybe in the future I need to do a Giro or Tour more relaxed in order to build my form to them and then attack another Grand Tour or an important stage race as captain."
RESULTS
STAGE
1
Rein Taaramae (Est) Team Katusha
4:22:43
2
Darwin Atapuma (Col) BMC Racing Team
0:00:52
3
Joe Dombrowski (USA) Cannondale Pro Cycling
0:01:17
4
Mikel Nieve (Spa) Team Sky
0:04:12
5
Alexander Foliforov (Rus) Gazprom-Rusvelo
0:04:36
6
Vincenzo Nibali (Ita) Astana Pro Team
0:06:44
7
Alejandro Valverde (Spa) Movistar Team
0:06:57
8
Rigoberto Uran (Col) Cannondale Pro Cycling
9
Giovanni Visconti (Ita) Movistar Team
0:07:47
10
Rafal Majka (Pol) Tinkoff Team
0:08:06
11
Bob Jungels (Lux) Etixx - Quick-Step
12
Gianluca Brambilla (Ita) Etixx - Quick-Step
0:08:13
13
Steven Kruijswijk (Ned) Team LottoNl-Jumbo
14
Esteban Chaves (Col) Orica-GreenEdge
0:08:20
15
Michele Scarponi (Ita) Astana Pro Team
16
Tanel Kangert (Est) Astana Pro Team
0:08:51
17
Sergey Firsanov (Rus) Gazprom-Rusvelo
0:10:29
18
Andre Cardoso (Por) Cannondale Pro Cycling
19
Kanstantsin Siutsou (Blr) Dimension Data
20
Hubert Dupont (Fra) AG2R La Mondiale
21
Andrey Amador (CRc) Movistar Team
0:11:15
22
Riccardo Zoidl (Aut) Trek-Segafredo
0:11:55
23
Igor Anton Hernandez (Spa) Dimension Data
0:12:09
24
Maxime Monfort (Bel) Lotto Soudal
25
Jakob Fuglsang (Den) Astana Pro Team
0:13:46
26
Stefano Pirazzi (Ita) Bardiani CSF
0:14:58
27
Matteo Montaguti (Ita) AG2R La Mondiale
0:15:35
28
Sebastian Henao (Col) Team Sky
29
Pavel Kochetkov (Rus) Team Katusha
30
Egor Silin (Rus) Team Katusha
31
Primoz Roglic (Slo) Team LottoNl-Jumbo
32
Stefan Denifl (Aut) IAM Cycling
0:16:02
33
Joseph Rosskopf (USA) BMC Racing Team
0:17:19
34
Merhawi Kudus (Eri) Dimension Data
35
Tobias Ludvigsson (Swe) Team Giant-Alpecin
0:17:42
36
Ruben Plaza (Spa) Orica-GreenEdge
0:18:28
37
Diego Ulissi (Ita) Lampre - Merida
0:18:51
38
Ilia Koshevoy (Blr) Lampre - Merida
39
Valerio Conti (Ita) Lampre - Merida
40
Adam Hansen (Aus) Lotto Soudal
0:19:23
41
Nathan Brown (USA) Cannondale Pro Cycling
0:20:17
42
Aleksey Rybalkin (Rus) Gazprom-Rusvelo
43
Vegard Stake Laengen (Nor) IAM Cycling
44
Pawel Poljanski (Pol) Tinkoff Team
0:22:09
45
Georg Preidler (Aut) Team Giant-Alpecin
0:22:54
46
Marcel Wyss (Swi) IAM Cycling
0:24:05
47
Manuele Boaro (Ita) Tinkoff Team
0:24:10
48
Amets Txurruka (Spa) Orica-GreenEdge
0:24:16
49
Axel Domont (Fra) AG2R La Mondiale
50
Davide Formolo (Ita) Cannondale Pro Cycling
0:24:54
GC
1
Vincenzo Nibali (Ita) Astana Pro Team
82:44:31
2
Esteban Chaves (Col) Orica-GreenEdge
0:00:52
3
Alejandro Valverde (Spa) Movistar Team
0:01:17
4
Steven Kruijswijk (Ned) Team LottoNl-Jumbo
0:01:50
5
Rafal Majka (Pol) Tinkoff Team
0:04:37
6
Bob Jungels (Lux) Etixx - Quick-Step
0:08:31
7
Rigoberto Uran (Col) Cannondale Pro Cycling
0:11:47
8
Andrey Amador (CRc) Movistar Team
0:13:21
9
Darwin Atapuma (Col) BMC Racing Team
0:14:09
10
Kanstantsin Siutsou (Blr) Dimension Data
0:16:20
11
Hubert Dupont (Fra) AG2R La Mondiale
0:24:33
12
Jakob Fuglsang (Den) Astana Pro Team
0:24:59
13
Giovanni Visconti (Ita) Movistar Team
0:31:38
14
Andre Cardoso (Por) Cannondale Pro Cycling
0:34:12
15
Maxime Monfort (Bel) Lotto Soudal
0:34:34
16
Michele Scarponi (Ita) Astana Pro Team
0:38:09
17
Sebastian Henao (Col) Team Sky
18
Stefano Pirazzi (Ita) Bardiani CSF
0:41:00
19
Matteo Montaguti (Ita) AG2R La Mondiale
0:43:49
20
Domenico Pozzovivo (Ita) AG2R La Mondiale
0:51:49
21
Diego Ulissi (Ita) Lampre - Merida
0:56:59
22
Gianluca Brambilla (Ita) Etixx - Quick-Step
0:57:08
23
Tanel Kangert (Est) Astana Pro Team
0:59:30
24
Nicolas Roche (Irl) Team Sky
1:04:44
25
Mikel Nieve (Spa) Team Sky
1:05:22
26
Georg Preidler (Aut) Team Giant-Alpecin
1:08:05
27
Valerio Conti (Ita) Lampre - Merida
1:18:38
28
Igor Anton Hernandez (Spa) Dimension Data
1:22:43
29
Rein Taaramae (Est) Team Katusha
1:23:22
30
Sergey Firsanov (Rus) Gazprom-Rusvelo
1:24:38
31
Davide Formolo (Ita) Cannondale Pro Cycling
1:27:19
32
Pavel Kochetkov (Rus) Team Katusha
1:28:35
33
Andrey Zeits (Kaz) Astana Pro Team
1:32:53
34
Joe Dombrowski (USA) Cannondale Pro Cycling
1:32:56
35
Pawel Poljanski (Pol) Tinkoff Team
1:50:37
36
Ivan Rovny (Rus) Tinkoff Team
1:51:10
37
Merhawi Kudus (Eri) Dimension Data
1:54:34
38
Egor Silin (Rus) Team Katusha
1:56:08
39
Riccardo Zoidl (Aut) Trek-Segafredo
1:57:12
40
Marcel Wyss (Swi) IAM Cycling
2:00:13
41
Moreno Moser (Ita) Cannondale Pro Cycling
2:01:27
42
Enrico Battaglin (Ita) Team LottoNl-Jumbo
2:02:23
43
Carlos Verona (Spa) Etixx - Quick-Step
2:05:57
44
Damiano Cunego (Ita) Nippo - Vini Fantini
2:06:37
45
Alexander Foliforov (Rus) Gazprom-Rusvelo
46
Manuele Boaro (Ita) Tinkoff Team
2:11:15
47
Davide Malacarne (Ita) Astana Pro Team
2:13:24
48
Nathan Brown (USA) Cannondale Pro Cycling
2:15:18
49
Jose Joaquin Rojas (Spa) Movistar Team
2:17:44
50
Axel Domont (Fra) AG2R La Mondiale
2:21:03
51
Tobias Ludvigsson (Swe) Team Giant-Alpecin
2:21:13
52
Stefan Denifl (Aut) IAM Cycling
2:21:34
53
Damien Howson (Aus) Orica-GreenEdge
2:25:44
54
Guillaume Bonnafond (Fra) AG2R La Mondiale
2:32:28
55
Amets Txurruka (Spa) Orica-GreenEdge
2:39:42
56
Ruben Plaza (Spa) Orica-GreenEdge
2:40:39
57
Matteo Busato (Ita) Wilier Triestina-Southeast
2:43:03
58
Primoz Roglic (Slo) Team LottoNl-Jumbo
2:43:25
59
Jesus Hernandez (Spa) Tinkoff Team
2:44:44
60
Stefan Kueng (Swi) BMC Racing Team
2:52:25
61
Bram Tankink (Ned) Team LottoNl-Jumbo
2:55:43
62
José Herrada (Spa) Movistar Team
3:03:04
63
Manuele Mori (Ita) Lampre - Merida
3:03:47
64
Laurent Didier (Lux) Trek-Segafredo
3:07:17
65
Bakhtiyar Kozhatayev (Kaz) Astana Pro Team
3:08:06
66
Christian Knees (Ger) Team Sky
3:09:06
67
Simon Clarke (Aus) Cannondale Pro Cycling
3:13:04
68
Adam Hansen (Aus) Lotto Soudal
3:13:19
69
David Lopez Garcia (Spa) Team Sky
3:18:34
70
Pieter Serry (Bel) Etixx - Quick-Step
3:19:25
71
Ian Boswell (USA) Team Sky
3:19:42
72
Hugo Houle (Can) AG2R La Mondiale
3:20:38
73
Alexander Kolobnev (Rus) Gazprom-Rusvelo
3:20:39
74
Matteo Trentin (Ita) Etixx - Quick-Step
3:21:00
75
Evgeny Petrov (Rus) Tinkoff Team
3:21:36
76
Manuel Senni (Ita) BMC Racing Team
3:22:42
77
Simone Petilli (Ita) Lampre - Merida
3:23:08
78
Chad Haga (USA) Team Giant-Alpecin
3:25:49
79
Johann Van Zyl (RSA) Dimension Data
3:28:27
80
Rory Sutherland (Aus) Movistar Team
3:28:47
81
Alessandro Bisolti (Ita) Nippo - Vini Fantini
3:29:23
82
Eros Capecchi (Ita) Astana Pro Team
3:29:48
83
Vegard Stake Laengen (Nor) IAM Cycling
3:30:44
84
Sacha Modolo (Ita) Lampre - Merida
3:31:30
85
Joseph Rosskopf (USA) BMC Racing Team
3:31:50
86
Alberto Bettiol (Ita) Cannondale Pro Cycling
3:33:43
87
Nikias Arndt (Ger) Team Giant-Alpecin
3:34:14
88
Jay McCarthy (Aus) Tinkoff Team
3:35:37
89
Daniel Martínez (Col) Wilier Triestina-Southeast
3:36:41
90
Pavel Brutt (Rus) Tinkoff Team
3:38:02
91
Lars Ytting Bak (Den) Lotto Soudal
3:39:13
92
Benoît Vaugrenard (Fra) FDJ
3:40:01
93
Jelle Vanendert (Bel) Lotto Soudal
3:42:29
94
Kristian Sbaragli (Ita) Dimension Data
3:44:49
95
Alessandro De Marchi (Ita) BMC Racing Team
3:44:56
96
Sonny Colbrelli (Ita) Bardiani CSF
3:48:07
97
Tim Wellens (Bel) Lotto Soudal
3:48:24
98
Ilia Koshevoy (Blr) Lampre - Merida
3:48:40
99
Matej Mohoric (Slo) Lampre - Merida
3:49:14
100
Heinrich Haussler (Aus) IAM Cycling
3:49:24
101
Anton Vorobyev (Rus) Team Katusha
3:50:10
102
Jaco Venter (RSA) Dimension Data
3:51:01
103
Martijn Keizer (Ned) Team LottoNl-Jumbo
3:52:57
104
Cristian Rodriguez (Spa) Wilier Triestina-Southeast
3:53:15
105
Ivan Savitskiy (Rus) Gazprom-Rusvelo
3:54:08
106
Eugenio Alafaci (Ita) Trek-Segafredo
3:56:18
107
Aleksey Rybalkin (Rus) Gazprom-Rusvelo
3:58:02
108
Matteo Tosatto (Ita) Tinkoff Team
3:58:47
109
Sean De Bie (Bel) Lotto Soudal
3:58:53
110
Francesco Manuel Bongiorno (Ita) Bardiani CSF
3:59:07
111
Giacomo Nizzolo (Ita) Trek-Segafredo
4:03:51
112
Daniel Oss (Ita) BMC Racing Team
4:06:35
113
Julen Amezqueta (Spa) Wilier Triestina-Southeast
4:07:22
114
Jasha Sütterlin (Ger) Movistar Team
4:07:36
115
Twan Castelijns (Ned) Team LottoNl-Jumbo
4:08:24
116
Filippo Pozzato (Ita) Wilier Triestina-Southeast
4:08:54
117
Maxim Belkov (Rus) Team Katusha
4:10:44
118
Manuel Quinziato (Ita) BMC Racing Team
4:11:33
119
Gianfranco Zilioli (Ita) Nippo - Vini Fantini
4:12:52
120
Mirco Maestri (Ita) Bardiani CSF
4:14:10
121
Jos Van Emden (Ned) Team LottoNl-Jumbo
4:16:03
122
Albert Timmer (Ned) Team Giant-Alpecin
4:16:19
123
Ramunas Navardauskas (Ltu) Cannondale Pro Cycling
4:16:34
124
Viacheslav Kuznetsov (Rus) Team Katusha
4:18:19
125
Maarten Tjallingii (Ned) Team LottoNl-Jumbo
4:18:59
126
Sam Bewley (NZl) Orica-GreenEdge
4:19:37
127
Pim Ligthart (Ned) Lotto Soudal
4:19:46
128
Andrei Solomennikov (Rus) Gazprom-Rusvelo
4:20:08
129
Alexander Serov (Rus) Gazprom-Rusvelo
4:21:37
130
Marco Coledan (Ita) Trek-Segafredo
4:22:05
131
Eugert Zhupa (Alb) Wilier Triestina-Southeast
4:23:15
132
Paolo Simion (Ita) Bardiani CSF
4:23:26
133
Roberto Ferrari (Ita) Lampre - Merida
4:28:08
134
Olivier Le Gac (Fra) FDJ
4:29:26
135
Ignatas Konovalovas (Ltu) FDJ
4:31:38
136
Grega Bole (Slo) Nippo - Vini Fantini
4:32:04
137
Arnaud Courteille (Fra) FDJ
4:33:09
138
Roger Kluge (Ger) IAM Cycling
4:33:28
139
Lukasz Wisniowski (Pol) Etixx - Quick-Step
4:35:16
140
Nicola Boem (Ita) Bardiani CSF
4:35:56
141
Rick Zabel (Ger) BMC Racing Team
4:36:19
142
Simone Andreetta (Ita) Bardiani CSF
4:36:25
143
Artem Ovechkin (Rus) Gazprom-Rusvelo
4:36:45
144
Tom Stamsnijder (Ned) Team Giant-Alpecin
4:38:30
145
Songezo Jim (RSA) Dimension Data
4:40:38
146
Alexander Porsev (Rus) Team Katusha
4:41:38
147
Svein Tuft (Can) Orica-GreenEdge
4:43:04
148
Blel Kadri (Fra) AG2R La Mondiale
4:43:48
149
Mickael Delage (Fra) FDJ
4:45:40
150
Jay Robert Thomson (RSA) Dimension Data
4:47:03
151
Michael Hepburn (Aus) Orica-GreenEdge
4:47:59
152
Genki Yamamoto (Jpn) Nippo - Vini Fantini
4:49:05
153
Murilo Antonio Fischer (Bra) FDJ
4:49:59
154
Eduard Michael Grosu (Rom) Nippo - Vini Fantini
4:53:53
155
Cheng Ji (Chn) Team Giant-Alpecin
5:03:42
156
Riccardo Stacchiotti (Ita) Nippo - Vini Fantini
5:08:00
157
Jack Bobridge (Aus) Trek-Segafredo
5:08:51
JERSEY
Pink: Nibali
Blue: Nieve
Red: Nizzolo
White: Jungels