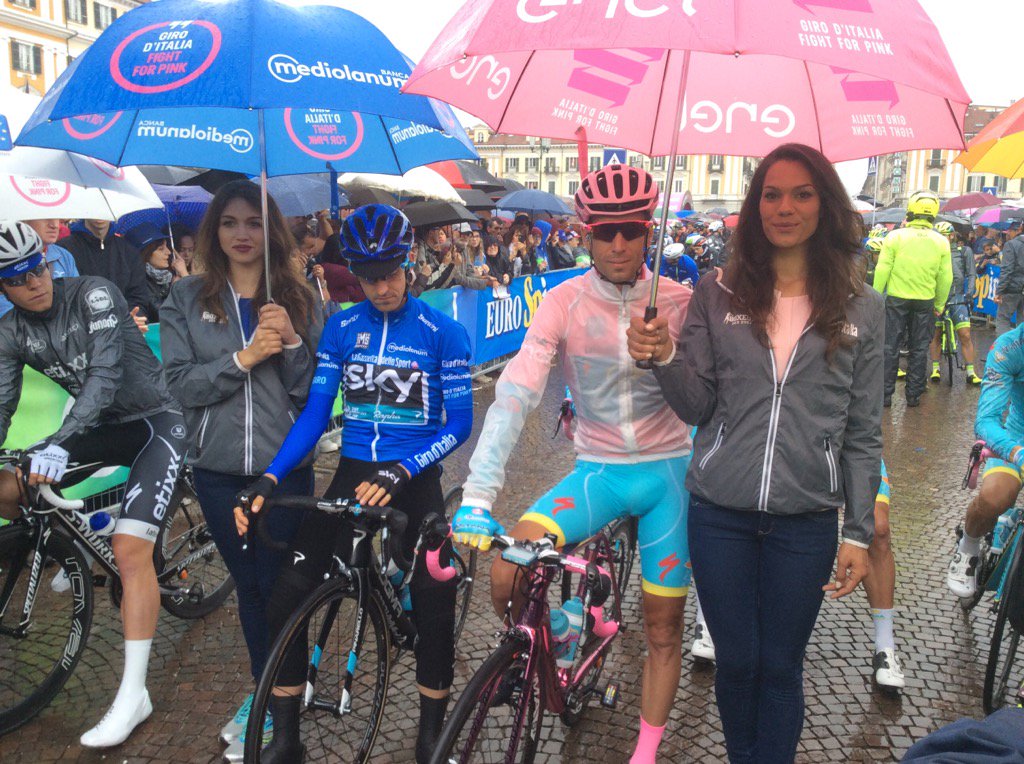 Miserable weather

: at the finish it's

raining

cats and dogs. The road is wet and

a small crash

happens, Lars

Bak abandons

with a fractured shoulder blade. Esteban Chaves and Steven Kruijswijk also fell but they are back on bike.
At the

first intermediate sprint

Giacomo

Nizzolo wins

to defend his

Red

Jersey.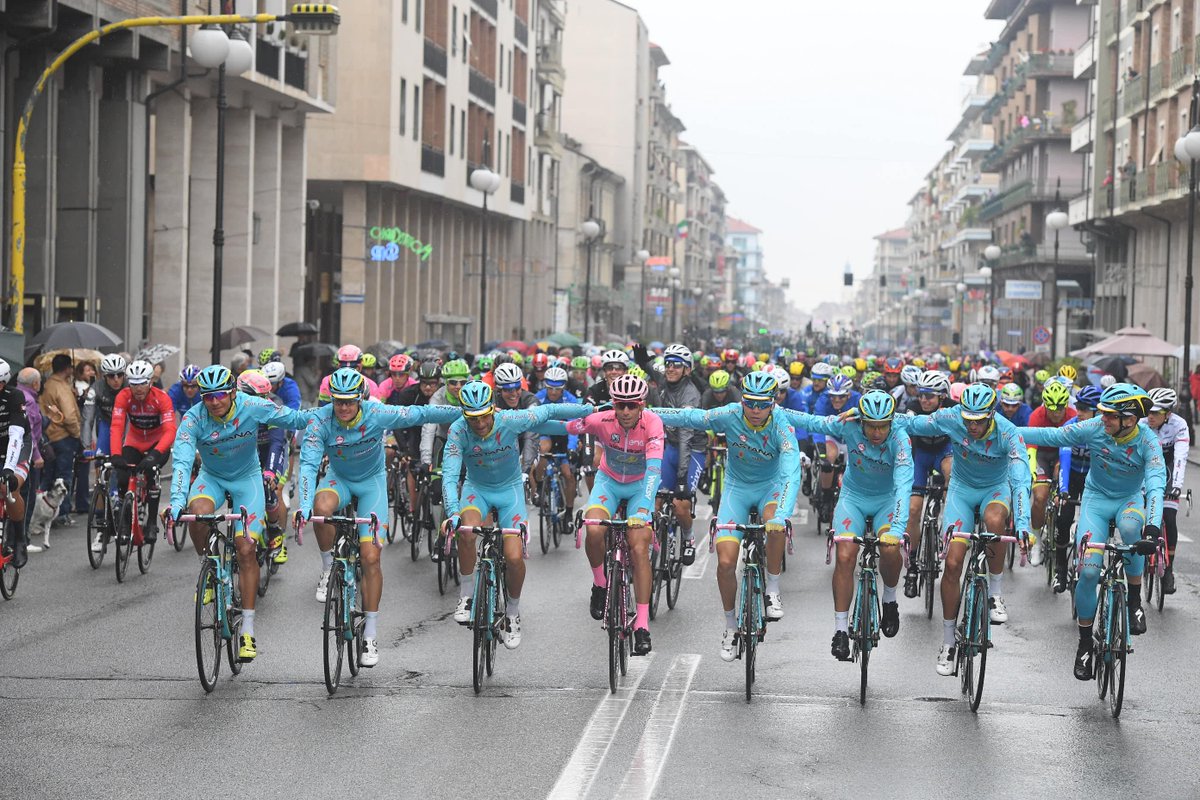 In

Blue

there is Mikel

Nieve

, in

White

Bob

Jungels

. The

Maglia Rosa is Vincenzo Nibali

who had to fight for this Pink more than expected.
All together for 70 km, then

Tjallingii and Van Emden

go on the attack and get 20".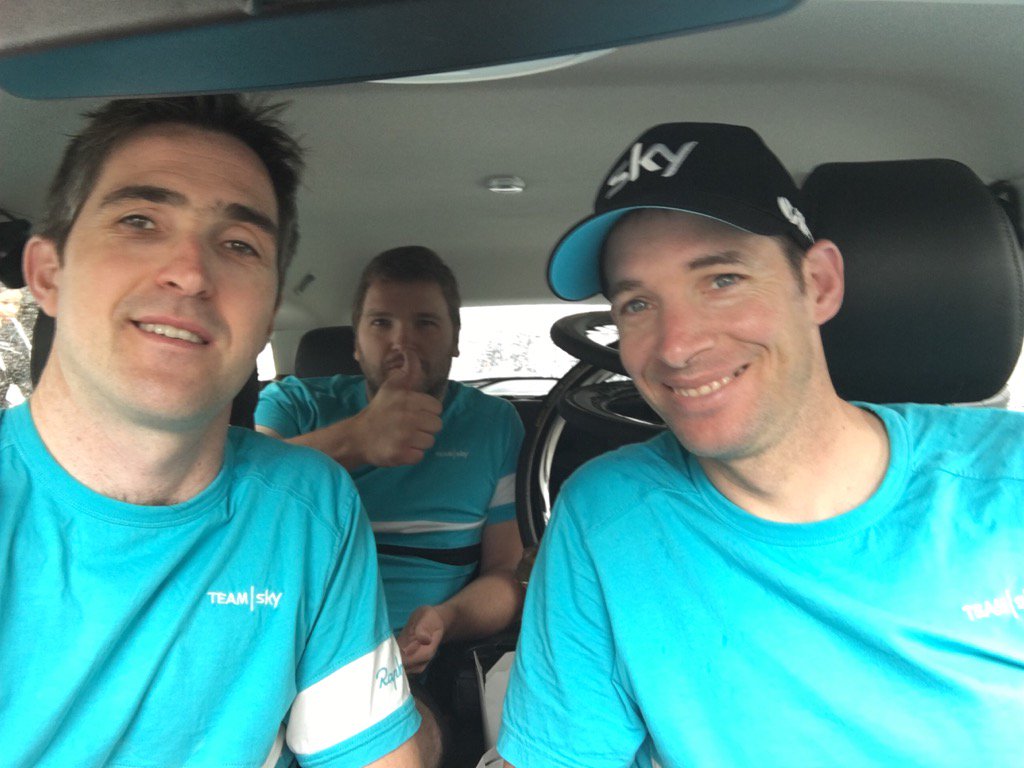 The race is

in Torino. The circuit has been completely neutralised

as far as the final GC is concerned so the time will be taken at the first passage.

Boaro and Brambilla

get off the peloton in chasing Van Emden and Tjallingii, more than 1' ahead.

Wellens

joins with

Zhupa and Clarke

. There is a small climb and here

Boaro, Brambilla and Wellens

distanced Zhupa and Clarke.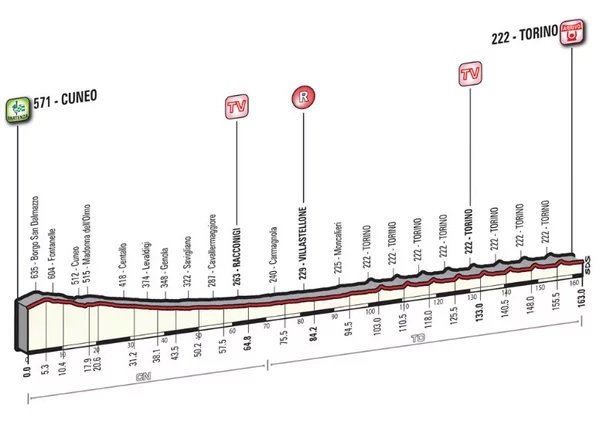 40 km to go Tjallingii and Van Emden have 25" on Clarke, Brambilla and Wellens and 56" on the peloton. In the middle Zhupa and Clarke.

It's raining

.

Wellens isn't collaborating. The gap increases

. It's a tricky, curvy route so not easy to ride.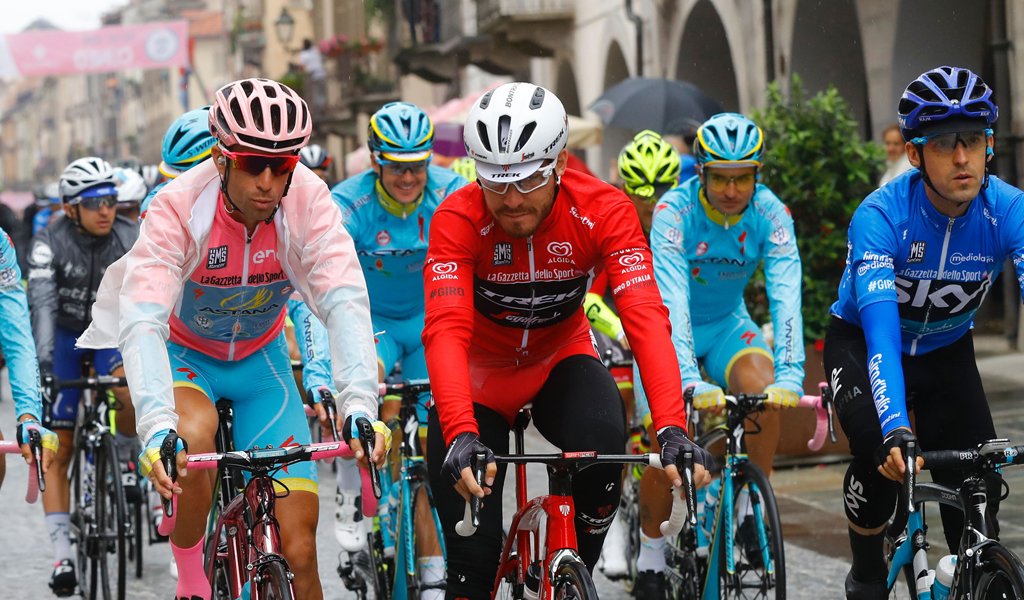 29 km to go there is

a crash

involving also Esteban Chaves and Rigoberto Uran. All back on bike.

Roy Sutterland is still on the ground. Van Zyl has to quit.

Boaro, Brambilla and Wellens are caught.

Trek Segafredo and Lampre Merida are leading the chase.

The gap is 43'' but 15 kms is down to 28". Can Nizzolo grab his victory?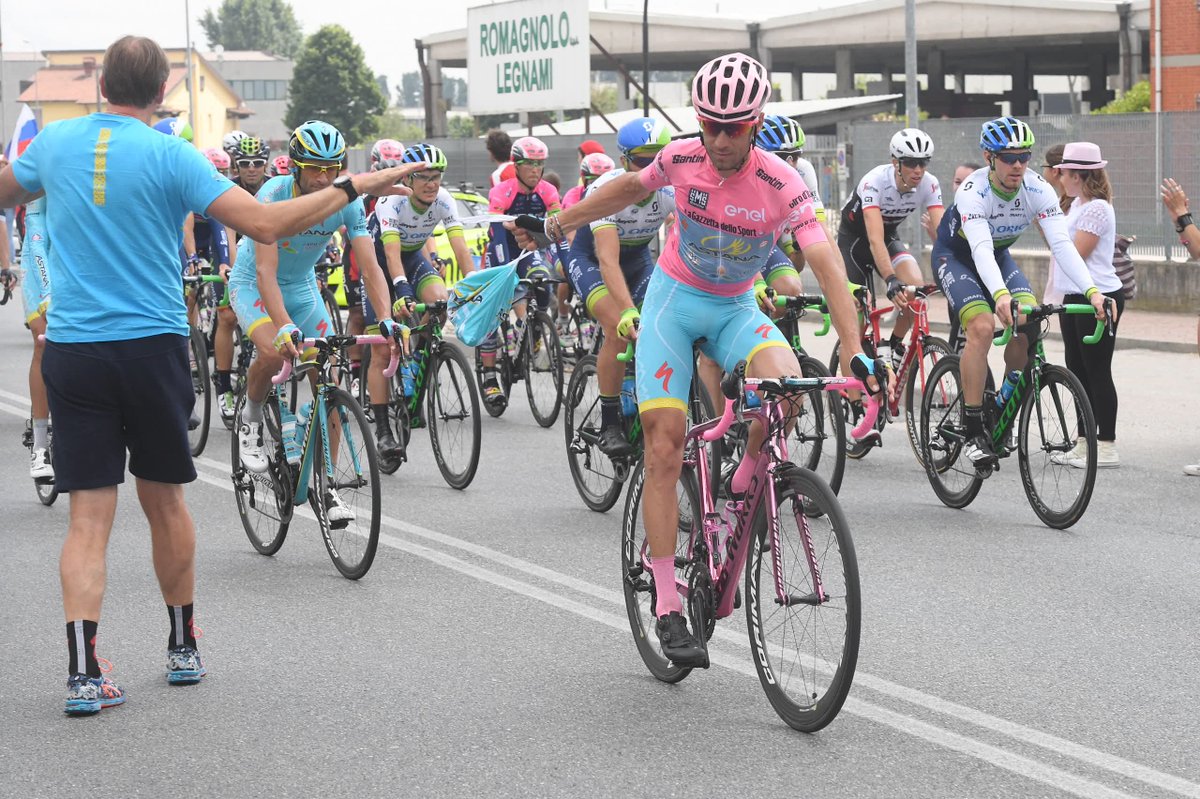 11 km to go Tjallingii is caught. Jos

van Emden is still away

. He's a very good cronoman and at the

last passage on the line

he's solo with a 15'' adavantage. 6 km to go van Endem is caught.

Colbrelli attacks but crashes

and remains on the ground. He's conscious! The race goes on at a crazy speed. Last km, last attack, by

Sean De Bie

. Caught.

Sprint launched.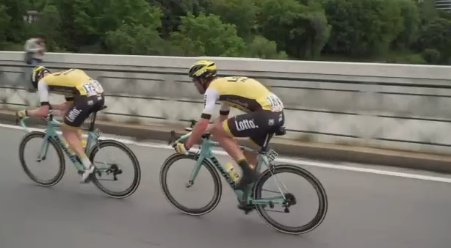 And the answer is YES:

GIACOMO NIZZOLO grabs his VICTORY.

HUGE! Sacha Modolo doesn't agree: he says Giacomo Nizzolo closed him against the barriers...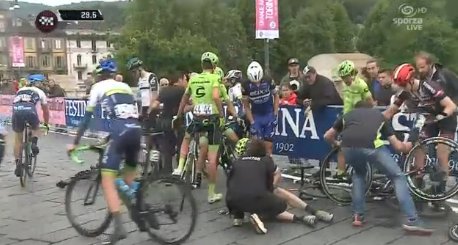 Daniel Oss

gives BMC a reason to celebrate: he won the

Breakaway and Intermediate Points classifications

.
UPDATE
Nooo! Nizzolo relegated! Arndt winner.
Vincenzo Nibali: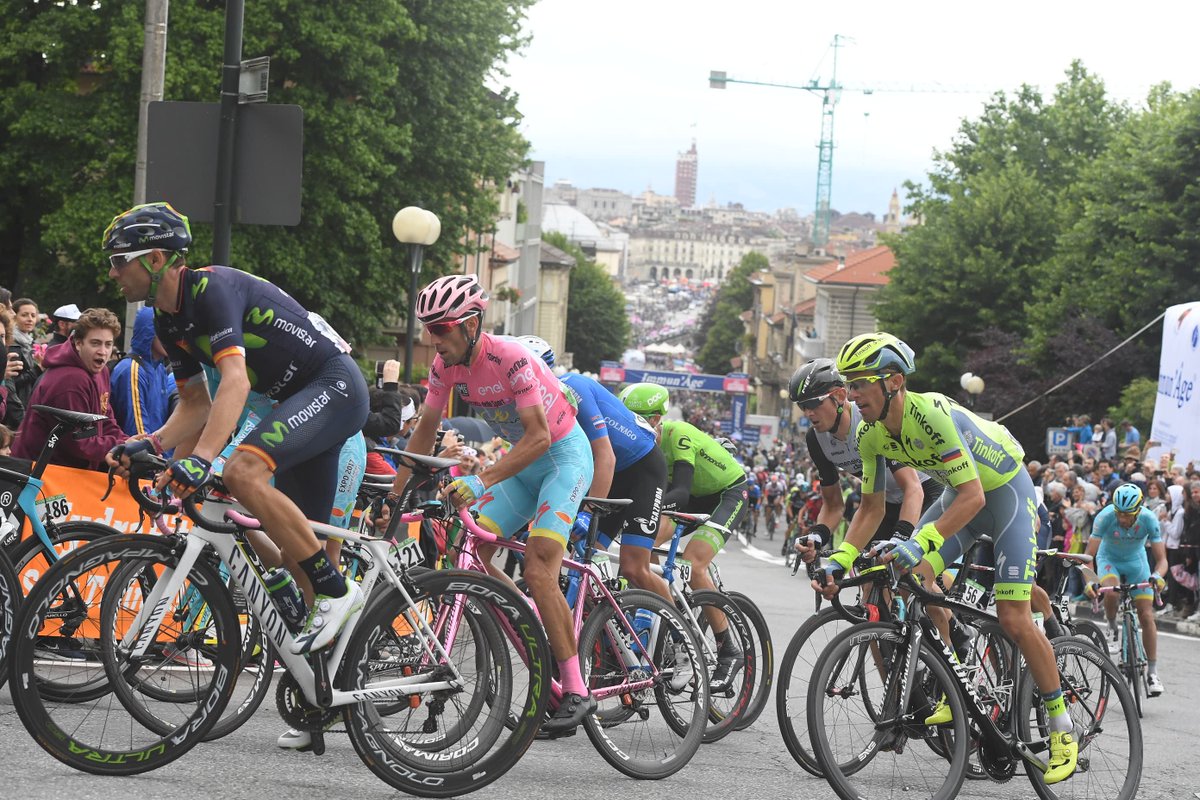 "It was a wonderful stage with fantastic crowds and it was great throughout the day. Unfortunately, there was a little bit of rain at the start. I couldn't be happier with how the Giro d'Italia has ended here in Turin."
"I was suffering for intestinal problems but I didn't want to tell it to avoid giving my opponents a help."
Steven Kruijswijk: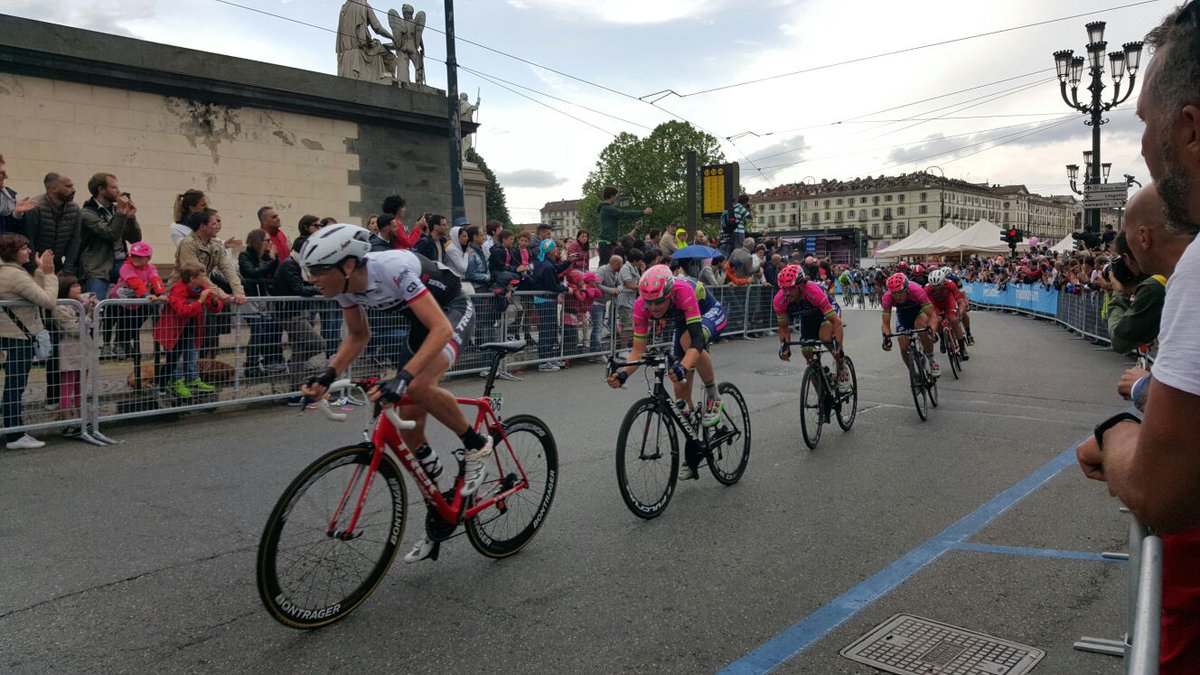 "I'm proud of the way I was able to race in this Giro".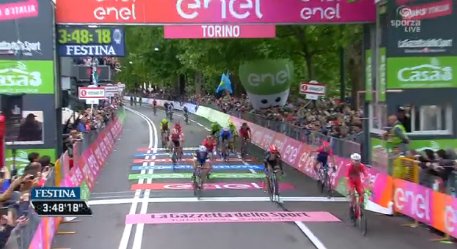 "The day I grabbed the pink jersey and gave a knock to my competitors, was my highlight this Giro d'Italia. I felt great the whole day. I actually planned to save as much energy as possible to be as fresh as possible during the uphill time trial the day after, but because everything went so well, I decided to attack. I'm proud of the way I was able to race in this Giro. The leader's jersey brings another sort of joy. Everyone's watching you and wanting to take that jersey from you. There is nothing more beautiful than beating the favourites and riding in that position.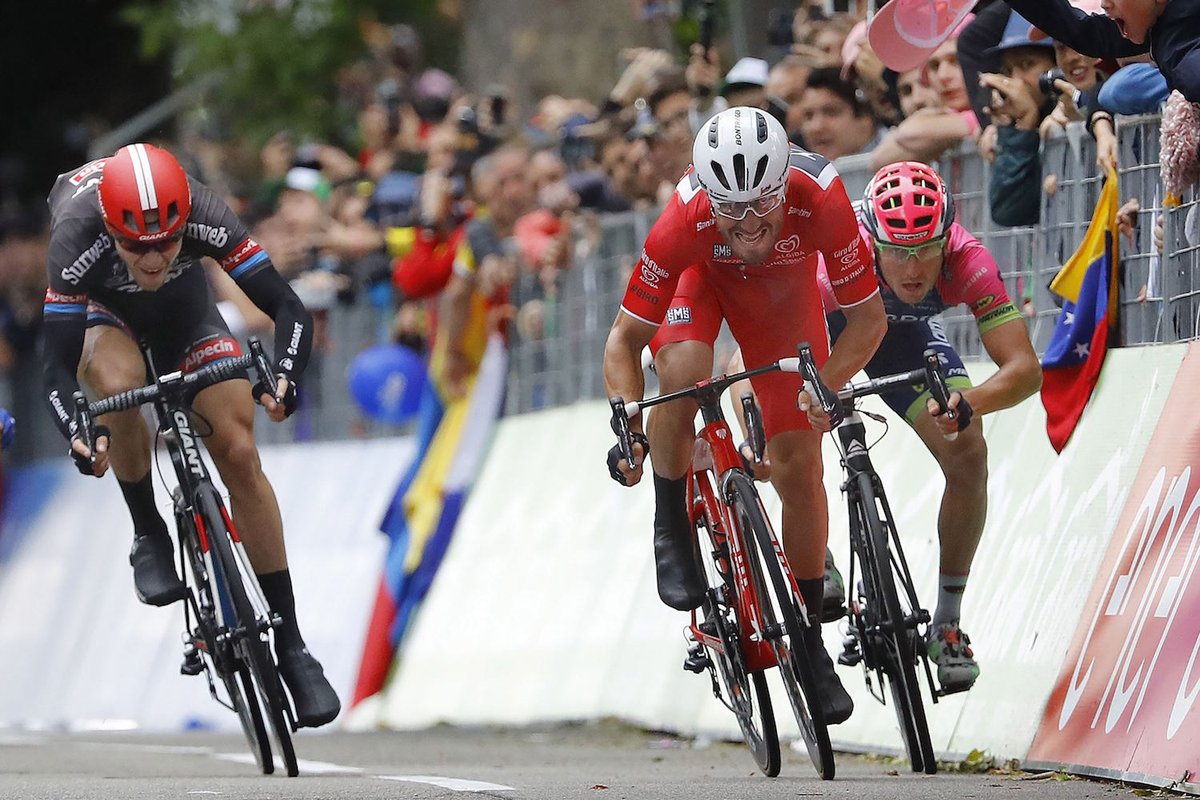 I knew that Nibali was going to go strongly on the descent. I wanted to follow him, but wasn't able to look through the turn very well because of the snow. I made a mistake, slipped away and rode into that wall of snow. Before this Giro, I might have been happy with this fourth place, but you have to take the chances you get. I failed at doing that in this race and that's a shame."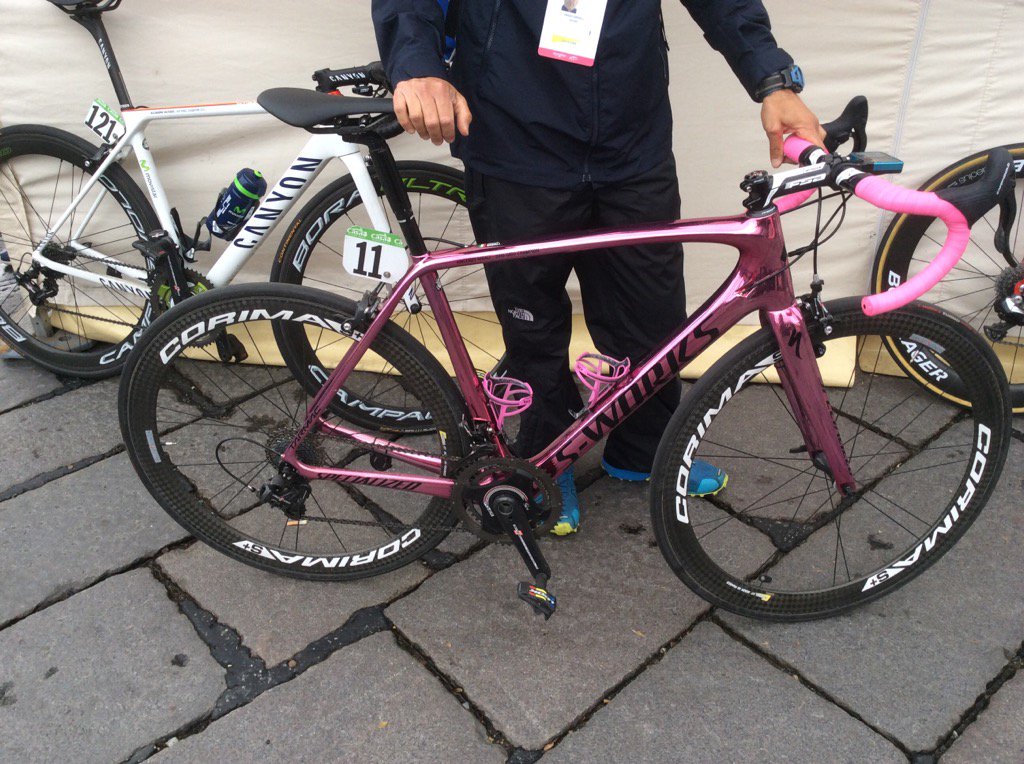 Jos van Emden:
"It's very unfortunate that he didn't take the Giro victory, but I have to take my hat off for Steven. Every rider knows how hard it is to move on after such a crash. I think that he delivered a great final part of Friday's stage when you look at the circumstances."
Primoz Roglic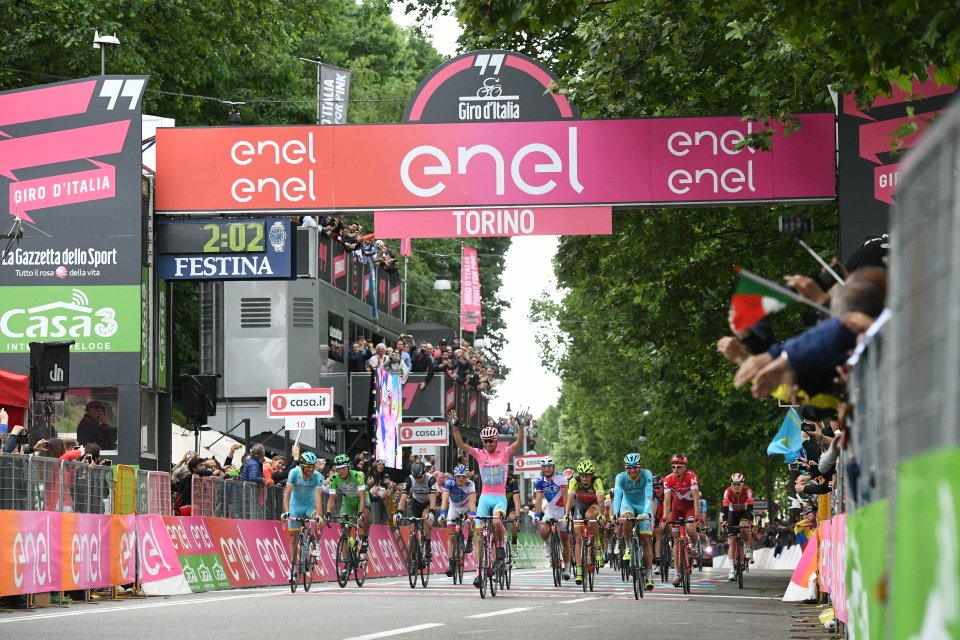 "I didn't know what to expect from my first big tour, but it was an amazing experience. A lot happened. It started with my second place in the prologue. That was more than I expected. There was a little bit of disappointment because I was so close to the victory. My crash in the third stage wasn't too frustrating for me. I didn't aim for the general classification, but winning the second time trial was a very special moment. I have no words to say how beautiful that was."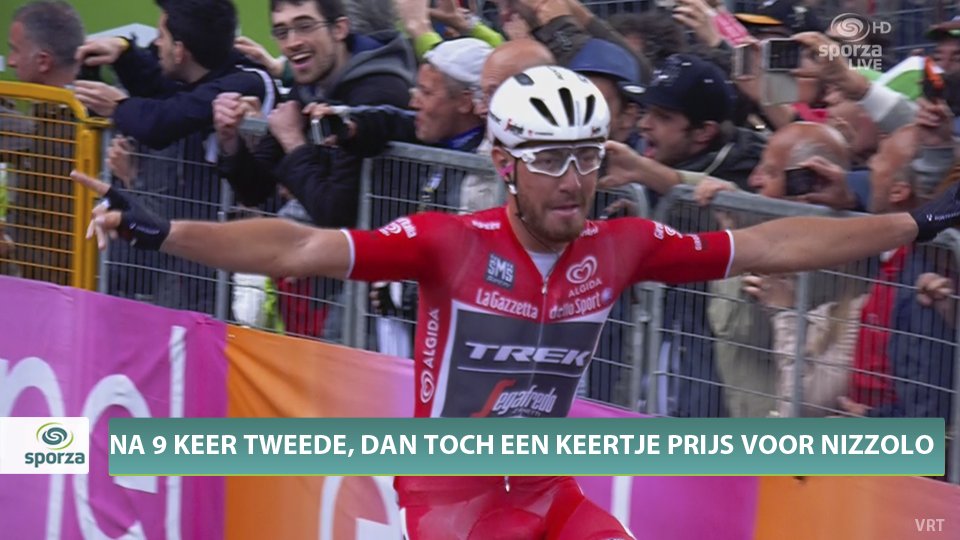 Enrico Battaglin: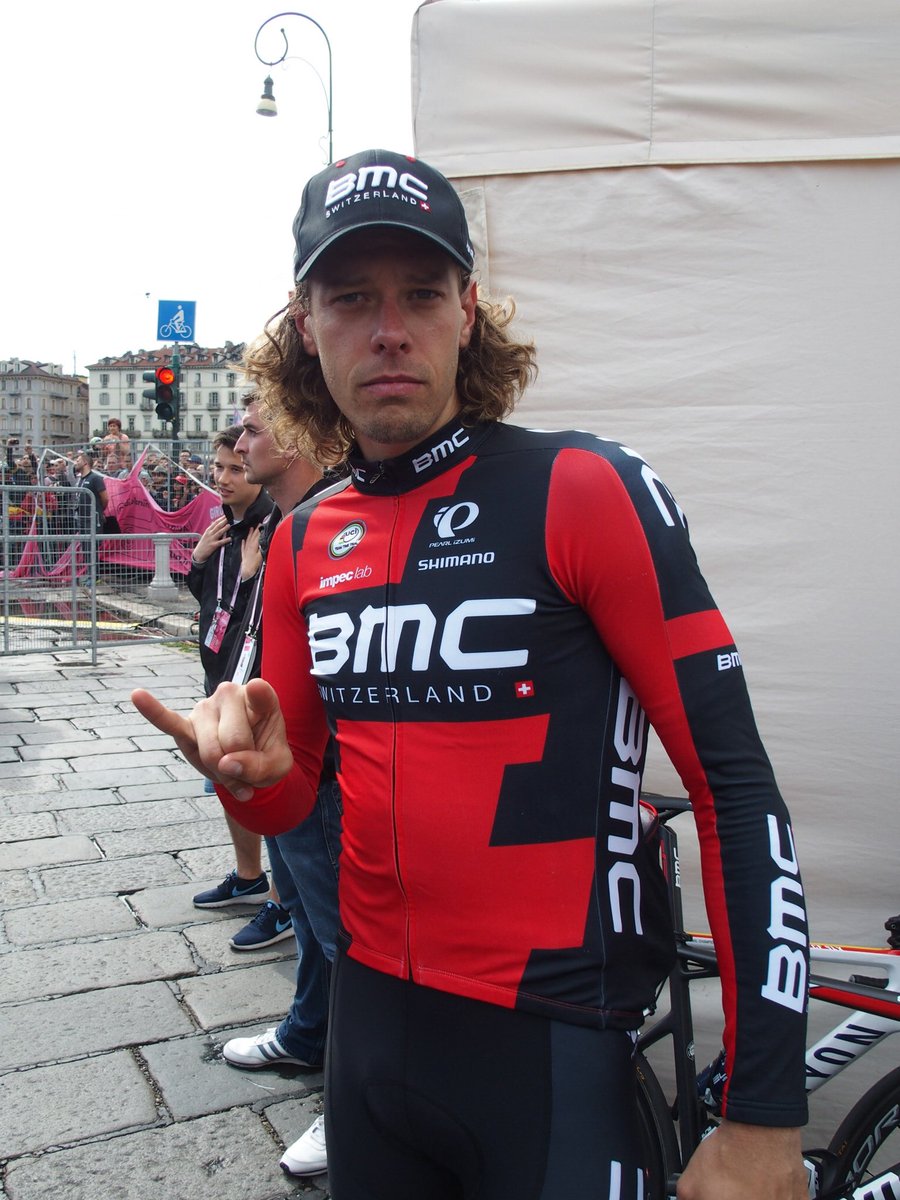 "I'm tired. We did a great job this Giro. Steven's crash is very unfortunate. That was a hard moment. We did the best we could as a team. That's why I'm disappointed about missing the victory. It was a dream to win the Giro with the team, and we were so close to making this dream come true."
Bob Jungels:
"The white jersey and 6th in my first Giro... I'm speechless. Thanks for all the support!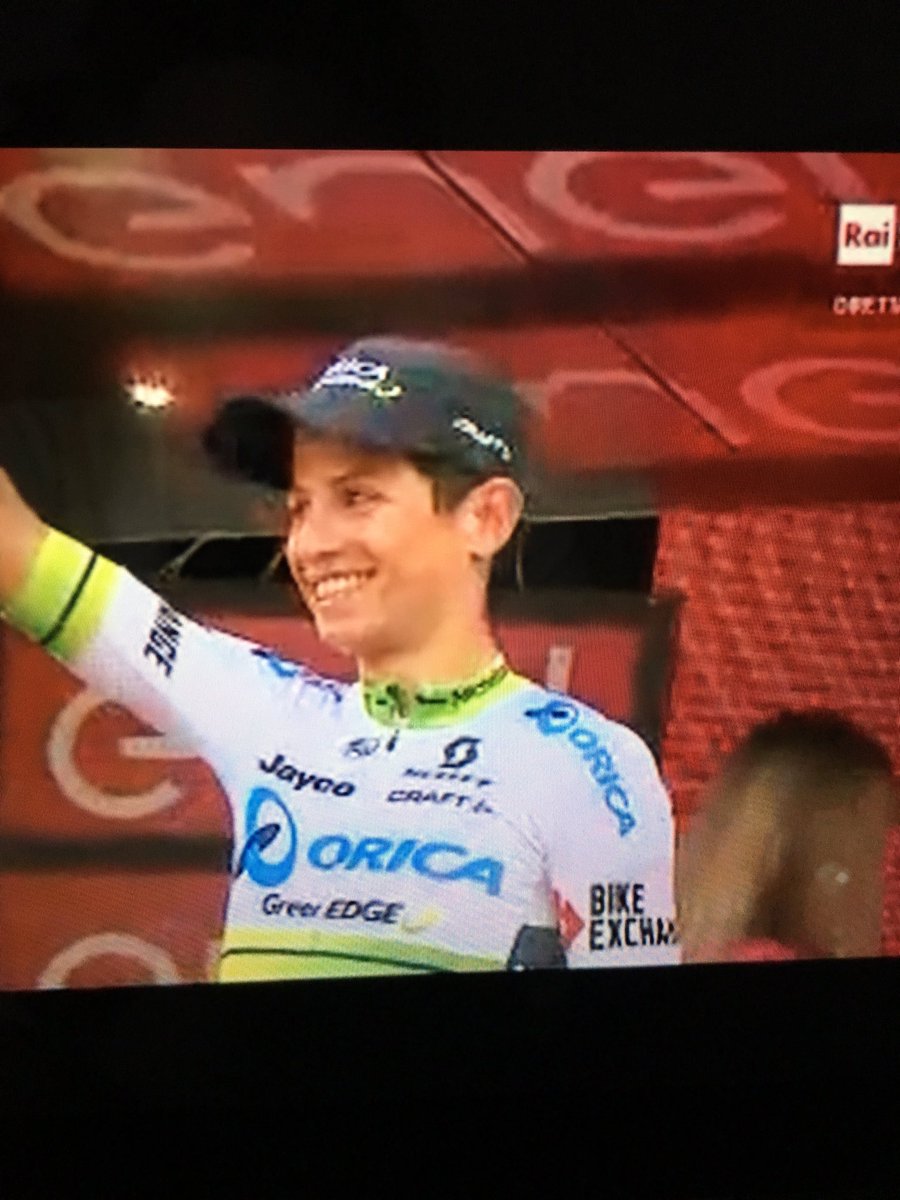 We were lucky with the weather here. Gianluca Brambilla was working for Matteo Trentin and I couldn't let the guys do it alone. So, I wanted to do everything for them. I'm super happy, in the end [with the best young rider victory]. I knew that I could climb, a little bit before. I did lots of training in the mountains, altitude training, so I've been preparing for the Giro d'Italia since the first of February, and I'm super happy to have more than achieved my goal."
"At this moment it's hard to say what this jersey means for my career. What I do know is that I've been working really hard for this and that it will take a week or so until I'll asses my performance. Right now, I'm speechless. For me, the most important thing in this Giro was the team, without the guys I wouldn't stand here today. I am proud of my result, of the entire team and I will continue to work hard."
Luca Guercilena:
"Unbelievable decision!!! Congratulation Giacomo Nizzolo Trek Segafredo.
This is our victory!!!"
Nikias Arndt: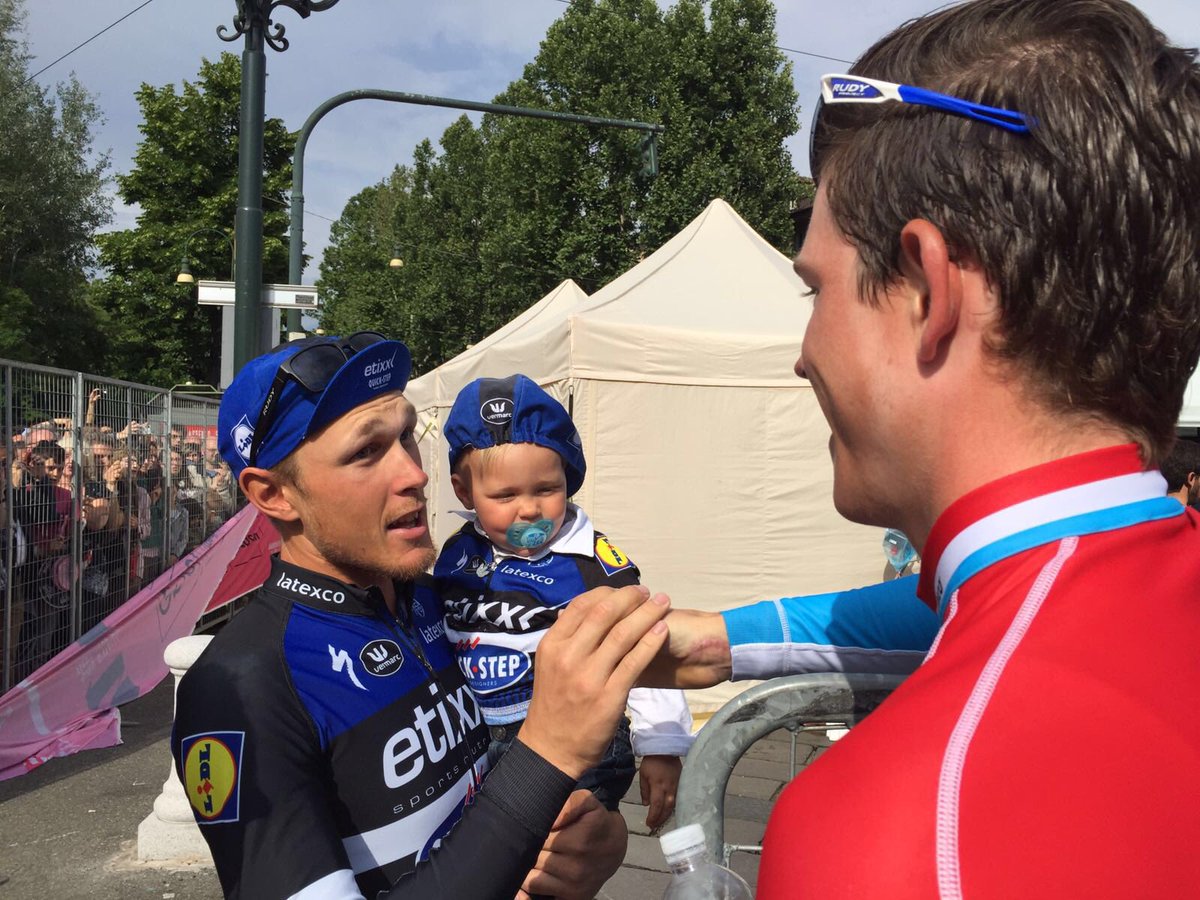 "It's a good feeling to get the stage win. It was a hard race today and I think the team worked really hard for me. It was difficult to stay the whole day in position. In the end, it was a nice race with a good finish. I got a nice extra victory.
It was a difficult decision [official disqualified Giacomo Nizzolo for irregular sprinting]. It was a hard sprint with two hectic corners before hand. Everyone was very nervous and pushing each other. In the end, it was a decision of the jury about whether it was safe or not. For me it was a hard race."
Alejandro Valverde: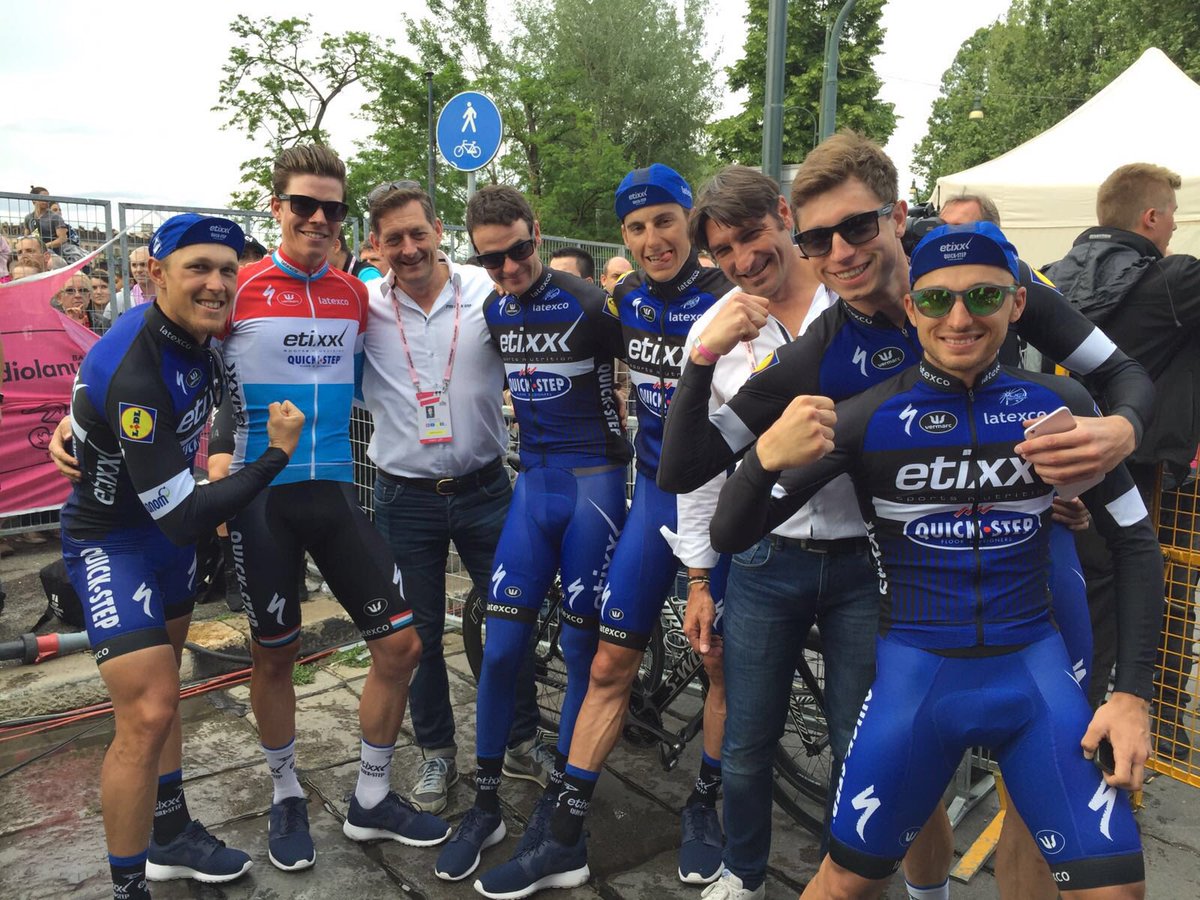 "I've achieved eight podiums in the Tour and the Vuelta, and now at the Giro d'Italia, so I couldn't be any happier. I will take six days of rest then the national championships, and the Tour de France with Nairo Quintana - for the yellow dream."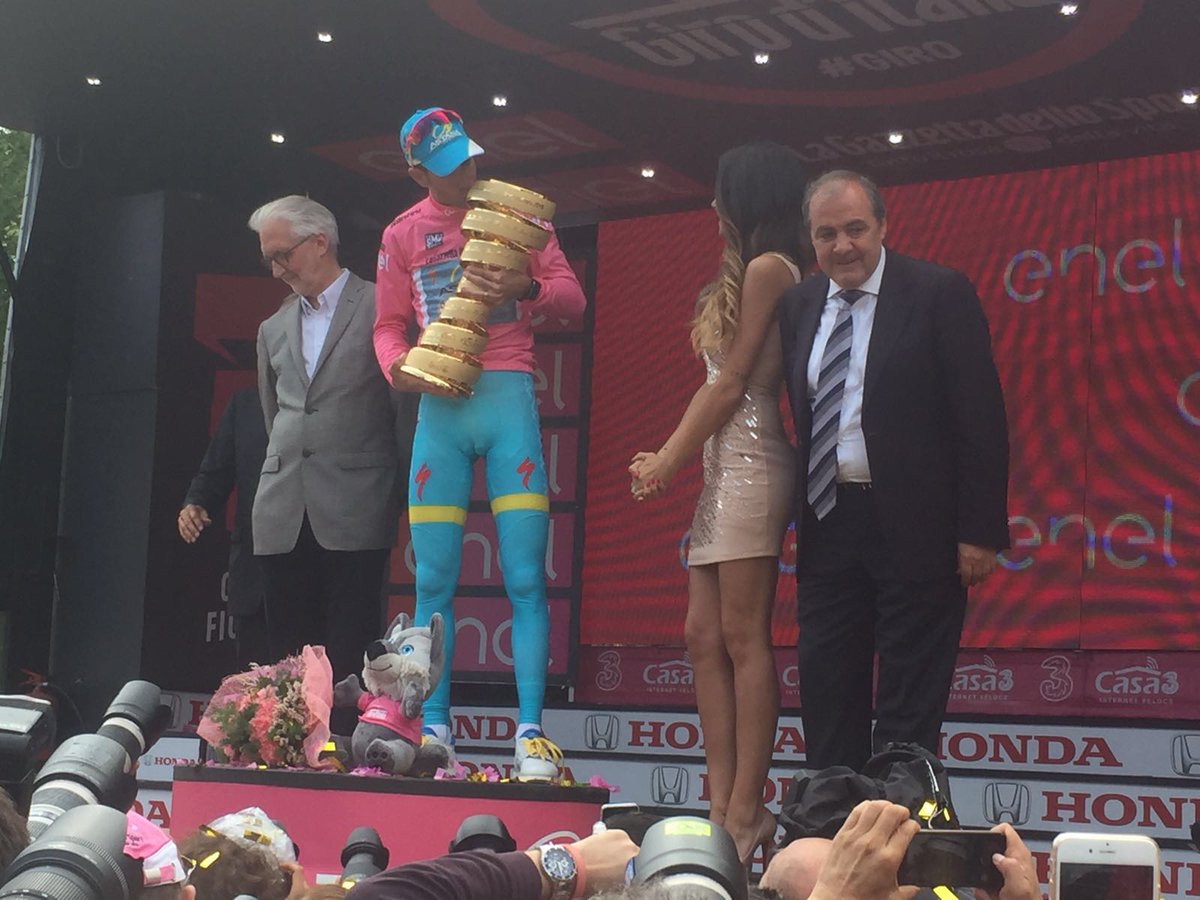 Team Sky DS Dario Cioni:
"A three-week race is always a hard challenge for everyone. It's been an up and down trip but we definitely finished on a high with the mountains jersey and a stage win, and even without a leader the guys all finished strongly in the last week.
It's always a challenge to lose your GC leader and then we lost our back-up plan too, which was Elia [Viviani] for stage wins. But the guys all came out and did a great job, we were in all the important breaks this week, and Mikel [Nieve] did brilliantly to win a stage and claim the maglia azzurra.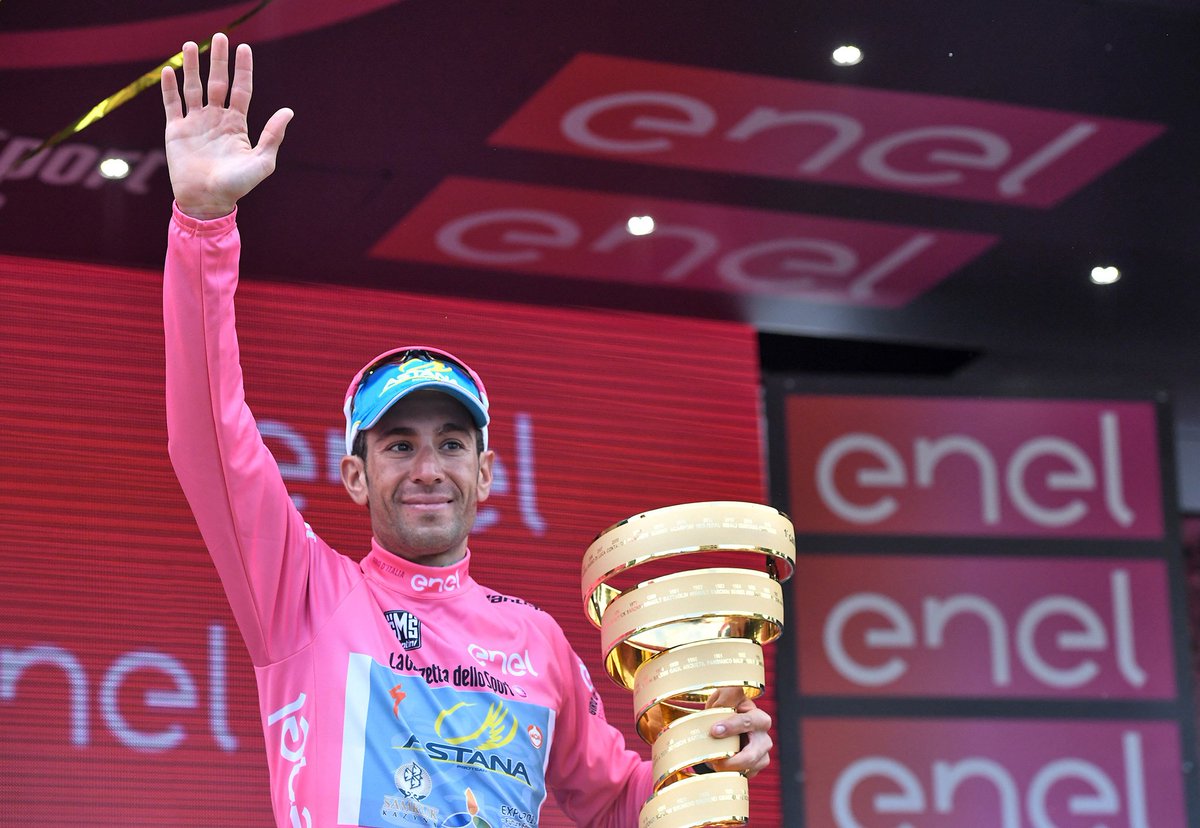 Sebastian's achievements are even more impressive when you think that he was a late change, he wasn't meant to come to the Giro. He showed serious potential and I think he can do very well in the future.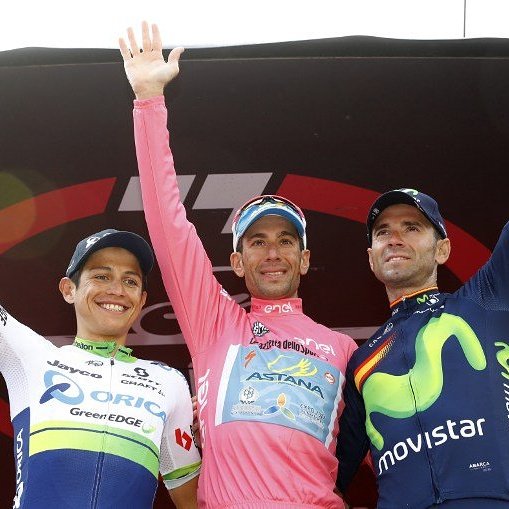 We hoped he might be able to seriously compete for the young rider's jersey too but Bob Jungels [Etixx - Quick-Step] really showed how strong he was. Well done to him. Sebastian is tired but happy with his Giro.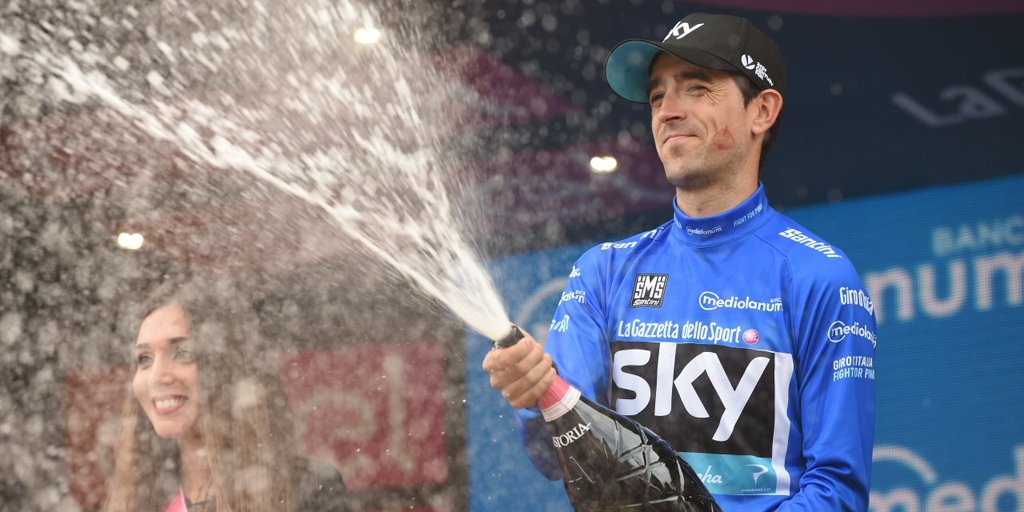 Boswell did really well. It was his second Grand Tour after the Vuelta a Espana last year and he's shown he can climb well in the second half of the race. He did a really good time trial too [on stage 15] and a great job on Friday. He's still got some improvements to make but he's showing he's got real potential in Grand Tours.
Lopez
was up there and thinking about attacking on the last lap but the pace was so high on the last climb that it was impossible to get away. Obviously after that he's not a sprinter so he was never going to win the stage but he's ending on a really strong three weeks.
Everyone has done a great job: Christian, Nico, all of them. And of course the staff have worked really hard across the three weeks and especially in the closing days with extra feeds out on the road, supporting the guys, keeping them fuelled up."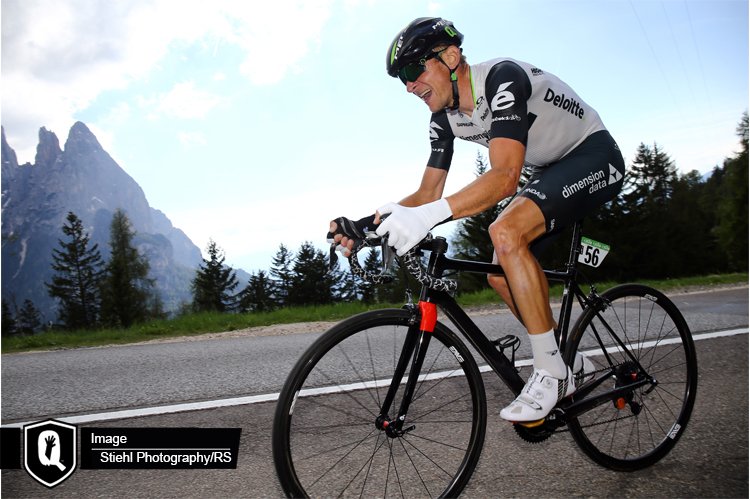 Kanstantsin Siutsou: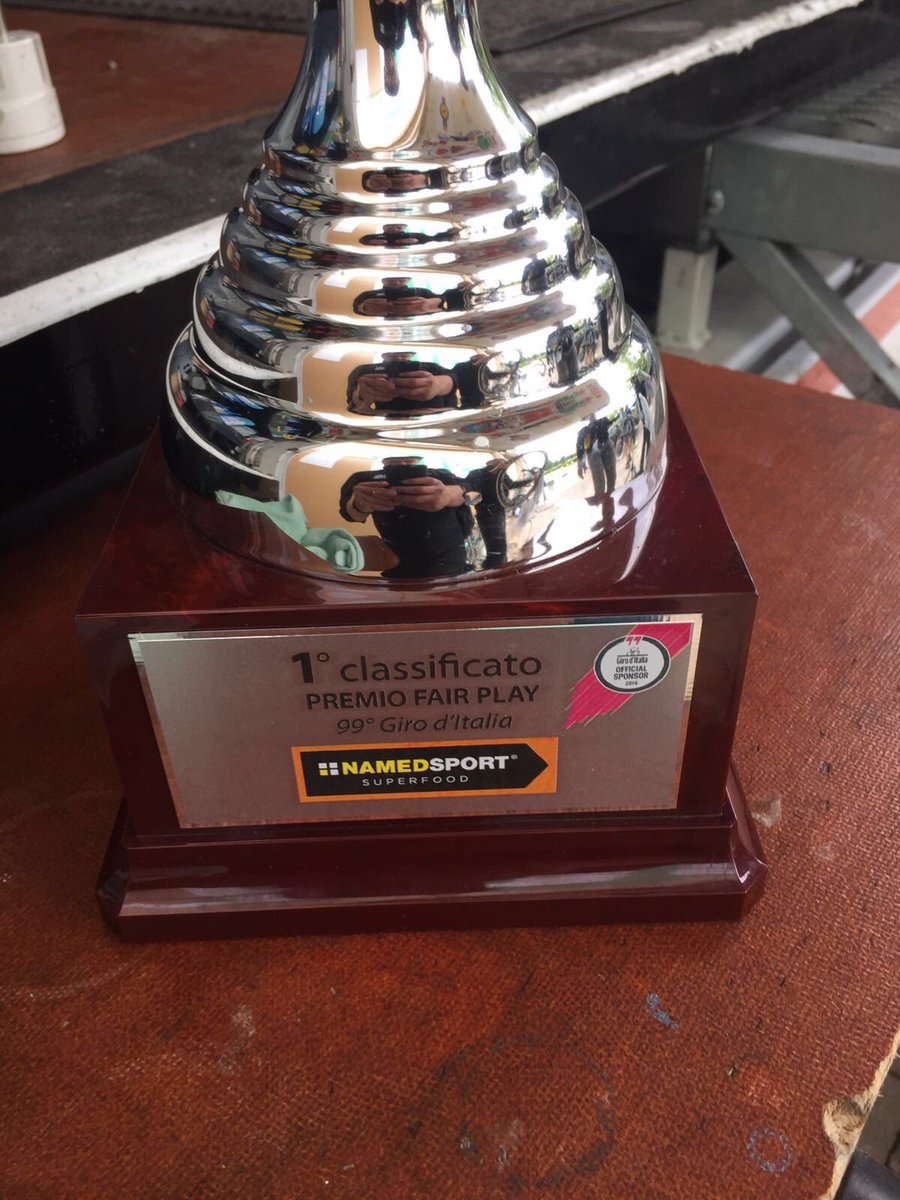 "I'm happy with my 10th place overall. Maybe I could've done a bit better, but I have to say a big thanks to the team who supported me really well over the last three weeks. We rode together like a family, which was really nice. Hopefully I can keep my form for the next couple of weeks to play a good role in the next races."
Esteban Chaves:
"I have learnt that dreams can come true. If you keep working and never give up then your dreams can come true. That is what myself and ORICA-GreenEDGE are going to continue doing.
I would not be in this position without the magnificent work and support of my teammates and everyone involved with ORICA-GreenEDGE, I would like to thank all of them.
These last few days have been the best of my life. This is just the beginning, that is what I told my teammates and this is what I believe."
Sonny Colbrelli: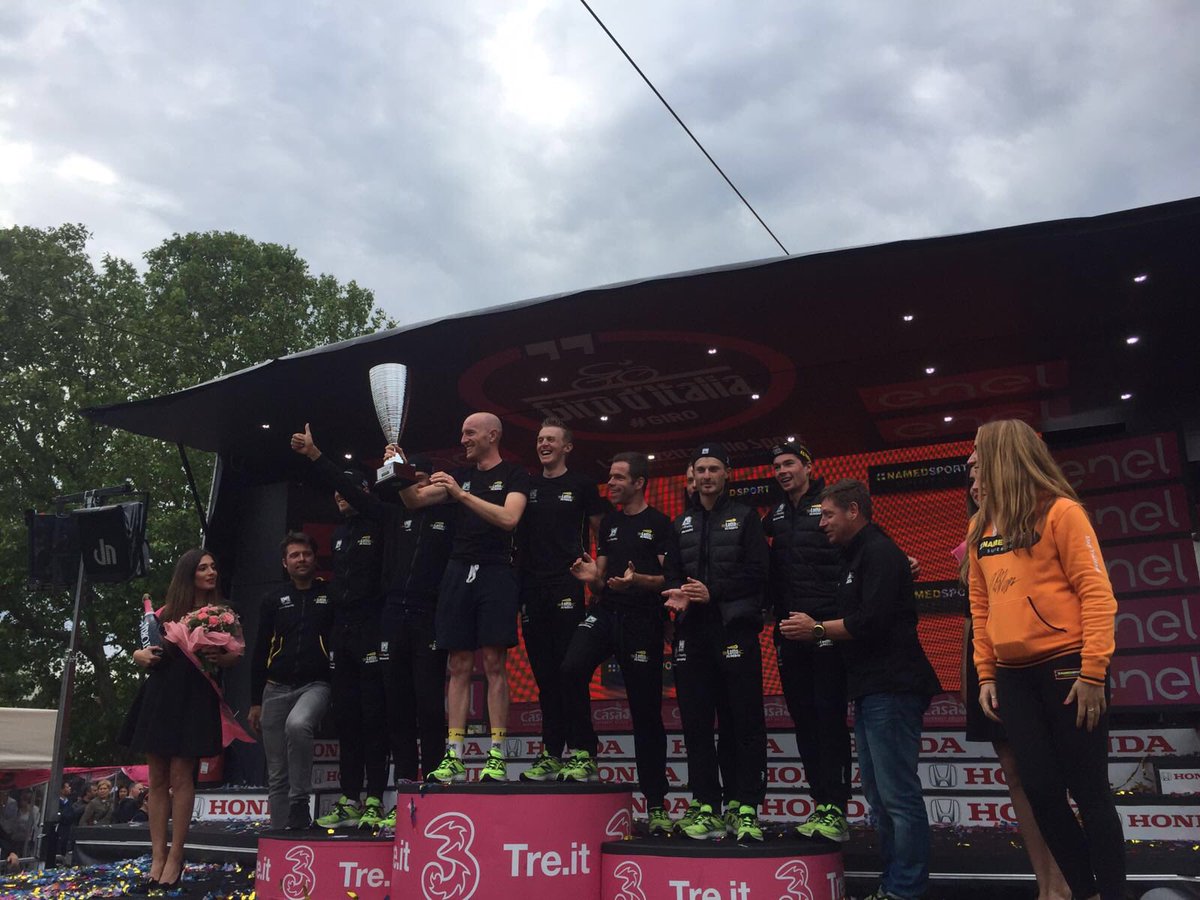 "I'm really disappointed because this chance could be really good for me. Unfortunately, these are the risks of our job. There was a lot of fans supporting us on the final circuit, an amazing show, but we have to ask to everyone to do their best to keep the attention high".
Darwin Atapuma: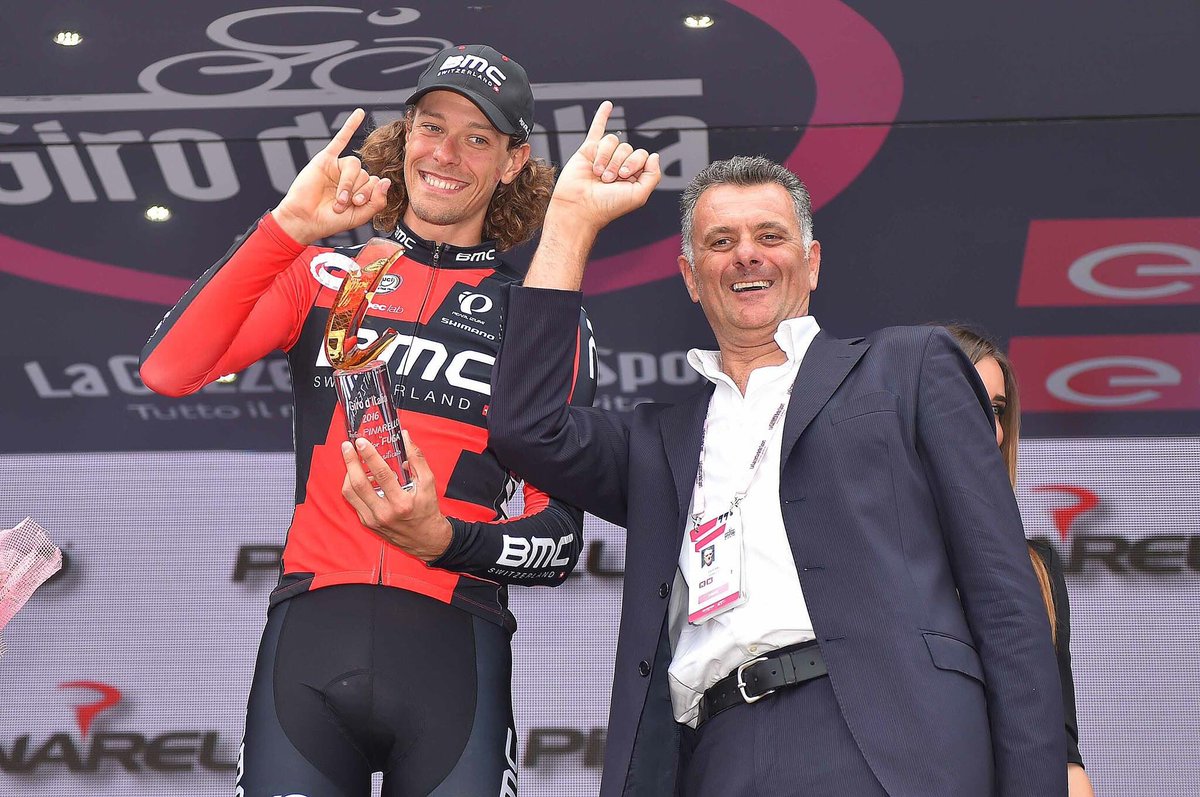 "I'm really, really happy with my first top ten result on GC, my best result in a Grand Tour. I wish I had been able to win a stage but I tried my best."
Alessandro De Marchi: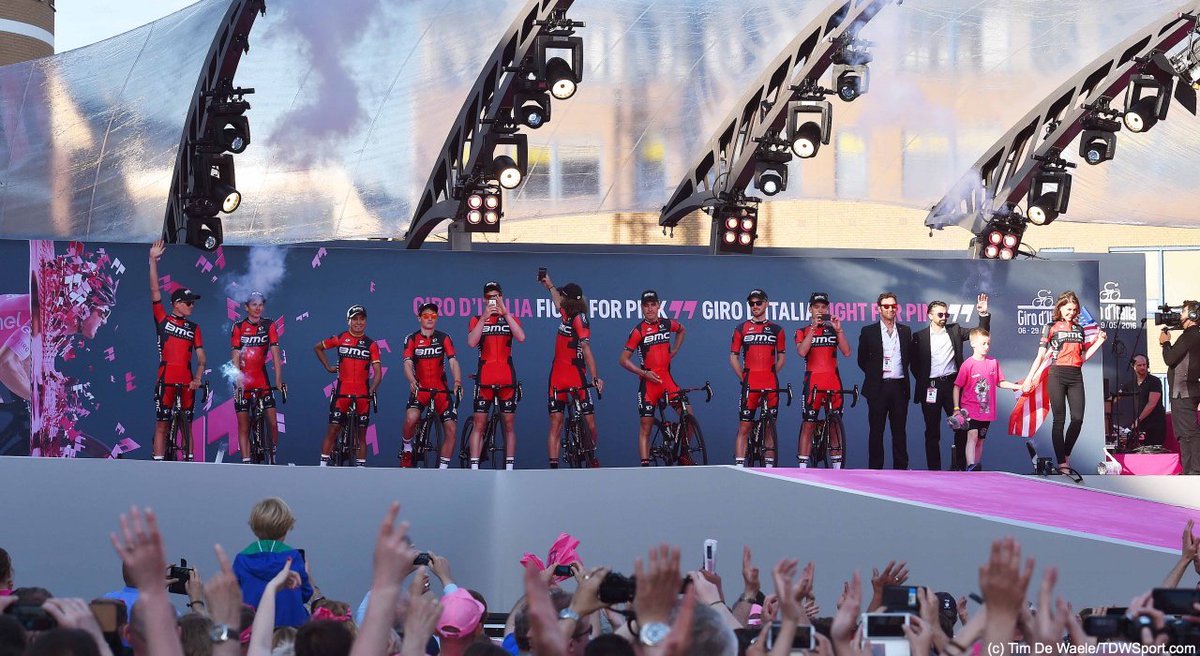 "Disappointing. I'm happy to have finished the Giro d'Italia but I was expecting something more and I didn't get there. But one week ago I didn't know if I would make the finish and now here I am in Torino."
Stefan Küng:
"Up and down. Both literally (from the flat terrain to the mountains) and in terms of results."
Daniel Oss: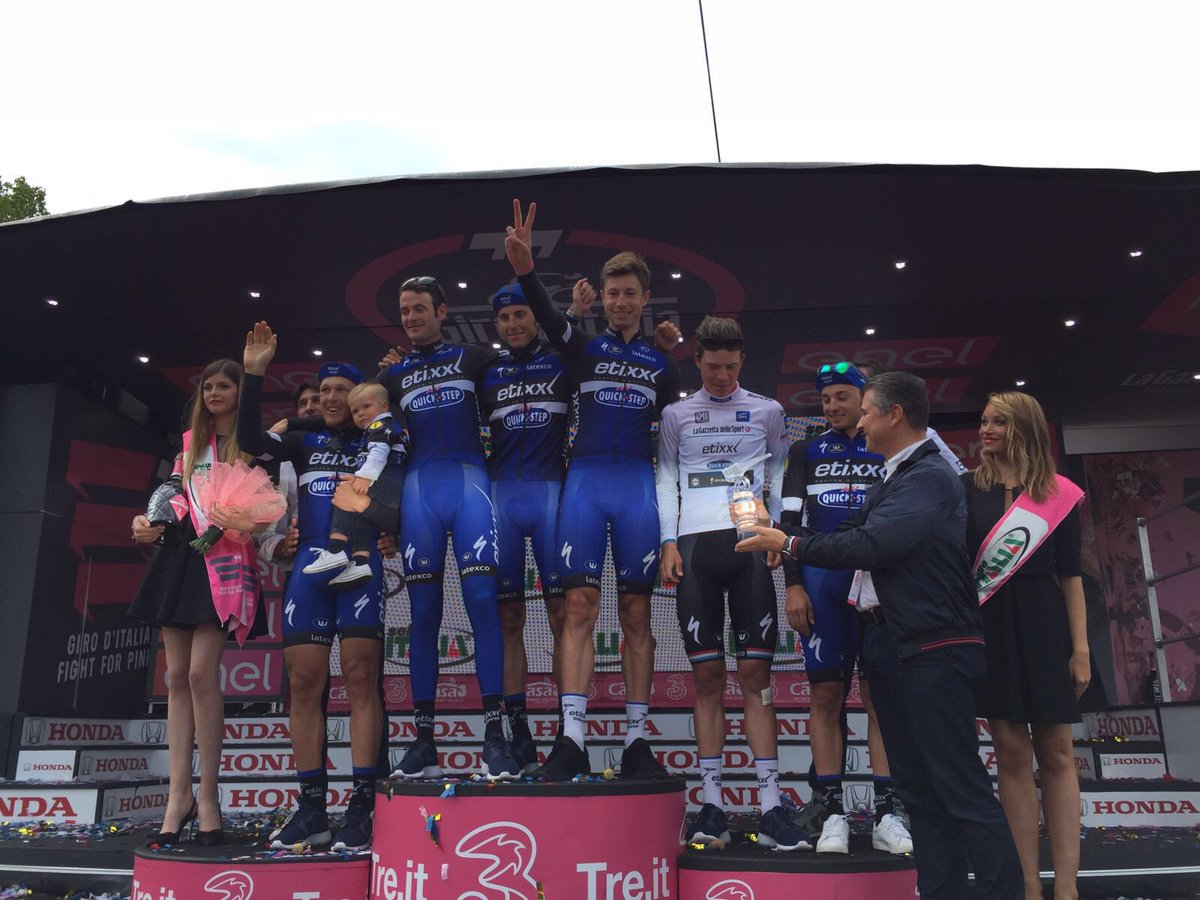 "I tried to race as aggressively as possible every day and I'm happy to be on the podium for the breakaway and intermediate sprint classifications."
Manuel Quinziato: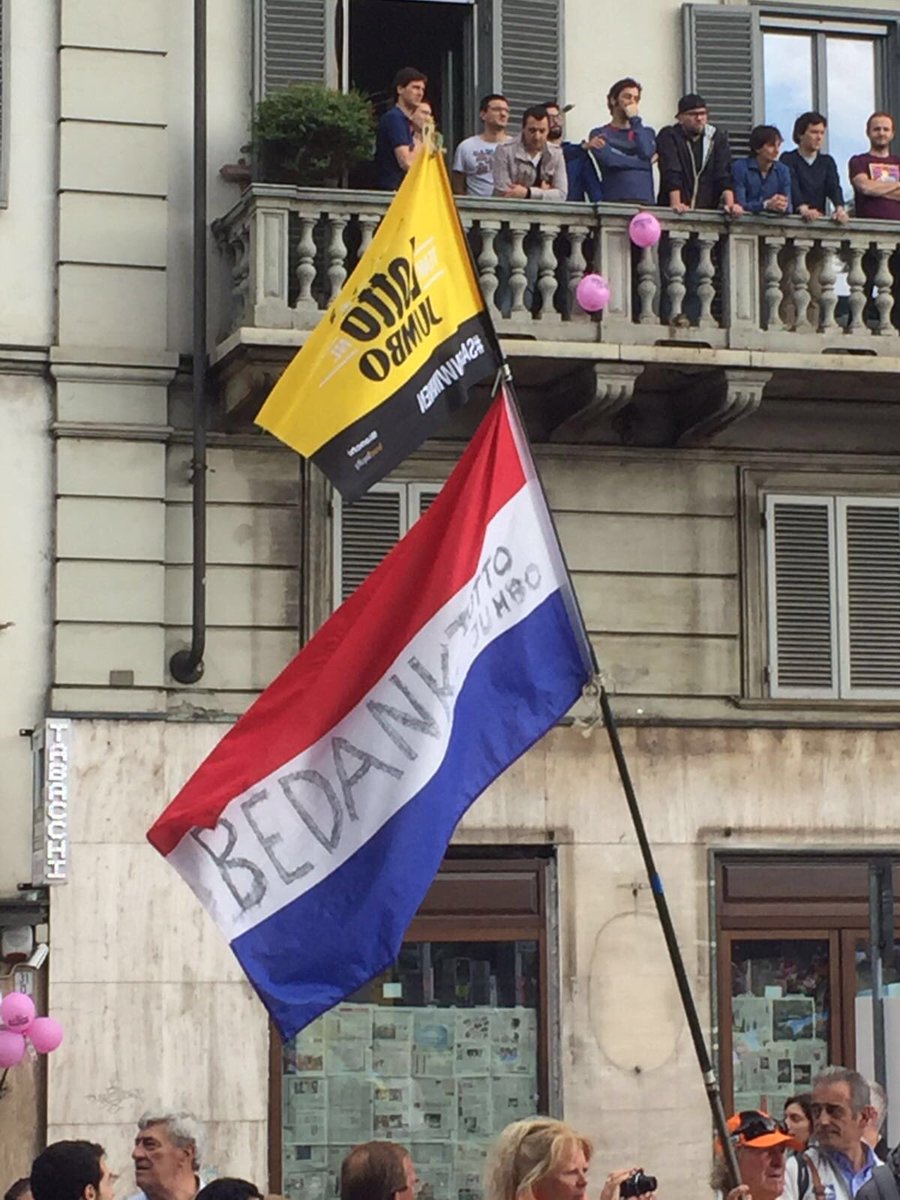 "Hard! We fought everyday to get a stage win and although we didn't in the end, we have Darwin in top ten on GC. We have it everything and I'm happy to be at the finish line."
Joey Rosskopf:
"If I compare the Giro d'Italia to the Vuelta a Espana last year, my first Grand Tour, then this one definitely gives me a lot more confidence that I can not only finish a three-week race, but race my bike hard every day."
Manuel Senni:
"Tired but happy to make it to Torino. I think the first sixteen days were good but after that was tough. It's all about experience, about how to recover well, and a Grand Tour is the perfect way to learn how to do that."
Rick Zabel: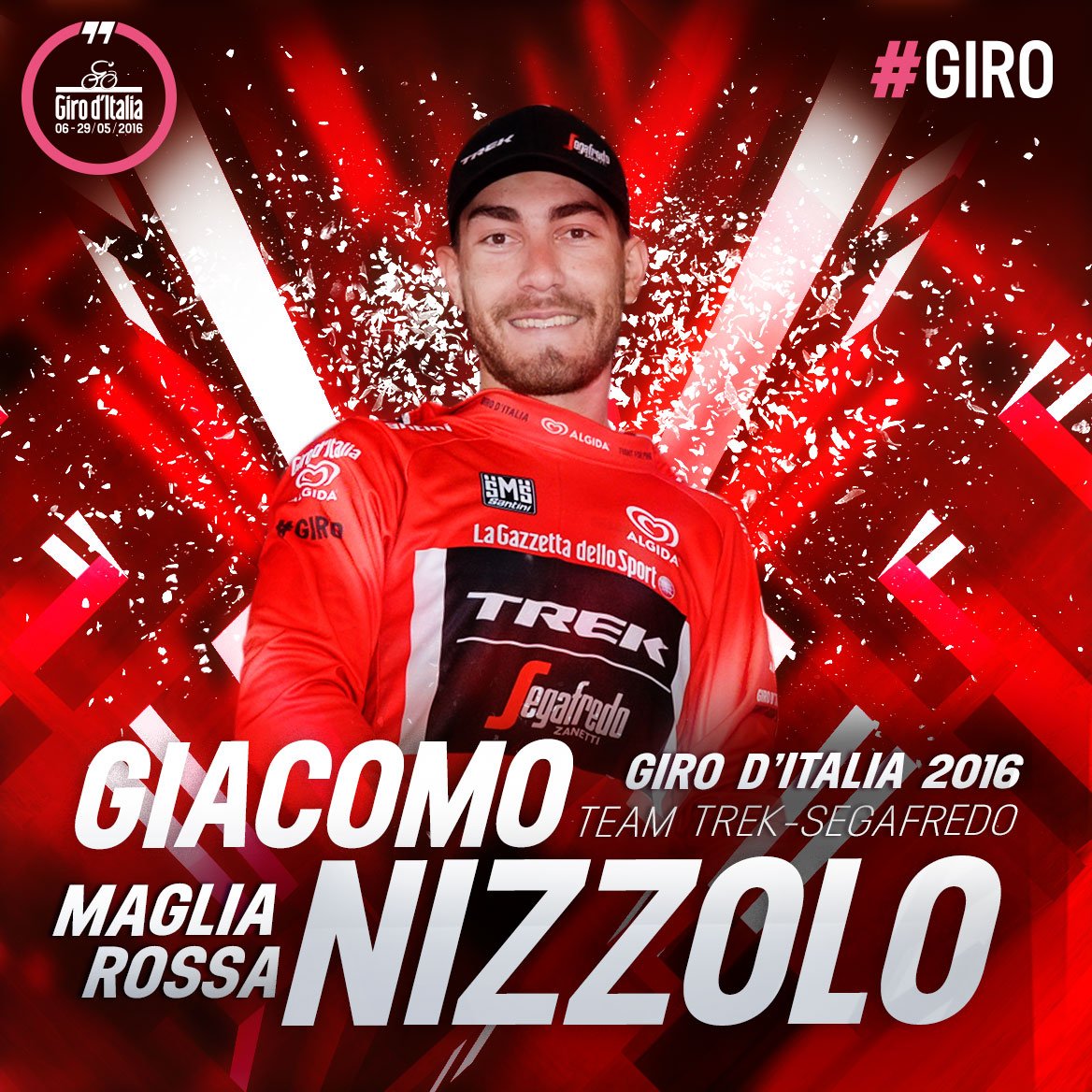 "I'm happy with my four top ten stage finishes and I'm happy to make it to Torino."
Giacomo Nizzolo:
"Great job from the team, and great sprint from myself. The jury decided not to give me the victory, but I will go home tonight knowing that I was the fastest today."
Rafal Majka: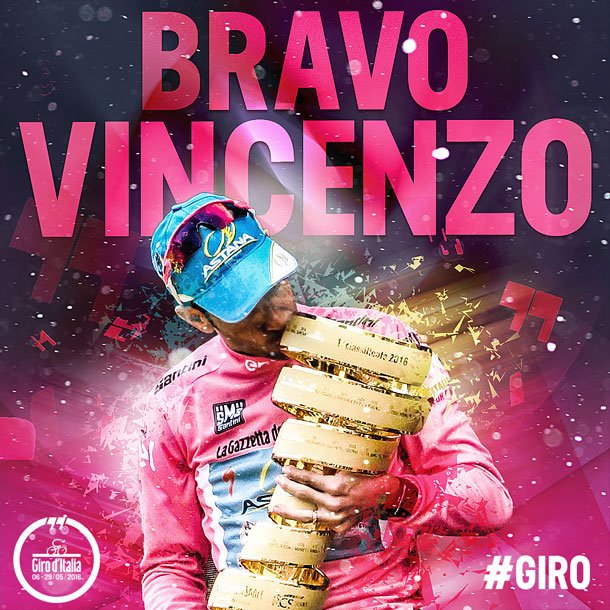 "Of course, we came to the Giro with the goal to reach a podium position but in cycling things don't always play out the way you want. It was a tough race and we all gave our best. I consider fifth place to be a good result and I'm happy for it. The entire squad put in a great effort, we were always in the front and I'd like to thank them for that. Without their support, this wouldn't have been possible."
Alejandro Valverde: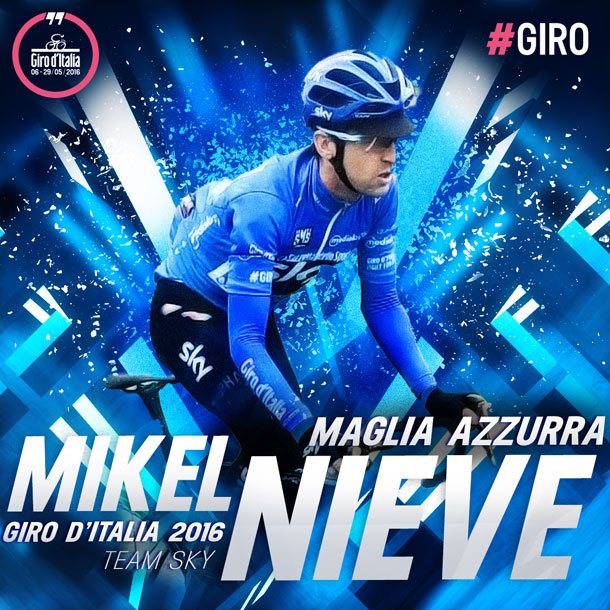 "It's been a great Giro d'Italia for our team. We've worn pink with Andrey, won a stage, fought for some more with second and fourth places... and at the end, after so many sacrifices, we took that third spot overall. Personally, I'm really happy with how the season is going for me so far, and also to have claimed that podium finish in my first-ever Giro d'Italia.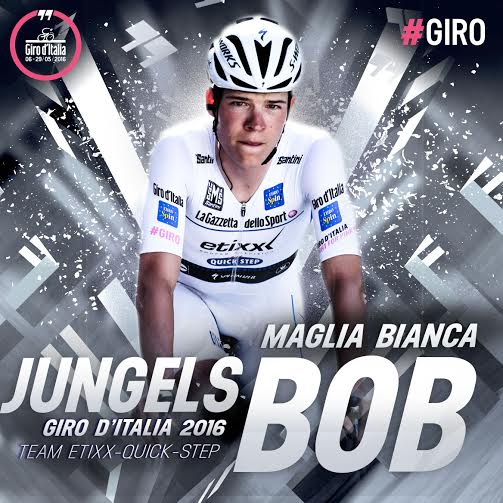 We had many days of pure struggling, but we knew how to stand up, bounce back and get to the place where we wanted to me. I knew that after Corvara -a bad day for me, due to the altitude and difficult sensations-, there was still much to be ridden in this Giro. What normally happens in this race is that the final week turns so hard that changes can happen everywhere. Plus, all big favourites had at least one really bad day. That made things so exciting for the fans. My victory in Andalo was a huge relief for the team, and showed that we had recovered well from such misfortune.
All my team-mates, from the first to the last one, gave everything they had in store. Bad luck stroke us twice, early in the race with Javi Moreno's abandon on stage five and later on with Carlos Betancur, who struggled for a whole week with his stomach really wasted, and had to leave the Giro two days before Turin. Those who remained here gave all they had, and the reward for such efforts was pretty beautiful.
I really liked it. I enjoyed so much to race here. It's a race completely different to the Tour, more similar to the Vuelta a España, way more calm and with different stress to what you suffer from in France. Why not coming back next year?
This is for everyone who always relied on me and believed I could do well. For my family, my wife, my kids. Those who haven' been able to join us here due to crashes, like Malori and Castroviejo. Plus, Xavi Tondo, who always remains in my mind.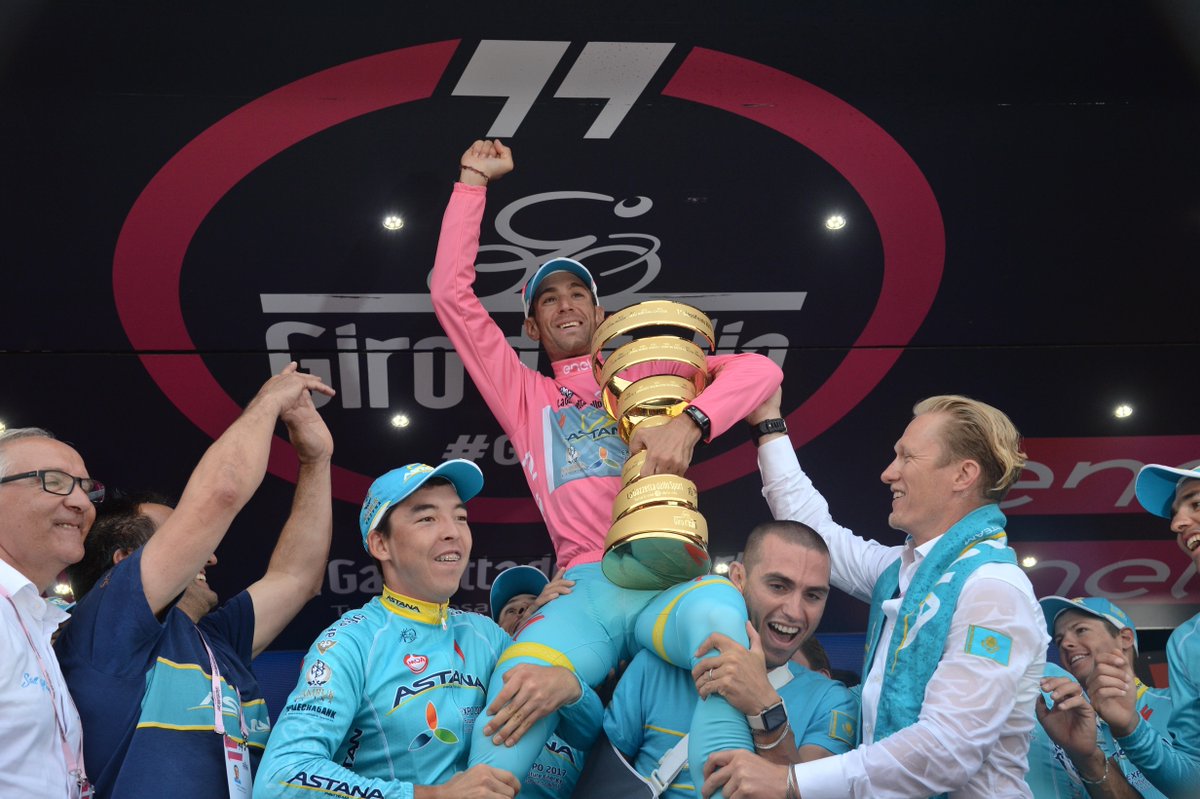 To the Movistar Team's fans: thanks so much for keeping your strength coming and supporting me, as well as the whole team. I hope you've seen during this Giro that we never keep trying, we're always fighting for success. The Movistar Team is falling and getting back on the bike, struggling and yet keeping giving everything, in good and bad times. When you do that, victory is always assured.
My next big objective from now is mainly the Rio Olympics. We will go to the Tour in order to support Nairo Quintana. I want to make it clear, from this very moment, that I will be losing time on the first week and take things easier so I can help Nairo out and give my best in the mountains. Also, if it's possible and it doesn't compromise the team's goals, I'd like to chase some stage wins or make it into the break and help the team from there. Our motto for the Tour remains the #SueñoAmarillo, winning the Tour with Nairo at last, and then, the Rio Games."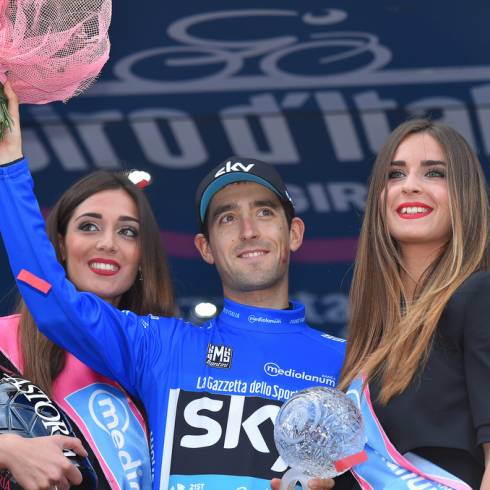 Mikel Nieve:
"[It is] indescribable. I will savour it and enjoy it. I take pride in my Giro d'Italia.
I got more than I could have imagined, my second stage victory in the Giro and the mountains classification. For a climber like me it means that you've achieved a great level, it has given me a lot of hope. I started a little short of form and, in the first week, I took things calmly, and I put myself out front in the last two weeks when Sky needed me to.
I serve the interests of the team and in this case, I was here to work for Mikel. Unfortunately, he retired sick, and I took my opportunities. For sure, I love the Dolomites. Here, I took my victory in 2011 on a tough day in a beautiful area, although we didn't have time to enjoy the postcard landscapes.
Afterwards, the jersey came closer with my escape on the first day in the Alps, passing over the Agnello with the leaders and then finishing second in Risoul. In the morning of the second Alpine stage, I set myself the challenge of taking the jersey."
MORE TO COME
RESULTS
STAGE
1 Nizzolo
2 Arndt
3 Trentin
4 Modolo
5 Porsev
6 De Bie
7 Savitskiy
8 Zabel
9 Grosu
10 McCarthy
...
12 Nizzolo
1
Vincenzo Nibali (Ita) Astana Pro Team
86:32:49
2
Esteban Chaves (Col) Orica-GreenEdge
0:00:52
3
Alejandro Valverde (Spa) Movistar Team
0:01:17
4
Steven Kruijswijk (Ned) Team LottoNl-Jumbo
0:01:50
5
Rafal Majka (Pol) Tinkoff Team
0:04:37
6
Bob Jungels (Lux) Etixx - Quick-Step
0:08:31
7
Rigoberto Uran (Col) Cannondale Pro Cycling
0:11:47
8
Andrey Amador (CRc) Movistar Team
0:13:21
9
Darwin Atapuma (Col) BMC Racing Team
0:14:09
10
Kanstantsin Siutsou (Blr) Dimension Data
0:16:20
11
Hubert Dupont (Fra) AG2R La Mondiale
0:24:33
12
Jakob Fuglsang (Den) Astana Pro Team
0:24:59
13
Giovanni Visconti (Ita) Movistar Team
0:31:38
14
Andre Cardoso (Por) Cannondale Pro Cycling
0:34:12
15
Maxime Monfort (Bel) Lotto Soudal
0:34:34
16
Michele Scarponi (Ita) Astana Pro Team
0:38:09
17
Sebastian Henao (Col) Team Sky
18
Stefano Pirazzi (Ita) Bardiani CSF
0:41:00
19
Matteo Montaguti (Ita) AG2R La Mondiale
0:43:49
20
Domenico Pozzovivo (Ita) AG2R La Mondiale
0:51:49
21
Diego Ulissi (Ita) Lampre - Merida
0:56:59
22
Gianluca Brambilla (Ita) Etixx - Quick-Step
0:57:08
23
Tanel Kangert (Est) Astana Pro Team
0:59:30
24
Nicolas Roche (Irl) Team Sky
1:04:44
25
Mikel Nieve (Spa) Team Sky
1:05:22
26
Georg Preidler (Aut) Team Giant-Alpecin
1:08:05
27
Valerio Conti (Ita) Lampre - Merida
1:18:38
28
Igor Anton Hernandez (Spa) Dimension Data
1:22:43
29
Rein Taaramae (Est) Team Katusha
1:23:22
30
Sergey Firsanov (Rus) Gazprom-Rusvelo
1:24:38
31
Davide Formolo (Ita) Cannondale Pro Cycling
1:27:19
32
Pavel Kochetkov (Rus) Team Katusha
1:28:35
33
Andrey Zeits (Kaz) Astana Pro Team
1:32:53
34
Joe Dombrowski (USA) Cannondale Pro Cycling
1:32:56
35
Pawel Poljanski (Pol) Tinkoff Team
1:50:37
36
Ivan Rovny (Rus) Tinkoff Team
1:51:10
37
Merhawi Kudus (Eri) Dimension Data
1:54:34
38
Egor Silin (Rus) Team Katusha
1:56:08
39
Riccardo Zoidl (Aut) Trek-Segafredo
1:57:12
40
Marcel Wyss (Swi) IAM Cycling
2:00:13
41
Moreno Moser (Ita) Cannondale Pro Cycling
2:01:27
42
Enrico Battaglin (Ita) Team LottoNl-Jumbo
2:02:23
43
Carlos Verona (Spa) Etixx - Quick-Step
2:05:57
44
Damiano Cunego (Ita) Nippo - Vini Fantini
2:06:37
45
Alexander Foliforov (Rus) Gazprom-Rusvelo
46
Manuele Boaro (Ita) Tinkoff Team
2:11:15
47
Davide Malacarne (Ita) Astana Pro Team
2:13:24
48
Nathan Brown (USA) Cannondale Pro Cycling
2:15:18
49
Jose Joaquin Rojas (Spa) Movistar Team
2:17:44
50
Axel Domont (Fra) AG2R La Mondiale
2:21:03
51
Tobias Ludvigsson (Swe) Team Giant-Alpecin
2:21:13
52
Stefan Denifl (Aut) IAM Cycling
2:21:34
53
Damien Howson (Aus) Orica-GreenEdge
2:25:44
54
Guillaume Bonnafond (Fra) AG2R La Mondiale
2:32:28
55
Amets Txurruka (Spa) Orica-GreenEdge
2:39:42
56
Ruben Plaza (Spa) Orica-GreenEdge
2:40:39
57
Matteo Busato (Ita) Wilier Triestina-Southeast
2:43:03
58
Primoz Roglic (Slo) Team LottoNl-Jumbo
2:43:25
59
Jesus Hernandez (Spa) Tinkoff Team
2:44:44
60
Stefan Kueng (Swi) BMC Racing Team
2:52:25
61
Bram Tankink (Ned) Team LottoNl-Jumbo
2:55:43
62
José Herrada (Spa) Movistar Team
3:03:04
63
Manuele Mori (Ita) Lampre - Merida
3:03:47
64
Laurent Didier (Lux) Trek-Segafredo
3:07:17
65
Bakhtiyar Kozhatayev (Kaz) Astana Pro Team
3:08:06
66
Christian Knees (Ger) Team Sky
3:09:06
67
Simon Clarke (Aus) Cannondale Pro Cycling
3:13:04
68
Adam Hansen (Aus) Lotto Soudal
3:13:19
69
David Lopez Garcia (Spa) Team Sky
3:18:34
70
Pieter Serry (Bel) Etixx - Quick-Step
3:19:25
71
Ian Boswell (USA) Team Sky
3:19:42
72
Hugo Houle (Can) AG2R La Mondiale
3:20:38
73
Alexander Kolobnev (Rus) Gazprom-Rusvelo
3:20:39
74
Matteo Trentin (Ita) Etixx - Quick-Step
3:21:00
75
Evgeny Petrov (Rus) Tinkoff Team
3:21:36
76
Manuel Senni (Ita) BMC Racing Team
3:22:42
77
Simone Petilli (Ita) Lampre - Merida
3:23:08
78
Chad Haga (USA) Team Giant-Alpecin
3:25:49
79
Johann Van Zyl (RSA) Dimension Data
3:28:27
80
Rory Sutherland (Aus) Movistar Team
3:28:47
81
Alessandro Bisolti (Ita) Nippo - Vini Fantini
3:29:23
82
Eros Capecchi (Ita) Astana Pro Team
3:29:48
83
Vegard Stake Laengen (Nor) IAM Cycling
3:30:44
84
Sacha Modolo (Ita) Lampre - Merida
3:31:30
85
Joseph Rosskopf (USA) BMC Racing Team
3:31:50
86
Alberto Bettiol (Ita) Cannondale Pro Cycling
3:33:33
87
Nikias Arndt (Ger) Team Giant-Alpecin
3:34:14
88
Jay McCarthy (Aus) Tinkoff Team
3:35:37
89
Daniel Martínez (Col) Wilier Triestina-Southeast
3:36:41
90
Pavel Brutt (Rus) Tinkoff Team
3:38:02
91
Benoît Vaugrenard (Fra) FDJ
3:40:01
92
Jelle Vanendert (Bel) Lotto Soudal
3:42:29
93
Kristian Sbaragli (Ita) Dimension Data
3:44:49
94
Alessandro De Marchi (Ita) BMC Racing Team
3:44:56
95
Sonny Colbrelli (Ita) Bardiani CSF
3:48:07
96
Tim Wellens (Bel) Lotto Soudal
3:48:24
97
Ilia Koshevoy (Blr) Lampre - Merida
3:48:40
98
Matej Mohoric (Slo) Lampre - Merida
3:49:14
99
Heinrich Haussler (Aus) IAM Cycling
3:49:24
100
Anton Vorobyev (Rus) Team Katusha
3:50:10
101
Jaco Venter (RSA) Dimension Data
3:51:01
102
Martijn Keizer (Ned) Team LottoNl-Jumbo
3:52:57
103
Cristian Rodriguez (Spa) Wilier Triestina-Southeast
3:53:15
104
Ivan Savitskiy (Rus) Gazprom-Rusvelo
3:54:08
105
Eugenio Alafaci (Ita) Trek-Segafredo
3:56:18
106
Aleksey Rybalkin (Rus) Gazprom-Rusvelo
3:58:12
107
Matteo Tosatto (Ita) Tinkoff Team
3:58:47
108
Sean De Bie (Bel) Lotto Soudal
3:58:53
109
Francesco Manuel Bongiorno (Ita) Bardiani CSF
3:59:07
110
Giacomo Nizzolo (Ita) Trek-Segafredo
4:03:51
111
Daniel Oss (Ita) BMC Racing Team
4:06:35
112
Julen Amezqueta (Spa) Wilier Triestina-Southeast
4:07:22
113
Jasha Sütterlin (Ger) Movistar Team
4:07:36
114
Twan Castelijns (Ned) Team LottoNl-Jumbo
4:08:24
115
Filippo Pozzato (Ita) Wilier Triestina-Southeast
4:08:54
116
Maxim Belkov (Rus) Team Katusha
4:10:44
117
Manuel Quinziato (Ita) BMC Racing Team
4:11:33
118
Gianfranco Zilioli (Ita) Nippo - Vini Fantini
4:12:52
119
Mirco Maestri (Ita) Bardiani CSF
4:14:10
120
Jos Van Emden (Ned) Team LottoNl-Jumbo
4:15:26
121
Albert Timmer (Ned) Team Giant-Alpecin
4:16:19
122
Ramunas Navardauskas (Ltu) Cannondale Pro Cycling
4:16:34
123
Viacheslav Kuznetsov (Rus) Team Katusha
4:18:19
124
Maarten Tjallingii (Ned) Team LottoNl-Jumbo
4:18:22
125
Sam Bewley (NZl) Orica-GreenEdge
4:19:37
126
Pim Ligthart (Ned) Lotto Soudal
4:19:46
127
Andrei Solomennikov (Rus) Gazprom-Rusvelo
4:20:08
128
Alexander Serov (Rus) Gazprom-Rusvelo
4:21:37
129
Marco Coledan (Ita) Trek-Segafredo
4:22:05
130
Eugert Zhupa (Alb) Wilier Triestina-Southeast
4:23:15
131
Paolo Simion (Ita) Bardiani CSF
4:23:26
132
Roberto Ferrari (Ita) Lampre - Merida
4:28:08
133
Olivier Le Gac (Fra) FDJ
4:29:26
134
Ignatas Konovalovas (Ltu) FDJ
4:31:38
135
Grega Bole (Slo) Nippo - Vini Fantini
4:32:04
136
Arnaud Courteille (Fra) FDJ
4:33:09
137
Roger Kluge (Ger) IAM Cycling
4:33:28
138
Lukasz Wisniowski (Pol) Etixx - Quick-Step
4:35:16
139
Nicola Boem (Ita) Bardiani CSF
4:35:56
140
Rick Zabel (Ger) BMC Racing Team
4:36:19
141
Simone Andreetta (Ita) Bardiani CSF
4:36:25
142
Artem Ovechkin (Rus) Gazprom-Rusvelo
4:36:45
143
Tom Stamsnijder (Ned) Team Giant-Alpecin
4:38:30
144
Songezo Jim (RSA) Dimension Data
4:40:38
145
Alexander Porsev (Rus) Team Katusha
4:41:38
146
Svein Tuft (Can) Orica-GreenEdge
4:43:04
147
Blel Kadri (Fra) AG2R La Mondiale
4:43:48
148
Mickael Delage (Fra) FDJ
4:45:40
149
Jay Robert Thomson (RSA) Dimension Data
4:47:03
150
Michael Hepburn (Aus) Orica-GreenEdge
4:47:59
151
Genki Yamamoto (Jpn) Nippo - Vini Fantini
4:49:05
152
Murilo Antonio Fischer (Bra) FDJ
4:49:59
153
Eduard Michael Grosu (Rom) Nippo - Vini Fantini
4:53:53
154
Cheng Ji (Chn) Team Giant-Alpecin
5:03:42
155
Riccardo Stacchiotti (Ita) Nippo - Vini Fantini
5:08:00
156
Jack Bobridge (Aus) Trek-Segafredo
5:08:51
YOUTH
1
Bob Jungels (Lux) Etixx - Quick-Step
86:41:20
2
Sebastian Henao (Col) Team Sky
0:29:38
3
Valerio Conti (Ita) Lampre - Merida
1:10:07
4
Davide Formolo (Ita) Cannondale Pro Cycling
1:18:48
5
Joe Dombrowski (USA) Cannondale Pro Cycling
1:24:25
6
Merhawi Kudus (Eri) Dimension Data
1:46:03
7
Carlos Verona (Spa) Etixx - Quick-Step
1:57:26
8
Alexander Foliforov (Rus) Gazprom-Rusvelo
1:58:06
9
Nathan Brown (USA) Cannondale Pro Cycling
2:06:47
10
Tobias Ludvigsson (Swe) Team Giant-Alpecin
2:12:42
POINTS
1
Giacomo Nizzolo (Ita) Trek-Segafredo
209
pts
2
Matteo Trentin (Ita) Etixx - Quick-Step
184
3
Sacha Modolo (Ita) Lampre - Merida
163
4
Diego Ulissi (Ita) Lampre - Merida
156
5
Daniel Oss (Ita) BMC Racing Team
133
MOUNTAIN
1
Mikel Nieve (Spa) Team Sky
152
pts
2
Damiano Cunego (Ita) Nippo - Vini Fantini
134
3
Darwin Atapuma (Col) BMC Racing Team
118
4
Stefan Denifl (Aut) IAM Cycling
109
5
Giovanni Visconti (Ita) Movistar Team
77
INTERMEDIATE SPRINT
1
Daniel Oss (Ita) BMC Racing Team
69
pts
2
Maarten Tjallingii (Ned) Team LottoNl-Jumbo
53
3
Matteo Trentin (Ita) Etixx - Quick-Step
51
COMBACTIVITY
1
Matteo Trentin (Ita) Etixx - Quick-Step
50
pts
2
Daniel Oss (Ita) BMC Racing Team
43
3
Diego Ulissi (Ita) Lampre - Merida
42
4
Giacomo Nizzolo (Ita) Trek-Segafredo
42
5
Sacha Modolo (Ita) Lampre - Merida
39
BREAKAWAY
1
Daniel Oss (Ita) BMC Racing Team
557
pts
2
Pavel Brutt (Rus) Tinkoff Team
425
3
Maarten Tjallingii (Ned) Team LottoNl-Jumbo
412
TEAM
1
Astana Pro Team
260:02:35
2
Cannondale Pro Cycling
0:06:57
3
Movistar Team
0:21:00
4
AG2R La Mondiale
0:53:52
5
Team Sky
1:04:21
6
Etixx - Quick-Step
1:37:53
7
Tinkoff Team
1:40:44
8
Team Katusha
2:06:36
9
Dimension Data
2:53:26
10
Lampre - Merida
3:15:00
11
Team LottoNl-Jumbo
3:15:49
12
Orica-GreenEdge
3:35:52
13
BMC Racing Team
3:51:21
14
Team Giant-Alpecin
4:38:16
15
Gazprom-Rusvelo
5:03:19
16
Lotto Soudal
5:18:02
17
Trek-Segafredo
5:51:12
18
IAM Cycling
6:02:34
19
Bardiani CSF
6:14:22
20
Nippo - Vini Fantini
8:03:49
21
Wilier Triestina-Southeast
8:04:38
22
FDJ
11:26:38