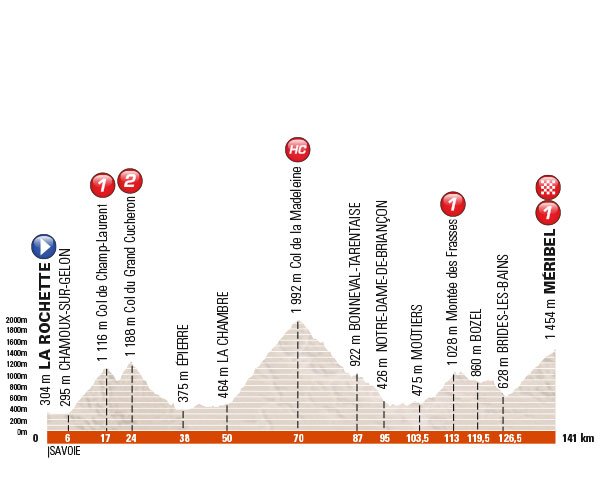 Today it's all or nothing.

Uphill start

and Cesare

Benedetti

is the first one to attack. Many follow and

a large break-away

forms, about 20 riders. They have 40''. As for the Polka Dot Jersey, Daniel

Teklehaimanot was first on

the cat.1

Col de Champ-Laurent.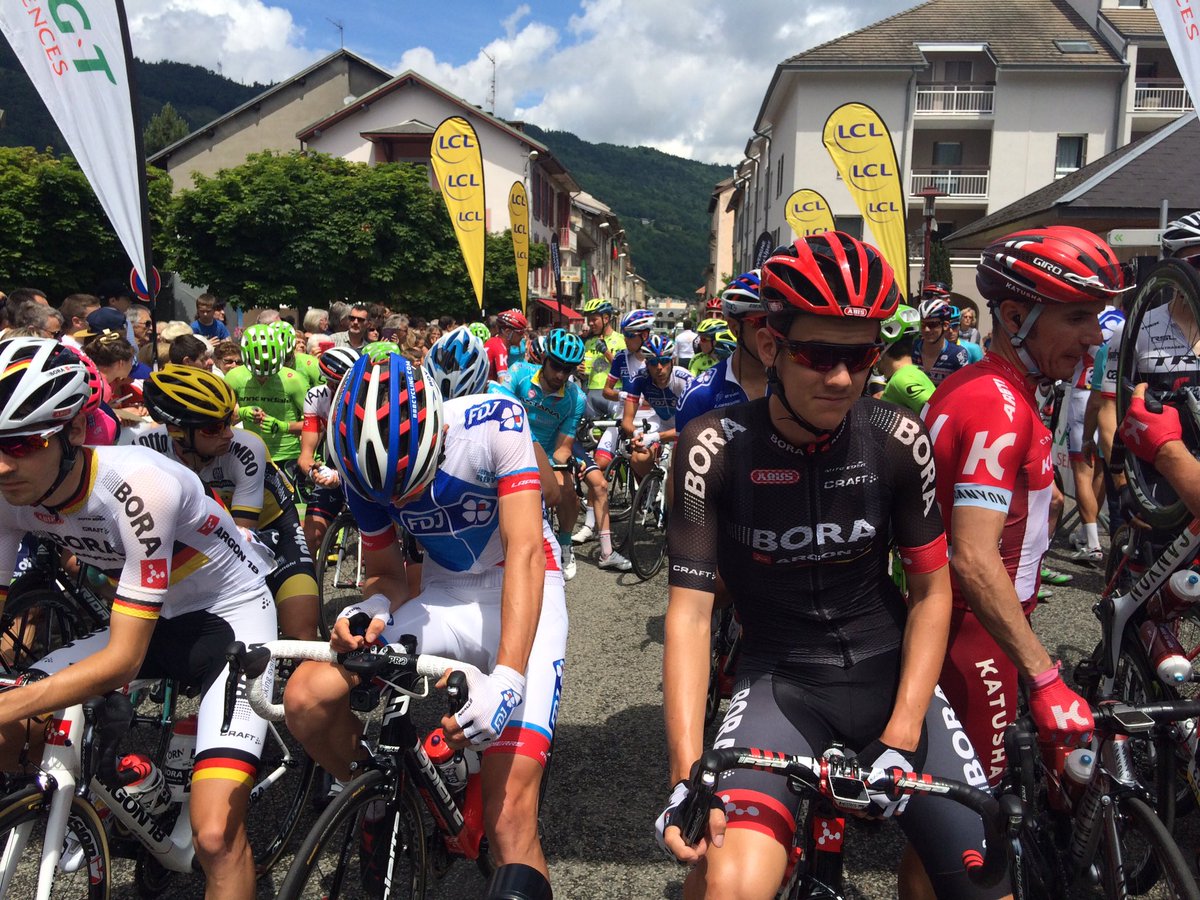 Riders are bridging to the front so

now they are 25

: Hermans, Kiserlovski, Kreuziger, Pinot, Roy, De Plus, T.Martin, Cherel, Gastauer, Impey, Van den Broeck, Gallopin, Vervaecke, Pauwels, Teklehaimanot, Soler, Voeckler, Nauleau, Quemeneur, Sicard, G Bennett, Minnaard, Benedetti, Konrad and Grmay. Grivko is chasing. Sanchez and Bakelants have also attacked from peloton.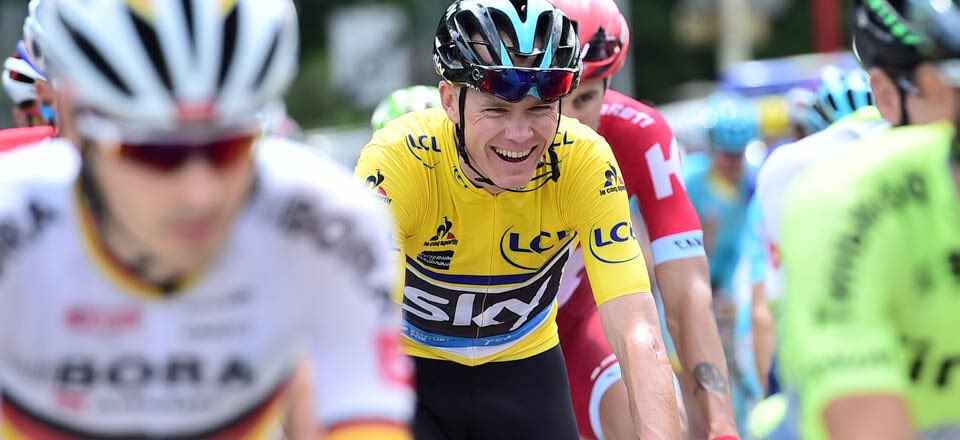 The race is

approaching the 2nd climb of the day.

The news comes that Igor Anton abandoned. After 23 km the gap is 2'30". LL Sanchez and Bakelants join. Atop

Col de Grand Cucheron Teklehaimanot

is 1st again. After 35 the gap is 3'15". It seems that the peloton agrees.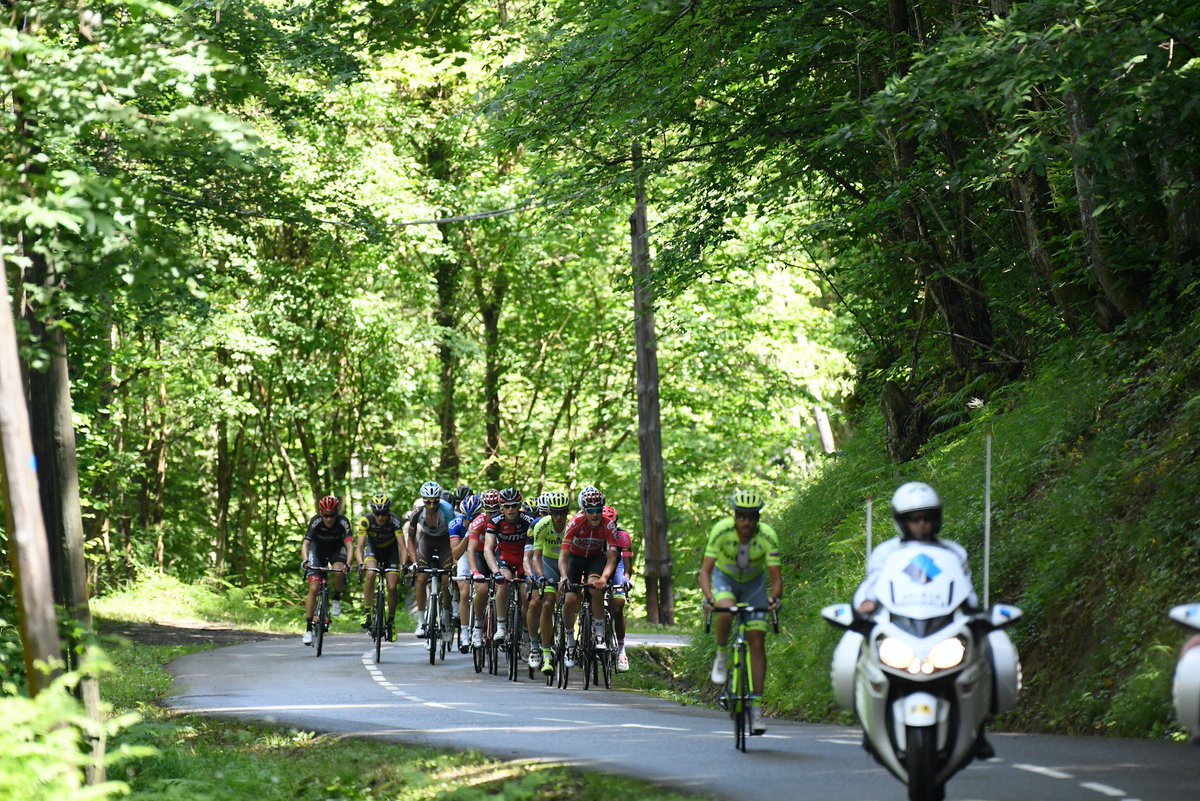 The next climb is the HC

Col de la Madeleine

: 19.2 km, 7.9% average. And there we go:

Contador attacks

, Hansen, Aru, Rodriguez, Quintana and Thurau follow but

Quintana

can't keep the wheels and is

dropped

. In front

Teklehaimanot

has been

dropped

from break.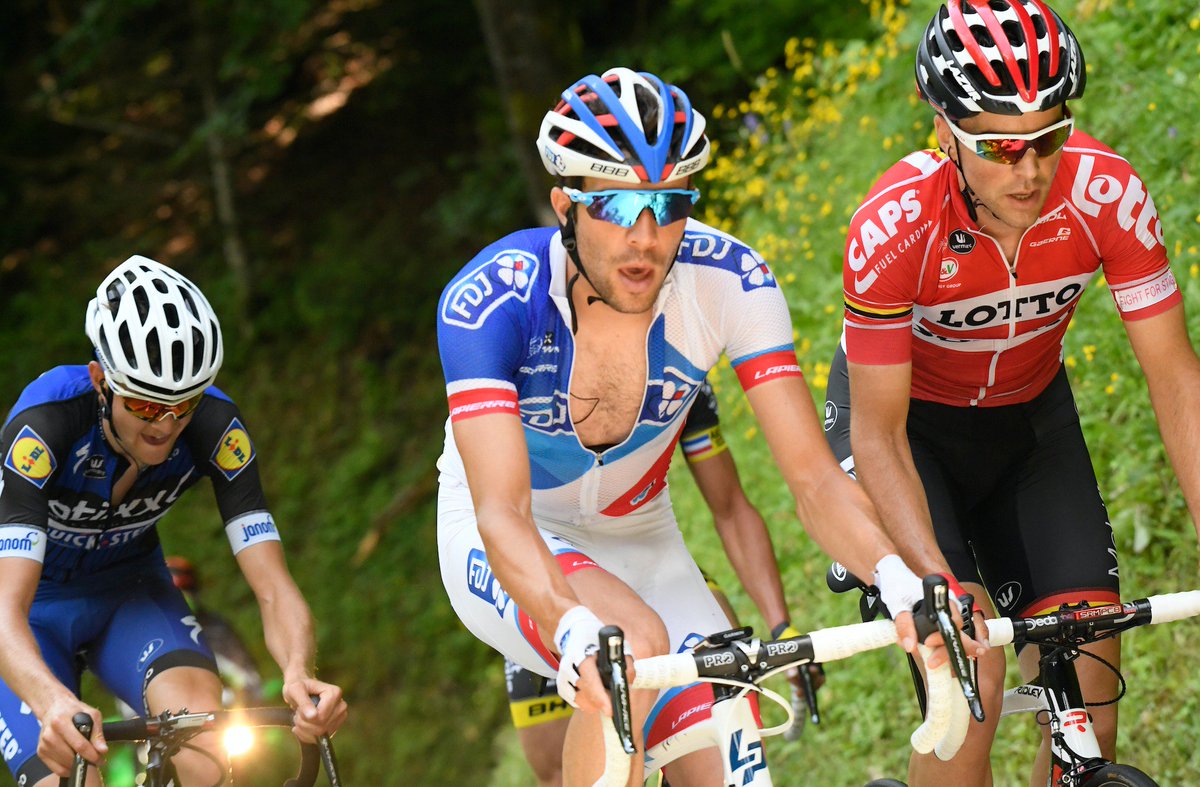 Still climbing la Madaleine the situation sees a 17 riders break at 1'45" to the groupe with Contador that's 30" ahead the peloton. The peloton pulled by

Team Sky caught the group with Contador.

But that meant a very high pace so the 'peloton' itself is now down to around 28 riders.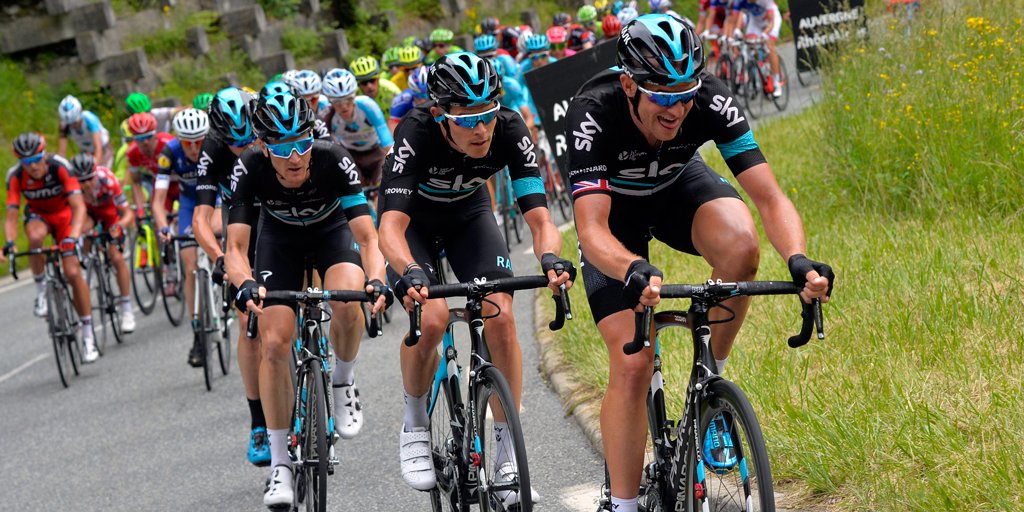 Contador attacks again, Aru follows

. The move is

neutralised

.

Pinot is 1st at the KOM.

Pauwels, Cherel and Vervaecke got a gap in the descent. Then there is the rest of the break-away.

Aru

is at 40", the peloton at 1'30" .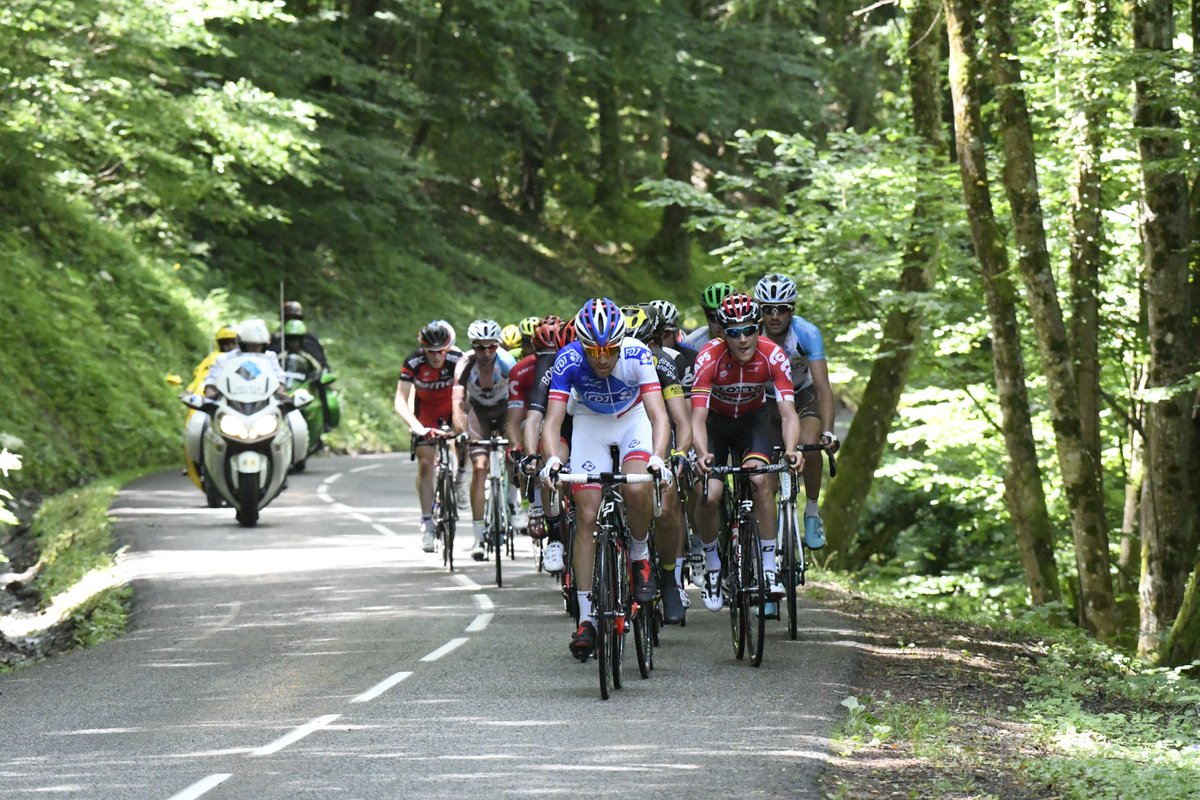 48 km to go

Pauwels goes solo

but he's quickly caught and

a

new break-away forms

as the first chasers join. It includes:

Hermans, Kiserlovski, Kreuizer, Pinot, Roy, De Plus, Aru, LL Sanchez, Bardet, Bakelandts, Cherel, Impey, Van den Broeck, Gallopin, Vervaeke, Pauwels, G Bennett, Grmay. 34.5 km to go they have 2'02" on peloton and

Bardet is virtually in Yellow

.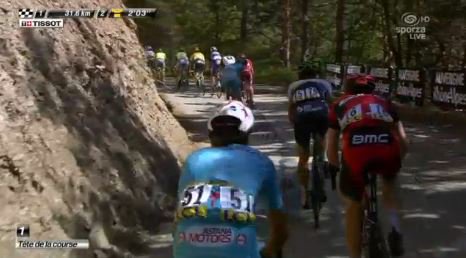 Climbing again.

Aru

is slightly

dropped

and Sanchez stops waiting for him. Kukelaire joins. Roy and Gallopin are back in the peloton.

Montée des Frasses

1st cat.:

Bart De Clercq attacks

. 28 km to go the gap is over 3'. Wout Poels is doing a huge work!

Pinot is 1st at the KOM

.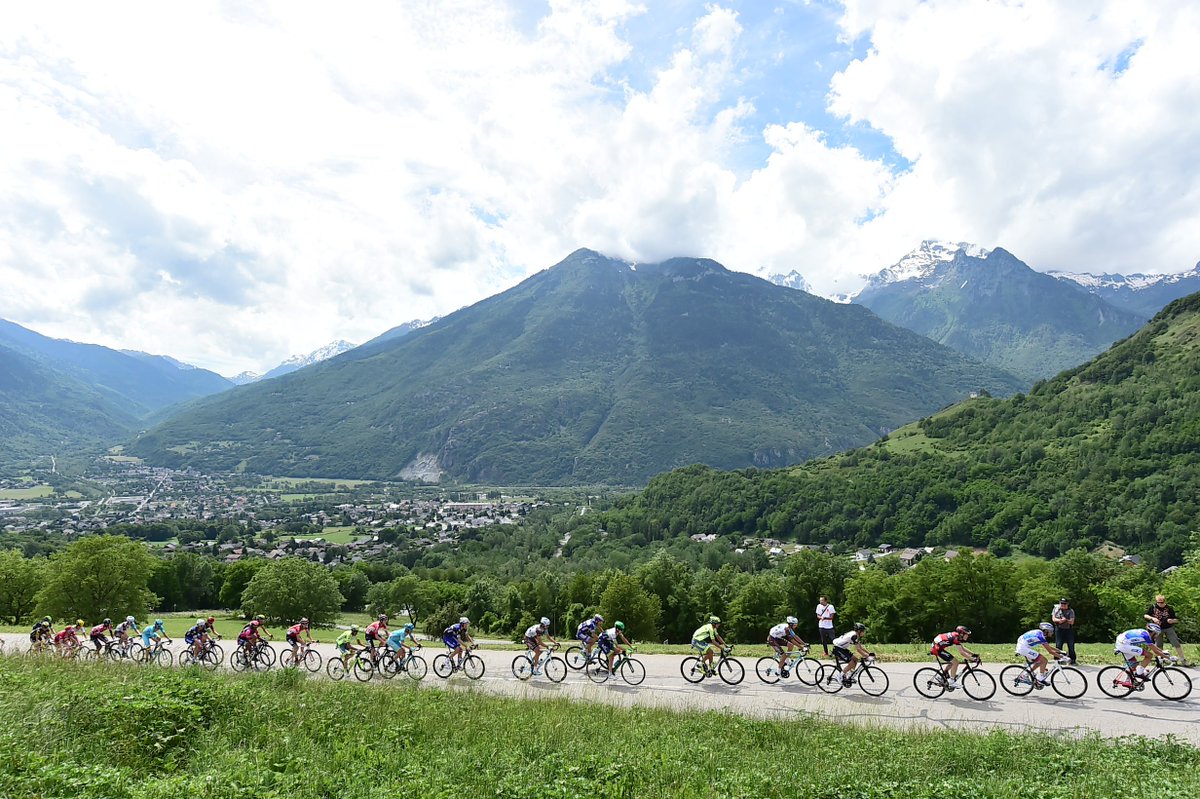 22 km to go De Clercq is chasing solo 2'45" behind the break-away. Aru and Sanchez are back in the peloton and immediately dropped.

Meribel

, the last climb is a 1st cat., 12,3 km 6.6% average. De Clercq is caught. Wout Poels has finished his work. Tony Martin is also dropped. 10 km to go the gap is 2'30''.

Bardet attacks, Pinot tries to follow

but can't. Bardet is going solo.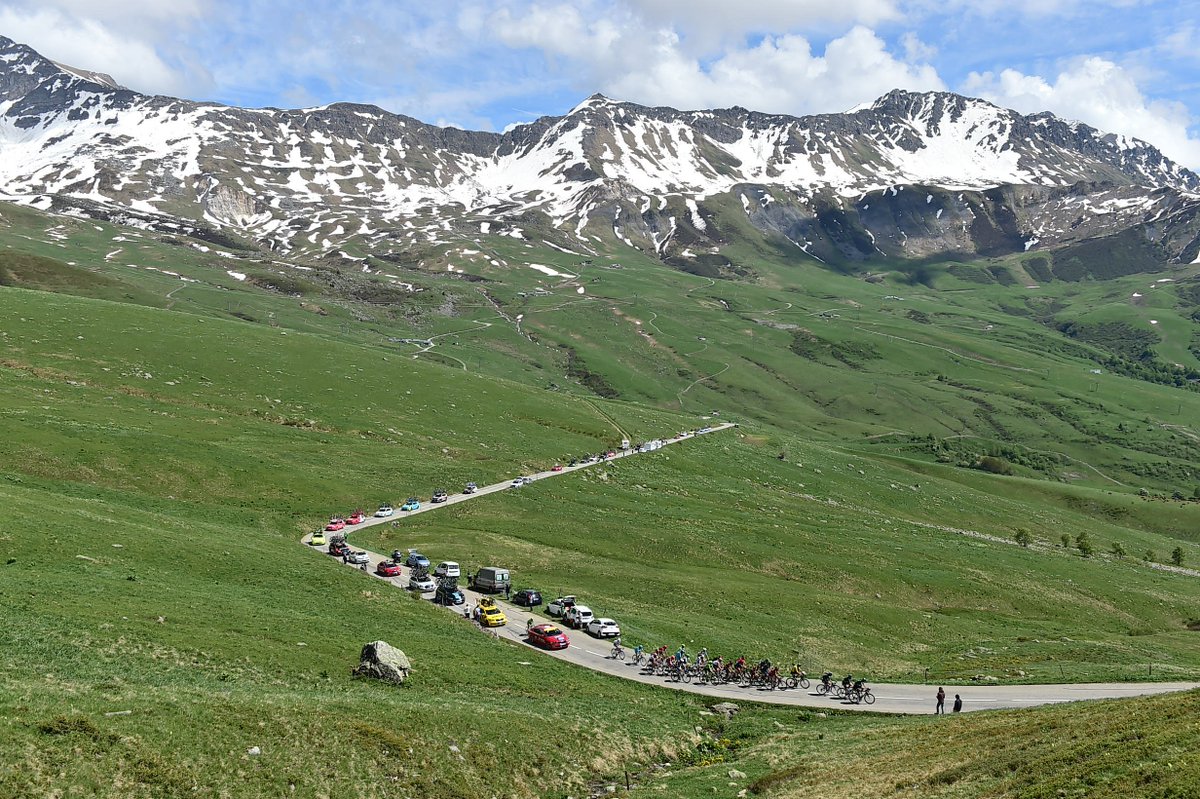 In the peloton Landa is pulling. Rodriguez is dropped. In front Pinot is cosing the gap with Bardet. Only

12 riders are left

in the group with Froome and Contador. They are catching the rest of the break. 5.5 km to go Bardet and Pinot have 1'47".

3 km to go

Rolland and Navarro are dropped.

Bardet attacks

.

Pinot follows

. No more collaboration between these two.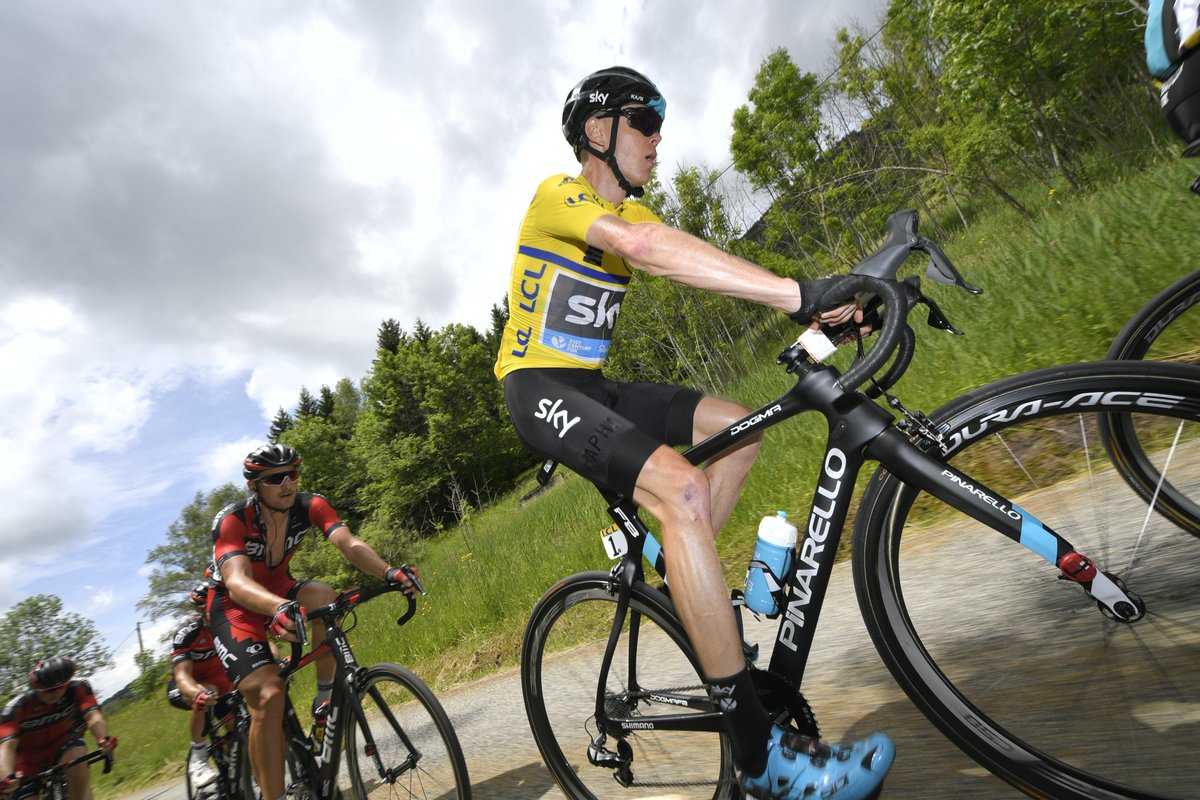 Mikel Landa finished his work too. Now it's

Henao's turn to pull

for Chris Froome. Henao is also done. Froome takes it in his hands.

Bardet sprints from the front, Pinot puts all his power on the pedals and grabs the stage.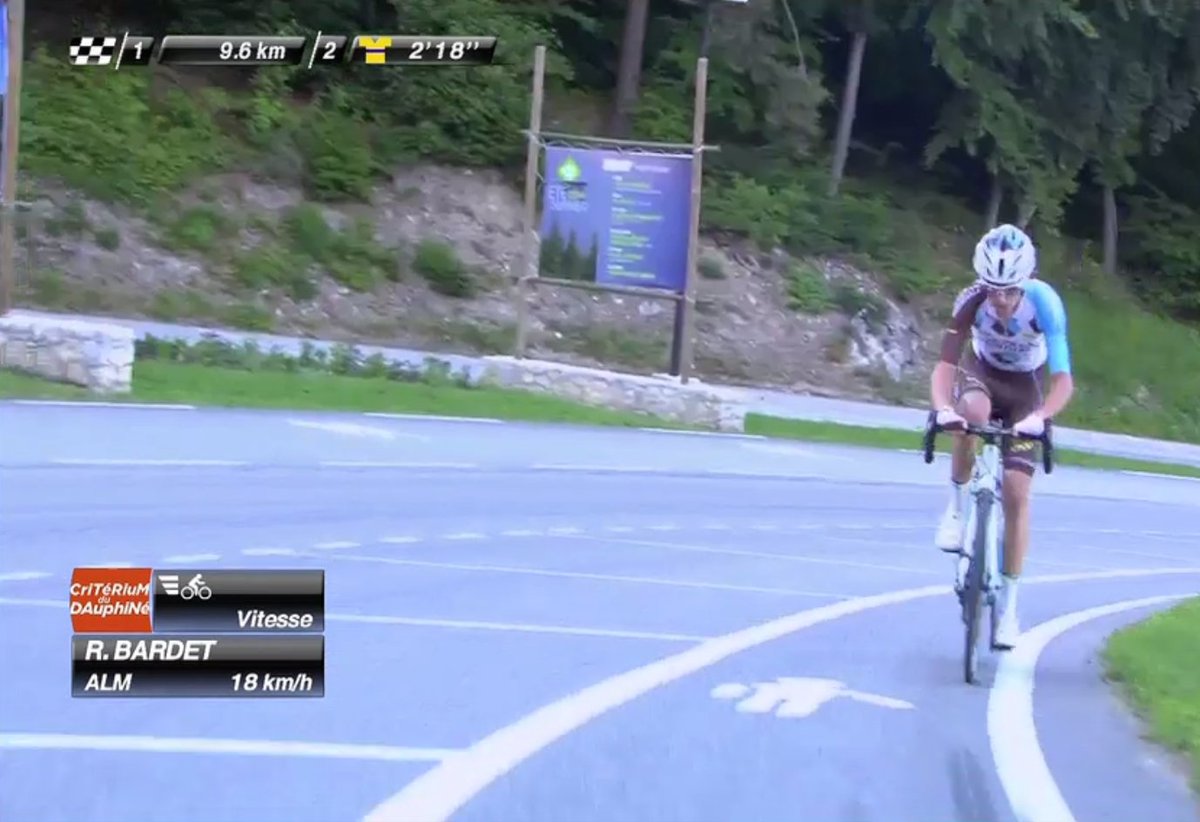 Daniel

Martin attacks

from the peloton,

Froome on his wheel. Nobody can follow.

Team Sky keeps the Yellow Jersey and Froome even gained some time on Porte and Contador. Bravo! As far as the

Polka Dot Jersey

, Teklehaimanot has to hand it over to

Pinot

, but they are both 37 points... Boasson Hagen keeps the Green jersey.
Chris Froome: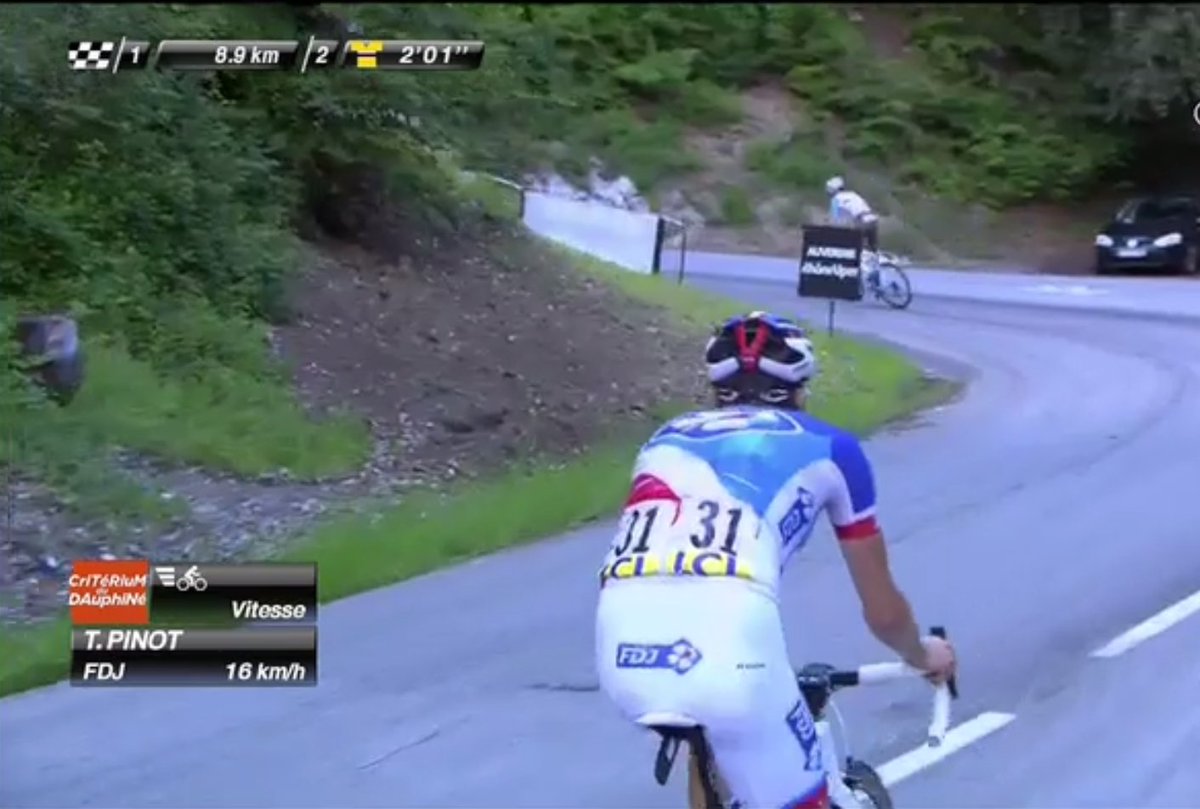 "I'm super happy with that, it was such a hard day out there. The team were absolutely incredible today - they rode from start to finish. Each and every one of my team-mates emptied themselves. It was really touch and go whether we were going to hold onto the jersey or not and I can say with confidence that there's no way that I'd still be in yellow this evening if they hadn't ridden the way they did.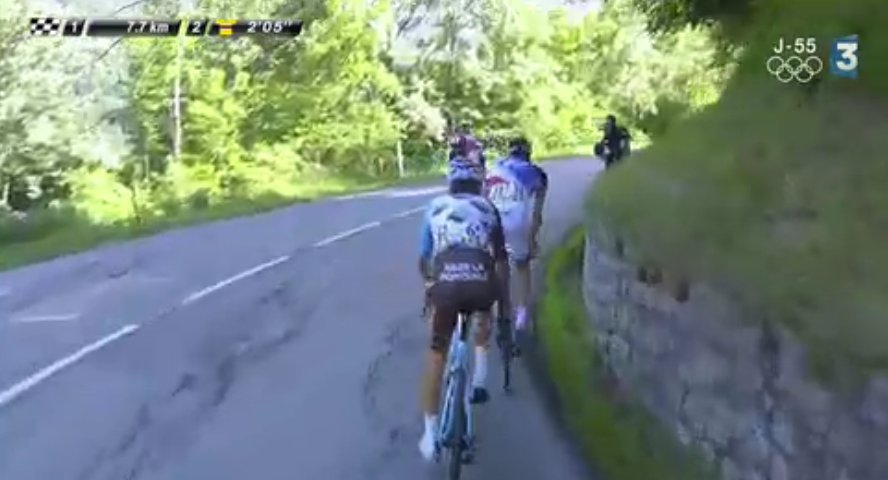 Dan Martin kicked in the last kilometre to try and go for third place and I followed the best I could. I was quite surprised to get a gap to some of my main rivals Alberto and Richie. I'm definitely glad to have a few extra seconds heading into the final stage tomorrow."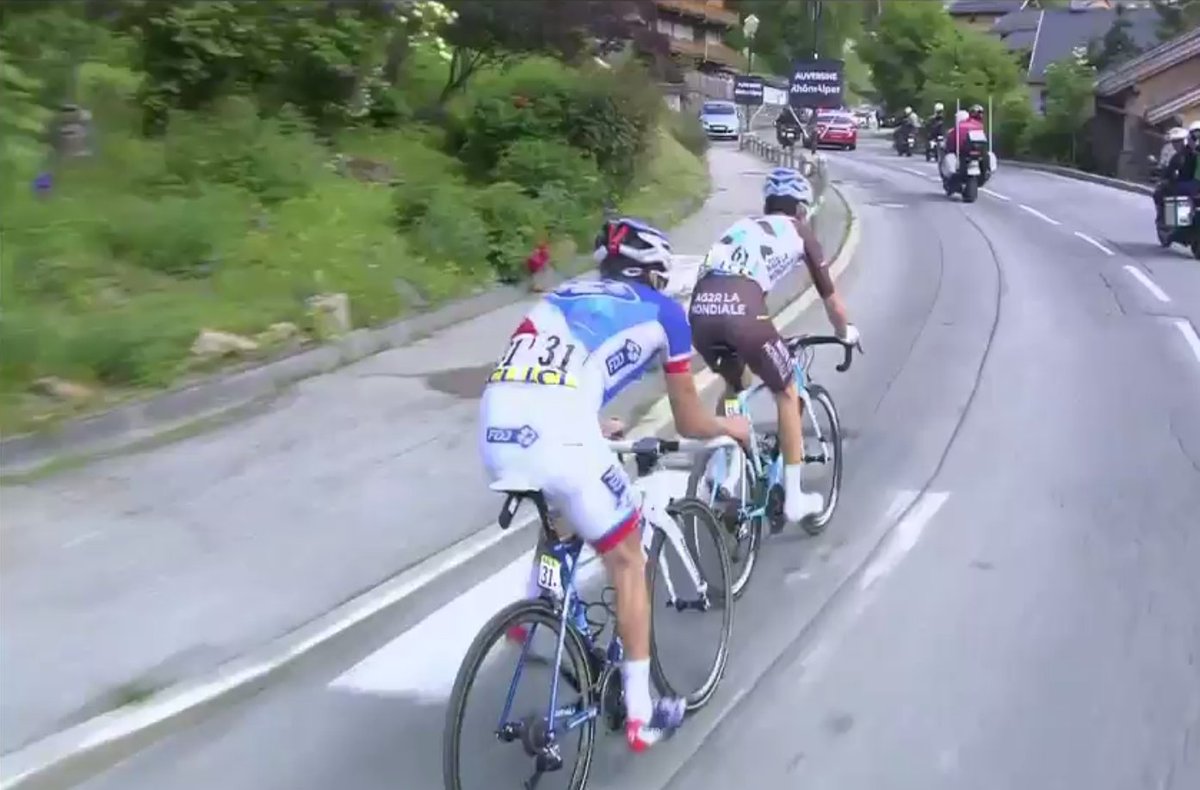 George Bennett:
"I improved a lot during the last six, seven months and today, I was able to take a great step ahead. I rode a very bad prologue last weekend and we're still working hard to find out why that happened.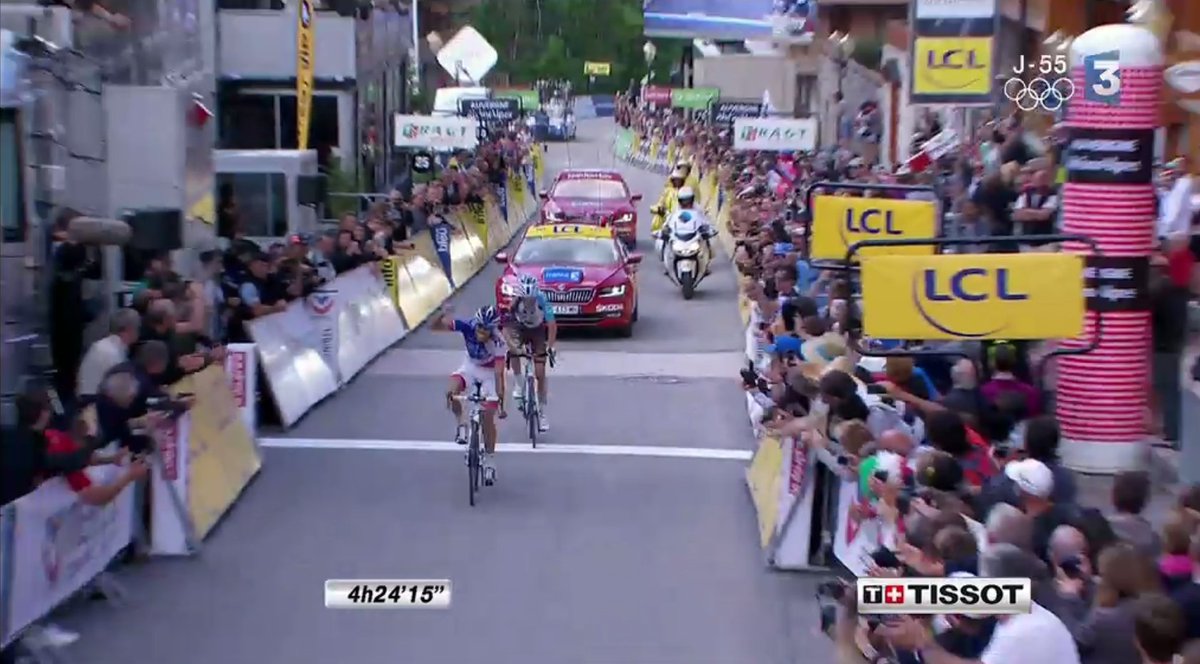 Yesterday was a very hard day, as well and today, we had to deliver again immediately. I felt strong and on a first climb like this, it's not a lottery to become part of the break. You have to be strong enough, and I was today.
It would be perfect if I was able to improve my 15th place in the general classification tomorrow, but I need some luck to do that. I have to see how my legs go."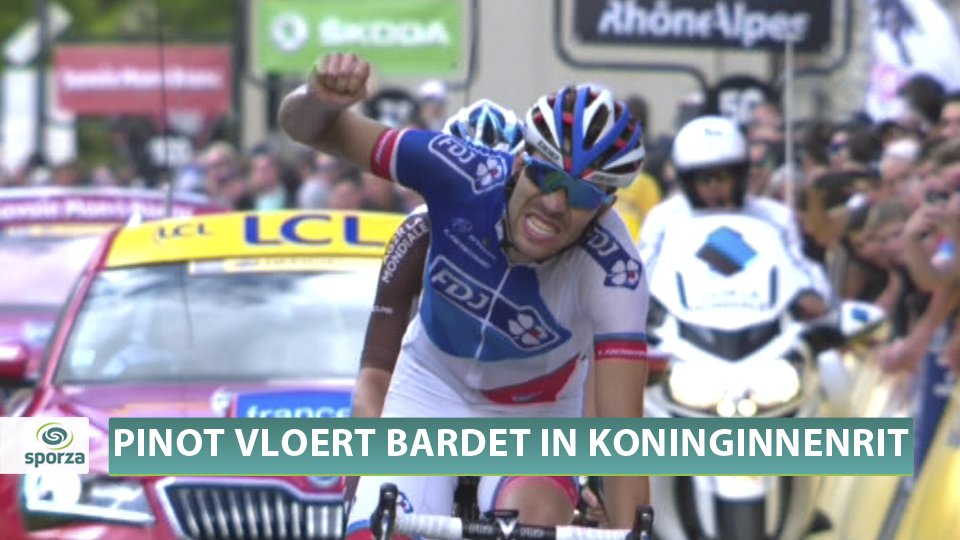 Romain Bardet:
"There are days like this one whene you learn more than in 5 yaers as a pro. One thing is obvious: how lucky I am to have such team mates!"
Alberto Contador: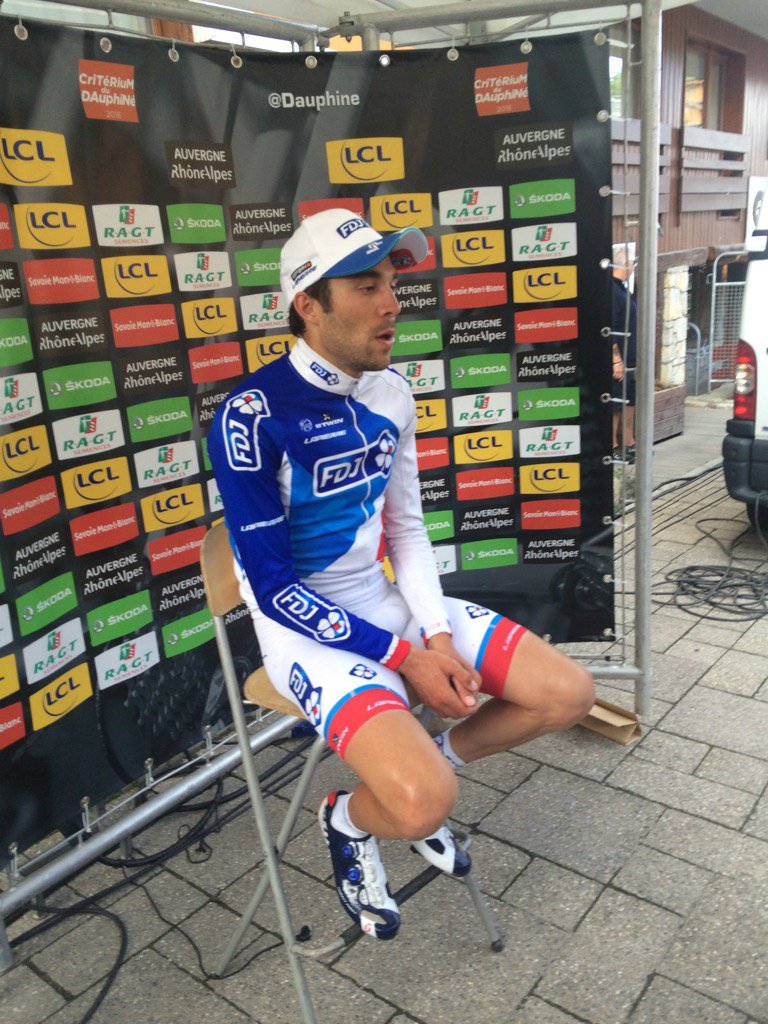 "It was good because we climbed a lot today and I needed that for my body.
You know, I'm going okay but I continue to need that extra speed in my legs and I'll get that after the Dauphine with a bit more training.
On the Madeleine I just wanted to put some pressure on other teams and the feelings that I got were good. Day by day I'm getting better and I have confidence because in the other years when I'm here and finishing high up I go well in the Tour. I still think I'm going to have a good Tour de France.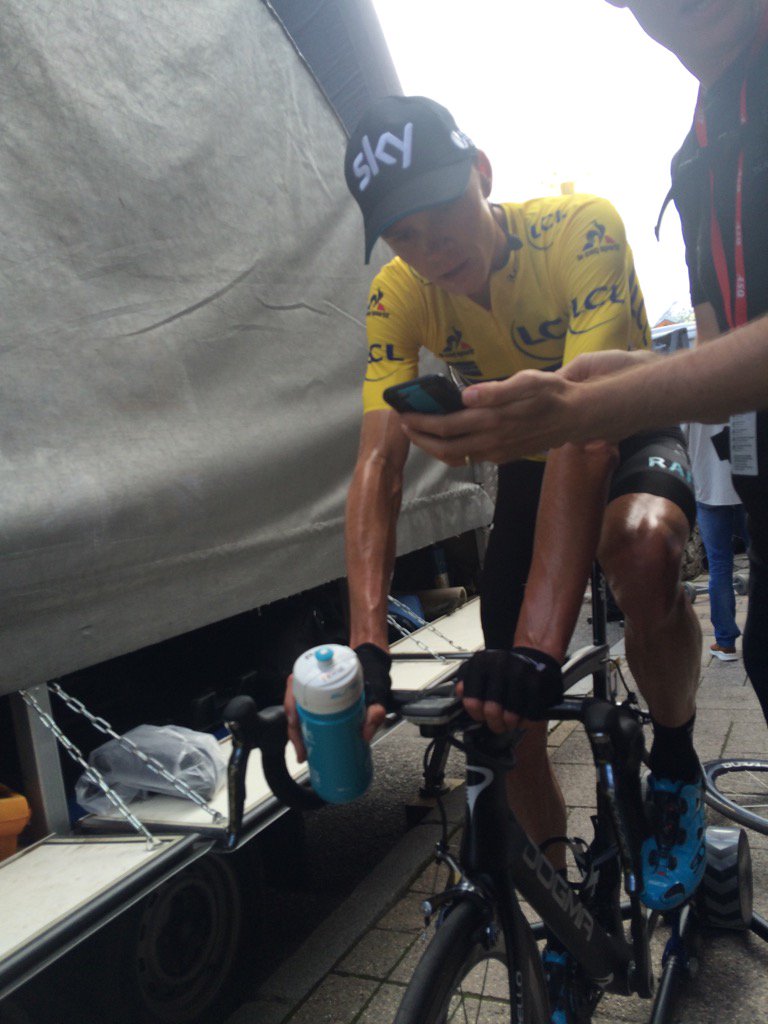 I needed to attack Team Sky. They have a strong team. Okay I was at my limit there at the top and they saved the day in the final but everyone has a bad day now and then, and if you don't try then you never know. Look at today, Richie had a bad day. Okay he was there until the last moment but with each day is harder and now I'll just recover.
Tomorrow I'll give it the maximum and if I see a good moment then I will try. Froome had a hard day. We put him at the limit. I saw good things today."
RESULTS
STAGE
1 Pinot
2 Bardet
3 Martin +1:04
4 Froome +1:07
5 Meintjes +1:15
6 COntador +1:15
7 Rosa +1:17
8 Yates +1:17
9 Alaphilippe +1:21
10 Porte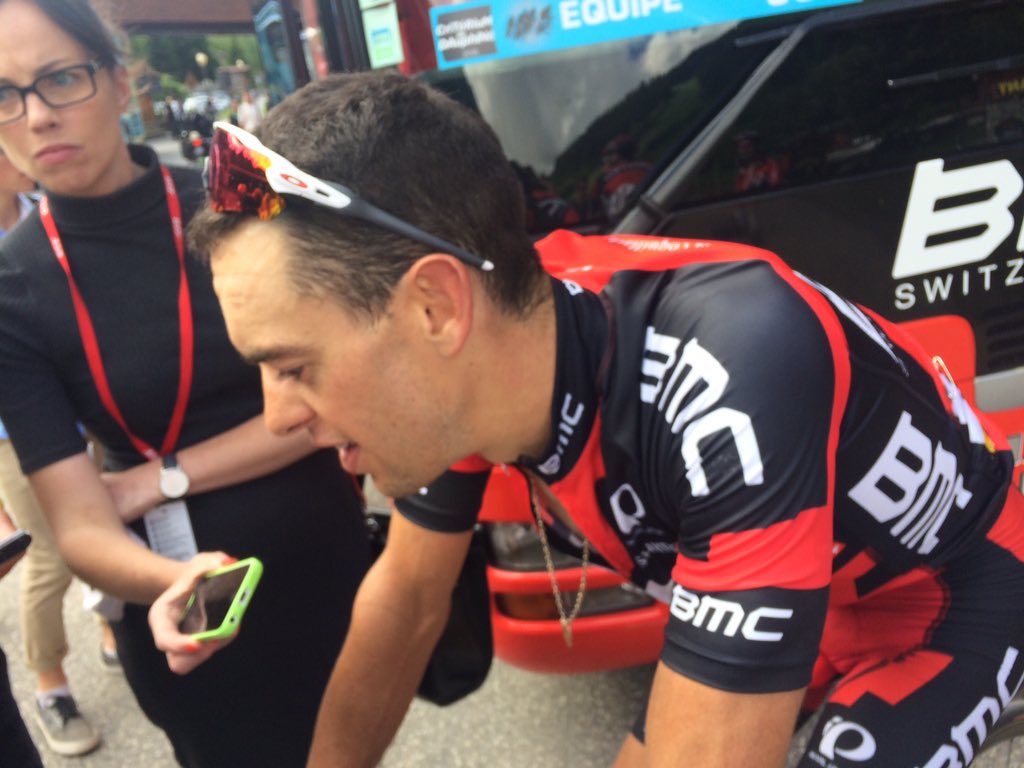 GC
1 Froome
2 Porte +21
3 Bardet +21
4 Martin +30
5 Contador +35
6 Alaphilippe +56
7 Yates +1:02
8 Rosa +1:18
9 Meintjes +1:35
10 Pinot +2:12
JERSEYS
Yellow Froome
Polka Dot Pinot
White Alaphilippe
Green Boasson Hagen