Just back from a few days of

bike, sea, and sun

in Follonica! I'll tell you more because it has been a blast.
Meanwhile we have the new

RR Nat Champs

. Someone confirmed, someone is a - relative - surprise. Have a look and see what they say.
RESULTS
Source
Look also HERE (especially for Women)
Spain ROJAS
Netherlands GROENEWEGEN
Ireland ROCHE
Luxembourg JUNGELS
Portugal MENDES
Germany GREIPEL
Russia KOCHETKOV
Croatia ROGINA
Austria BRÄNDLE
Italy NIZZOLO
Estonia RAIM
Lithuania NAVARDAUSKAS
Belgium GILBERT
Ukrain POLIVODA
Romania PETRACHE
France VICHOT
Hungary PELIKÁN
Serbia KOZOMARA
Greece TAMOURIDIS
Latvia SMUKULIS
Slovakia J.SAGAN
Czech Republic KREUZIGER
Belarus SIUTSOU
Great Britain BLYTHE
Switzerland FUMEAUX
Denmark KAMP
Poland MAJKA
Moldova RAILEANU
Sweden LARSEN
Slovenia TRATNIK
Georgia NAREKLISHVILI
and
Erirea Daniel Teklehaimanot
"I'm very excited and thrilled to be crowned road champion of Poland for the first time in my career. I came yesterday, directly from the high-altitude training camp in Livigno and jumped right into the race, so I consider this to be a very good result.
It was a hard race, with nearly 3,200 meters of altitude gain and climbs of 3-4 kilometers but that's exactly the kind of profile that suits me and that I like to race on. I felt in very good form, my legs were really strong and that is a very positive sign for the Tour de France. Starting next Saturday, I will be ready to give my best to support Alberto in his fight for the yellow jersey.
Unlike the other Polish teams with lots of riders, we were only three here. However, I told Maciej Bodnar and Pawel Poljanski that I felt very strong and I was aiming for the gold, and they put on a strong performance to help me. I'd like to thank them for their effort."
"I'm proud to be the new Slovak Champion. It's such a great feeling, especially because this is my first victory as a professional rider, so it adds a special value to it. It was also a nice feeling to have Peter on the podium with me. We were the two brothers together, him wearing the World Champion jersey and myself with the Slovak Champion jersey. Thanks to all our team-mates for the hard work in today's tough race."
"The Czech and Slovak Championships are always a hard race to predict. Since the year 2000, the two federations have been holding them together, so we have four titles at stake simultaneously: Czech and Slovak Elite and Czech and Slovak U23. That makes for a bigger peloton and it isn't always easy to understand who races where. However, we had Erik Baska and Michael Kolar in the early breakaway and they did an excellent job, taking the pressure off us. It was up to the other teams to do the hard work and everything went according to the plan we made this morning with our Sport Director, Ján Valach. I'm really happy to wear the Czech national champion's jersey.
It's the first time in my professional career I wear the national champion's jersey. In the early years of my career I wasn't so much focused on it but since three years now, I was keen on having it. It's, obviously, a great result and I hope to honour my national jersey in the big races ahead! The two previous holders had a number of wins in the Classics and other special races, so I will try to continue flying the Czech colours with success in the future."
"I'm so chuffed - it feels great to have won the jersey. It was a long day really, from 70km out there were four of us tapping through and when we entered the circuit the gap wasn't that big. After it came back together behind I just sat in and saved what I could for the sprint. I never knew I was going to get it but I never thought I wouldn't as well, I just gave it my all and crossed the line first.
Not having any teammates in the race meant it was all about selecting the right move. The circuit wasn't too difficult so it was all about timing, only attacking when it was worth attacking.
I'm looking forward to the getting the new white kit now! It's the highlight of my career so far. I just want to get the jersey and all the kit to go with it – white shorts, white bike…"
"I am very happy for this victory. Today the race was really difficult though, it was a flat course so we had to be on the attack all day to make it hard. The Eritrean jersey is something I am really proud to wear and now, the team is not final, but it is possible that I can show the jersey off at the Tour de France on every stage and not just the time trial like last year."
"It was an insanely fast race. Lillehammer Cycling Club was really good today, they raced like seasoned pros to control the race together with Coop. I couldn't have asked for more out of the Lillehammer boys. It was really awesome what they were able to do. In the final I just had to take it very long. I gave everything I could, there was nothing left that I could give so I am happy that it was enough."
"I am very happy with the win and with keeping this beautiful jersey. I love it and I love to wear the colours of my country. Today's race was really fast right from the gun and the wind and rain made it even more difficult. On the last lap, I attacked with 7 kilometers to go, because I felt that it was the best moment to do it and I was right, as I arrived solo at the finish line. Not only that this victory makes me happy, but it also gives me a timely boost of morale for my next race, the Tour de Pologne".
"The bunch almost came back to the breakaway on the climb when we were inside the last four laps and I saw them so I attacked on the top. My goal was not really to go away but to speed the pace up and get the group working again. Greg went after and then I went again with Tim Wellens. I knew that if I went alone I would have teams chasing behind me so I needed a Lotto-Soudal rider with me. It worked well to have Wellens with me, and also Laurens De Plus, so the three biggest teams were represented up the front and no one was really chasing. It was the perfect trio.
When De Plus was dropped I was thinking that this might not be good as Etixx Quick-Step would be riding behind us, but in the end we held the gap. The final was a hard one because Wellens went full gas. I was able to respond to his attacks and I was always there, really focusing on the sprint. I didn't want to start playing too far from the line in case the others came back, so we really waited until the last kilometer. I was nervous because I wanted to win so much. When you are in this situation it is there that you make mistakes. So I was trying to think positive thoughts and think of my family and my future, and not going crazy. That's what I did and that relaxed me a bit.
It's completely different to my first championship. When I won in 2011 I was in the best period of my career. I wasn't expecting to win then because the course didn't suit me too much. But here I was working really hard after my accident in April to get back to this level. I was already happy after the Tour or Luxembourg as I felt some good sensations. Then at the Tour de Suisse I wasn't sure how my level was, but then I was back feeling good in the last days. This win gives me a lot of confidence and I'm looking forward to wearing the jersey at the Tour of Poland."
"Today the race was crazy, I had a lot of friends here cheering for me. I have to give a big thanks to the guys, they did a super job for me today. At the beginning I didn't feel good, but at the end I was really motivated on the final climb.
Marco (Coledan) made a very strong pull into the the last climb and stretched out the peloton and I attacked the climb. We were five at the top of the hill and then Brambilla attacked on the downhill and had a gap.
I went across to him and we were two, and I pulled until the final kilometer. It was then that I realized this could be the right day. Then in the sprint, I won. It is really, really, really an important race for me and I will enjoy the next days and the next year."
"It was quite chaotic for a long time. Everyone wanted to be part of the breakaway and there was always one of us among the leaders. The whole team did its best to bring a sprint. We succeeded and Timo Roosen delivered a perfect lead-out. Stroetinga went for his chances early, but I immediately felt that I had more power.
That's amazing. This is the first time that I am the Dutch champion. The last time that the team grabbed the title was quite long ago and I was the main favourite as well, so I felt some pressure. I was very confident, on the other hand. We finished it off as a team."
Alexis Vuillermoz (3rd):
"3rd in the nat champ! But a mixed feeling invaded me at the finish because I was aware I came very close to the tricolour jersey. Taking a step back I have no regret. I did no mistake and took my chance 300 m to go anticipating the sprint and trying to take Arthur Vichot and Tony Gallopin by surprise. I must admit that I got defeated by riders who are strongest than me in such a kind of finish on a downhill false flat. Congrats to Arthur for his second title!"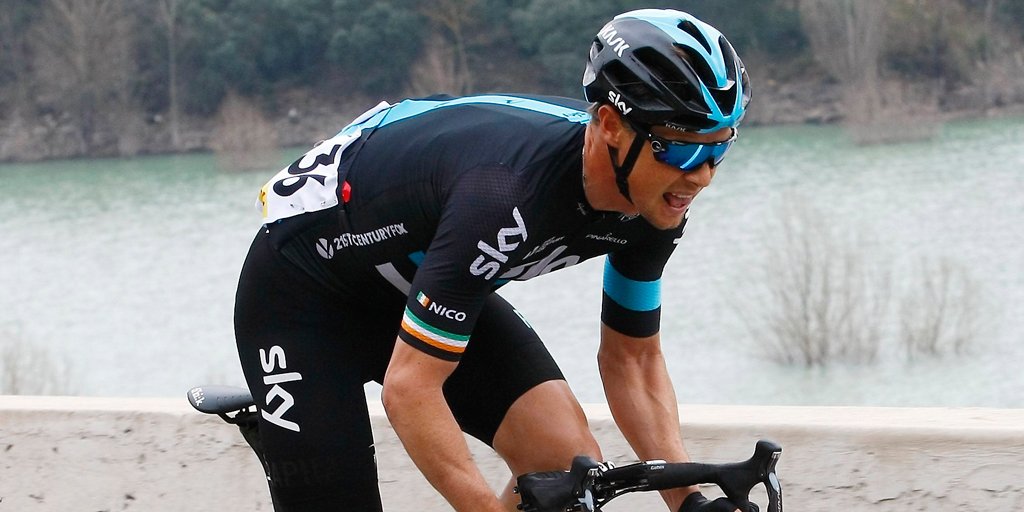 Nicholas Roche:
"To win both titles is very special," Roche told TeamSky.com after the race. "I've already got one road champs and one TT champs in my career, but to get the pair in the same year is really something.
Today was a very important day for me. The race was organised by my local club from back when I started cycling. All my family were around, as they are most years, and I really wanted this one. But it's one thing wanting it and another thing getting it. It's worked out in the end and it was an unbelievable day.
I went from about 10-12km out up the last climb. It was my only chance to go for it up there, give it my all and hope that it worked. I knew that there was no way I was going to drop the other guys on the flat - guys like Damien Shaw, (Matt) Brammeier and riders with a lot of experience.
It will be brilliant to wear the shamrock jersey for the next 12 months. It's a very cool feeling and I'm convinced Rapha will do a great job getting a jersey sorted. I'm so excited!"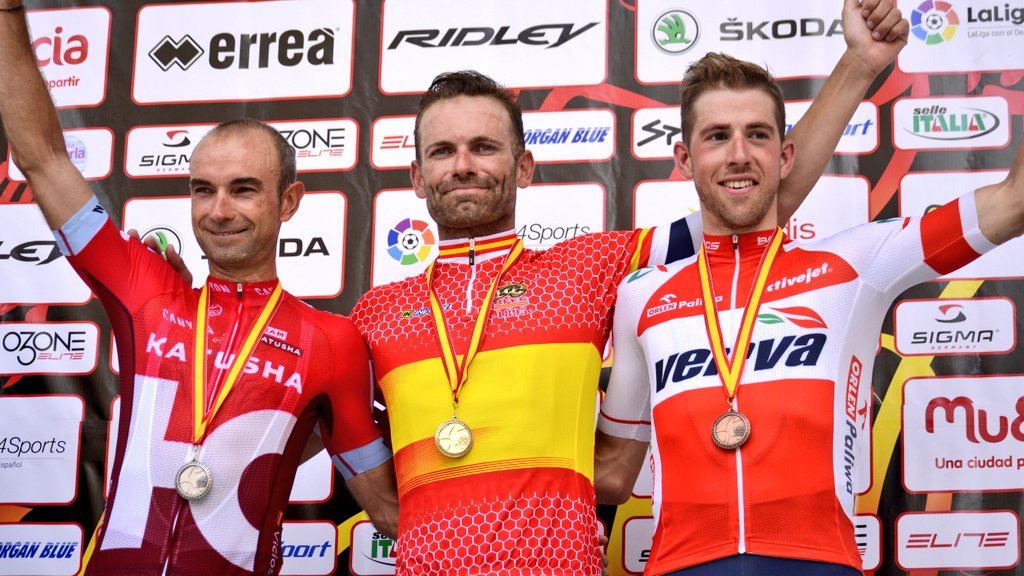 José Joaquín Rojas:
"People say that I wasn't in the stakes for victory, but I'd tell them to look at my work in the Giro or the Route du Sud, since those were races where I proved that my role in the team is quite different from the past. I don't race looking for individual goals anymore: I do things that can be valuable for the whole team and that's how I earned my team-mates' confidence, especially for this Championships. It's been a beautiful season for all of us: we claimed the Giro podium with Alejandro, we took so many wins that contribute to keep the squad's streak alive... It's not so important to win by myself - I've found this role pretty comfortable for me.
Should today's race situation have happened years before today, I'd have probably saved all my energies for the sprint, because I often came out as the fastest at them. However, things have changed for me: I just couldn't wait, because I had the legs to win solo, and I couldn't reach the finish with Vicioso, either. Despite Ángel getting a bit old, he's always a very dangerous rider, who can play his cards well. I tried to make things hard into my group, create splits and attack as much as I could. I also tried to make my team-mates ride calm behind and avoid any potentially dangerous contenders bridge across. I attacked lots of times into the final lap: I couldn't make a gap on the first one, then Vicioso was the only one to keep my wheel on the second, and with 5-6 kilometrs to go, I could leave him behind and go for the win.
It was a marvellous day for me: riding almost on home roads, with lots of people already at the depart (9am), on beautiful terrain... It makes the win more worth. It was also a season fighting against many things, sort of my style of racing applied to life: I had to undergo heart surgery in the winter, I broke my wrist in Paris-Nice and it hurt me a lot, even today. Despite all of that, we took energy out of nowhere to claim a win at last, such an important win as you can wear the jersey for a whole season. Now I'd like to ride the Vuelta - the Qatar Worlds don't worry me so much, as the national team coach didn't have me in last season when I was in such strong form."
André Greipel: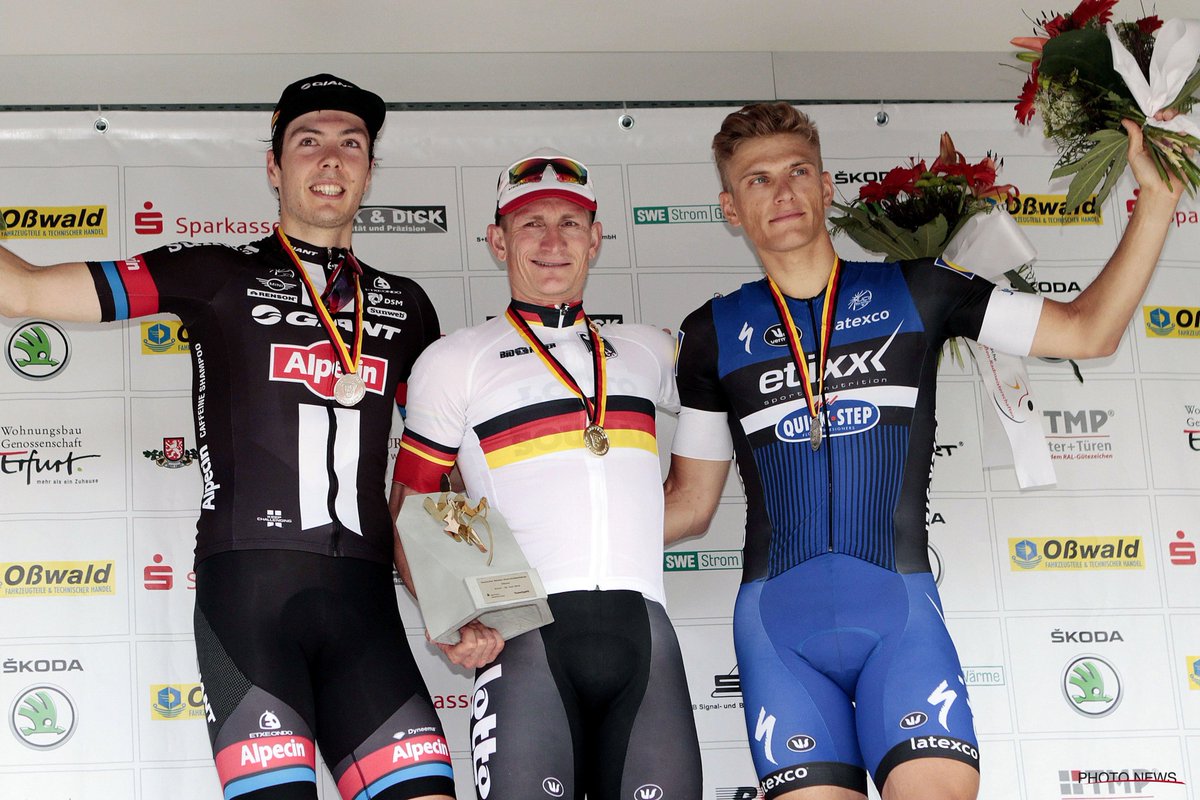 "Despite the nature of the course you can never be sure it will end with a sprint, because the big teams could have other tactics. Sibi and I had decided to race attentively and join every big breakaway. And we succeeded in doing that. With 45 kilometres to go for example, we were part of a break, but Giant-Alpecin didn't have a rider in that group and that's why we didn't stand a chance. Sibi made sure I was positioned perfectly for the sprint. John Degenkolb launched the sprint for his teammate Walscheid, I remained on his wheel. I started sprinting with two hundred metres to go and nobody could pass me. I've seen the images and the gap was rather big.
Of course I am happy that I've become national champion for the third time ever. When it's this type of course, it's always a goal for me. I am proud to wear the jersey for a year and I am looking forward to show it in the Tour. This victory, my eighth of the season, is good for the confidence."
Tim Wellens:
"Silver is nice, but only one place counts in this race. It would have been very nice to take the title on this beautiful and selective course. It was hard right from the start and soon the peloton split. As a team we were well represented in the front group, but unfortunately someone was stronger. I was realistic, I knew it wouldn't be easy to drop Gilbert and he is strong at the finish. I tried to ride away from him, but he remained on my wheel. I began the sprint in second position, but couldn't get passed Gilbert as he was too strong.
It was a really difficult weekend for the team. Yesterday evening we got more info about the condition of Stig and that was really emotional. It is difficult to cope with it, but today we fought for him."