Amazing landscape

for the first stage of the Tour! And so

loaded with memories

for me, bittersweet: the last time I saw Andy Schleck in a Tour - and his last Tour in fact given that he crashed off immediately in the next one - it was around here.
First break-away: Howard, Voss and Barta. Howes and Delaplace

are chasing and close. The gap is 3'. A small crash involved Diego Rosa in a nervous peloton but he's almost back.
It's going to be

really windy

on Utah beach.

A fair way to celebrate Olivia De Havilland's 100th birthday!
In front the break regrouped but behind the peloton keeps it in control. Paul Voss won the first KOM of this Tour and is going to wear

the first Polka dot jersey

.
Lot of wind

and the GC teams go in front to protect their leaders. The peloton splits. Etixx pulls, Sky keeps the pace.

Crossing a roundabout some riders crash, there is a Tinkoff one, he's Contador! Sky's Rowe and Thomas also crashed.

They all have to change the bike. In front nobody seems to attack. All Tinkoff stopped to help and Contador is back in the peloton.

Ripped jersey and a sore shoulder

but nothing serious hopefully.
First intermediate sprint: in front Howard is first

, in the peloton Greipel wins. Voss lost contact.
55 km to go

Howes and Delaplace speed up

and drop the company. Their chances to go to the finish are slight.
Roosen and Tulik crash

5 km to go.

Break over, sprint on!

2 km to go

a big crash brings down several riders

. In front

Mark Cavendish wins

.

The first Yellow Jersey!
Geraint Thomas went down in the last crash as well as Groenewegen.
Mark Cavendish: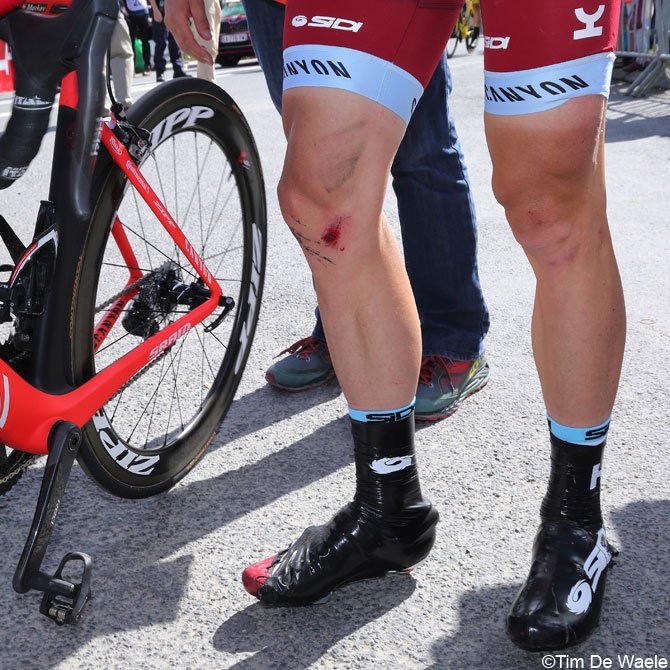 "This is a very special win. It is the first time I have had the honour of wearing the yellow jersey. What a special moment to do it, with such special people. Three of my last guys, Edvald, Mark and Bernie were guys that have been with me my whole career and to have Reinardt Janse van Rensburg pulling full on for me in the final, it was super emotional for me. In this team, we race for more than just our sponsors, we race to raise the profile of the Qhubeka charity and to put 5000 kids on bicycles. There is no better way to do that than to wear the most iconic symbol in cycling and that's the yellow jersey. I am very, very happy."
Alberto Contador:
"The race was very tense and everybody was fighting to position themselves in the front because of the wind. We were well positioned and very attentive but at a turn, a number of riders hit the central reservation. My front wheel got off and I also think that was the case with some others. We fell, hit the ground and skidded. In addition, another rider fell on me and hit my shoulder.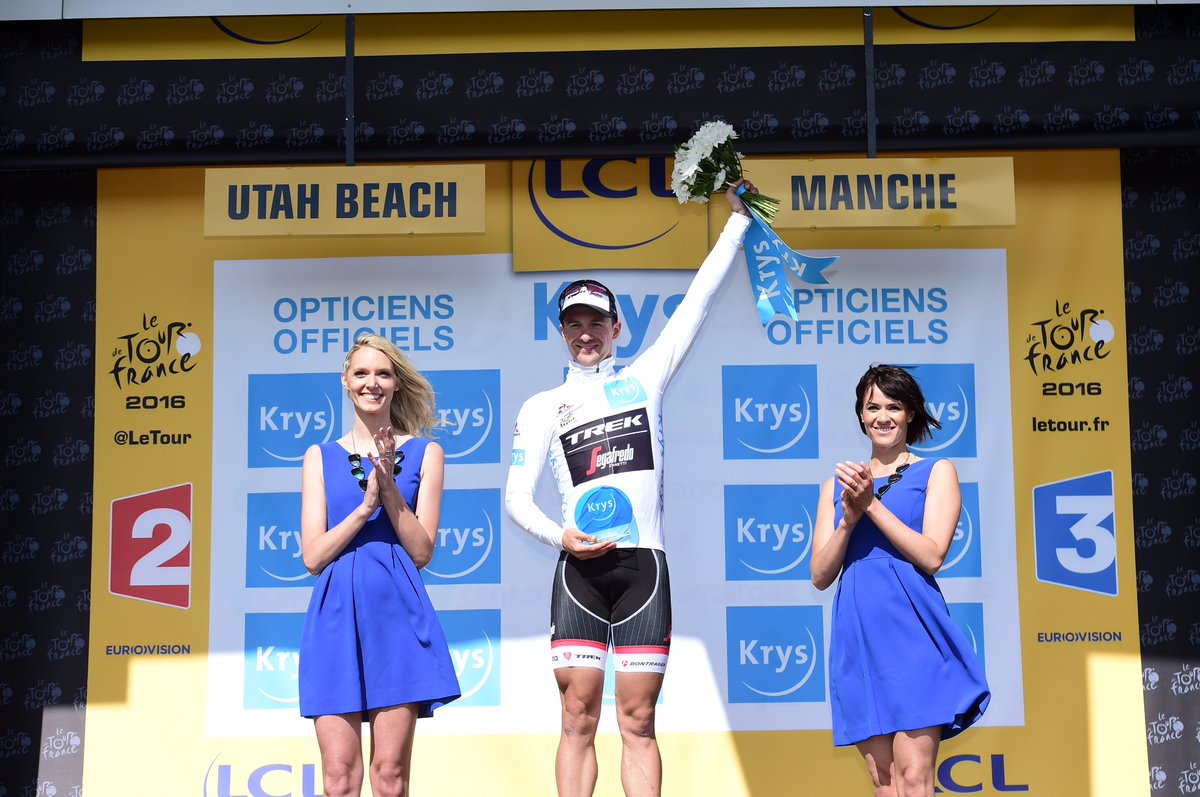 Now, it's a question of applying ice, doing a treatment with the Inbida machine and making sure the inflammation doesn't get worse. I have scratches all over the right part of my body, from the ankle up to the shoulder. What can we do, that's cycling. You might prepare intensely for months and then you crash.
Fortunately, I don't have to go home and I will try to go through the following days in the best way possible so that I reach the mountains recovered. We will go to the hotel and assess the situation. When I place my shoulder in a certain position I am worried. As I said, it's important to apply ice and as the days pass I will feel more pain. However, the Tour doesn't finish here. We have to be optimistic and focus on the following hours in order to rest and recover as much as possible for tomorrow morning."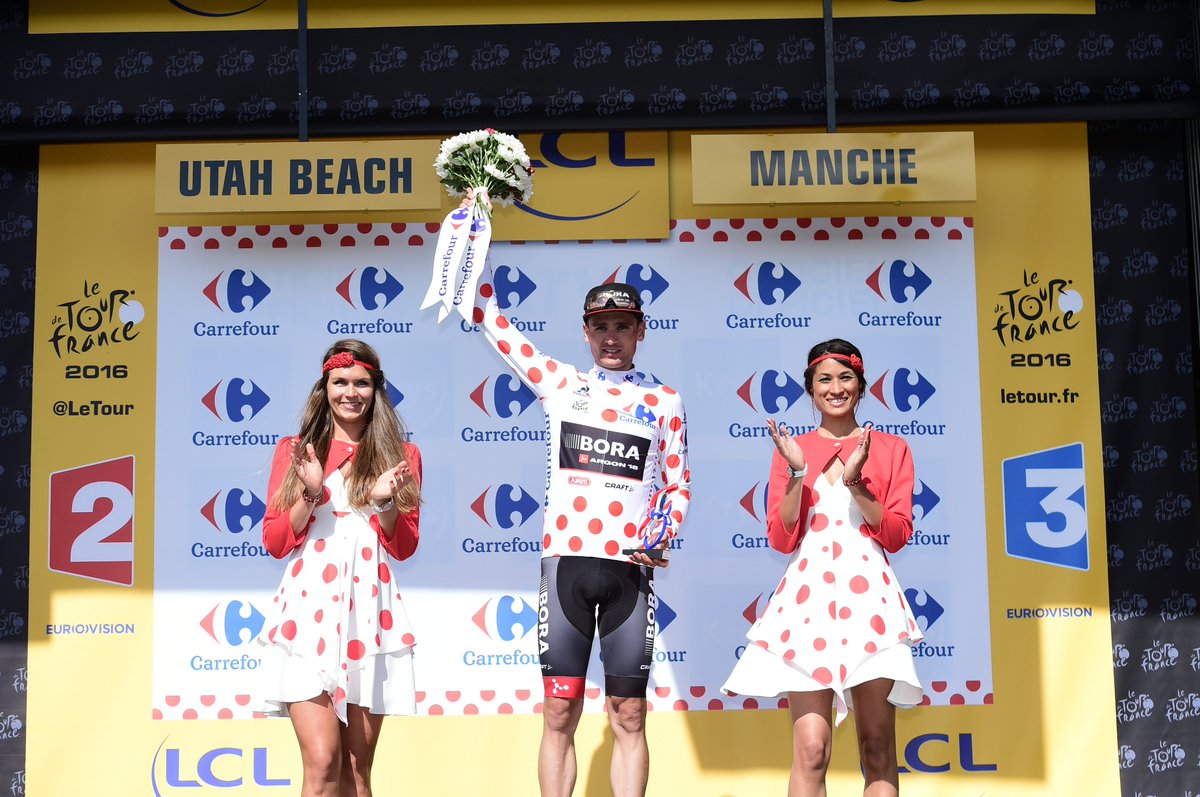 Peter Sagan:
"There was a lot of stress in the group for nothing, and then in the final there were the usual guys at the front. Personally I'm very happy with my third place today and it's a nice way to start the race. I didn't have any problems in the finish and I can be happy with my result."
Sep Vanmarcke:
"1st stage done. We brought @GroenewegenD in position, but instead of sprinting he could just avoid that crash. Good skills! #TourdeSep"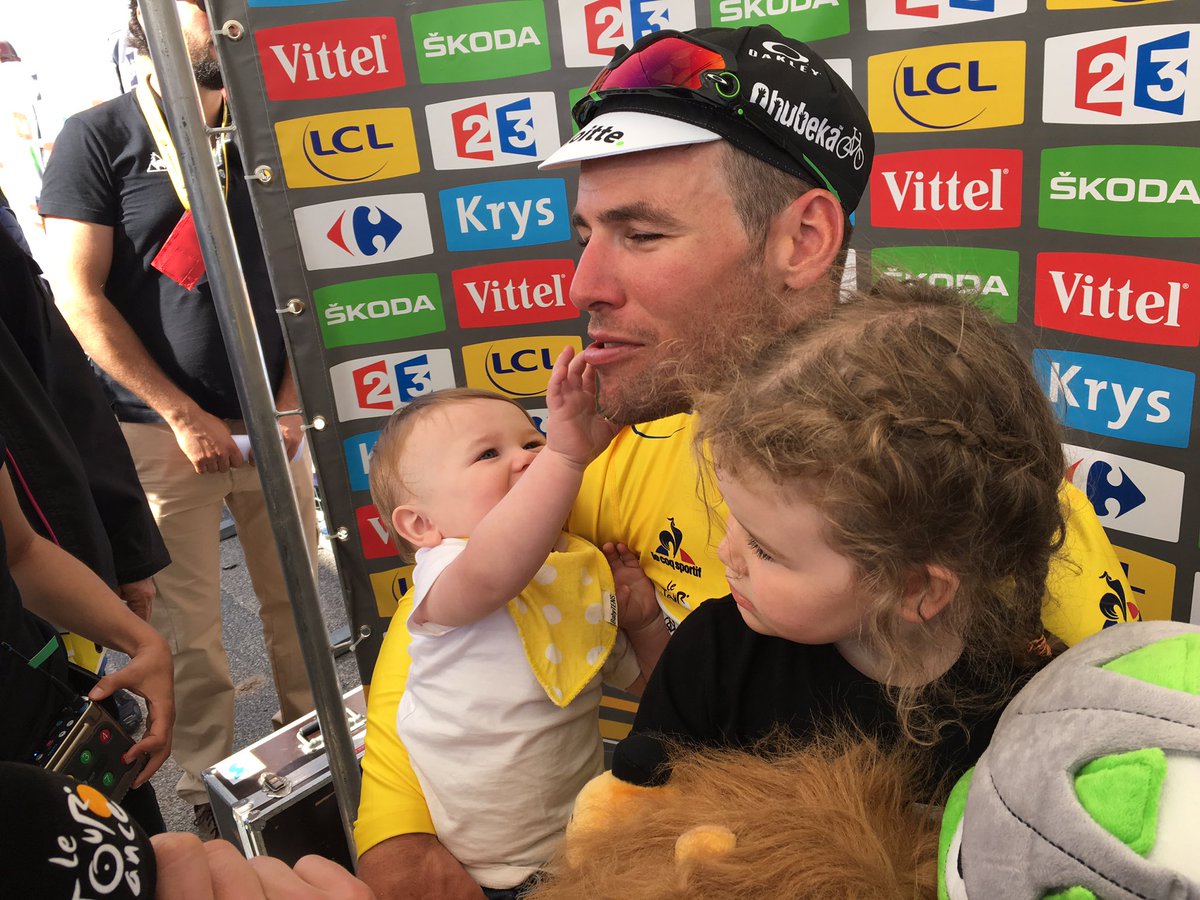 Dylan Groenewegen: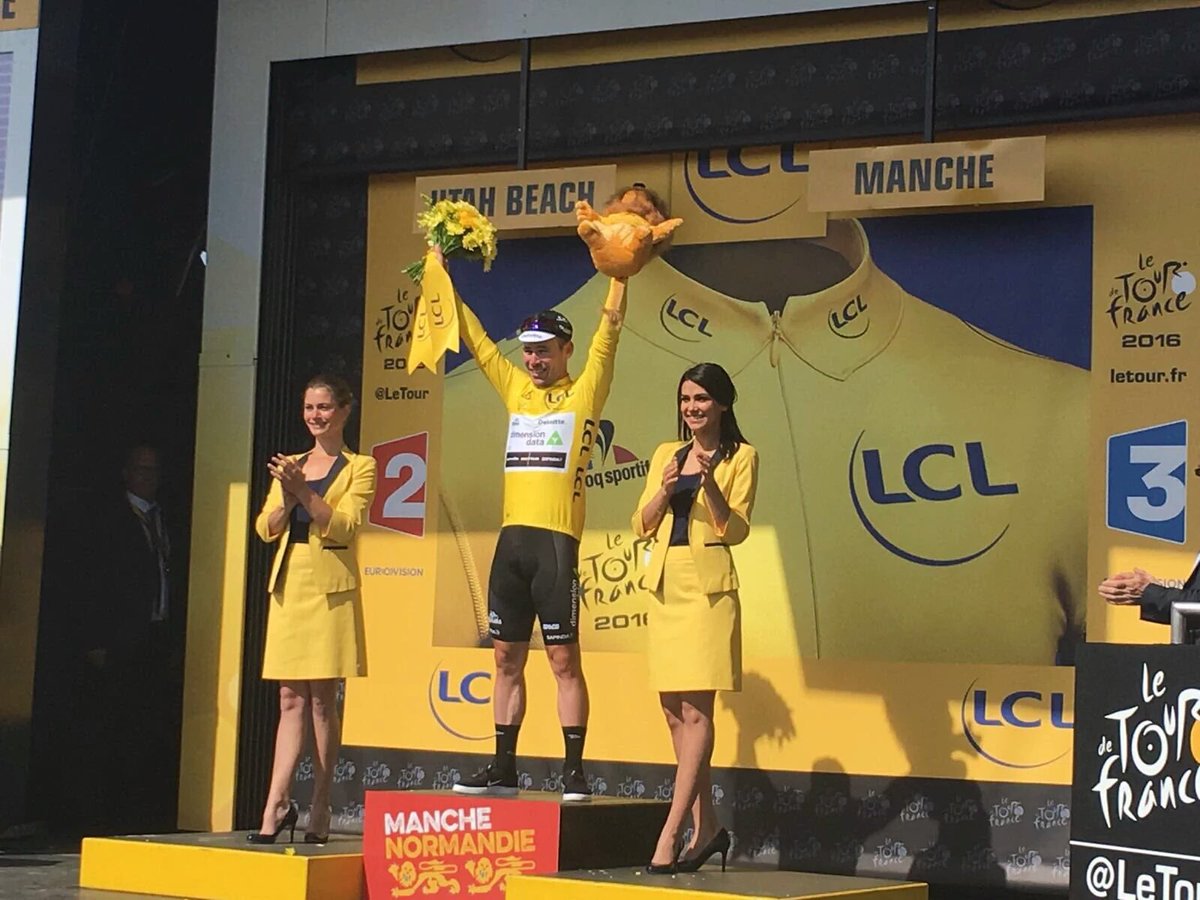 "I'm glad that I was able to stay on my bike, but it took some stunt work. The Katusha rider in front of me hit a spectator and crashed hard. I touched him, but didn't crash, fortunately.
We did not have many men left, so it was hard to stay in front. We succeeded in our aim to take the first positions in the race, but it was too chaotic to stay there. It was a fun day, today, though. I enjoyed the chaos."
Timo Roosen: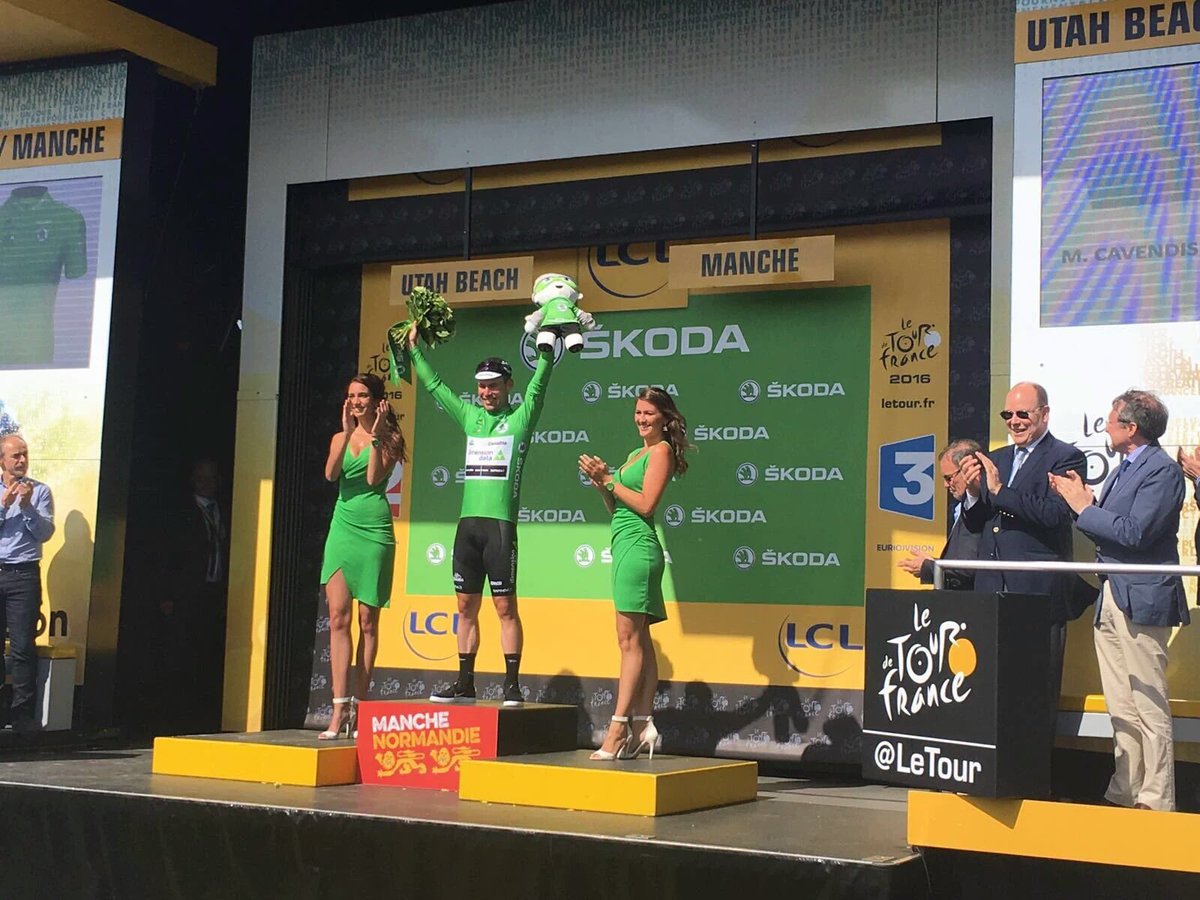 I tried to stay with my team-mates, but slipped away in a turn. It was important to stay together, so you take some risks. It's a shame that I crashed. You're fighting for the best spot the whole day. Now, my knee is a little sore, but that won't bother me too long."
Robert Wagner:
"I lost Sep Vanmarcke and Maarten Wynants. If I would have been able to stay with them, we would have had a good chance. It's very hard to prepare the sprint when it's this chaotic. The overall riders are in front with their trains, as well. That's a big difference with other races."
Edward Theuns:
"This feels a bit like a victory for me. I was feeling good, and Fabian (Cancellara) and Jasper (Stuyven) helped me in the last 15 kilometers to stay at the front. I had to spend a little bit too much energy at the very end to get on the wheels of the real top sprinters, and that is maybe the power I missed at the end.
I had to sprint a little to get on Kittel's wheel. With 400 meters to go maybe I was dreaming a little to win, but really I felt just holding the wheel was the maximum I could do. I am very happy with this. It is incredible.
I want to prophesize myself as a sprinter, and I think putting myself between these sprinters is for me a big step and maybe next time I can beat one of them. It was close, I think Greipel came over me in the end, but the rest were losing speed because it was a long sprint.
It was hectic, and I had to come from far to get in the best position. The other guys have built a train just for this and then it is not easy to get in good position. That little bit going into the wind might have cost me some power in the end, but still it is very satisfying to be there."
Team Sky DS Servais Knaven:
"We came through the stage fairly okay today, even though we had Luke and G both involved in crashes. They'll be a bit sore but it's nothing too serious and they'll both be good to go tomorrow.
Froomey was in a good position in the final and didn't lose time so that's good. Talking with the guys it was less hectic than they expected, which was a pleasant surprise. Today was pretty straightforward but for sure it will pick up again in the next few flat stages.
Tomorrow we'll see some gaps for sure, but I don't think the GC guys will lose time on each other. It's not a super hard finish compared to what we'll see in the race, but if you're not in a good position heading into the final kilometres then you can lose time. It's always a big fight."
Winner Anacona:
"It was a long day, compared to previous TdF opening stages; also one with lots of stress, nerves and a pretty fast pace. The turns and different roads, combined with the competitivity of these first-week finishes caused some crashes, as we saw. Fortunately, we didn't suffer any consequences; it's good to have got our legs spinning at last, things should go better for us in what's to come. The race has just started, three long weeks are still ahead with tough rivals alongside us. We're well prepared and we will continue to work as we did today to keep Nairo well protected before the mountains.
It was a big fight in the last five kilometers. Everyone wanted to be there, even the GC guys fought hard to get at the front. My boys where very strong, did a great lead-out and kept me well-positioned. Because of the crazy finale, I had to start the sprint from left side and go really early; that made the difference today, because Mark started his sprint later. When you are in the wind and someone is coming from behind, there's no chance to keep up. Of course I am disappointed, because it was my goal to win, but I must congratulate Mark; he's one of the fastest guys in the world and it's no shame to lose to him. On the up side, the team worked well, I'm satisfied with how my legs felt and we are sure more chances will come in the next days", Marcel Kittel said after the finish in Utah Beach, where a Tour de France ended for the first time in history.
Paul Voss:
"Gave it a try in the breakaway and ended up in this jersey letourdefrance!"
MORE TO COME
1 Cavendish
2 Kittel
3 Sagan
4 Greipel
5 Theuns
6 Laporte
7 Coquard
8 Kristoff
9 McLay
10 Henderson
JERSEYS
Yellow and Green:
Mark Cavendish
Polka Dot
: Paul Voss
White
: Eduard Theuns