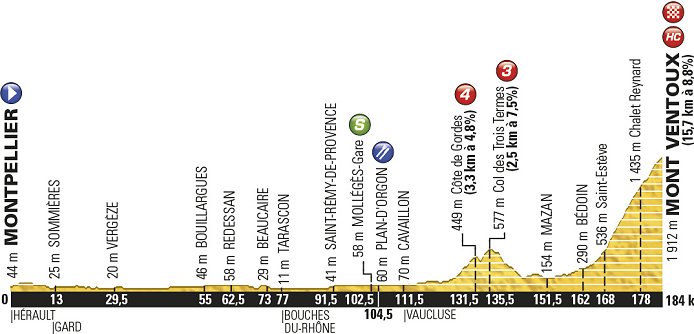 Stage 11, so windy and nervous wasn't finished yet and the race organisation already put out this press release: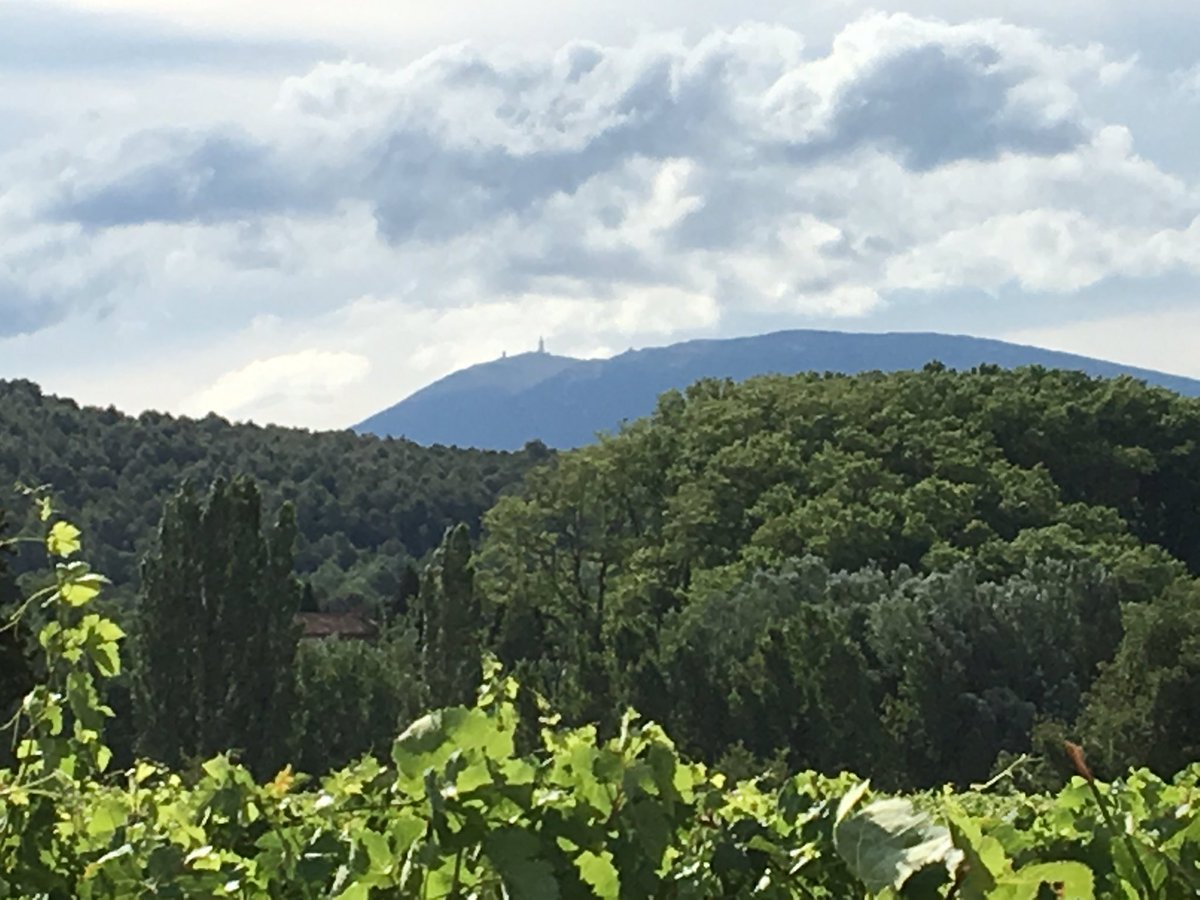 "Stage 12 is shorten due to weather conditions at the top of Mont Ventoux, the finish will be at Chalet Reynard".
Of course

riders regret to miss the iconic finish atop

but looking at it a little closer

the hardest part of the climb is before

the Chalet Reynard and

a shorter race will make it even more explosive.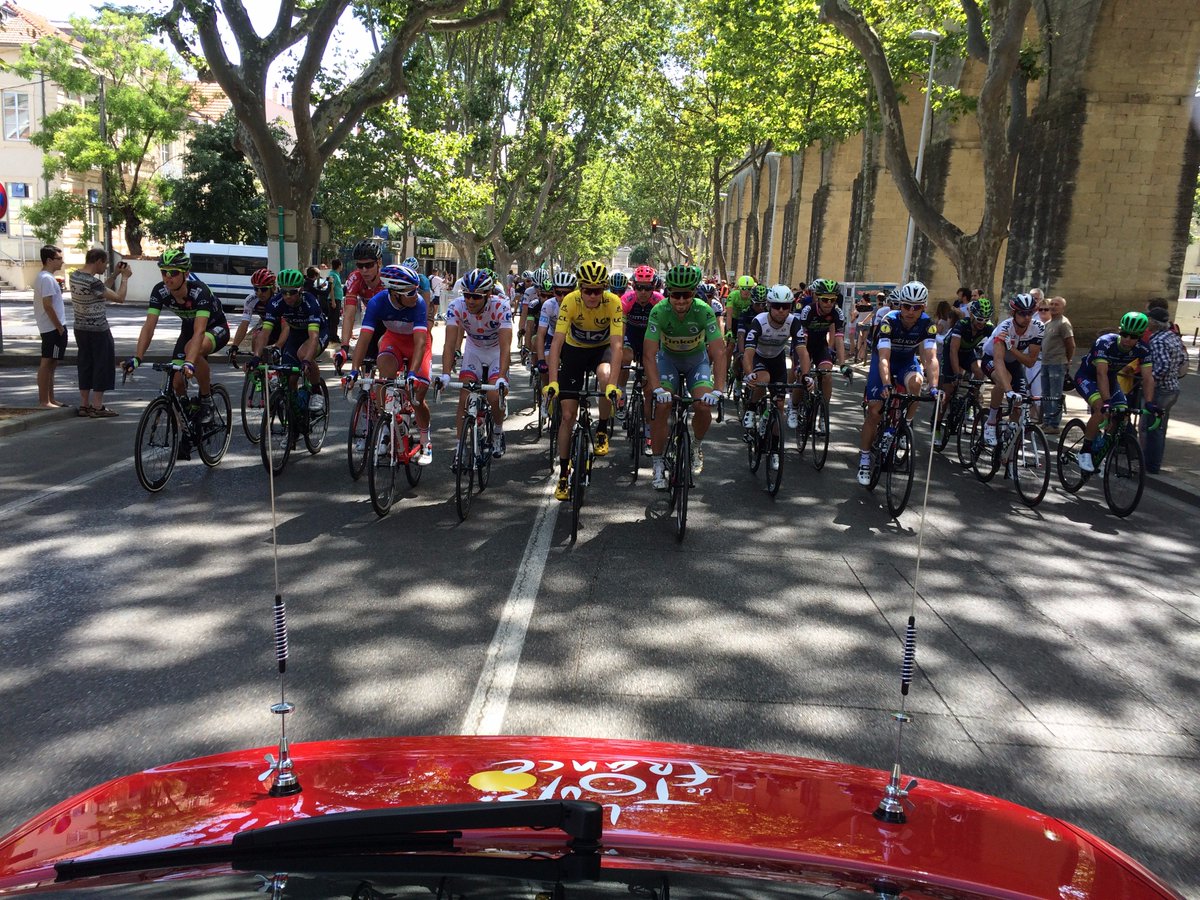 The

wind

is going to play a role

a

lready in the first hours

, nervous and stressing again, and somebody could try to anticipate.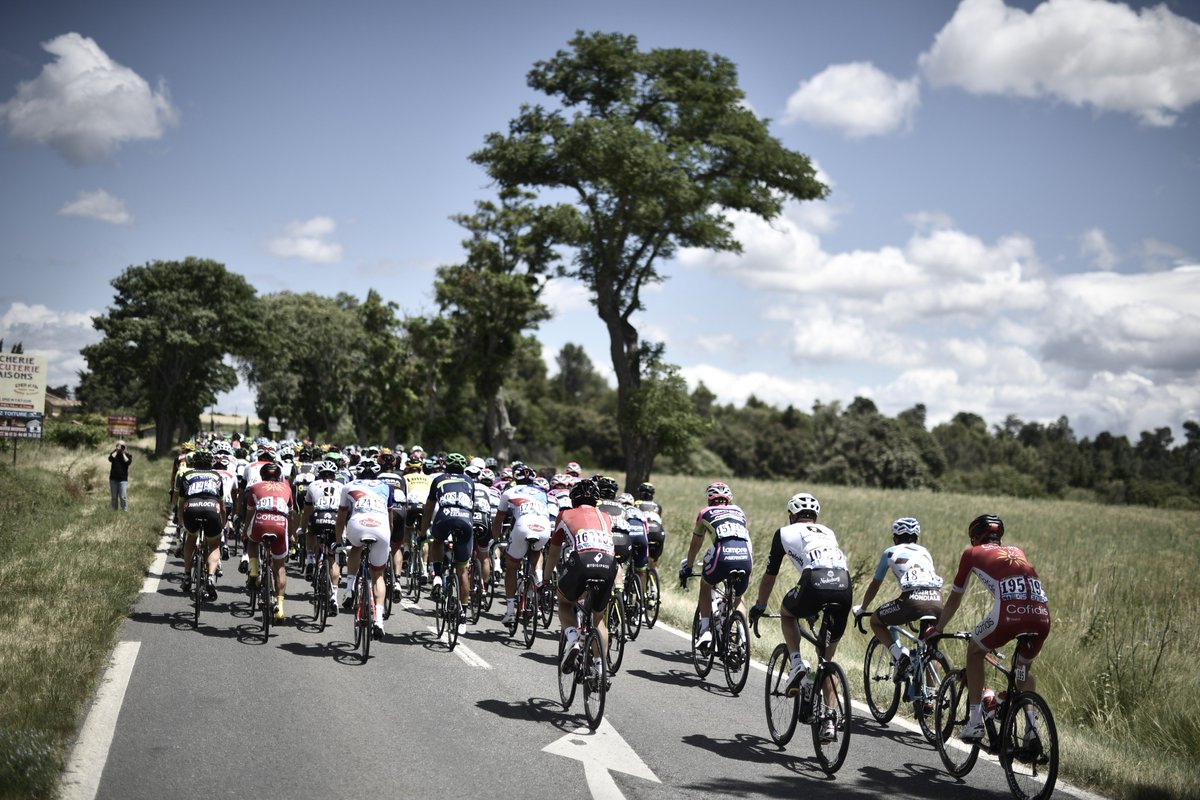 After 13 km

Lindeman, Vanmarkce, Clement, Pauwels, Teklehaimanot, Greipel, De Gendt, Coquard, Chavanel, Keisse, Sorensen,

Navarro and Lemoine

have 1'15" on

Rosa, Gautier, Slagter, Preidler, Voss and Breen

, 3'20" on

Losada

and 5'25" on the peloton. Now

Voss

has been dropped from the front group due to a

puncture

. The peloton already follows at 6'15".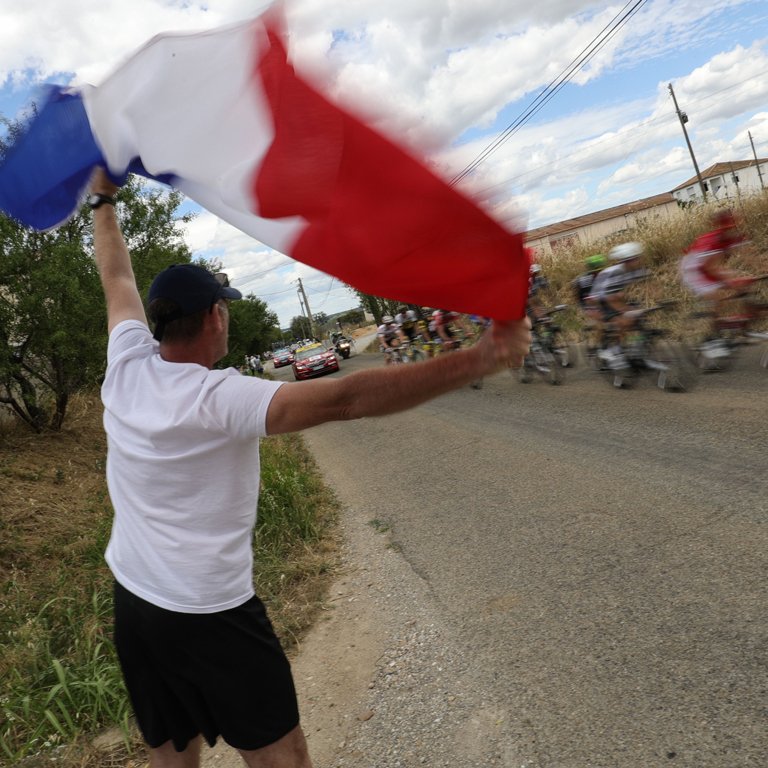 After 35 km the

gap is 11'35",

the chasing group is 4'35" behind. 115 km to go the gap is

15'30"

! but

it keeps growing

: 95 km to go it's over 18''! There we go:

Etixx and Sky have split the peloton

in 4 groups.

Barguil, Sagan,

Meintjes, Nibali

and Majka

missed the move and are

chasing

1' behind.

Trek

is actively in front.

Intermediate sprint

: Andre

Greipel

wins on Iljo Keisse.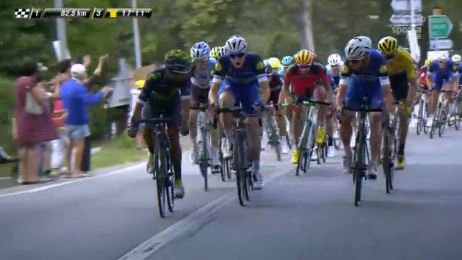 64 km to go Fabio

Aru punctures

, Fulsang gives him a too big bike because

the team car can't pass due to the 'barrage'.

He's 1' behind in Barguil's group. The news comes that Angelo

Tulik abandoned

.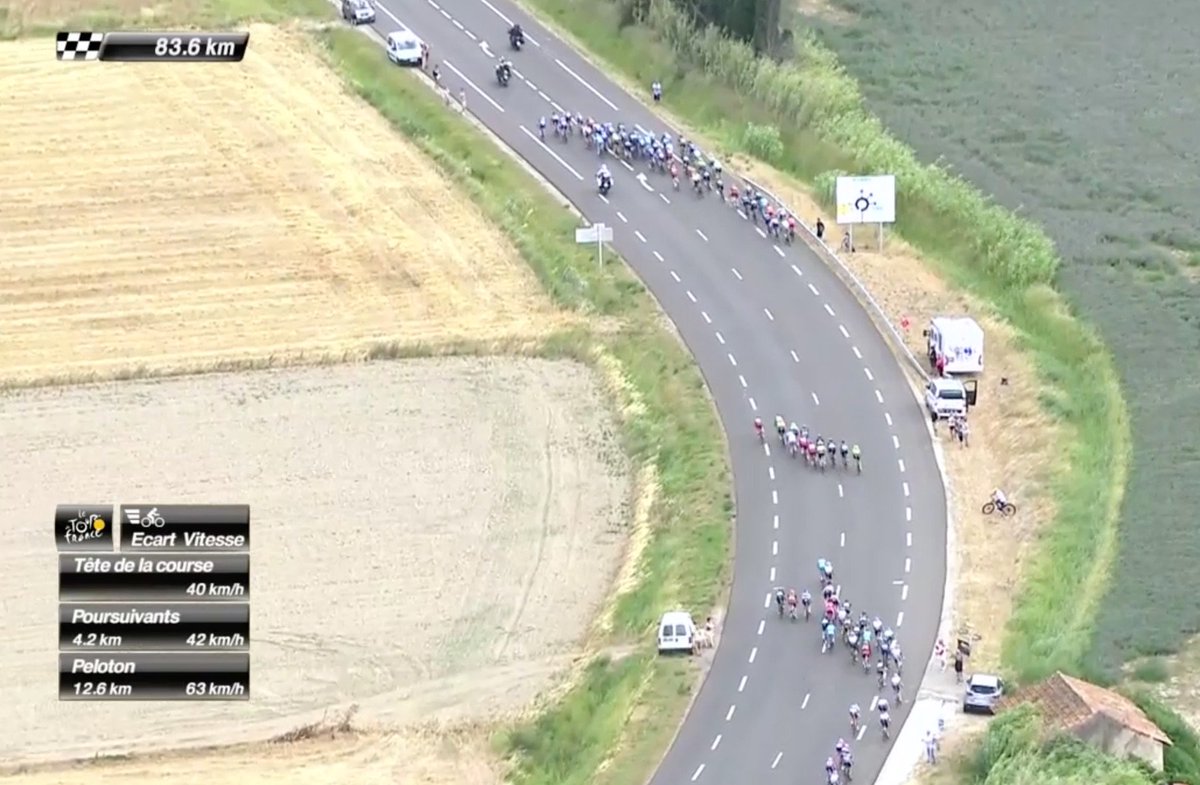 50 km to go

Aru managed to get his spare bike

but still has to come bcak, with the help of just one mate, Lutshenko. Rosa is in the first chasing group but Astana doesn't stop him and Aru comes back on his own. Côte de Gordes, f

irst KOM

, 4th cat.: Thomas

De Gendt

takes the one point. The first part of the peloton is 9' behind. All

BMC

is at the front and pulling.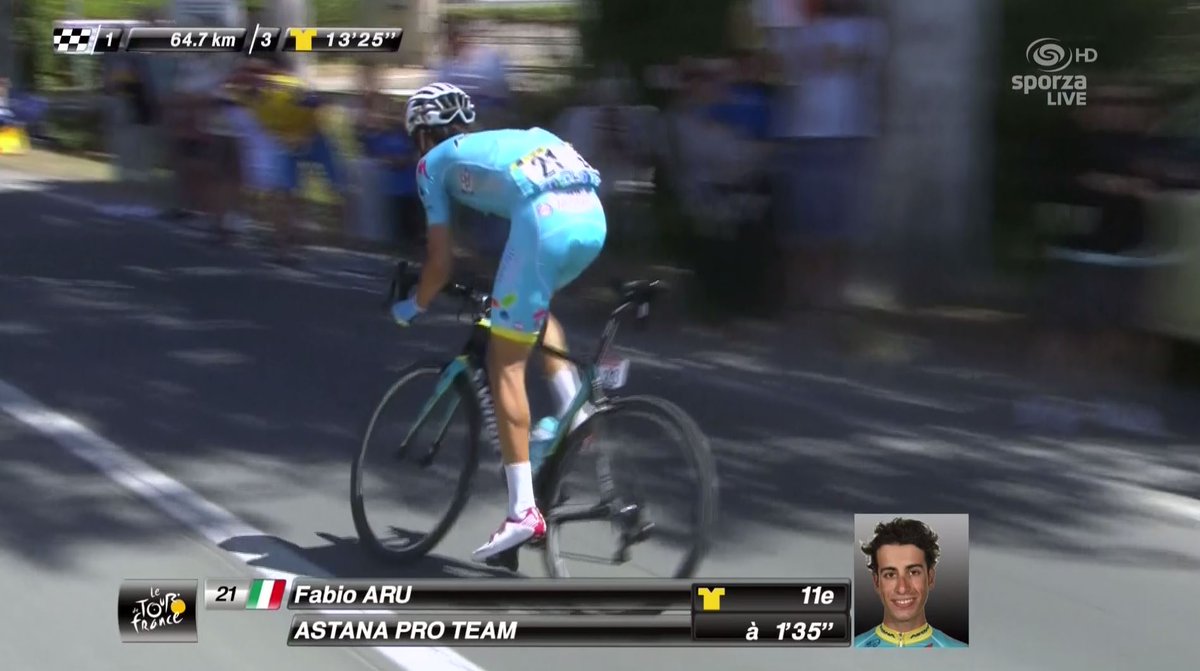 Col des Trois Termes,

second KOM

, 3rd cat.: Thomas

De Gendt

is 1st again. Voss, Slagter, Preidler and Rosa get

caught

.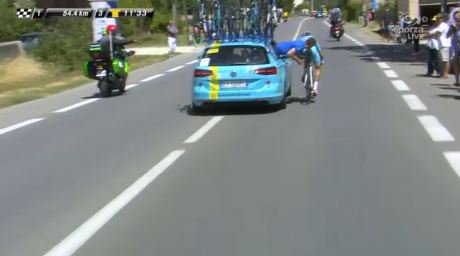 The Abbaye de Sénanque, smelling lavender, emerges from the intense green of the forest. The Mont Ventoux is coming.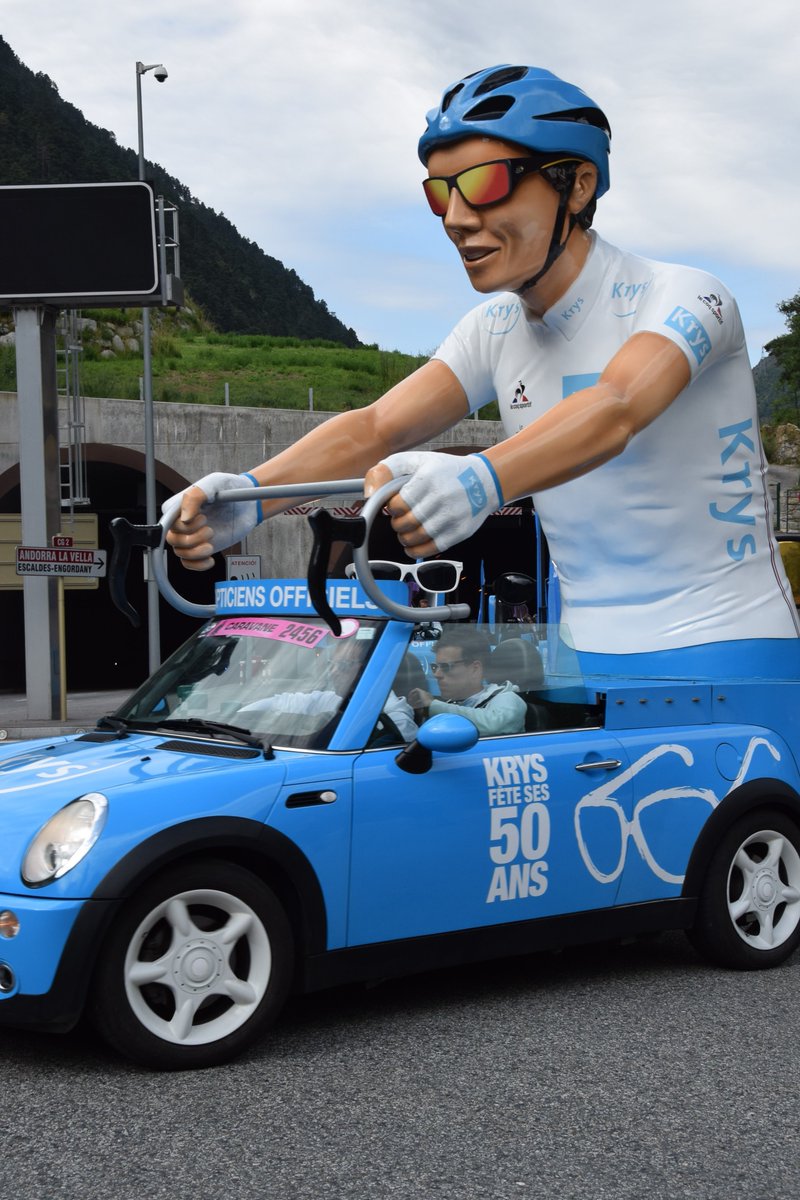 Gerrans falls

while leading in the descent. His bike brings down Ian

Stannard

and

Luke Rowe.

The group slows down and the gap increases. The

peloton regrouped behind the break. Fabio Aru has to change his bike again, he comes quickly back escorted by the whole Astana.

Pinot

instead is in a group

2' behind

. 20 km to the break-away still have more than 9'. Coquard has lost contact. In the peloton

Team Movistar

takes the lead: is Nairo

Quintana going to attack?

he should, he must.

Bedoin

, 15 km to go, on the

first slopes of the Mont Ventoux

. André Greipel goes solo!

1

2 km to go the gap is 8'31". In the peloton

Nibali has got a problem

: a plastic sacket in his gear... In front

Greipel is caught and dropped

.
Pic by Mik Watkins https://commons.wikimedia.org/w/index.php?curid=28774527

On the climb

. Lemoine, Chavanel, Clement and Teklehaimanot are losing contact.

De Gendt, Navarro, Lindeman and Pauwels

are still in front.

Rolland attacks

from the peloton. He's 15th in GC.

Team Sky is leading.

F. Schleck is dropped. Rolland is caught.

Pauwels and Navarro

drop De Gendt.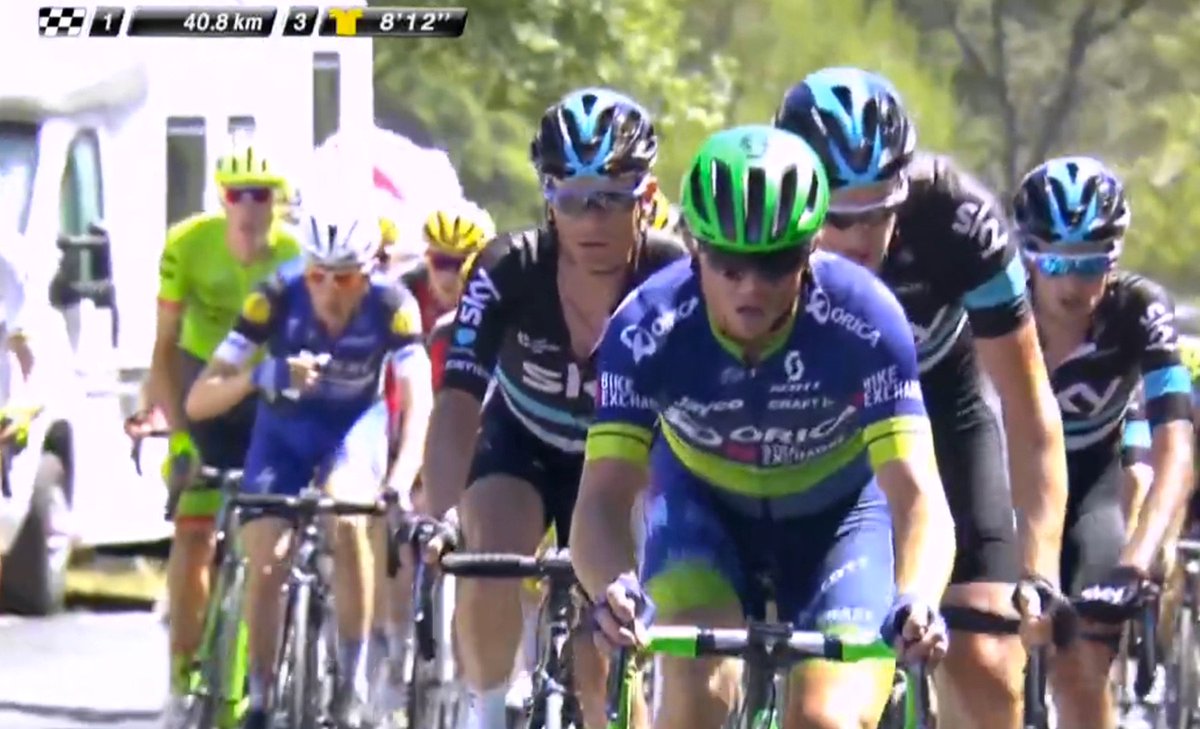 In the peloton

Kiryenka

has finished his work and

Landa

takes his place.

The whole Team Sky is there, Chris Froome on the wheels.

6 km to go

Pantano

attacks,

Valverde

follows and goes

solo

. Thomas and Nieve are dropped but

Team Sky

has no problem to

close the gap

. Rolland and Pantano are dropped.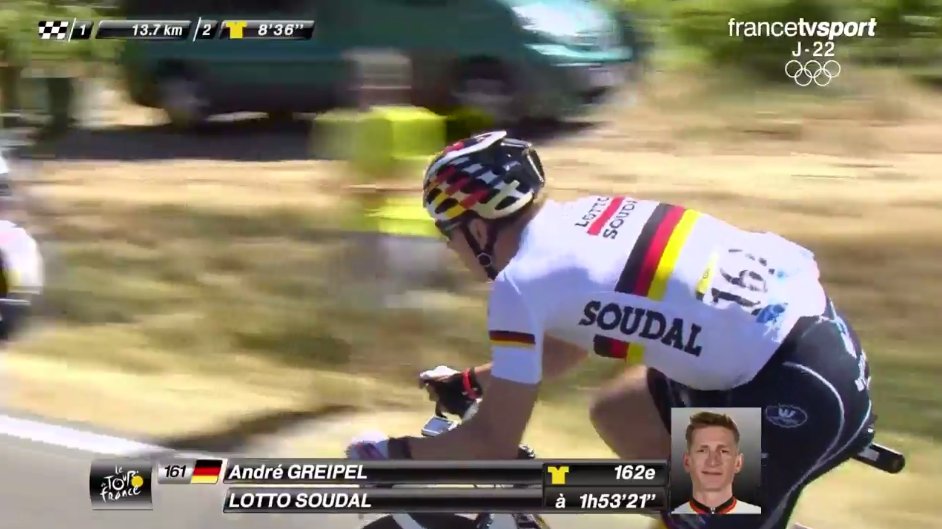 5 km to go

Nairo Quintana attacks. Henao closes the gap.

At the back Daniel

Martin is in trouble

. 4 km to go

Quintana attacks again but Poels closes the gap.

There is

a strong head wind

.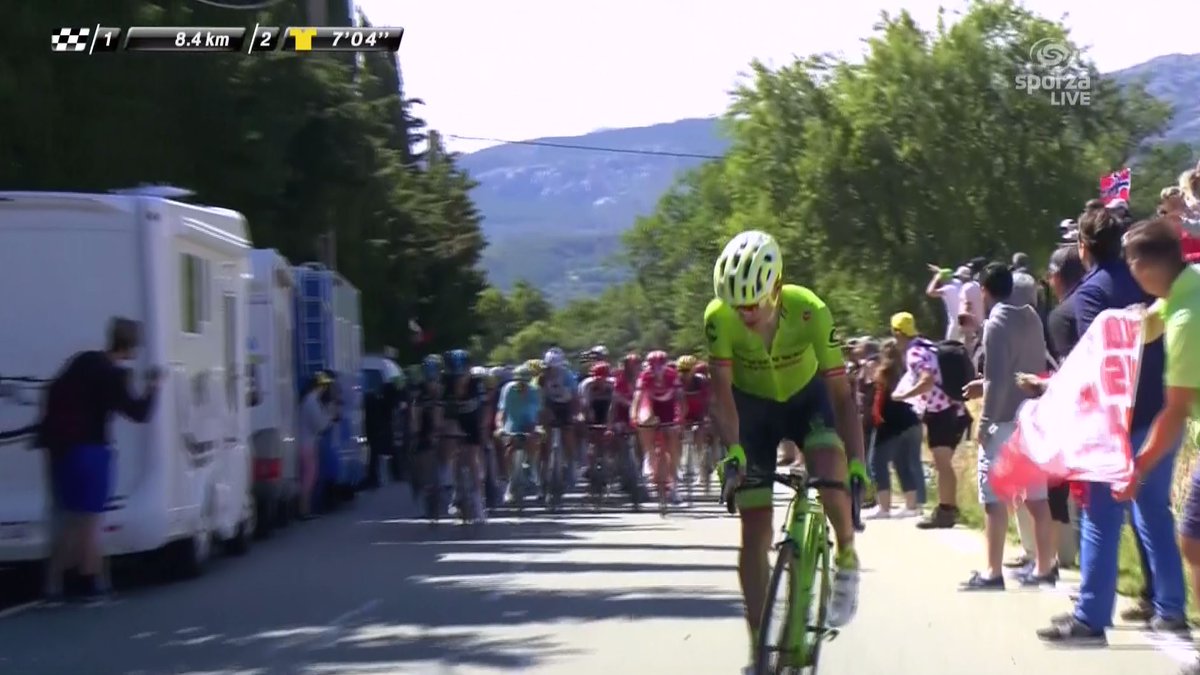 In front De Gendt attacks, Pauwels follows,

Navarro is dropped.

Barguil lost contact

with the GC riders' group. Bauke Mollema is still there. 1,5 km to go

Chris Froome attacks and only Richie Porte can follows

. Quintana tries to react but in vain.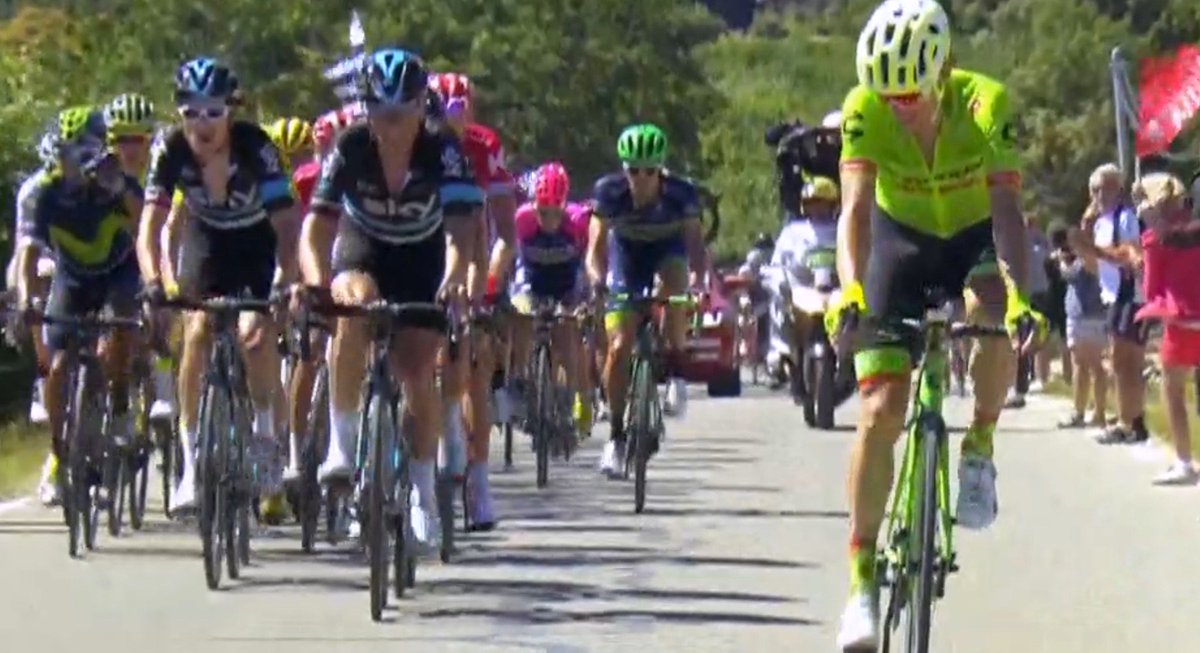 Bauke
Mollema attacks and joins Froome and Porte. Bravo!
In front
Navarro is back
with Pauwels and De Gendt. At the last km.

De Gendt launches a long long sprint and wins

.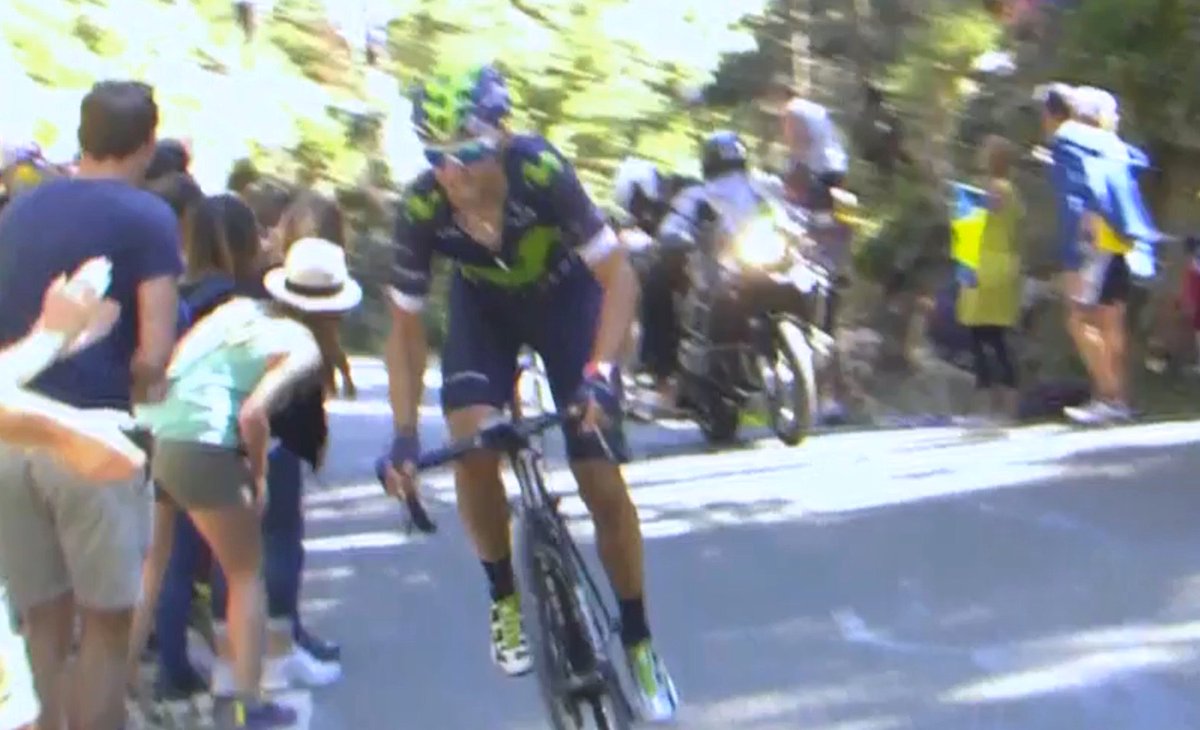 Froome, Porte and Mollema fly toward the finish

.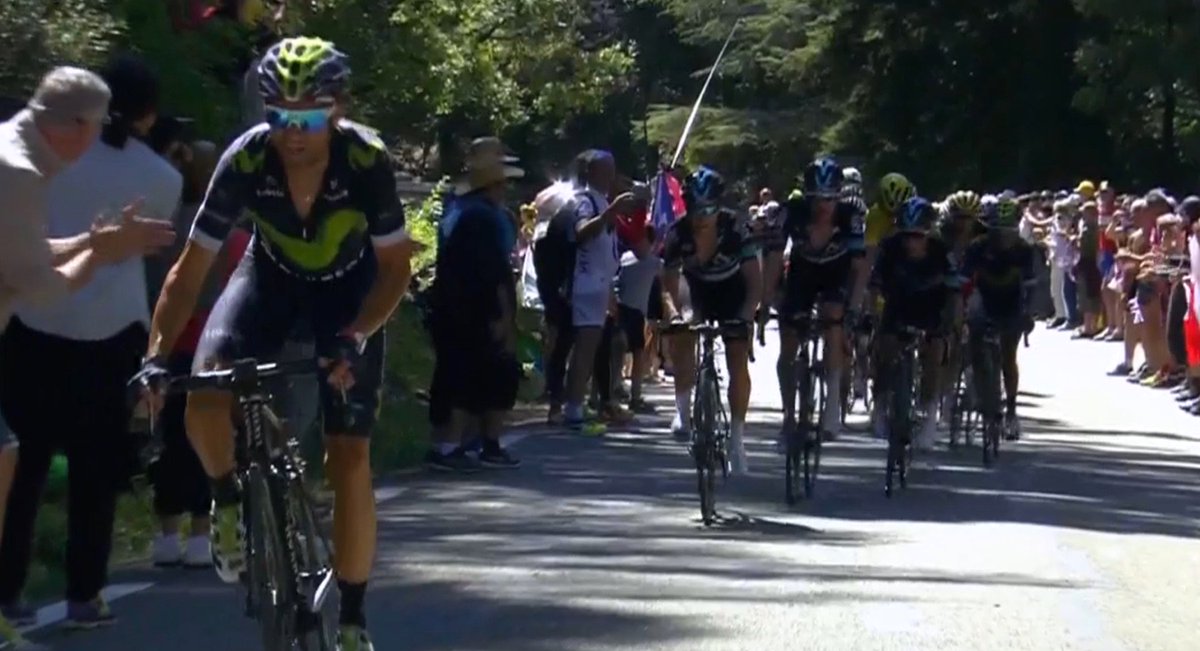 NO WAY! The crowd is in the middle of the road!!! Porte, Mollema and Froome crash against a motorbike! Now Froome is running on foot!!!

.

NO WAY!!! He asks for a bike!!!

Mollema goes solo.

Froome gets a bike but it's too small. He stops again and finally the team car gives him his bike. He lost a lot. In my opinion

the organisation MUST do something

here. It's

unaccetable

that Froome is stripped of the Yellow Jersey because of such an accident! UPDATE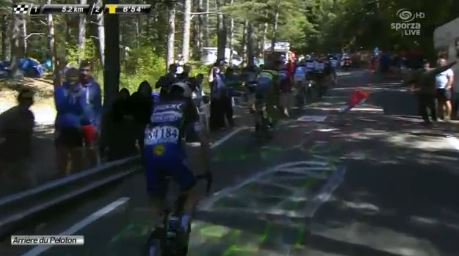 The TdF

Jury decided that Froome keeps his Yellow

. I think it's the right decision. Chris Froome:

"Awaiting jury decision… @LeTour #TDF"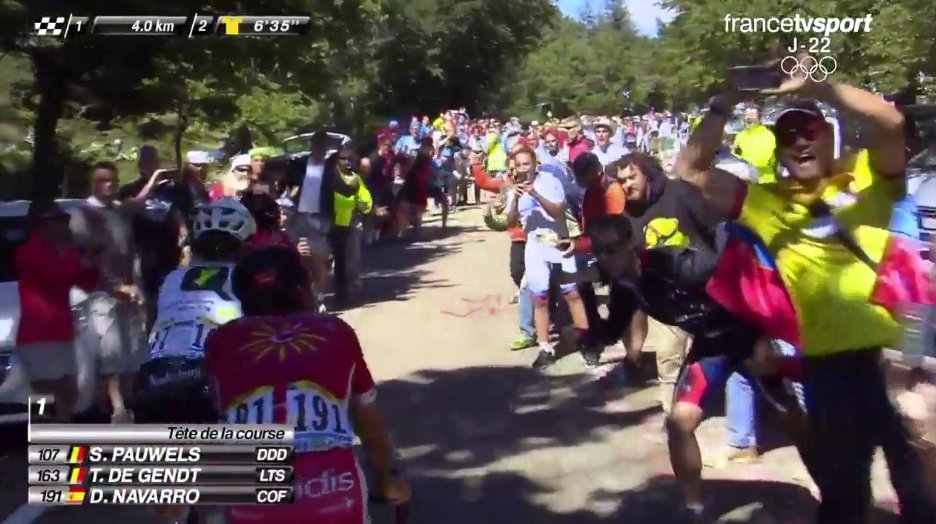 "Still in the #YellowJersey #TDF"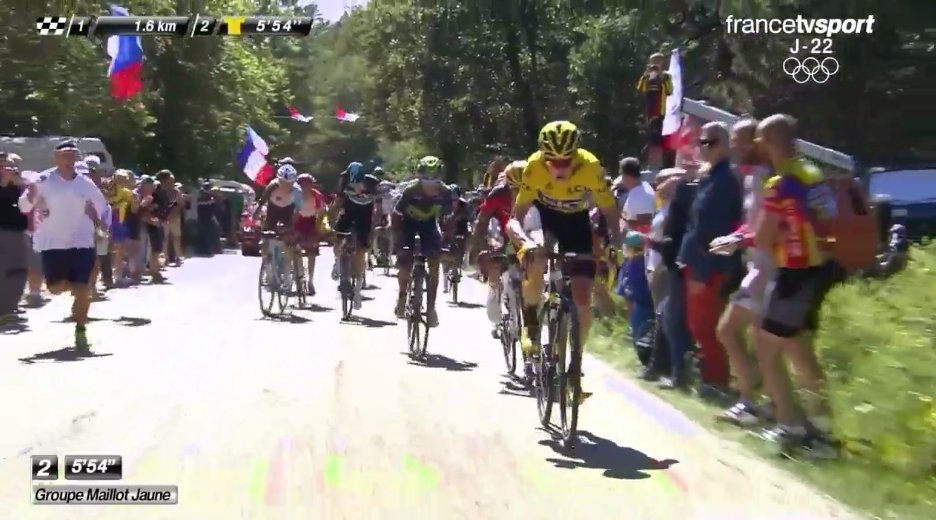 "What a final. In the final kilometre, the moto braked suddenly in front of us, and Richie, Bauke and I crashed into it, and then the moto behind me ran over my bike and broke it.
I said to myself 'I have no bike'. And I knew the car with my bike was 5 minutes behind on the road, so I need to run.
I'm very happy with the commissaires' decision. I think it was correct so thank you to them."
"Mount Ventoux always throws up something different and today was no exception.
Obviously it's really unfortunate what happened in the last couple of kilometres, but ultimately I think common sense has prevailed and the commissaires have come to the right decision, so I'd like to thank them for that.
You always have to expect the unexpected at the Tour and I've said all along that this would be my biggest challenge yet. Now I'm just looking forward to tomorrow's time trial"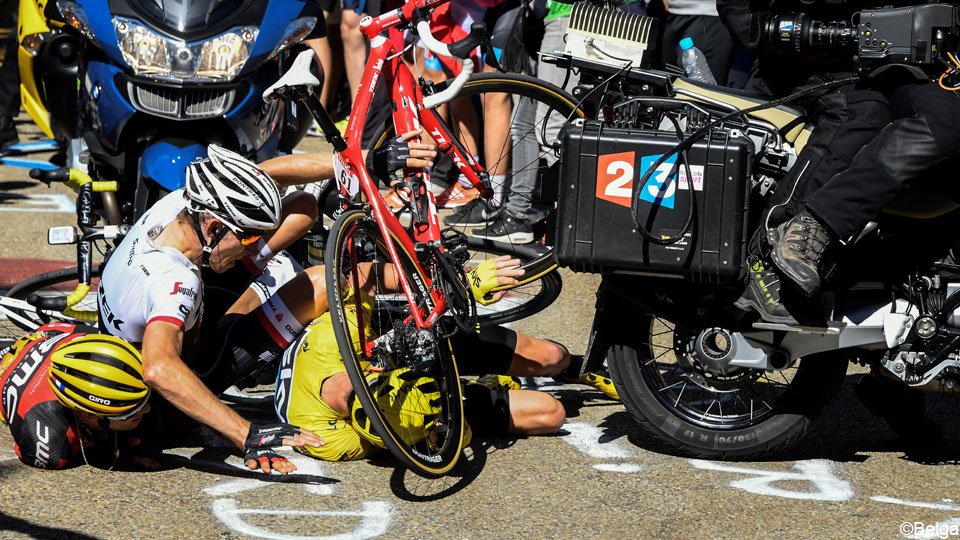 Bauke Mollema:
"This may NOT happen in the biggest race of the World!! There has been too many accidents with motos last year!"
"It happened so fast when there was just one kilometre to go or less, and suddenly we were on the ground. I don't know really what happened. I think there was a moto in the middle of the road, maybe because there were so many people there. From then on I was trying to get back on my bike. I took the bike and just didn't think about anything. I just went as fast as possible to the finish. We all crashed, then it was chaos. There was a motorbike in the middleof the road. I don't know why or what he was doing there. But we all crashed, and in my opinion this cannot happen in the last kilometre.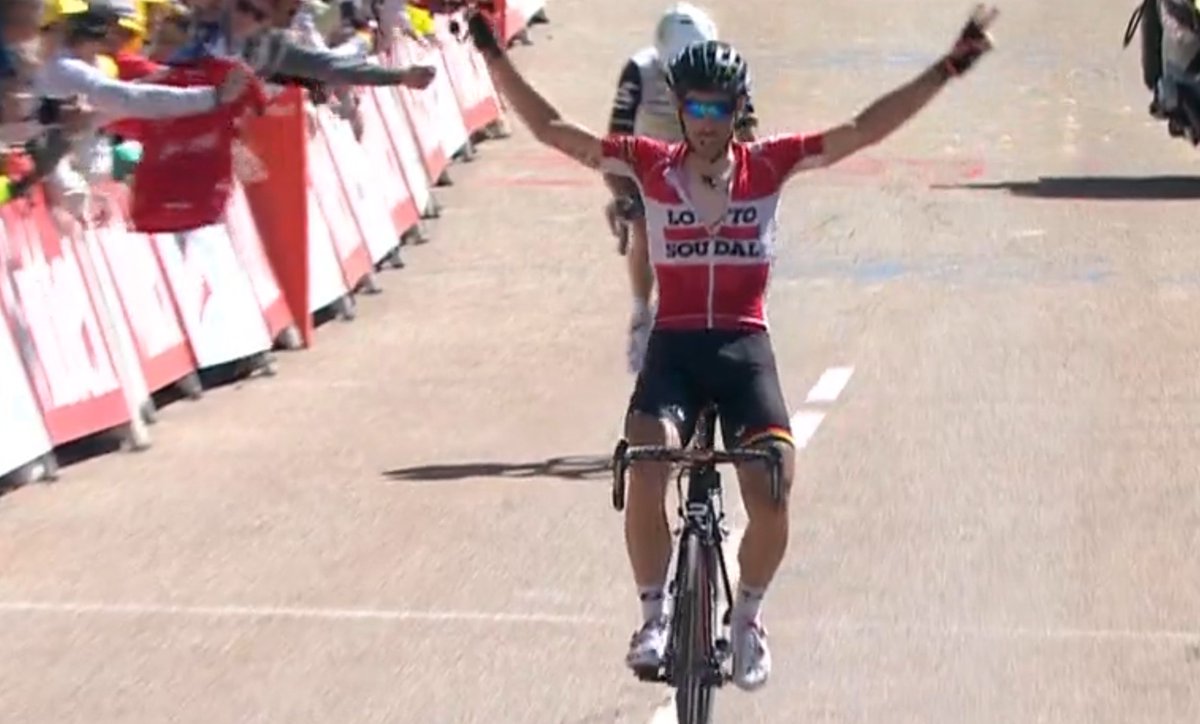 The UCI should consider this crash. Yeah. I don't know. Normally there's only a rule for the flat stages if something like this happens n the last kilometre. So I think it's going to be difficult because then they have to do it next time again. I think Froome was just really unlucky today. We'll see what happens, and I'll juts focus on the time trial tomorrow. It was just 800 metres to go, so that's not the moment to think about anything. I just went full gas to the finish line, then after we can see what happened or what to do with the results."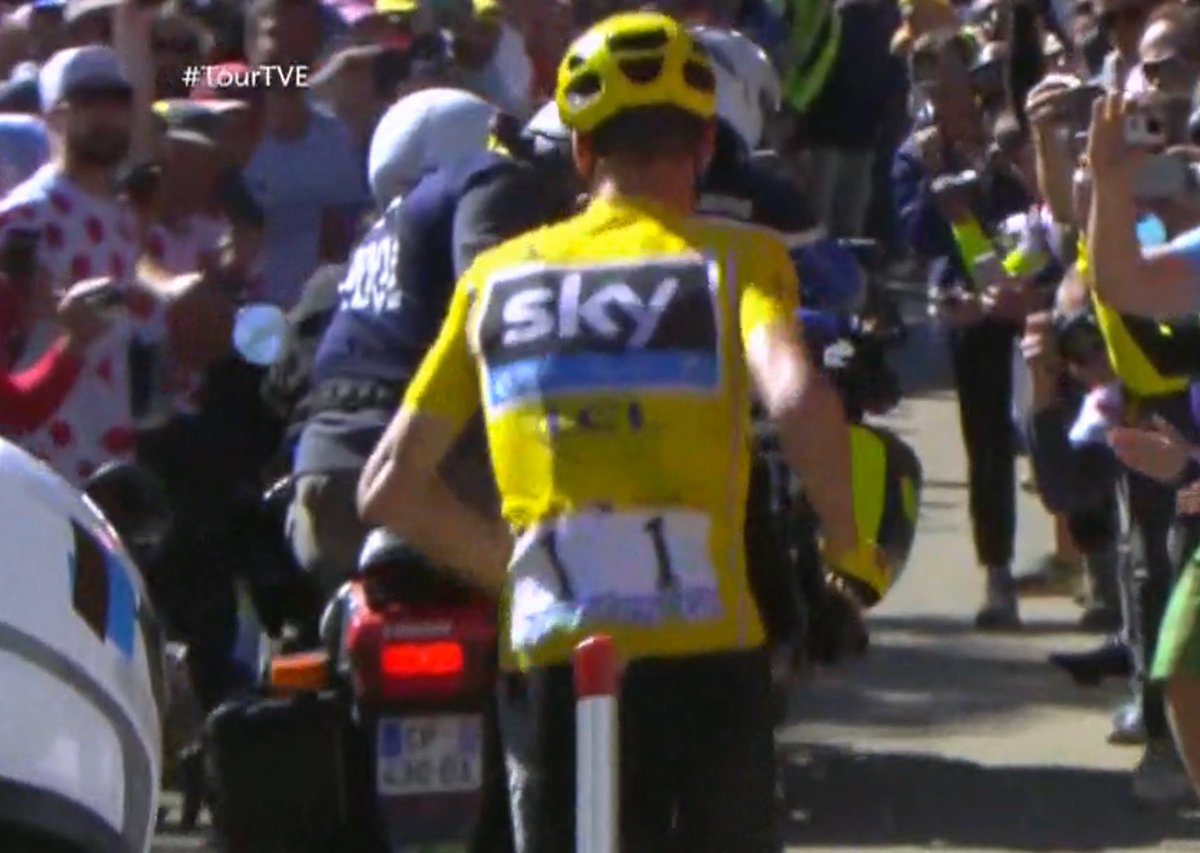 "What's going on? Seems like everybody gets time bonuses. I wonder what would have happened if I would have been the only one to go down..."
Thomas De Gendt:
"I don't know what happened, I just saw it on TV. There were a lot of people in the last kilometre. They should think of doing something about it. I got pushed, Serge got pushed, we almost crashed. There wasn't even room for one moto.
I had the feeling that I have to go in the breakaway today. We knew it was a day either three guys would go in the break and they would take them back with 20km to go, or there's a big break and my feelings said to go. My feeling was right. I dedicate this to Stig Broeckx. We think about him every day, and we hope that his situation gets better in the next days, weeks or months. We fight for Stig.
How does this compare to your Giro d'Italia stage win on the Stelvio? I think I put them on equal. Both were nice victories. This is of course the Tour, but the Stelvio was more emotional for me. I think I put them on the same level."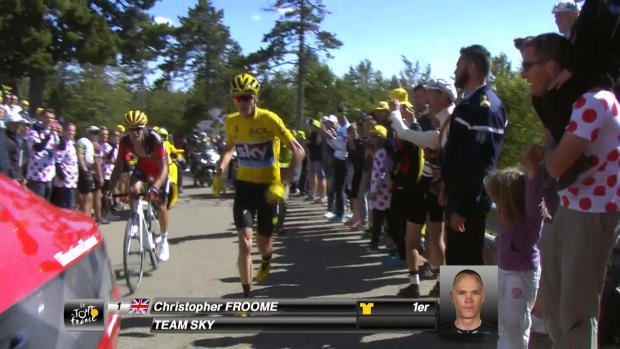 Richie Porte:
"The crowd was just all on the road and a motor bike stopped right in front of us and we had nowhere to go. The next minute I went straight over the top of the motorbike. It was just a mess.
Froome was on my wheel and went straight into me. I don't know what they can do but they need to do something about it because it's not fair. One minute were 23 seconds in front and then the next thing, for something so silly, everybody was back on us.
The results can't stand, surely the jury has to look at it and use some sort of discretion. If you can't control the crowds what can you control? It's not really the motorbikes, it's the crowd. They're just in your face the whole time, pushing riders and at the top there, that was just crazy."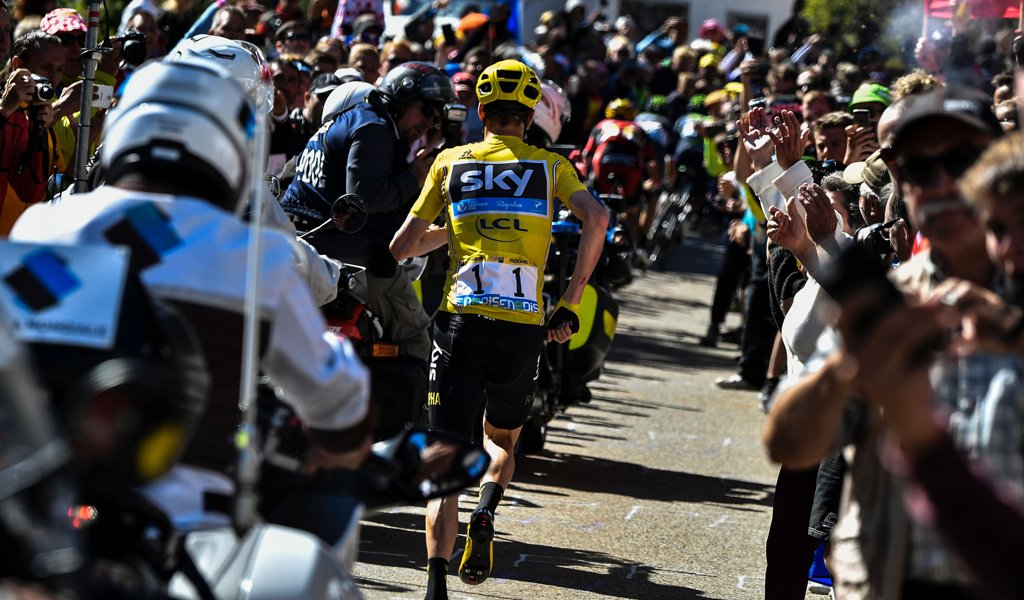 "It's the decision they had to take. It's already out of control. I agree that you come to the race, you have a good time but you don't need to be running beside the riders, you don't need to hitting riders, pushing riders. Things have got to change and I can't believe there weren't barriers there. At the end of the day I've trained so hard for this and yeah okay now I get the same time as Mollema, but I also crashed and now I'm sore. Tomorrow's a crucial stage as well and it remains to be seen how I'll pull up. It's bitterly disappointing but at the end of the day it's the right decision by the UCI jury. We love the fans and 99 percent of them are brilliant but why do some of them need to take their selfies and run along beside us? There's passion and there's stupidity and it's not such a fine line between them."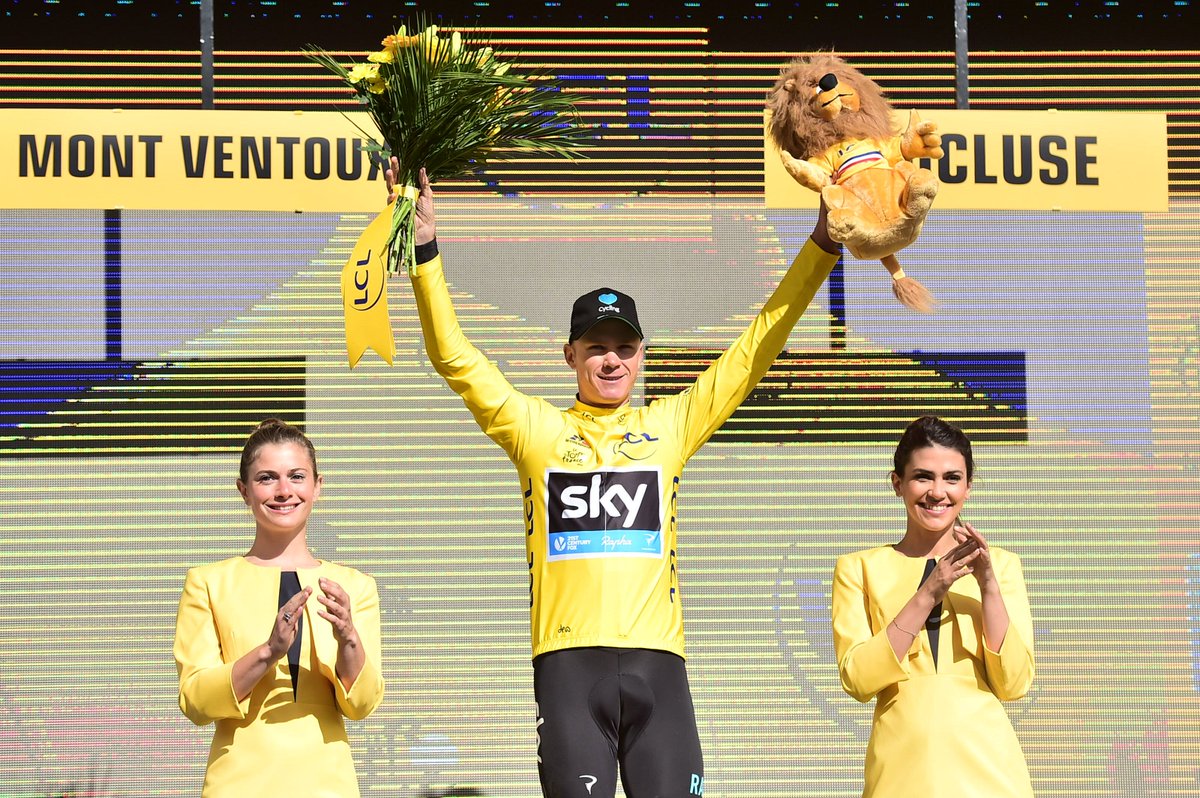 Adam Yates:
"I wouldn't really want to take the yellow jersey like that, so I'm happy with the decision. If I was in Froome's position and I'd lost the jersey like that, I'd have wanted the same decision as him. It was pretty dangerous in the last kilometre but the fans make the sport and there's not many sports where fans can get so close to the athletes. It is what it is. I wouldn't have wanted to take the jersey like that. Froome is the rightful owner of the yellow jersey."
Joaquim Rodriguez:
"The wind on the last climb certainly made it tricky, but there were so many people out there. They made a really big problem. I really dont' know what's going on with this Tour. Personally, I don't think it is under control at all.
There were a lot of difficulties in the last couple of kilometers because of the position of people. I was feeling good, but it is disappointing."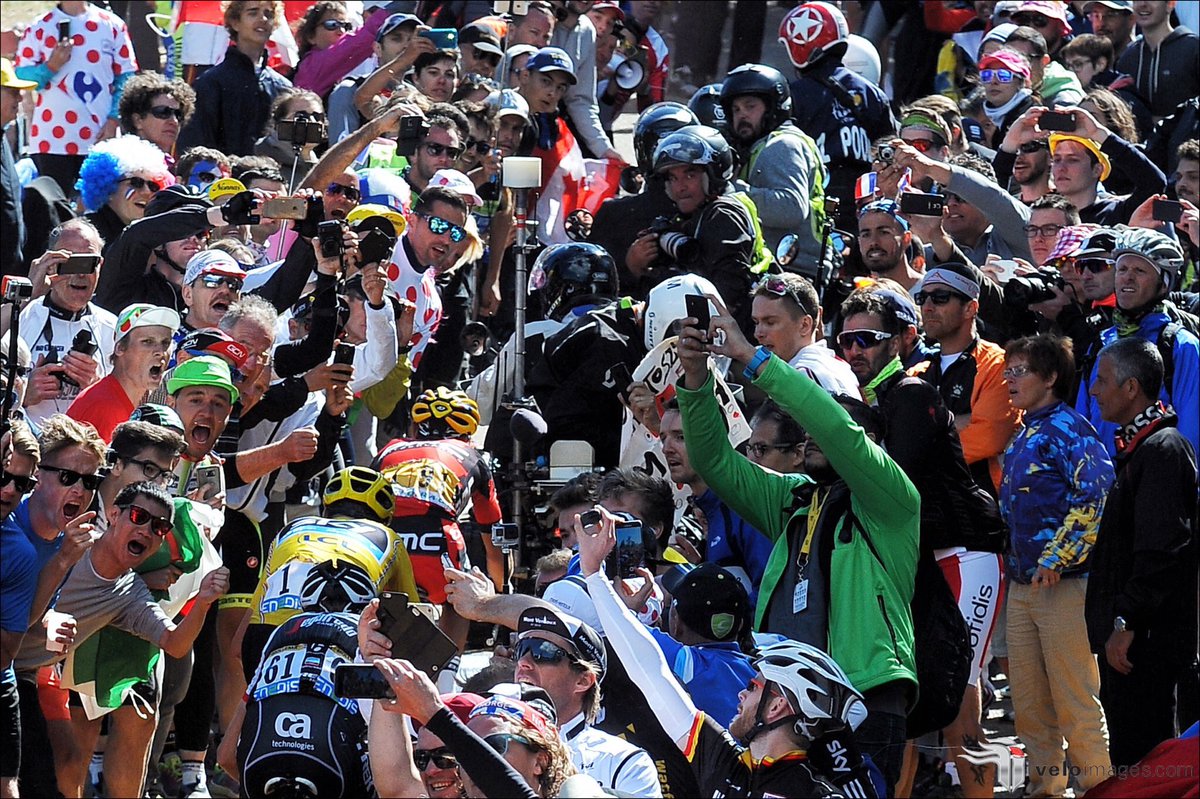 Romain Bardet:
"We tried to remain as focused as we could today. I had some disappointment because I had to really fight back at the bottom of the Ventoux. But what I saw on Ventoux was it wasn't the best conditions on the bike. There were so many motorbikes in the way, it wasn't safe. You had to brake when you were attacking. We need to have a long conversation about security here. It was unacceptable what happened today. I don't know what will happen with the maillot jaune. I have never seen anything like this on a bike race before.
There was a really good battle between the GC guys. I stayed just behind. I wanted to ride my own pace, I knew I couldn't be with the very best. I knew Porte and Froome would get away. I could feel my legs were getting better. I am hoping to be at my best in the last week."
Alejandro Valverde:
"It's an accident of the race but these things happen in sport. They hit the moto and fell, but these things happen in cycling.
We tried to save things as best we could. There's an interesting time trial coming tomorrow. "
Team Sky DS Nicolas Portal:
"There was no room for the motos or the riders to pass with the crowds. Chris's bike was broken in the crash and now we're waiting to see if commissaires decide to do something. I was blocked by the commissaires so i was behind Geraint Thomas when the incident happened. We were too far back. Everybody was blocked, including the Mavic neutral service car. It was a nightmare."
Peter Stetina:
"I was just riding up behind the favourites group and I had a gendarme basically stiff-arming people out of the way just to keep me upright. Guys like Froomey get in trouble for pushing someone out of the way, but it's ridiculous. Just before the climb a Portuguese flag got thrown in Markel Irizar's handlebars when we were going full gas in the crosswinds, and it's dangerous. It adds another element to the racing, and that's unfortunate that the fans are dictating the race more than the legs sometimes.
Somehow we've gotten this scene where everyone wants to get on TV for a party. You have guys dressed up in Borat costumes showing their ass, and it's more about themselves than supporting the race sometimes. I don't understand why you have to act like a buffoon.
It's energizing when they are there cheering for you, but it can be too much. It's a fine line."
Geraint Thomas:
"Are motos a problem at the race?
Well, obviously it as today for Froomey, but I didn't see it. I juts seen something on TV for like 10 seconds. But it's not ideal. I think Froomey as on a decent day, but from point of view the crowd were really close and stuff. But Like I said, I didn't see what happened up in front.
It's been normal. It's been the usual, with the odd person getting too close, but that's normal. Obviously, what happened today is unprecedented, really.
Frooome has good legs, and he's a fighter, so if he does lose however much time, it'll be all guns blazing tomorrow to get that back."
Dan Martin:
"Big thankyou to Etixx QuickStep boys for giving it all to protect me and even attack in the crosswinds today. #WayToRide"
"I felt good all day and the guys did a great job. Everybody was fully committed. I was good, but not good enough, and I must say I am gutted for losing some time. I lost a wheel when Sky decided to up the tempo, but I continued to ride hard, even if this meant going into the red. The Tour de France is not over, I'm not too far behind and I vow to fight. I'm the kind of rider who likes more a mountainous day than a big explosion effort, and fortunately such stages are yet to come."
Iljo Keisse:
"It was a pretty hard day. I saw about 20 riders going into the breakaway and then jumped. Six or seven of them were dropped in the echelons and the rest of us continued working together. When the team began pulling in the pack I stayed a little bit behind and on the climb I stopped and waited for Dan. When he joined me, I went full gas for around 1.5 kilometers, until I exploded. It was a hard day, but I am happy I could still do something for him."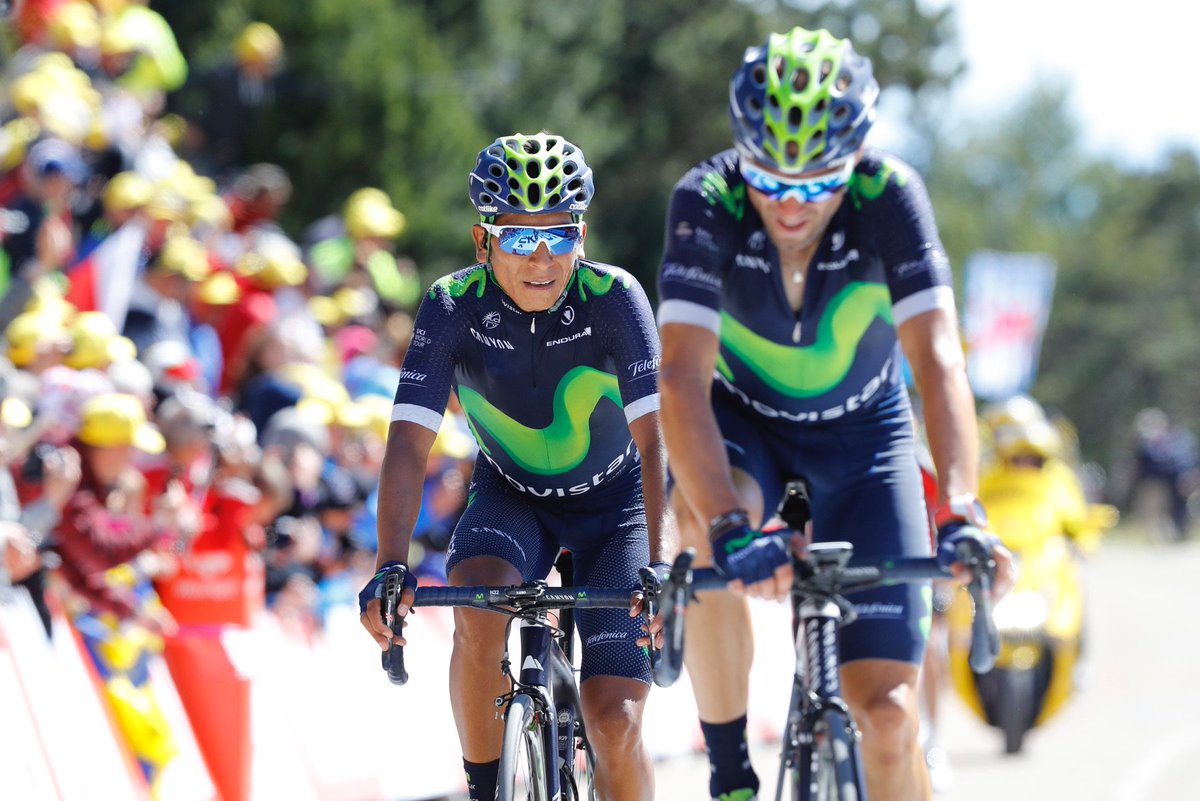 Nairo Quintana:
"What we saw today was disastrous. We came ahead of Froome and Porte after that problem they suffered and apparently we ended up losing not much time against them, arguably the most important rivals. To me and in hindsight, it seemed really premature to attack from where I did: there were gusty headwinds, I got caught really soon and wasted some energy which I missed at the end. It was a very demanding day: plenty of wind all stage, lots of horsepower - we came really out of energy into the final climb.
When I reached the pile-up, Mollema, Porte and Froome were already on the ground. I think it was the organisation to blame, with all the motors and the spectators - these are race circumstances, but surely we should improve that. For me, and considering how things fared for me against Froome some days ago, it's fine to be where I stand at the moment. I hope I can defend myself well in the TT."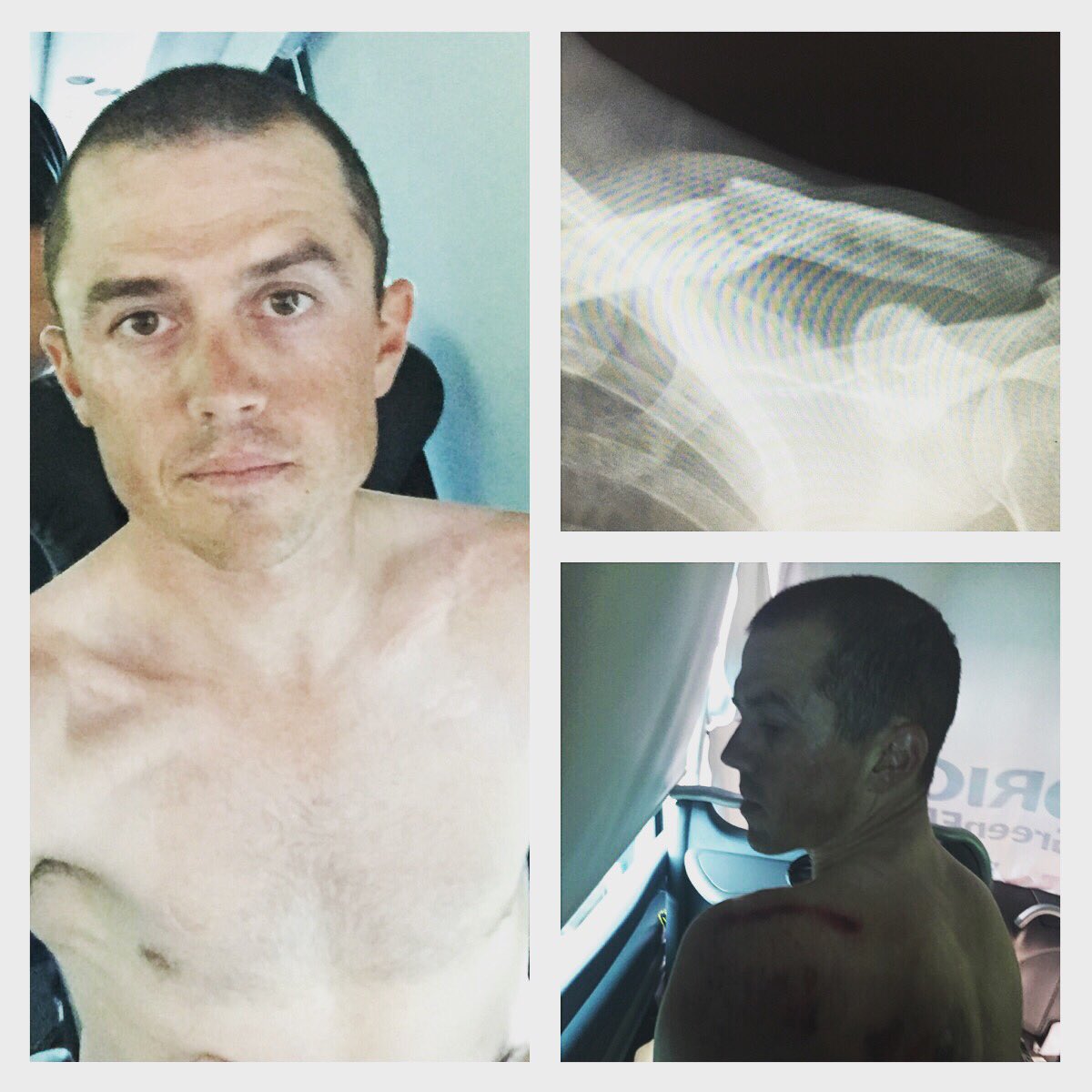 Peta Cavendish:
"The riders, the race & the fans deserve better in the form of safety & the organisation. Sometimes the 'spectacle' has to come 2nd.#TDF2016"
Simon Gerrans:
"That's the end of my #tdf2016 I can't find words to describe how disappointed I am."
Jan Bakelants:
"People leave your flags at home. They add nothing and only bring us in danger. Had a bad crash due to a drunk guy with a flag @letour"
Jim Ochowicz BMC General Manager:
"It's a fair decision for all parties. I don't know how else you could resolve it other than go back to the one kilometer mark and take the time from the riders at that point. But there could have been more time gaps one way or another had they gone to the finish line without the crash. But under the circumstances it's fair for everybody."
Tejay van Garderen:
"We were coming around a corner and all of a sudden people were just stopped. I was kind of on the back of the group at that moment so I really got tangled up and lost some time. I can't complain too much, poor Richie [Porte] and [Chris] Froome, they got the worst of it. Me and Quintana also really didn't fare well from that so I don't know, hopefully the jury uses some sort of discretion and is able to take the time with the one kilometer to go or something.
I didn't see much but it was definitely mayhem out there. The crowds get a little out of control and with so many motorbikes, the road is only so big. Normally when you see a big GC guy in trouble the gentlemen thing to do would be to stop and wait and regroup. You saw that a lot in the past but these days people just seem to want to take advantage of it."
Daryl Impey:
"Gutted for @simongerrans ! The team will miss him here at #TDF2016 That was one crazy hard day out there"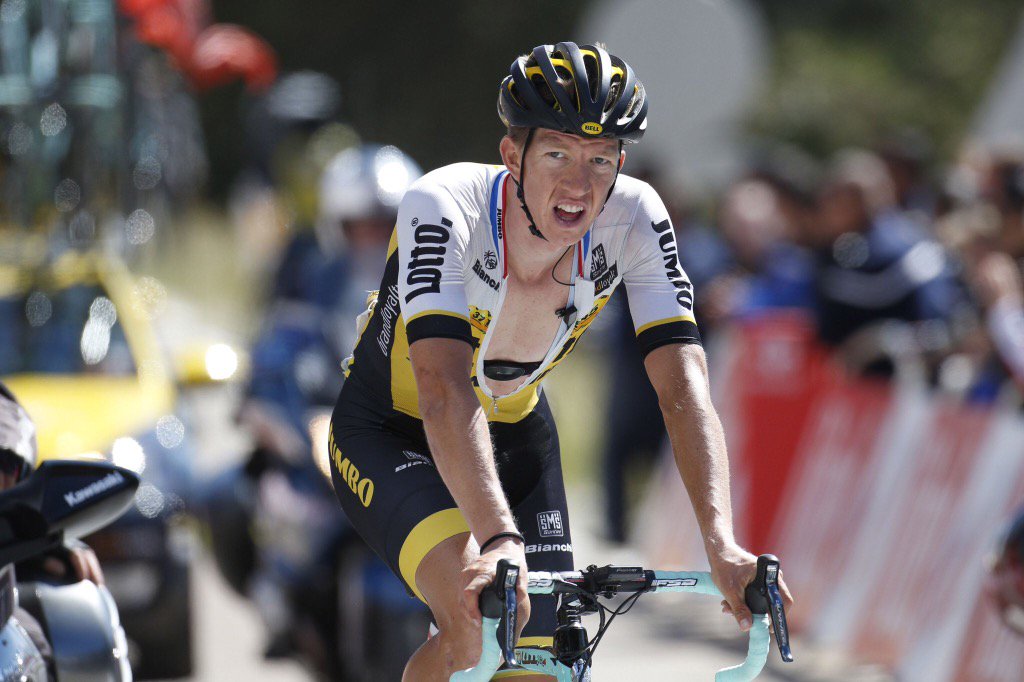 Sep Vanmarcke:
"Special day @letour! We had "Le Tour de bordure", a Belgian 14 juillet, a yellow runner, & with my 8th place I won the heavyweight category😁"
"Pretty proud to finish in 8th place on the Mont Ventoux today! Not my kind of finals, so happy to be top10 👍😉"
Serge Pauwels:
"Thank you to all the (disciplined) fans for your moral support on Mont Ventoux! Amazing! Congratulations to @DeGendtThomas for his epic win."
MORE TO COME
RESULTS
STAGE
1
Thomas De Gendt (Bel) Lotto Soudal
4:31:51
2
Serge Pauwels (Bel) Dimension Data
0:00:02
3
Daniel Navarro Garcia (Spa) Cofidis, Solutions Credits
0:00:14
4
Stef Clement(Fra) IAM Cycling
0:00:40
5
Sylvain Chavanel (Fra) Direct Energie
6
Bert-Jan Lindeman (Ned) Team LottoNL - Jumbo
0:02:52
7
Daniel Teklehaimanot (Eri) Dimension Data
0:03:13
8
Sep Vanmarcke (Bel) LottoNL-Jumbo
0:03:26
9
Chris Anker Sørensen (Den) Fortuneo - Vital Concept
0:04:23
10
Bauke Mollema (Ned) Trek - Segafredo
0:05:05
GC: PROVISIONAL
1
Adam Yates (GBr) ORICA-BikeExchange
57:12:20
2
Bauke Mollema (Ned) Trek - Segafredo
0:00:09
3
Nairo Quintana (Col) Movistar Team
0:00:14
4
Romain Bardet (Fra) AG2R La Mondiale
0:00:28
5
Alejandro Valverde (Spa) Movistar Team
0:00:52
6
Christopher Froome (GBr) Team Sky
0:00:53
7
Tejay Van Garderen (USA) BMC Racing Team
0:00:57
8
Fabio Aru (Ita) Astana Pro Team
0:01:07
9
Daniel Martin (Irl) Etixx - Quick Step
0:01:09
10
Joaquim Rodríguez (Spa) Team Katusha
0:01:24
GC RE-EDITED
1.Chris Froome
2.Adam Yates + 47"
3.Bauke Mollema + 56"
4 Quintana +1:01
5 Bardet +1:15
6 Valverde +1:39
7 van Garderen +1:44
8 Aru +1:54
9 Martin
10 Rodriguez
JERSEYS
1 Yellow Yates ? NO: Froome
2 Polka Dot De Gendt
3 White Yates
4 Green Sagan