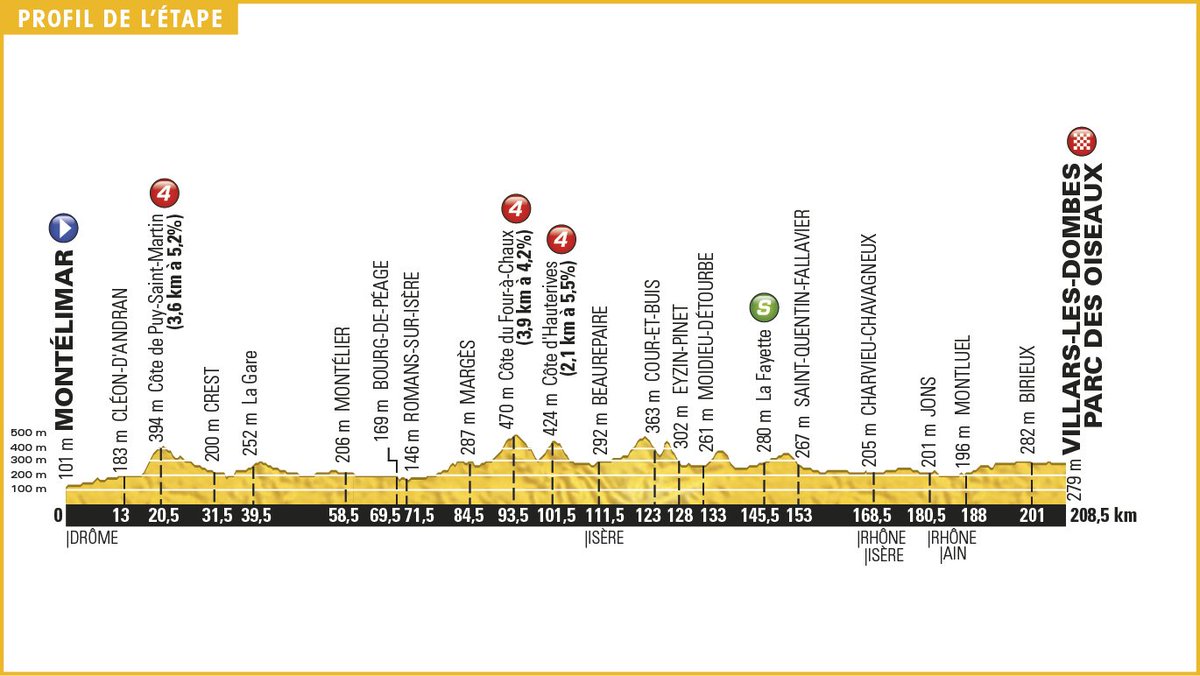 Bit traumatised the race goes on

. A minute of silence at the start again, then the road,

f

rom Montélimar to Villars-les-Dombes Parc des Oiseaux.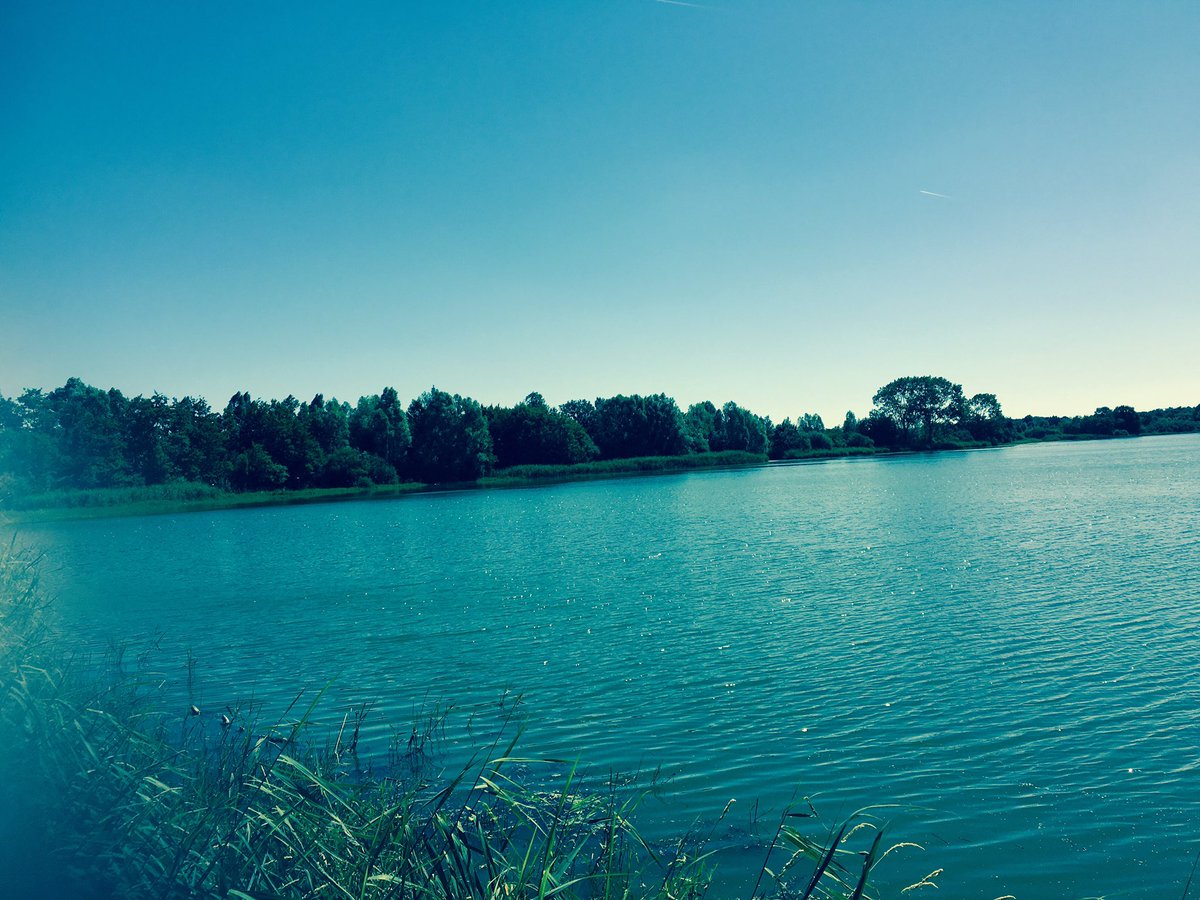 There is

a break-away

including

Roy, Howes, Benedetti and Elmiger

. After 32 km they have 1'45".
Côte de Puy-Saint-Martin

, first KOM:

De Gendt

grabs the one point.
Côte du Four-à-Chaux

(4th cat, 3.9km at 4.2%), second KOM: the one point goes to

Howes

without a fight.

Côte d'Hauterives

(4th cat, 2.1km at 5.5%), 3rd KOM:

Benedetti

wins it.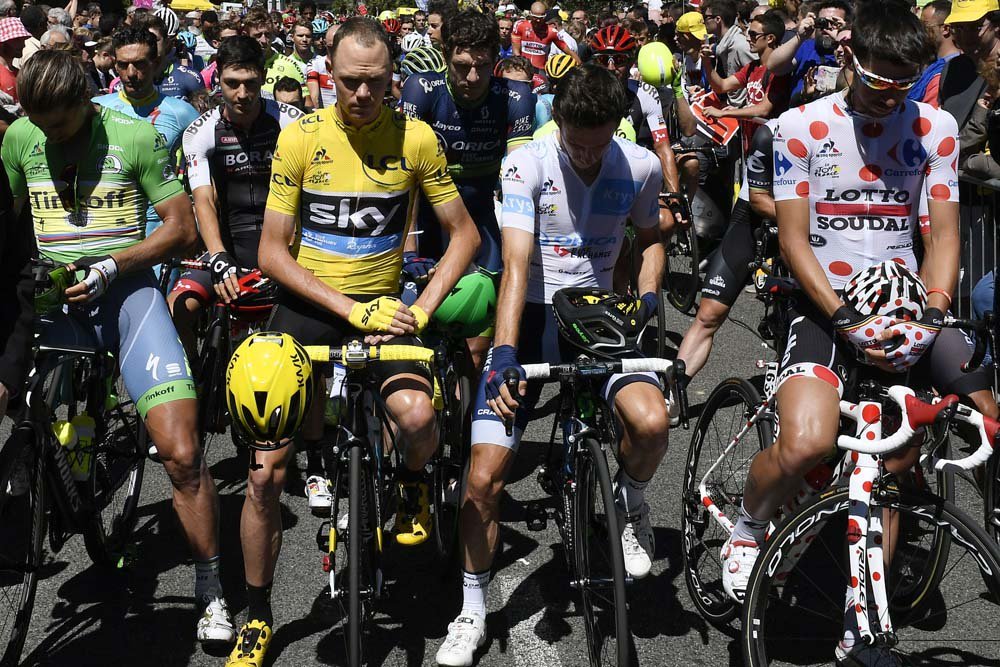 The news comes that Mathias

Frank abandoned

. 79 km to go Roy, Howes, Benedetti and Elmiger have 3'28".

Intermediate sprint

: in the peloton Peter

Sagan

wins (as 5th). In the peloton

the pace is pretty slow

also due to a strong

headwind

.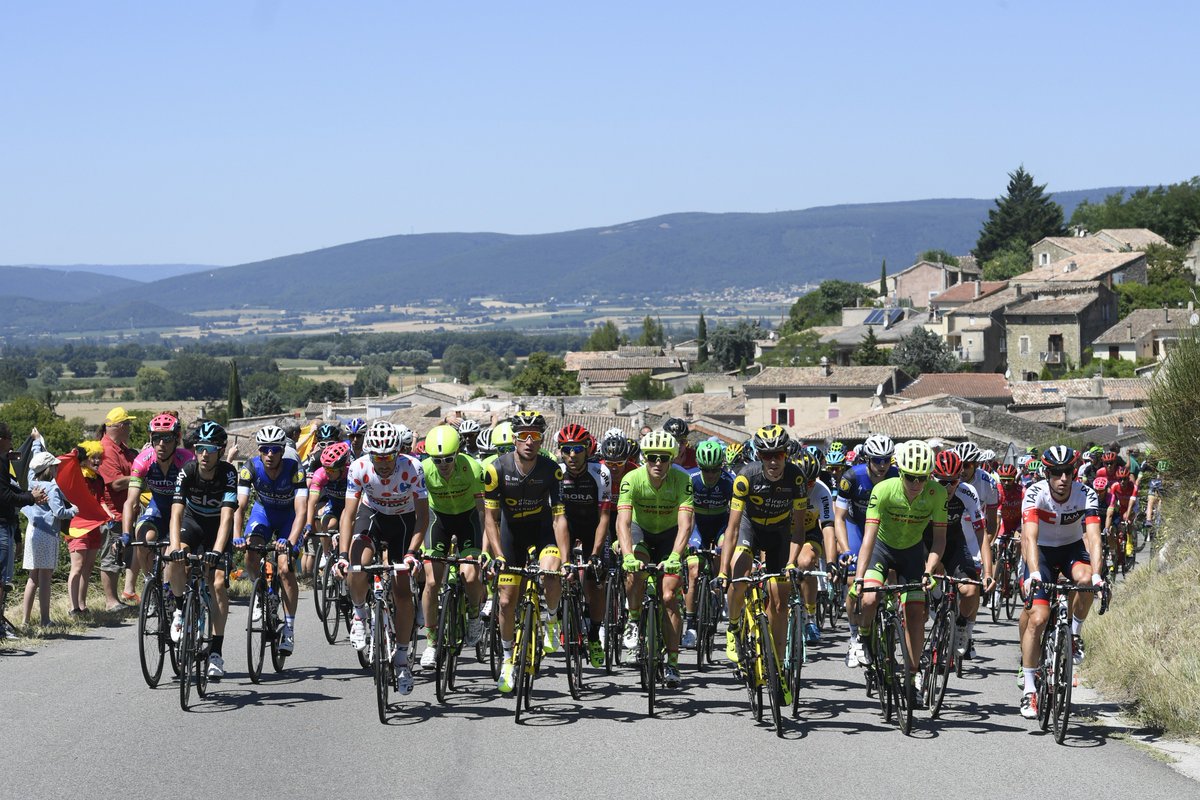 The news comes that Matti

Breschel abandoned,

according to Sportza

due to a "

collision with a support vehicle". 50 km to go the gap is 1'30 with Berhane, Bak and Vakoc doing the most of the work. Green grass and golden fields. A

boring

stage this one...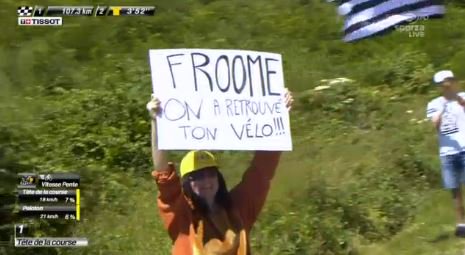 27 km to go the gap is 30". 13 km to go

the break speeds up, Howes is dropped

and the gap grows to 38''. 10 km to go Elmiger and Roy

drop Benedetti

. 3 km to go the

break is over.

The road to the finish is totally stright and flat

. Fight for positions, Coquard and Greipel shoulder to shoulder. Kittel and Cavendish... but yes it's CAV! Kittel though isn't happy. Because Cavendish cut his way.
Mark Cavendish:

"We knew we had to be there, it went from narrow to narrower with 6km to go. There was a little crosswind there. You saw the guys riding in the last 40km to see us there with Daniel Teklehaimanot and Serge Pauwels, after Natnael [Berhane] was riding the whole day. Bernie kept us there for the narrow section, and then it was about jumping trains to the end, actually.
Matti Breschel :(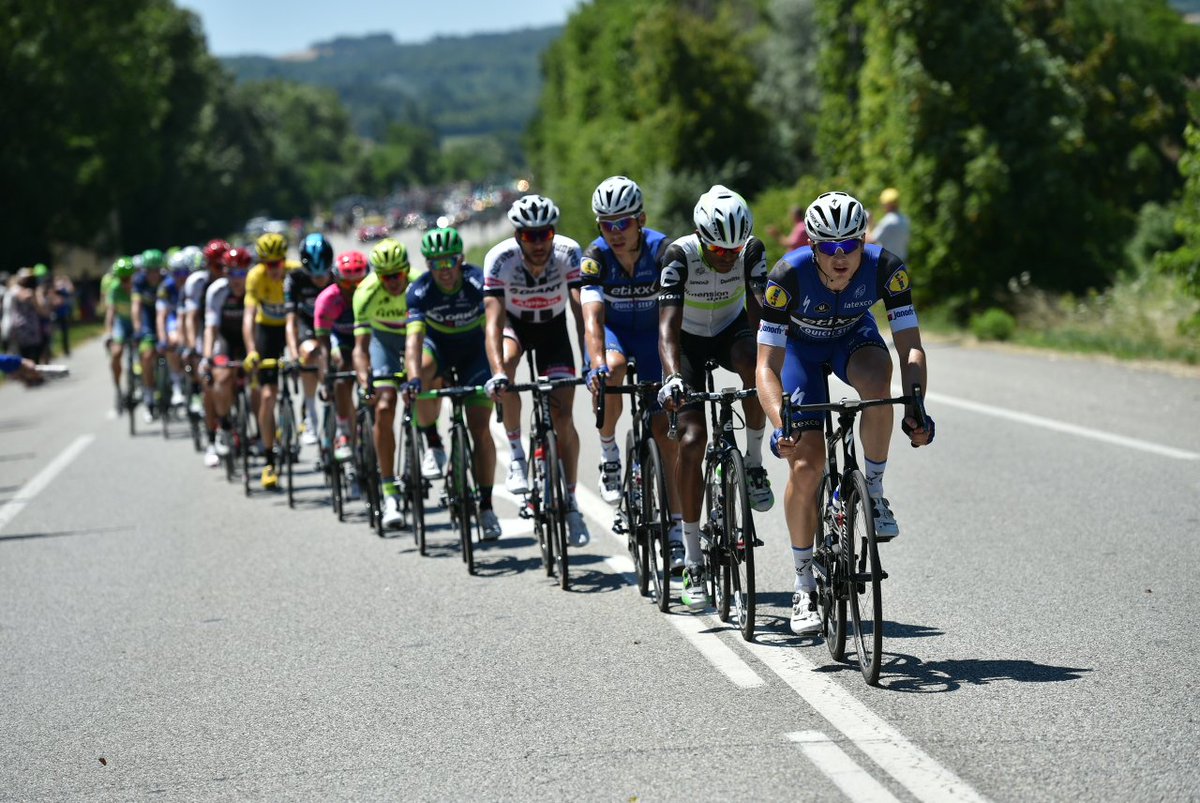 Reinardt Janse Van Rensburg is not very experienced, he needs Bernie to guide him there. Reinardt messed up a bit - I was on Kittel and he brought the other trains past, and I thought, oh this is it, it's finished. I followed Kittel, Edvald stayed there, he made sure I was there. We got through, and then I saw they led out quite early Etixx did, and I knew Kittel would be left on the front quite soon into the headwind. So I knew I had to wait, wait, wait and let him die and then come around.
I jumped around him and obviously it bent over to the right and he's kicked off a little bit, but I was way past him by then. I don't figure there's anything wrong there. I think he was just frustrated."
Alexander Kristoff: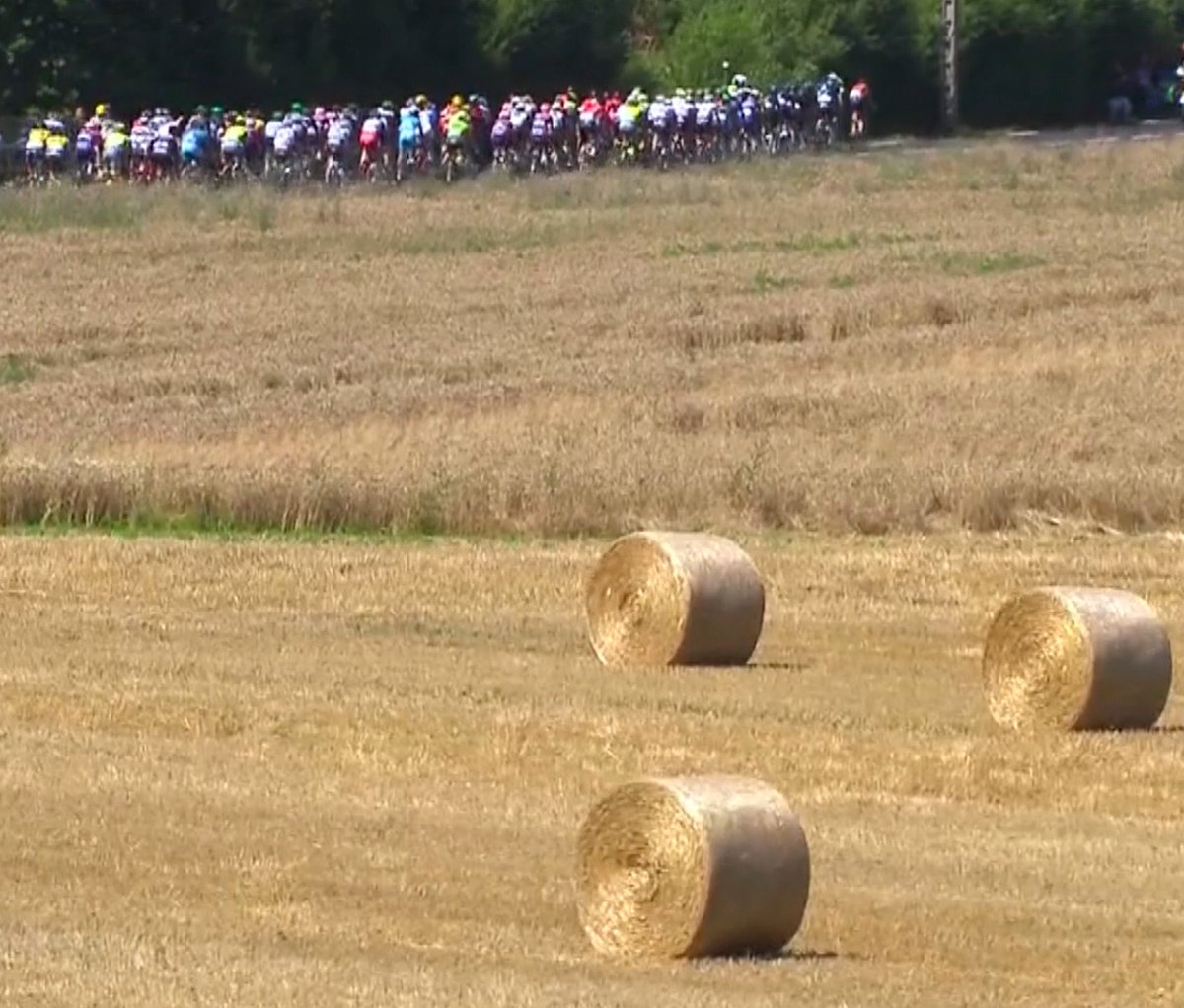 "My teammates did a great job keeping me there, and I think I had the legs but I didn't find the wheels, maybe a little bit too late, and I had good speed because coming from behind is always easier in a headwind. Cavendish is really aero and fast, so I knew that he would be difficult to beat today. I'm happy to finish second but for sure I was hoping to win. Cavendish is just faster right now.
I did a good sprint and the team did a good lead out, we had a plan. When we come to a sprint here, and they are not tired, I know that it is difficult to beat them [the other sprinters]."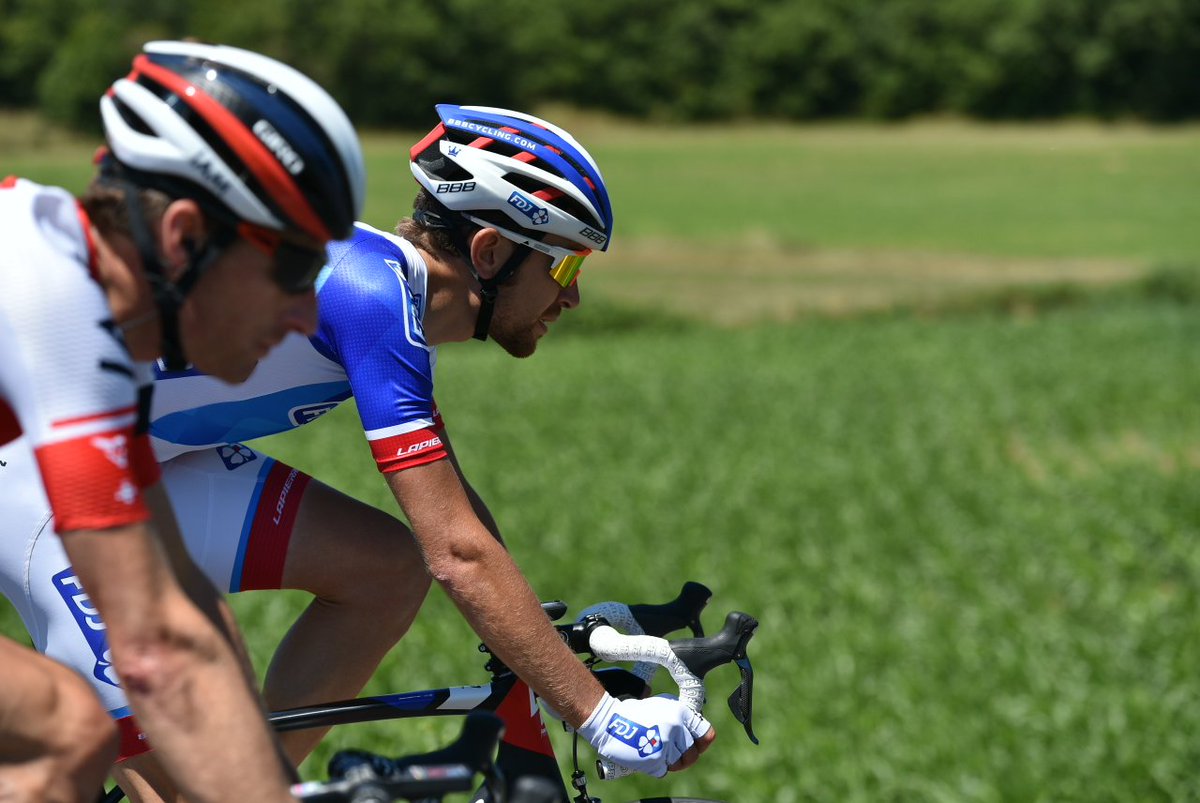 Chris Froome:
"I've got to keep an eye on Bauke Mollema, he's in second place and at the moment he's my biggest rival."
Bryan Coquard: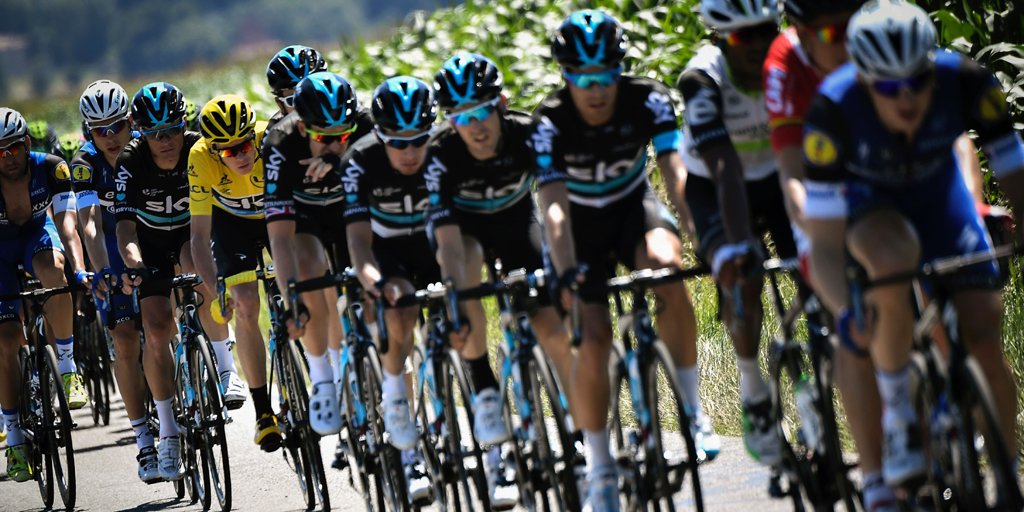 "It is not a great disappointment. It was not really a finish for me. I think I can be a match, but when you're 10th with 300 metres to go, you cannot look for victory. There was some friction with Peter Sagan but the race was already set. There was headwind from the left and we said we would go left and Adrien Petit went right, I didn't have the time to understand. The headwind was interesting for me but the best man won. It's good that we have two opportunities left."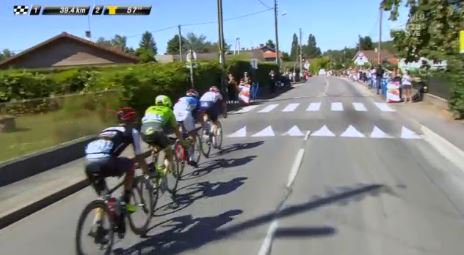 Richie Porte:
"There were cross winds, head winds, the wind was just swirling everywhere. After such a hard time trial yesterday it was just a niggly sort of stage, tricky roads and quite a tricky final. It's a nice one to get done to be honest. Michael Sch ä r and Marcus Burghardt today in the last 20 kilometers pretty much dragged the whole peloton, and Rohan Dennis as well. It's nice to get back into the mountains tomorrow and we'll just see what happens. It's a very hard stage so we'll see how everyone is after today."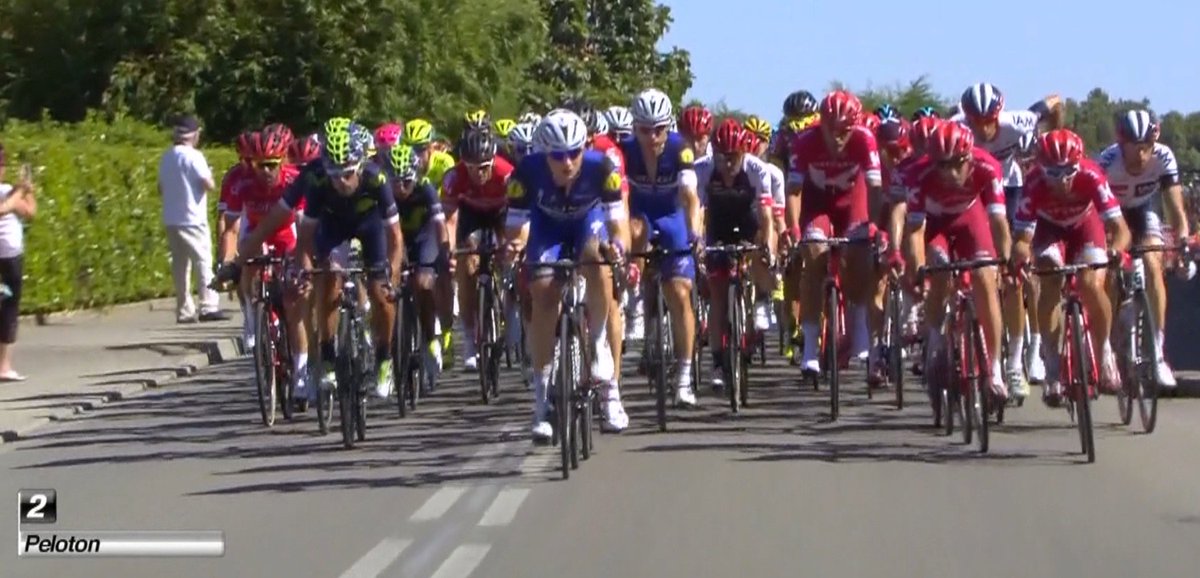 Tejay van Garderen:
"I wouldn't necessarily say it was the hardest stage of the race but there's never an easy day at the Tour de France. It was hot with lots of head wind. I wouldn't say it was the most nervous stage but it was long. I'm just glad to get through it. The team has been stellar the whole race. We definitely owe a lot to them and hopefully we can repay them with tomorrow and get through the third week."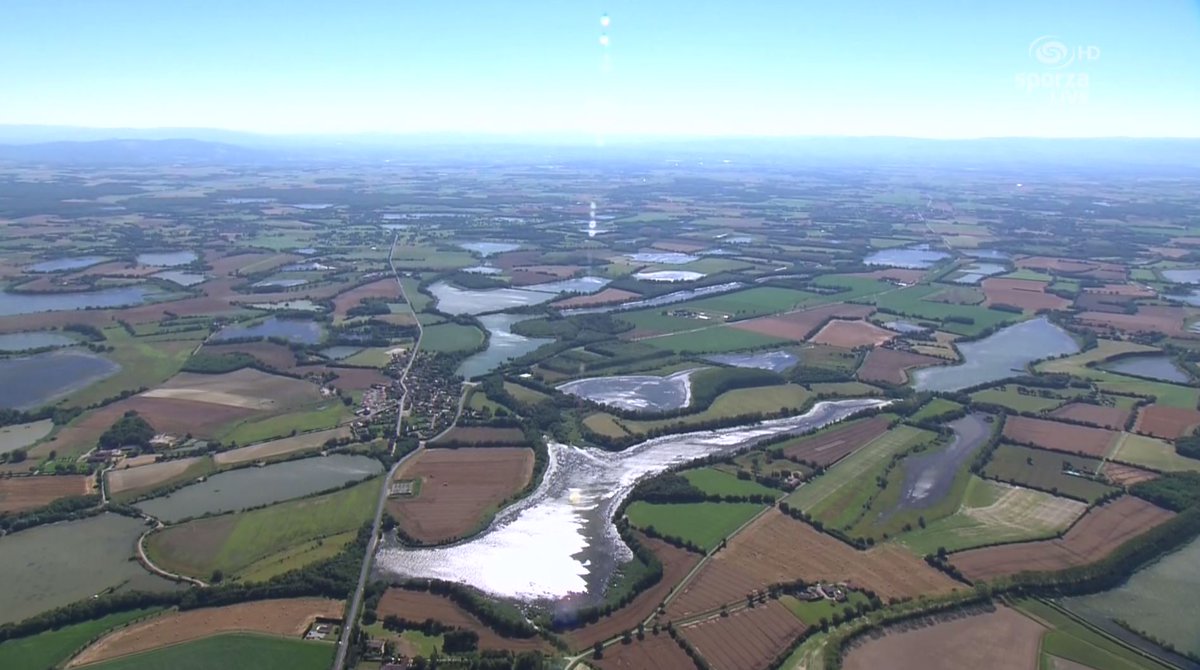 Amaël Moinard: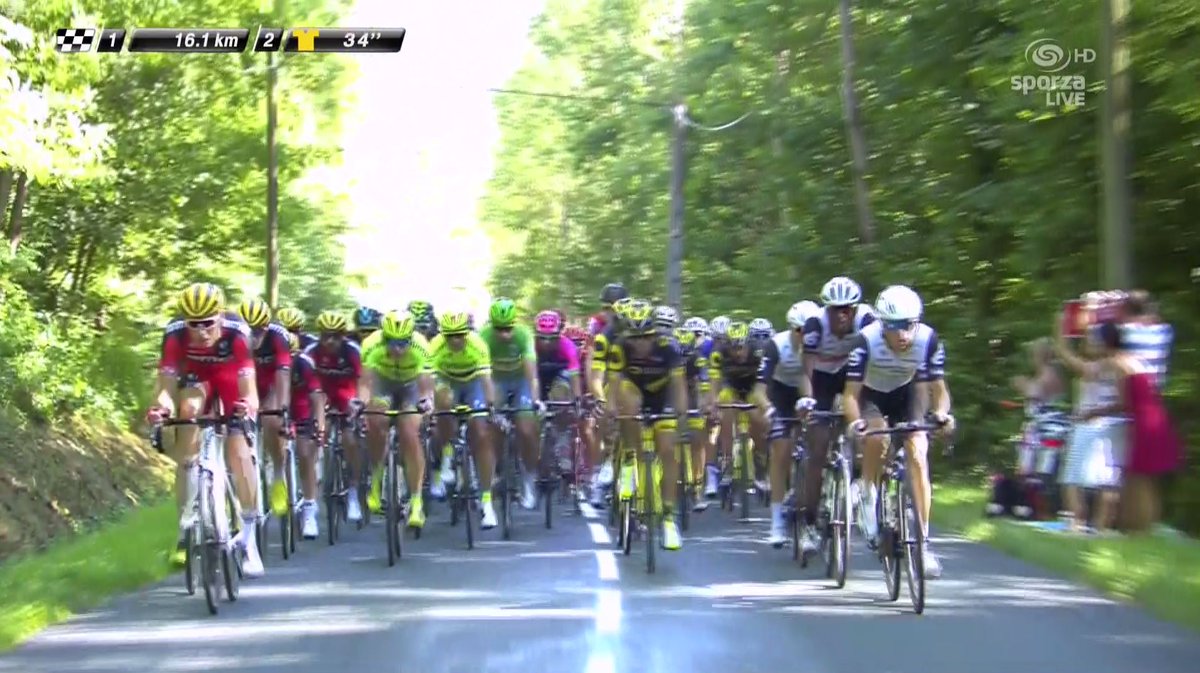 "There is no easy stage in the Tour de France. It is really hard for the positioning, getting Richie and Tejay in a good place at the finish. To be safe and in position is always a hard job. Tomorrow is also a really hard stage so we have two big stages ahead of us before the rest day."
Dylan Groenewen:
"I started the sprint as 12th and i crosses the line 11th, then you know you miss the power."
John Degenkolb:
"It is a great feeling to be up there in the sprint and we have tried very hard during the last couple of sprint stages. The more pressure I put on myself, the more difficult it is to be up there in the finale. However we had the patience to wait for the right day and today I felt already that my legs were getting better and better during the stage.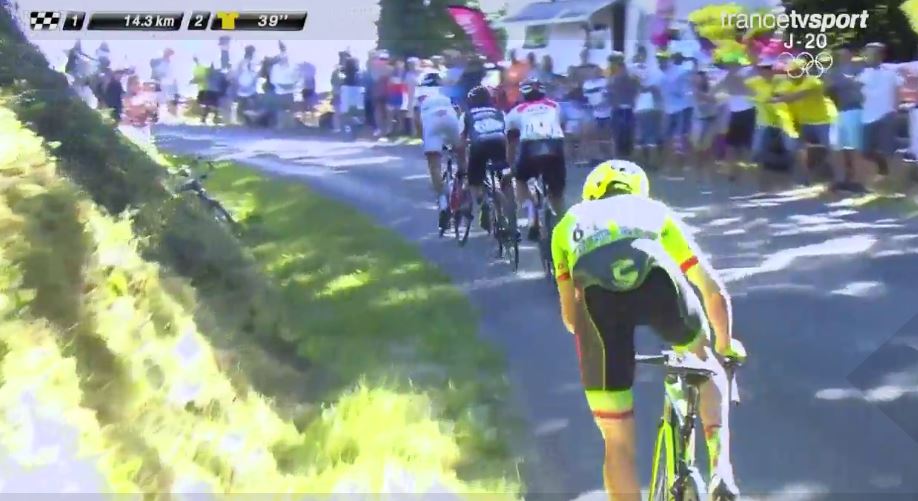 When you feel in good shape, you also have the instinct to use the right gears in the finale and I was happy as I thought for one moment I could pass Cavendish but it was not to be as he is the best sprinter in the world at this time.
I am not very far from them and that is great to see and I am very happy about that. I have to remain patient and try again. We still have some stages left to go for results. If there are no victories after Paris I would still be content."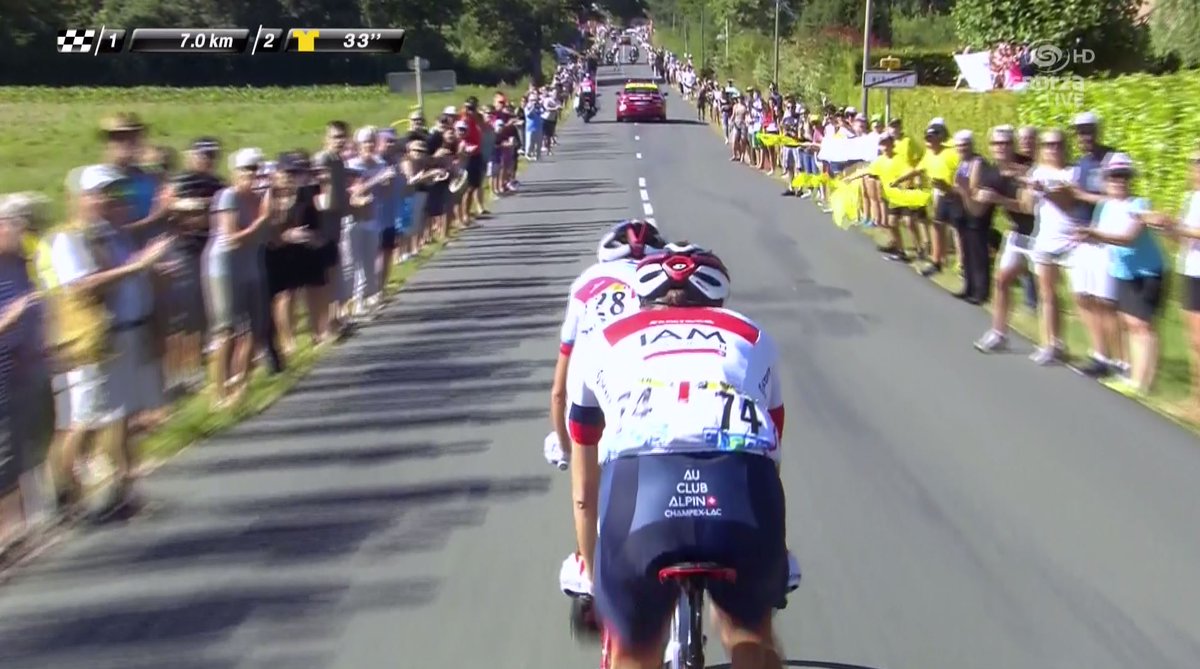 Andre Greipel:
"Sometimes things aren't working out like you want! Thanks for all birthday wishes and thanks @Lotto_Soudal for the support over + over again".
Jasper Stuyven: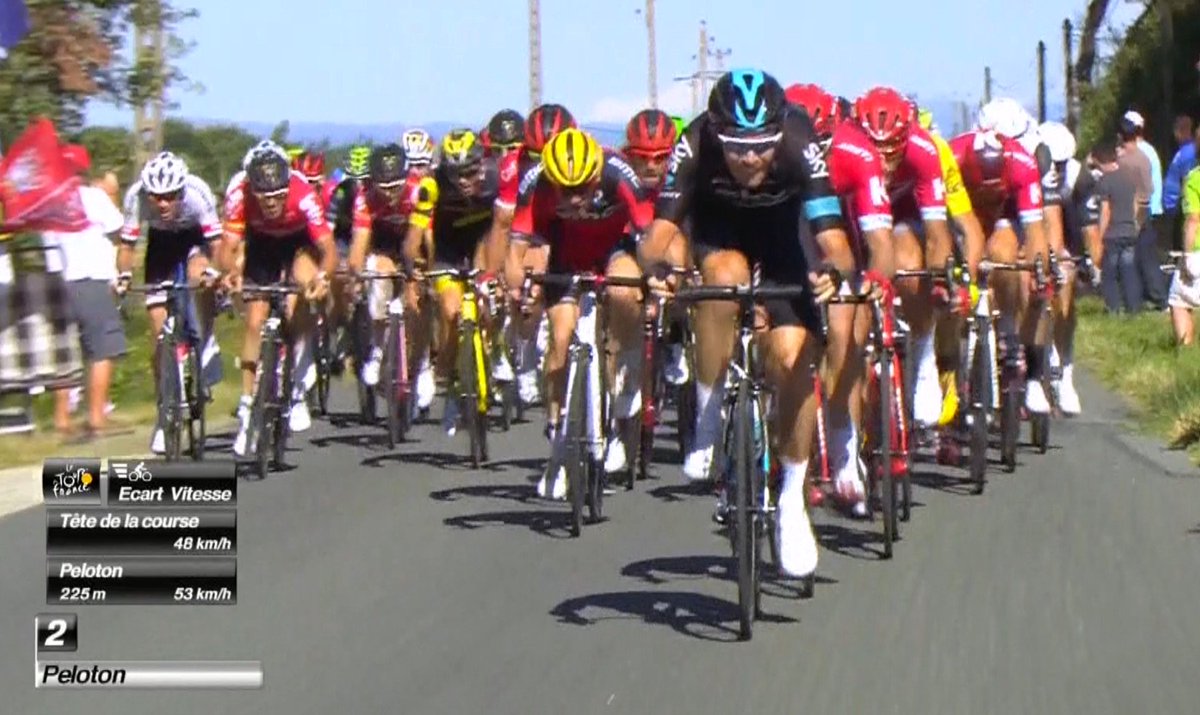 "I didn't feel good today, and I decided to not participate in the sprint and instead just focus on keeping Bauke (Mollema) safe. I was feeling really, really bad today and then it doesn't make sense to get in the mix, especially on such a sprint, they are not really my favorite.
I was happy that the legs came around in the last 30kms. You think you will be able to move up quickly, but with this wind is was really difficult. I finished with a good feeling and was able to keep Bauke protected and safe. I think tomorrow will be hard."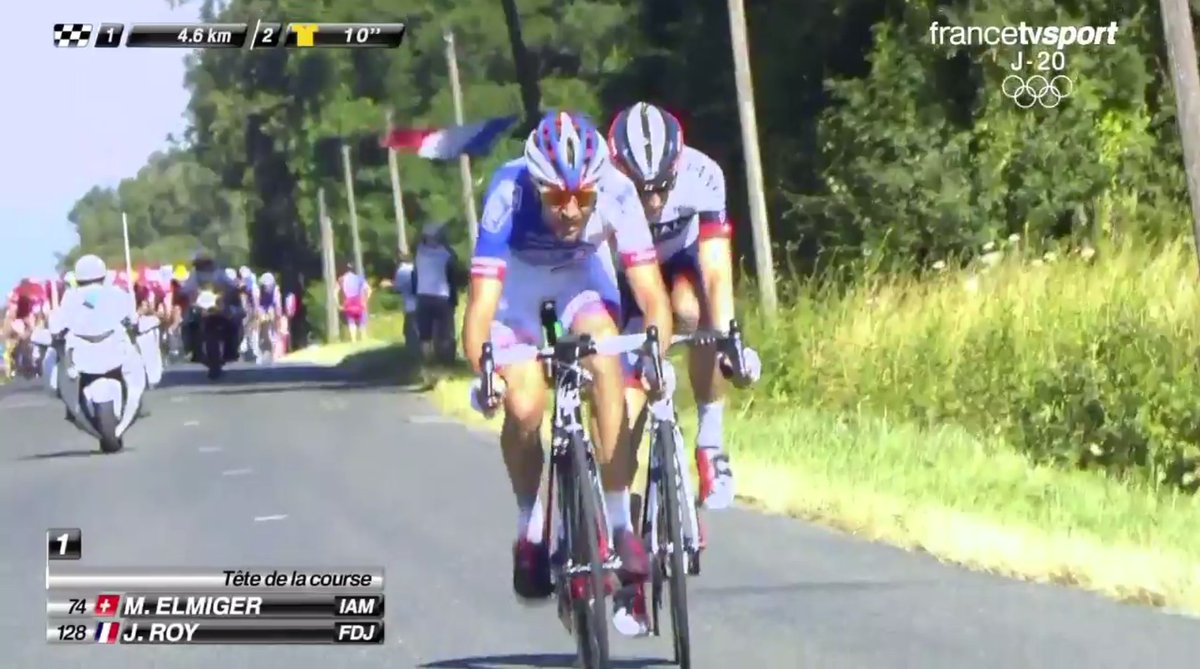 Bauke Mollema:
"It was an easy day, not so hard with a headwind all day. It was a good day to recover – a silence before the storm tomorrow. Tomorrow is another very important day; it will be a day of focus to not lose any time."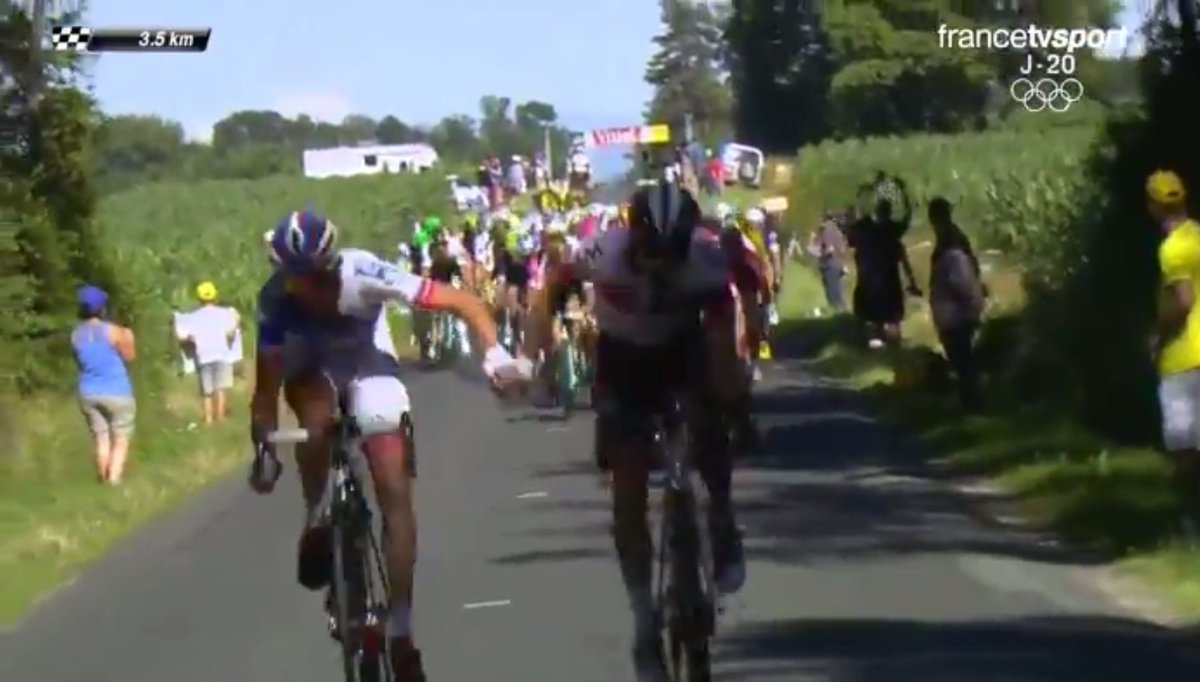 MORE TO COME
RESULTS
STAGE
1 Cavendish
2 Kristoff
3 Sagan
4 Degenkolb
5 Kittel
6 Greipel
7 Coquard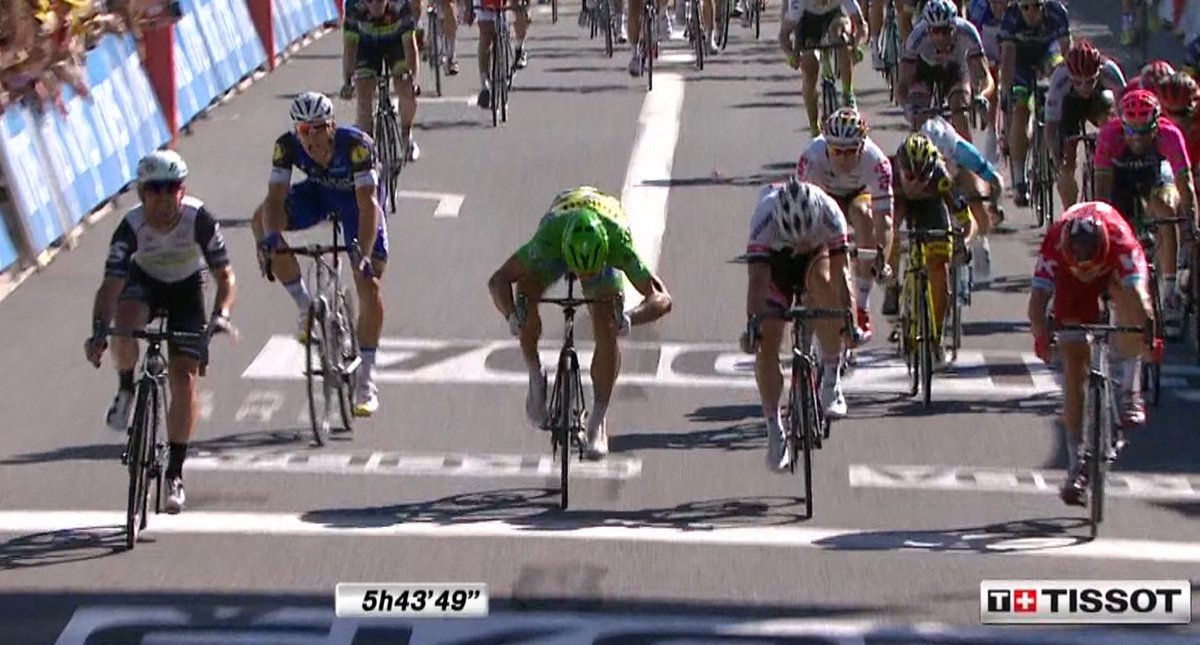 8 Cimolai
9 Laporte
10 S Dumoulin
11 Groenweg
GC
1 Froome
JERSEYS
Yellow Froome
Polka Dot De Gendt
White Yates
Green Sagan