Sorry, I'm

still travelling

and following the race on my phone. But I'm not disappointed I could watch

this one

on tv because it has been

awful

.
There was

a break-away including Majka who consolidate his Polka dot jersey

atop the only hc climb of the day, then

Costa went solo.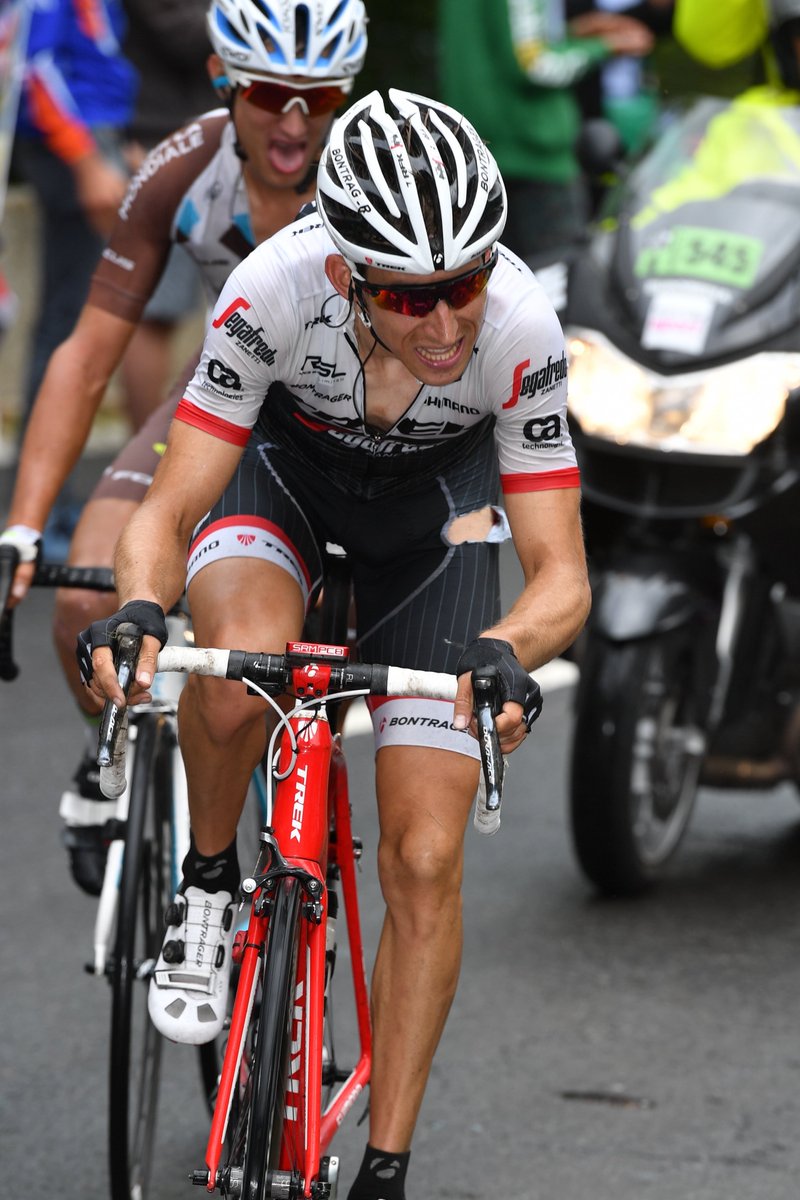 Here

the weather changed. In the nasty descent made wet by the rain almost everyone crashed

, including Tom Dumoulin - retired - Richie Porte, Bauke Mollema and

the Yellow Jersey himself who grabbed Thomas' bike and came back to the peloton on Poels' wheel, sore and ripped.

Less lucky

Mollema who had to chase solo and lost his podium spot.

Adam Yates got finally dropped - due to a mechanical problem - but

Romain Bardet attacked

, joined Costa, dropped him and

won solo.
The GC group exploded. Valverde emerged

to take a great 3rd place behind

Rodriguez

, Quintana on his wheel.
The rest can be understood looking at the finish order and at the new GC. Mollema cries, Bardet smiles. Froome kept his Yellow in spite he lost some seconds and is probably in pain. I'd say
more tears than smiles in this shattered peloton.
Romain Bardet:
"It's for to live such a feeling that I love the bike and the racing. What can I add after I lived such a day? To ride, to suffer, to attack, to resist… To exultate... To share it with a gang of mates and a staff giving it all for three weeks... To taste these moments of joy... and to be back on the sadle tomorrow. THANK YOU from the deep of my heart for your support and your cheering… Off to the Champs Elysées…"
Bauke Mollema:
"I still can't believe this happened 😢. So close to Paris... my own mistake in that descent. No words to describe my disappointment."
Chris Froome: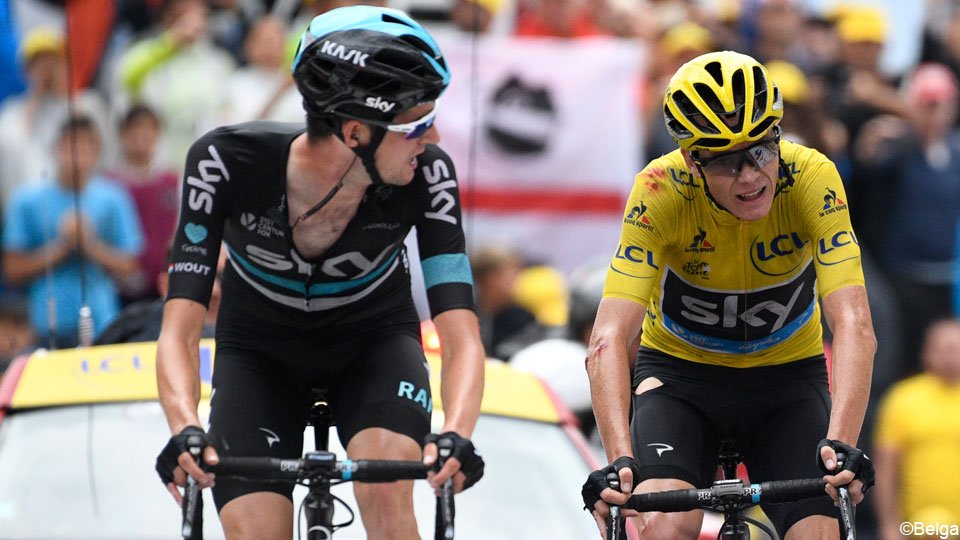 "Thank you @geraintthomas86 for the loan & @WoutPoels for bringing me home! 👍
All good, one big day to go #TDF2016"
Richie Porte:
"I left a bit of skin out on the second descent. I just crashed in the descent, quite a lot of guys did, but I think I was the first one down. I think it's just a bit of skin missing, it's one of those things.It was such a hard day and it was a mess out there in the final. I think everybody came down. But I think I worked well with what I had and tomorrow's another day. Today, even up hill around the corners, it was a bit slippery, so we'll see how tomorrow pans out. I gave it my all today. The team were just amazing out there. The way they brought me back to the group after the crash and their work on the climbs was phenomenal."
Tom Dumoulin:
"It's a huge setback. After the crash I instantly knew it was bad news. Luckily it is a clean fracture. As a precaution I have a cast but I can't ride a bike with it. If I need to keep this for two weeks, then my participation in Rio will be difficult. Tomorrow I go back to the Netherlands and we can see how we proceed. I really hope I will be ready for the Olympics. At the moment there is too little information to say anything more about that objective."
Dan Martin:
"Some riders crashing in front of me and I was a bit more careful, but the Specialized tires are the best in the world, so I didn't have problems and wasn't nervous on that dangerous descent. I stayed relaxed all day, the guys helped me the best way they could and I had strong legs. I knew Bardet was up the road and and that's why I decided to attack. I felt I could go for the stage win, especially as I didn't thought there was an interest in chasing me. Still, despite being caught, I'm glad I had this go. The time I've lost comes down to experience, which is something you get with learning. I'm definitely one of the best guys on the climbs here in the race, so in the winter I will work more on my time trial, because I saw that I can fight for a good overall in the Tour de France."
Damiano Caruso:
"The final was really good for me. I was happy with my work for Richie. At the end we lost some time, just some seconds, but tomorrowwe will try again. The Tour de France is not over yet."
Rui Costa:
"I try 1,2,3.. All times which allows me the body. Most combative of the day.Small trophy for so much effort"
1 Bardet 2 Rodriguez +23 3 Valverde +23 4 Meintjes +23 5 Quintana +26 6 Aru +28 7 Martin +28 8 Poels +36 9 Froome +36 10 Porte +53
GC
1 Froome 2 Bardet +4:11 3 Quintana +4:27 4 Yates +4:36 5 Porte +5:17 6 Aru +6:00 7 Valverde +6:20 8 Meintjes +7:02 9 D.Martin 10 Mollema
Yellow Froome
Polka Dot Majka
White Yates
Green Sagan