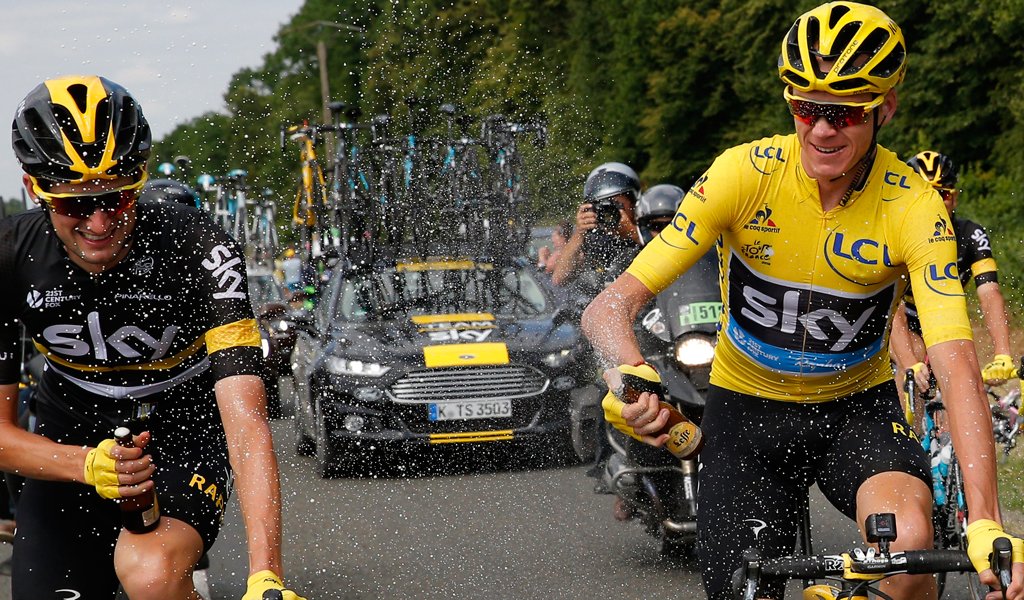 Can you imagine a more British way to celebrate the most crushing victory of Team Sky in the Tour de France? They finish with the whole team, intact and compact. They ruled and

I don't agree it was no show

: Chris Froome attacking in the descent, Chris Froome attacking on the flat, Chris Froome neutralising any move on any terrain, Chris Froome running up the Mont Ventoux, Chris Froome chasing on Geraint Thomas' bike AND still in Yellow, day after day... wasn't it a great show?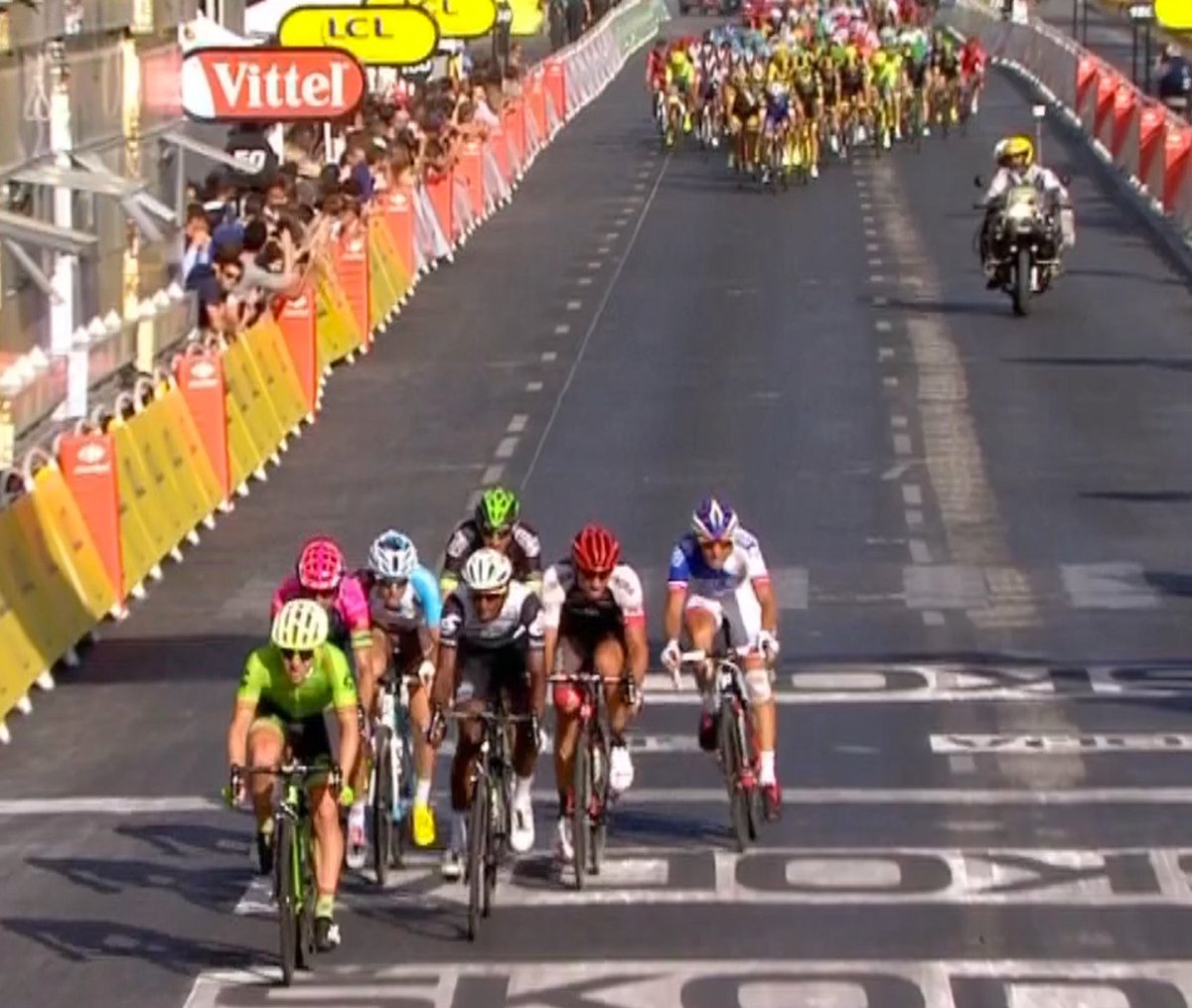 It wasn't a great battle, that's true. Not Team Sky's fault though

.

Quintana never attacked

, in the last day of mountain he was almost forced by Valverde to follow Rodriguez's late attack and that was worth the Podium in Paris. Contador would have probably attacked but

Team Tinkoff wasn't racing for Contador - who eventually abandoned

: in the end they won the Polka Dot jersey, the Green jersey and a top ten GC so maybe they have been right.

Yates couldn't do more, he did even too much indead

and well deserved his White jersey.

Pinot retired

due to a bronchitis, he never looked brilliant.

Porte was unlucky again and van Garderen was - again - disappointing.

Van Averamaet 'saved' BMC's Tour but obviously he couldn't keep his jersey.

Wilco Kelderman, Daniel Martin and Ilnur Zakarin

in my opinion

don't have - yet? - the level

to fight for the final victory in a Tour de France.

Aru (and Nibali) has never been a threat

, Team Astana instead did a lot of good work... for Team Sky.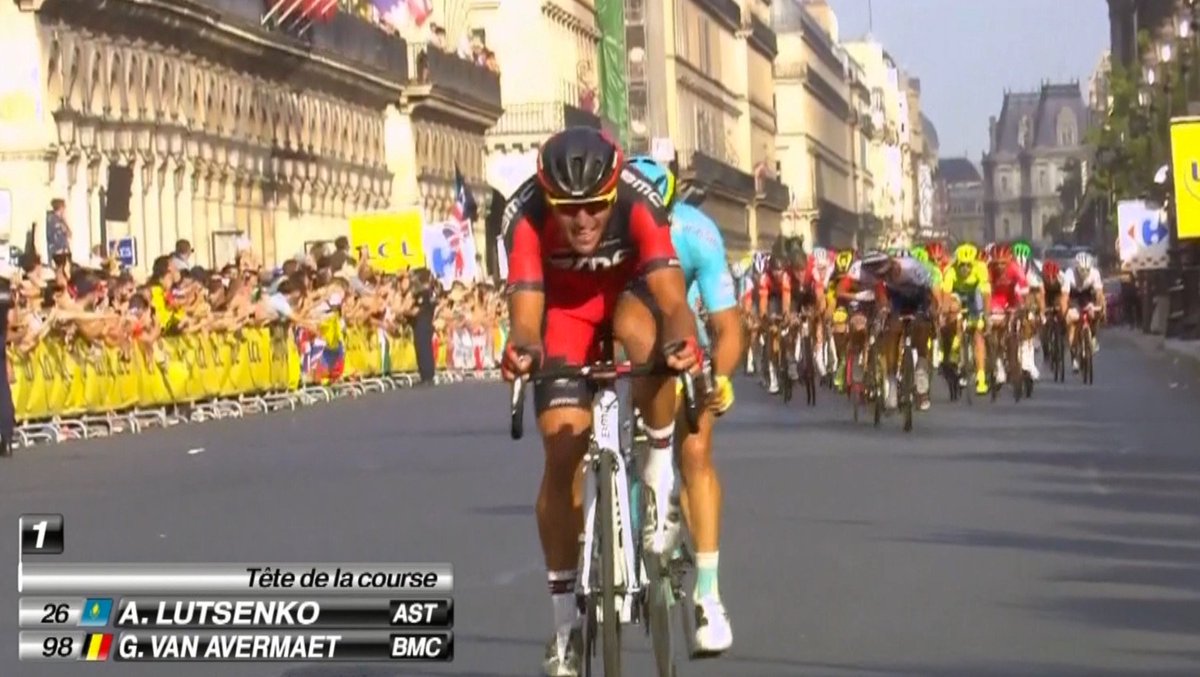 As far as

Bauke Mollema and Romain Bardet

, their Tour has been solid and they

have been both brave

. Without his crash

Mollema

would be probably on the podium because the others were only interested in keeping their position, without his last attack Mollema would be in the top ten GC, probably 6 or so, because Aru lost a lot of time. Instead he

attacked

, all or nothing. And he's finally 11th.

He has been brave and unlucky.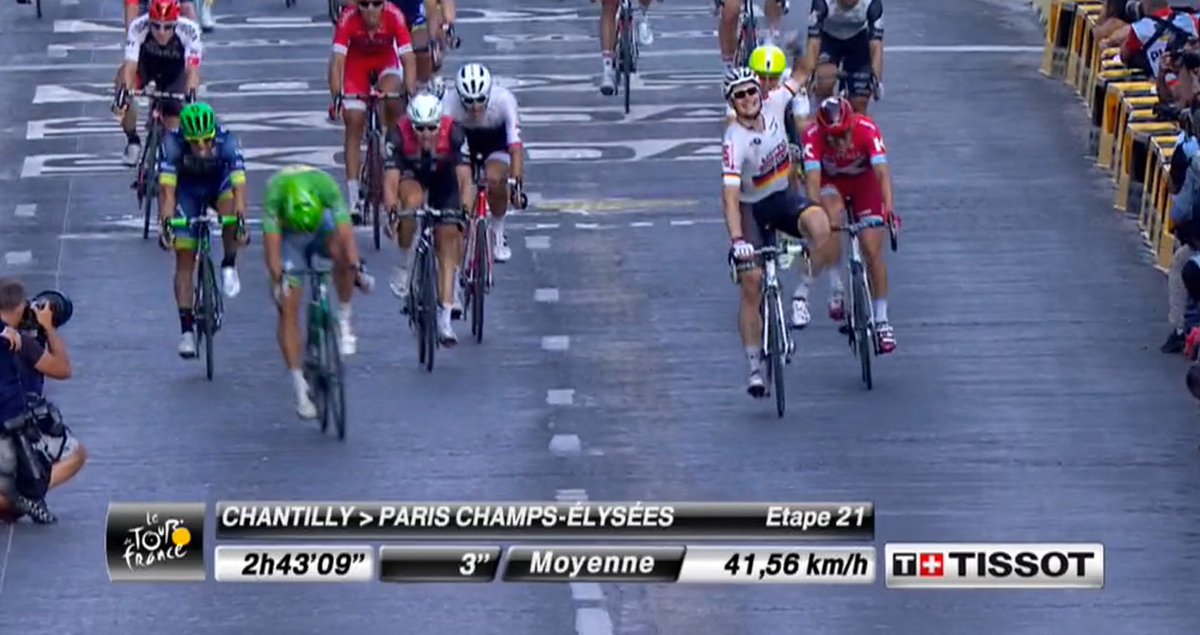 Romain Bardet instead was brave and lucky

, we didn't see much of him untill that late victorious attack and

I suspect it was more a desperate move to vendicate with a stage victory a disappointed season that a calculate strategy aiming to the final podium.

Bravo anyway, and bravo to his team Ag2r, disciplinated and strong around his leader.
The fight for the Green jersey lived of the duel Cavendish vs Sagan. Not bad Andre Greipel, so so Kittel and Degenkolb. Coquard tried but he isn't there yet.

I was interested in the young sprinters and must say Edward

Theuns

- piloted by Fabian Cancellara - was great, while Dylan

Groenewegen

, surely a talent, looked disoriented in the crazy sprints of the Tour as he kept losing the wheel of a - maybe too - bold Sep Vanmarcke.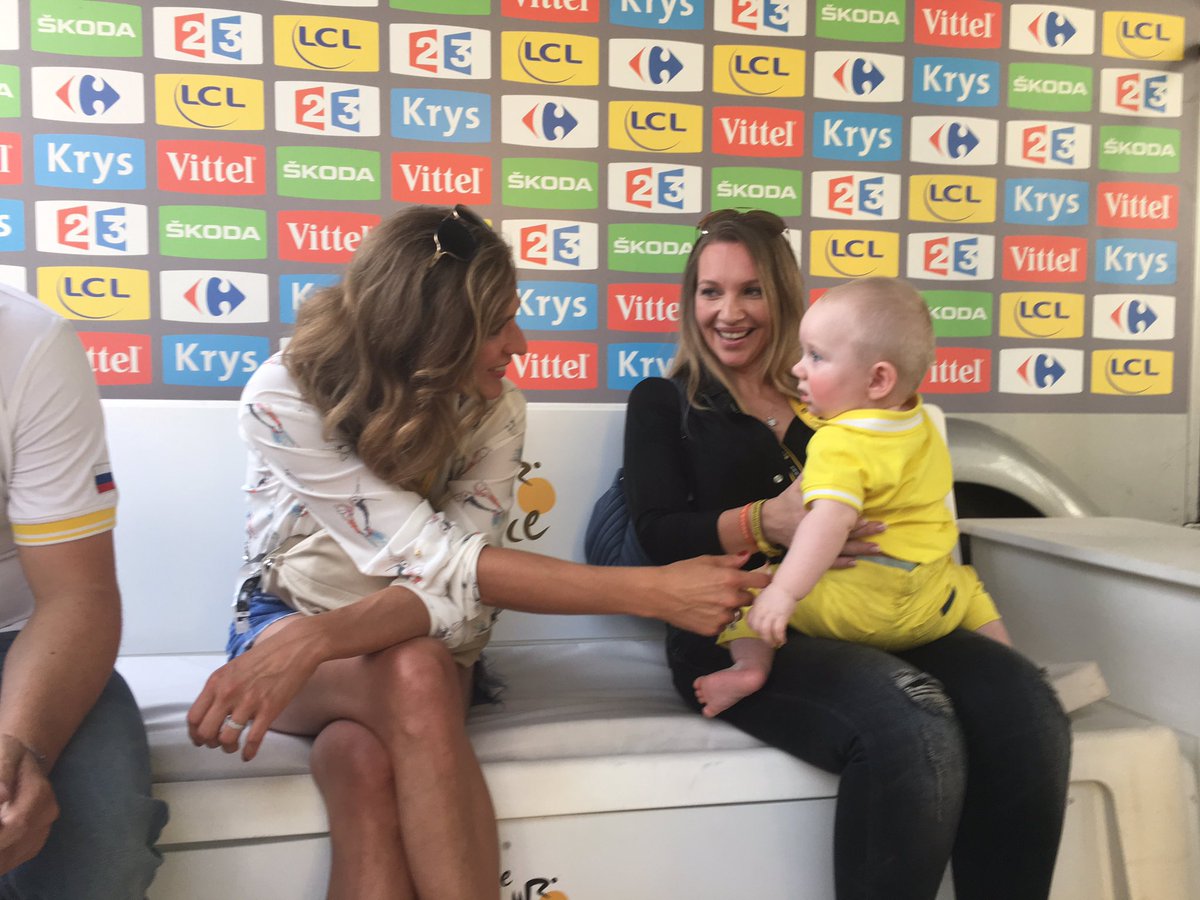 The fight for the Polka Jersey has been exciting! Thomas De Gendt and Serge Pauwels

were in every break, sprinting at every KOM. When Alberto Contador retired the Polka dot jersey became

Rafal Majka

's main goal and

'ubi major minor cessat'.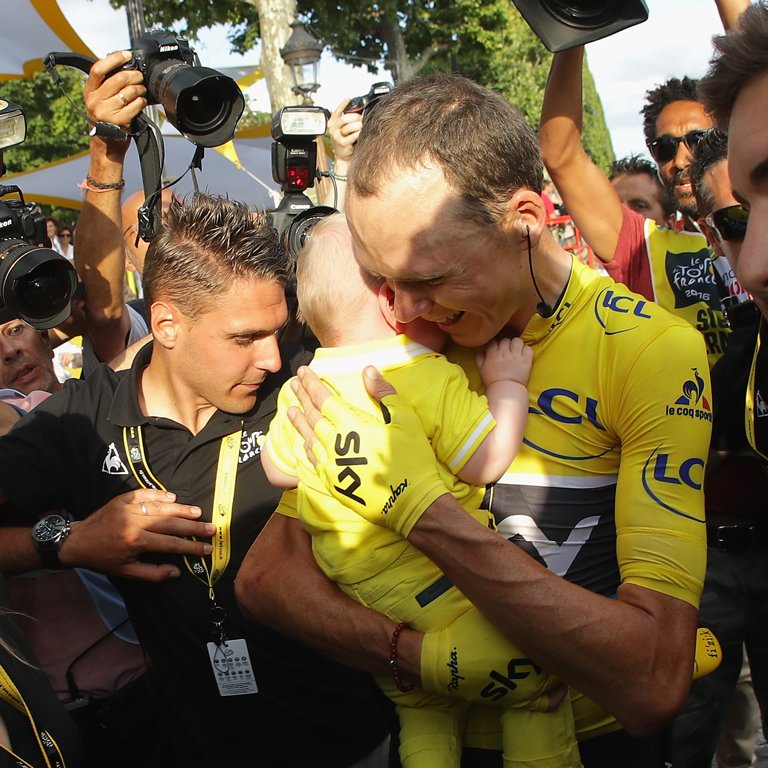 The fight for the White Jersey has been interesting as well

: both

Julian Alaphilippe and Adam Yates

were well worthed candidates and in my opinion Yates is too young to be a real contender for the Yellow one so well done for this year.

Let's the kids grow.
I don't see why Peter Sagan has been awarded as

the Most Combactive Rider

. In my opinion Thomas De Gendt or Jarlinson Pantano, Bauke Mollema or even Chris Froome would have deserved it better.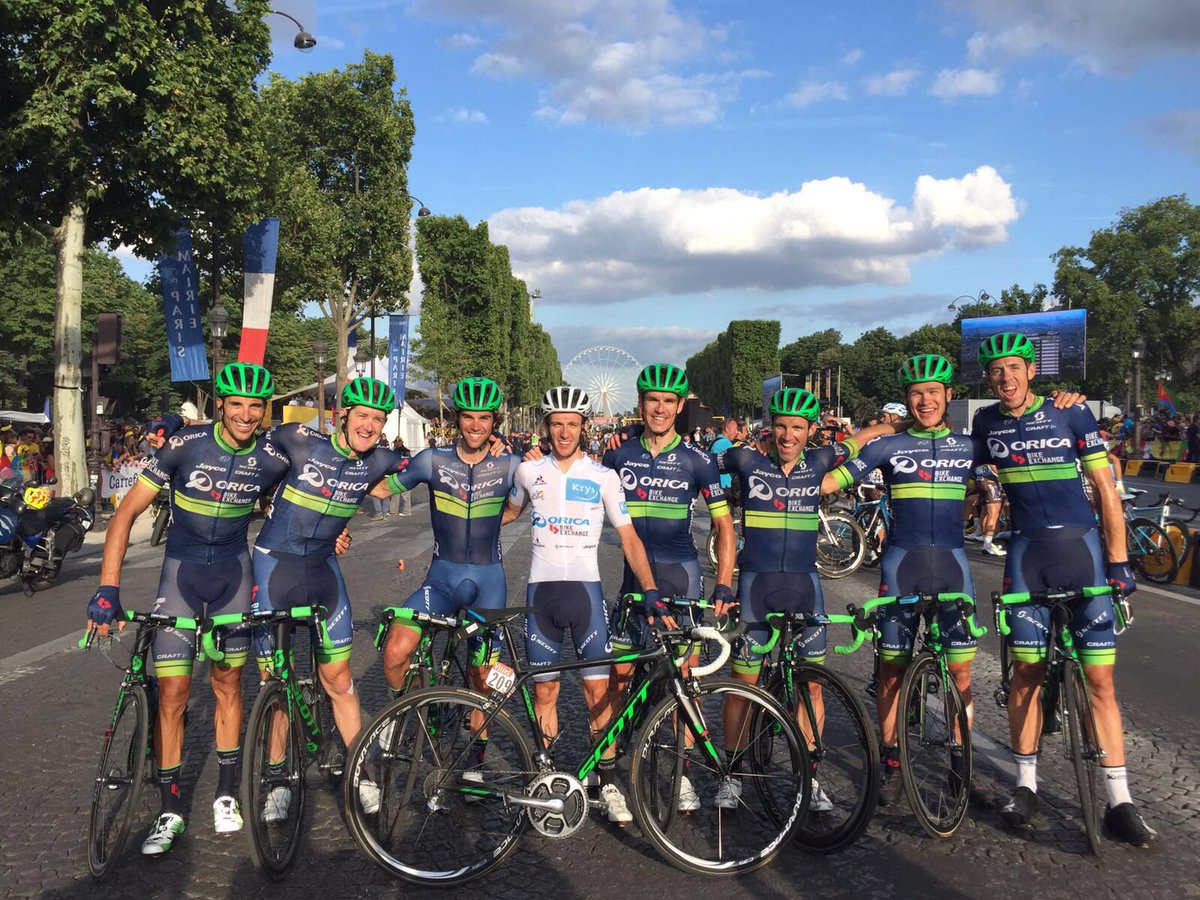 Team Movistar was the best team in the race

and it's true: Alejandro Valverde was one of the best in the pack, Ion Izagirre won a beautiful stage, Nairo Quintana wasn't good at attacking but he kept the right wheel three weeks long.

Team Sky

was very strong too but no single ambition was allowed.
My favourite here has been

Louis Meintjes

: he was still there, shoulder to shoulder with the best riders in the world, almost on his own.
It's over and I liked it. Once more I had the chance to report it on real, watching the riders face to face and trying to read into their eyes. Every year I think it's the last time, but probably it's an addiction. Now I feel a little

nauseated, empty, exhausted

by the long travel and eager to breath a different air. My reportage from the Tour de France will be out soon, then I'll take a break.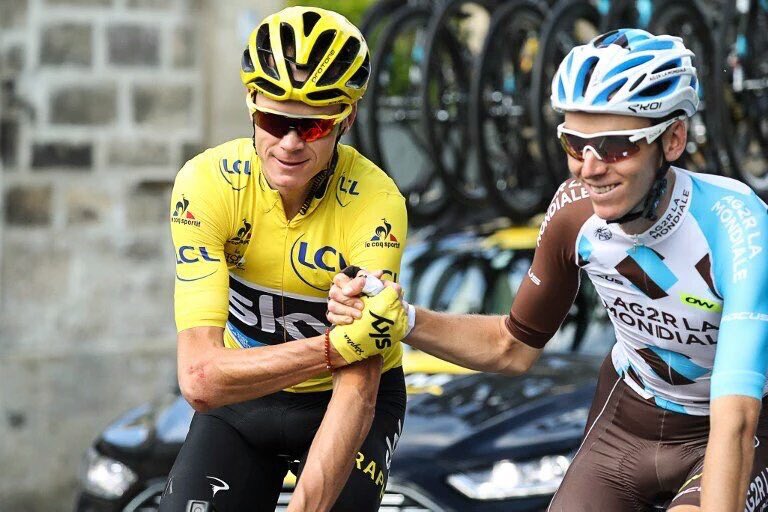 Chris Froome:
"To my teammates and support team - this is your yellow jersey too. I wouldn't be standing here if it wasn't for your commitment and sacrifice.
A massive thank you to Dave Brailsford, and my coach Tim Kerrison. This is one special team - and I'm so proud to be a part of it!
To Michelle my wife and my son Kellan - your love and support make everything possible. Kellan, I dedicate this victory to you.
This tour has obviously taken place against the backdrop of terrible events in Nice, and we pay our respects once again to those who have lost their lives in this terrible event. Of course these kind of events put sport into perspective, but they also show why the values of sport are so important to free society.
We all love the Tour de France because it's unpredictable, but we love the Tour more for what stays the same. The passion of the fans from every nation along the roadside, the beauty of the French countryside, and the bonds of friendship created through sport. These things will never change.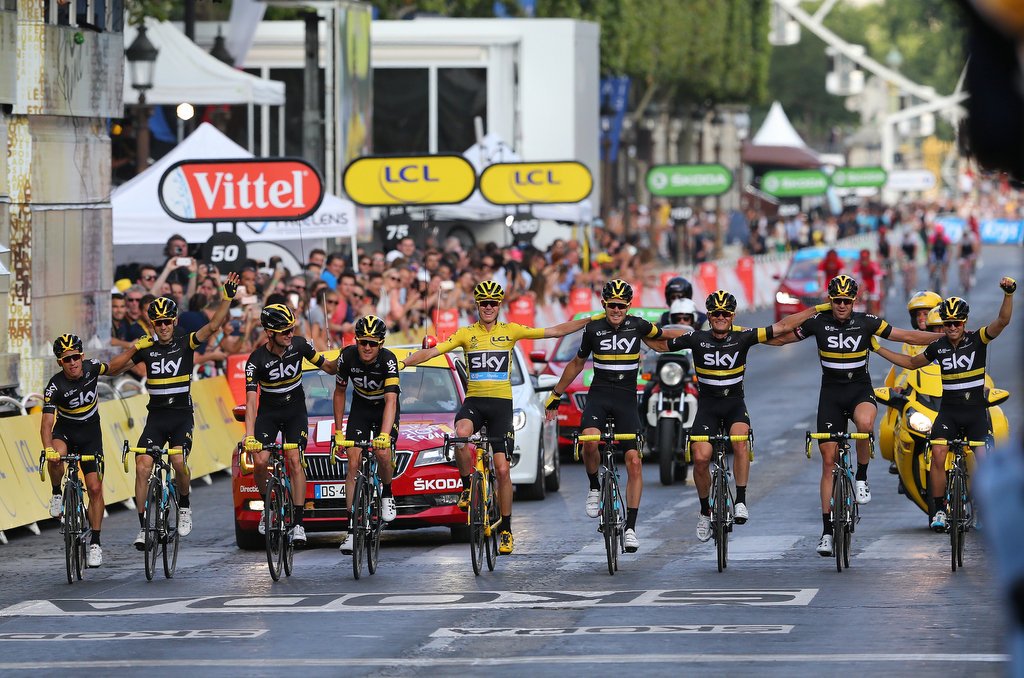 It's hard to get much better than this. This could have been the first one all over again. I'm feeling the same kind of emotions. Even though I've been here before it still hits home just how big this feels.
That would be incredible, absolutely amazing. I'd love to come back. Every time I ride onto the Champs-Élysées I think I can't wait to be back here again next year. Let's see.
It really does put things into perspective for us," opined Froome.
When we're here on the road we feel as if we're in a bubble, but when events happen like those in Nice, it really does put things into perspective.
It makes you think long and hard about values and what sport is all about. It's been a real testament to the race that things have continued as normal, and to the French public also, for how they have been - showing that life goes on, and they are not going to deterred by these attacks."
Geraint Thomas:
"It's been an incredible few weeks really. Everyone has been talking about it but the strength of the team has been phenomenal. We had five climbers basically to support Froomey, all of us have led big races individually, and we've all come together.
It's one thing having strong individuals but it's another thing riding well together and there were no egos, we committed for each other, every day we rode for Froomey and it paid off."
Brent Bookwalter:
"That's the Tour de France, pushing yourself to the absolute physical and mental limit. I definitely did that. I started kind of on a rough note but I had awesome support from the team. I'm proud to be finishing in Paris with a great group of guys."
Marcus Burghardt:
"I think it was a pretty good Tour de France for us. I think every rider did a good job and we all came through healthy and with no major crashes, so that's already important. I think for the team it was a nice success to have the yellow jersey and winning a stage. Being up there on GC with Richie in 5 th is great, especially as he could have been on the podium without his bad luck on stage 2. That's cycling and we can't change this. I was impressed that he stayed focused after this, which gave me motivation to do my best."
Damiano Caruso:
"For me it was a great Tour de France because I think a did a good job for the team, for our two leaders. I'm happy to be in Paris with Richie in the top five. I think this makes us even more motivated for next year and I'm looking forward to being back here and fighting for the yellow jersey again."
Amaël Moinard:
"We had a big goal to put one of our two leaders on the podium, which we remained focused on throughout the race. Then we had a big bonus with Greg Van Avermaet's stage win and the yellow jersey for three days, so that was a highlight of July, instead of focusing on Richie Porte's misfortune. Personally, starting the Tour de France in my home region was something really big. I will remember this for a long time, and it was also nice to be in the breakaway towards the end to try something for our leaders."
Richie Porte:
"Fifth place, although a bit bittersweet, is a great result. I'll always think about what could have been with the time loss on stage 2, but it makes me even more hungry to back and try and win the yellow jersey. I had a great Tour, I climbed really well, and also had a bit of bad luck. I'm looking forward to coming back and giving it another shot with BMC Racing Team. I had great support from my teammates and all in all, it was a great experience."
Michael Schär:
"It feels like it was three years ago that we were in Normandy for the start of the Tour de France! Once you start it goes very quickly and I had a great time. I think we had a very successful Tour with the yellow jersey, stage win, and top five in GC. Personally, I'm pretty happy with my performance here."
Greg Van Avermaet:
"It's my most successful Tour de France. I was in the breakaway plenty of times, won a stage and especially I think wearing the yellow jersey for three days was something really special. It's been a really good Tour de France for me. My first Tour was really hard and I asked myself why did I have to come here. And now it's a bit different, I've had a lot of chances and it couldn't get any better than this."
Tejay van Garderen:
"It's been a very memorable three weeks of racing. I was glad to be able to share in all of the successes of the team. My personal goals weren't really accomplished but I'm certainly proud to be here in Paris with this group of guys."
Dylan Groenewegen:
"It's awesome to finish the Tour de France. I don't think many people expected me to make it. I feel great about this Tour. I don't like the mountains, but I managed to ride them a little easier every day. I'm satisfied about some of my sprints, as well. I proved to be able to compete at this level. I still have to learn a lot on the other hand."
Sep Vanmarcke:
"It went better and better with the lead-out for the sprint. We delivered some good result. No superb results, but we don't have to be too disappointed about that. Personally, I was happy with the stage to the Mont Ventoux. That I managed to finish in the top 10 was beautiful. I enjoyed this Tour. It was the most pleasant one I ever rode."
Timo Roosen:
"That was an awesome experience. It gives me a special feeling to finish my first Tour. It has been three tough weeks, but it was beautiful. I really loved playing such a big role in the lead-out for the sprint. I felt that I was strong. It just should have come out just a little bit better for us, though."
Maarten Wynants:
"We learned so much.Now we know the level we have to reach. There is a lot of chaos in the Tour and we learned a lot from that. To ride the Tour is different from other races and it's beautiful to experience that part of our process. I'm glad that I finished this Tour and I'm happy that I've been able to do my thing for Dylan's sprint."
Paul Martens:
"Personally, I didn't have much to aim for myself in this Tour. The stages were too hard or too flat, and never suited me. Everything went quite well with Dylan. We work well as a team. We can build on that."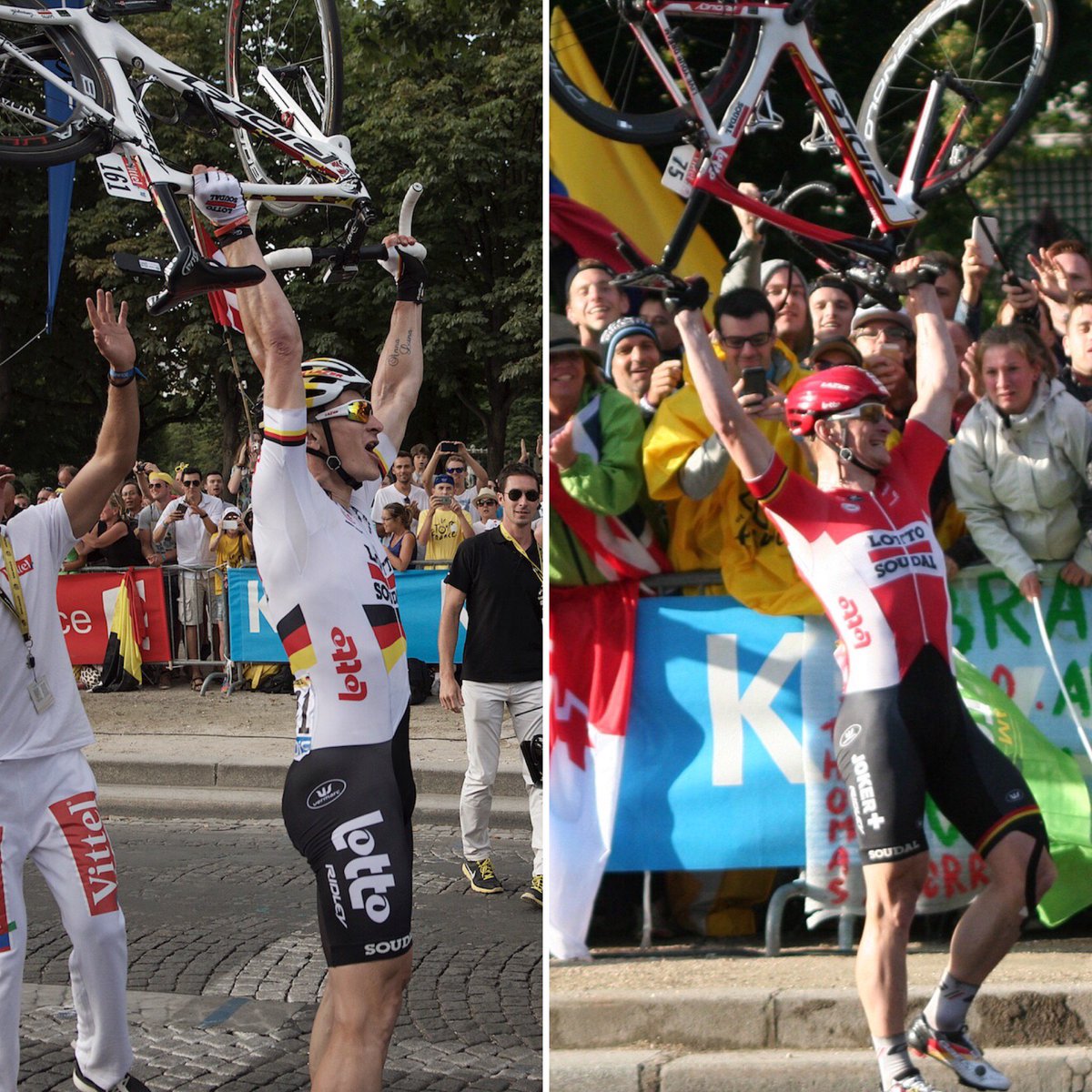 Robert Wagner:
"Blood, sweat and tears. A dream came true for me. I finished my first Tour and at the age of 33, I feel like a real cyclist for the first time in my life. I finished the Vuelta three times and they were very hard, as well. Those grand tours aren't too different physically, but the Tour de France is special."
Bert-Jan Lindeman:
"To ride a grand tour is the most beautiful thing for me. I noticed the difference of level between the Tour and other races. It's a lot harder to be part of the breakaway. All the riders are at a top level and motivated. I fought for the stage win one day and I would love to come back here to go for it another time."
George Bennett:
"It was a rollercoaster. I've had some good moments, bad moments, frustration and successes. This is a learning process. I started with the task to help Wilco, but after his crash in the first week, we changed tactics. I've been riding aggressively and gave it all. You learn the most if you approach it like that. I'm very happy with finishing my first Tour."
Wilco Kelderman:
"I stayed motivated until the end. I just wasn't able to make it into the breakaway too often. I gave it all and fought as much as possible."
Adam Yates:
"We came here not really riding for the overall. It just kind of happened and the whole team have been incredible in their support, all the riders and the staff who have worked so hard everyday.
There has been no pressure, other than what I put on myself. We approached the race day-by-day and I'm very happy with how it has turned out, this is a fantastic honour.
I had a bad day on stage 19 and I wasn't sure how my legs would respond but I recovered well and here we are. I've won the white jersey and fourth overall and that's very satisfying.
I wouldn't say that we are disappointed not to have made the podium, it's one of those things. This is only my second Tour and all of the guys ahead of me have competed for the general classification in previous Grand Tours so I think we have done very well.
The future is ahead of me and I'm sure I will be back fighting for a podium place or even challenging for the yellow jersey. I will try my best, you never what will happen, but I'm going to continue working hard and do everything possible to improve."
Bauke Mollema:
"The Tour overall was a great ride. The team was in full support for me and until two days ago, it looked really good. Misfortune like that is an intrinsic part of our sport. The difference is how you take it. How you deal with it.
Eleventh is my worst Tour if you look at the number. Yet, it was my best. I'll be proud of this in a couple of days when the disappointment is over. There are a number of highlights. That first TT, for example, is a moment I will remember forever."
Dan Martin:
"This was a Tour of firsts: first time I've targeted the general classification, first Grand Tour with Etixx – Quick-Step. It was a learning experience for both parties, but if there's a thing it showed me, is that I have room to improve and go for an even better result. We got 16 top 10 placings, and this just shows the incredible depth of the team. We were the only team who rode for the sprints and for the overall, we animated the race in numerous occasions and I think we have to be happy with what we did".
Tony Martin:
"It's tough and disappointing to abandon in the last day, but my left knee was really hurting and it was imposible for me to complete the stage. I began to suffer since Saturday, when I came last on the stage, just inside the time cut. We will see tomorrow what is the nature of this injury."
Marcel Kittel:
"It's not so many times in your life that you have the chance to fight for victory on the Champs-Élysées and I was feeling good after getting out of the mountains. It's a real pity and at the same time very frustrating, but there's nothing we can do about it. In this Tour de France, we had three punctures, two of which came today. That spells bad luck. Then, in the final, I was empty and couldn't go for it in the sprint. That's sport, it can happen to anyone, anytime."
Peter Sagan:
"The first victory and second victory were amazing, and I also tried to help my teammates, and all the Tour went very well - it was a good Tour de France. I enjoyed helping my teammates.
The Tour de France has always been good for me - the last two years I didn't win but this year I won three stages and I'm happy for that. I always try to give my best and nearly got a fourth today. I started my sprint a little late today, but Andre did a good sprint and I'm happy for him to have won a stage too. Everybody's happy. Now after the Tour de France I can go and relax a little bit, and I will then go for the mountain bike at the Olympics. It would be something special for me as I started in mountain bikes. That would be nice."
Rafal Majka:
"I don't think this win is any different from the first – it's like I've won it for the first time. I'm so happy with this jersey, and happy for my teammates as this year we've done a really great Tour de France as a team, a top ten with Roman and two jerseys with Peter also the most aggressive rider. We were always there fighting every stage and giving our best.
After five years this is our last season as Tinkoff and we did our best, not only me but all the team – also fighting for Roman's top ten and our jerseys, as well as three stage wins – it has been a great Tour de France. After our bad luck at the start of the Tour it was hard but we had a good talk with the Sport Directors and knew we had to fight for our other goals and we did."
Nairo Quintana:
"I head back home from this Tour full of happiness - it's a major feat for me to finish on the podium after all difficulties I had to go through in this race. We rounded off our performance well, with big joy yesterday as our team-mate and friend Ion took that stage win. That was a success we had been chasing during the entire Tour. Regarding the team, I just can say 'thank you' - they helped me out so much. The team GC victory is a well-deserved reward for them: my team-mates fought and gave their best every single day to do what we had planned, and that visit to the podium is quite a prize for the whole group, including our staff.
Our overview after the race can only be positive. It's obvious that we came into this race with a much bigger and ambitious goal, but we've got many years ahead to keep trying. A podium in the Tour de France, the biggest race of them all, makes you feel really happy. This goes to all our fans, my family, dad and mom, who always pray for me so things go right for me. I also want to congratulate Froome: he's a big rival, the biggest one I have to face in my sporting career, and I'm sure that this rivalry will last for many years. Sometimes he wins, sometimes -as seen during this season- it's my turn to win."
Alejandro Valverde:
"We're super happy with these results. We took third overall, we won the teams' classification, also one stage... these results are difficult to improve. A stage for me, you ask? It was hard. As I was still up there within the top GC guys, I was always on a leash; it already happened in Andorra on day nine. Making the breakaways was impossible for me. Maybe I had podium legs? To be honest, it doesn't matter at all. I was strong, and one with my quality clearly has to be ambitious, but to me it was clear what my role in this Tour was. We came here to support Nairo and he's on the podium -winning is always difficult, it'll be up for another year to claim it-. That support was the only thing that counted. The success we got in this Tour goes to those who couldn't enjoy this podium with us -Gorka, Jesús-; we just hope they get back to 100% as soon as possible. Right now, my legs are feeling tired, but there's still two weeks before the Rio Olympics' road race - I'm sure we will be well recovered by 6 August."
Romain Bardet:
Some hours passed but I still didn't realise. Tomorrow if all went right I'll climb to the podium of the Tour de France, l'Arc de Triomphe at my back, Chris Froome in Yellow by my side. That will be, I'm sure, a unique feeling that I hope I'll intensely savour.
There are moments, persons that made today possible, I realised the dream of so many cyclists and for sure I'll think of them.
I have lived three incredible weeks. They are the fruit of the work and the passion of a group who from the first strokes of pedal of this season has shaped itself serenely.
Tonight I just feel like to say THANKS to my eight mates for their strength and sacrifice as well as my thought is for the staff who worked in the shadow to put us in the best condition to finish the work.
Thanks also for all the faces I glimpsed during the effort, those words I heard all day long, those banners on the road.
In our troubled world, it's nice to be able to get togetherto share some moments of sport and fun."
Alexis Vuillermoz:
"Tour de France over with a splendid 2nd place by Romain Bardet, that is a reward for the whole team! As far as me, my shape kept improving during the whole tour. I little rest now before the Olympics in Rio 😊 "
FINAL RESULTS
STAGE
1 Andre Greipel
2 Peter Sagan
3 Alexander Kristoff.
4 Boasson Hagen
5 Matthews
6 Stuyven
7 Navardauskas
8 Lapote
9 Bennett
10 Janse Van Rensburg
1
Christopher Froome (GBr) Team Sky
2
Romain Bardet (Fra) AG2R La Mondiale
0:04:05
3
Nairo Quintana (Col) Movistar Team
0:04:21
4
Adam Yates (GBr) Orica-BikeExchange
0:04:42
5
Richie Porte (Aus) BMC Racing Team
0:05:17
6
Alejandro Valverde (Spa) Movistar Team
0:06:16
7
Joaquim Rodriguez (Spa) Team Katusha
0:06:58
8
Louis Meintjes (RSA) Lampre - Merida
9
Daniel Martin (Irl) Etixx - Quick-Step
0:07:04
10
Roman Kreuziger (Cze) Tinkoff Team
0:07:11
11 Bauke Mollema
YELLOW: Chris Froome
WHITE: Adam Yates
GREEN: Peter Sagan
POLKA DOT: Rafal Majka