In my son's kiddish language 'Scialla' means
'easy', 'lazy', 'no stress'.
Granville-Angers, 223.5 km relatively flat

toward a finish.

Armido Fonseca (Fortune Vital Concept) is cruising solo ahead a lazy peloton

20' behind the race schedule. He attacked early and the peloton agreed.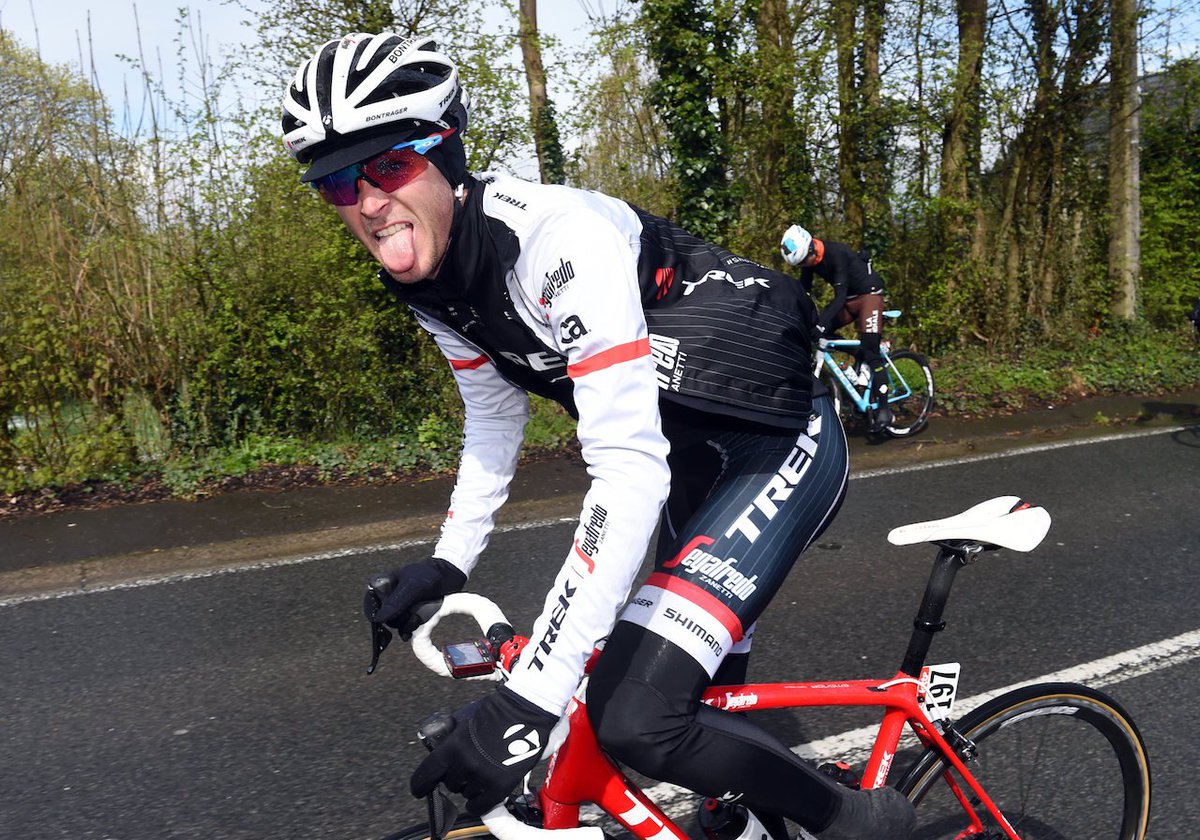 Pedaling finally in a relatively good weather after an early morning and a long transfert riders seem inclined to relax: chattering, eating and similing to the tv camera.
Fonseca goes

. He got an important gap at the moment but little chance to keep it and when the real chase will begin it will last few.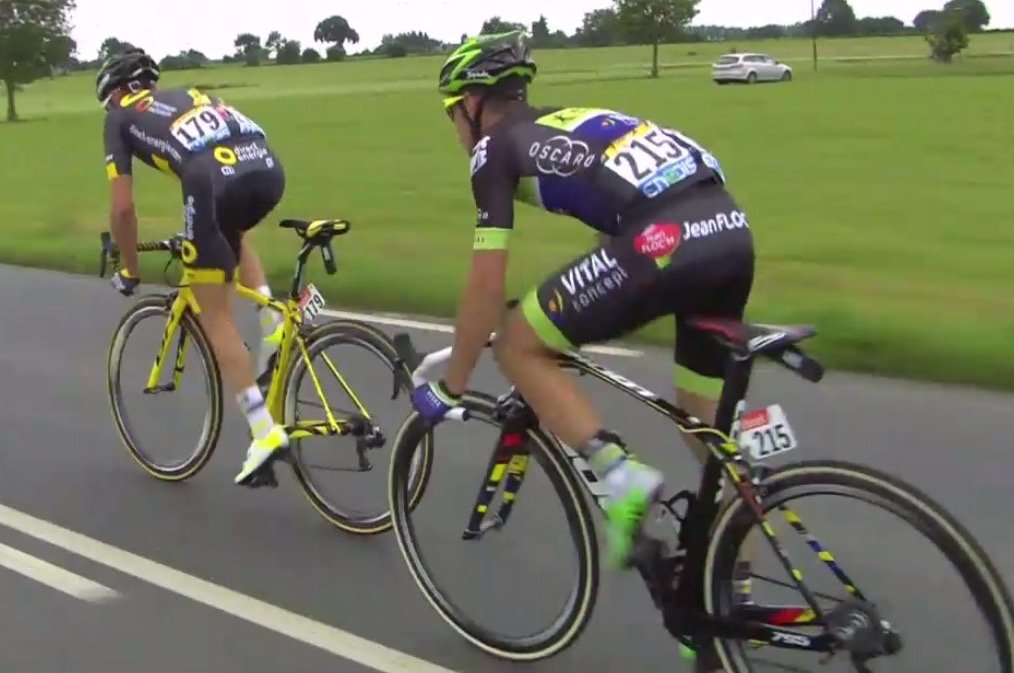 There is few to commentate so commentators indulge in

commentating last stage: Contador's crash, his team stategy.

Because it's true, Contador crashed twice in two days and was left alone as the team was all working for Peter Sagan's sprint. It makes sense considering that victory was worth two jerseys, Yellow and Green. The Tour is still long, Contador's delay can be neutalised on the mountain and his crash consequences shouldn't be serious. Shouldn't. We really don't know. So I think Tinkoff's strategy was relatively right.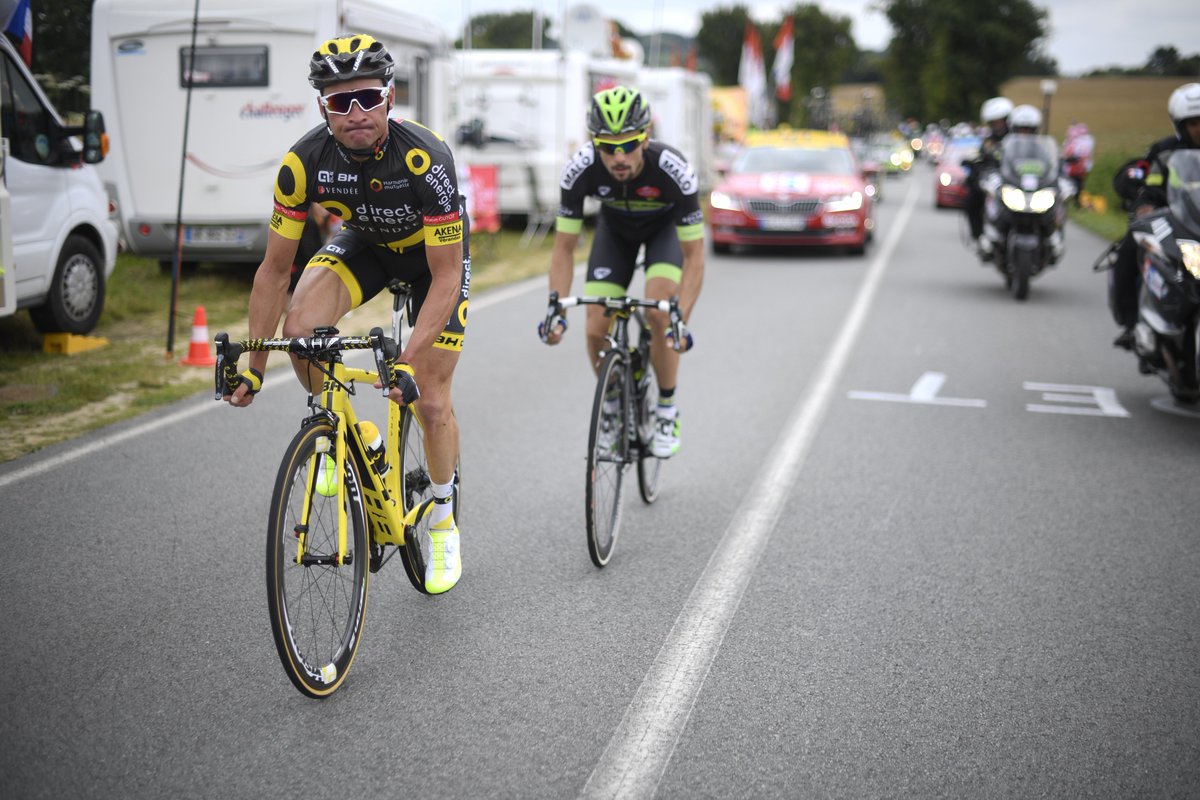 Also Richie Porte lost some time yesterday (1'45'') due to a puncture in the last kms but out of the neutralisation area and BMC didn't wait for him because all working for Greg Van Avermaet. That was a really bad luck, still there is time to bounce back especially because Chris Froome should get his own share of misfortune. Three weeks is a long time. It must be said that

so far Froome has ridden a perfect race.

You can't be the same about Geraint Thomas... He went down too often! let's hope he's more focused in the next days...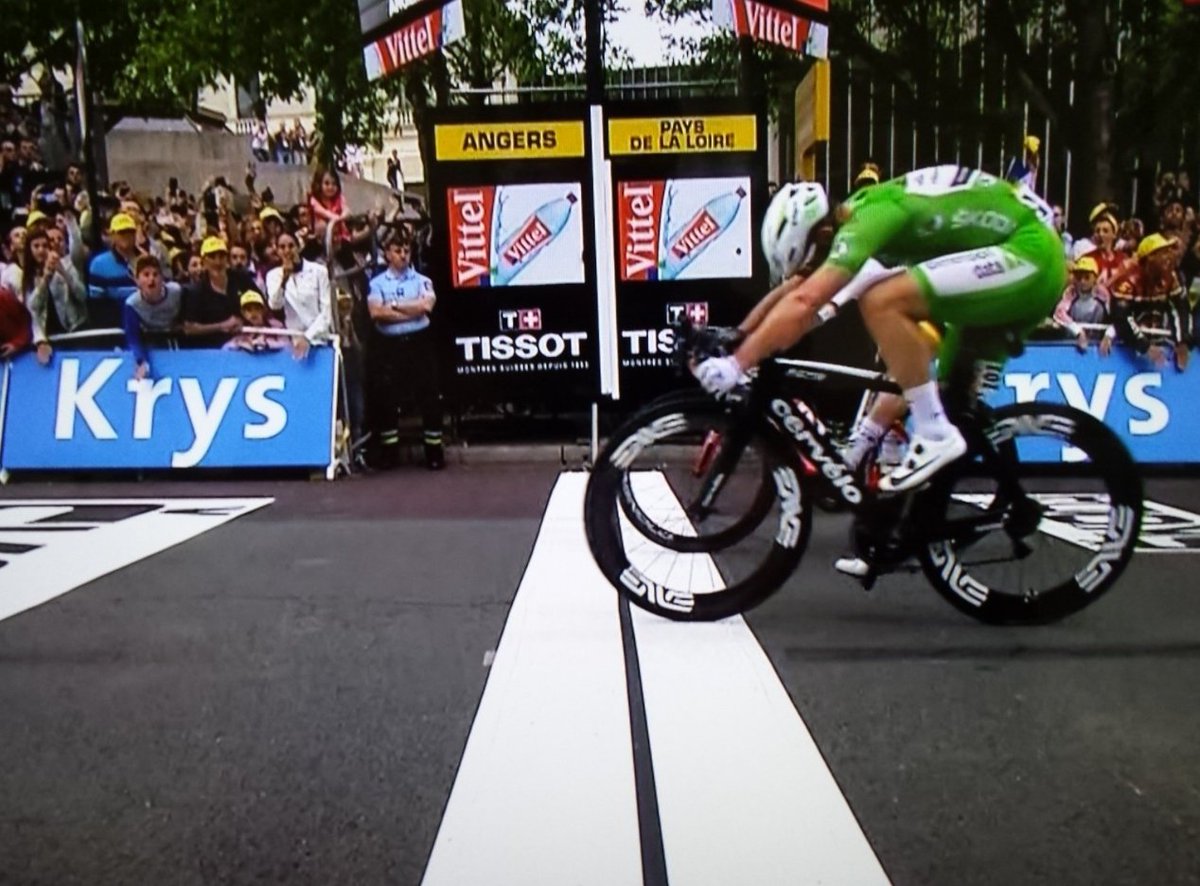 Granville

is nowadays a negletted town with a too big cathedral and a too old port. I have been here some Tours ago.

I remember the long late beautiful sunsets on its cold purple sea, the golden dawns, the windy blooming precipitous cliff. I spent here some anguished hours

: I was supposed to meet Andy Schelck in the rest day but he said he was too nervous before the time trial, and he was right to be.

On the windy road to the Mont Saint-Michel

he saw the terrible ghost of his crash in the Dauphiné, where he got so badly injuried and off the bike for such a long time. I went to the start and he was tense, upset, unable to concentrate. His Tour had been quite good but there he lost too much. He lost his morale too. But Andy was a fighter and showed it attacking on the Alps d'Huez: he broke away, crossed it first at the first passage and rocked the scary descent. He finished that Tour just out the top ten: too few. I taked with him the night before the last stage in Paris and he sounded good. As always I was way more worried than him about his reputation.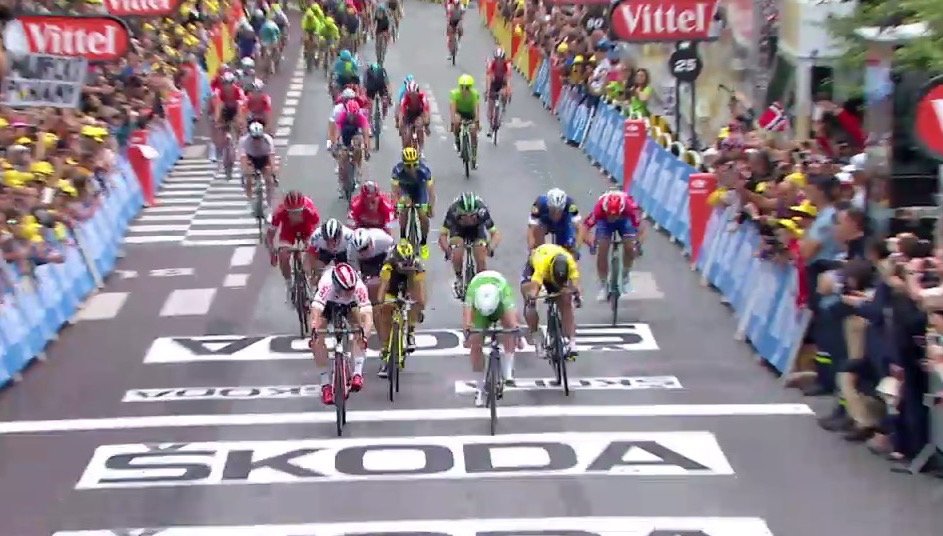 Fonseca goes and it's a very long stage, crossing typical French villages built in grey roofs around a castel or a church, fields in green and brown, placit cows, the crowd of the Tour.

Fortuneo DS says Fonseca wasn't supposed to ride the Tour: he wasn't in shape, underperforming. He got a late call and seems eager to show he derves it.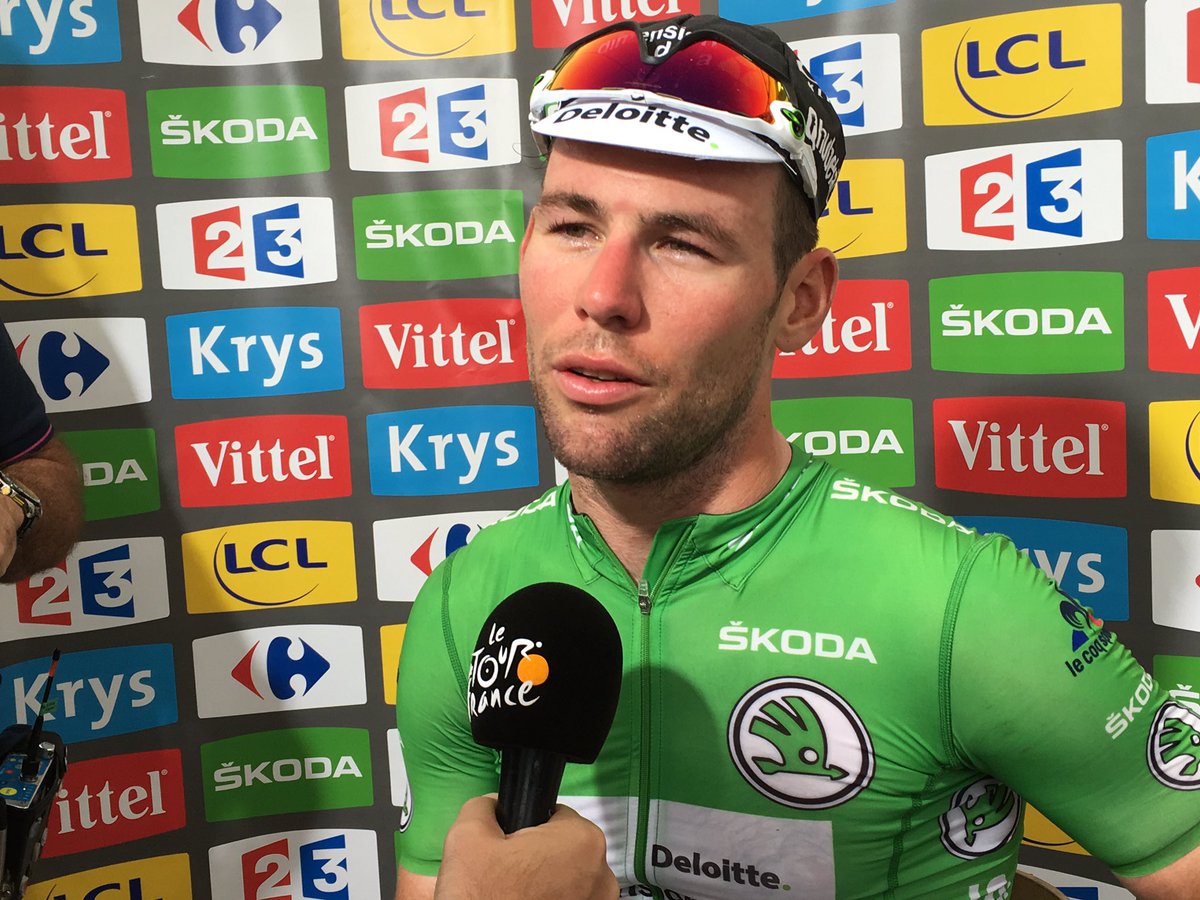 Thomas Voeckler has seen enough of it and jumps off the peloton in pursuit.

80 km to go Voeckler joins Fonseca.

They go. Behind it's time to speed up a little. 52 km to go the gap is 1'. Fonseca wins the intermediate sprint, 2nd is obviously Voeckler. In the peloton Kittell sprints to 3rd.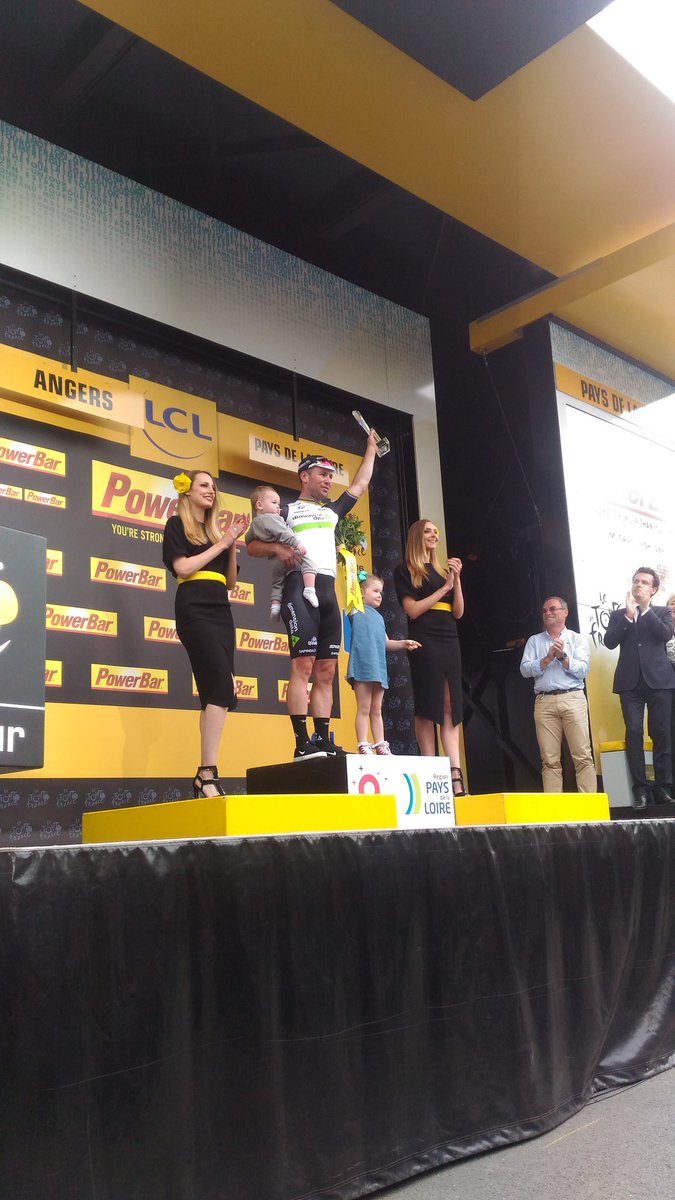 16 km to go the gap ia about 20''.

The pace in the peloton definitely increased

. Etixx's

Vermotte

is pulling, yesterday too he did a

huge work

. In front Voeckler can't keep his tongue inside. He also invites the crowd to stay off the way: the news comes that

a vehicle of the caravan hit a girl

, she's alive but bad. Keep out people! 8 km to go

the break is caught and the sprinters' teams orginise their trains.

It's a bit messy down there.

This bend is dangerous

, a Orica-GE falls, the peloton splits.

Last km. Greipel and Cavendish both exultate. Photofinish: it's CAV!

28 victories means he beats Eddy Merckx and joins Bernard Hinault.
Mark Cavendish: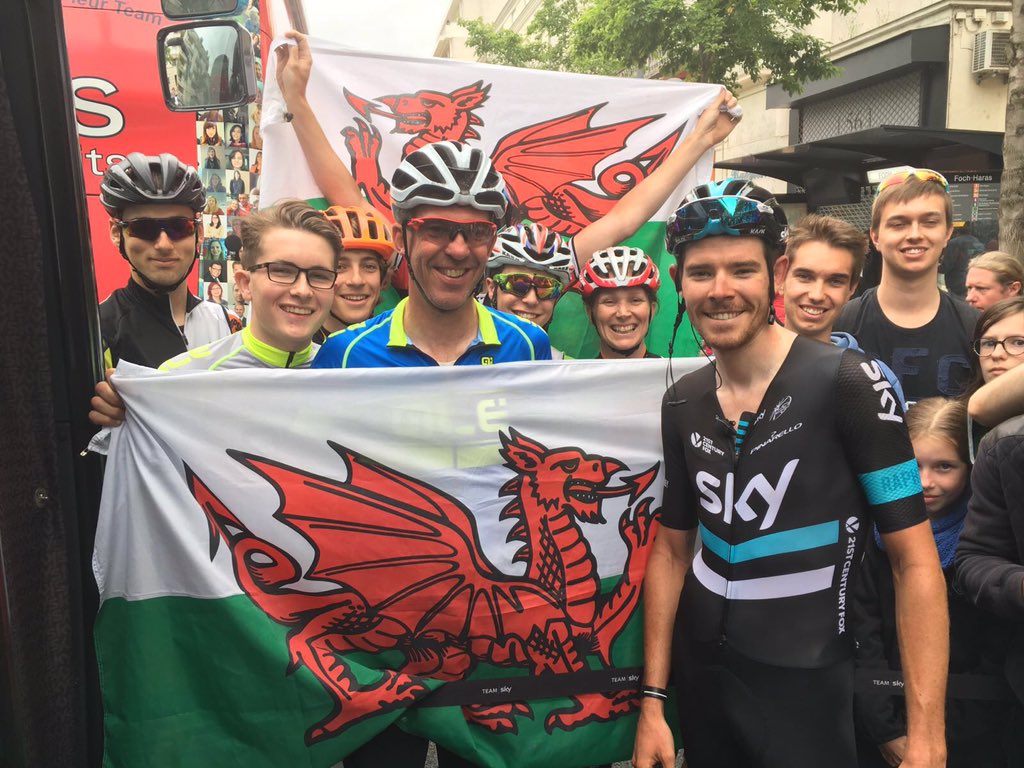 "I am incredibly happy with this second win at the Tour de France. We planned it for a long time this morning, we had a long team meeting about how the finish would go and it went pretty much exactly how we planned. It's good that the guys stayed calm and collected. It would have been easy for them to have pulled and then got out of the way with the hectic final, but they stayed patient. Edvald stayed patient, Mark stayed patient and then at the right minute I was able to get on Andre Greipel's wheel. I knew he'd hit it early, actually he was stronger than I thought he'd be. Andre has guts, he rides like that. I actually didn't beat him in the sprint, I beat him with the lunge. This is another great win for the team but more importantly, it raises the profile of Qhubeka yet again, and that is the reason we are here."
André Greipel: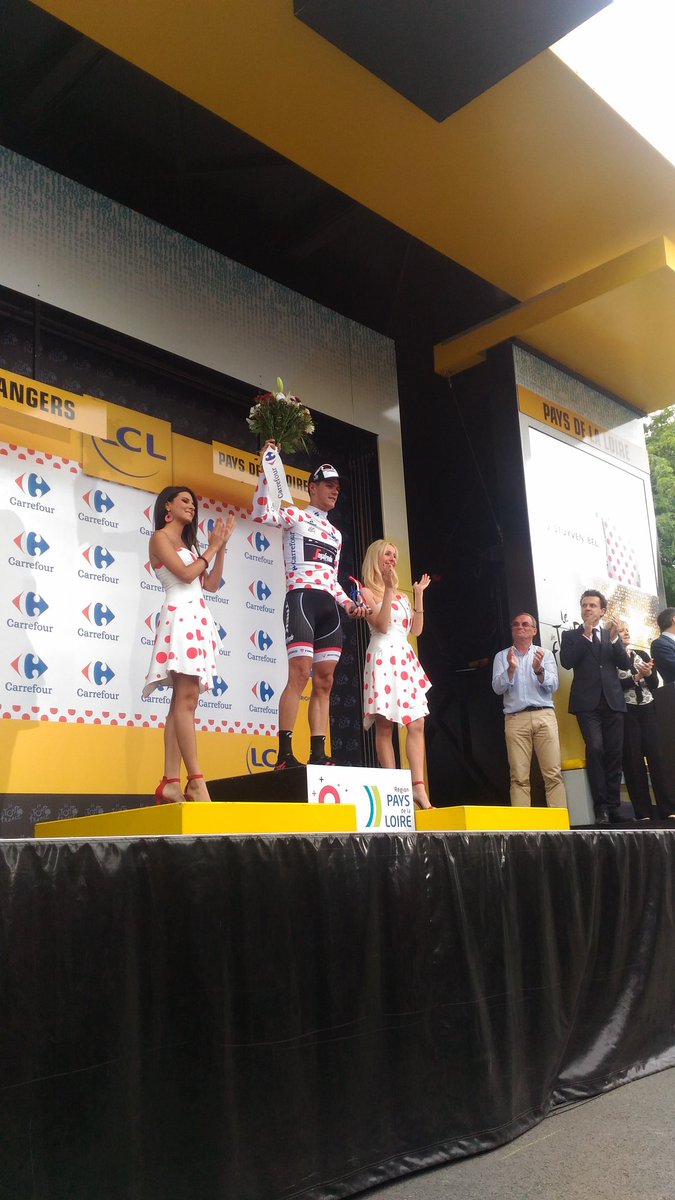 "This is such a pity. I lost with only a few millimetres difference, Cavendish was just a bit faster. It was a chaotic end of the stage. In the last six to seven kilometres it was difficult to stay together as a team. Anyway, Jürgen Roelandts managed to let me start the sprint in a good position. My gear was too big for the steep finish and that might have made me lose. Nonetheless, Cavendish showed again how strong he is, it would not be wise to underestimate him, this is his 28th stage win at the Tour after all. But with the team we proved we are capable of winning and tomorrow we'll aim again for the stage win."
Luke Rowe:
"A stage of 2 halves. First half crazy slow, second half fast as F**k !!!"
Jasper Stuyven:
"Enjoyed my first day in the polka-dot jersey!! Too bad my legs didn't agree on helping @EdwardTheuns in the final!"
"It was an easy day, it was nice to recover from yesterday," said Stuyven. "I wish that I could have helped Edward more, he has a really good sprint, but I just couldn't push today. Tomorrow I think I should be fully recovered from my effort.
Today the disappointment of yesterday was gone. I am happy with what I achieved, I am proud to wear the jersey."
Michael Matthews:
"Stage 3 wasn't the result we where looking for in @ORICA_BE but legs are there we will keep fighting #NeverGiveUp"
Marcel Kittel:
"We rode full gas from 25 kilometers to go and it was really intense. In the finale, we were there, but we did a mistake by hitting the front too early, so in the closing meters the other guys came very fast from behind and I got boxed in. It's important to learn from mistakes, to remain calm and talk about what happened. The positive side of things is that I feel good and my legs are there. We will try again in the next days."
Julian Alaphilippe:
"The last kilometers were really stressful and we tried to stay focused and keep Marcel at the front. It's a pity things didn't work out as planned, but there will be other chances. On a personal level, I'm happy for keeping the white jersey, as it was a great feeling to wear it today. I want to thank my team, the fans and my French friends who were by my side. The support I got was unbelievable and it really helps in this first Grand Tour I am riding."
Peter Sagan:
"It was a long day, 220km - we did the first part very slow then the last 20km got very interesting. I'm very happy to not crash and hold the yellow jersey, which was my goal. For sure I have to try also for the points for the sprint. The finish was again crazy but that's sprinting. Everybody wanted to be at the front - but I'm here with yellow still in one piece so that's already nice."
Richie Porte:
"It's [the stage] slow but then you know it's going to be more hectic in the final which it was in the last 60 kilometers. It was super fast and quite dangerous but it's another day ticked off. It's still six hours on the bike. It's not hard enough to be a race but you're still not recovering. Fingers crossed that it's a little bit faster tomorrow but each day is a day closer to the goal."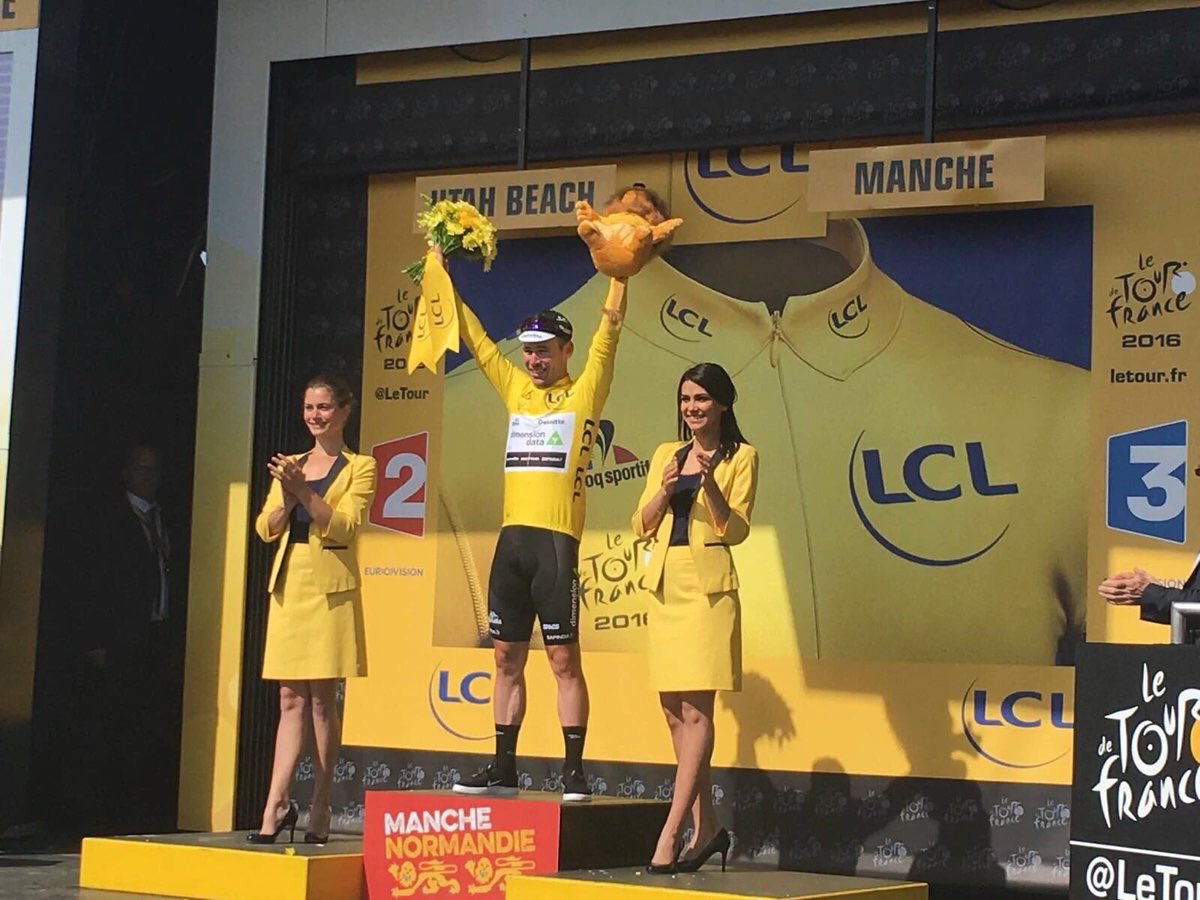 Greg Van Avermaet:
"Today's stage is a different type of race, more for the sprinters. And when you only have one guy in the front it's a bit boring and no one really wants to chase. But then the final is pretty hectic as everyone still has fresh legs, so it's pretty hard to be up there. It's pretty risky so I'm happy that it's over and we're all safe and on the same time."
Dani Moreno:
"It was overall a calm stage from the beginning, but the final 40 or 50 kilometers were a very diffetent story. You always ride in the finale with those nerves, that need to keep focus because you never know what's gonna happen, plus you must keep Nairo safe. It was a 'rest' day, between many quotation marks, already before that point - that final push turned the stage into a quite demanding one. Still, I think it was quite a relaxed day for Nairo, apart from that ending course. Let's hope we can keep him in good place also tomorrow. It will be a long stage, and should the break take long to form, the finale could get more exciting and tougher than today's."
Dylan Groenewegen:
"I lost the men for a while. Timo Roosen almost crashed, everyone braked at that point, accept me. I passed our train on the right side and lost them. I wanted to take my position afterwards, but Alexander Kristoff (Team Katusha) boxed me in.
I'm in the top 10, but I'm not quite happy with a tenth place. At least, we are improving and we did a good job as a team today. In the end, you need a little bit of luck as well. We don't have to be scared that were not good enough. We are and we want to show it another time in this Tour de France."
Robert Wagner:
"It went very well, actually. We came in the right moment, Timo Roosen delivered a very strong job and when we passed Dylan with one kilometre to go. I counted on him to be in my slipstream. He wasn't, unfortunately.
We're pushing with a lot of sprint lead-outs and rode towards the finish line at 70 kilometres an hour. You have to stay focussed at the same time, and that's difficult at such a pace. You barely hear anything and are full of adrenaline. You need a lot of luck and I'm convinced that Dylan will get his chance in this Tour de France."
Edward Theuns:
"I am happy! again I am in the same line as the big sprinters. It shows that the first stage is not just a coincidence, of just one time that I happened to get there. The team did a great job for me again. In the last corner, I lost a bit of speed because they were coming from the outside and I had to brake a little. But 5th again is really good for me, I think.
It was the slowest race I ever did I think! There was one guy in the breakaway, so it was really, really, really easy today until the last 50-60 kilometers. It was like a half-recovery day today.
Fabian gave me a pinch in the butt with around 3kms to go to take his wheel. He brought me from like 60th position to the first of the bunch. It was a big effort from him, and then he kept going so I could stay out of the wind.
The last 1.5kms was not like I thought it would be, it was a little downhill, so riders were coming from different sides, which made it hard to get into good position for the last corner. When I had to brake there, and lost a little speed, in this kind of finish that little bit of speed is important because it's hard to get it back in the uphill. Then it's hard to compete with the best sprinters in the world.
But they are not really sprinting away from me. It's all in the details. If I can get a little bit closer to start the sprint, then… Small things can make a difference. The most important is that again I showed I am fast, that I can be there in the finale, and I think that for me and for the team this is something we can build on.
"Tomorrow we will try again. I hope that we will be rewarded for the way we are racing: the spirit is good in the team, we stay together, and in the end, we try and come to the front as a team. It would be nice to show something for this."
Alberto Contador:
"Today was more or less okay but I've not been able to ride well because I can't go too much on the pedals because of the pain in my legs.
Now it's my left leg that gives me problems after my crash yesterday.
I know that I'm not feeling better than yesterday but I'm still here.
The priority now is to get to the hotel as soon as possible so that I can start to recover again. This Tour, and in this moment, it's very difficult for me but it's only stage 3 of 21 and I still have my morale even after my crashes."
MORE TO COME
RESULTS
STAGE
1 Cavendish
2 Greipel
3 Coquard
4 Sagan
5 Theuns
6 Enger
7 Kittel
8 Laporte
9 McLay
10 Groenewegen
GC
1
Peter Sagan (Svk) Tinkoff Team
14:34:36
2
Julian Alaphilippe (Fra) Etixx - Quick-Step
0:00:08
3
Alejandro Valverde (Spa) Movistar Team
0:00:10
4
Christopher Froome (GBr) Team Sky
0:00:14
5
Warren Barguil (Fra) Team Giant-Alpecin
6
Nairo Quintana (Col) Movistar Team
7
Roman Kreuziger (Cze) Tinkoff Team
8
Tony Gallopin (Fra) Lotto Soudal
9
Fabio Aru (Ita) Astana Pro Team
10
Daniel Martin (Irl) Etixx - Quick-Step
JERSEYS
Yellow Peter Sagan
Green Mark Cavendish
Polka dot Jasper Stuyven
White Julian Alaphilippe