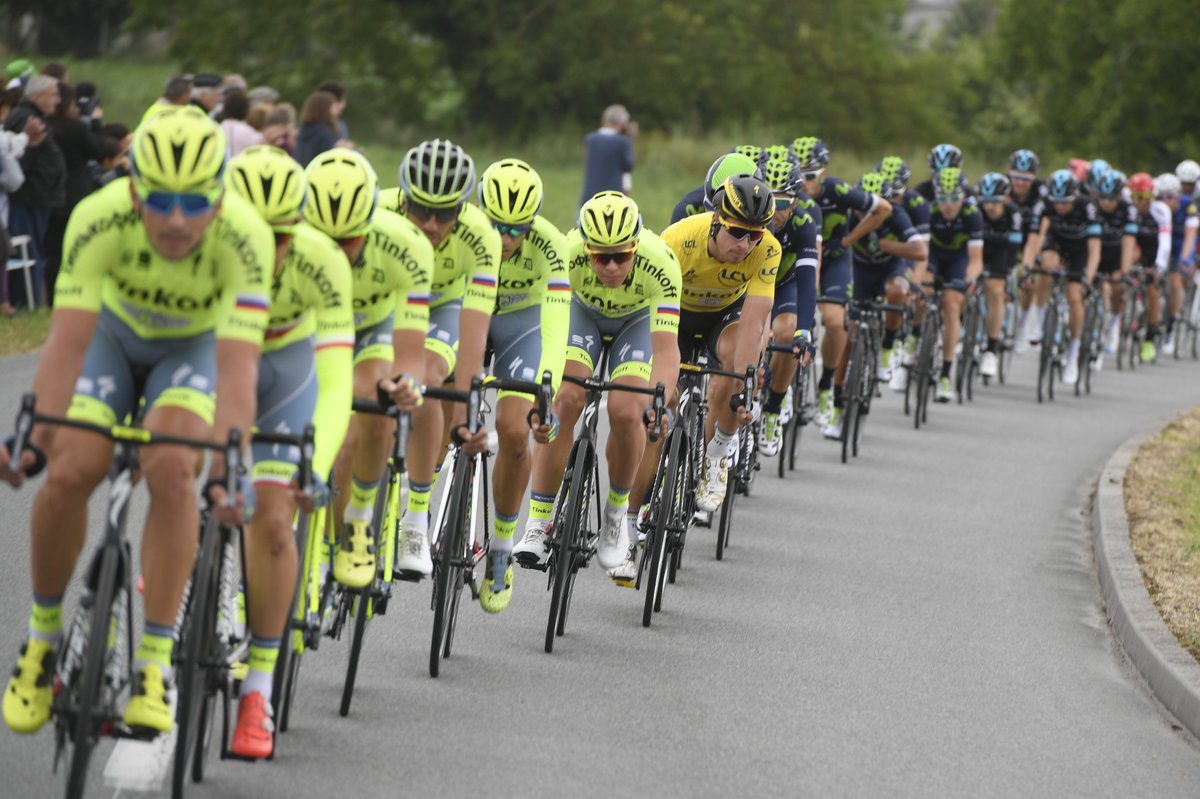 237.5 km

from Saumur to Limoges

. This is

the longest

stage of the Tour. A flat start, a 4th cat. climb after 50 km,

an uphill finish, steep and short

(800 m 7,5% average, 7 km and 500 m 5% average).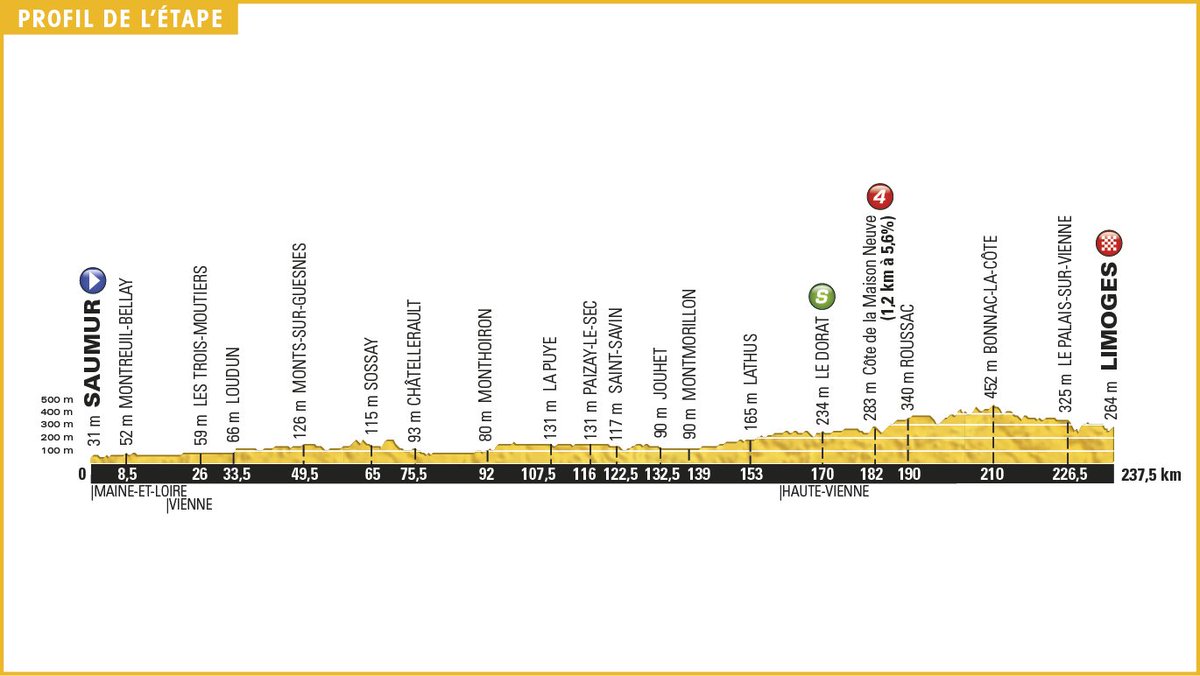 There is

a break-away including Gougeard, Schillinger, Irizar and Naesen.

118 km to go the gap is about 6' but 90 km to go it's down to 3':

the peloton is seriously chasing

.
Peter Sagan is expected today but I'll watch Jasper Stuyven, still wearing the Polka dot jersey.
I said yesterday that Geraint Thomas is crashing too much, now the news comes he gets a broken rib: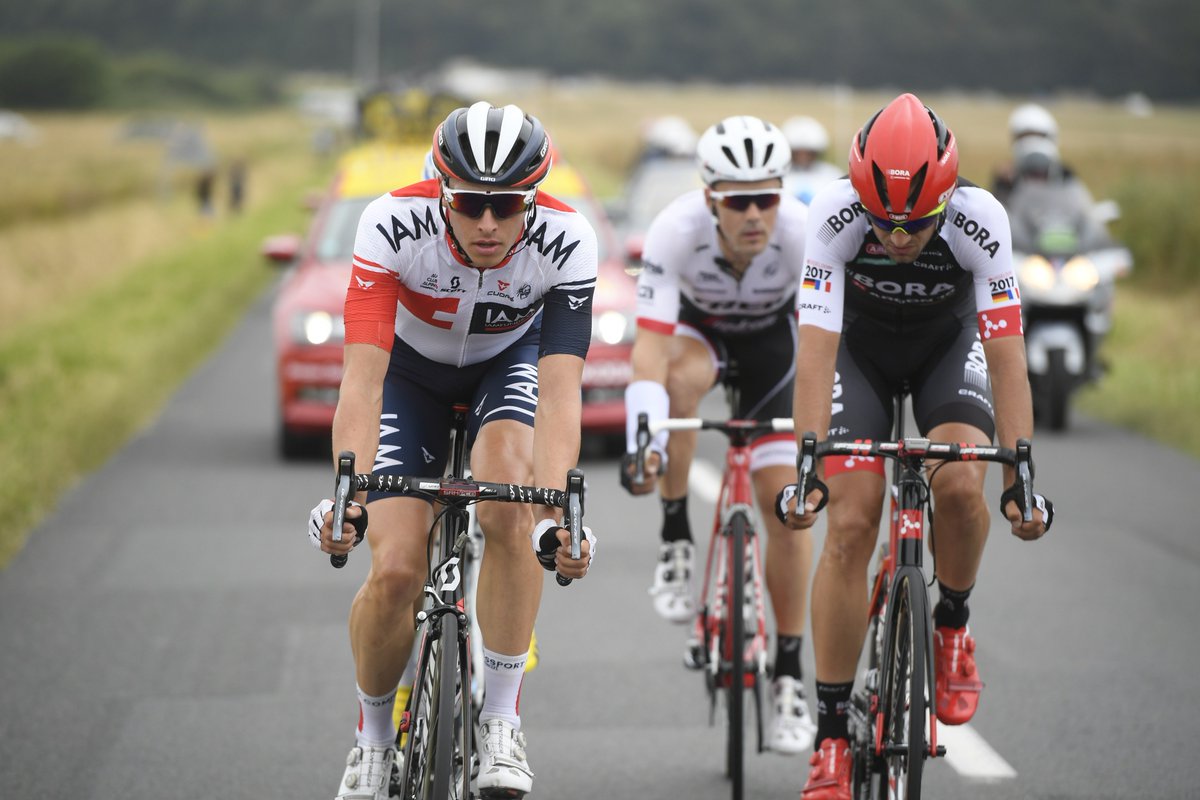 Geraint Thomas:
"It's still pretty sore to be honest and it will take a few days to get over but it should be all right.
I landed on my stem and got a bruise from there and on my ribs, which I have taped up. It affects my breathing and when I'm getting out of the saddle, so when I cough or tense my stomach it hurts.
I've certainly had a lot worse".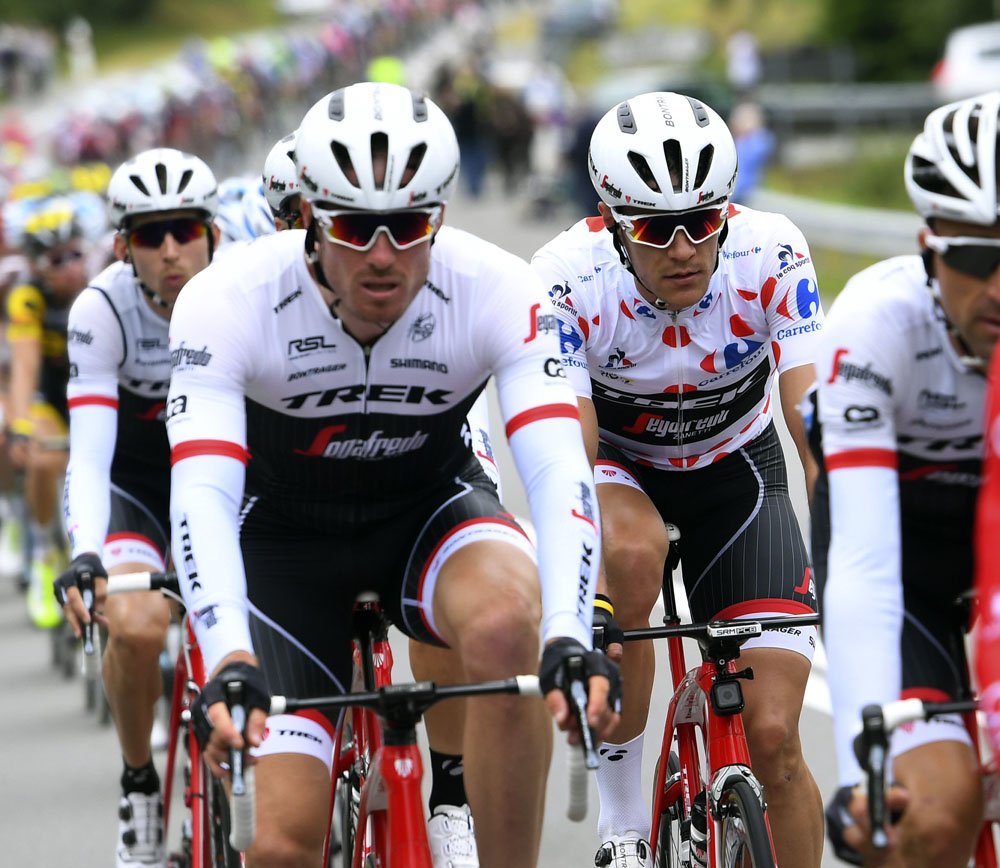 Intermediate sprint:

Andreas Schillinger

is 1st. In the peloton

Sagan is 5th

in front of Kittel and Cavendish. Not fast nor furious.

Côte de la Maison Neuve

: 1.2 km, 5.6%.

Irizar

goes and takes the point. Nothing change and Stuyven's jersey is safe. The race left la Manche behind and the landscape has changed:

red roofs, fields in vivid green and yellow

.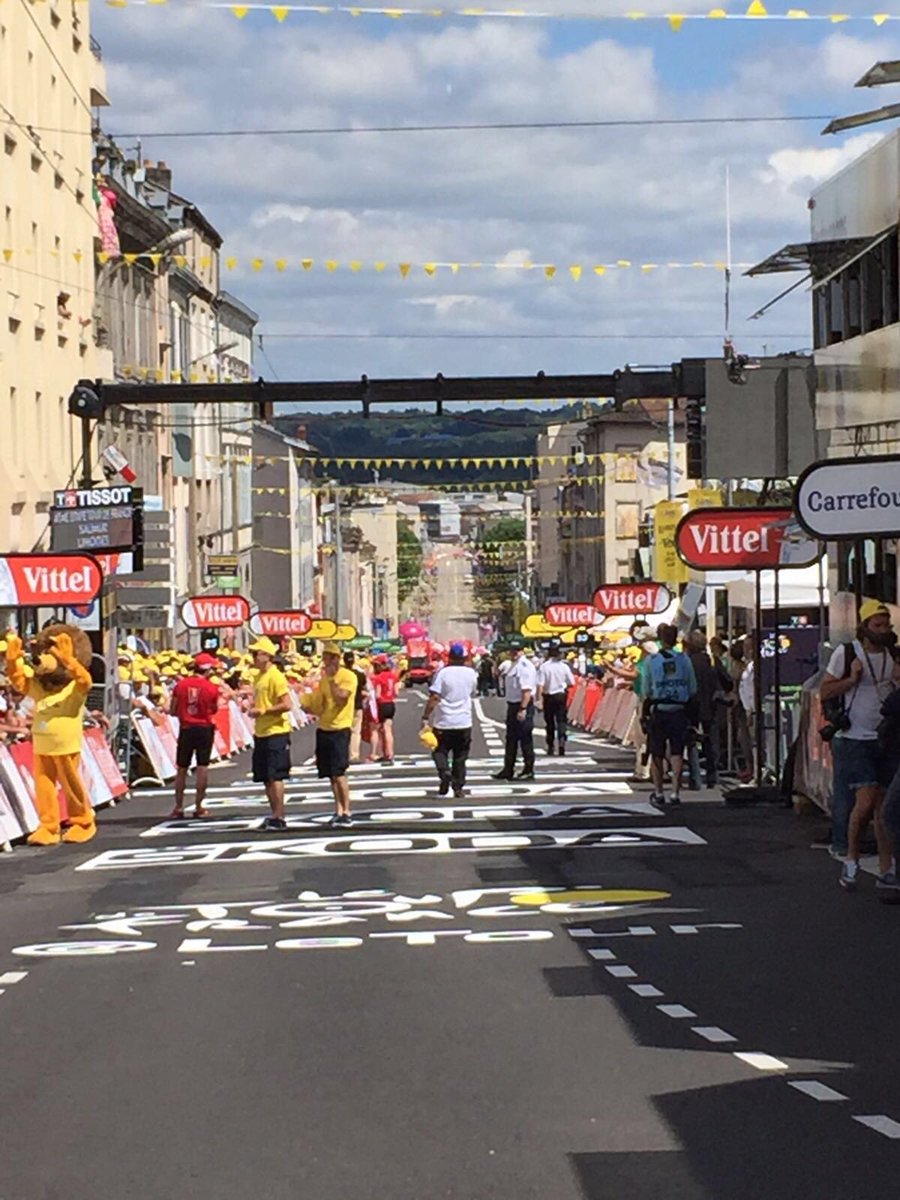 Julien Vermote is pulling again the peloton. 40 km to go the gap is under 1'. Gougeard gets dropped. Now the race passes

a village burnt down

by the Geran Army in 1944 and never built again to keep

the memory of such a massacre.

Women,children and men, all were killed. So don't be ready to judge what's happening else where:

Europeans have nothing to teach anybody about humanity.

Sadly. 30 km to go, the flat section is over. Morkov, who crashed in stage 2,

is suffering at the back

.

7 km to go

Irizar and Naesen drop Schillinger. The gap is only few seconds.

All together

.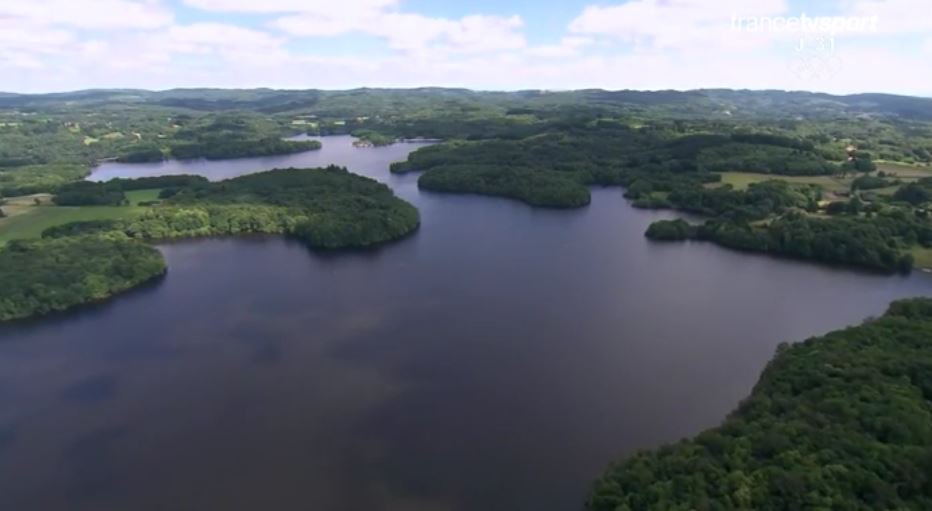 WTF!

a dangerous narrowing and roundabout 3 km to go!!!!

NO WAY!!! fortunately no crash. Last km! last meters! Kittel or Coquard? Shoulder against shoulder. At the photophinish, and the jury says it's Kittel.
Marcel Kittel:

"It feels like my first victory!"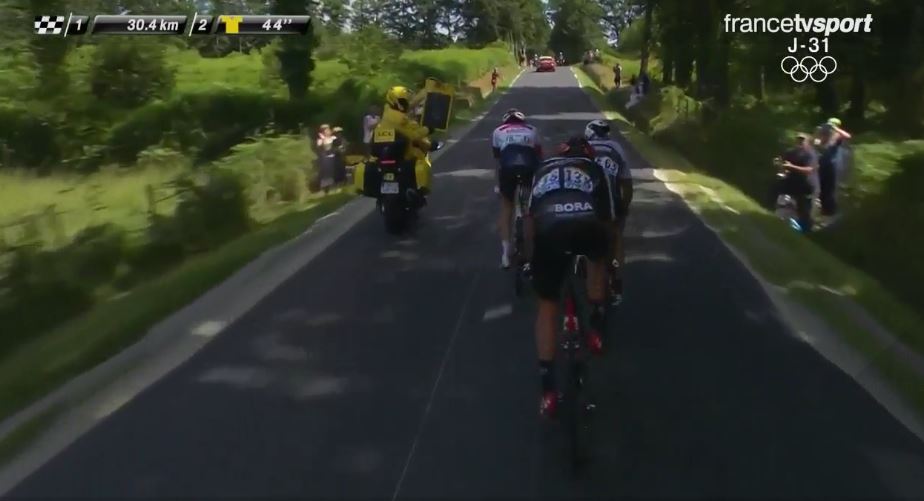 "It wasn't easy for the team and me after the last three days. The ambitions and expectations were high and the pressure was there, especially after getting so many wins in the first part of the season. Yesterday, after the stage, we analysed the finale, talked about our mistakes in a positive way and everyone learned from it. I tried to motivate the boys and today they did a marvelous job. We were there when it mattered, I was brought up in the right position and had a perfect timing.
I am super happy and it's great to return to the Tour de France with such a victory. I knew since yesterday that my legs are strong and wanted to win for the team, who was really incredible. We still have some opportunities ahead in the race, but first we want to enjoy this day."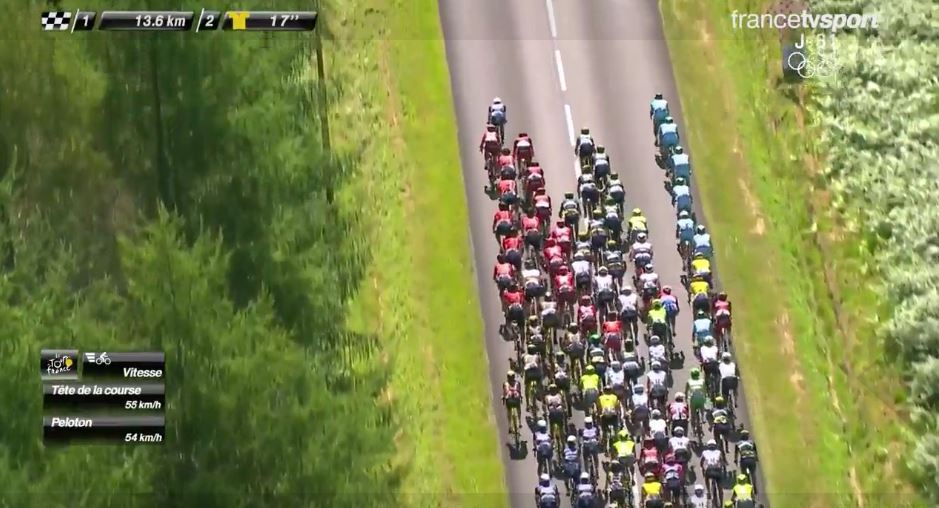 Bryan Coquard:
"I really believed in my chances. Jimmy (Engoulvent) yesterday reproached me not to have thrown my bike forward enough. I could see I was making it back but it was not enough. I'm very disappointed but I must not give up," he commented post-stage. "There are still lots of chances left. I'm glad that we took things into our own hands. I think I belong with the greats now. There is no mistake in the sprints, the stronger wins.
I was never as close to victory but I haven't won yet. I'm young but I'm a winner. I have temperament and I want to win this year on the Tour."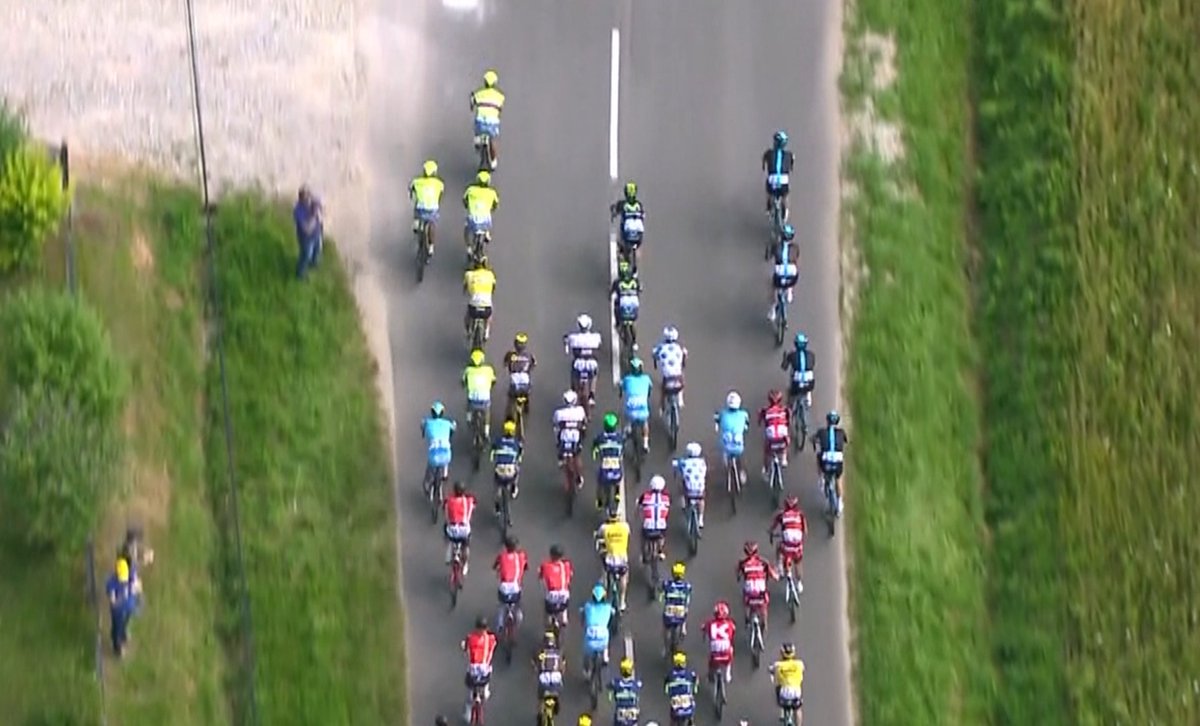 Simon Geschke:
"The finale was really hectic and very fast. There were more riders in the breakaway today so we rode faster in the bunch and we had some tailwind throughout the stage. In the finale, the last 50km were really stressful, with riders always fighting for positions. In the end, we managed to get Warren in a safe position and we didn't lose any time."
Ramon Sinkeldam:
"The stage was very long today and the finale was quick. It ended up being a hectic sprint like the previous days. In our lead-out, we lost each other a few times and we couldn't find a good position at the front. Tomorrow, the first mountain stage starts and probably some more guys will want to attack. That's when the real race starts and then it is up to Warren."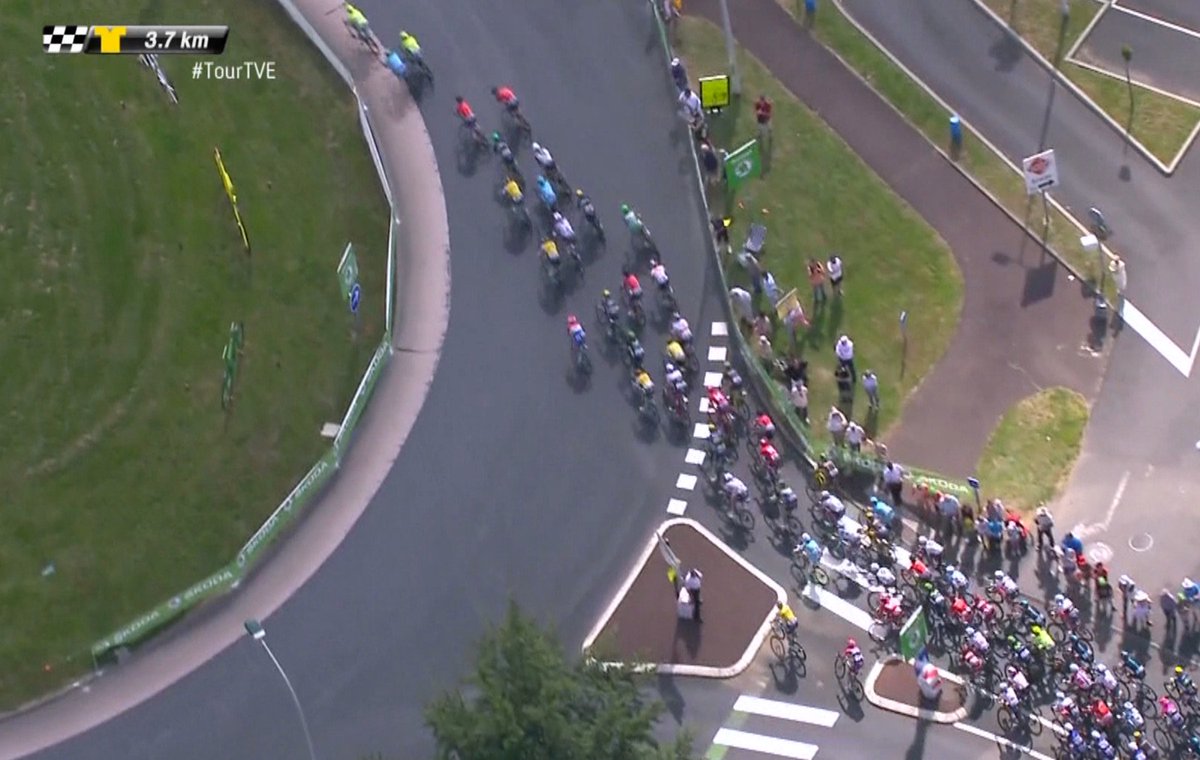 Richie Porte:
"it was a good day. At least we didn't go as slow as yesterday, but it's another one ticked off and I'm looking forward to getting to the climbs tomorrow. We have done the recon on tomorrow's stage and there are a couple of nasty climbs in there. But also the run in is a nasty, technical downhill so that could play a part in it too. There's a bit of a kick to the finish so for sure the last 40 kilometers are really going to trim the field a little bit. Which is a good thing, it won't be so hectic as it has been."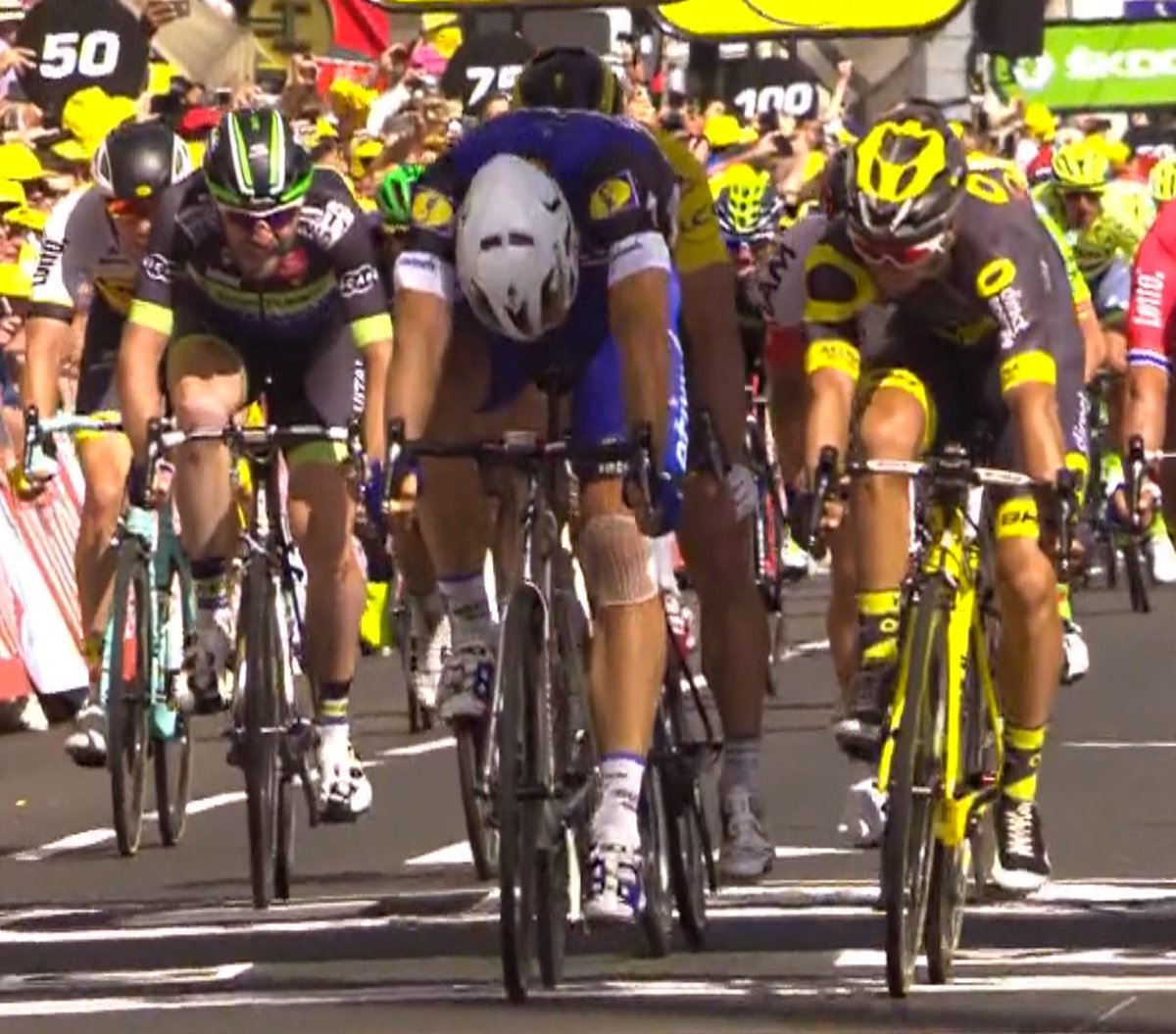 Tejay van Garderen:
"I'm really excited to head to the hills and get the GC sorted out a bit more. I think it will be a little less nervous and we'll get a sense of who's going well and who's not. Richie and I did the recon [of stage 5] together and it's a tricky stage. It's not going to be as hard as the Pyrenees but it will shake things up. You're not going to see Sagan and Cavendish up there."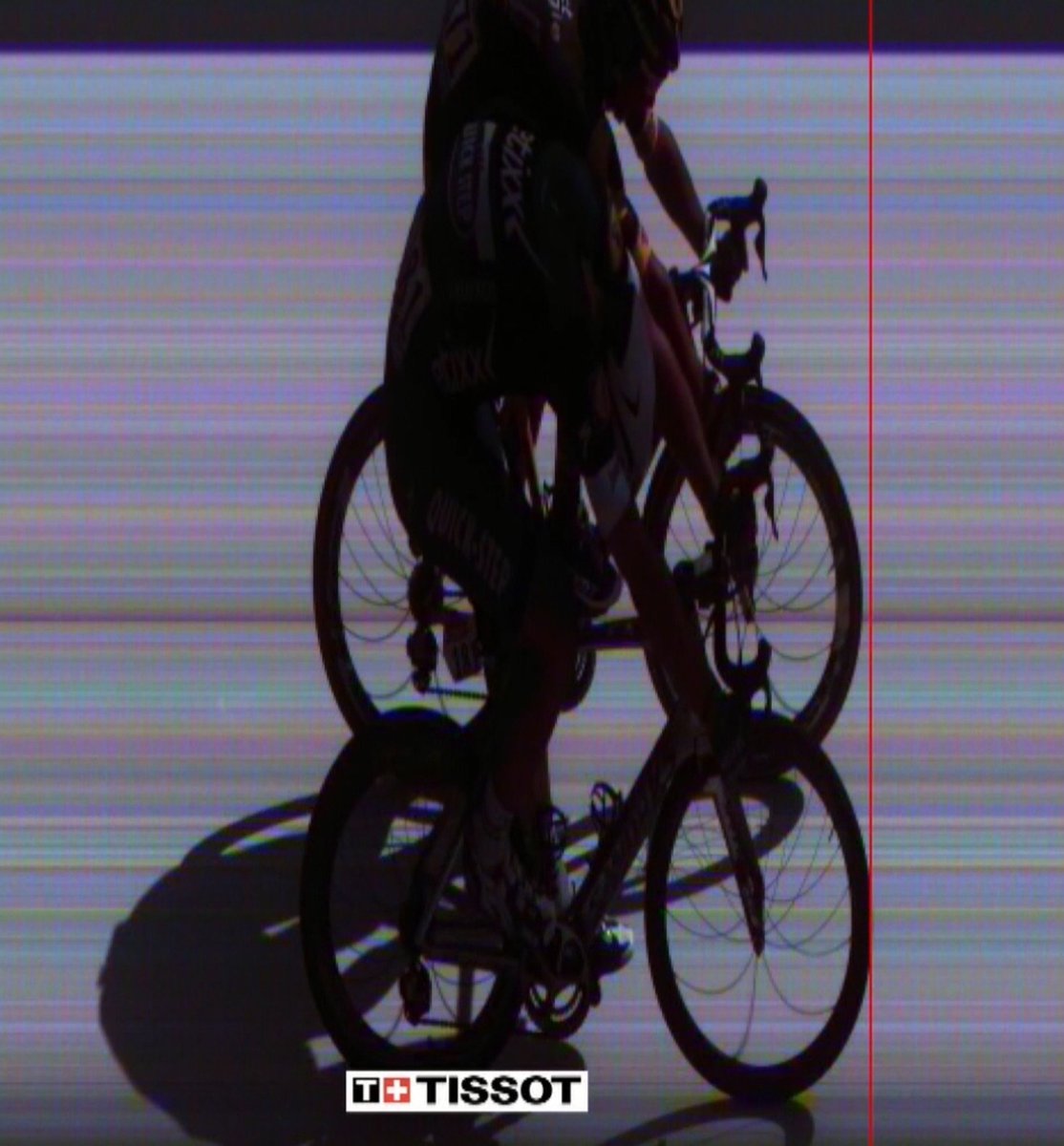 Alejandro Valverde:
"It was a super fast stage, yet we got through the day in the best of possible ways. A complicated finale is forecast for tomorrow, when it comes to terrain; one might say it's dangerous, but I consider the stages we just left behind more problematic for me than Wednesday's. We're in perfect position at the moment, and it's logical to think we could get even closer to yellow tomorrow, even lead the race myself, but I make this clear yet another time today: we came here to support Nairo. Should the opportunity arise, we won't avoid it, but our sights are clear. All in all, it was another good day for us."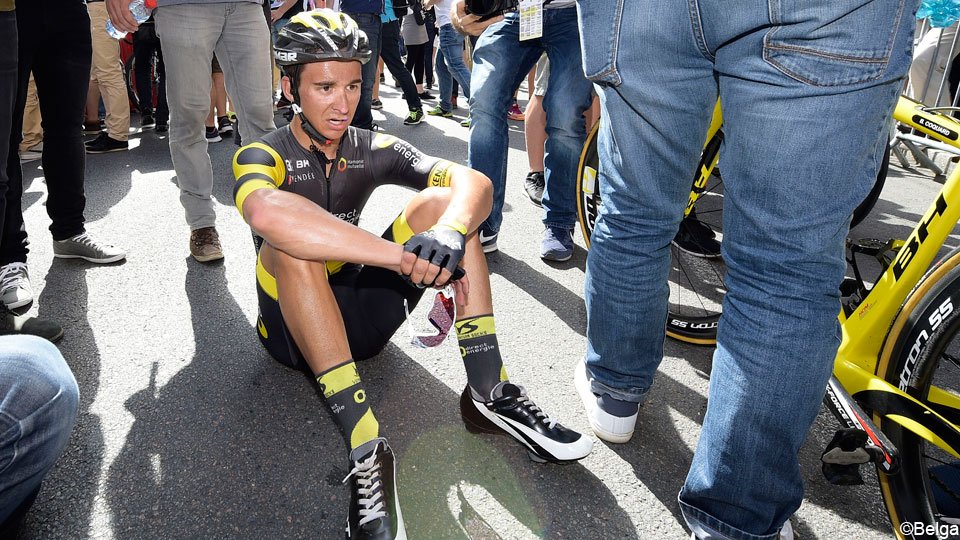 Nairo Quintana:
"A very dangerous day for all of us, but we got to the finish safe and sound, just like we've done during this Tour so far. Let's hope our legs keep rolling just as well tomorrow for the team; tackling the mountains means we get into our 'bread and butter', that terrain that suits us best. It will still be a difficult race, but we're hopeful that we will do well. We've got a strong team and I'm felling myself strong."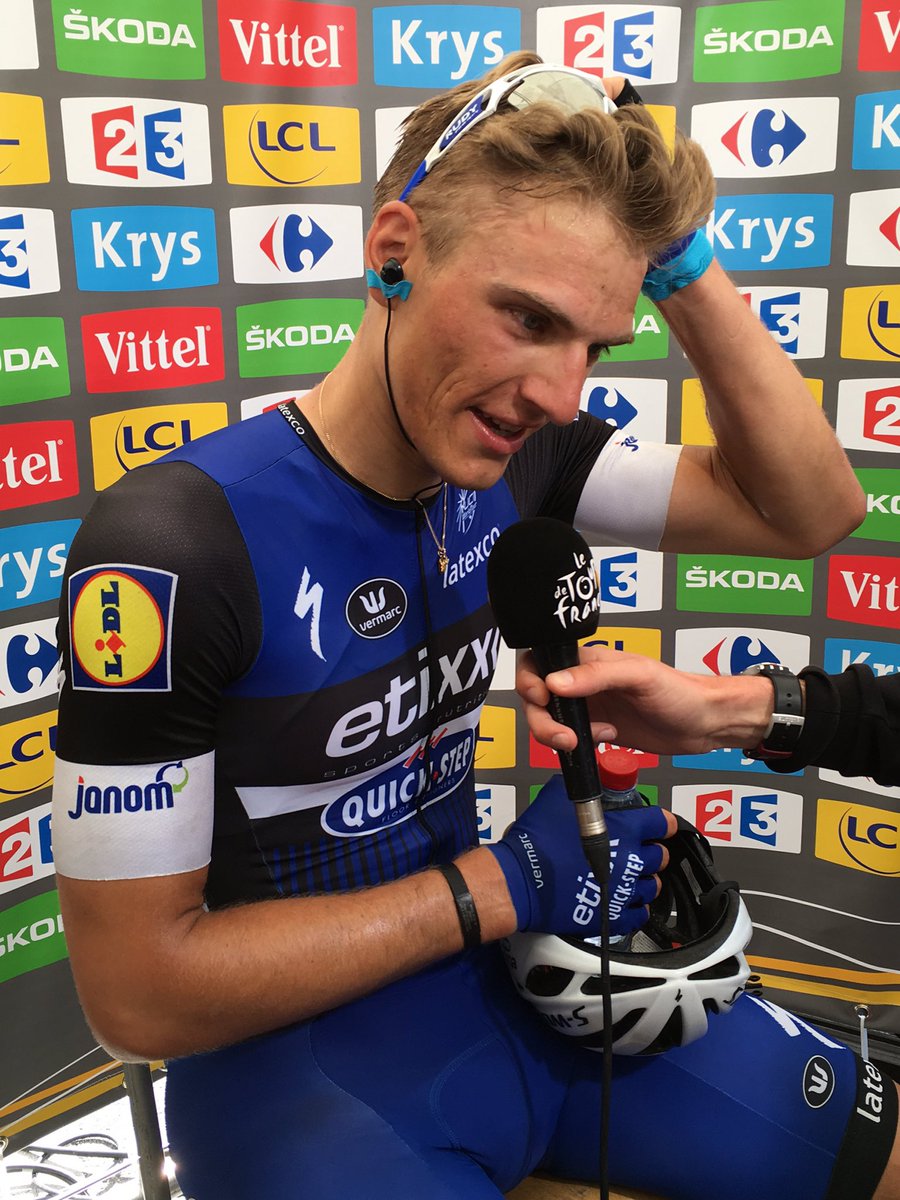 Dylan Groenewegen:
"We're improving. It was tough, but we did a good job with the team. This time, I'm satisfied. I didn't feel very strong, actually, but Sep Vanmarcke told me that I would be able to pass through that feeling. I got over it and went for it.
We were still in front with four of us for the final. I was boxed in for a while during the sprint, but found some space afterwards to finish fourth. I came from quite far behind, but was able to come back quite strongly. It's my own fault that I had to come from too far behind, I needed to be further up. My sprint was strong so this is promising for the upcoming stages.
I don't like to brake, so I chose to jump. If everything comes together, I might be able to win a stage in this Tour."
Sep Vanmarcke:
"It was a hard, chaotic final part of the race. We wanted to unite as well as possible, which isn't easy when it goes uphill, downhill, to the left and to the right. Making matters worse, we lost Robert Wagner because of a puncture.
I'm impressed by Dylan to survive this stage because it really was a tricky one. This fourth place is a beautiful result. We're moving up as a team. We're able to bring him from quite far and his final sprint is strong."
Timo Roosen:
"When I led out Dylan, I felt how hard it was today. It went uphill and we had to deal with a headwind, as well, so I fell back quite quickly. I still was able to bring Dylan quite far, but he still had to make up a lot of distance. It was very tough today with some tricky climbs in the final part of the race. We had to improvise to bring Dylan in the right position."
Markel Irizar:
"It was not the plan to go in the break. But in the beginning, there was a group of seven riders and all the sprinters' teams had someone - Lotto, Orica GreenEdge, Tinkoff – so I knew we need to be there, too. Then Kim (Andersen, director) told me they were pulling behind, and so I decided to save the legs.
When a few dropped, and we were only four guys there was nothing to do but keep going. Once you are there, what can you do? You just try and that's it. I was just there to help the team. Then, just after we were caught, I was unlukcy and had a flat tire with five kilometers to go."
Eduard Theuns:
"With around five kilometers to go I missed a few corners and Jasper (Stuyven) picked me up and took me to the front with three to go. There was a dangerous narrow roundabout where I again lost a lot of places and again I came back and made it close to the front.
But when I wanted to go for the sprint I think I had to brake 3 or 4 times in the last 500 meters and if you have to brake once in this kind of finish it's already too much. It's too bad because this finish suits me – it's a missed chance."
Chris Froome:
"It makes for a lot of stress - we don't want to be up there, we want the sprinters to do their thing and not be in the way, but when Grand Tours can be won or lost by seconds we've got to be up there fighting.
That's the nature of our sport. When there's so much at stake - a stage win at the Tour means so much to so many people - guys are going to put their bodies on the line for that.
It will be similar to stage two but harder, more selective. There will probably be a few tired legs out there - even though these days have been relatively easy, they've still been 250km stages.
I think it's a bit too early to see a real GC battle but it's definitely somewhere where there will be time gaps. It won't be a bunch sprint. Maybe it's a stage for someone like [Julian] Alaphilippe, [Alejandro] Valverde or Dan Martin."
Bernhard Eisel:
"At the start we knew it was going to be another long, long day just like yesterday, probably even half an hour longer. Nobody wanted to attack, nobody wanted to ride in the beginning. Then in one moment there was an attack of 7 riders, we had Natnael there, with a total of 5 sprinter teams represented in the move so that mixed up everything. The next 15km was chock-o-block full gas. That changed the situation and 4 guys got away. It was a good rolling day, not too hard, it was a nice day. It was not a recovery day at all but the fatigue didn't get too much worse. It was a little breather before a big hard day tomorrow and as we can see, the sun is out so it's going to be interesting the next few days as it gets warmer and warmer."
Peter Sagan:
"It was a long day, not flat always up and down. I'm very happy to still be in yellow and to take third. I'm back in green also and until now all's going very well.I think the Slovakians here are very happy and it makes me happy to see lots of Slovakian flags on the side of the road and to hear them cheering.
It was a good finish for me, I just started my sprint too early. The sprint is sometimes a lottery and I think I have to wait a little bit more. I started at the same time as Kittel and it was a long sprint from there. Coquard came later and he almost won. I'm happy with the result and the points, and I still have the yellow jersey - it's going well. Tomorrow is another day, I don't want to think about tomorrow yet."
RESULTS
1 Kittel
2 Coquard
3 Sagan
4 Groenewegen
5 Kristoff
6 Enger
7 McLay
8 Cavendish
9 Dumoulin
10 Gerrans
1
Peter Sagan (Svk) Tinkoff Team
20:03:02
2
Julian Alaphilippe (Fra) Etixx - Quick-Step
0:00:12
3
Alejandro Valverde (Spa) Movistar Team
0:00:14
4 Barguil + 18
5 Froome
6 Kreuziger
7 Quintana
8 Aru
9 Matthew
10 Rolland
JERSEYS
Yellow: Sagan
Green: Sagan
Polka Dot: Stuyven
White: Alaphilippe