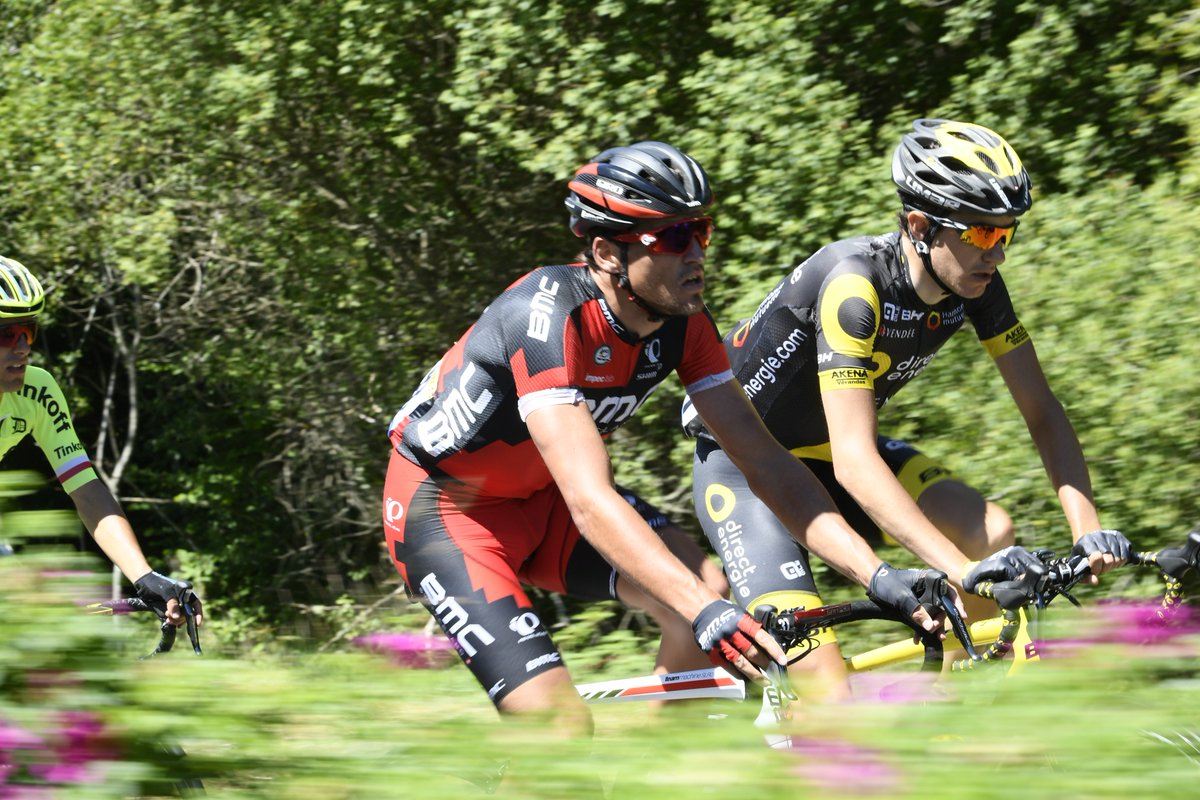 Le Massif Central: woody heart of France, wild beauty.

216 km

from

Limoges to Le Lioran

. Here the yellow dream can become true, or a nightmare as

the race faces the first real climbs

.

The break-away

today is a quality one: 86 km to go

Grivko, Van Avermaet and De Gendt

have 2' on

Majka, Gautier, Pauwels, Huzarski, Sicard and Vachson

and 12'05" on the peloton.

Mauriac: Greg Van Avermaet

is 1t at the

intermediate sprint.

On the peloton

Coquard

goes taking the points and Sagan follows.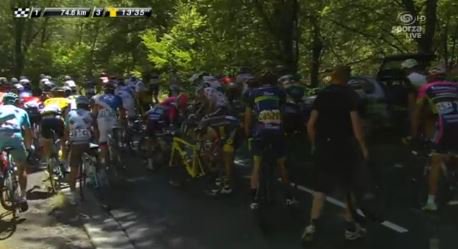 As far as the

Polka dot jersey: Stuyven won the 1st KOM

(Côte de St-Léonard-de-Noblat, 1.7km at 5.2%),

DeGendt won the 2nd one

(Côte du Puy Saint-Mary, 6.8km at 3.9%),

and

the 3rd one

(Col de Neronne, 3rd cat, 7.1 km at 3%).
In front

Grivko gets dropped

, in the peloton

Stuyven is suffering.

The Polka Jersey will probably change. Van Avermaet is virtually in Yellow. Team Movistar is leading the chase.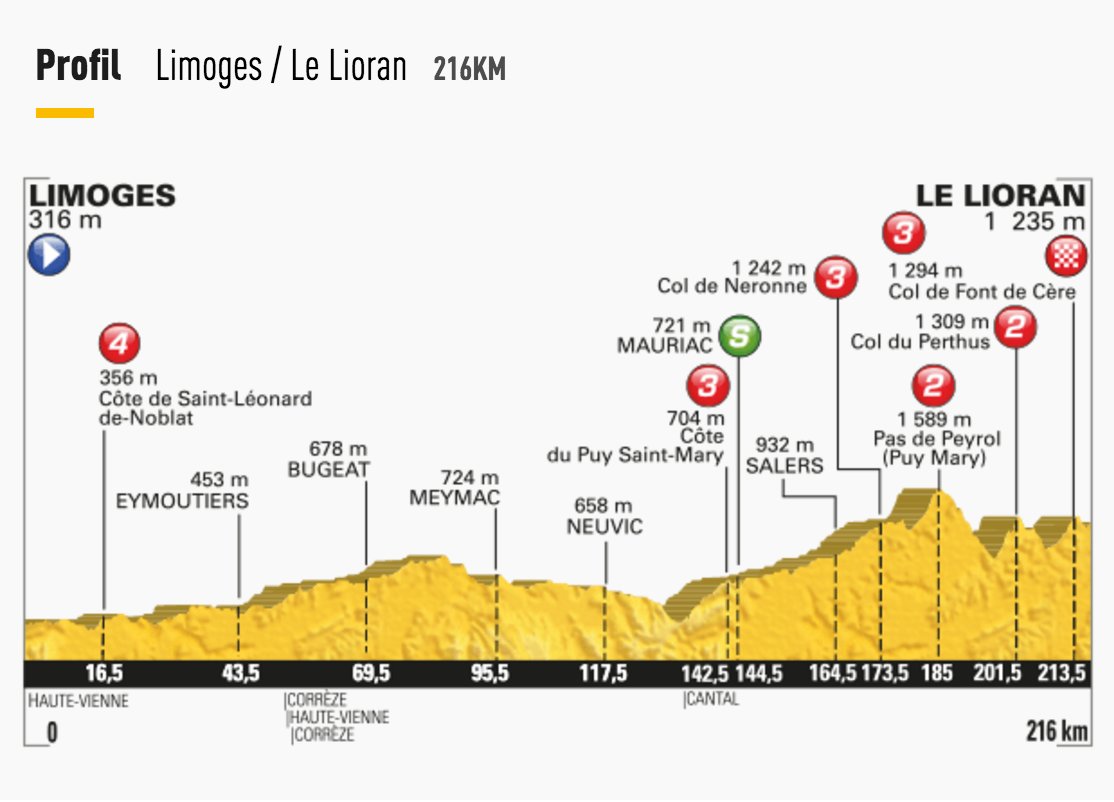 Pass de Peyron: De Gendt

is 1st and his is the Jersey. In the peloton Vincenzo

Nibali gets dropped

. The peloton is down to 30 riders. Sagan smiles and says good-bye.

Descent

. 21 km to go. Already dropped, Alberto

Contador has got a mechanical

problem.
Col du Perthus

(2nd cat, 4.4km at 7.9%). 17 km to go

Van Avermat goes solo

. Aru, Mollema, Contador, Kelderman, Quintana, Moreno, Froome, Landa, Nieve, Rodriguez, A.Yates, Valverde, Alaphilippe, Bardet, Rolland, Barguil, Pinot, D.Martin, Van Garderen, Porte, M. Frank are in the main contenders' group.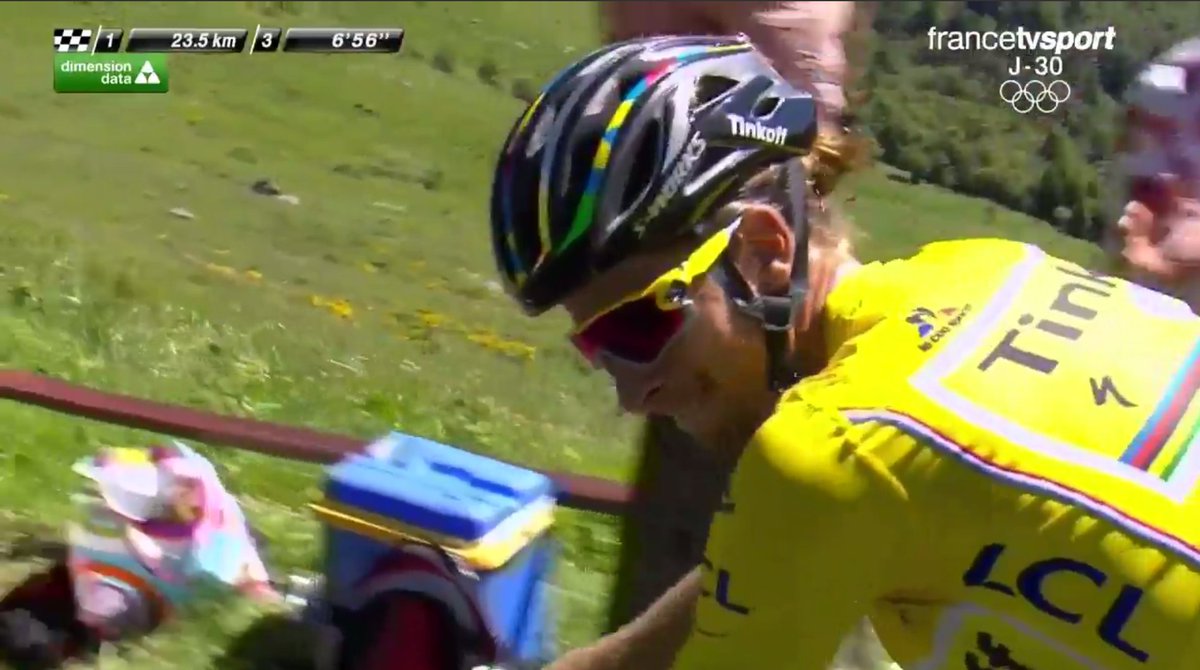 In front

Majka and Huzarski

dropped Pauwels and Gautier and

join and drop Grivko

.

Van Avermat won the penultimate KOM.

Descent. Flat. Last climb. Pauwels and Gautier have crashed on the descent. 6 km to go Van Avermaet has 1'43" on De Gendt and 5'51" on peloton.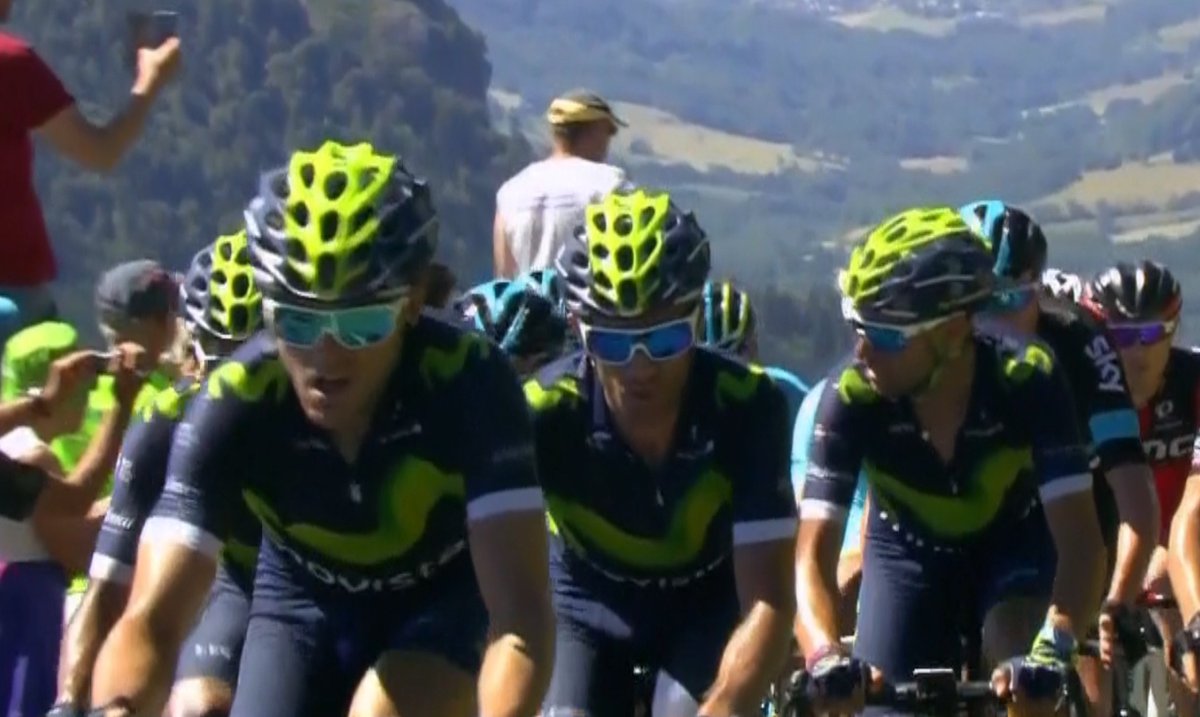 Col de Font de Cère

(3rd cat, 3.3km at 5.8%).

Van Avermaet goes. Team Sky pulls

the rest of the peloton.

KOM done, Van Avermat

flies toward the finish in the

narrow tricky descent

. Last meters uphill. The line. Stage and Jersey. Bravo!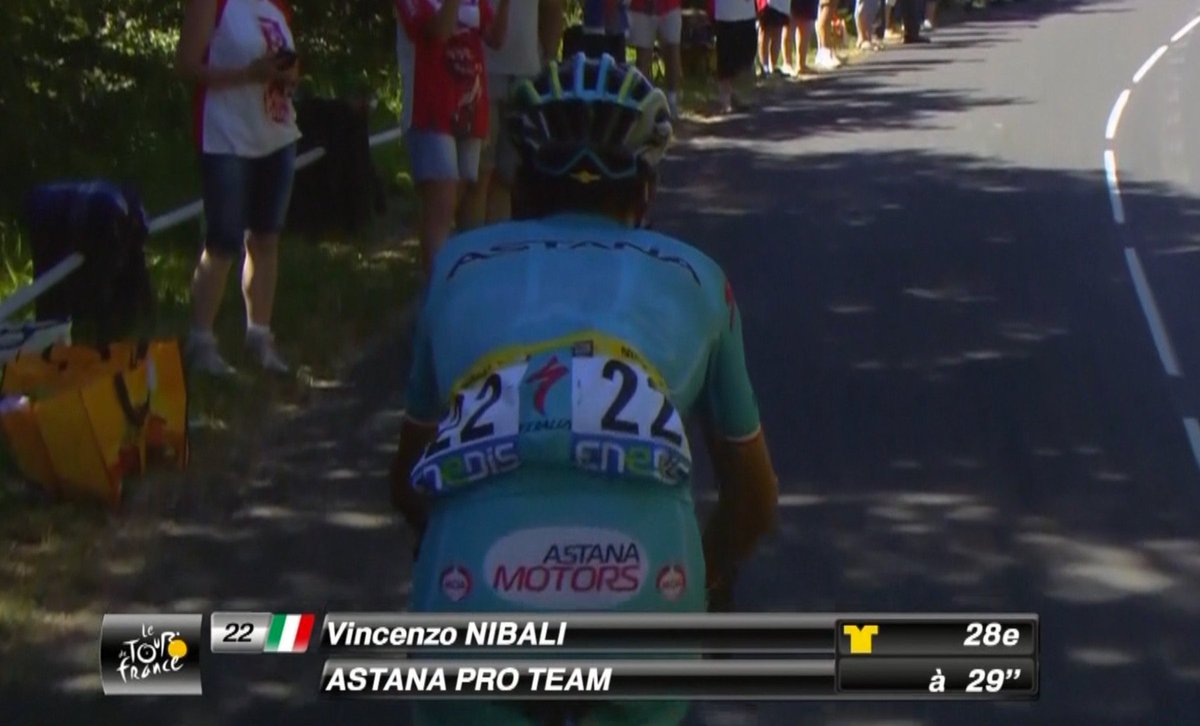 Bardet attacks

at the KOM, the group explodes.

Contador is dropped, Froome is taken by surprise but comes back.

De Gendt finishes 2nd. Makja is 3rd. Grivko is caught. Valverde speeds up. On the line also Huzarski is caught.

Contador arrives with a 33'' delay

.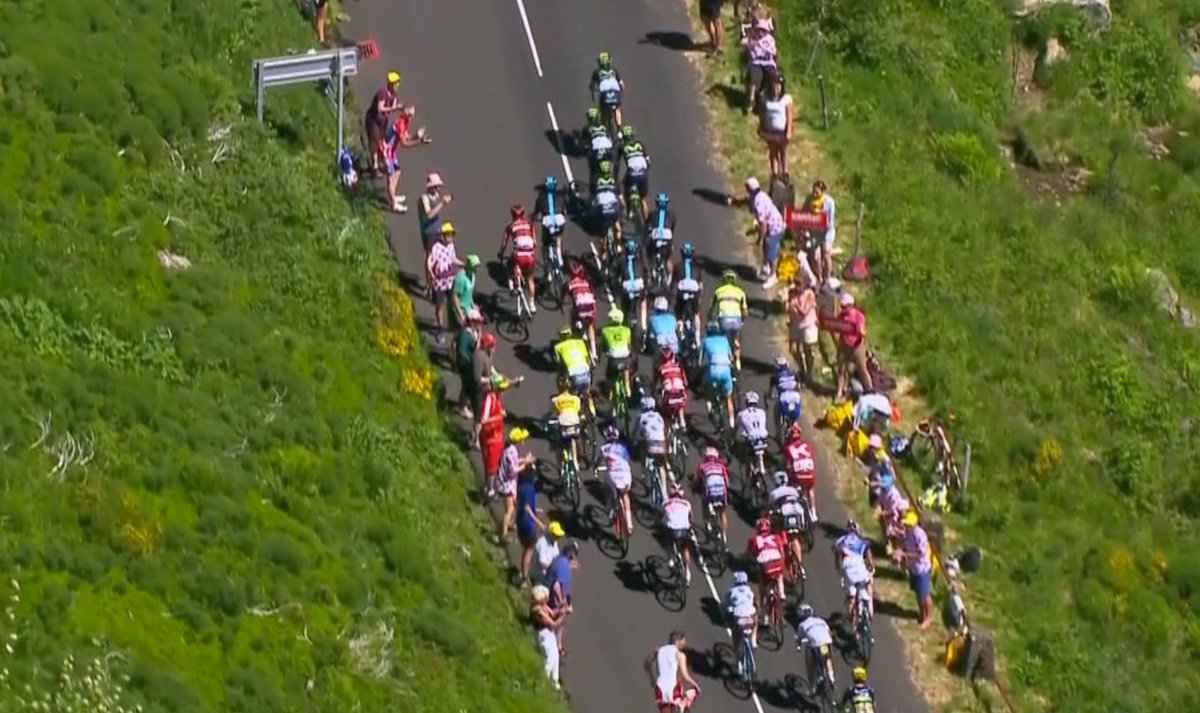 Greg Van Avermaet:
"It feels great. I was never dreaming about the Yellow Jersey but it is a big dream that has come true. I was happy with the stage win last year, but now another stage win and the Yellow Jersey, I think it's once in a lifetime for me and I'm going to enjoy it as much as possible tomorrow.
I felt pretty good. Grivko was not working at the beginning, Majka was not working, so me and Thomas De Gendt did a really good job. We were the strongest guys from the break I think, and we made the race hard and we saw that the peloton wouldn't come back on this steep climb. I felt pretty good and I just went on my own because I was strong enough to hold it to the line.
I think for my type of rider it's really hard to get the Yellow Jersey and I'm so happy that I have it. The stage win is something but wearing yellow is the most beautiful thing I think for a cyclist."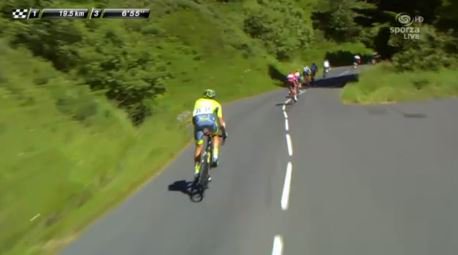 Thomas De Gendt:
"I don't want to brag but i could stay 200km with Greg VanAvermaet today. The strongest won. #fightforstig"
"It wasn't clear yet whether I would join the break this morning because I thought it might be wiser to save some strengths for the final week. But it was obvious from the beginning that a few strong riders were willing to be part of the break so I decided to join them. We got a lot of advantage from the peloton because no one was a threat to the GC riders. Van Avermaet was the best placed rider at twenty seconds but the GC riders don't expect that he will play a role in the mountain stages. The cooperation in the front group was gone after a while so we decided to continue the break with three riders. We weren't sure whether Grivko would be good or not. Greg and I decided that he mustn't win today's stage because he didn't do his part of the job. Eventually he was dropped on the fourth climb of the day. Van Avermaet accelerated on the penultimate climb and it was clear that he was stronger than me. I'm a bit disappointed of course but I realize that Greg was simply the best today. He really deserved this victory.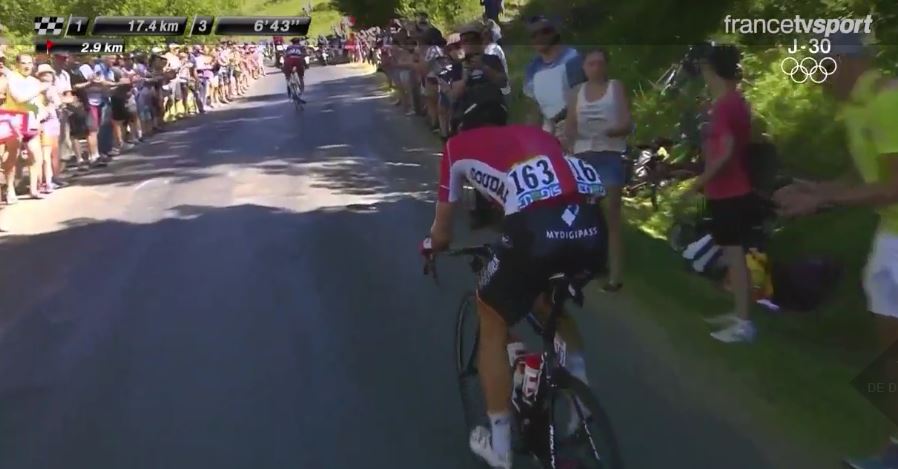 It was clear that the KOM sprints would be today's goal from the moment that I was part of the break. I was able to win three sprints and therefore I may wear the polka dot jersey tomorrow. Wearing that jersey is a big dream. I was never able to wear a jersey in a Grand Tour so I'm really happy. Obtaining the prize of the most combative rider and the polka dot jersey is a nice consolation prize. I'll try to defend that jersey for at least one day, after that it will depend on how the Tour will evolve. Today's stage will affect my condition as it was a very hard day. We rode more than 200 kilometres in the front of the race so I'll need some time to recover. We'll see if there are any other opportunities later in this Tour de France."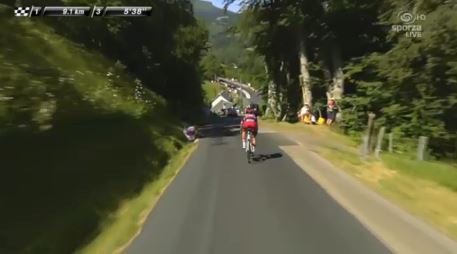 Wilco Kelderman:
"I was expecting the top teams to tighten up the race. It didn't put me into trouble anyway. It was quite steep sometimes, but I was able to find a nice rhythm.
I'm glad with that. I'm in a good position and it is going well. I want to keep this level.
It's nice that we raced the first hills of the Tour and the first differences are made. We know a little bit more about ourselves and our rivals, and that gives me a good feeling."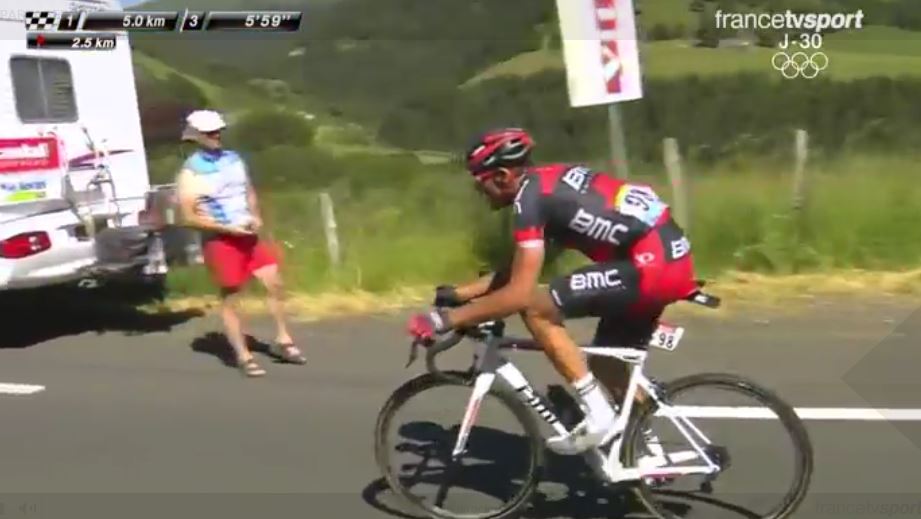 Julian Alaphilippe: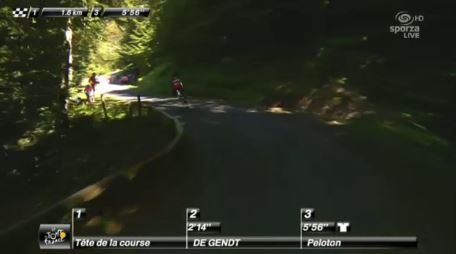 "Today we knew that we will face many attacks from the start and that there was a good chance for a break to go all the way to the line. In the final 35 kilometers, Movistar made the pack's life difficult, trying to test the other riders, and it wasn't easy to keep the pace, but I handled this situation well and now I'm happy and very proud for keeping the white jersey. Tomorrow, a flat stage is on the cards and we will try to set up Marcel Kittel for the sprint".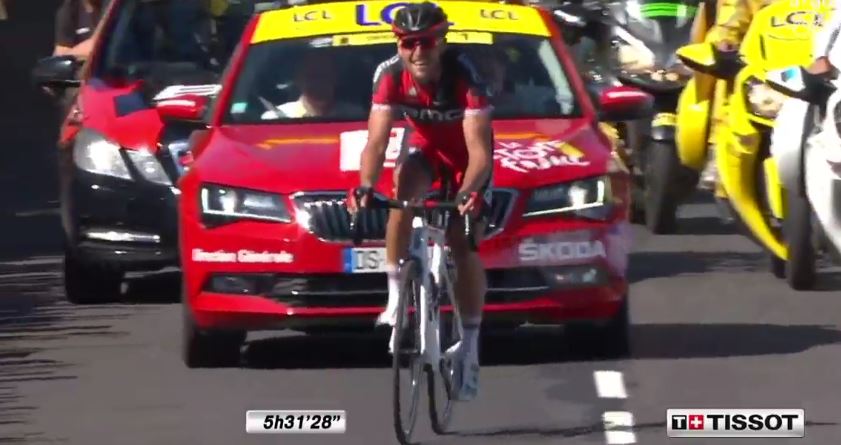 Daniel Martin: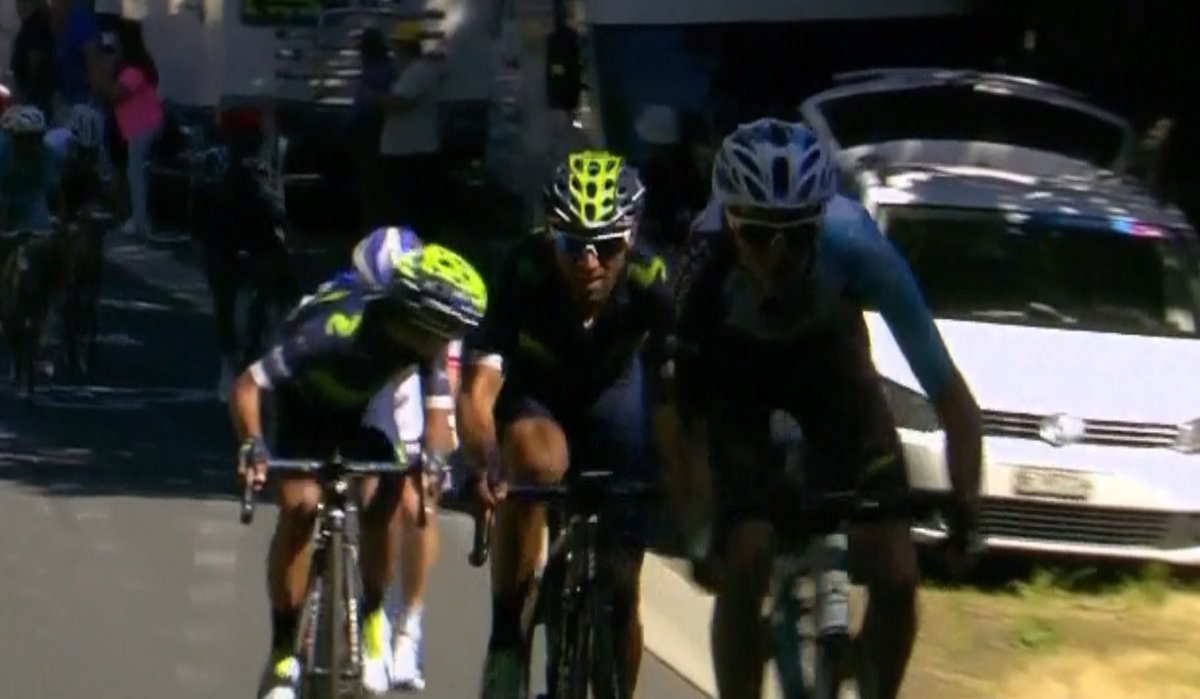 "The first mountain stage is a little bit of a shock to everybody, and today it was even more difficult because of the scorching heat, which made the road melt in some places. To be sincere, it felt like you were riding through glue all day long. It was a difficult start to the Tour de France and nobody had the legs to attack on Wednesday, because people are already tired after just a couple of days and 18 hours in the saddle. The team rode well together and I am confident for the mountain stages which will come later in the week."
Nairo Quintana:
"It was a difficult day - mountains have been quite different to what's normal in a Tour de France, with little, steep, grueling climbs. They were more similar to the other GTs. The team worked really well; we always kept a pace that was within my needs and both Dani, Alejandro and myself came into the front group, which was more than enough and the only thing that really matter today after all."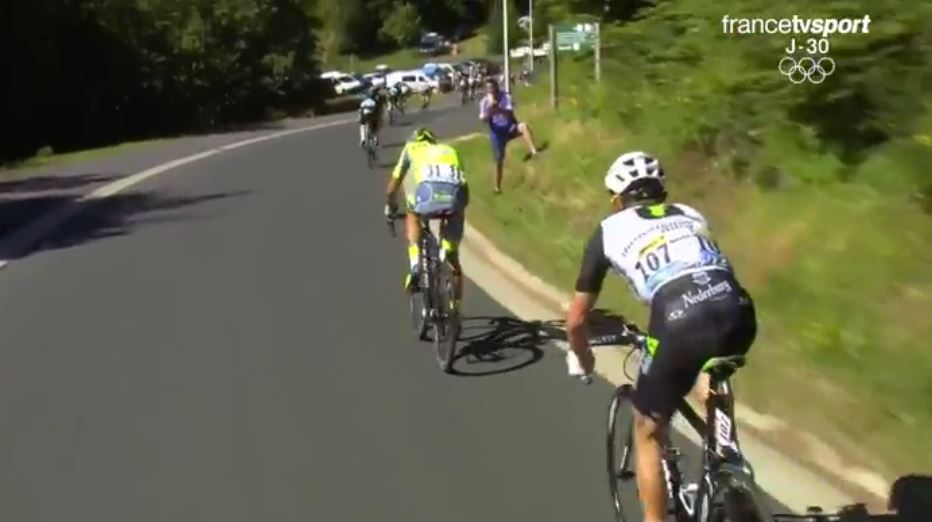 Alejandro Valverde: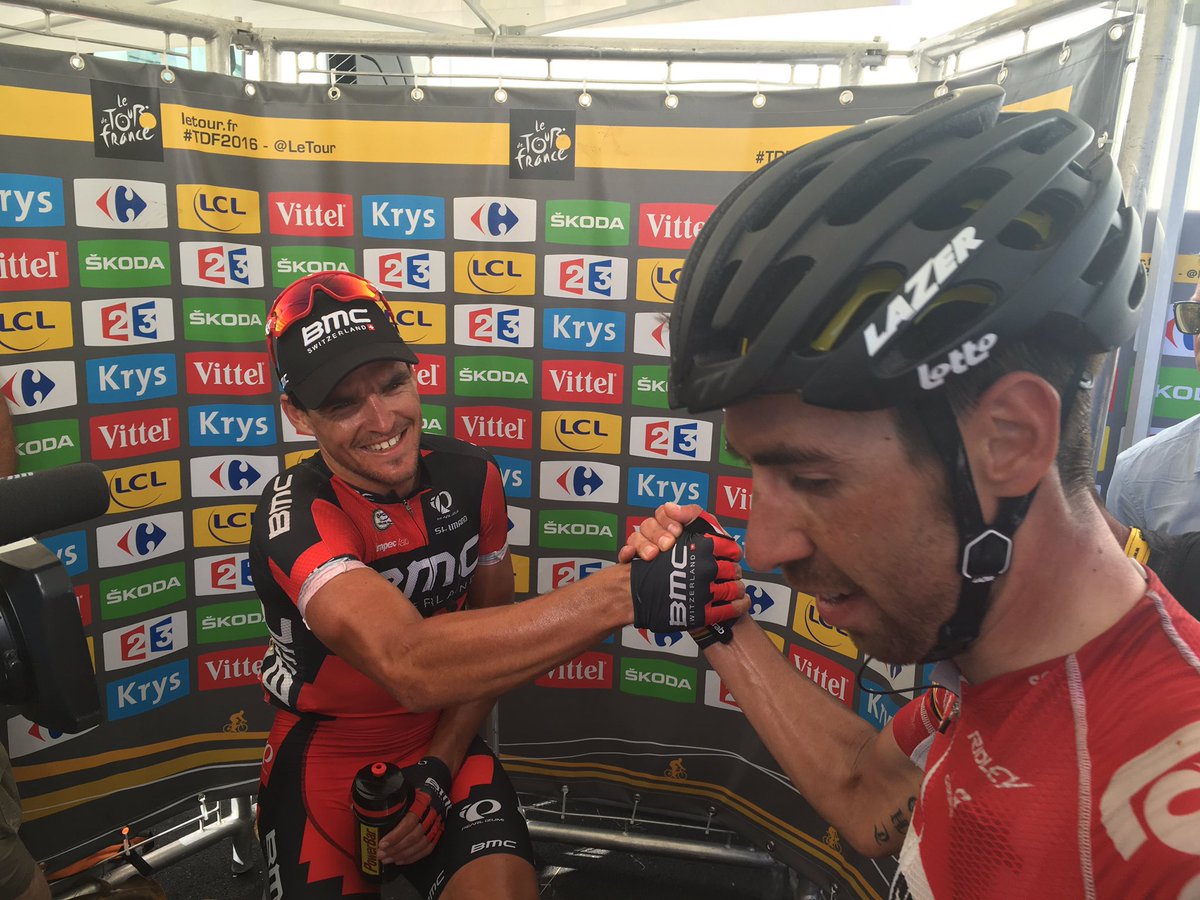 "Our team-mates were phenomenal; we all worked well. You must do something if you want to gain something; you've got to make such efforts to win time, and things got pretty demanding for a first mountain stage in a GT today. We weren't really worried about Contador or any other specific rival; we all struggled at some point of the race, which was our intention - we wanted to make the race fast to check on our own feelings and the rivals'. We saw pretty much everyone doing well, which is normal when you're on the fifth day of racing, but I'm sure this will pay off in the remainder of the race. We're satisfied with today's performance."
Georg Preidler:
"Unfortunately we missed the break today, Simon and me thought we had good chance to be in the breakaway with also the idea of supporting Warren in the finale. It didn't work out so we just focused on Warren, and to protect him all day and bring him into good positions for the climbs. I think it worked out pretty well and when the big teams increased the pace the whole group exploded and Warren was in a good position in the GC group.
Tom Dumoulin:
"
I didn't feel great so I didn't use too much energy and I accepted the time loss. It was expected since the week before the Tour wasn't perfect. With the current general classification, it allows me to have some freedom to try and go for my chance in a possible breakaway later in the Tour, where I want to target a stage success."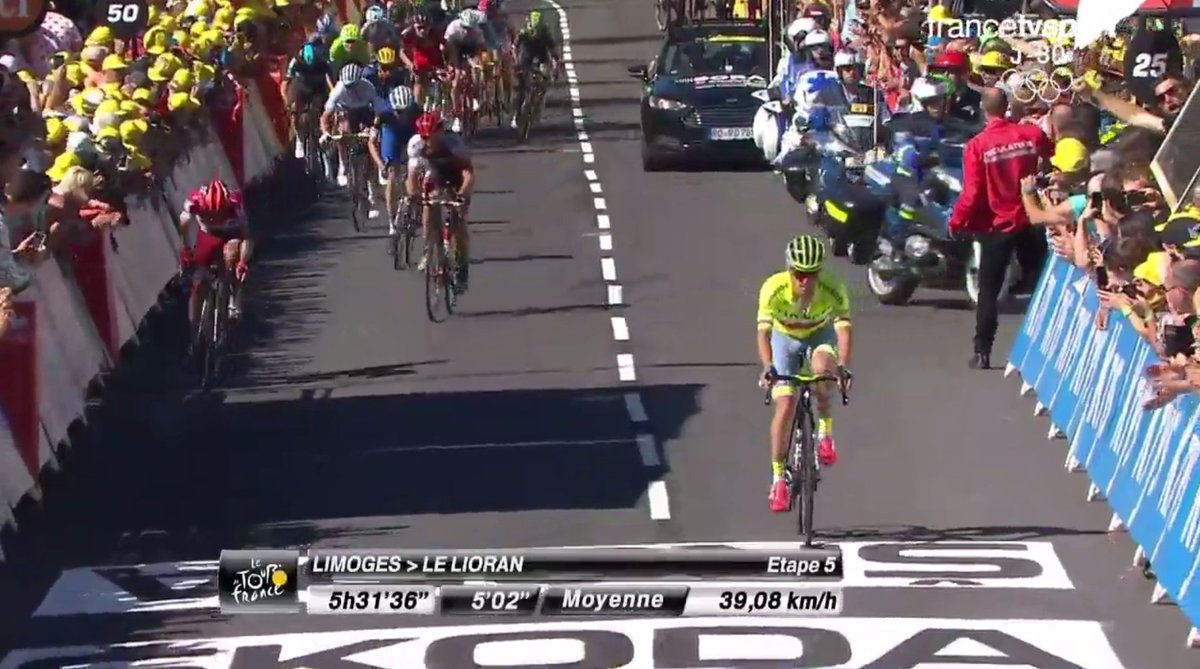 Warren Barguil:
"Three weeks of racing is a long time, last year I lost some time in the general classification during the last three days. This year I am hoping to approach the Tour with a different frame of mind and to be in better shape and I hope this will make a difference. Last year, during the first stages, I didn't have a great feeling for the race, but this year I feel okay. I am keen to be cycling in the Pyrenees.
Team Movistar set a big pace at the front, to avoid stress in the descents. It was a good race, but exhausting cycling all day. There was never any flat sections and sometimes these stages are harder than those in the big mountains."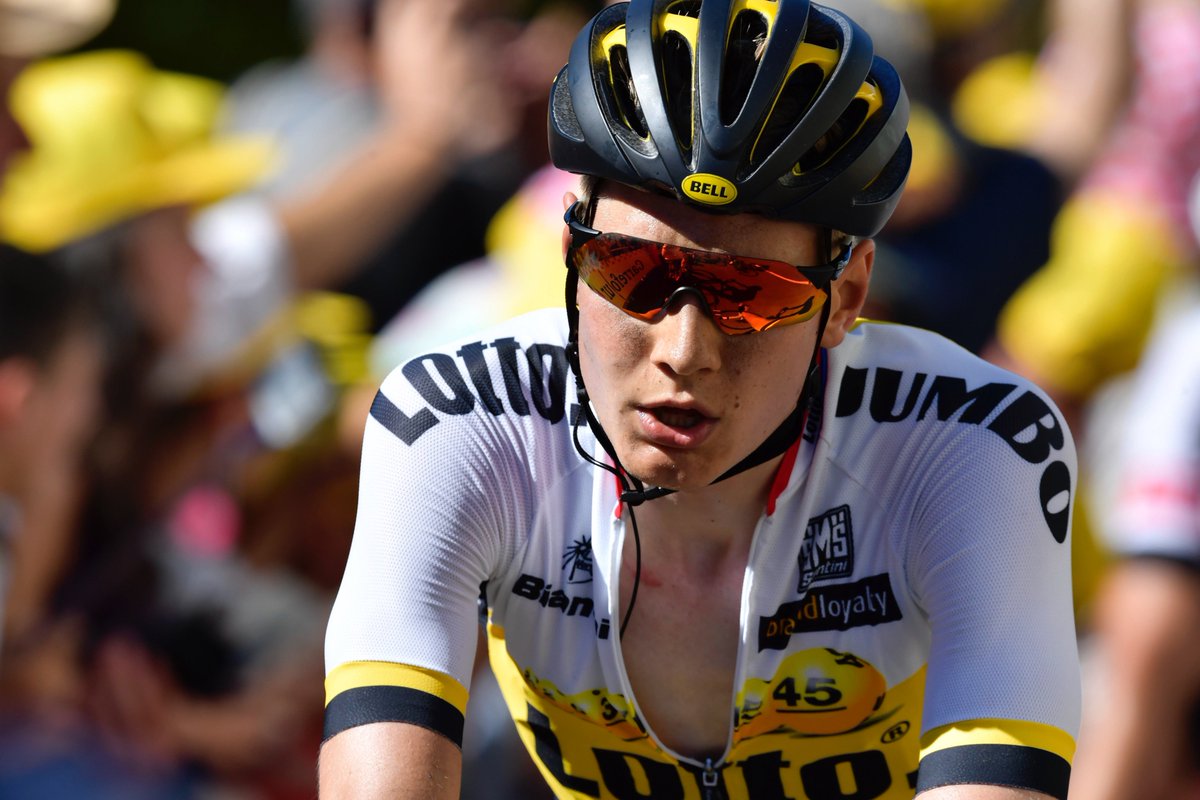 Chris Froome:
"For us it was about staying up front and not losing any time on those GC guys. Those descents were pretty tricky and dangerous. Obviously we knew the breakaway was going to stay away today and the jersey's gone to Van Avermaet - he did a pretty impressive ride there!
From our side we're happy with that. We're happy to stay out of trouble and it's one more day down. It wasn't really in our interest today [to send guys down the road]. We wanted to stay out of trouble. The big GC days are still to come. Today was one of those days where, yes it was selective, but it wasn't necessarily going to be a big showdown between the contenders themselves."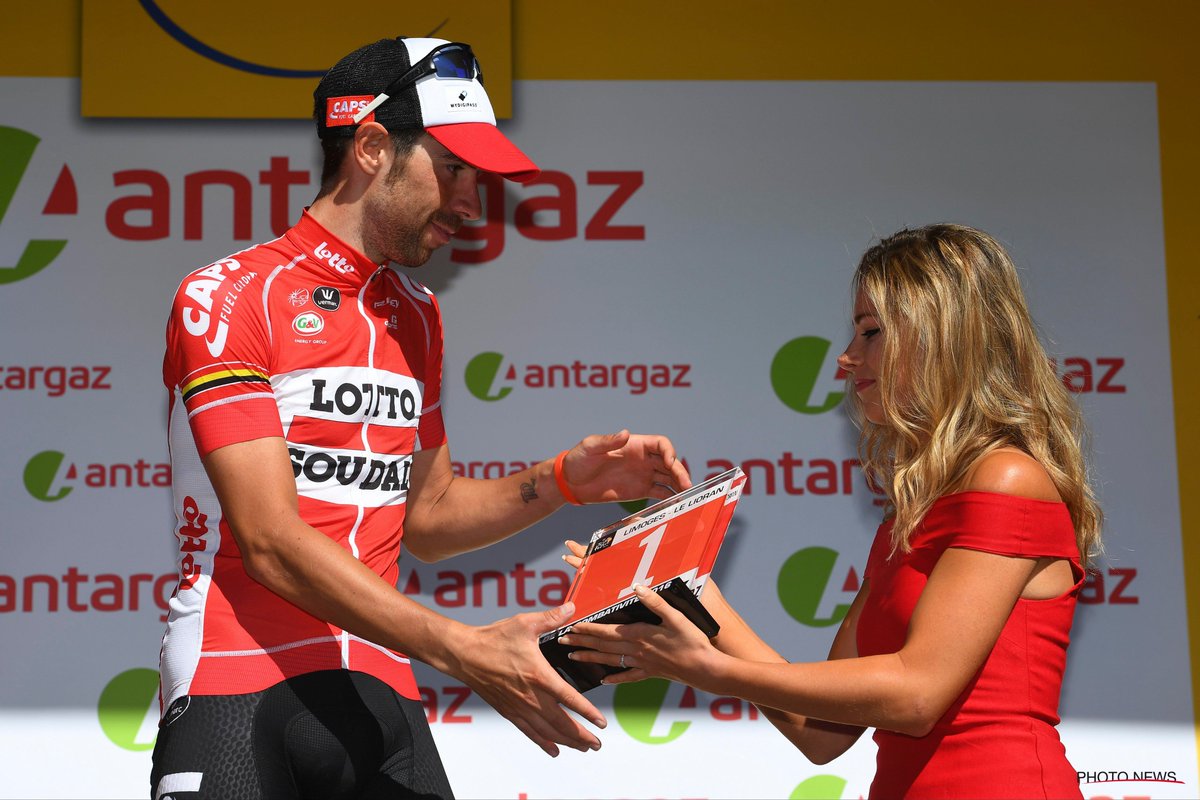 Richie Porte: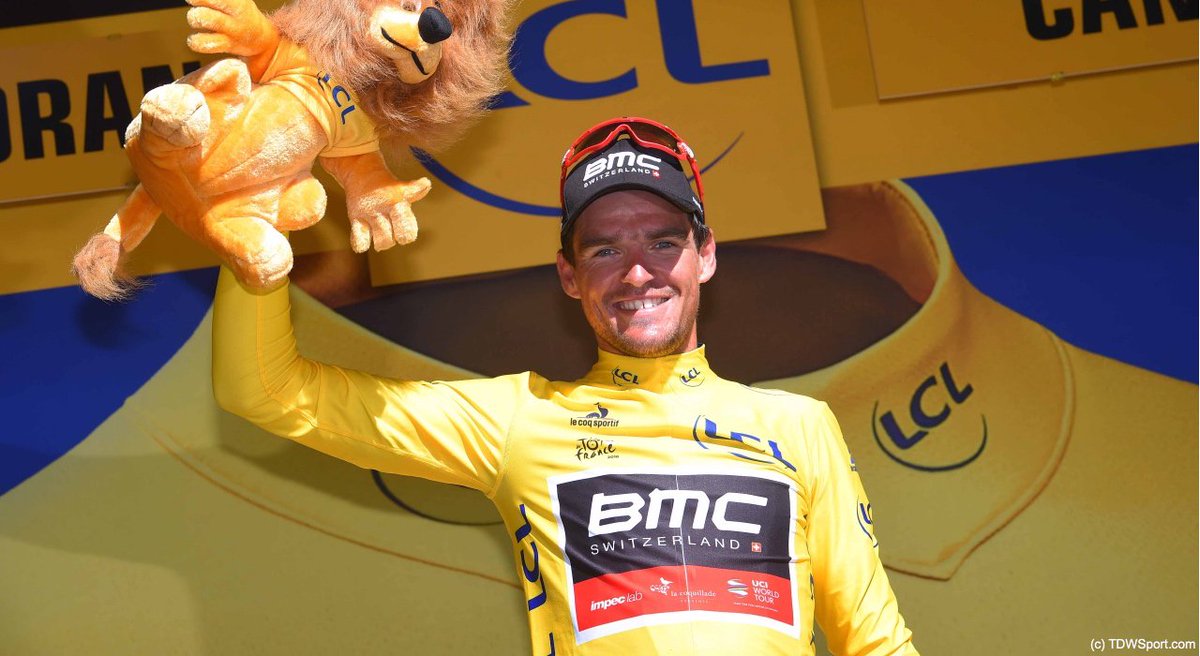 "I was comfortable. Tejay and I have shown that we can work together and Damiano Caruso worked well and put us in a really good position. I knew that those descents were going to be crucial. At the end of the day, it's a great day for the team. It's not nice to have lost time like that [flat tire on stage 2] but you know, you just keep fighting each day I suppose. The signs are good, I had good legs and it's quite exciting."
Tejay van Garderen:
"Greg certainly looked like he had good form today. It was a super impressive ride and great for the team, and great for Greg as well with the season he's had, so he really deserves it. Tomorrow I'm sure we'll help to control the breakaway but I don't even expect us to have to do much work to bring them in because the sprinters' teams will probably want to pull back the breakaway. I think we'll just enjoy the day in yellow, stay relaxed and get ready for the Pyrenees."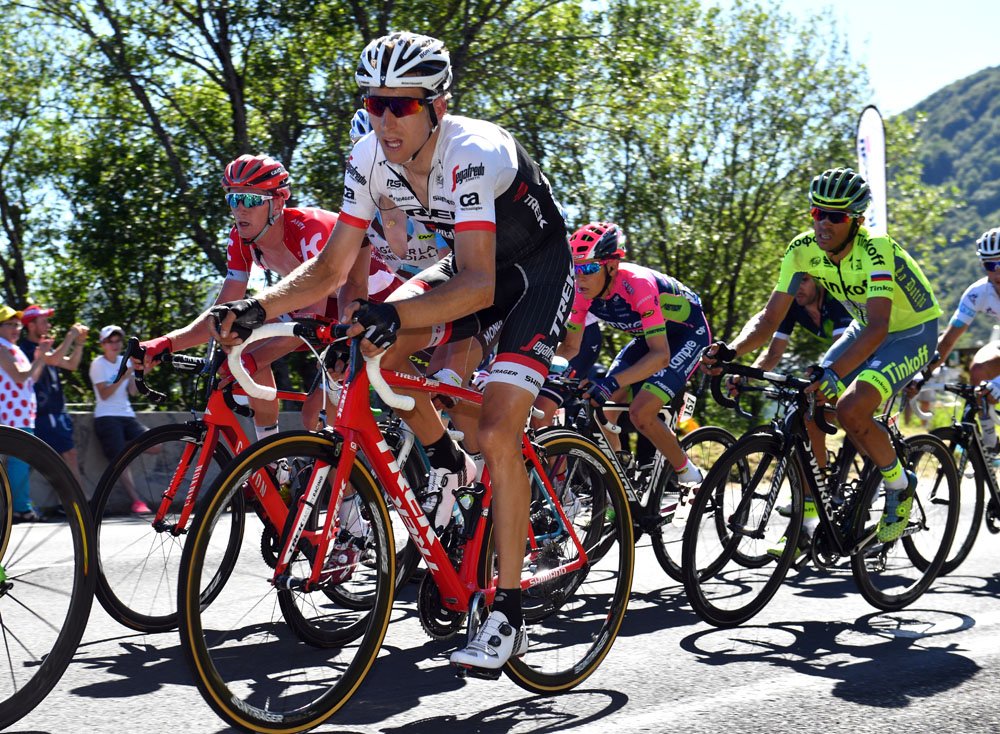 Peter Stetina:
"About half the peloton wanted to be in a breakaway today, it was pretty crazy. The move started to go, and the alarms bells went off so Markel (Irizar) drilled it into a downhill and I sprinted with everything I had, but I just couldn't quite close the gap on some of the punchy hills to the guys in the front. I missed it by about 10 meters.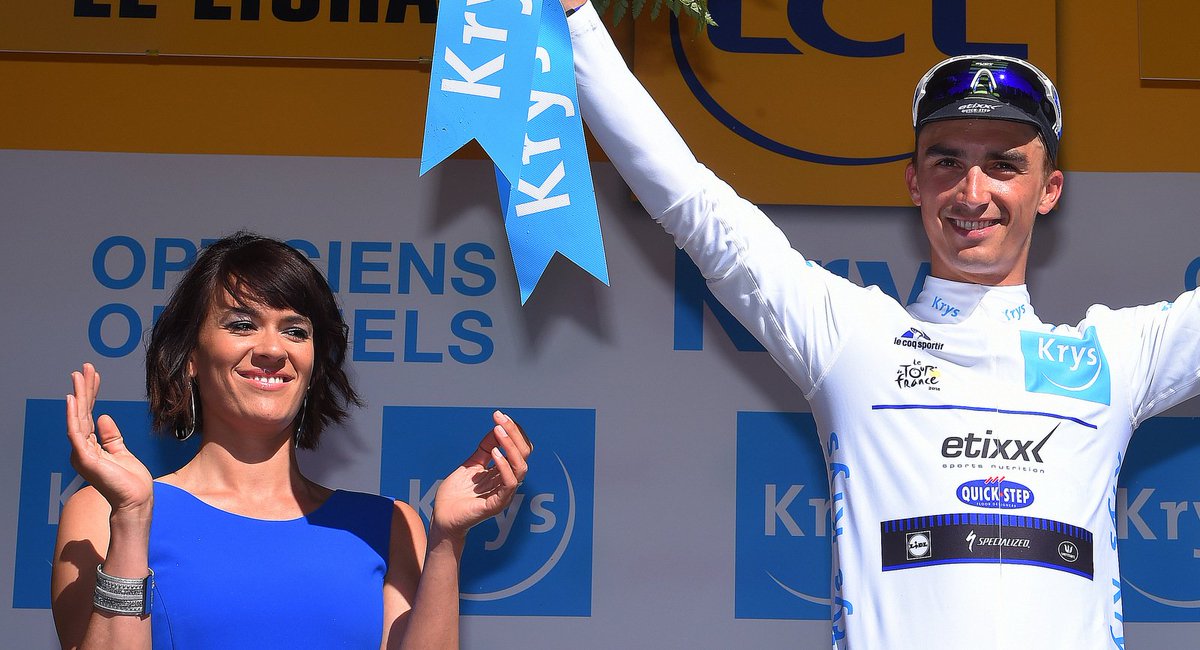 For over a kilometer I tried, I was solo, and I thought I was going to get it, I thought it was perfect, and I could almost feel the slipstream. Then the lights went out. And that was it; the move was gone. The timing was just five seconds too late, but that's how it is. Then I just tried to stay with Bauke (Mollema) and shield him on the first two big climbs, and then I was done, I had done a lot of work all day. It stings a lot (to not be there), but there are bigger mountains coming that I am happier about."
Bauke Mollema:
"It was a hard final. It went well for me, and I was there where I should be. We knew it was going to be hard, and the guys brought me to the front at the end when the steep climbs started. Pete was there, and before that Markel and Gregy (Rast) did a lot to help me.
You always have to be ready, and when Movistar put the hammer down I was there in the right moment and in the right spot and the legs were good enough. It was a good pace on the first of the three last climbs and after that, yeah, it was not easy, but more relaxed with only 30-40 guys left. But you had to be careful; there were a lot of tricky descents because the tarmac was melting. Overall, it was a good day."
Alberto Contador:
"In the last part of the race the pace was so high we barely had a second to take a breath. We lost time and we have to take the race day by day and try to recover before the Pyrenees and the harder stages. I will give my best in the Alps and try to see what result we can achieve.
The morale is good. I have been through tough situations many times in my life and one has to be strong. It's true that it's difficult when you have been preparing for so long, taking care of the smallest detail to be in the best form possible and then have two crashes in a row. If this stage had taken place five days from now it would have been different. However the race is what it is and we lost time."
Peter Sagan:
"I actually tried to go in the break early today but the group didn't let me go – I think they were scared of me, but it's impossible to do everything. The climbs didn't matter for me as the break was a long way ahead at the front. I thought it was better to take it easy. The Tour de France is still very long. We will see day by day, now I've got the green jersey I'll keep trying for it."
1 Van Avermaet
2 De Gendt +2:34
3 Majka +5:04
4 Rodriguez +5:04
5 D Martin +5:07
6 Huzarski +5:07
7 Alaphilippe +5:07
8 Yates +5:07
GC
1 Van Avermaet
2 Alaphilippe +5:11
3 Valverde +5:13
4 Rodriguez +5:14
5 Froome +5:17
6 Barguil +5:17
7 Quintana +5:17
8 Aru+5:17
9 Rolland
10 D. Martin
Yellow: Greg VanAvermaet
Green: Peter Sagan
Polka Dot: Thomas De Gendt
White: Alaphilippe