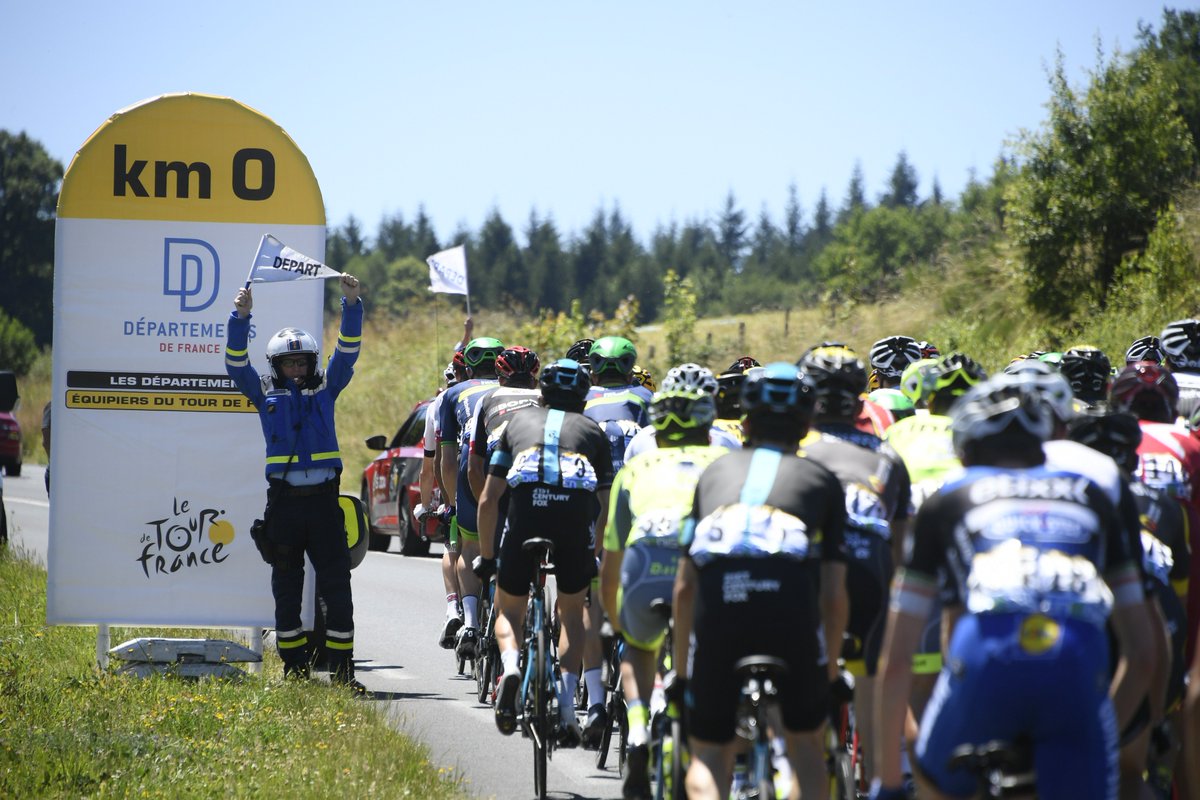 One for the sprinters

. Three KOMs on paper, it's true, but they are two 3rd and one 4th category.

Arashiro and Barta

broke away immediately and after 32 km they have 3'50".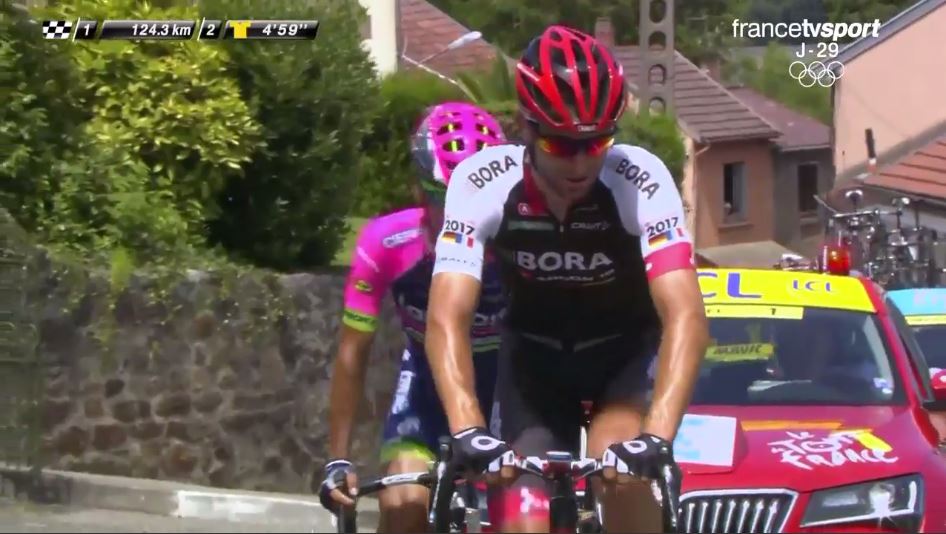 In the peloton

Greg Van Averamaet is enjoying his Yellow Jersey.

Not sure what are thinking

Alberto Contador

, once more time humiliated by Team

Tinkoff evidently NOT racing for him

. Yesterday Majka didn't stop waiting for him, he went taking his 3rd while Contador was let alone, unable to stay with the main contenders' group high pace pulled by

Alejandro Valverde for Nairo Quintana

.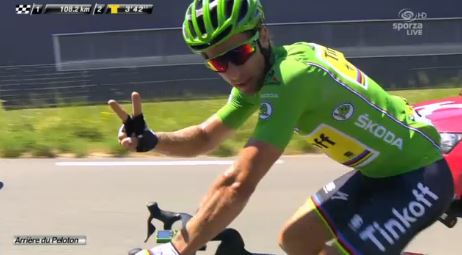 Quite sure what

Vincenzo Nibali

is thinking, he told it aloud: he's here

in a 'free role'

, not aiming to the GC nor even to help Fabio Aru, who's fit. He has lost a lot of time but is unconcerned: his goal comes later, in Rio.

Romain Bardet

feels good: he attacked first yesterday and looked brilliant. Chris Froome remains well hidden.
The sprinters' teams keep the break-away on control. Today

Bryan Coquard

is looking for a revenge. I'm waiting for Dylan Groenweg.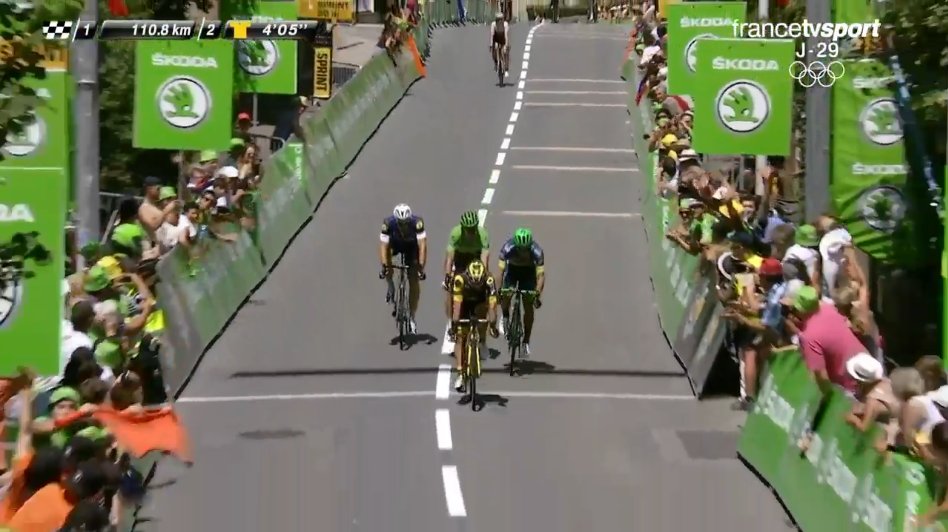 2nd KOM, Arashiro

passes 1st.

The road gently twists like the river cutting a dark green forest.

It's hot but dry. At the

intermediate sprint Barta

is 1st while Arashiro had to slow down for a mechanical problem, but Barta waits of course: their chances are already slight! In the peloton it's no surprise that Bryan

Coquard

takes the points on Matthews, Sagan and Kittel.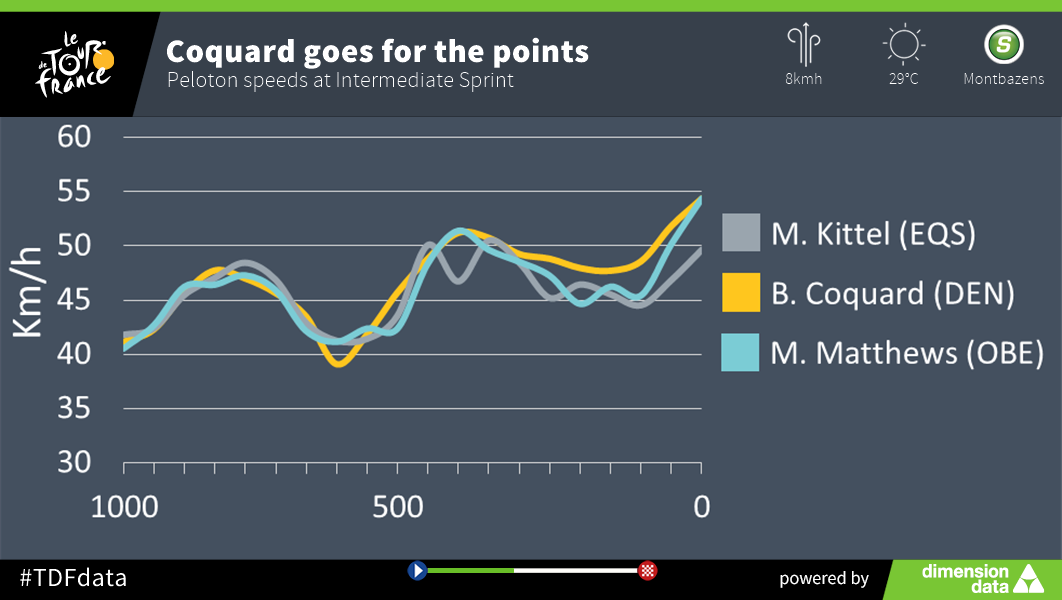 The peloton is chasing but definitely not hard. Riders are chattering and look relatively relaxed. 70 km to go the gap is 2:14.

The road now is flat crossing fields in yellow and patches of wood in light green

.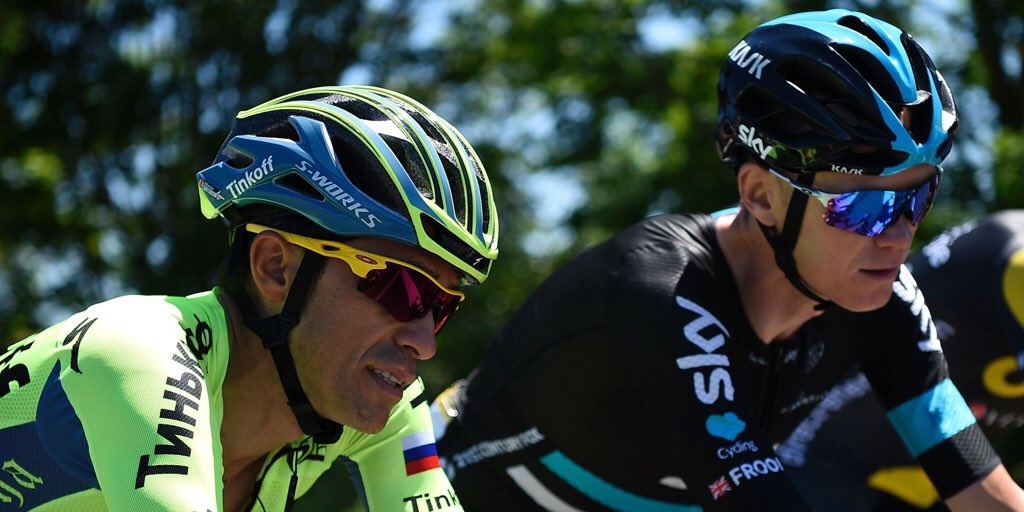 Some more savage beauty with the Gorges de l'Aveyron: a fresh water tortuous wound in the soft green country. By the way the break reached the top of

the last climb of the day

. The peloton isn't far though.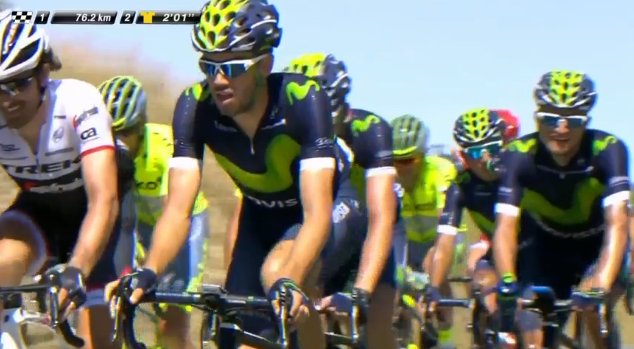 Direct Energy

is doing the race for Bryan Coquard. 30 km to go the gap is under 1'. 20 km to go, there is

cross wind: Team Sky

takes the lead.

The break is over

.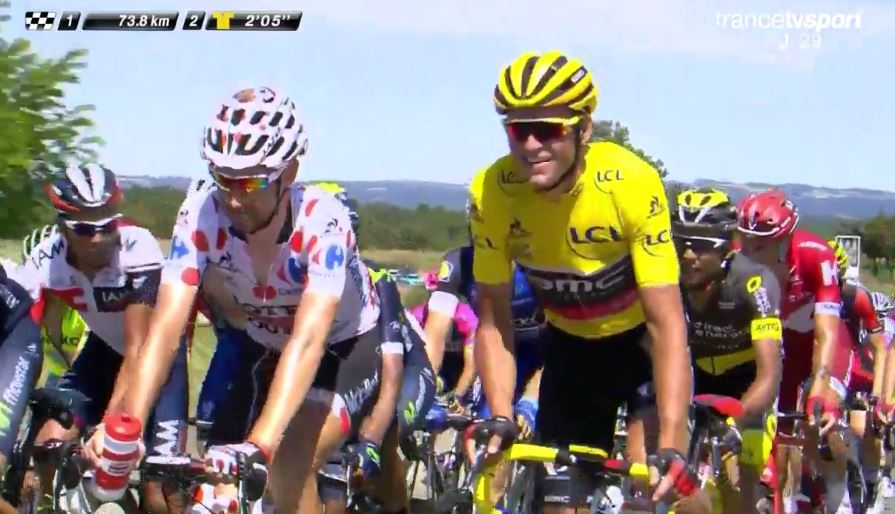 In the town, bend by bend. Dylan Groenweg lost the wheels of his train and is forced to do everything on his own. Last km: Kittel and Cavendish, Cavendish and Kittel.

CAVENDISH!

Three victories so far!

..and back in Green.

Where is Coquard? maybe they went too early...
Mark Cavendish: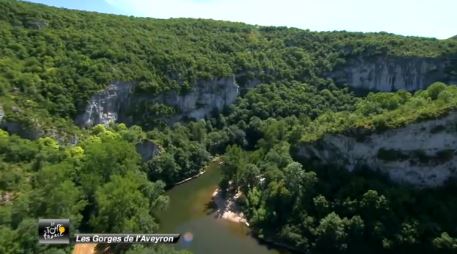 "It was a hot day. Daniel Teklehaimanot did an incredible job to control the breakaway. He was riding super strong actually and he was up there for a long, long time. The guys are getting more and more confident as the race goes on. Steve Cummings was up there fighting with us until the end which was phenomenal, he is a strong guy to keep us there in the final. There were essentially two finish lines, one was at 12km to go and one was at the finish. We were a little bit too far back at the first one but Mark Renshaw did a great job at 4km to go to get me just there and out of a sticky situation. I thought the best wheel to follow in the final was Kittel. It was a fast finish and with the finish line not appearing until late I knew the guys would leave it late because your instincts are not to go before you see the line. I knew Kittel's wheel was the one to get the biggest slingshot from and with the speed of the finish, I knew if I got a good slingshot I could be going 3-4km/h faster than him before he had time to react so that's what I did and I was happy to hang on for the win
."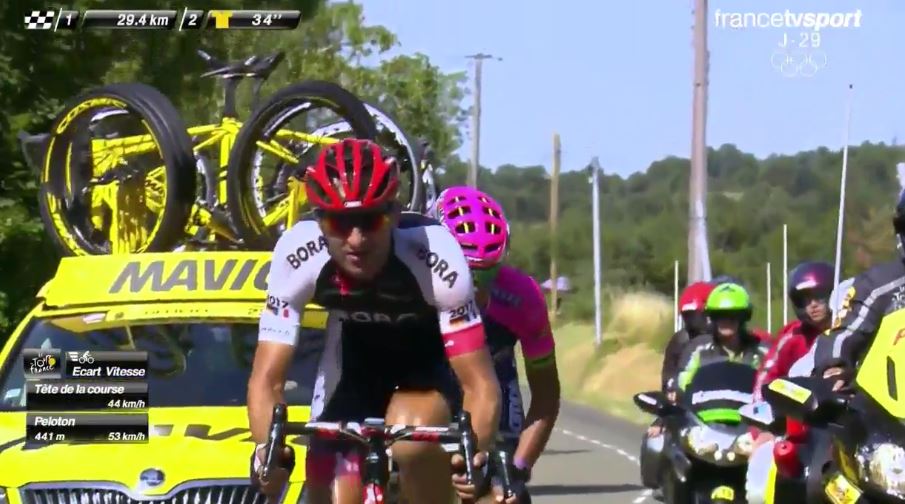 Marcel Kittel:
"Congratulations to Mark Cavendish, he was fast and played it smart today. In this year's finales it's impossible to have a team tactic, because you always get small and narrow roads, tricky corners, and on top of all, the GC teams, which are crowding in. You never know what's going to happen and because of the crazy sprints it's almost impossible to have a lead-out. That makes me even more proud of the boys, who managed to bring me to the front for the last part of the stage. We lost today, but for sure we will try again."
Dylan Groenweg:
"We came in front too early and didn't have enough men for it"
"We didn't have enough men for that scenario. That's why I had to change plans. I had to surf between the wheels of the other sprinters to find the right position and I got boxed in during that search. I'm not happy at all with this seventh place. My sprint is good, but we came to the front too early. I know that we're here to learn, but so much more is possible. That's frustrating."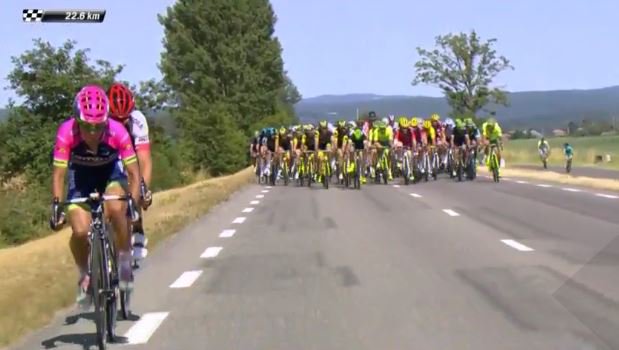 Robert Wagner:
"We were packed together quite well all the time. Paul and Maarten held us out of the wind very well. Dylan shouted to me during the final kilometres, but I didn't hear it. You're riding through a tunnel of noise during such a sprint preparation. That was our problem today. We know what we have to do, but the execution isn't perfect, yet."
Julian Alaphilippe:
"It was really hot today, the second consecutive stage in which we had such conditions. It's a pity Marcel didn't win, but we are confident other opportunities will come. Tomorrow will be the first of the three days we'll spend in the Pyrenees, and to be quite frankly, I don't know what to expect from these stages. I will try my best, but I know that it's going to be very difficult to defend my jersey."
Greg Van Avermaet:
"It couldn't have gone better I think. It was a beautiful day, not too hilly, beautiful weather, no stress and just a hard final. In the end it was really good, there were a lot of Belgian people on the road on vacation with flags and they supported me really well so it was a wonderful day for me. We are a cycling country so it's really nice to have a few Belgians up there in the final and a stage win with me, and the Yellow Jersey. It was one of the best days of my career so far.
It was a pretty calm day but it was too hectic to go for the sprint. I was not recovered form yesterday either so I could not go for the sprint. But also with the stress it was just about getting safely over the line. I tried to recover as well as possible from yesterday. I will try to keep the jersey tomorrow on the last climb and I hope that I might. We'll see how the legs feel tomorrow but I'm going to try and keep it for as long as possible. Five minutes is a lot but not so much in a mountain stage. We will see tomorrow."
Richie Porte: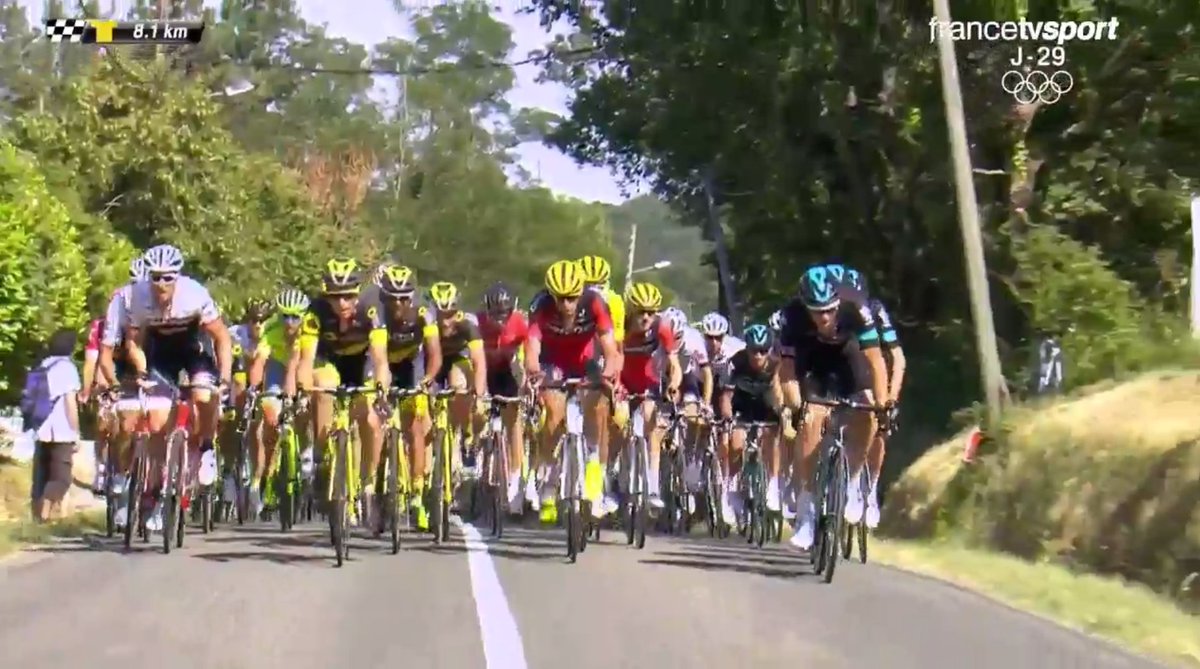 "It was good to pass the day with no troubles. It had a bit of a technical finish but I'm looking forward to tomorrow, going back into some climbing. I've raced up Col d'Aspin quite a lot. I've done the recon on it this year. I think someone has to try there. It's not the most technical descent down to the finish. The stage in Andorra is one of the hardest stages in the Tour this year, so we'll have to evaluate on the day and in the moment and see what's possible."
Tejay van Garderen:
"I don't quite know what we're expecting from tomorrow. A breakaway could win, or maybe we'll see Movistar make another hard tempo like they did yesterday. There are possibilities so we just have to be prepared for everything. The Andorra stage will certainly be one of the hardest stages. Some of the stage sin the Alpes are also really hard."
Marcus Burghardt:
"I think it's a pleasure for us to have the jersey and ride in the front for Greg. He is always giving us so much so it's nice that we can give something back and ride in the front for him. It's quite special."
Shane Archbold:
"From having the dream of riding the tour, to the dream coming true, to making a top ten in the tour things are tracking nicely."

RESULTS
STAGE
1 Cavendish
2 Kittel
3 McLay
4 Kristoff
5 Laprote
6 Sagan
7 Groenewegen
8 Theuns
9 Coquard
10 Archbold
GC
Nothing new!
JERSEYS
Yellow: Van Avermaet
Polka Dot: De Gendt
White: Alaphilippe
Green: Cavendish