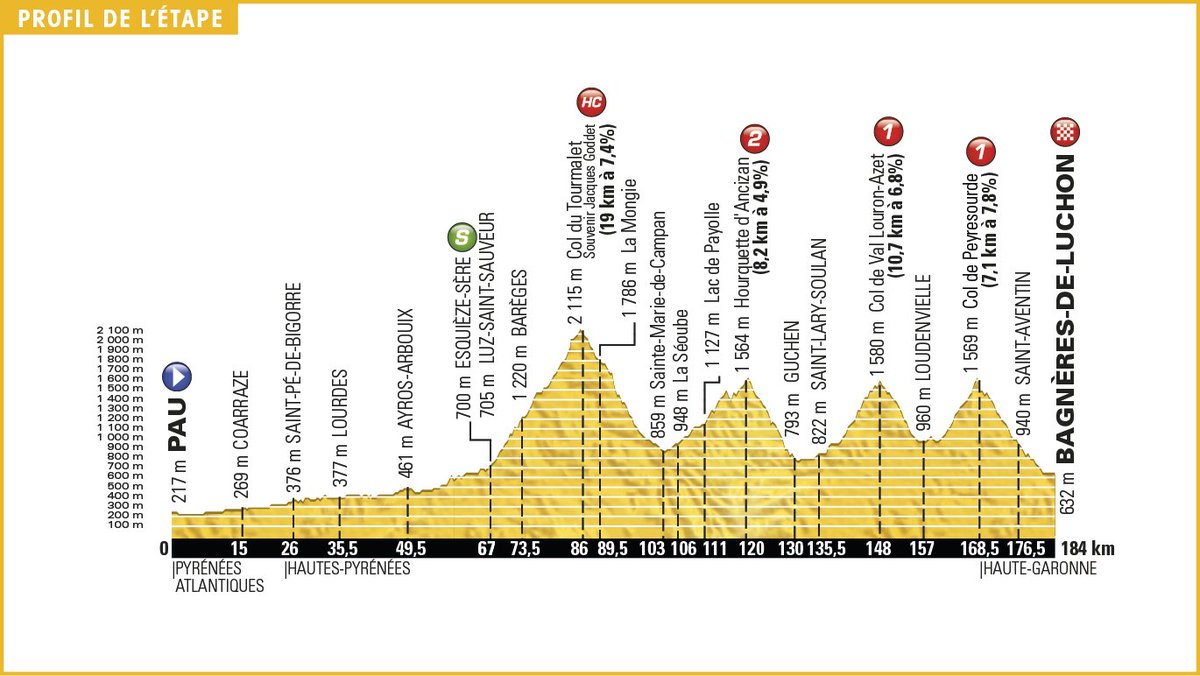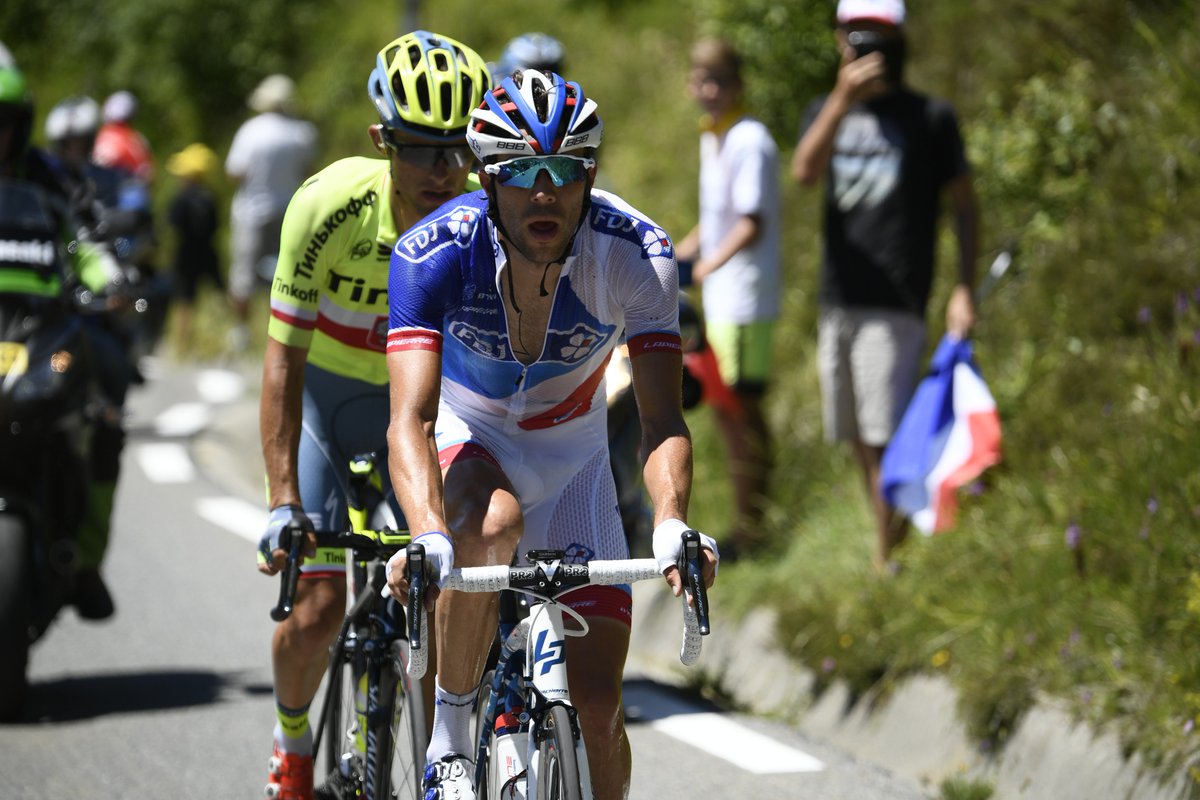 Tourmalet in a sunny day.

It doesn't make the climb less steep or less epic the race, still

I remember the purring rain

, the duel, the amazing surplace, the finish in the mist without a real sprint or a real winner. It was the 2010 tour de France, Andy Schleck and Alberto Contador, and

I was right there

.
Alberto Contador is there again. Andy Schleck is not: he's running a bike shop somwhere in Luxembourg and looking after his little son Teo. Alberto Contador is going to sign for Trek and that's the circle closing.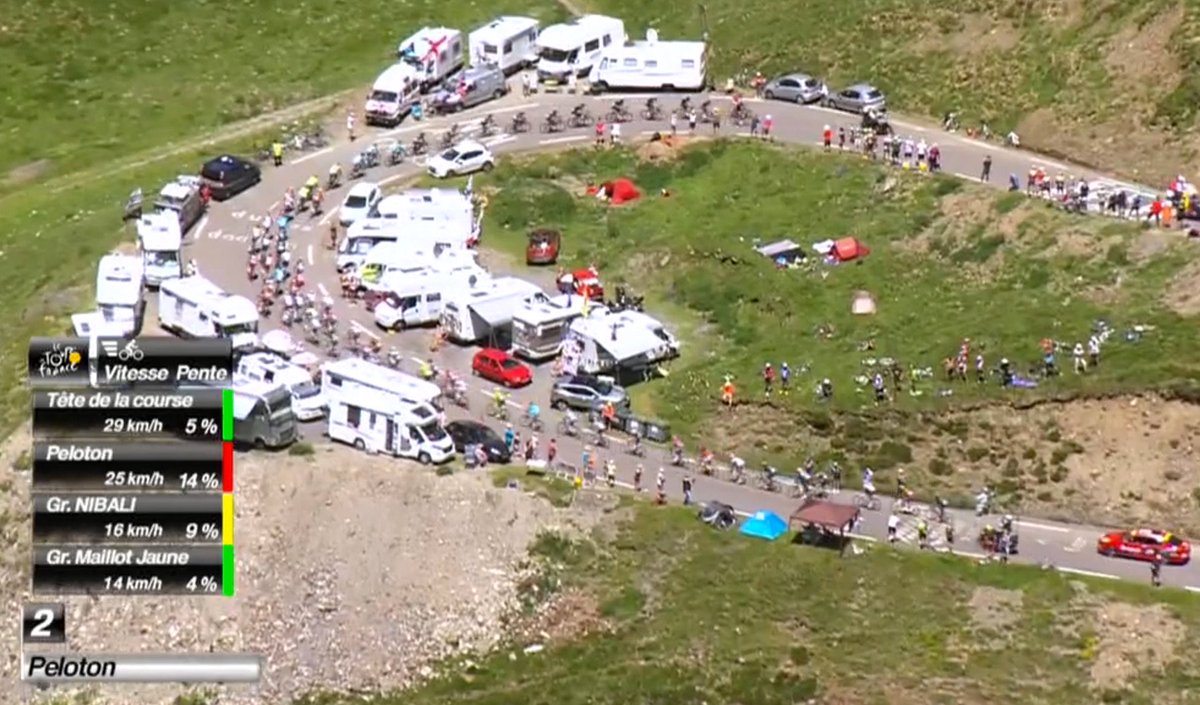 The race is on: no way to break untill the foot of the Tourmalet, then

13 riders on the attack

and now

Majka and Pinot. Tony Martin

joins. 100 km to go they have about 2' on the peloton, where

Van Avermaet, Alaphilippe and Nibali

has already

lost contact

.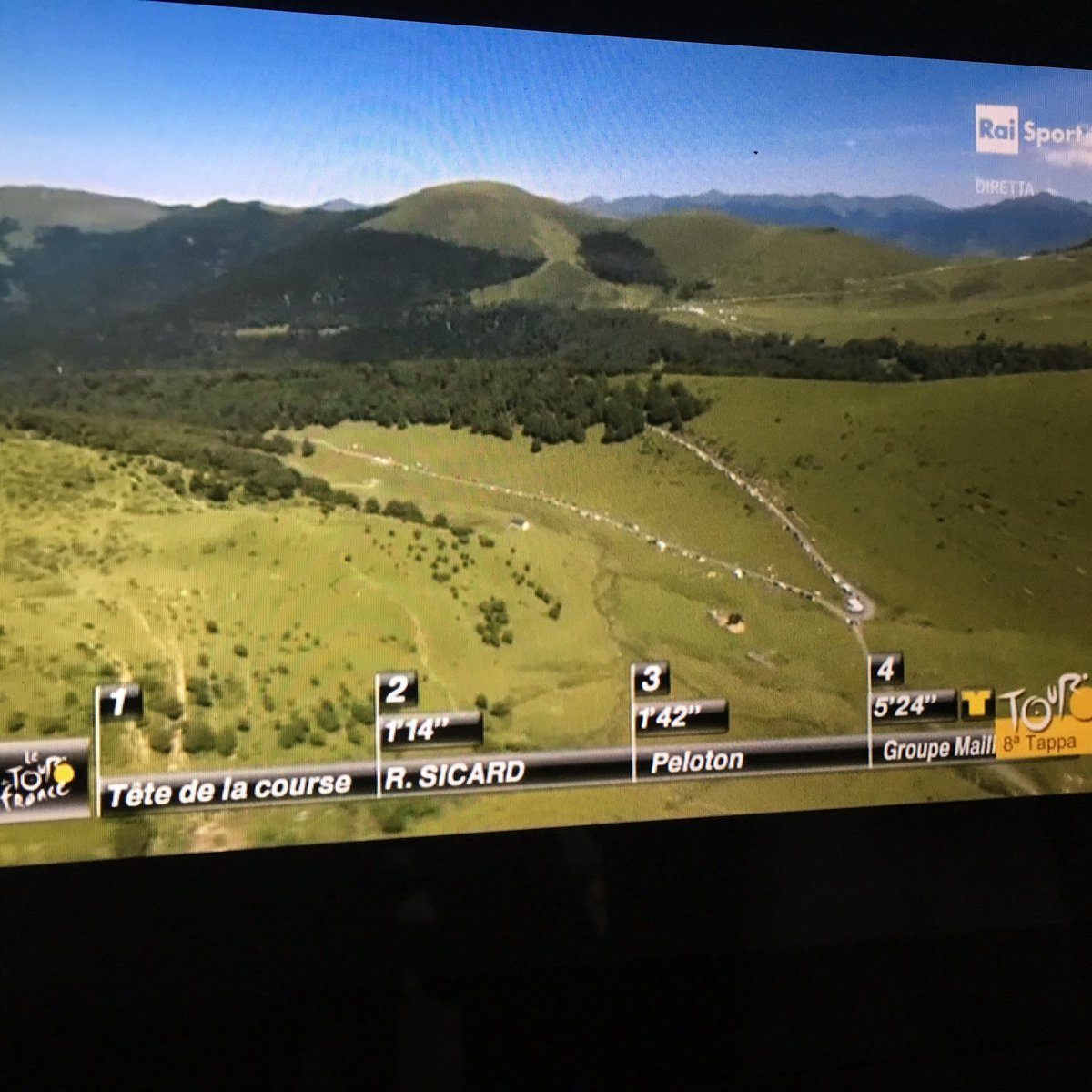 The high rocky mountain look grey in the distance, the slopes are sharp and barely covered by short light green grass.
Pinot is leading toward the
KOM
, Majka on his wheel tries to anticipate but
Pinot
goes solo. Tony Martin arrives slightly dropped. In the peloton
Team Sky
is pulling.
Descent, a little flat before the road starts climbing again. Pinot, Maja and T. Martin are back together.
Hourquette d'Ancizan

(2d cat.). In the peloton Tony

Gallopin

also is

losing the wheels. Mollema

instead is in the reduced front group.

White patches of snow shine high on the mountains' top but on the road of the Tour it's hot and riders empty their bottles on their boiling heads

.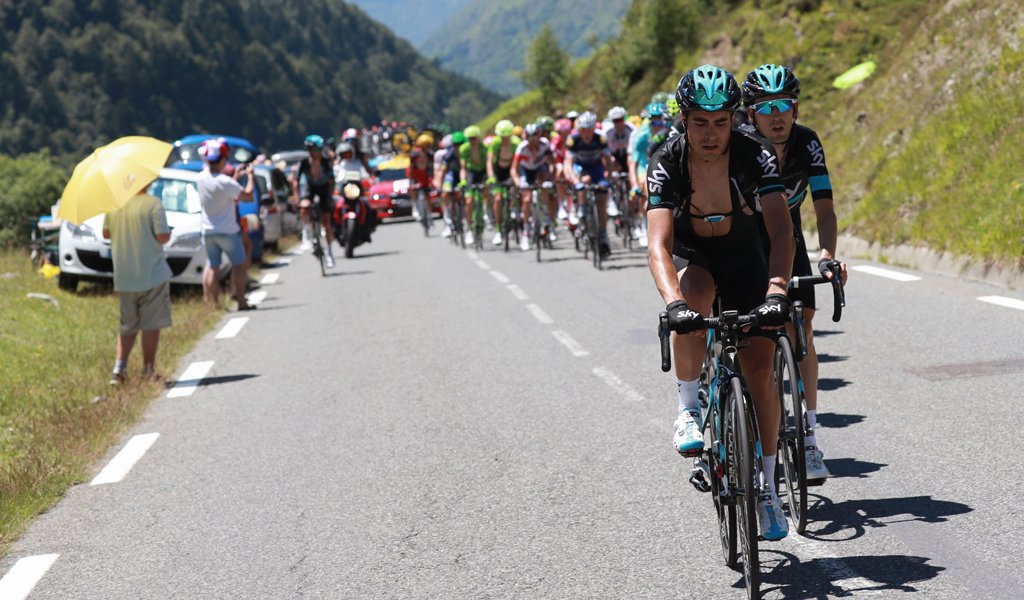 Romain Sicard who had attacked with Majka and Pinot but couldn't follow their move is now back in the peloton.

Ke

lderman,

Bennett,

Barguil and Domoulin

are still there. Team Sky is riding as if they have the Jersey... In this hard mountains you don't see one house.

A green desert dominated by desolated nasty peaks.

At the

KOM Pinot

is 1st again and virtually in

Polka Dot Jersey

. Landa is setting a furious pace and the peloton is close, just 1'20'' behind.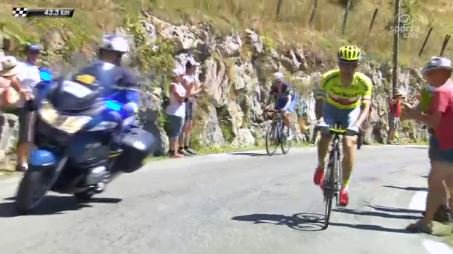 Fabio

Aru

gets spotted in the front group with two team mates. Descent: Team Sky keeps leading. In the flat -

a white village, few houses like sheeps gathered in the valley

- and climbing again. 49 km to go Martin, Majka and Pinot have 1'05".

Col de Val Louron-Azet:

10.7 km 6.8% average. 43 km to go

Wout Poels' chain drops

and is forced to chase. Landa finished his work and meet

Zakarin

who has

lost contact

. In front

Pinot and T.Martin get caught and dropped

while

Majka tries

to go solo. The peloton is really close though and

40 km to go compact

.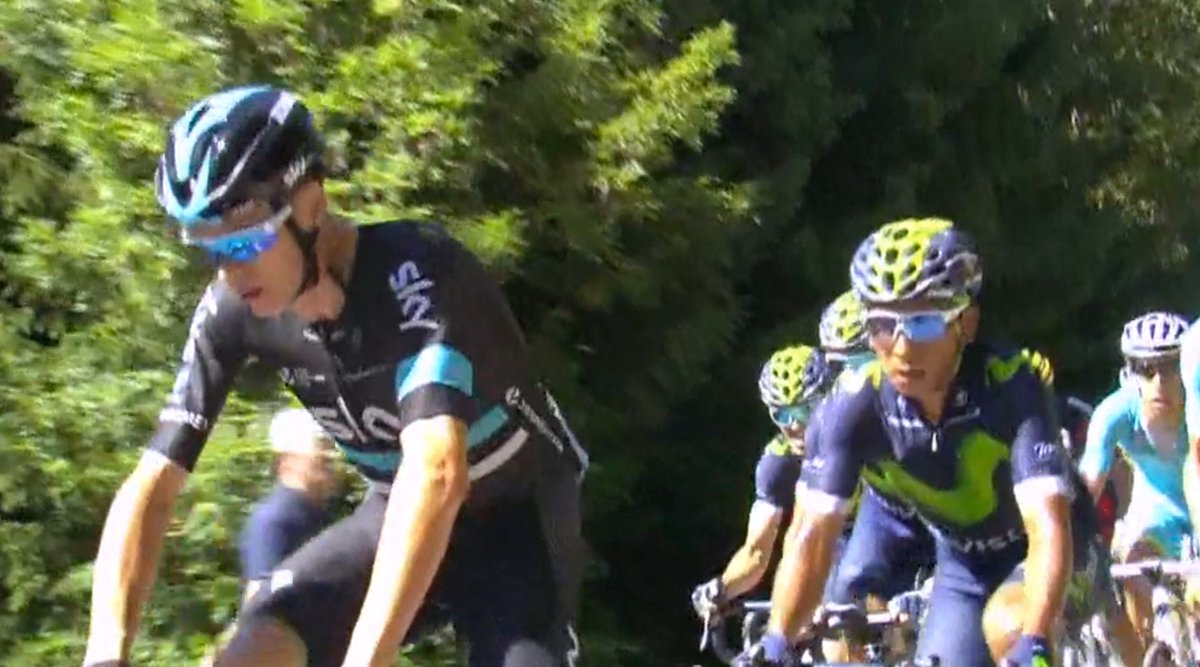 Team Movistar is now pulling by Izagirre.

Tom Dumoulin is dropped, Adam Yates resists. The news comes that injuried Michael

Morkov abandoned

. About

30 riders are left in the front group

, including Froome, Poels, Henao, Nieve, Thomas, Fulsang, Quintana, Contador, Kelderman, Aru, Pozzovivo, Majka, F.Schleck, Mollema, A.Yates, Bardet, Rodriguez, Barguil, Valverde, Caruso, Porte, van Garderen, Kreuziger, Kangert, Bennet, Rolland, Pantano, Ten Dam, Dan Martin, Meintjes, Van Den Broeck, Reichenbach.

Adam Yates is virtually in Yellow.

At the KOM Majka sprint for taking the points but Team Sky react and Wout

Poels

passes 1st.

Majka isn't happy

and goes talking with Froome, who anyway looks unconcerned. Descent: Wilco

Kelderman crashes

and Bennet stops helping the team leader. The team car is fastest and Kelderman is

back on a new bike

.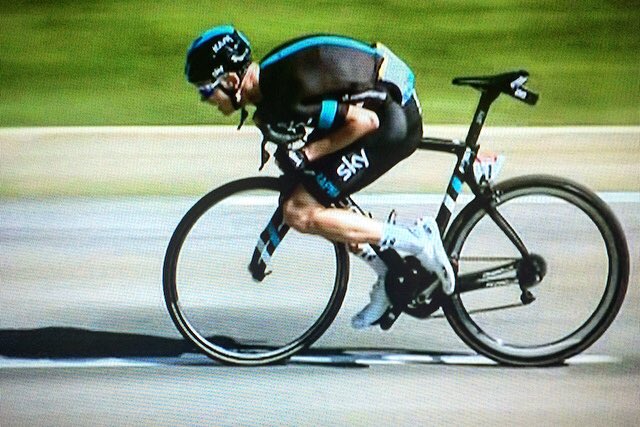 Col du Peyresourde:

7kms at 7.8%. Adam Yates is suffering at the back with no mates helping but stays. Kelderman and Bennet are back in the front group. 25 km to go. Ten Dam gets dropped as well as Majka, Poels, Kangert, Caruso, Izagirre and Pantano.

Mikel Nieve is killing the race

. 17 km to go

Henao attacks

, Valverde responds. Froome, Quintana and Daniel Martin join. Four riders get a gap.

Back together

. Behind Barguil, Rolland and F.Schleck get dropped.

Froome attacks

, D.Martin, Porte, Mollema, Valverde, Quintana, Van Garderen, Bardet, Meintjes, A. Yates Kreuziger follow. Contador is dropped. Aru tries to bounce back. 16 km to go

Bardet attacks, Quintana closes the gap

. Rodriguez, Valverde and Aru come back.

KOM

: Quintana takes a bottle.

Froome attacks and keeps going. Descent. He got a gap

. Valverde leads the chase. No pain no gain: Chris Froome is giving it all, rocking the descent, taking huge risks. Behind Pierre

Rolland tried to attack but crashed

. Bit sore, he's back in the group. Froome is already in the barriers.

Bagneres-de-Luchon

: Aru attacks but Valverde closes the gap.

Last km for Froome. A series of bends. The finish line. It's done: stage e jersey.

Bravo Chris Froome!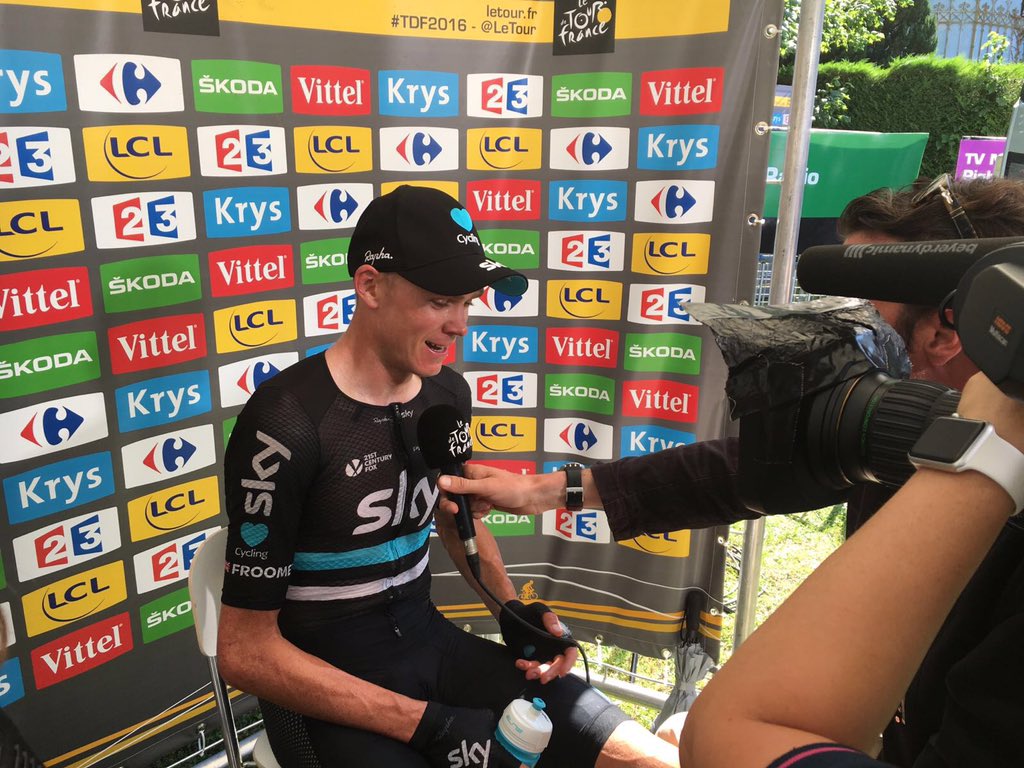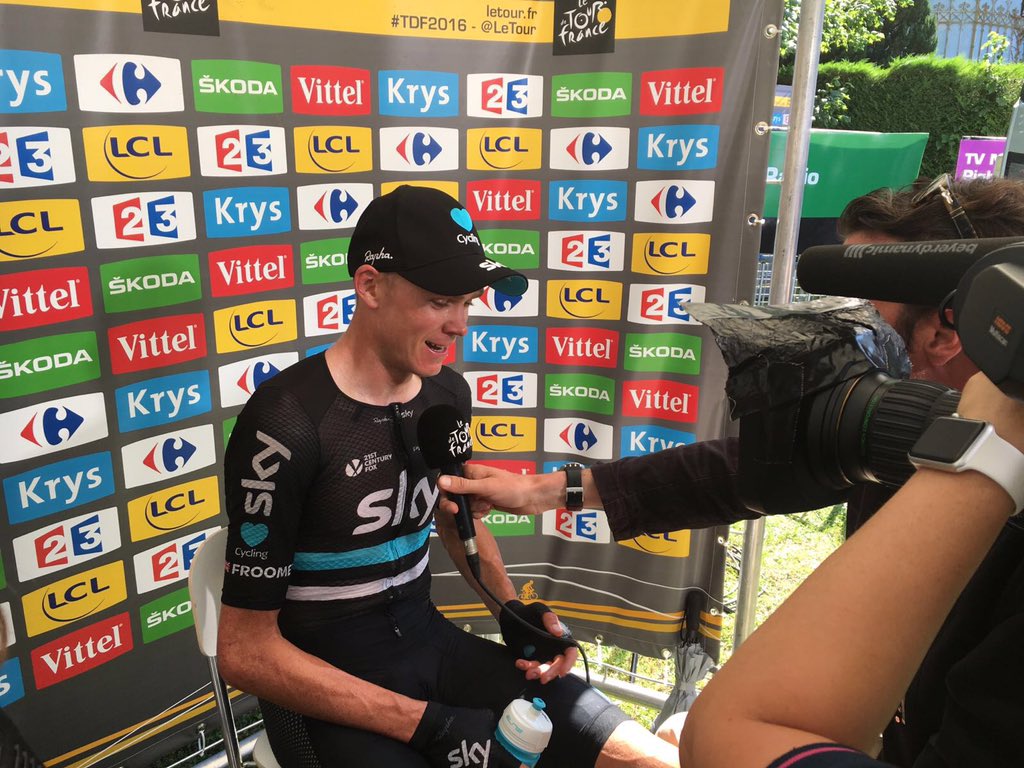 2nd is Daniel

Martin

, 3rd is Purito Rodriguez. Alberto

Contador

arrives with about 2' of delay.


MORE TO COME
RESULTS
STAGE
1 Froome
2 Martin +13"
3 Rodriguez
4 Bardet
5 Kreuizger
6 Aru
7 Yates
8 Valverde
9 Mollema
10 Porte.
GC
1 Froome
2 Yates +16
3 Rodriguez +16
4 Martin +17
5 Valverde +19
6 Quintana +23
7 Aru +23
8 Van Garderen +23
9 Bardet +23
JERSEYS
Yellow: Froome
White: A.Yates
Polka Dot:
Green: Cavendish