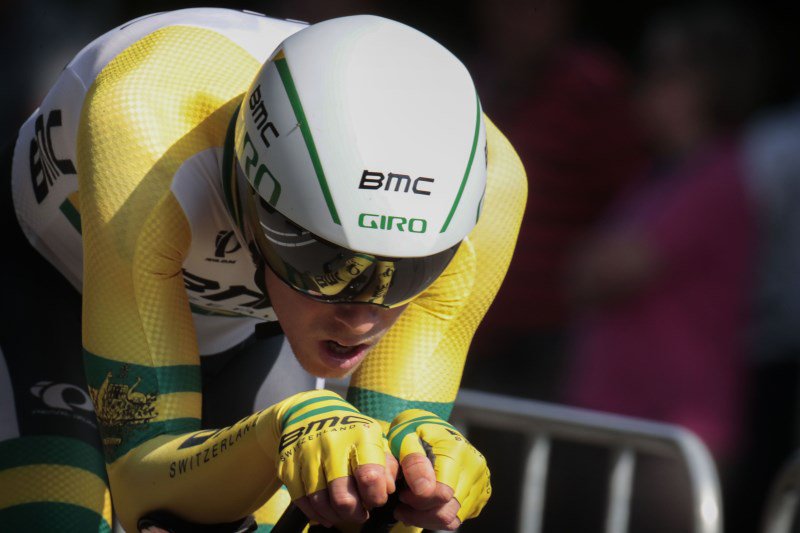 Rohan Dennis:
"From what I saw from my side, it was as close to perfection in a time trial. I took all the risks and kind of crossed my fingers ever time I went through a corner. But it worked out. Today was as quick as I could go.
It's great to win a stage and even better to take the lead.

It's going to put pressure on the team to perform every day but we're here to win with either myself or Greg Van Avermaet. The team time trial will be another big day for the GC, so it's just about making sure we all stay up front and don't lose time each day. I think the Limburg stage and the final stage are also big concerns for the GC.
Kiryienka missing that start time helped me a little in a way.

He's a class time trailer, he's World Champion, but he started about 20 seconds in front of me. It gave me a little carrot you could say to chase until about 1km to go. When he went 40 seconds late he still went hard so that was a good guide to how well I was going.
Today's performance was good for confidence when it comes to Qatar.

I was a little bit worried before coming here.

I thought that maybe because I've lost weight since Rio, maybe I've lost that raw power that I had when I was a couple of kilograms heavier.

It's flat, there's corners here in the time trial and it was all about who had the most power today so that's a good indication for Qatar, considering that's going to be 100% flat."
RESULTS
STAGE
1DENNISRohan BMC Racing Team6505010:48
2VAN EMDEN JosTeam LottoNL - Jumbo420300:05
3SÜTTERLIN JashaMovistar Team28180:14
4KELDERMAN WilcoTeam LottoNL - Jumbo1 130:15
5BRÄNDLE MatthiasIAM Cycling1 10,,
6ROGLIČ PrimožTeam LottoNL - Jumbo 70:16
7PHINNEY TaylorBMC Racing Team 4,,
8SAGAN PeterTinkoff 30:17
9KITTEL MarcelEtixx - Quick Step 2,,
10DOWSETT AlexMovistar Team 10:18
GC
1(144)DENNISRohan BMC Racing Team104:24:48
2(114)VAN EMDENJos Team LottoNL - Jumbo 0:05
3(5)SAGANPeter Tinkoff 0:13
4(62)SÜTTERLINJasha Movistar Team 0:14
5(42)KELDERMANWilco Team LottoNL - Jumbo 0:15
6(109)BRÄNDLEMatthias IAM Cycling ,,
7(103)PHINNEYTaylor BMC Racing Team 0:16
8(121)ROGLIČPrimož Team LottoNL - Jumbo ,,
9(14)KITTELMarcel Etixx - Quick Step 0:17
10(34)DOWSETTAlex Movistar Team 0:18