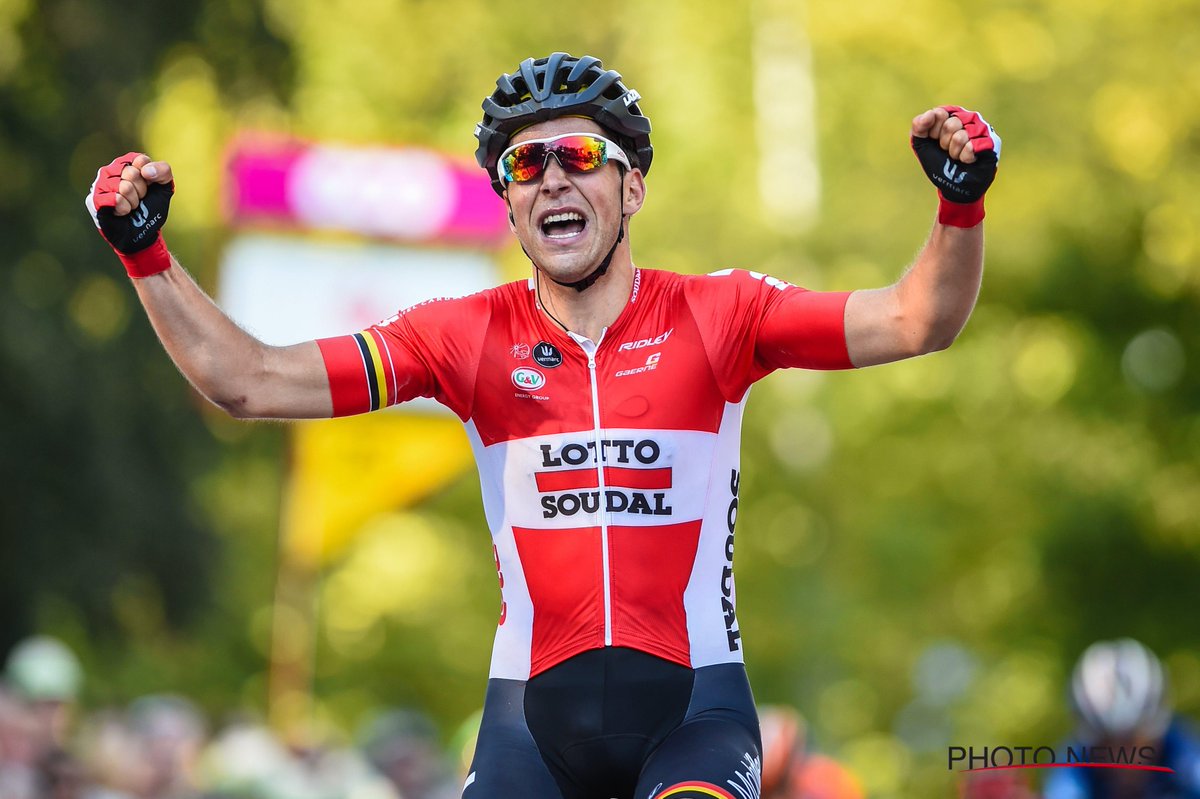 Tony Gallopin:
"The team did a perfect job today. All day long we were positioned on the first rows of the peloton chasing down the front group.

The attack on the second last climb of the race was a good starting point.

We were with seven good riders and we managed to create a small gap pretty fast.

Bakelants

was very good today. He was the one that set up the breakaway and his teammate Pozzovivo was among us as well. We worked together but it wasn't perfect. That's the reason why we were reeled in at the foot of the citadel.

When we were caught by the peloton I had a moment to recover.

I found my own pace and I moved up to the fifteenth position.

The further we went uphill, the better I felt and the better I was positioned in the bunch.

At a certain moment I felt ready to attack once again and I gave everything I had. Two years ago I finished second on the citadel. I couldn't take the victory home. This climb suits me very well.

In the last fifty metres Vakoc came really close and the stress was getting to me.

Fortunately I went fast enough to bring home the victory.
The team gave me permission to change my program because I wanted to

focus on the European Championships

that are coming up this Sunday. That's why I didn't participate in the races in Canada. Instead I chose to ride the Tour of Britain before I came here for the Grand Prix de Wallonie.

It feels really good to know that the team trusts me.

In the Tour of Britain I felt better every day. I hoped to win a stage there, but unfortunately that didn't happen. But my focus is on Sunday, that's when I want to be really good."
RESULTS
1
Tony Gallopin (Fra) Lotto Soudal
5:06:17
2
Petr Vakoc (Cze) Etixx - Quick-Step
3
Jérôme Baugnies (Bel) Wanty - Groupe Gobert
0:00:01
4
Huub Duyn (Ned) Roompot - Oranje Peloton
5
Nicolas Edet (Fra) Cofidis, Solutions Credits
6
Tiesj Benoot (Bel) Lotto Soudal
0:00:04
7
Baptiste Planckaert (Bel) Wallonie Bruxelles - Group Protect
8
Rasmus Guldhammer (Den) Stölting Service Group
9
Jonathan Hivert (Fra) Fortuneo - Vital Concept
10
Fabian Wegmann (Ger) Stölting Service Group
11
Jan Bakelants (Bel) AG2R La Mondiale
12
Sébastien Reichenbach (Swi) FDJ
13
Tim Declercq (Bel) Topsport Vlaanderen - Baloise
14
Pieter Weening (Ned) Roompot - Oranje Peloton
0:00:10
15
Julien Antomarchi (Fra) Roubaix Metropole Europeenne De Lille
0:00:12
16
Sjoerd Van Ginneken (Ned) Roompot - Oranje Peloton
0:00:17
17
Domenico Pozzovivo (Ita) AG2R La Mondiale
18
Jimmy Turgis (Fra) Roubaix Metropole Europeenne De Lille
19
Dimitri Peyskens (Bel) Veranclassic-AGO
20
Eliot Lietaer (Bel) Topsport Vlaanderen - Baloise
0:00:22
21
Hubert Dupont (Fra) AG2R La Mondiale
22
Gaetan Bille (Bel) Wanty - Groupe Gobert
23
Lawrence Warbasse (USA) IAM Cycling
24
Fabien Doubey (Fra) FDJ
25
Rémy Rochas (Fra) AG2R La Mondiale
0:00:28
26
Rayane Bouhanni (Fra) Cofidis, Solutions Credits
0:00:40
27
Kevin Ista (Bel) Wallonie Bruxelles - Group Protect
0:00:43
28
Axel Flet (Fra) Veranclassic-AGO
0:00:59
29
Anthony Delaplace (Fra) Fortuneo - Vital Concept
0:01:02
30
Clement Chevrier (Fra) IAM Cycling
0:01:13
31
Thomas Sprengers (Bel) Topsport Vlaanderen - Baloise
32
Frederik Backaert (Bel) Wanty - Groupe Gobert
0:01:25
33
Julien Vermote (Bel) Etixx - Quick-Step
34
Xandro Meurisse (Bel) Wanty - Groupe Gobert
0:01:45
35
Dimitri Claeys (Bel) Wanty - Groupe Gobert
36
Nick Van Der Lijke (Ned) Roompot - Oranje Peloton
37
Benoît Vaugrenard (Fra) FDJ
0:01:49
38
Arjen Livyns (Bel) Veranda's Willems Cycling Team
0:02:46
39
Gordon De Winter (Bel) Color Code - Arden'Beef
0:03:51
40
Brecht Dhaene (Bel) Veranda's Willems Cycling Team
0:04:05
41
Antoine Warnier (Bel) Wallonie Bruxelles - Group Protect
42
Christophe Masson (Fra) Veranclassic-AGO
43
Floris De Tier (Bel) Topsport Vlaanderen - Baloise
44
Arnaud Gerard (Fra) Fortuneo - Vital Concept
45
Thomas Degand (Bel) Wanty - Groupe Gobert
46
Dennis Coenen (Bel) Crelan-Vastgoedservice Continental Team
47
Vegard Breen (Nor) Fortuneo - Vital Concept
48
Guillaume Martin (Fra) Wanty - Groupe Gobert
49
Stefan Denifl (Aut) IAM Cycling
0:04:19
50
Preben Van Hecke (Bel) Topsport Vlaanderen - Baloise
0:05:16
51
Maximilien Picoux (Bel) Color Code - Arden'Beef
0:05:20
52
Pirmin Lang (Swi) IAM Cycling
0:05:56
53
Marcel Aregger (Swi) IAM Cycling
54
Florent Pereira (Fra) Roubaix Metropole Europeenne De Lille
55
Jeremy Leveau (Fra) Roubaix Metropole Europeenne De Lille
56
Benoit Cosnefroy (Fra) AG2R La Mondiale
57
Arnold Jeannesson (Fra) Cofidis, Solutions Credits
0:06:30
58
Julien Mortier (Bel) Color Code - Arden'Beef
0:06:55
59
Marvin Tasset (Bel) Color Code - Arden'Beef
60
Sebastien Carabin (Bel) T.Palm - Pôle Continental Wallon
0:07:44
61
Sander Armee (Bel) Lotto Soudal
0:08:27
62
Jelle Vanendert (Bel) Lotto Soudal
63
Fernando Gaviria Rendon (Col) Etixx - Quick-Step
64
Michael Reihs (Den) Stölting Service Group
65
Sam Lennertz (Bel) Veranclassic-AGO
66
Anthony Perez (Fra) Cofidis, Solutions Credits
0:09:13
67
Christophe Laporte (Fra) Cofidis, Solutions Credits
68
Dorian Godon (Fra) Cofidis, Solutions Credits
0:09:18
69
Adrien Costa (USA) Etixx - Quick-Step
70
Cédric Pineau (Fra) FDJ
71
Antoine Loy (Bel) Color Code - Arden'Beef
72
Thomas Petit (Bel) T.Palm - Pôle Continental Wallon
0:10:05
73
Ludwig De Winter (Bel) Wallonie Bruxelles - Group Protect
74
Michel Kreder (Ned) Roompot - Oranje Peloton
0:10:36
75
Felix Pouilly (Fra) Roubaix Metropole Europeenne De Lille
76
Gerry Druyts (Bel) Crelan-Vastgoedservice Continental Team
0:12:52
77
Dieter Bouvry (Bel) Roubaix Metropole Europeenne De Lille
0:13:54
78
Maxime Vantomme (Bel) Roubaix Metropole Europeenne De Lille
79
Charlie Arimont (Bel) Color Code - Arden'Beef
80
Kevin Van Melsen (Bel) Wanty - Groupe Gobert
81
Julien Van Den Brande (Bel) Veranclassic-AGO
82
Johan Hemroulle (Bel) Color Code - Arden'Beef
83
Auxence Buntinx (Bel) T.Palm - Pôle Continental Wallon
84
Pieter Jacobs (Bel) Crelan-Vastgoedservice Continental Team
85
Dries Van Gestel (Bel) Topsport Vlaanderen - Baloise
86
Rob Ruijgh (Ned) Crelan-Vastgoedservice Continental Team
87
Gregory Habeaux (Bel) Wallonie Bruxelles - Group Protect
88
Massimo Vanderaerden (Bel) Veranclassic-AGO
89
Oliver Zaugg (Swi) IAM Cycling
90
Reinier Honig (Ned) Roompot - Oranje Peloton
91
Joachim Vanreyten (Bel) Crelan-Vastgoedservice Continental Team
92
Ludovic Robeet (Bel) Color Code - Arden'Beef
93
Ivan Garcia Cortina (Spa) Etixx - Quick-Step
94
Christian Mager (Ger) Stölting Service Group
95
Sven Reutter (Ger) Stölting Service Group
96
Thomas Koep (Ger) Stölting Service Group
97
Steven Tronet (Fra) Fortuneo - Vital Concept
98
Jean-Marc Bideau (Fra) Fortuneo - Vital Concept
99
Tom Dernies (Bel) Wallonie Bruxelles - Group Protect
100
Moritz Backofen (Ger) Stölting Service Group
101
Aleksejs Saramotins (Lat) IAM Cycling
102
Franck Bonnamour (Fra) Fortuneo - Vital Concept
103
Maurits Lammertink (Ned) Roompot - Oranje Peloton
104
Gert Joeaar (Est) Cofidis, Solutions Credits
105
Kenny De Ketele (Bel) Topsport Vlaanderen - Baloise
106
Stef Van Zummeren (Bel) Veranda's Willems Cycling Team
107
Aimé Degendt (Bel) Topsport Vlaanderen - Baloise
108
Greg Henderson (NZl) Lotto Soudal
109
Guillaume Delvaux (Bel) T.Palm - Pôle Continental Wallon
0:15:56
110
Tim Wellens (Bel) Lotto Soudal
0:16:02
111
Sander Cordeel (Bel) Veranda's Willems Cycling Team
112
Guillaume Haag (Bel) T.Palm - Pôle Continental Wallon
113
Tim De Troyer (Bel) Veranda's Willems Cycling Team
114
Nicolas Mertz (Bel) T.Palm - Pôle Continental Wallon
115
Wesley Kreder (Ned) Roompot - Oranje Peloton
116
Victor Van Bost (Bel) T.Palm - Pôle Continental Wallon
117
Davide Martinelli (Ita) Etixx - Quick-Step
118
Rodrigo Contreras (Col) Etixx - Quick-Step
119
Dylan Kowalski (Fra) Roubaix Metropole Europeenne De Lille
120
Kevin Deltombe (Bel) Lotto Soudal
0:16:20
121
Johan Le Bon (Fra) FDJ
0:16:42
DNF
Elias Van Breussegem (Bel) Veranda's Willems Cycling Team
DNF
Thomas Deruette (Bel) Wallonie Bruxelles - Group Protect
DNF
Julien Stassen (Bel) Wallonie Bruxelles - Group Protect
DNF
Bavo Haemels (Bel) T.Palm - Pôle Continental Wallon
DNF
Justin Jules (Fra) Veranclassic-AGO
DNF
Samuel Leroux (Fra) Veranclassic-AGO
DNF
Benoit Jarrier (Fra) Fortuneo - Vital Concept
DNF
Frederik Frison (Bel) Lotto Soudal
DNF
Guillaume Van Keirsbulck (Bel) Etixx - Quick-Step
DNF
Marc Fournier (Fra) FDJ
DNF
Arnaud Courteille (Fra) FDJ
DNF
Laurent Pichon (Fra) FDJ
DNF
Jonathan Fumeaux (Swi) IAM Cycling