I was traveling to the mountains today so I didn't see the race.
Brit

Tom Pidcock is the new European champion among the

Junior Men

,

Thalita De Jong

won the

Elite Women

title, while

Toon Aert

grabbed the jersey from

Lars van der Haar

. The Dutch

admitted he made a mistake

, it's disappointing but he was in the race and better results will come soon.
As far as me,

I'm in a very cool place!

much more to come, stay tuned!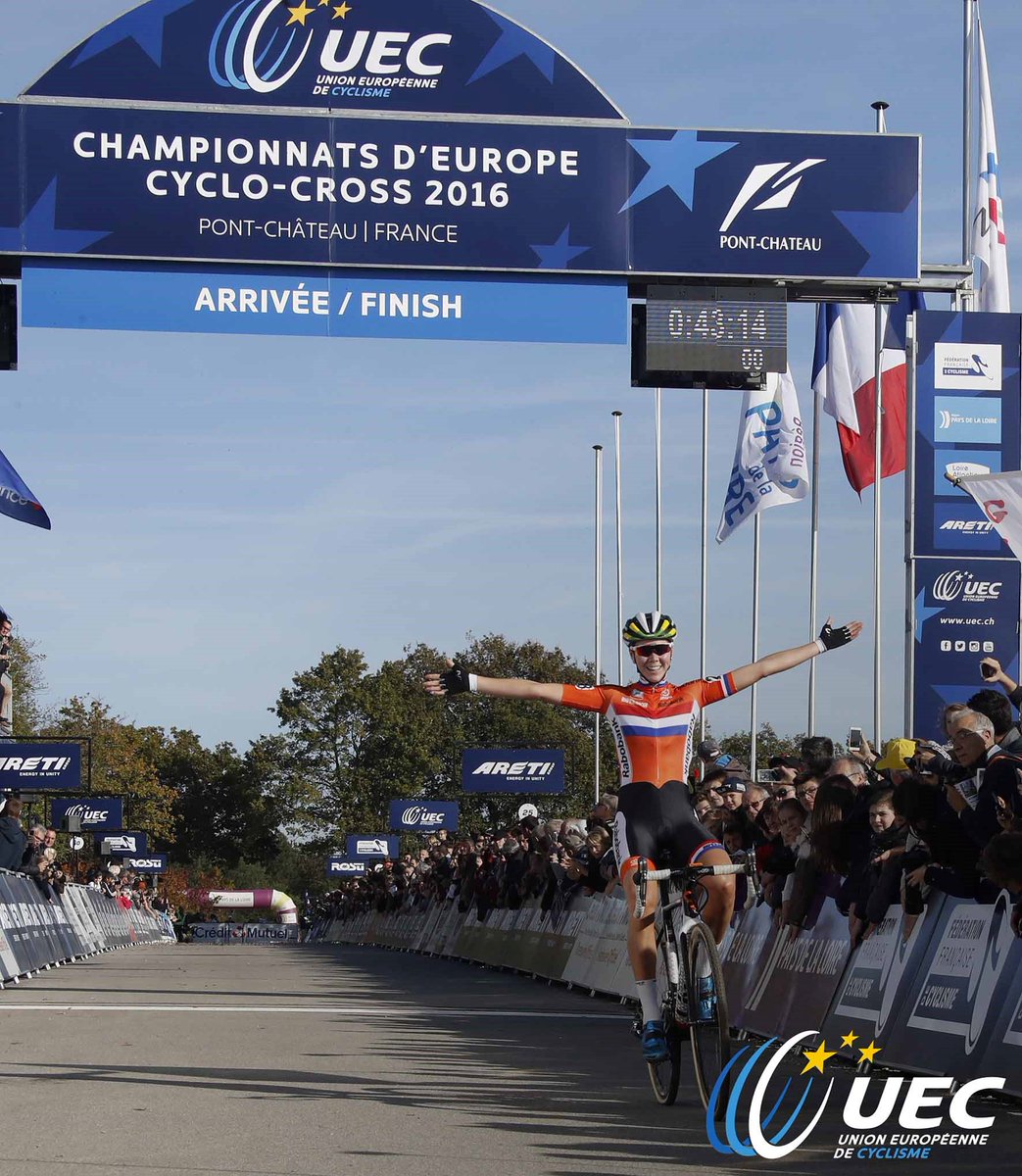 Thalita de Jong:
"It was such a nice feeling to come solo to the finish.

It was like a time-trial.

I'm a specialist so it was good for me today. Of course I also want to get the third jersey at the national championships and of course again at the World championships.
What a race...
In the beginning I was thinking to take it easy and follow. Then I took the front position and

on the hardest part of the course, after the stairs, I sped up a little

and saw I had a gap and pushed a little bit. Then

every lap I had a bigger gap

"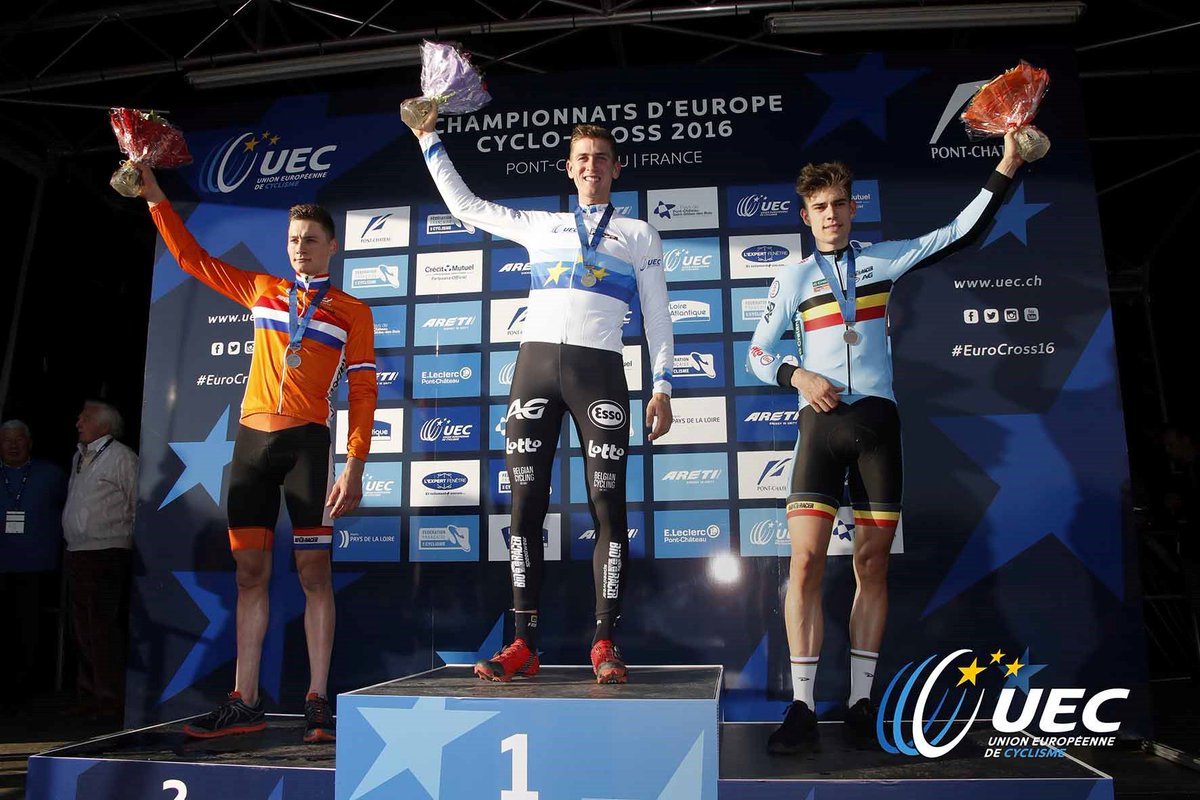 Toon Aert:
"I'm going enjoy the jersey so much. On Tuesday I will wear that jersey. It will be great. I will see what the other races will bring but

this season is already the best of my life."
Wout van Aert:
"My plan was to wait as long as possible, maybe until the final corner. It was impossible to gap Mathieu on this course. Our team played it perfectly by attacking one after the other. Toon's attack came at the perfect moment. He deserves the victory because he seized the right moment."
Lars van der Haar:
"7th at Euro's not the result I came for. But

I made my own crucial mistake before the sprint

, Stupid :( Congrats to @ToAerts, Really well done. And not to forget an amazing race of Twan vanden Brand!! Really strong."
RESULTS
Junior Men
1
Thomas Pidcock (Great Britain)
0:44:03
2
Nicolas Guillemin (France)
0:00:14
3
Timo Kielich (Belgium)
0:00:22
4
Antoine Benoist (France)
0:00:35
5
Antoine Raugel (France)
0:00:48
6
Maxime Bonsergent (France)
0:01:07
7
Ben Turner (Great Britain)
8
Jeremy Montauban (France)
9
Andreas Goeman (Belgium)
10
Erwann Kerraud (France)
0:01:11
11
Jelle Camps (Belgium)
12
Toon Vandebosch (Belgium)
13
Yentl Bekaert (Belgium)
14
Thymen Arensman (Netherlands)
15
Filippo Fontana (Italy)
0:01:19
16
Mees Hendrikx (Netherlands)
17
Bart Hazekamp (Netherlands)
0:01:22
18
Maxime Chevalier (France)
0:01:26
19
Kyle Agterberg (Netherlands)
0:01:32
20
Patrick Favaro (Italy)
0:01:37
21
Simon Vanicek (Czech Republic)
0:01:39
22
Thibault Valognes (France)
23
Perry Frijters (Netherlands)
0:01:52
24
Tomáš Kopecký (Czech Republic)
0:02:17
25
Thomas Mein (Great Britain)
0:02:24
26
Loris Rouiller (Switzerland)
27
Pieter-Jan Vliegen (Belgium)
0:02:29
28
Toby Barnes (Great Britain)
0:02:37
29
Bart Artz (Netherlands)
0:02:39
30
David Honzak (Czech Republic)
0:02:44
31
Jan Gavenda (Czech Republic)
0:02:53
32
Hynek Palicka (Czech Republic)
0:02:56
33
Arthur Kluckers (Luxembourg '')
34
Jofre Cullell Estape (Spain)
0:03:12
35
Lorenzo Calloni (Italy)
0:03:18
36
Soren Wærenskjold (Norway)
0:03:21
37
Harry Yates (Great Britain)
0:03:26
38
Felix Schreiber (Luxembourg)
0:03:28
39
Lukas Baldinger (Germany)
0:04:10
40
David Westhoff-Wittwer (Germany)
0:04:29
41
Cédric Pries (Luxembourg)
42
Jb Murphy (Ireland)
0:04:32
43
Samuel Lord (Sweden)
0:04:34
44
Luca Schätti (Switzerland)
45
Gabriel Slinger (Norway)
46
Carl Jarnhagen (Sweden)
47
Jakub Varhanovsky (Slovakia)
48
Jan Sommer (Switzerland)
49
Nicolas Kess (Luxembourg)
50
Olof Abrahamsson (Sweden)
51
Craig Mccarthy (Ireland)
DNF
Vladimír Mikšaník (Czech Republic)
1
Thalita De Jong (Netherlands)
0:43:14
2
Lucinda Brand (Netherlands)
0:00:17
3
Caroline Mani (France)
4
Jolien Verschueren (Belgium)
0:00:22
5
Alice Maria Arzuffi (Italy)
0:00:30
6
Sanne Cant (Belgium)
0:00:48
7
Pavla Havlikova (Czech Republic)
0:01:00
8
Sophie De Boer (Netherlands)
0:01:03
9
Ellen An Loy (Belgium)
0:01:18
10
Perrine Clauzel (France)
0:01:22
11
Marlene Petit (France)
0:01:51
12
Maud Kaptheijns (Netherlands)
0:02:08
13
Christine Majerus (Luxembourg)
0:02:53
14
Olatz Odriozola Mujika (Spain)
0:03:04
15
Lucia Gonzalez Blanco (Spain)
16
Martina Mikulaskova (Czech Republic)
0:04:00
17
Alicia Franck (Belgium)
0:04:47
18
Elisabeth Sveum (Norway)
0:05:22
19
Fanny Stumpf (France)
DNF
Nikki Brammeier (Great Britain)
DNF
Helen Wyman (Great Britain)
DNF
Lise-Marie Henzelin (Switzerland)
1
Toon Aerts (Beglium)
1:04:16
2
Mathieu Van Der Poel (Netherlands)
0:00:45
3
Wout Van Aert (Belgium )
4
Clément Venturini (France )
5
Jens Adams (Belgium )
6
Kevin Pauwels (Belgium )
7
Lars Van Der Haar (Netherlands)
0:00:49
8
Marcel Wildhaber (Switzerland)
0:00:55
9
Steve Chainel (France)
0:01:05
10
Corne Van Kessel (Netherlands)
0:01:09
11
David Van Der Poel (Netherlands )
12
Twan Van Den Brand (Netherlands )
13
Matthieu Boulo (France )
14
Laurens Sweeck (Belgium)
0:01:13
15
Martin Haring (Slovakia)
0:01:15
16
Francis Mourey (France)
0:01:22
17
Severin Saegesser (Switzerland)
0:01:45
18
Michael Boros (Czech Republic)
0:01:55
19
Simon Zahner (Switzerland)
0:02:14
20
Alois Falenta (France)
0:02:38
21
Gusty Bausch (Luxembourg)
22
Asier Arregui Dominguez (Spain)
23
Fredrik Haraldseth (Norway)
DNF
Stan Godrie (Netherlands)
DNF
Thijs Van Amerongen (Netherlands)
DNF
Wietse Bosmans (Belgium)
DNF
Michael Vanthourenhout (Belgium)
DNF
Philipp Walsleben (Germany)
DNF
Tim Merlier (Belgium)