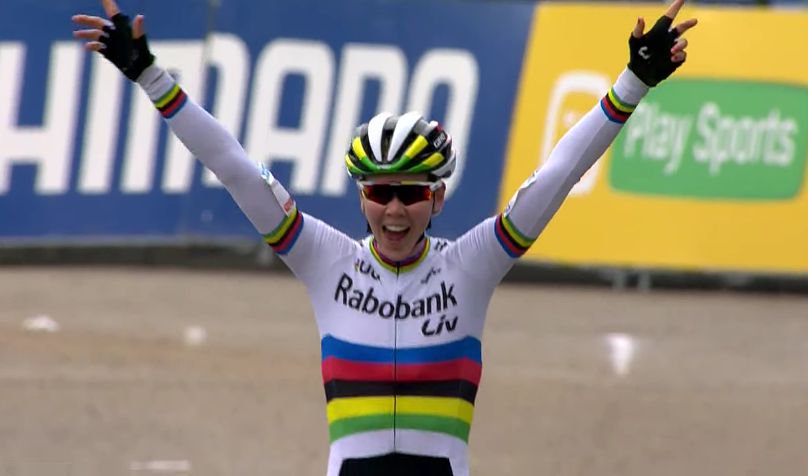 Thalita De Jong
New route, fast and dry. A very fast start for Lars van der Haar, then

a disastrous crash

and a forced stop to change a shoe.

A furious chase.

A great race but a lot of bad luck. Eventually 7th.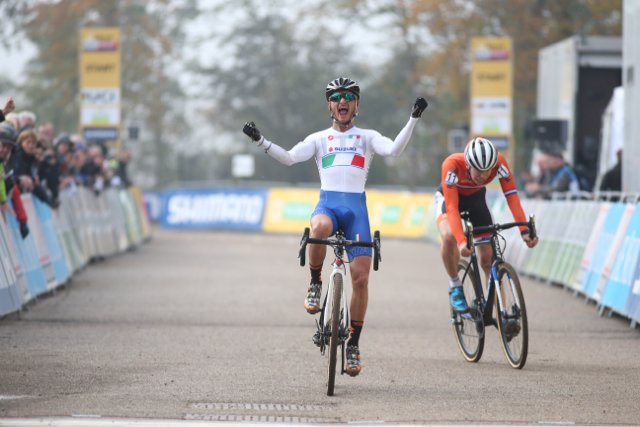 Gioele Bertolini
In front,

the usual duel between van Aert and van der Poel

. In the finale

a disastrous crash

brings down also

van Aert

, Meusen falls on him and

van der Poel goes solo, to take the victory.
In the middle there is

Vanthourenhout,

but Van Aert succeesfully fights for the 2nd place.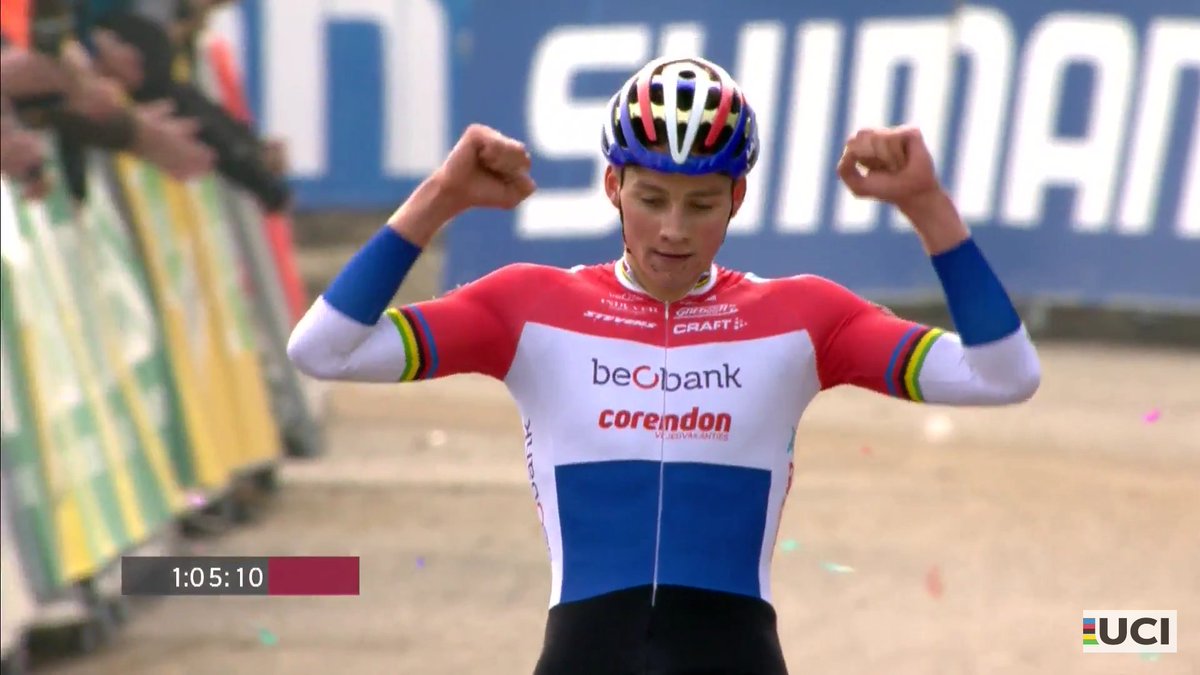 Mathieu van der Poel
A don't like when a race's result depends on crashes, but that also is cycling...
Lars van der Haar:
"No luck today on the Cauberg. #crash. Then a fast shoe change! To ride back to a 7th place. Thanks to support me so loud! Loved it! :-)"
RESULTS
JUNIOR MEN
1. Yentl Bekaert
2. Antoine Benoist
3. Andreas Goeman
U23 MEN
1. Gioele Bertolini,
2. Joris Nieuwenhui,
3. Quinten Hermans.
ELITE WOMEN
1 Thalita De Jong (Ned) Rabo Liv Women Cycling Team
0:41:59
2
Sophie De Boer (Ned) Kalas-NNOF
0:00:26
3
Sanne Cant (Bel) IKO Enertherm-Beobank
0:00:35
4
Lucinda Brand (Ned) Rabo Liv Women Cycling Team
0:00:46
5
Amanda Miller (USA) Visit Dallas DNA Pro Cycling
0:01:00
6
Ellen Van Loy (Bel) Telenet Fidea Lions
0:01:10
7
Caroline Mani (Fra) Raleigh Clement
0:01:16
8
Kaitlin Antonneau (USA) Cannondale pb CyclocrossWorld.com
0:01:20
9
Alice Maria Arzuffi (Ita) Lensworld-Zannata
0:01:22
10
Helen Wyman (GBr) Kona Factory Team
0:01:31
11
Maud Kaptheijns (Ned) Team Steylaerts
0:01:43
12
Annemarie Worst (Ned)
0:01:56
13
Elle Anderson (USA) Rally Cycling
0:02:01
14
Pavla Havlikova (Cze)
0:02:21
15
Rebecca Fahringer (USA) Amy D Foundation
0:02:31
16
Marlene Petit (Fra)
0:02:36
17
Jana Czeczinkarova (Cze) SRAM Mitas Trek
18
Nicole Koller (Swi)
0:02:38
19
Laura Verdonschot (Bel) Marlux-Napoleon Games
0:02:42
20
Alicia Franck (Bel)
0:03:09
21
Christine Majerus (Lux) Boels Dolmans Cyclingteam
0:03:12
22
Ceylin Del Carmen Alvarado (Ned)
0:03:32
23
Jolien Verschueren (Bel) Telenet Fidea Lions
0:03:33
24
Helene Clauzel (Fra)
0:03:36
25
Evita Muzic (Fra)
0:03:53
26
Maelle Grossetete (Fra)
0:03:55
27
Aida Nuno Palacio (Spa)
0:03:58
28
Inge Van Der Heijden (Ned)
0:04:01
29
Sara Casasola (Ita)
0:04:05
30
Perrine Clauzel (Fra) BH-SR Suntour-KMC
0:04:08
31
Ffion James (GBr)
0:04:10
32
Anais Morichon (Fra)
0:04:16
33
Lucia Gonzalez Blanco (Spa) Lointek
0:04:20
34
Nadja Heigl (Aut)
0:04:23
35
Bianca Van Den Hoek (Ned)
0:04:25
36
Karen Verhestraeten (Bel) Lares-Waowdeals Women Cycling Team
0:04:37
37
Ellen Noble (USA) Aspire Racing
0:05:01
38
Martina Mikulaskova (Cze)
0:05:02
39
Alicia Gonzalez Blanco (Spa) Lointek
0:05:10
40
Francesca Baroni (Ita)
0:05:17
41
Joyce Vanderbeken (Bel)
0:05:28
42
Amira Mellor (GBr) NEXT Wyman/Kona
0:05:31
43
Lara Krahemann (Swi) JB Brunex Felt Team
0:05:41
44
Asa Maria Erlandsson (Swe)
45
Cyriane Muller (Fra)
0:05:43
46
Tereza Medvedova (Svk) Bepink
0:05:53
47
Elena Valentini (Ita) Vitalogic Astrokalb Radunion Nö
0:05:58
48
Tina Zueger (Swi)
0:06:17
49
Fabienne Schaus (Lux)
0:06:27
50
Nikola Bajgerova (Cze)
0:07:33
51
Christine Vardaros (USA)
52
Mara Schwager (Ger)
53
Zaloa Trevilla (Spa)
ELITE MEN
1
Mathieu Van Der Poel (Ned) Beobank-Corendon
1:05:13
2
Wout Van Aert (Bel) Crelan-Vastgoedservice
0:00:14
3
Michael Vanthourenhout (Bel) Marlux-Napoleon Games
0:00:21
4
Tom Meeusen (Bel) Telenet Fidea Lions
0:00:34
5
Kevin Pauwels (Bel) Marlux-Napoleon Games
0:00:49
6
Toon Aerts (Bel) Telenet Fidea Lions
0:00:56
7
Lars Van Der Haar (Ned) Team Giant-Alpecin
0:01:07
8
Corne Van Kessel (Ned) Telenet Fidea Lions
0:01:22
9
Laurens Sweeck (Bel) ERA-Circus
0:01:28
10
Tim Merlier (Bel) Crelan-Vastgoedservice
0:01:33
11
Jens Adams (Bel) Crelan-Vastgoedservice
0:01:48
12
Clément Venturini (Fra) Cofidis, Solutions Credits
0:01:56
13
Marcel Meisen (Ger) Steylaerts-Verona
0:02:07
14
Stan Godrie (Ned) Rabobank Development Team
0:02:15
15
Philipp Walsleben (Ger) Beobank-Corendon
0:02:28
16
Simon Zahner (Swi)
0:02:30
17
Michael Boros (Cze) ERA-Circus
0:02:36
18
Gianni Vermeersch (Bel) Team Steylaerts
19
Daan Soete (Bel) Telenet Fidea Lions
0:02:39
20
Steve Chainel (Fra)
0:02:44
21
Twan Van Den Brand (Ned) Cyclingteam Jo Piels
0:02:45
22
Severin Saegesser (Swi)
0:02:46
23
Jan Nesvadba (Cze) Expres Cz-Merida Team Kolin
0:02:51
24
Daan Hoeyberghs (Bel) Beobank-Corendon
0:02:57
25
Martin Haring (Svk) Dukla Banska Bystrica
26
David Van Der Poel (Ned) Beobank-Corendon
0:03:03
27
Thijs Van Amerongen (Ned) Telenet Fidea Lions
0:03:11
28
Dieter Vanthourenhout (Bel) Marlux-Napoleon Games
0:03:20
29
Marcel Wildhaber (Swi) Scott-Odlo MTB Racing Team
0:03:25
30
Patrick Van Leeuwen (Ned) Cyclingteam Jo Piels
0:03:38
31
Matthieu Boulo (Fra)
0:03:43
32
Francis Mourey (Fra) Fortuneo - Vital Concept
0:03:56
33
Jim Aernouts (Bel) Telenet Fidea Lions
0:04:14
34
Kevin Suarez Fernandez (Spa)
0:04:30
35
Tomas Paprstka (Cze) Expres CZ-Merida Team Kolin
0:04:47
36
Javier Ruiz De Larrinaga Ibanez (Spa)
0:04:52
37
Diether Sweeck (Bel) ERA-Circus
0:05:02
38
Lukas Winterberg (Swi)
0:05:11
39
Alois Falenta (Fra)
0:05:24
40
Vincent Baestaens (Bel) Beobank-Corendon
0:05:38
41
Andreas Moser (Swi)
0:05:41
42
Nicolas Samparisi (Ita)
0:06:21
43
Michal Malik (Cze)
0:06:51
44
Anthonin Didier (Fra)
0:06:57
45
Matej Lasak (Cze)
46
Tobin Ortenblad (USA) Santa Cruz Factory Racing
47
Sascha Weber (Ger)
48
Lorenzo Samparisi (Ita)
49
Julien Taramarcaz (Swi) ERA-Circus
50
Yu Takenouchi (Jpn)
51
Mariusz Gil (Pol)
52
Christian Helmig (Lux)
53
Yoann Corbihan (Fra)
54
Marvin Schmidt (Ger)
55
Inigo Gomez Elorriaga (Spa)
56
Lex Reichling (Lux)
WC STANDING
1
Wout Van Aert (Bel) Crelan-Vastgoedservice
230
pts
2
Laurens Sweeck (Bel) ERA-Circus
174
3
Michael Vanthourenhout (Bel) Marlux-Napoleon Games
166
4
Kevin Pauwels (Bel) Marlux-Napoleon Games
164
5
Toon Aerts (Bel) Telenet Fidea Lions
154
6
Tom Meeusen (Bel) Telenet Fidea Lions
137
7
Gianni Vermeersch (Bel) Team Steylaerts
126
8
Tim Merlier (Bel) Crelan-Vastgoedservice
118
9
Dieter Vanthourenhout (Bel) Marlux-Napoleon Games
117
10
Jim Aernouts (Bel) Telenet Fidea Lions
113