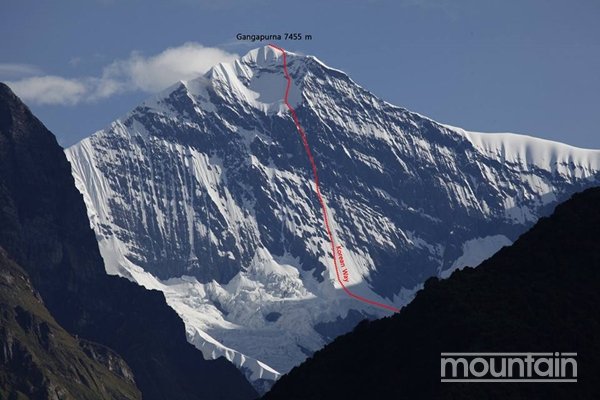 The new Korean route on the south wall of Gangapurna
Is the time of true adventure over? I don't think so.
We tend to think

that nowadays nothing is left to imagination and courage,

that the world has been completely searched.

But it isn't the case.
There are unexplorated places we can see from a satellite and never touched by a human step.

There are

beautiful mountains

, close and far, more or less high,

that have been climbed already but still offer inviolate walls.
There are routes opened and never repeated, routes just imaginated, routes left uncomplied and waiting for a second try. There are new routes, and that's exciting!
A Korean team of three climbers led by Kim Chang-Ho just opened

a new route on the south wall of the Nepalese mountain Gangapurna (7455 m)

, which is located in the central part of the Annapurna's range.
The team included
Kim Chang Ho,
Choi Seok Moon and Pak Jeong Yong.
The expedition started on September 12 with a trekking through the Annapurna's valley to the base camp, near the southern wall of the mountain, at 2900 m. After the acclimatisation period, the team launched its assault,

climbing for 6 nights and 7 days

. The route was climbed

in lightweight alpine style, without sherpas and oxygen.

The descent took another three days. The whole expedition lasted 22 days.
The first ascent of Gangapurnu dates to May 1965, when a team of German climbers led by Gunter Hauser succeessfully reached the summit. On the south wall of the mountain the first ascent was in the spring of 1981, when a Canadian team including James Branch and John Lauchlan got to the top.
How gorgeous the new route looks! straight like desire!