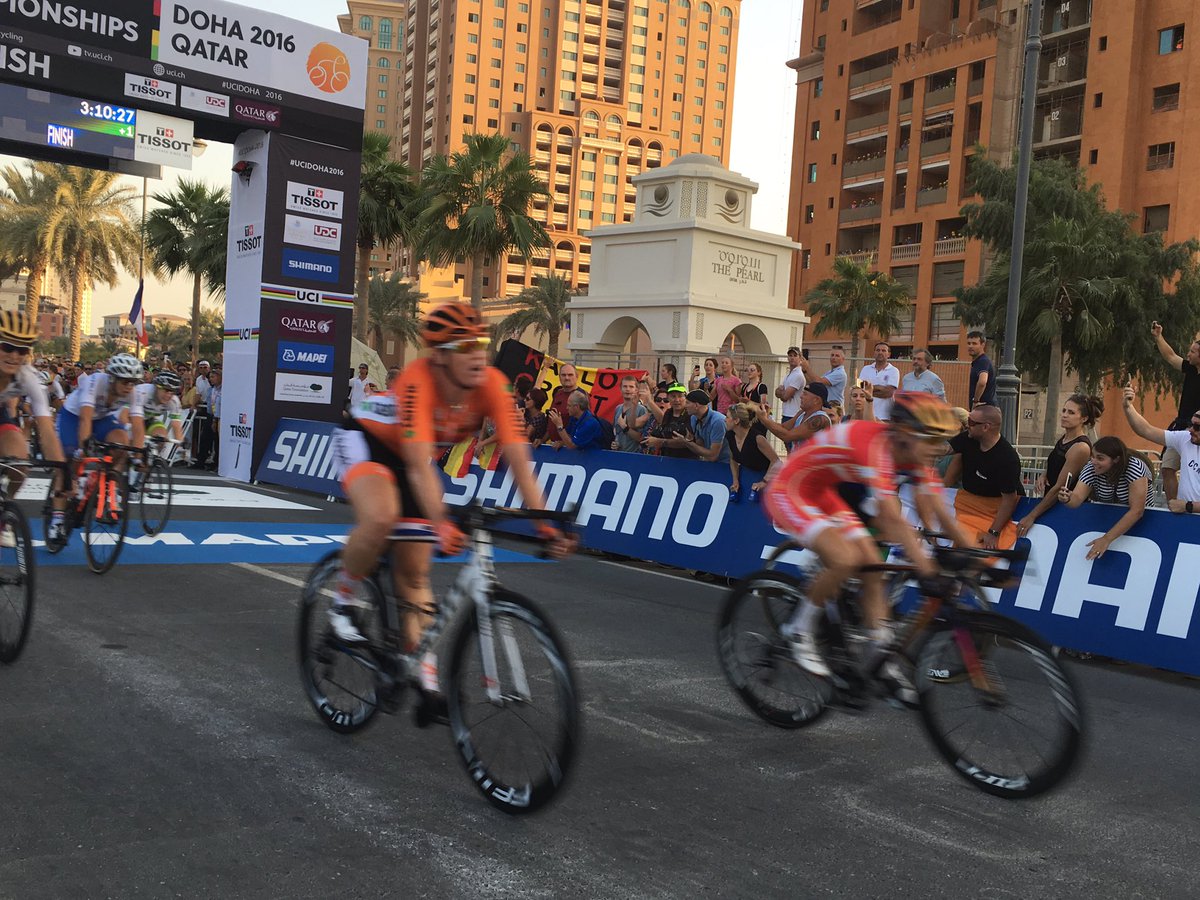 Amalie Dideriksen:
"I dreamed of this. But today I had such good teammates, who even brought me back too after a crash. I chose Wild's wheel in the sprint. Winning here is a surprise for me too".
Kristen Wild:
"I am actually pretty disappointed. We rode a very good race, we had it under control.
I felt that it was early, but I could not wait any longer. Diderksen is a very good rider, who strongly came out of my wheel. We came together. It was my chance, but you cannot reverse it."
Lotta Lepistö:
"I was so tired in the sprint and kept thinking I have to open up my sprint. I had to push myself to the limit but a medal is a medal and I am so happy about it.
There were some attacks going and I had to count who was in the front and had to pay attention to it and see if I needed to be there. There was one moment where I felt I needed to be there but it came back together and I was just concentrating on staying in the front all the time.
It means a lot, it's the first road medal at this level and I hope everyone at home can enjoy it."
RESULTS
1

Amalie Dideriksen (Denmark)

3:10:27
2

Kirsten Wild (Netherlands)
3

Lotta Lepistö (Finland)
4
Elizabeth Deignan (Great Britain)
5
Marta Bastianelli (Italy)
6
Roxane Fournier (France)
7
Chloe Hosking (Australia)
8
Sheyla Gutierrez Ruiz (Spain)
9
Joelle Numainville (Canada)
10
Jolien D'hoore (Belgium)
11
Emilie Moberg (Norway)
12
Lisa Brennauer (Germany)
13
Katarzyna Pawlowska (Poland)
14
Leah Kirchmann (Canada)
15

Christine Majerus (Luxembourg)
16
Coryn Rivera (United States Of America)
17
Sara Mustonen (Sweden)
18
Mia Radotic (Croatia)
19
Rasa Leleivyte (Lithuania)
20
Barbara Guarischi (Italy)
0:00:04
21

Miho Yoshikawa (Japan)
22
Marianne Vos (Netherlands)
23
Alison Jackson (Canada)
24
Jelena Eric (Serbia)
25
Barbora Prudkova (Czech Republic)
26
Ashleigh Moolman-Pasio (South Africa)
27
Megan Guarnier (United States Of America)
28
Christina Perchtold (Austria)
29
Carmen Small (United States Of America)
30
Alexis Ryan (United States Of America)
31
Eugenia Bujak (Poland)
32
Amy Pieters (Netherlands)
33
Polona Batagelj (Slovenia)
34
Alena Amialiusik (Belarus)
35
Katarzyna Niewiadoma (Poland)
36
Maria Giulia Confalonieri (Italy)
37
Aude Biannic (France)
0:00:12
38
Nicolle Bruderer (Guatemala)
39
Katrine Aalerud (Norway)
40

Olena Pavlukhina (Azerbaijan)
41
Samantha Sanders (South Africa)
42
Diana Peñuela (Colombia)
43
Ganna Solovei (Ukraine)
44
Yusseli Mendivil (Mexico)
45
Ursa Pintar (Slovenia)
46
Alice Barnes (Great Britain)
47
Julie Leth (Denmark)
48
Tiffany Cromwell (Australia)
49
Emma Johansson (Sweden)
50
Chantal Blaak (Netherlands)
51
Katrin Garfoot (Australia)
52
Stephanie Pohl (Germany)
53
Annemiek Van Vleuten (Netherlands)
54

Natalya Saifutdinova (Kazakhstan)
55
Sara Penton (Sweden)
0:00:18
56
Dani King (Great Britain)
57
Eileen Roe (Great Britain)
58
Heidi Dalton (South Africa)
59
Cecilie Gotaas Johnsen (Norway)
60
Ting Ying Huang (Chinese Taipei)
61
Emilia Fahlin (Sweden)
62
Cecilie Uttrup Ludwig (Denmark)
63
Sarah Rijkes (Austria)
64
Yumi Kajihara (Japan)
65
Alicia Gonzalez Blanco (Spain)
66
Kaat Van Der Meulen (Belgium)
67
Chantal Hoffmann (Luxembourg)
68
Valerie Demey (Belgium)
69
Lauren Kitchen (Australia)
0:00:22
70
Romy Kasper (Germany)
71
Karol-Ann Canuel (Canada)
72
Mieke Kroeger (Germany)
73
Trixi Worrack (Germany)
0:00:27
74
Tatiana Guderzo (Italy)
75
Lotte Kopecky (Belgium)
0:00:30
76
Hannah Barnes (Great Britain)
0:00:39
77
Olga Shekel (Ukraine)
78
Rosa Törmänen (Finland)
79
Abby-Mae Parkinson (Great Britain)
80
Lisa Klein (Germany)
81
Elise Maes (Luxembourg)
82
Annasley Park (Great Britain)
83
Lauren Stephens (United States Of America)
84
Anna Plichta (Poland)
85
Ellen Van Dijk (Netherlands)
86
Eri Yonamine (Japan)
87
Anna Van Der Breggen (Netherlands)
0:01:00
88
Audrey Cordon (France)
89
Elisa Longo Borghini (Italy)
90
Elena Cecchini (Italy)
91
Sara Bergen (Canada)
92
Gracie Elvin (Australia)
93
Roxane Knetemann (Netherlands)
0:01:43
94
Sofie De Vuyst (Belgium)
95
Anisha Vekemans (Belgium)
0:02:30
96
Wehazit Kidane (Eritrea)
0:03:42
97
Zhao Juan Meng (Hong Kong, China)
98
Amber Neben (United States Of America)
0:06:46
99
Sarah Roy (Australia)
100
Eugénie Duval (France)
101
Nicole Hanselmann (Switzerland)
0:10:31
102
Alba Teruel Ribes (Spain)
103
Paz Bash (Israel)
0:11:48
DNF
Annie Foreman-Mackey (Canada)
DNF
Loren Rowney (Australia)
DNF
Rotem Gafinovitz (Israel)
DNF
Alexandra Nessmar (Sweden)
DNF
Varvara Fasoi (Greece)
DNF
Allie Dragoo (United States Of America)
DNF
Marta Lach (Poland)
DNF
Laura Vainionpää (Finland)
DNF
Alexandra Chekina (Russian Federation)
DNF
Hong Guo (People's Republic of China)
DNF
Jaruwan Somrat (Thailand)
DNF
Anriette Schoeman (South Africa)
DNF
Thi That Nguyen (Vietnam)
DNF
Coralie Demay (France)
DNF
Laura Massey (Great Britain)
DNF
Valeriya Kononenko (Ukraine)
DNF
Nikola Noskova (Czech Republic)
DNF
Anastasiia Iakovenko (Russian Federation)
DNF
Svetlana Vasilieva (Russian Federation)
DNF
Pascale Jeuland (France)
DNF
Margarita Syrodoeva (Russian Federation)
DNF
Antonia Grondahl (Finland)
DNF
Makhabbat Umutzhanova (Kazakhstan)
DNF
Wogahta Gebrehiwet (Eritrea)
DNF
Ebtissam Zayed Ahmed Mohamed (Egypt)
DNF
Mossana Debesai (Eritrea)
DNF
Sofia Arreola (Mexico)
DNF
Silvija Latozaite (Lithuania)
DNF
Kelly Kalm (Estonia)
DNF
Alicja Ratajczak (Poland)
DNF
Eden Bekele (Ethiopia)
DNF
Carla Oberholzer (South Africa)
DNF
Tsega Beyene (Ethiopia)
DNF
Najla Aljuraiwi (Kuweit)
DNF
Zanele Tshoko (South Africa)
DNF
Jiajun Sun (People's Republic of China)
DNF
Noura Alameeri (Kuweit)
DNF
Nada Aljuraiwi (Kuweit)
DSQ
Olga Zabelinskaya (Russian Federation)
DNS
Giorgia Bronzini (Italy)
DNS
Qianyu Yang (Hong Kong, China)
DNS
Beatha Ingabire (Rwanda)
DNS
Eyeru Tesfoam (Ethiopia)