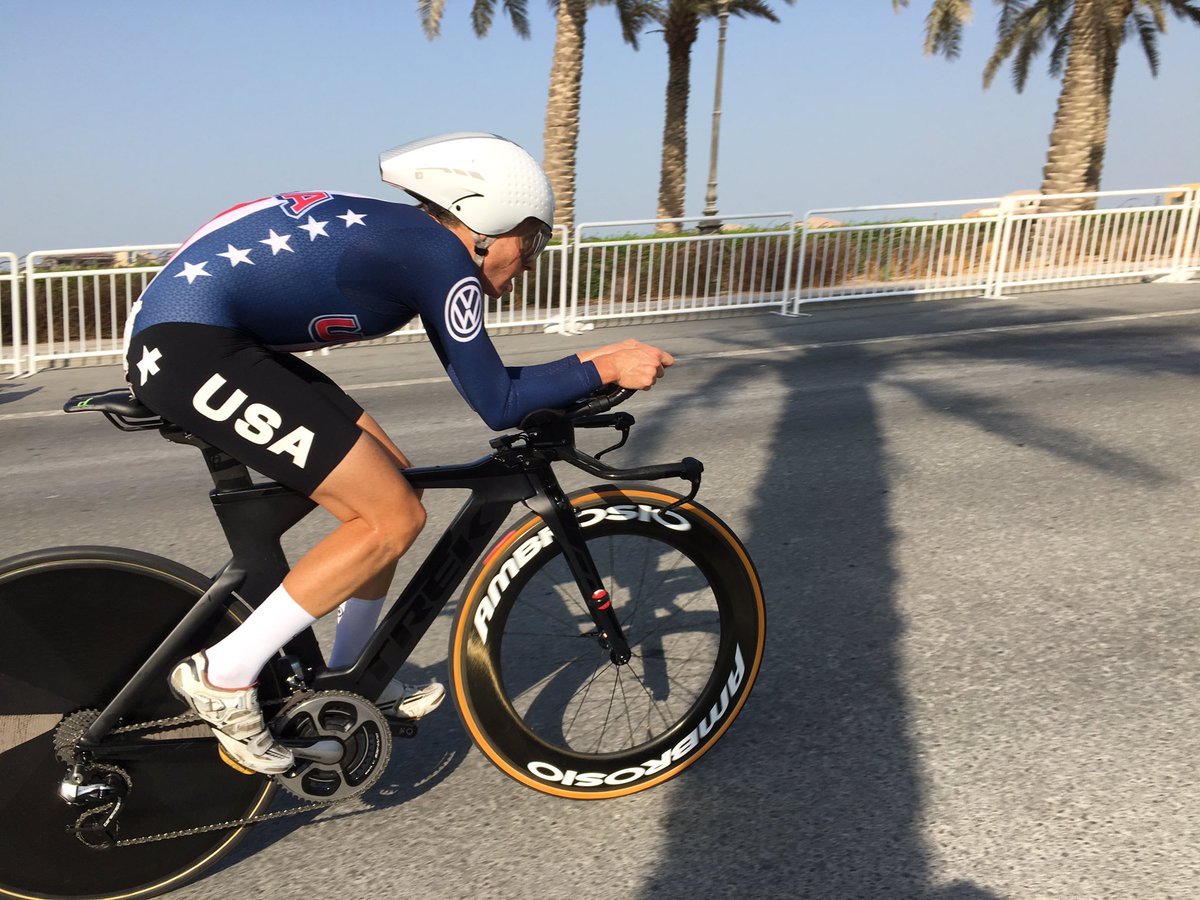 Amber Neben (USA):
"It was a long wait, I think

I used more energy sitting there waiting than I did on the bike

. Traditionally,

I am a pretty steady rider

, I'm not real fast in the beginning so I try to just sustain it and be steady. The difference I think was the mental perseverance, to have that extra power to finish strong.
I was so nervous, it was so hard to watch.

I feel for Ellen, having been second, third, fourth places, but at the same time I'm so excited to be able to hold on.
I think

this title is more special because of everything that's happened between 2008 and now

. There have been so many things I've had to persevere through. Just the struggle and being resiliant and persevering, getting up and not giving up. I'm speechless."
Elite WOMEN ITT
1

Amber Neben (United States Of America)

0:36:37.04
2

Ellen Van Dijk (Netherlands)

0:00:05.99
3

Katrin Garfoot (Australia)

0:00:08.32
4
Olga Zabelinskaya (Russian Federation)
0:00:11.52
5
Annemiek Van Vleuten (Netherlands)
0:00:25.79
6
Lisa Brennauer (Germany)
0:00:57.59
7
Trixi Worrack (Germany)
0:01:11.14
8
Ann-Sophie Duyck (Belgium)
0:01:27.96
9
Katarzyna Pawlowska (Poland)
0:01:36.49
10
Alena Amialiusik (Belarus)
0:01:41.59
11
Lotta Lepisto (Finland)
0:01:57.00
12
Carmen Small (United States Of America)
0:02:02.15
13
Anna Van Der Breggen (Netherlands)
0:02:11.26
14
Hannah Barnes (Great Britain)
0:02:23.33
15
Elena Cecchini (Italy)
0:02:30.28
16
Emilia Fahlin (Sweden)
0:02:30.40
17
Julie Leth (Denmark)
0:02:31.71
18
Ashleigh Moolman-Pasio (South Africa)
0:02:45.92
19
Karol-Ann Canuel (Canada)
0:02:48.62
20
Cecilie Uttrup Ludwig (Denmark)
0:02:53.51
21
Eri Yonamine (Japan)
0:03:01.79
22
Audrey Cordon (France)
0:03:14.58
23

Olena Pavlukhina (Azerbaijan)

0:03:21.20
24
Olga Shekel (Ukraine)
0:03:28.05
25
Hayley Simmonds (Great Britain)
0:03:47.18
26
Valeriya Kononenko (Ukraine)
0:03:58.87
27
Anastasiia Iakovenko (Russian Federation)
0:04:02.19
28
Anna Turvey (Ireland)
0:04:14.85
29
Nicole Hanselmann (Switzerland)
0:04:15.13
30
Sheyla Gutierrez Ruiz (Spain)
0:04:55.32
31
Varvara Fasoi (Greece)
0:05:09.59
32
Samantha Sanders (South Africa)
0:05:55.31
33
Mossana Debesai (Eritrea)
0:06:53.51
34
Ebtissam Mohamed (Egypt)
0:08:15.53
35
Wehazit Kidane (Eritrea)
0:08:56.92
36
Hong Guo (People's Republic of China)
0:09:42.89
37
Jiajun Sun (People's Republic of China)
0:10:13.91
38
Najla Aljeraiwi (Kuweit)
0:10:19.49
39
Beatha Ingabire (Rwanda)
0:13:25.25
40
Nada Aljeraiwi (Kuweit)
0:15:10.15
DSQ
Phetdarin Somrat (Thailand)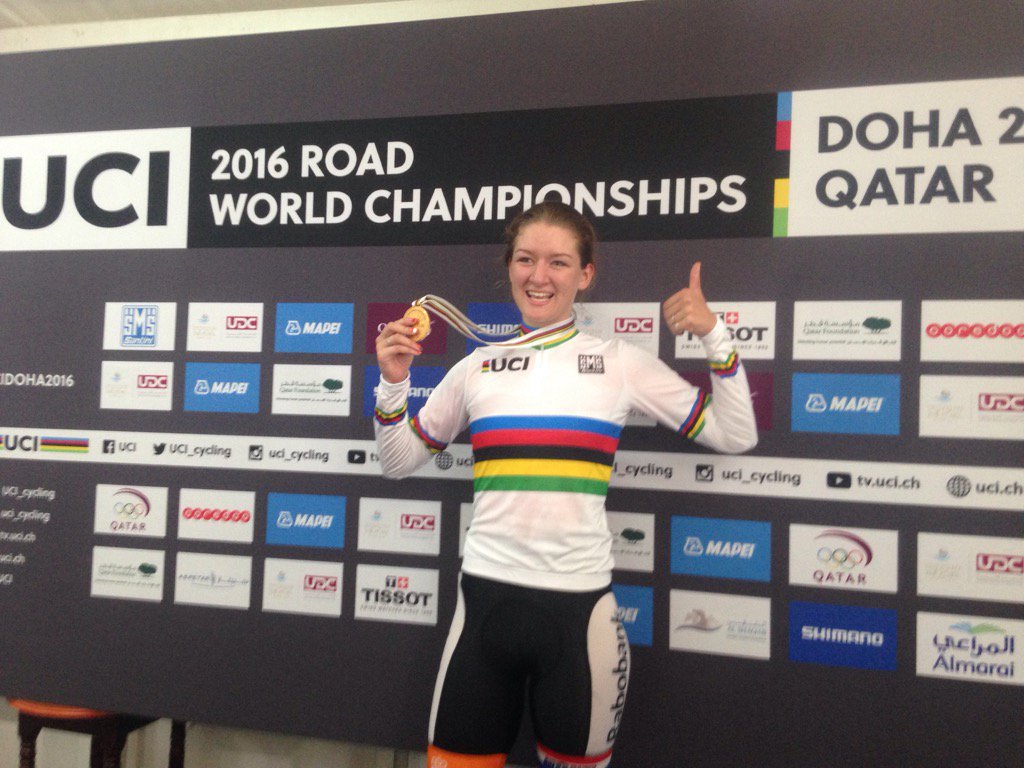 Junior WOMEN ITT
1
Karlijn Swinkels (Ned)
0:18:21
2
Lisa Morzenti (Ita)
0:00:08
3
Juliette Labous (Fra)
0:00:22
4
Skylar Schneider (USA)
0:00:30
5
Hannah Arensman (USA)
0:00:34
6
Franziska Brausse (Ger)
0:00:35
7
Simone Eg (Den)
0:00:39
8
Alessia Vigilia (Ita)
0:00:42
9
Madeleine Fasnacht (Aus)
0:00:44
10
Elena Pirrone (Ita)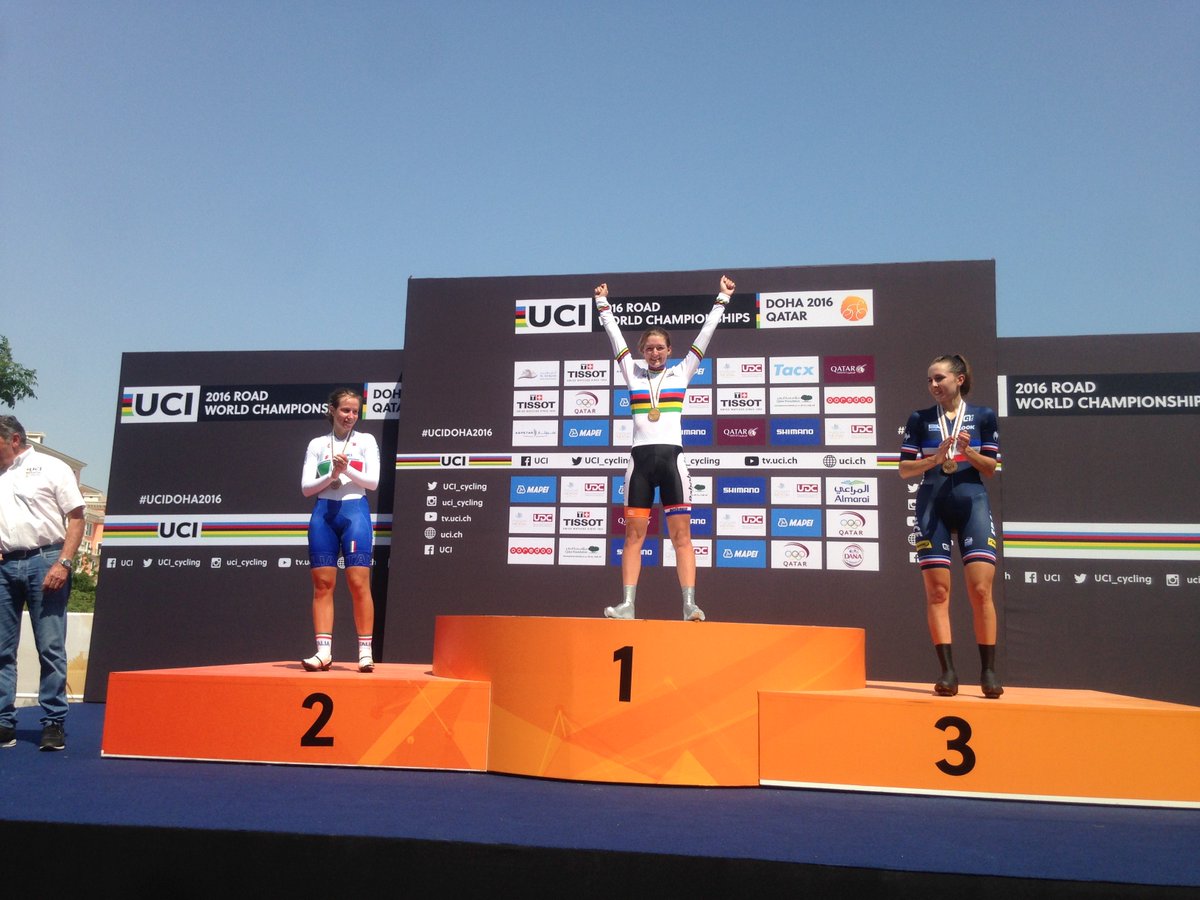 11
Madeleine Park (NZl)
0:00:49
12
Maaike Boogaard (Ned)
0:00:51
13
Susanne Andersen (Nor)
0:00:53
14
Aurela Nerlo (Pol)
0:01:02
15
Chloe Moran (Aus)
16
Christa Riffel (Ger)
0:01:03
17
Johanne Marcher (Den)
0:01:05
18
Karina Kasenova (Rus)
0:01:09
19
Tatiana Duenas (Col)
0:01:14
20
Sara Martin (Spa)
21
Karin Penko (Slo)
0:01:17
22
Lena Mettraux (Swi)
0:01:18
23
Clara Copponi (Fra)
0:01:22
24
Wiktoria Pikulik (Pol)
25
Laurie Jussaume (Can)
0:01:30
26
Andrea Ramirez (Mex)
0:01:37
27
Erin Attwell (Can)
0:01:38
28
Anne-Sophie Harsch (Lux)
0:01:39
29
Miriam Gardachal Bozal (Spa)
0:01:42
30
Adela Safarova (Cze)
0:01:47
31
Mikayla Harvey (NZl)
0:02:02
32
Lynette Benson (RSA)
0:02:05
33
Yulin Aguila (Mex)
0:02:09
34
Katja Kerpan (Slo)
0:02:11
35
Misuzu Shimoyama (Jpn)
0:02:38
36
Nicolene Marais (RSA)
0:02:52
37
Chaniporn Batriya (Tha)
0:02:53
38
Jiahuan Yang (Chn)
0:03:31
39
Kanyarat Kesthonglang (Tha)
0:03:34
40
Yue Chang (Chn)
0:04:00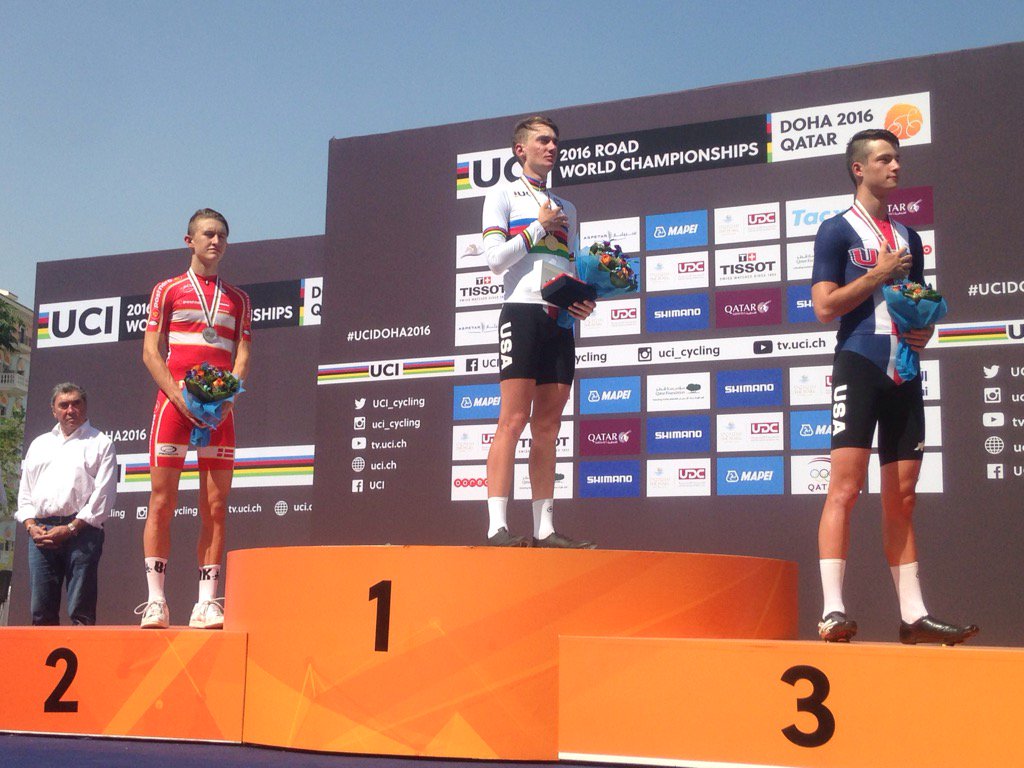 Junior MEN ITT
1
Brandon McNulty (United States Of America)
0:34:42
2
Mikkel Bjerg (Denmark)
0:00:35
3
Ian Garrison (United States Of America)
0:00:53
4
Julius Johansen (Denmark)
0:01:02
5
Ruben Apers (Belgium)
0:01:24
6
Iver Knotten (Norway)
0:01:33
7
Awet Habtom (Eritrea)
0:01:40
8
Marc Hirschi (Switzerland)
0:01:43
9
Jaka Primozic (Slovenia)
0:01:54
10
Jarno Mobach (Netherlands)
0:02:00
11
Robert Stannard (New Zealand)
0:02:02
12
Alastair Christie-Johnston (Australia)
0:02:08
13
Luis Villalobos (Mexico)
14
Maccie Carter (Australia)
0:02:16
15
Inigo Elosegui (Spain)
0:02:19
16
Nils Eekhoff (Netherlands)
0:02:36
17
Michel Ries (Luxembourg)
0:02:40
18
Jasper Philipsen (Belgium)
0:02:41
19
Nik Cemazar (Slovenia)
0:02:42
20
Harry Sweeny (Australia)
21
Jason Oosthuizen (South Africa)
0:02:46
22
Igor Chzhan (Kazakhstan)
23
Andreas Leknessund (Norway)
0:02:49
24
Nickolas Zukowsky (Canada)
0:02:52
25
Bastian Flicke (Germany)
26
Joao Almeida (Portugal)
0:02:58
27
Alexander Konychev (Italy)
28
Tegshbayar Batsaikhan (Mongolia)
0:02:59
29
Veljko Stojnic (Serbia)
0:03:01
30
Ilya Gorbushin (Kazakhstan)
0:03:12
31
Richard Banusch (Germany)
32
Alessandro Covi (Italy)
0:03:14
33
Barnabas Peak (Hungary)
34
Alexys Brunel (France)
0:03:15
35
Stefan Bissegger (Switzerland)
0:03:17
36
Richard Holec (Czech Republic)
0:03:18
37
Florentin Lecamus (France)
0:03:20
38
Markus Wildauer (Austria)
0:03:28
39
Filip Maciejuk (Poland)
0:03:31
40
Adrian Bustamante (Colombia)
0:03:34
41
Clement Davy (France)
0:03:39
42
Ronan Tuomey (Ireland)
0:03:40
43
Xeno Young (Ireland)
0:03:41
44
James Fouche (New Zealand)
0:03:49
45
Daniel Viegas (Portugal)
0:03:54
46
Nikita Shcherbun (Russian Federation)
0:04:06
47
Daniil Nikulin (Ukraine)
0:04:08
48
Ibrahim Halil Dilek (Turkey)
0:04:09
49
Vladyslav Shcherban (Ukraine)
0:04:12
50
Damean Oosthuizen (South Africa)
0:04:15
51
Stanislav Koniaev (Russian Federation)
0:04:16
52
Hamza Mansouri (Algeria)
0:04:19
53
Jakub Otruba (Czech Republic)
0:04:20
54
Marco Friedrich (Austria)
0:04:21
55
Onur Turgut (Turkey)
0:04:32
56
Raphael Kockelmann (Luxembourg)
0:04:34
57
Vadim Pronskiy (Kazakhstan)
0:04:38
58
Simon Musie (Eritrea)
0:04:40
59
Kristers Ansons (Latvia)
0:04:43
60
Abdelraouf Bengayou (Algeria)
0:04:50
61
Ognjen Ilic (Serbia)
0:04:56
62
Ayumu Watanabe (Japan)
0:05:20
63
Ebrahim Hajizadehasl (Islamic Republic of Iran)
0:05:23
64
Matthew Staples (Canada)
0:05:28
65
Tyler Cole (Trinidad and Tobago)
0:05:35
66
Saad Alsaadi (Bahrain)
0:05:45
67
Jean Paul Rene Ukiniwabo (Rwanda)
0:05:48
68
Mikayil Safarli (Azerbaijan)
0:05:56
69
Sheng Sha (People's Republic of China)
0:05:58
70
Thai Hoang Phan (Vietnam)
0:06:04
71
San Long Lao (Macao, China)
0:06:28
72
Keitaro Sawada (Japan)
0:06:44
73
Abdulaziz Alkhuwaytim (Saudi Arabia)
0:06:59
74
Thanakhan Chaiyasombat (Thailand)
0:07:07
75
Karim Shiraliyev (Azerbaijan)
0:07:17
76
Abderahim Amari (Algeria)
0:07:32
77
Son Chi Ieong (Macao, China)
0:07:41
78
Benneng Yu (People's Republic of China)
0:08:02
79
Tamaz Tsereteli (Georgia)
0:09:21
80
Jair Kelly (Aruba)
0:09:24
81
Abdullah Alrashdi (Saudi Arabia)
0:09:48
82
Noofal Al Habsi (Oman)
0:10:03
83
Tomas Contte (Argentina)
0:10:13
DNS
Farhan Farizi (Qatar)
DNS
Gassem Hassan (Qatar)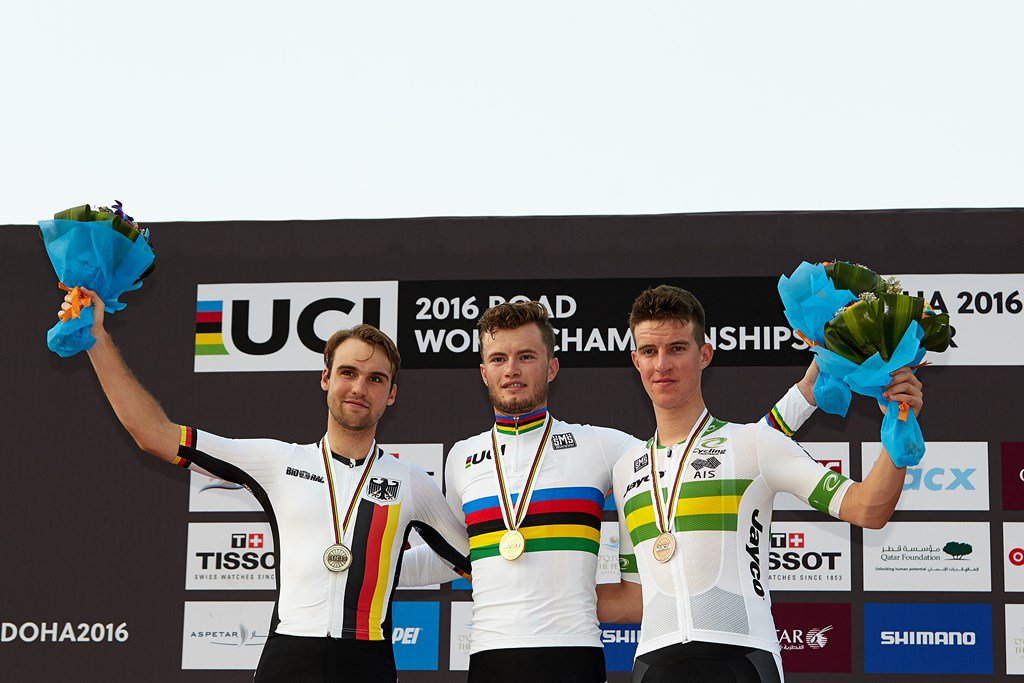 U23 MEN ITT
1
Marco Mathis (Germany)
0:34:08
2
Maximilian Schachmann (Germany)
0:00:18
3
Miles Scotson (Australia)
0:00:37
4
Lennard Kämna (Germany)
0:00:42
5
Kasper Asgreen (Denmark)
0:00:50
6
Neilson Powless (United States Of America)
0:00:54
7
Geoffrey Curran (United States Of America)
0:01:05
8
Tom Bohli (Switzerland)
0:01:16
9
Eddie Dunbar (Ireland)
0:01:21
10
Callum Scotson (Australia)
0:01:22
11
Stefan De Bod (South Africa)
12
Alexander Cowan (Canada)
0:01:26
13
Rémi Cavagna (France)
0:01:28
14
Filippo Ganna (Italy)
0:01:37
15
Jonathan Dibben (Great Britain)
0:01:38
16
Sean Mackinnon (Canada)
0:01:43
17
Mads Pedersen (Denmark)
0:01:50
18
Martin Schäppi (Switzerland)
0:01:53
19
Corentin Ermenault (France)
0:01:58
20
Edoardo Affini (Italy)
0:01:59
21
Mads Würtz Schmidt (Denmark)
0:02:02
22
Izidor Penko (Slovenia)
0:02:10
23
Patrick Gamper (Austria)
0:02:11
24
János Pelikán (Hungary)
0:02:18
25
Tom Wirtgen (Luxembourg)
0:02:21
26
Tao Geoghegan Hart (Great Britain)
0:02:22
27
Nathan Van Hooydonck (Belgium)
0:02:25
28
Pascal Eenkhoorn (Netherlands)
0:02:26
29
Artem Nych (Russian Federation)
0:02:33
30
Daniel Martínez (Colombia)
31
Gonzalo Serrano (Spain)
0:02:41
32
Szymon Rekita (Poland)
0:02:53
33
Amanuel Gebrezgabihier (Eritrea)
0:02:58
34
Nazar Lahodych (Ukraine)
0:03:04
35
Przemyslaw Kasperkiewicz (Poland)
0:03:17
36
Ivo Emanuel Oliveira (Portugal)
37
Silver Mäoma (Estonia)
0:03:21
38
Ivan Centrone (Luxembourg)
0:03:27
39
Sam Dobbs (New Zealand)
0:03:29
40
Pavel Sivakov (Russian Federation)
0:03:33
41
Jan-Willem Van Schip (Netherlands)
0:03:34
42
Mehdi Rajabi (Islamic Republic of Iran)
0:03:38
43
Timur Maleev (Ukraine)
0:03:40
44
Merhawi Kudus Ghebremedhin (Eritrea)
0:03:42
45
Michael O'Loughlin (Ireland)
0:03:44
46
Krists Neilands (Latvia)
0:03:45
47
Senne Leysen (Belgium)
0:03:55
48
Abderrahmane Mansouri (Algeria)
0:03:59
49
Mohammad Ganjkhanlou (Islamic Republic of Iran)
0:04:18
50
Yuriy Natarov (Kazakhstan)
0:04:22
51
Jon Bozic (Slovenia)
0:04:24
52
Eriks Toms Gavars (Latvia)
0:04:25
53
Victor Langellotti (Monaco)
0:04:26
54
Islam Shawky (Egypt)
0:04:28
55
Nassim Saidi (Algeria)
0:04:38
56
Ka Hoo Fung (Hong Kong, China)
0:04:54
57
Joseph Areruya (Rwanda)
0:04:59
58
Stepan Astafyev (Kazakhstan)
0:05:13
59
Raimondas Rumšas (Lithuania)
0:05:29
60
Maral-Erdene Batmunkh (Mongolia)
0:05:50
61
Enkhtaivan Bolor-Erdene (Mongolia)
0:06:06
62
Andrej Petrovski (Former Yugoslav Republic of Macedonia)
0:06:13
63
Bilguunjargal Erdenebat (Mongolia)
0:06:45
64
Nazar Alabuabdulla (Saudi Arabia)
0:07:19
65
Khaled Alkhalaifah (Kuweit)
0:07:47
66
Abdulhadi Alajmi (Kuweit)
0:08:14
67
Hassan Aljumah (Saudi Arabia)
0:08:15
68
Akramjon Sunnatov (Uzbekistan)
0:08:41
69
Yahiaaldien Khalefa (Bahrain)
0:09:11
70
Egzon Misini (Kosovo)
0:10:56
71
Luan Haliti (Kosovo)
0:18:50
DNF
Yousif Ibrahim Yosif (Sudan)
DNF
Hayden McCormick (New Zealand)
DNS
Getachow Yoahnnes Atsbha (Ethiopia)