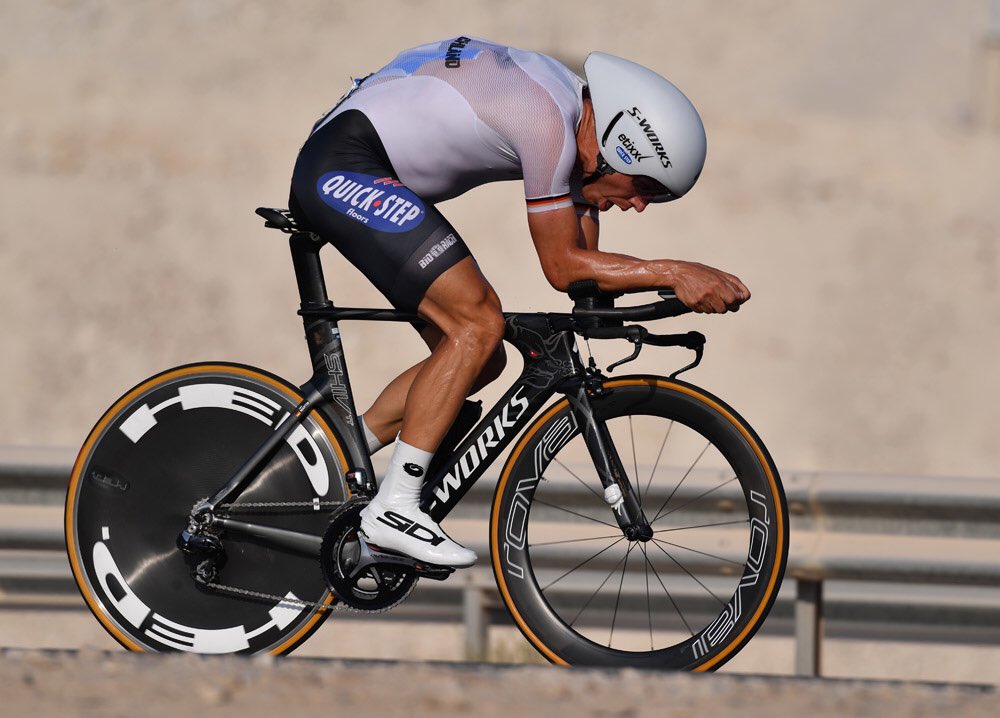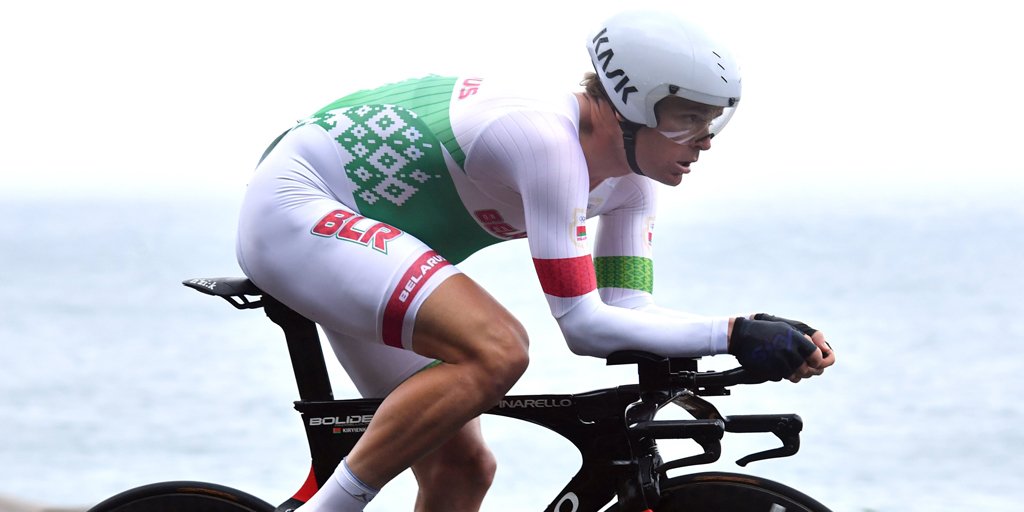 "After taking the gold medal with the team, to win the rainbow jersey in the individual time trial

is just the icing on the cake

. I was a bit scared by the heat at first, but having a good preparation here in Qatar helped me cope with it. I rode without any pressure, was focused only on what I had to do, and not on my rivals, and to come out on top is really incredible. I haven't had a great year up until this point, but to win two world titles in the space of just four days makes up for everything".
RESULTS
1

Tony Martin (Germany)

0:44:42.99
2

Vasil Kiryienka (Belarus)

0:00:45.05
3

Jonathan Castroviejo Nicolas (Spain)

0:01:10.91
4

Maciej Bodnar (Poland)

0:01:16.77
5
Ryan Mullen (Ireland)
0:01:21.75
6
Rohan Dennis (Australia)
0:01:27.12
7
Yves Lampaert (Belgium)
0:01:45.11
8

Jos Van Emden (Netherlands)

0:01:45.41
9
Reto Hollenstein (Switzerland)
0:01:51.51
10

Bob Jungels (Luxembourg)

0:01:56.59
11
Tom Dumoulin (Netherlands)
0:02:01.51
12

Alex Dowsett (Great Britain)

0:02:11.08
13
Martin Toft Madsen (Denmark)
0:02:11.42
14
Marcin Bialoblocki (Poland)
0:02:15.30
15

Taylor Phinney (United States Of America)

0:02:21.68
16
Anton Vorobyev (Russian Federation)
0:02:22.67
17
Stefan Küng (Switzerland)
0:02:25.04
18
Luke Durbridge (Australia)
0:02:28.34
19
Andriy Grivko (Ukraine)
0:02:34.95
20
Nelson Oliveira (Portugal)
0:02:35.60
21
Gatis Smukulis (Latvia)
0:02:37.85
22
Manuel Quinziato (Italy)
0:02:39.35
23
Vegard Stake Laengen (Norway)
0:02:44.01
24
Primoz Roglic (Slovenia)
0:02:46.06
25
Stephen Cummings (Great Britain)
0:02:48.53
26
Victor Campenaerts (Belgium)
0:02:51.00
27
Jack Bauer (New Zealand)
0:03:04.37
28
Alexey Vermeulen (United States Of America)
0:03:15.00
29
Hugo Houle (Canada)
0:03:17.24
30
Nicolas Roche (Ireland)
0:03:17.57
31
Ryan Roth (Canada)
0:03:21.44
32
Kanstantsin Siutsou (Belarus)
0:03:25.59
33
Jasha Sutterlin (Germany)
0:03:26.51
34
Jeremy Roy (France)
0:03:28.52
35
Johan Le Bon (France)
0:03:29.21
36
Soren Kragh Andersen (Denmark)
0:03:43.97
37
Imanol Erviti Ollo (Spain)
0:03:45.96
38
Gediminas Bagdonas (Lithuania)
0:03:47.13
39
Edvald Boasson Hagen (Norway)
0:03:50.03
40
Dmitriy Gruzdev (Kazakhstan)
0:04:04.39
41
Walter Alejandro Vargas Alzate (Colombia)
0:04:32.37
42
Ramunas Navardauskas (Lithuania)
0:04:43.94
43
Maxim Belkov (Russian Federation)
0:05:01.51
44
Daniel Turek (Czech Republic)
0:05:05.81
45
Branislau Samoilau (Belarus)
0:05:08.39
46
Mekseb Debesay (Eritrea)
0:05:09.99
47
Andriy Vasylyuk (Ukraine)
0:05:28.88
48
Muradjan Halmuratov (Uzbekistan)
0:05:46.52
49
Elchin Asadov (Azerbaijan)
0:05:49.44
50
Eugert Zhupa (Albania)
0:05:52.91
51
Maksym Averin (Azerbaijan)
0:06:49.11
52
Redi Halilaj (Albania)
0:06:55.30
53
Polychronis Tzortzakis (Greece)
0:07:08.86
54
Soufiane Haddi (Morocco)
0:07:39.18
55
Naveen John (India)
0:07:48.15
56
Zhandos Bizhigitov (Kazakhstan)
0:07:49.65
57
Meron Teshome Hagos (Eritrea)
0:07:59.40
58
Burr Ho (Hong Kong, China)
0:08:23.62
59
Bonaventure Uwizeyimana (Rwanda)
0:10:22.54
60
Afif Abdullah (Qatar)
0:12:53.79
61
Arvind Panwar (India)
0:13:30.99
62
Alban Nuha (Kosovo)
0:13:42.35
63
Sultan Asiri (Saudi Arabia)
0:15:22.97
64
Mohsin Khan (Pakistan)
0:15:50.70
65
Hafiz Tahir Mahmood (Pakistan)
0:16:23.03
66
Saied Jafer Alali (Kuwait)
0:16:32.52
DNS
Matti Manninen (Finland)
DNS
Mansoor Jawad (Bahrain)
DNS
Salman Hasan Alsaffar (Kuwait)
DNS
Sayed Ahmed Alawi (Bahrain)