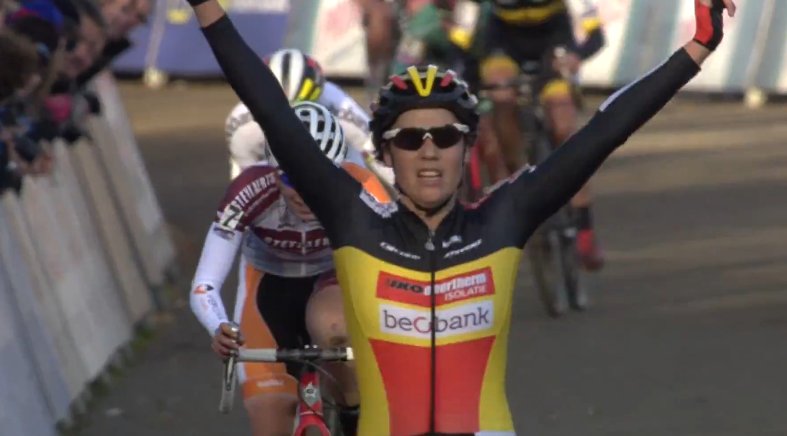 This is Belgium
First of all:

Thomas Pidcock is something.

I'm sorry I have never seen him racing. I'm sure it's worth to.

Yesterday in the Flanderiencross he won again in front of a peloton of Belgians. Outstanding.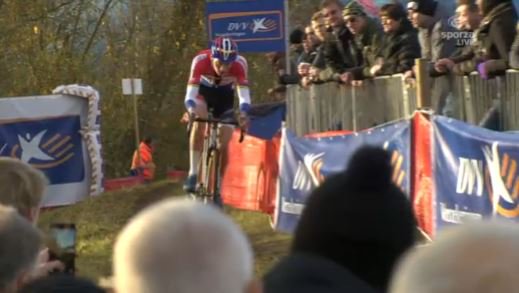 This is Belgium
Sanne Cant is a prodigious leader.

More than just a good rider or even a gifted rider.

She's got character, class, determination.

She deserves to be apreciated way more by the Belgian public. She's a true champion and often I feel a sufference in her words, a disappointent for the way her stunning victories are commentated.

I'd like to see her satisfied and sure to be loved.

As far as me, I BELOVE Sanne Cant.
In the Elite Men race we had again a victory by Mathieu van der Poel on Wout van Aert and a splendid Laurens Sweeck.
This is Rome
In the U23 Men race Quinten Hermans won on Eli Iserbyt, both strong talented riders. 3rd was Adam Toupalik.
While they were busy battling in Belgium

I was in Rome attending a march in support of the vote against the costitutional reform

in a referendum that has quickly got a political meaning because the Italian Prime Minister said he's going home in case the No wins. That reform I don't like at all, moreover I'd be glad if he goes home.

The march has been a kind of urban trekking really

because for the first time in ages

the access to the center of Rome has been forbiden and we got to Piazza del Popolo by a long periferical route.

That's a new high of shame in the Italian politics.
I hope that long urban trekking was
a good training for my Nepali goal!
"It's my tenth victory, and that's a great number. I'm happy it worked out today. I didn't expect it because it remained together for so long, It was difficult to create gaps today. It was a technical course but not very difficult. In the final lap, there was a section where I created a gap. It was hard work to hold on to the lead."
"This weekend pleased me a lot. My sixth place yesterday was good. This was a tactical race with high speeds. I like that, but tactically I often struggle. Now I manage to get a second place. The difference? I rested very well. I tend to train too much."
"I suffered a lot. The speed was always high and due to the multiple training session I lacked speed in the legs. My heart rate was always high and didn't recover fast. [...] I tried to make as few mistakes as possible. I'm very happy with that. I made a big step."
Mathieu van der Poel:
"Today I suffered a lot. I figured to keep the gap at 10 seconds but behind me they kept going flat out. Luckily I can handle the pressure of dealing with a lead but I was glad to cross the finish line."
Laurens Sweeck:
"I wanted to open fast but Mathieu quickly came over me.
We kept riding at ten seconds. While working together we gained some seconds but not enough. Mathieu was in control."
"When Mathieu accelerated I wasn't in the right position to react. I was struggling at that moment.
It was good that for once we weren't racing against each other but exchanging the work. That's how we both got on the podium."
RESULTS
Elite Women
1
Sanne Cant (Bel) IKO Enertherm-Beobank
45:33:00
2
Maud Kaptheijns (Ned) Team Steylaerts
0:00:02
3
Thalita De Jong (Ned) Rabobank-Liv
0:00:03
4
Ellen Van Loy (Bel) Telenet Fidea Lions
0:00:06
5
Pavla Havlikova (Cze) MRM Avalon Pro Cycling
0:00:07
6
Laura Verdonschot (Bel) Marlux-Napoleon Games
0:00:12
7
Sophie De Boer (Ned) Kalas-NNOF
0:00:23
8
Alicia Franck (Bel)
0:00:36
9
Loes Sels (Bel) Telenet Fidea Lions
0:00:49
10
Karen Verhestraeten (Bel) Lares-WoawDeals
0:00:54
11
Jolien Verschueren (Bel) Telenet Fidea Lions
0:01:04
12
Evie Richards (GBr)
0:01:13
13
Elle Anderson (USA)
0:01:22
14
Lindy Van Anrooij (Ned)
0:02:00
15
Ellen Noble (USA) Ridebiker Alliance
0:02:18
16
Githa Michiels (Bel)
0:02:33
17
Amanda Nauman (USA)
0:02:38
18
Kim Van De Steene (Bel)
0:02:39
19
Monique Van De Ree (Ned)
0:03:16
20
Joyce Vanderbeken (Bel) AA Drink-Kalas
0:03:56
21
Aurélie Vermeir (Bel)
0:04:07
22
Eva Maria Palm (Bel) AA Drink-Kalas
0:04:08
23
Axelle Bellaert (Bel) AA Drink-Kalas
0:04:11
24
Julia Boschker (Ned)
0:04:13
25
Laure Michels (Bel)
0:05:19
26
Laure Michels (Bel)
0:06:06
27
Jara Noël (Bel) AA Drink-Kalas
0:06:25
28
Meg De Bruyne (Bel)
0:07:07
Elite Men
1
Mathieu Van der Poel (Ned) Beobank-Corendon
0:57:50
2
Wout Van Aert (Bel) Crelan-Vastgoedservice
0:00:06
3
Laurens Sweeck (Bel) ERA-Circus
0:00:07
4
Kevin Pauwels (Bel) Marlux-Napoleon Games
0:00:20
5
Corne Van Kessel (Ned) Telenet Fidea Lions
0:00:28
6
Michael Vanthourenhout (Bel) Marlux-Napoleon Games
0:00:29
7
Tim Merlier (Bel) Crelan-Vastgoedservice
0:01:16
8
Gianni Vermeersch (Bel) Team Steylaerts
0:01:18
9
Toon Aerts (Bel) Telenet Fidea Lions
0:01:29
10
Jim Aernouts (Bel) Telenet Fidea Lions
0:01:53
11
Dieter Vanthourenhout (Bel) Marlux-Napoleon Games
0:01:55
12
David Van der Poel (Ned) Beobank-Corendon
0:02:07
13
Tom Meeusen (Bel) Telenet Fidea Lions
0:02:11
14
Stephen Hyde (USA) Cannondale p/b Cyclocrossworld.com
0:02:30
15
Rob Peeters (Bel) Crelan-Vastgoedservice
0:02:52
16
Klaas Vantornout (Bel) Marlux-Napoleon Games
0:03:01
17
Jens Vandekinderen (Bel) Kalas-NNOF
0:03:04
18
Julien Taramarcaz (Swi) ERA-Circus
0:03:11
19
Diether Sweeck (Bel) ERA-Circus
0:04:15
20
Joeri Adams (Bel) Kalas-NNOF
0:04:38
21
Dario Tielen (Bel)
0:05:25
22
Kevin Suarez Fernandez (Spa)
0:05:45
23
Jeremy Powers (USA) Aspire Racing
0:05:51
24
Michael Boros (Cze) ERA-Circus
0:05:58
25
Matthias Van De Velde (Bel)
26
Eric Thompson (USA) Hed p/b Molten Speed Wax
27
Sebastien Carabin (Bel)
DSQ
Jens Adams (Bel) Crelan-Vastgoedservice
DSQ
Vincent Baestaens (Bel) Beobank-Corendon
DNF
Braam Merlier (Bel)
DNF
Philipp Walsleben (Ger) Beobank-Corendon
U23 Men
1
Quinten Hermans (Bel) Telenet Fidea Lions
0:47:26
2
Eli Iserbyt (Bel) Marlux-Napoleon Games
0:00:11
3
Adam Toupalik (Cze) Beobank-Corendon
0:00:18
4
Nicolas Cleppe (Bel) Telenet Fidea Lions
0:00:29
5
Yannick Peeters (Bel) Crelan-Vastgoedservice
0:00:52
6
Jelle Schuermans (Bel) Crelan-Vastgoedservice
0:01:09
7
Kelvin Bakx (Ned)
0:01:11
8
Jonas Degroote (Bel)
0:01:19
9
Lander Loockx (Bel)
0:01:21
10
Thomas Van De Velde (Bel)
0:01:23
11
Niels Derveaux (Bel)
0:01:29
12
Stijn Caluwe (Bel) Beobank-Corendon
0:01:33
13
Pieter Van Roosbroeck (Bel)
0:01:34
14
Gert Smets (Bel)
15
Tijl Pauwels (Bel) Lares-Doltcini
0:01:42
16
Seppe Rombouts (Bel)
0:01:45
17
Gianni Siebens (Bel) Lares-Doltcini
0:01:50
18
Reno Bauters (Bel)
0:02:00
19
Eric Brunner (USA)
0:02:03
20
Viktor Vandebosch (Bel)
0:02:09
21
Jarno Liessens (Bel) IKO Enertherm-Beobank
0:02:12
22
Spencer Petrov USA
0:02:13
23
Loïc Hennaux (Bel)
0:02:20
24
Jenko Bonne (Bel)
0:02:45
25
Jarne Driesens (Bel)
0:02:51
26
Gosse Van Der Meer (Ned)
0:03:00
27
Wesley Floren (Ned)
0:03:04
28
Sybren Jacobs (Bel)
0:03:16
29
Julien Kaise (Bel)
0:03:39
30
Robin Alderweireld (Bel)
0:03:46
31
Jappe Jaspers (Bel) Beobank-Corendon
0:03:49
32
Nick Van de Kerkhove (Bel)
0:04:38
33
Lawrence Tibackx (Bel)
0:05:01
34
Mathias Declerck (Bel)
0:05:50
35
Yari Crollet (Bel)
0:06:05
36
Jente Tielemans (Bel)
0:06:18
U19 Men
1
Thomas Pidcock (GBr)
0:41:34
2
Ben Turner (GBr)
0:00:03
3
Niels Vandeputte (Bel) IKO Enertherm-Beobank
0:00:18
4
Louis Rouiller (Swi) IKO Enertherm-Beobank
0:00:22
5
Pieter-Jan Vliegen (Bel)
0:00:27
6
Florian Vermeersch (Bel) Lares-Doltcini
0:00:52
7
Arno Van Den Broeck (Bel)
0:00:53
8
Arno Debeir (Bel) Lares-Doltcini
9
Len Dejonghe (Bel)
10
Anton Ferdinande (Bel) Lares-Doltcini
0:01:16
11
Andres Verdonck (Bel)
12
Thomas Mein (GBr)
0:01:30
13
Arne Vrachten (Bel)
0:01:33
14
Jens Clynhens (Bel)
15
Wannes Vanden Bussche (Bel)
0:01:35
16
Joren Thys (Bel)
0:01:37
17
Sander De Vet (Bel)
0:01:46
18
Julian Siemons (Bel)
0:01:52
19
Jarne De Meyer (Bel)
0:01:54
20
Ryan Kamp (Ned)
0:01:57
21
Denzel Stephenson (USA)
0:02:20
22
Brent Braes (Bel)
0:02:33
23
Loeka Verdonck (Bel)
0:02:38
24
Lloyd Sprangers (Bel)
0:02:42
25
Vince Van Den Eynde (Bel)
0:02:44
26
Sam Noel (USA)
0:02:47
27
Jason Van Compernolle (Bel)
0:02:48
28
Kwinten Stuer (Bel)
0:03:00
29
Lander Tibackx (Bel)
0:03:07
30
Maarten Clauwaert (Bel)
0:03:15
31
Maxim Dewulf (Bel)
0:03:26
32
Arne Santy (Bel)
0:03:29
33
Kevin Goguen (USA)
34
Thijs Christiaens (Bel)
0:03:59
35
François Hyon (Fra)
0:04:09
36
Jasper Van Den Plas (Bel)
0:04:29
37
Seppe Bekaert (Bel)
0:05:06
38
Grégory Careme (Bel)
0:05:39
39
Nolan Brunner (USA)
40
Aaron Logie (Bel)
41
Marvin De Bondt (Bel)