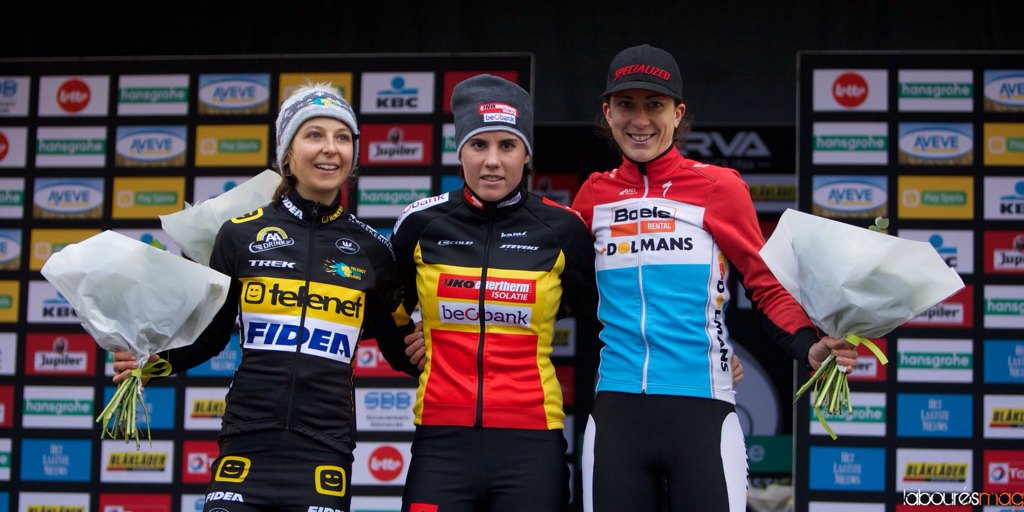 Elite Women
Big one yesterday in Gavere! No big surprises though in the results...
A good one for

Christine Majerus

, who was on the posium as 3rd. The 'oldie'

Klass Vantornout

was once again in the mix with the 'young lions', and I'm glad :)
As far as me

I was climbing to Croce del Pratomagno (1591 m)

. More to come!
"I'm super happy I can win for the fourth time in a row. There's not too many who can say that. It was very hard. On technique you had to find your way to keep riding. It was extremely hard. You try not to think too much. I rode at my own pace and it turned out to be just enough. I've got a good bonus in the series."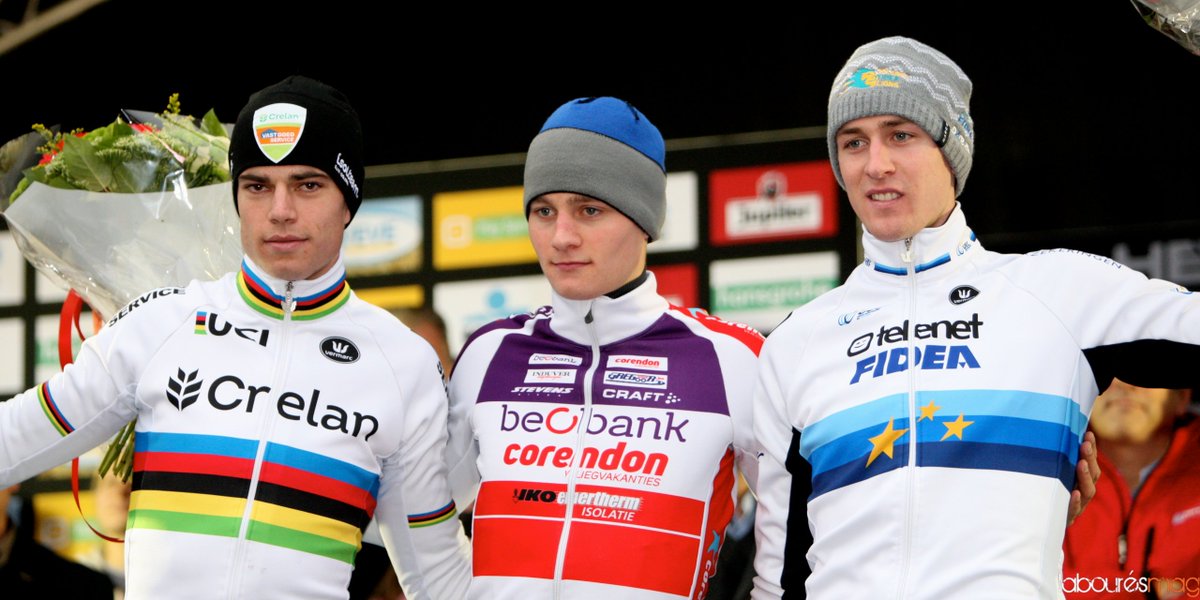 Elite Men
"I crashed. It happened because I was stuck in my pedal. The race was one lap too short, once again. I lost belief in the podium but the crowd was unbelievable and kept me going. Each lap on the climb I made up a lot of ground, except on the final lap. I always managed to ride the whole climb but not in the final lap. I hoped to be on the top spot. I wanted to get the win for the fans. It's great to be cheered on this way. My start? I have to keep working on it. I react late, and when I react well then I get boxed in. Maybe I shouldn't focus on it."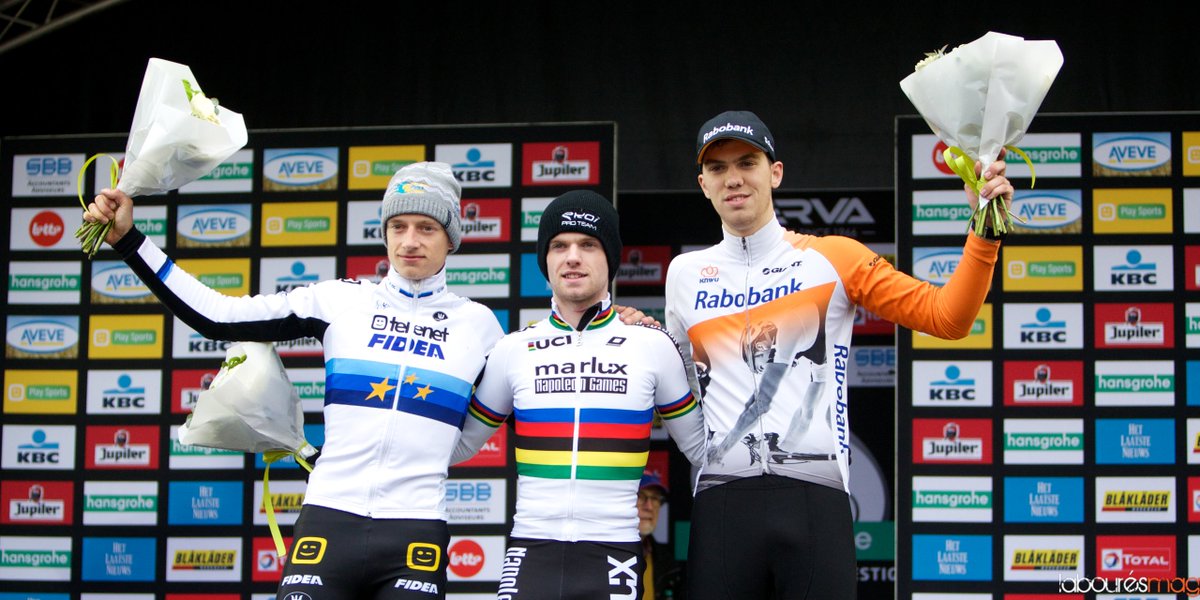 U23 Men
"I'm very satisfied. I always liked this race and improved every year. It was a close race. I tried to follow Sanne and Jolien until the end but eventually had to settle for third."
"I heard that Wout was always winning on the tough courses, which was true. I just had to wait for a super day to show that I can do it too. That would be great but it'll be hard in Francorchamps. I'm focusing on the classification for now. I just tried to get in front with a few guys. I certainly expected Wout to bridge up but then he had a chain problem. A chain problems again... It's driving me crazy. We thought we solved it but now it's happened two weeks in a row. It doesn't happen during training rides. We'll have to try to find a solution to get it solved again. It was frustrating. First I got dropped once again by the first mere acceleration from Mathieu. Then the chain was bothering me again. It made it impossible for me to give it all out there. Sometimes it's just not possible to fight back. Without the chain problems I would have kept the pressure on Mathieu for much longer but I never got into my rhythm. Nevertheless Mathieu certainly deserved the victory. He was the best out there. Van der Poel keeps on increasing his lead and if the races continue to be a battle between the two of us it'll be very hard to close down the gap. Only an off-day from him can turn it around but that's not what I want to hope for."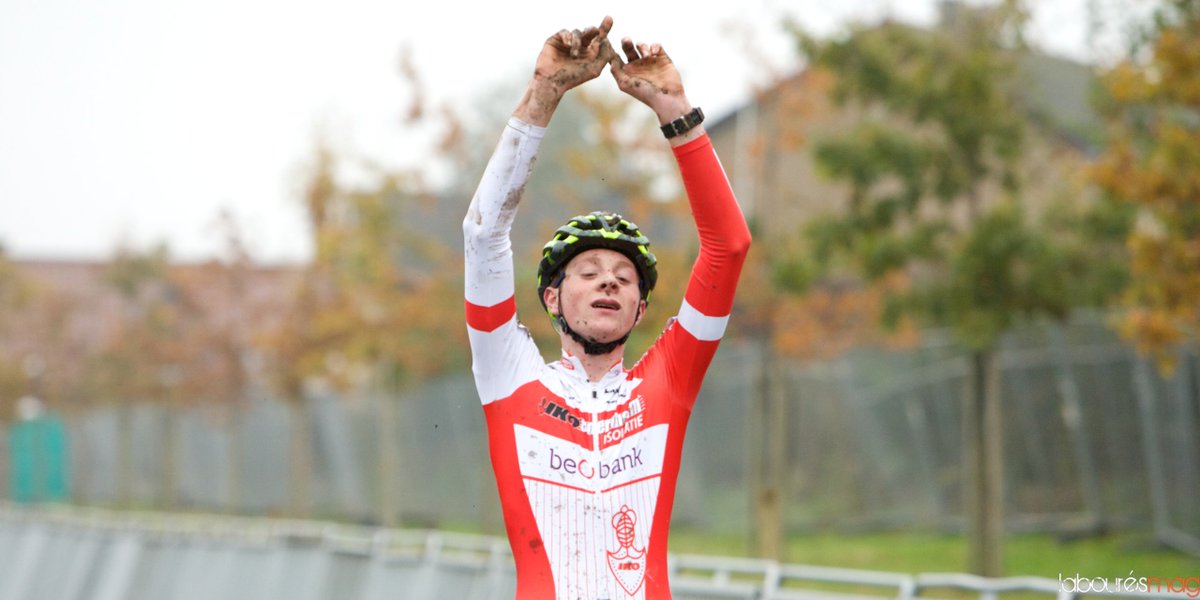 U19 Men
"First I managed to sneak along with Pauwels when Tom was still up front. Then I found out that some sections suited me better and managed to ride away. It's great to be on the podium with these two guys. It's like a half victory. I'm still young and feel there's still room for improvement. I look forward to the upcoming weeks, months and years."
RESULTS
Elite Women
1
Sanne Cant (Bel)
0:44:19
2
Jolien Verschueren (Bel)
0:00:06
3
Christine Majerus (Lux)
0:00:27
4
Ellen Van Loy (Bel)
0:00:48
5
Alice Maria Arzuffi (Ita)
0:00:54
6
Sophie Boer (Ned)
0:01:33
7
Laura Verdonschot (Bel)
0:01:46
8
Alicia Franck (Bel)
0:02:08
9
Elle Anderson (USA)
0:02:10
10
Joyce Vanderbeken (Bel)
0:03:26
11
Fleur Nagengast (Ned)
0:03:49
12
Geerte Hoeke (Ned)
0:04:08
13
Kim Van De Steene (Bel)
0:04:12
14
Ceylin Carmen Alvarado (Ned)
0:05:01
15
Eva Maria Palm (Bel)
0:07:18
16
Axelle Bellaert (Bel)
0:07:25
17
Shana Maes (Bel)
0:08:40
18
Gertie Willems (Bel)
19
Birgit Massagé (Bel)
20
Monique Ree (Ned)
21
Aurelie Vermeir (Bel)
22
Jana Dobbelaere (Bel)
23
Jo Blanchaert (Bel)
Elite Men
1
Mathieu Van Der Poel (Ned) Beobank - Corendon
1:03:35
2
Wout Van Aert (Bel) Crelan-Vastgoedservice
0:01:02
3
Toon Aerts (Bel) Telenet Fidea Lions
0:01:20
4
Klaas Vantornout (Bel) Marlux - Napoleon Games
0:01:31
5
Laurens Sweeck (Bel) ERA Real Estate - Circus
0:01:44
6
Kevin Pauwels (Bel) Marlux - Napoleon Games
0:02:00
7
Tom Meeusen (Bel) Telenet Fidea Lions
0:02:32
8
David Van Der Poel (Ned) Beobank - Corendon
0:02:59
9
Jens Adams (Bel) Crelan - Vastgoedservice
0:03:00
10
Philipp Walsleben (Ger) Beobank - Corendon
0:03:05
11
Tim Merlier (Bel) Crelan-Vastgoedservice
0:03:10
12
Michael Boros (Cze) ERA Real Estate - Circus
0:03:16
13
Diether Sweeck (Bel) ERA Real Estate - Circus
0:04:27
14
Joeri Adams (Bel) KDL Cycling Team
0:04:31
15
Thijs Amerongen (Ned) Telenet Fidea Lions
0:04:51
16
Rob Peeters (Bel) Crelan-Vastgoedservice
0:05:38
17
Gianni Vermeersch (Bel) Steylaerts-Verona
18
Jens Vandekinderen (Bel) Kalas-H.Essers-Noff Cycling Team
0:05:55
19
Stan Godrie (Ned) Rabobank Development Team
0:06:39
20
Julien Taramarcaz (Swi) ERA Real Estate - Circus
0:06:46
21
Daan Hoeyberghs (Bel) Beobank-Corendon
22
Enrico Franzoi (Ita) Wilier Force SC
23
Kenneth Van Compernolle (Bel) Superano Ham - Isorex - Tartel
24
Dario Tielen (Bel)
25
Fabian Obrist (Swi) Veloplus Elite
26
Eric Thompson (USA) HED p/b Molten Speed Wax
27
Yu Takenouchi (Jpn) Toyo Frame
28
Luca Formoso (Swi) Cycle-Shop Winterthur / RV Winterthur
U23 Men
1
Eli Iserbyt (Bel) Marlux - Napoleon Games Cycling
0:51:28
2
Quinten Hermans (Bel) Telenet Fidea Cycling Team
0:00:31
3
Joris Nieuwenhuis (Ned) Rabobank Development Team
0:01:13
4
Nicolas Cleppe (Bel) Telenet Fidea Cycling Team
0:01:24
5
Thijs Aerts (Bel) Telenet Fidea Cycling Team
0:01:53
6
Kobe Goossens (Bel) Telenet Fidea Cycling Team
0:01:59
7
Adam Toupalik (Cze) Beobank - Corendon
0:02:17
8
Jonas Degroote (Bel) Superano Ham - Isorex - Tartel
0:02:46
9
Sieben Wouters (Ned) Rabobank Development Team
0:03:01
10
Gosse Van Der Meer (Ned) U23.Mc Colba - Superano Ham
0:03:16
11
Jenko Bonne (Bel) Baguet - M.I.B.A. - Indulek
0:03:17
12
Seppe Rombouts (Bel) Acrog - Balen BC
0:03:27
13
Jelle Schuermans (Bel) Crelan-Vastgoedservice
0:03:43
14
Pieter Van Roosbroeck (Bel) Cycling.Be - Alphamotorhomes
0:04:03
15
Maik Van Der Heijden (Ned) Rabobank Development Team
0:04:08
16
Gianni Siebens (Bel) Lares-Doltcini CT
0:04:10
17
Niels Derveaux (Bel) Goeman Scott Cycling
0:04:11
18
Richard Jansen (Ned) Team Imming
0:04:40
19
Jens Dekker (Ned) Beobank - Corendon
0:04:41
20
Loic Hennaux (Bel) Prorace Cycling Team
0:04:58
21
Senne De Meyer (Bel) Koninklijke Edegem Bicycle Club
0:05:10
22
Tijl Pauwels (Bel) Lares-Doltcini CT
0:05:45
23
Sybren Jacobs (Bel) W.A.C. Team Hoboken (Kon.) V.Z
0:05:49
24
Mathijs Wuyts (Bel) Kalas Cycling Team 99
0:05:55
25
Victor Vandebosch (Bel) Iko Enertherm-Beobank
0:06:10
26
Lander Loockx (Bel) Cycling.Be - Alphamotorhomes CT
0:06:18
27
Kelvin Bakx (Ned) Willebrord Wil Vooruit
0:07:13
28
Jarno Liessens (Bel) Iko Enertherm-Beobank
29
Perry Van Den Bos (Ned) Westland Wil Vooruit
30
Wesley Floren (Ned) Wielervereniging Nieuwe Hoop
31
Thomas Van De Velde (Bel) Cycling.Be - Alphamotorhomes CT
32
Jente Tielemans (Bel) Acrog - Balen BC
33
Simon Jaecques (Bel) Eseg Douai
34
Glenn Verbeeck (Bel) Kalas Cycling Team 99
35
Tomas Szédelyi (Bel) Kalas Cycling Team 99
36
Kyle De Proost (Bel) Individueel
37
Yari Crollet (Bel) Kdl Cycling Team
38
Laurens De Jonghe (Bel) Individueel
DNF
Yannick Peeters (Bel) Crelan-Vastgoedservice
DNF
Thomas Joseph (Bel) Marlux - Napoleon Games
DNF
Jappe Jaspers (Bel) Iko Enertherm-Beobank
DNF
Julien Kaise (Bel) Color Code - Arden Beef
DNF
Reno Bauters (Bel) Acrog - Balen BC
DNF
Gert Smets (Bel) Kalas Cycling Team 99
DNF
Thomas Verheyen (Bel) Kalas Cycling Team 99
U19 men
1
Toon Vandebosch (Bel) Iko Enertherm-Beobank
0:46:52
2
Thymen Arensman (Ned) Craft Ten Tusscher
0:00:34
3
Jelle Camps (Bel) Acrog - Balen BC
0:00:56
4
Gerben Kuypers (Bel) Lares-Doltcini CT
0:01:23
5
Andreas Goeman (Bel) Vzw Young Telenet Fidea
0:01:38
6
Tomas Kopecky (Cze) Acrog - Balen BC
7
Florian Vermeersch (Bel) Lares-Doltcini CT
0:01:48
8
Mees Hendrikx (Ned) Lares-Doltcini CT
0:01:50
9
Yentl Bekaert (Bel) Vzw Young Telenet Fidea
0:01:54
10
Loris Rouiller (Swi) Iko Enertherm Beobank
0:02:10
11
Timo Kielich (Bel) Trek-Bioracer Mtb Team
0:02:21
12
Arne Vrachten (Bel) Vzw Young Telenet Fidea
0:02:26
13
Maxim Van Gils (Bel) W.A.C. Team Hoboken (Kon.) V.Z
0:02:41
14
Vince Van Den Eynde (Bel) Acrog - Balen BC
0:02:57
15
Joren Thys (Bel) Kalas Cycling Team 99
16
Niels Vandermeulen (Bel) Meubelen Gaverzicht-Glascentra
0:03:05
17
Sander De Vet (Bel) W.A.C. Team Hoboken (Kon.) V.Z
0:03:20
18
Dolf Pemen (Bel) Cycling.Be - Alphamotorhomes
0:03:29
19
Jens Clynhens (Bel) Kalas Cycling Team 99
0:03:47
20
Maxim Dewulf (Bel) Mez Team Belgium Snellegem
0:03:50
21
Andres Verdonck (Bel) Vzw Wp De Molenspurters Meuleb
0:05:09
22
Thibaut De Smet (Bel) Tieltse Rennersclub - Patrick
0:05:36
23
Robbe Konings (Bel) W.A.C. Team Hoboken (Kon.) V.Z
0:06:00
24
Loeka Verdonck (Bel) Vzw Wp De Molenspurters Meuleb
0:06:22
25
Lars Van Den Berghen (Ned) Westland Wil Vooruit
0:06:35
26
Bavo Houssin (Bel) Mez Team Belgium Snellegem
27
Jurgen Van Der Aarssen (Ned) Het Snelle Wiel
28
Seppe Bekaert (Bel) Kon. Vc 'T Meetjesland - Kness
29
Lars Vlerick (Bel) Vd Hauwe CT - Gentse Vs
30
Jochem Kerckhaert (Ned) Meubelen Gaverzicht-Glascentra
31
Jens Dekien (Bel) Vzw Wp De Molenspurters Meuleb
DNF
Arno Debeir (Bel) Lares-Doltcini CT
DNF
Aron Arkesteyn (Bel) Royal Cureghem Sportief Vzw