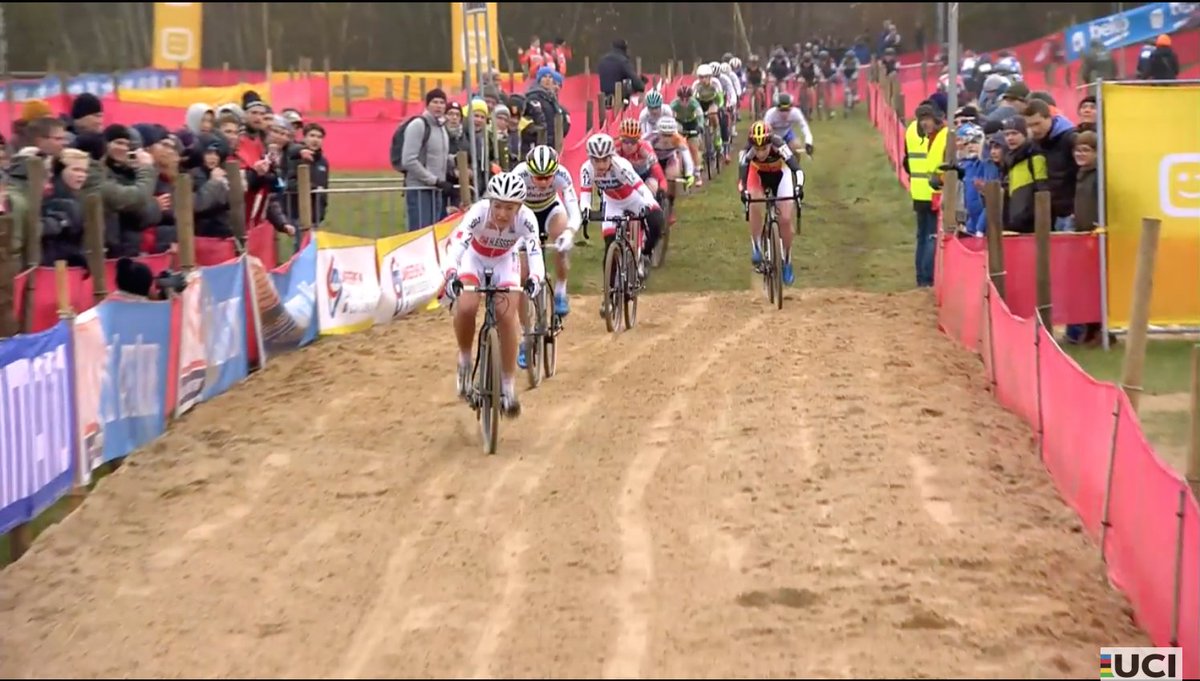 Elite Women race
Jelle Camps, Joris Nieuwenhui, Sanne Cant and Mathieu van der Poel

are the winners of the day.
The Junior Men race has been affected by a mechanical that stopped Tom Pidcock on his solitary way.
Nobody could stop

Mathieu van der Poel.

His

solitary ride

started 4 laps to go and finished on the line.
Earlier in the race

Tom Meeusen

had attacked and

Laurens Sweeck

had looked very close to the podium.

But Wout van Aert and Mathieu van der Poel have left nothing to anybody.

This time the Dutch won the duel.

Kevin Pauwels

quiety conquered a good 3rd place.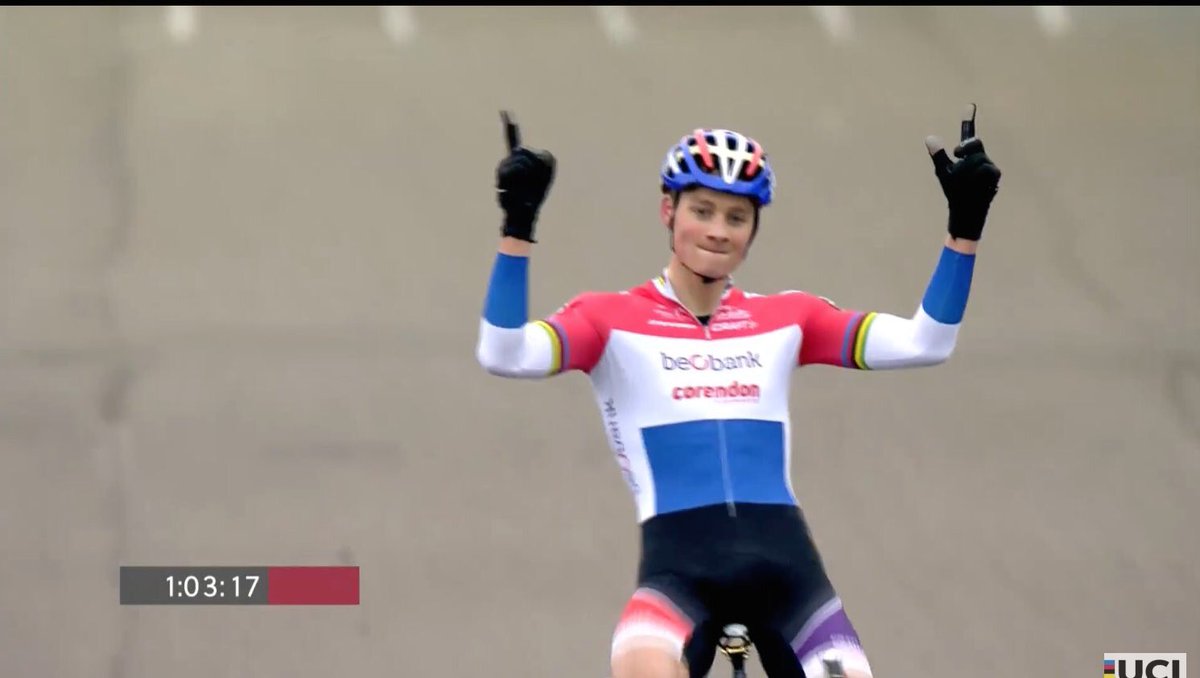 Mathieu van der Poel:
"I knew I had to close the gap as soon as possible because Wout was quite far. Once I bridged up I knew I was stronger because it's boosting the moral to have closed down such a gap. I quickly counter-attacked and straight away I had a big gap. It was fun. I didn't start well because I was surprised the lights turned green so fast. Then there was a bit of pushing and at the sand section I lost some spokes. I lost a lot of time to get a new bike.
The last few weeks I felt I was hitting top form. I hope to keep up this form until the next training camp and then add a few percentages with the eye on the World championships".
Wout Van Aert:
"I managed to put him in trouble for half a race. Once he moved into the lead I realized after three corners what would happen. It was as if he rode on other tires. I was unable to follow him. He was the strongest."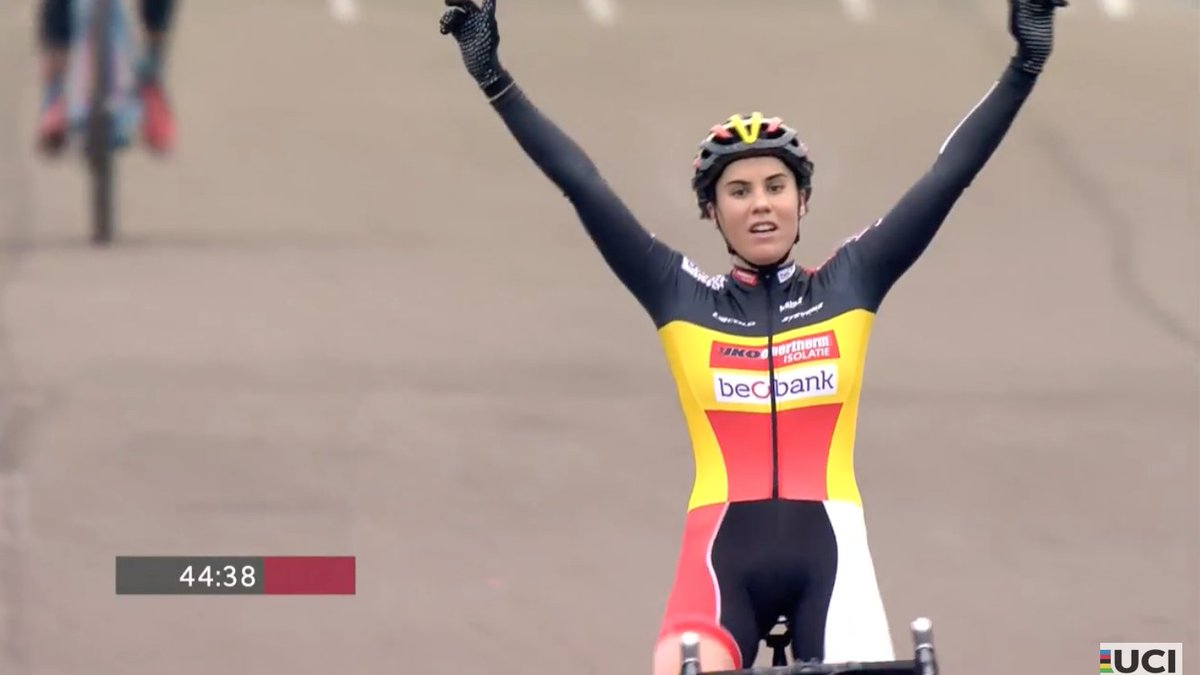 Kevin Pauwels:
"I didn't have a good start and was unable to move up. Once there was space I got going. I rode good through the sand. Van der Poel passed me in the sand. He was going much faster and it was impossible to follow him. Even though I enjoyed a good day van der Poel was still much stronger."
Sanne Cant:
"In Belgium I often hear after a win that this or that rider is missing. Now they're all here. I'm first on the UCI ranking and today I've proven to be worthy of that.
It was a treacherous course, with slippery corners. The sand section was cleaned which made it harder to ride through. In the final lap I didn't ride it too well but I had a gap and tried to keep it until the finish".
Sophie de Boer:
"I made a mistake and then they rode away while I was stuck in the wiring. Sanne played it well. I wasn't good enough today, especially technically. It was more slippery than I expected. The corners had to be taken at high speed and that wasn't in my favour".
Katherine Compton:
"I'm happy with the result. I definitely didn't have an awesome race as I made a bunch of mistakes. I had a bad start. I just felt like I was out of the rhythm. I was a step behind the pace I had to be at.
I kept pushing, chasing hard. I got to the front and figured to play it steady.
Sanne was able to ride the sand pit in the last lap and I messed it up. She had a gap and I couldn't recover it in time. She had a great race. She rode it until the end there. W
as it a mistake to lead for one lap and a half with Cant on my wheel? Possibly. Right now I felt like it was too long. I felt like we needed to keep the gap on three to five girls behind us and they weren't too far back. I just wanted to keep the gap and at least guarantee the podium instead of fighting for a fifth place spot.
I'll go home in December and have some good training and come back in January. I'm looking forward to good training and I feel good."
RESULTS
Elite Women
1
Sanne Cant (Bel)
0:44:43
2
Katherine Compton (USA)
0:00:06
3
Alica Maria Arzuffi (Ita)
0:00:22
4
Sophie de Boer (Ned)
0:00:23
5
Thalita de Jong (Ned)
0:00:28
6
Maud Kaptheijns (Ned)
0:00:33
7
Ellen Van Loy (Bel)
0:00:40
8
Laura Verdonschot (Bel)
0:00:41
9
Pavla Havlikova (Cze)
0:00:49
10
Ellen Nobel (USA)
0:01:00
U23 Men
1. Joris Nieuwenhui,
2. Iserbyt Eli,
3. Quinten Hermans.
Juniors Men
1. Jelle Camps,
2. Toon Vandebosch
3. Tom Pidcock
Elite Men
1
Matthieu van der Poel (Ned)
1:03:21
2
Wout van Aert (Bel)
0:00:21
3
Kevin Pauwels (Bel)
0:00:31
4
Tom Meeusen (Bel)
0:00:53
5
Clement Venturini (Fra)
0:01:08
6
Laurens Sweek (Bel)
0:01:24
7
Corne van Kessel (Ned)
0:01:32
8
Gianni Vermeersch (Bel)
0:01:38
9
Matthieu Vanthourenhout (Bel)
0:01:53
10
Marcel Meisen (Ger)
0:01:59