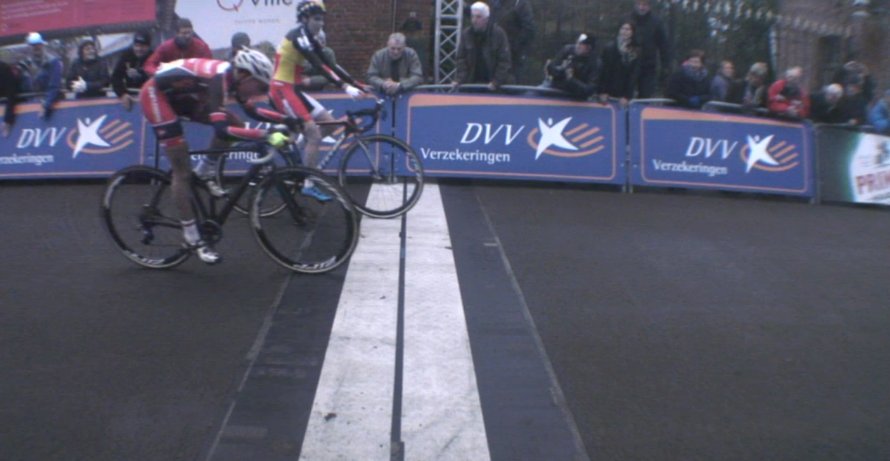 A little

crashy

, the elite men's race! and quite unfortunate for

Mathieu van der Poel, affected by mechanical problems

.
Wout van Aert went solo pretty early and Kevin Pauwels had to chase all the time.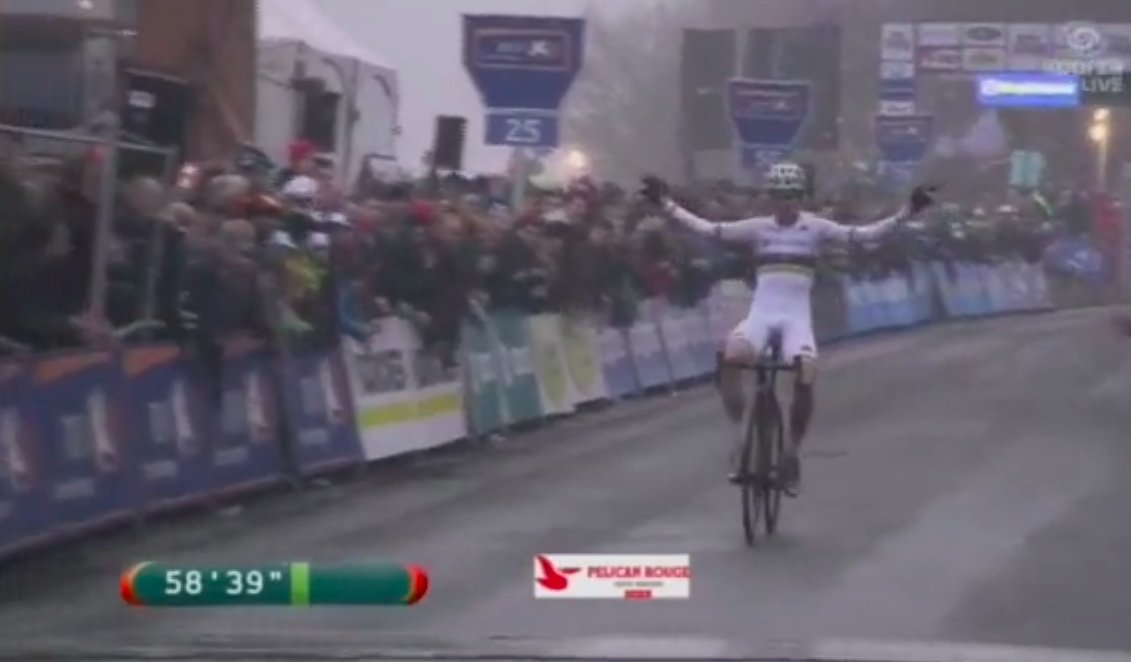 Behind

the peloton split and regroupped

, eventually it became clear that nobody was going to bridge so

they focused on the sprint

for the 3rd place.
In the elite women's race

a huge Sanne Cant

won again.

Eli Iserbyt and Jelle Camps

are the winners among the youths.
Sanne Cant:
"It was super fast today and it was a tactical race; the pace often dropped. It was a matter of taking the final steps in first place," Cant told Sporza. "Experience? Maybe, I've been in similar situations in the past and when you've got something left in your tank it's possible to think tactically.
I had a scare when Sophie suddenly flew by. I didn't know she was that close to me otherwise I would've made a jump to the line."
Sophie De Boer:
"I didn't ride a smart final lap. I had my chance in the sprint. I took the initiative but was only third at the steps. I knew Sanne would move up as she did in the previous lap. She's technically better and that showed. Thalita had a problem with her pedal and Sanne had a big lead,"
Thalita De Jong:
"My derailleur blocked up three times on the first climbing section. Immediately I lost a lot of ground and was up for a chase, like in previous years. I knew I had to be first at the steps but found myself glued on Cant's wheel. I just had to follow and try to get over her in the sprint. Sadly I didn't click into the pedal and then it was lost"
Wout Van Aert:
"It doesn't matter much to me if it wasn't an exciting race. It was exciting enough for me to defend a small bonus over Pauwels. Anyway, my legs seem to improve after taking flights (to Spain). Maybe I should do it more often. I seem to benefit from the rest at the training camp.
Early on the gap kept hovering around 10-15 seconds. That wasn't reassuring. It was a matter of going flat out. Only the last two laps I was able to take the foot of the gas. It was tough."
Tom Meeusen:
"I wanted the hole shot but Van Aert was faster. I was focusing to hop over the planks but rode into a bobble and suddenly found myself on the ground. It was a major bummer. I wanted to turn off and head home."
Kevin Pauwels:
"I shouldn't have been behind Toon Aerts early on. Then the gap maybe wouldn't have been there. I had to dig deep to bridge back up. That's why I didn't hop high enough and crashed."
Mathieu
Van der Poel:
"It all started with the flat tyre. I still got into a rhythm. Then suddenly my chain blocked. Then I hit the barriers. My hip hurt a lot because of the collision. What followed was a shit afternoon.
There was still a long way to go and I was motivated to perform well because it's close to home. But now I'll switch focus to tomorrow."
RESULTS
U19
1. Jelle Camps,
2. Niels Van de putte,
3. Ryan Kamp
U23
1. Eli Iserbyt
2. Quinten Hermans,
3. Adam Toupalik.
Elite Women
1. Sanne Cant,
2. Sophie de Boer,
3. Thalita de Jong
Elite Men
1.Van Aert,
2.Pauwels,
3.Meeusen,
4.Sweeck,
5.Aerts,
6.Van Kessel,
7.Vanthourenhout,
8.Vermeersch,
9.Bosmans,
10.Adams