Tom Pidcock

did it again! Quinten Hermans instead has been defeated by Joris Nieuwenhui.
Namour

is beautiful as ever. One of my favouritre race,

charmng and very hard.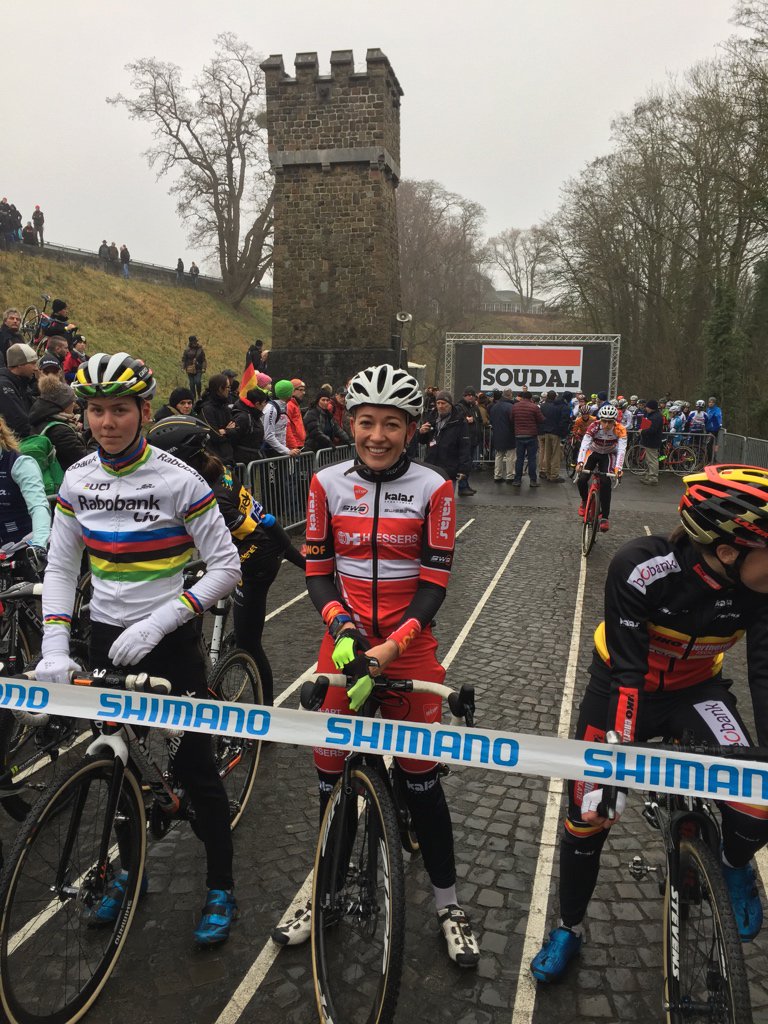 In the Elite Women's race

Nash won on Lechner and

De Boer

. Sanne Cant finished far behind (12th), I'm waiting to understand what happened.

Incredible race in the Elite Men

: a very unfortunate

Wout van Aert crashed three times, but three times he came back

, passed a very strong Tom Meeusen and was in contention with Mathieu van der Poel untill the finish. 3 laps to go van der Poel made a mistake on the steepest climb and van Aert went solo. Van der Poel didn't let him go. Behind Meeusen had cracked and Pauwels could see the podium.

At the last lap van Aert attacks, van der Poel responds and he goes solo untill the finish

.
Mathieu van der Poel: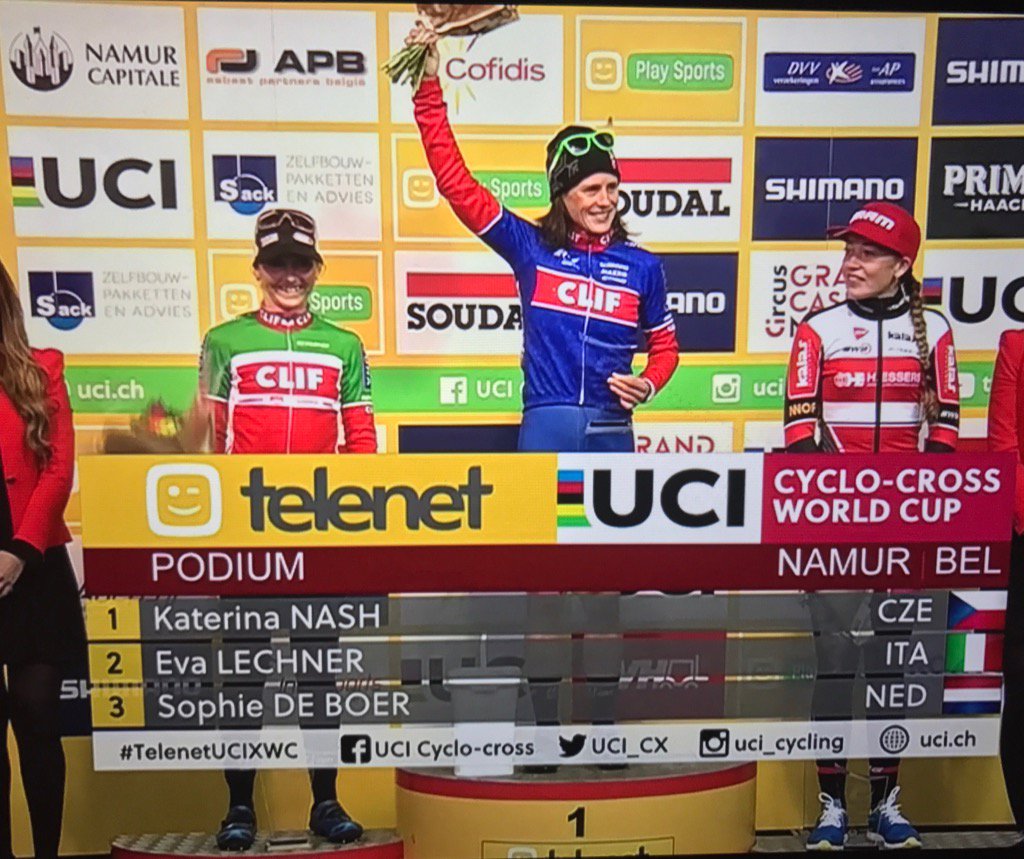 "I had the feeling that Wout was the strongest man today but I'm able to ride a good finale in such a cross race. Last year I also won in a fantastic way, this year again. I'm enormously happy. I quickly focused on the final lap and knew that steep climb would be crucial. I rode my sprint over there."
Wout Van Aert:
"The off-camber descent during the recon was dry and I thought to have found a line with good grip in the grass at the bottom of the section. During the race it was more difficult. A
fter the first time I thought that I was in the wrong rut. It was stupid to try it again a second time. It took a while before I had the right feeling in that section.
I'm disappointed. Losing in the final lap for the second day in a row is no fun
"
Kevin Pauwels:
"I knew they would accelerate and I would get dropped. It was fun to be that close though. I didn't have a super day like yesterday.
"
Katerina Nash:
"Today was pretty epic. Sophie and Eva were really strong. It was a good, exciting race. [...] This place is special. I raced for a really long time and I don't have a ton of World Cup victories so everyone of them is super special. I'm really excited.
I was looking forward to come back to Namur. It was one of the reasons why I wanted to come back and race in Europe. At a certain point I
failed to click into my pedals and in no-time De Boer bridged up. A moment later I crashed and De Boer. I fought back and joined. I don't know, I kind of couldn't get in my pedals. I got a flat in the final lap. I came in for a clean bike. I think that really helped in the last lap. I had a clean bike, clean pedals. Things worked out."
RESULTS
U23
1
Joris Nieuwenhuis (Ned)
0:52:51
2
Quinten Hermans (Bel) Telenet Fidea Lions
0:00:52
3
Thijs Aerts (Bel) Telenet Fidea Lions
0:00:57
4
Clement Russo (Fra)
0:01:00
5
Eli Iserbyt (Bel) Marlux-Napoleon Games
0:01:05
6
Nicolas Cleppe (Bel) Telenet Fidea Lions
0:01:13
7
Adam Toupalik (Cze) Beobank-Corendon
0:01:21
8
Lucas Dubau (Fra)
0:01:26
9
Gioele Bertolini (Ita)
0:01:37
10
Jonas Degroote (Bel)
0:01:40
11
Yannick Peeters (Bel) Crelan-Vastgoedservice
0:01:51
12
Nadir Colledani (Ita)
0:01:53
13
Jakob Dorigoni (Ita)
14
Felipe Orts (Spa)
0:02:00
15
Kobe Goossens (Bel) Telenet Fidea Lions
0:02:09
16
Maik Van Der Heijden (Ned)
0:02:16
17
Curtis White (USA)
0:02:32
18
Thomas Joseph (Bel) Marlux-Napoleon Games
0:02:37
19
Jens Dekker (Ned) Beobank-Corendon
0:03:06
20
Simon Andreassen (Den)
0:03:30
21
Joshua Dubau (Fra)
0:03:34
22
Niels Derveaux (Bel)
0:03:38
23
Kevin Kuhn (Swi)
0:03:45
24
Wesley Floren (Ned)
0:03:51
25
Gosse Van Der Meer (Ned)
0:04:04
26
Jelle Schuermans (Bel) Crelan-Vastgoedservice
0:04:09
27
Jappe Jaspers (Bel) Beobank-Corendon
0:04:22
28
Sieben Wouters (Ned)
0:04:25
29
Gage Hecht (USA) Alpha Bicycle Company - Vista Subaru
0:05:03
30
Lander Loockx (Bel)
0:05:04
31
Seppe Rombouts (Bel)
0:05:21
32
Cooper Willsey (USA)
0:05:22
33
Lukas Meiler (Ger)
34
Frazer Clacherty (GBr)
35
Eric Brunner (USA)
36
Nicolas Pruvot (Fra)
37
Matej Ulik (Svk)
38
Roel Van Der Stegen (Ned)
39
Johan Jacobs (Swi)
40
Daniel Mayer (Cze)
41
David Conroy (Irl)
42
David Jary (Cze)
43
Jonas Brezina (Cze)
44
David Eriksson (Swe)
45
Paul Lindenau (Ger)
46
Maxx Chance (USA)
47
Jokin Alberdi (Spa)
48
Jon Munitxa (Spa)
49
Noah Fries (Lux)
50
Martin Meiler (Ger)
51
Simon Vozar (Svk)
52
Andreas Lund Andresen (Den)
53
Luc Weis (Lux)
U19
1
Thomas Pidcock (GBr)
0:41:05
2
Antoine Benoist (Fra)
0:00:50
3
Maxime Bonsergent (Fra)
4
Filippo Fontana (Ita)
0:00:51
5
Thymen Arensman (Ned)
0:00:55
6
Toon Vandebosch (Bel) IKO Enertherm-Beobank
0:01:04
7
Daniel Tulett (GBr)
0:01:05
8
Ben Turner (GBr)
0:01:09
9
Ivan Feijoo Alberte (Spa)
0:01:16
10
Timo Kielich (Bel)
0:01:19
11
Andreas Goeman (Bel) Telenet Fidea Lions
0:01:42
12
Tomas Kopecky (Cze)
0:01:54
13
Gunnar Holmgren (Can)
0:01:58
14
Nicolas Guillemin (Fra)
15
Loris Rouiller (Swi) IKO Enertherm-Beobank
0:02:05
16
Denzel Stephenson (USA)
0:02:12
17
Jelle Camps (Bel)
0:02:14
18
Florian Vermeersch (Bel)
0:02:15
19
Yentl Bekaert (Bel) Telenet Fidea Lions
0:02:22
20
Kyle Agterberg (Ned)
0:02:36
21
Lorenzo Calloni (Ita)
0:02:46
22
Pieter-Jan Vliegen (Bel)
0:02:48
23
Jan Gavenda (Cze)
0:03:09
24
Bart Artz (Ned)
0:03:10
25
Maxim Van Gils (Bel)
26
Amo Van Den Broeck (Bel)
0:03:17
27
Arne Vrachten (Bel) Telenet Fidea Lions
0:03:19
28
Ryan Kamp (Ned)
0:03:22
29
Antoine Raugel (Fra)
0:03:32
30
Vince Van Den Eynde (Bel)
0:03:41
31
Lane Maher (USA)
0:03:47
32
Misch Leyder (Lux)
0:03:54
33
Mees Hendrikx (Ned)
0:03:55
34
Thomas Mein (GBr)
0:04:05
35
Gerben Kuypers (Bel)
0:04:17
36
Ken Conter (Lux)
0:04:20
37
Arno Debeir (Bel)
0:04:47
38
Jon Polledo (Spa)
0:04:50
39
Patrick Favaro (Ita)
0:05:08
40
Arthur Kluckers (Lux)
41
Cedric Pries (Lux)
0:05:15
42
Ross Ellwood (USA)
43
Bart Hazekamp (Ned)
0:05:32
44
Tim Wollenberg (Ger)
0:05:38
45
Jakub Riman (Cze)
46
Vladimir Miksanik (Cze)
47
Lukas Baldinger (Ger)
48
Jon Calvo (Spa)
49
Felix Schreiber (Lux)
50
Lukas Kubis (Svk)
51
Luca Bockelmann (Ger)
52
Marco Oberteicher (Ger)
53
Jakub Varhanovsky (Svk)
54
Lucas Wulff (Den)
55
Caleb Swartz (USA)
56
Oliver Errebo (Den)
57
Asier Gallarreta (Spa)
58
Oliver Jaros (Svk)
Elite Women
1
Katerina Nash (Cze) Clif Pro Team
0:47:14
2
Eva Lechner (Ita) Clif Pro Team
0:00:12
3
Sophie De Boer (Ned) Kalas-NNOF
0:00:21
4
Alice Maria Arzuffi (Ita) Lensworld-Zannata
0:00:28
5
Christine Majerus (Lux) Boels Dolmans Cyclingteam
0:00:34
6
Ellen Van Loy (Bel) Telenet Fidea Lions
0:00:52
7
Amanda Miller (USA) Boulder Cycle Sport/YogaGlo
0:00:59
8
Nikki Brammeier (GBr) Boels Dolmans Cyclingteam
0:01:03
9
Lucinda Brand (Ned) Raboliv Womencyclingteam
0:01:13
10
Maud Kaptheijns (Ned) Team Steylaerts
11
Evie Richards (GBr)
0:01:30
12
Kaitlin Antonneau (USA) Cannondale pb CyclocrossWorld.com
0:01:50
13
Sanne Cant (Bel) IKO Enertherm-Beobank
0:01:57
14
Chiara Teocchi (Ita) Bianchi Countervail
0:02:23
15
Pavla Havlikova (Cze)
0:02:32
16
Ellen Noble (USA) Aspire Racing
0:02:59
17
Jolien Verschueren (Bel) Telenet Fidea Lions
0:03:02
18
Nadja Heigl (Aut)
0:03:18
19
Nikola Noskova (Cze)
0:03:23
20
Lucie Chainel (Fra)
0:03:31
21
Ffion James (GBr)
0:03:38
22
Emma White (USA) Rally Cycling
0:04:00
23
Loes Sels (Bel) Telenet Fidea Lions
0:04:12
24
Aida Nuno Palacio (Spa)
0:04:26
25
Joyce Vanderbeken (Bel)
0:04:32
26
Inge Van Der Heijden (Ned)
0:04:34
27
VERHESTRAETEN Karen
0:04:36
28
Laura Verdonschot (Bel) Marlux-Napoleon Games
0:04:39
29
Helene Clauzel (Fra)
0:04:41
30
Evita Muzic (Fra)
0:04:45
31
Manon Bakker (Ned)
0:04:59
32
Yara Kastelijn (Ned) Raboliv Womencyclingteam
0:05:30
33
Elle Anderson (USA) Elle Anderson Racing
0:05:34
34
Kim Van De Steene (Bel)
0:05:37
35
Fanny Stumpf (Fra)
0:05:50
36
Perrine Clauzel (Fra) Bh-Sr Suntour-Kmc
0:05:56
37
Maelle Grossetete (Fra)
0:05:58
38
Hannah Payton (GBr) Drops Cycling Team
0:06:17
39
Amira Mellor (GBr) NEXT Wyman/Kona
0:06:32
40
Lisa Heckmann (Ger)
0:06:48
41
Pauline Delhaye (Fra)
0:07:16
42
Olatz Odriozola Mujika (Spa)
0:07:23
43
Asa-Maria Erlandsson (Swe)
0:08:17
44
Lindy Van Anrooij (Ned)
45
Luisa Ibarrola (Spa)
46
Nikola Bajgerova (Cze)
47
Christine Vardaros (USA)
48
Lena Bischoff-Stein (Ger)
49
Suzie Godart (Lux)
Elite Men
1
Mathieu Van der Poel (Ned) Beobank-Corendon
1:04:20
2
Wout Van Aert (Bel) Crelan-Vastgoedservice
0:00:16
3
Kevin Pauwels (Bel) Marlux-Napoleon Games
0:00:27
4
Tom Meeusen (Bel) Telenet Fidea Lions
0:01:08
5
Laurens Sweeck (Bel) ERA-Circus
0:01:22
6
Corne Van Kessel (Ned) Telenet Fidea Lions
0:01:32
7
Toon Aerts (Bel) Telenet Fidea Lions
0:01:37
8
Michael Vanthourenhout (Bel) Marlux-Napoleon Games
0:01:48
9
Marcel Meisen (Ger) Steylaerts-Verona
0:02:33
10
Klaas Vantornout (Bel) Marlux-Napoleon Games
0:02:44
11
Gianni Vermeersch (Bel) Team Steylaerts
0:02:49
12
Michael Boros (Cze) ERA-Circus
0:02:50
13
Philipp Walsleben (Ger) Beobank-Corendon
0:03:06
14
Severin Sagesser (Swi)
0:03:10
15
Jens Adams (Bel) Crelan-Vastgoedservice
0:03:16
16
Tim Merlier (Bel) Crelan-Vastgoedservice
0:03:23
17
Ismael Esteban Aguando (Spa)
0:03:29
18
Vincent Baestaens (Bel) Beobank-Corendon
0:03:52
19
Stephen Hyde (USA) Cannondale p/b Cyclocrossworld.com
0:03:56
20
Dieter Vanthourenhout (Bel) Marlux-Napoleon Games
0:04:04
21
Stan Godrie (Ned) Rabobank Development Team
0:04:09
22
Nicola Rohrbach (Swi)
0:04:21
23
Diether Sweeck (Bel) ERA-Circus
0:04:26
24
Javier Ruiz De Larrinaga Ibanez (Spa)
0:04:28
25
Lukas Winterberg (Swi)
0:04:35
26
Martin Haring (Svk) Dukla Banska Bystrica
0:04:48
27
Daan Soete (Bel) Telenet Fidea Lions
0:05:09
28
Jim Aernouts (Bel) Telenet Fidea Lions
0:05:17
29
David Van der Poel (Ned) Beobank-Corendon
0:05:20
30
Sascha Weber (Ger)
0:05:22
31
Patrick Van Leeuwen (Ned) Cyclingteam Jo Piels
0:05:29
32
Simon Zahner (Swi)
0:05:31
33
Francis Mourey (Fra) Fortuneo - Vital Concept
0:05:51
34
Melvin Rulliere (Fra)
35
Marcel Wildhaber (Swi) Scott-Odlo Mtb Racing Team
36
Geoff Kabush (Can) Scott-3Rox Racing
37
Alois Falenta (Fra)
38
Daan Hoeyberghs (Bel) Beobank-Corendon
39
Lorenzo Samparisi (Ita)
40
Niels Wubben (Ned)
41
Enrico Franzoi (Ita)
42
Luca Braidot (Ita)
43
Daniele Braidot (Ita)
44
Thijs Van Amerongen (Ned) Telenet Fidea Lions
45
Andreas Moser (Swi)
46
Kevin Suarez Fernandez (Spa)
47
Felix Drumm (Ger)
48
Michael Wildhaber (Swi)
49
Nicolas Samparisi (Ita)
50
Marvin Schmidt (Ger)
51
Mark Mcconnell (Can) Hot Sauce Cycling X Garneau
52
Asier Arregui Dominguez (Spa)
53
Wolfram Kurschat (Ger) Koch Engineering / Muesing Racing Team
54
Eric Thompson (USA) Hed p/b Molten Speed Wax
55
Vincent Dias Dos Santos (Lux)