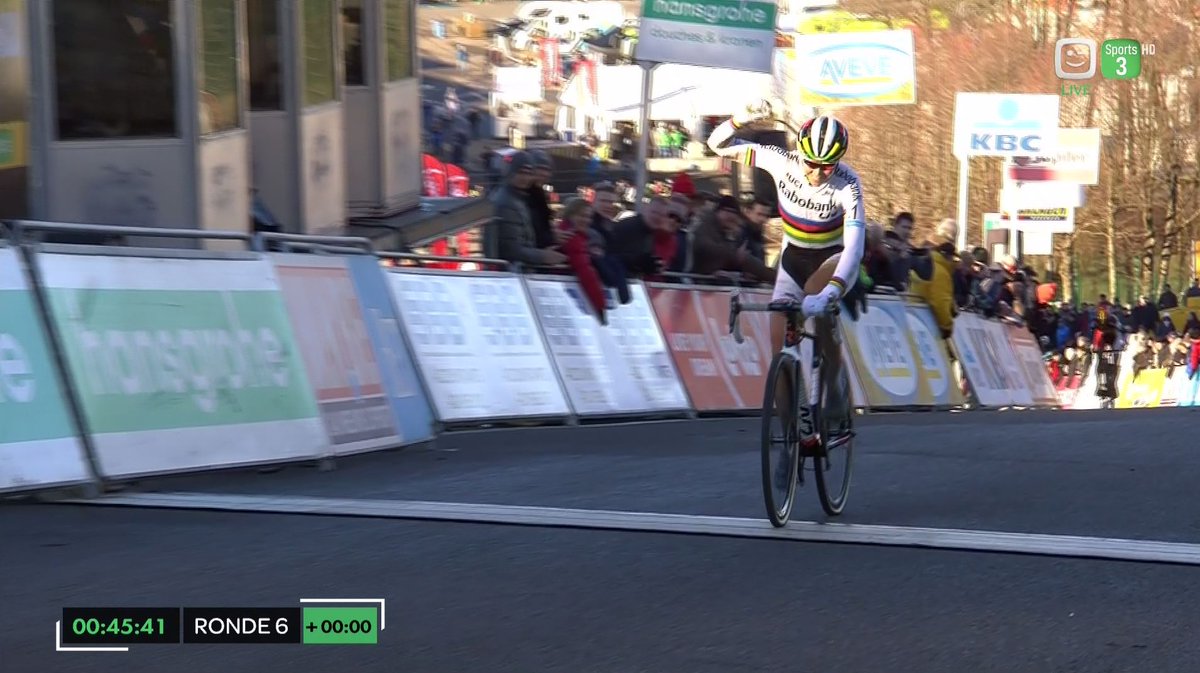 Thalita de Jong
Thalita De Jong:
"It's a great sensation to win here. Two races after a break from racing was hard. I took it easy this week but decided to race here to get the racing rhythm back.

I crashed really hard. I needed time to gasp for air.

I tried to focus again and avoid making mistakes. Then I got back with Sanne and Christine. I rode my own race and managed to ride away.

I kept my composure and won the race.
I didn't make it easy for myself. During the reconnaissance ride I made a lot of mistakes and the same happened in the race. Still, I knew I was the strongest rider in the race. I easily got back to Christine on the climb."
Sanne Cant:
"I'm not surprised with second place. I'm feeling good. It was a fast course which doesn't suit me too much. I certainly wasn't the worst on the climb. I lost time on the run-up

but I'm pleased with what I did today

. On the run-up you had to keep searching for grip."
Christine Majerus:
"I tried to aim higher but was unlucky with a crash and a flat tyre in the final lap. It was slippery. It was a nice race. The harder courses suit me well, just like Gavere. I hope to do well in Namur."
Wout van Aert:
"It's great. I've never lost in Francorchamps so I love to come here. I was way too tired. The Raidillon is much too hard to lift up your hands afterwards.
I'm awaiting this week and look forward to reading the new analyses. The newspaper have to be filled. I'm glad to answer with the pedals. When you're racking up second places you don't have the right to speak.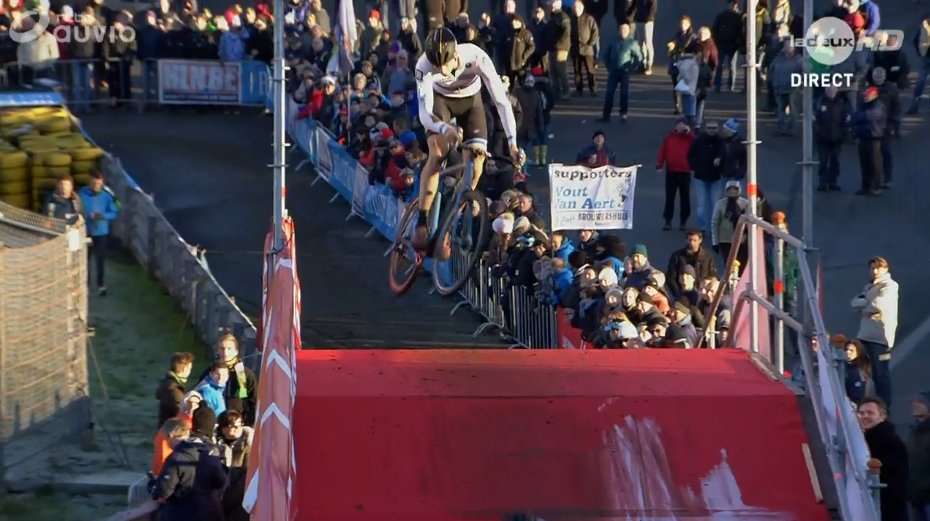 Toon Aerts
It doesn't happen much throughout the season:

I love to do such a steep old-fashioned run-up with the bike on your back.

I can do it well and love to do it. I'm pleased it's here every year. It's good for the confidence. It's good to start December with a win. I'm looking forward to the next race and the upcoming duels with Mathieu. I'm positive for the future."
"It's a hard race. I'd loved to have won but second is not bad. I quickly realized that I didn't have the legs to bridge back up. I opted to focus on second place with the eye on the classification. Wout has always been good in running sections. He's always been the best in it. I was struggling on the run-up, just like last year. It'll never be my cup of tea. It's ok for once but I don't like it,"
Toon Aerts:
"I had quite large spikes on my shoes which were great for the steep run-up. Sadly enough when hopping off my bike before the climb I landed on an icy spot and slipped away, hurting my knee."
Klaas Vantornout:
"Pretty good feeling today, too bad the 2 flat tyres, lost a lot of time 😒 @SpaFrancorchamp"
RESULTS
Elite Women
1
Thalita De Jong (Ned) Rabo Liv Women Cycling Team
0:45:42
2
Sanne Cant (Bel) IKO Enertherm-Beobank
0:00:13
3
Christine Majerus (Lux) Boels Dolmans Cyclingteam
0:00:25
4
Ellen Van Loy (Bel) Telenet Fidea Lions
0:00:56
5
Elle Anderson (USA) Elle Anderson Racing
0:01:34
6
Geerte Hoeke (Ned)
0:02:36
7
Karen Verhestraeten (Bel)
0:02:47
8
Alice Maria Arzuffi (Ita) Lensworld-Zannata
0:02:48
9
Githa Michiels (Bel)
0:03:16
10
Loes Sels (Bel) Telenet Fidea Lions
0:03:27
11
Bianca van den Hoek (Ned)
0:03:41
12
Asa Erlandsson (Swe)
0:03:44
13
Eva Maria Palm (Bel)
0:03:47
14
Julia Boschker (Ned)
0:04:15
15
Pauline Delhaye (Fra)
0:04:35
16
Jolien Verschueren (Bel) Telenet Fidea Lions
17
Irene Gerritsen (Ned)
0:05:56
18
Julie Van de Velde (Bel)
0:07:03
19
Axelle Bellaert (Bel)
0:08:34
20
Madeleine Gammons (GBr)
21
Marlies Beckers (Bel)
Elite Men
1
Wout Van Aert (Bel) Crelan-Vastgoedservice
2
Mathieu Van der Poel (Ned) Beobank-Corendon
3
Toon Aerts (Bel) Telenet Fidea Lions
4
Kevin Pauwels (Bel) Marlux-Napoleon Games
5
Laurens Sweeck (Bel) ERA-Circus
6
Tom Meeusen (Bel) Telenet Fidea Lions
7
Jens Adams (Bel) Crelan-Vastgoedservice
8
Philipp Walsleben (Ger) Beobank-Corendon
9
Klaas Vantornout (Bel) Marlux-Napoleon Games
10
Stephen Hyde (USA) Cannondale p/b Cyclocrossworld.com
U23 Men
1
Quinten Hermans (Bel) Telenet Fidea Lions
0:55:35
2
Thijs Aerts (Bel) Telenet Fidea Lions
0:00:13
3
Joris Nieuwenhuis (Ned)
0:00:18
4
Nicolas Cleppe (Bel) Telenet Fidea Lions
0:00:19
5
Sieben Wouters (Ned)
0:01:00
6
Gosse van der Meer (Ned)
0:01:17
7
Jelle Schuermans (Bel) Crelan-Vastgoedservice
0:01:49
8
Jappe Jaspers (Bel) Beobank-Corendon
0:01:51
9
Maik van der Heijden (Ned)
0:02:27
10
Jonas Degroote (Bel)
0:02:39
11
Roel van der Stegen (Ned)
0:02:47
12
Yannick Peeters (Bel) Crelan-Vastgoedservice
0:02:52
13
Seppe Rombouts (Bel)
0:02:55
14
Lander Loockx (Bel)
0:02:57
15
Jarno Liessens (Bel) IKO Enertherm-Beobank
0:02:59
16
Wesley Floren (Ned)
0:03:12
17
Jenko Bonne (Bel)
0:04:05
18
Mart Muskens (Ned)
0:04:08
19
Jarne Driesen (Bel)
0:04:12
20
Loic Hennaux (Bel)
0:04:15
21
Niels Derveaux (Bel)
0:04:37
22
Erik Boer (Ned)
0:05:13
23
Koen van Dijke (Ned)
0:05:25
24
Reno Bauters (Bel)
0:06:01
25
Adam Toupalik (Cze)
0:06:20
26
Julien Kaise (Bel)
0:06:48
27
Kevin van Bennekom (Ned)
28
Reidar Mohr Sindre (Nor)
29
Maxime Van Wynsberghe (Bel)
30
Louis Jamin (Bel)
31
Niels Verbruggen (Bel)
U19 Men
1
Toon Vandebosch (Bel)
0:41:22
2
Arno Debeir (Bel)
0:00:06
3
Tomas Kopecky (Cze)
0:00:10
4
Thymen Arensman (Ned)
0:00:13
5
Andreas Goeman (Bel)
0:00:31
6
Timo Kielich (Bel)
0:00:35
7
Yentl Bekaert (Bel)
0:00:37
8
Jelle Camps (Bel)
0:01:06
9
Denzel Stephenson (USA)
0:01:24
10
Ryan Kamp (Ned)
0:02:09
11
Joren Thys (Bel)
0:02:33
12
Dolf Pemen (Bel)
0:02:52
13
Sander De Vet (Bel)
0:03:14
14
Jens Clynhens (Bel)
0:03:18
15
Bart Artz (Ned)
0:03:19
16
Antoine Raugel (Fra)
0:04:00
17
Jon Polledo Arriola (Spa)
0:04:11
18
Clément Horny (Bel)
0:04:13
19
Koen van Helvoirt (Ned)
0:04:28
20
Carlo van den Berg (Ned)
0:04:30
21
Maxim Van Gils (Bel)
0:05:25
22
Kyro Geurts (Ned)
0:05:45
23
Jon Calvo Salgueiro (Spa)
0:05:58
24
Tom Dussek (GBr)
0:06:00
25
Aketza Arana Carrera (Spa)
26
Leander Verheyde (Bel)