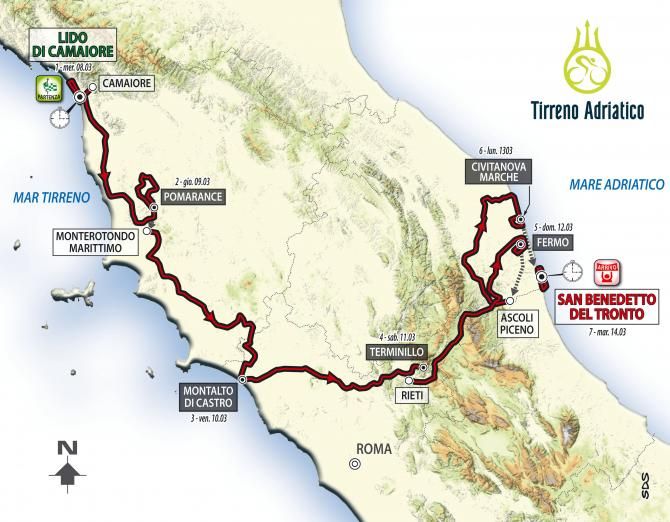 Tirreno-Adriatico

has been presented today, and not far fro me. Unfortunately this is one of the busiest period of the year in school and while the presenation was held... I was interviewing tons of students per hours after

I had spent the week-end correcting 180 students' papers.
In Italy a teacher's salary is about 1.400 euros and we have to teach to classes of even 30 students. As a consequence of the reform imposed by MatteoRenzi many teachers have been assigned to their school only in November. Renzi's Goverment had to quit after the defeat in the referendum about the reform of our Costutution and
we have a new Minister for Education, University and Research. She hasn't got any degree.
Anyway...

The next Tirreno doesn't particularsi innovative

: the start and the end are the usual TT in Camaiore and in San Benedetto del Tronto, in the middle there is Appennini and a long lond flat stage.

Terminillo is a serious climb.

Then we have to see wich kind of weather the riders will find...


STAGES

Stage 1: Lido di Camaiore TTT 22.7km Stage 2: Camaiore-Pomerance 228km Stage 3: Monterotondo Marittimo- Montalto di Castro 204km Stage 4: Montalto di Castro-Terminillo 171km Stage 5: Rieti: Fermo 209km Stage 6: Ascoli Piceno-Civitanova Marche 168km Stage 7: San Benedetto del Tronto ITT 10.1km