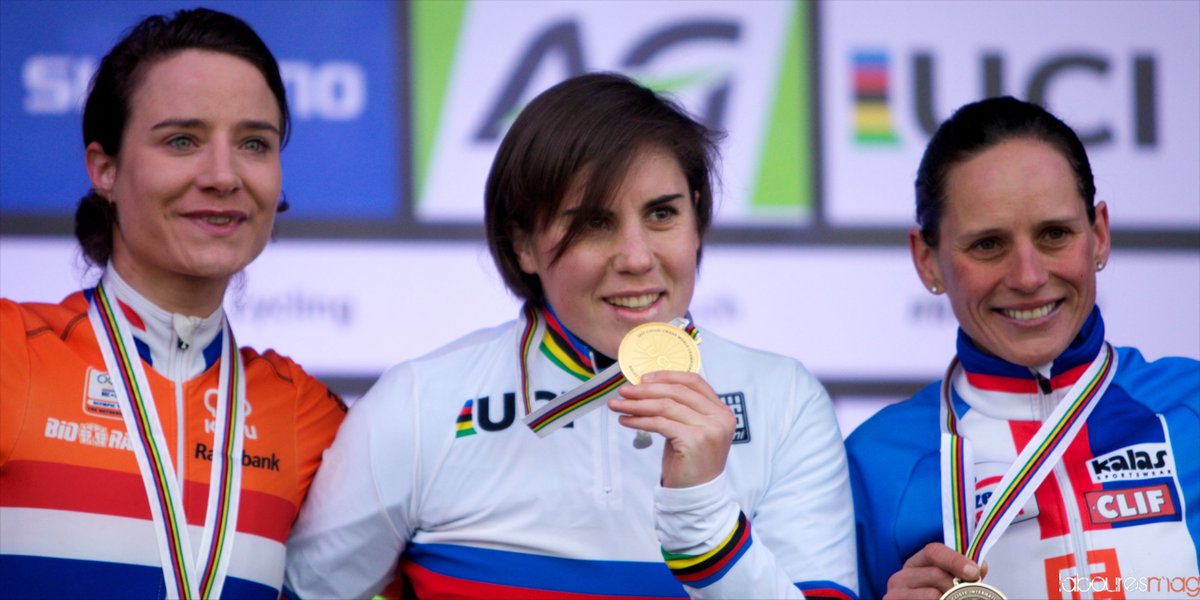 W.H.A.T A D.A.Y!!!!
First of all
MY rider Sanne Cant finally won the world title
in the Elite Women cathegory. She deserved it, had to fight and fought for it. BRAVO! I'm very very very happy.
Then,
in the Junior Men
race we had
a full British podium
, something new and exciting.
Thomas Pidcock
confirmed he's a classy crosser and will wear the rainbow jersey.
Annemarie Worst's
victory in the U23 Women race was touching as she dedicated it to her friend Annefleur Kalvenhaar, who died following a heavy crash during a mountain bike race in 2014.
Sanne Cant: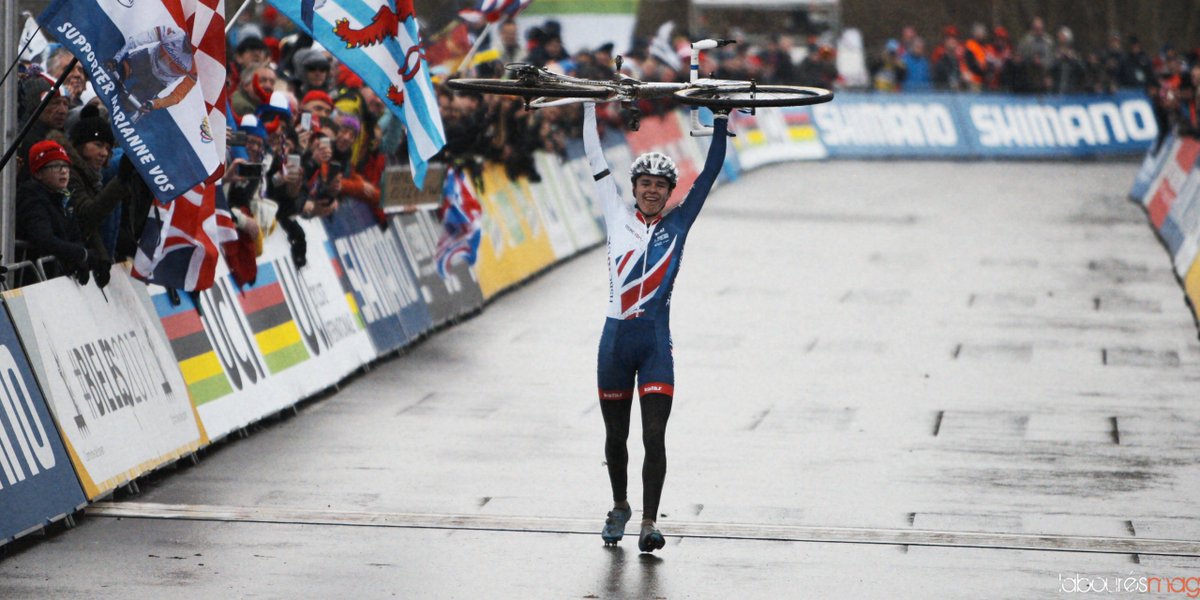 "I can't believe it. The jersey is mine for a whole year. I dreamed of it since I was six years old. It's twenty years ago. I really can't believe I beat Marianne Vos. She's the seven-time world champion. She's really history. It's an incredible day, the most beautiful day of my life.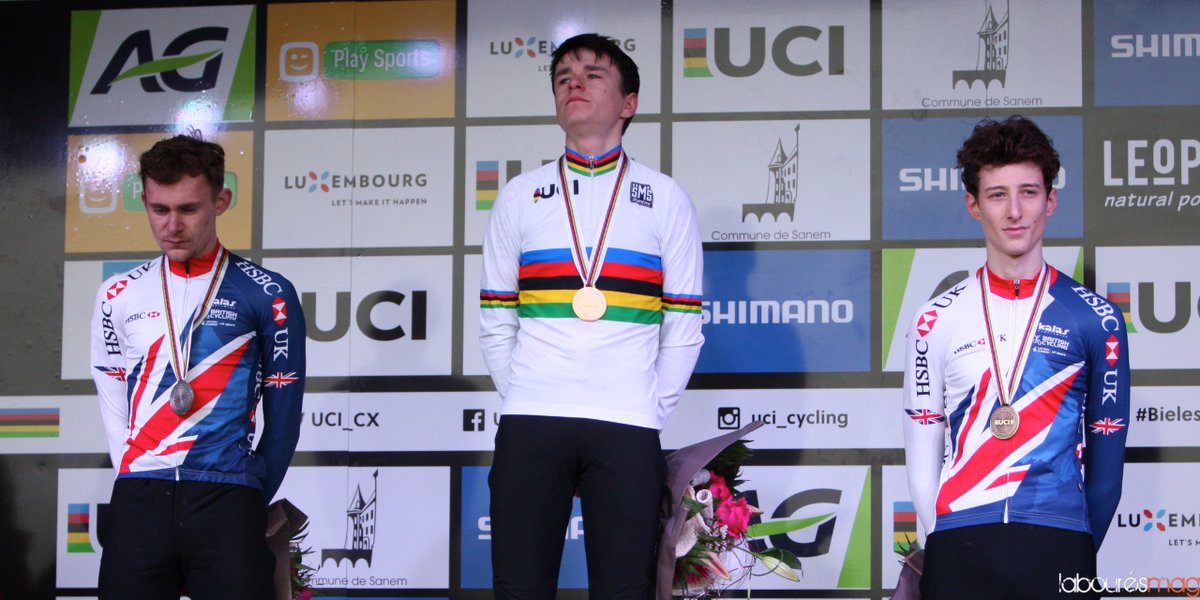 When turning onto the road Vos was still on my wheel and I thought I would lose again. I was sprinting until the finish line but there wasn't any orange coming up. I still couldn't believe it when I crossed the finish line. Beating Vos in a direct duel adds more glamour to this victory.
After my crash I lost the belief but suddenly I saw Vos standing and thought, now it has to happen. I thought she was side lined much longer, and I was surprised to find her back on my wheel a few moments later
I wanted to drop her on that climb but that didn't work out. I did realize that she was also on the limit. I hesitated to shift to the big ring. It all goes so fast. Luckily she had nothing left in her tank. If I had shifted, I would've come to a standstill."
Marianne Vos:
"I'm a bit disappointed. You know anything can happen in such a race. It was a fierce duel. We matched each other today, and then it came down to the last lap. She's technically the best in the pack so it would be hard to beat her on this course. It's hard to get a big lead on this course because you always have to pay attention to avoid mistakes. I was handed the lead when Cant slipped away".
Annemarie Worst:
"It was so difficult, the course, so slippery. You had to stay so focused. On the first lap, I was trying to ride away from the girls but that didn't happen. I tried again, and again. On the last lap I could ride away from the other girls so I'm very happy. I dedicate the win to my friend Annefleur Kalvenhaar [
died following a heavy crash during a mountain bike race in 2014
]
I ride for her.
I knew I had to stay focused and ride the track clean. I was thinking that they can also make mistakes. I'm so happy. I passed Noble on the inside and pushed through. I knew I was better in those sections. I knew I should not stay behind her there."
RESULTS
Junior Men,
1
Thomas Pidcock (GBr) Great Britain
0:41:24
2
Daniel Tulett (GBr) Great Britain
0:00:38
3
Ben Turner (GBr) Great Britain
0:00:44
4
Loris Rouiller (Swi) Switzerland
0:00:52
5
Antoine Benoist (Fra) France
0:01:23
6
Jelle Camps (Bel) Belgium
0:01:37
7
Timo Kielich (Bel) Belgium
0:01:55
8
Toon Vandebosch (Bel) Belgium
0:01:56
9
Denzel Stephenson (USA) United States Of America
0:02:07
10
Niklas Markl (Ger) Germany
0:02:10
11
Ryan Kamp (Ned) Netherlands
12
Mauro Schmid (Swi) Switzerland
0:02:45
13
Erwann Kerraud (Fra) France
0:03:11
14
Yentl Bekaert (Bel) Belgium
0:03:20
15
Jofre Cullell Estape (Spa) Spain
0:03:21
16
Jeremy Montauban (Fra) France
0:03:30
17
Lane Maher (USA) United States Of America
0:03:41
18
Tim Wollenberg (Ger) Germany
0:03:59
19
Thymen Arensman (Ned) Netherlands
0:04:03
20
Maxime Bonsergent (Fra) France
0:04:04
21
Jan Gavenda (Cze) Czech Republic
0:04:13
22
Gunnar Holmgren (Can) Canada
0:04:15
23
Wojciech Ceniuch (Pol) Poland
0:04:38
24
Bart Hazekamp (Ned) Netherlands
0:04:47
25
Brody Sanderson (Can) Canada
26
Bart Artz (Ned) Netherlands
0:04:48
27
Simon Vanicek (Cze) Czech Republic
0:05:06
28
Mikkel Bertelsen (Den) Denmark
0:05:07
29
Erik Fetter (Hun) Hungary
0:05:13
30
Kotaro Murakami (Jpn) Japan
0:05:18
31
Thomas Mein (GBr) Great Britain
0:05:43
32
Caleb Swartz (USA) United States Of America
0:05:47
33
Calder Wood (USA) United States Of America
0:06:05
34
Tomas Kopecky (Cze) Czech Republic
0:06:07
35
Leonardo Cover (Ita) Italy
0:06:08
36
Ross Ellwood (USA) United States Of America
0:06:09
37
Radoslaw Roclawski (Pol) Poland
0:06:11
38
Niklas Patino (Den) Denmark
0:06:22
39
Nicola Taffarel (Ita) Italy
0:06:24
40
Felix Schreiber (Lux) Luxembourg
0:06:30
41
David Honzak (Cze) Czech Republic
0:06:35
42
Ken Conter (Lux) Luxembourg
0:06:40
43
Sam Noel (USA) United States Of America
0:07:00
44
Ivan Feijoo Alberte (Spa) Spain
0:07:05
45
Filippo Fontana (Ita) Italy
0:07:08
46
Noah Simms (Can) Canada
0:07:11
47
Alberto Brancati (Ita) Italy
0:07:15
48
Misch Leyder (Lux) Luxembourg
0:07:28
49
Bruno Marchetti (Ita) Italy
0:09:30
50
Mees Hendrikx (Ned) Netherlands
-1
51
Adam Blazevic (Aus) Australia
-1
52
Jack Bernard Murphy (Irl) Ireland
-1
53
Nicolas Guillemin (Fra) France
-1
54
Oliver Errebo (Den) Denmark
-1
55
Nicolas Kess (Lux) Luxembourg
-1
56
Gustaf Darrasson (Isl) Iceland
-1
57
Luca Bockelmann (Ger) Germany
-1
58
Lukas Markl (Ger) Germany
-2
59
Jakub Schierl (Cze) Czech Republic
-2
60
Tristan Parrotta (Lux) Luxembourg
-2
61
David Westhoff-Wittwer (Ger) Germany
-2
62
Jakub Varhanovsky (Svk) Slovenia
-2
63
Florian Vermeersch (Bel) Belgium
-3
DNF
Lucas Wulff (Den) Denmark
DNF
Anders Lilliendal (Den) Denmark
DNF
Xabier Murias Garcia (Spa) Spain
DNF
Andreas Goeman (Bel) Belgium
U23 Women
1
Annemarie Worst (Netherlands)
0:43:47
2
Ellen Noble (United States Of America)
0:00:10
3
Evie Richards (Great Britain)
0:00:26
4
Laura Verdonschot (Belgium)
0:01:08
5
Manon Bakker (Netherlands)
0:01:41
6
Nikola Noskova (Czech Republic)
0:01:44
7
Ceylin Del Carmen Alvarado (Netherlands)
0:02:17
8
Emma White (United States Of America)
0:02:37
9
Malene Degn (Denmark)
0:02:45
10
Inge Van Der Heijden (Netherlands)
0:02:57
11
Ffion James (Great Britain)
0:03:02
12
Helene Clauzel (France)
0:03:26
13
Chiara Teocchi (Italy)
0:03:31
14
Nicole Koller (Switzerland)
0:03:33
15
Evita Muzic (France)
0:03:57
16
Jana Czeczinkarova (Czech Republic)
0:03:58
17
Lisa Pasteiner (Austria)
0:03:59
18
Jade Wiel (France)
0:04:53
19
Nadja Heigl (Austria)
0:05:01
20
Silvia Persico (Italy)
0:05:14
21
Hannah Arensman (United States Of America)
0:05:21
22
Alicia Gonzalez Blanco (Spain)
0:05:23
23
Sara Casasola (Italy)
0:05:32
24
Maina Galand (France)
0:05:37
25
Olivia Hottinger (Switzerland)
0:05:53
26
Ruby West (Canada)
0:06:03
27
Nicole Fede (Italy)
0:06:05
28
Kiyoka Sakaguchi (Japan)
0:06:15
29
Lara Krahemann (Switzerland)
0:06:28
30
Tereza Vanickova (Czech Republic)
0:06:35
31
Amira Mellor (Great Britain)
0:06:38
32
Agnieszka Szpocinska (Poland)
0:06:46
33
Jessica Lambracht (Germany)
0:06:57
34
Edie Antonia Rees (Luxembourg)
0:07:01
35
Patrycja Swierczynska (Poland)
0:07:14
36
Martina Kukulova (Czech Republic)
0:07:57
37
Emma Swartz (United States Of America)
0:08:08
38
Alba Teruel Ribes (Spain)
0:08:13
39
Francesca Baroni (Italy)
0:08:49
40
Lindy Van Anrooij (Netherlands)
-1
41
Ashley Zoerner (United States Of America)
-2
42
Stacey Riedel (Australia)
-2
43
Olivia Nendick (Australia)
-3
DNF
Tereza Medvedova (Slovakia)
DNF
Larissa Luttuschka (Germany)
Elite Women
1
Sanne Cant (Belgium)
0:43:06
2
Marianne Vos (Netherlands)
0:00:01
3
Katerina Nash (Czech Republic)
0:00:21
4
Lucinda Brand (Netherlands)
5
Maghalie Rochette (Canada)
0:00:36
6
Eva Lechner (Italy)
0:00:53
7
Christine Majerus (Luxembourg)
0:01:21
8
Ellen Van Loy (Belgium)
0:01:25
9
Nikki Brammeier (Great Britain)
0:01:31
10
Kaitlin Antonneau (United States Of America)
0:01:46
11
Elle Anderson (United States Of America)
0:02:29
12
Caroline Mani (France)
0:02:40
13
Amanda Miller (United States Of America)
0:02:49
14
Marlene Petit (France)
0:02:53
15
Courtenay Mcfadden (United States Of America)
16
Helen Wyman (Great Britain)
0:03:06
17
Alicia Franck (Belgium)
0:03:12
18
Lucie Chainel (France)
0:03:19
19
Lucia Gonzalez Blanco (Spain)
0:03:29
20
Mical Dyck (Canada)
0:04:27
21
Rebecca Fahringer (United States Of America)
0:04:49
22
Lise-Marie Henzelin (Switzerland)
0:05:13
23
Nathalie Lamborelle (Luxembourg)
0:05:51
24
Cindy Montambault (Canada)
0:06:06
25
Magdalena Sadlecka (Poland)
0:06:30
26
Jolien Verschueren (Belgium)
0:06:36
27
Hannah Payton (Great Britain)
0:06:40
28
Stefanie Paul (Germany)
0:08:05
29
Eri Yonamine (Japan)
0:08:15
30
Miho Imai (Japan)
-1
31
Aida Nuno Palacio (Spain)
-1
32
Naomi Williams (Australia)
-1
33
Rikke Lonne (Denmark)
-1
34
Kristina Thrane (Denmark)
-1
35
Waka Takeda (Japan)
-1
36
Rebecca Locke (Australia)
-2
37
Suzie Godart (Luxembourg)
-2
DNF
Katherine Compton (United States Of America)
DNF
Loes Sels (Belgium)
DNF
Sophie De Boer (Netherlands)
DNF
Maud Kaptheijns (Netherlands)
DNF
Pavla Havlikova (Czech Republic)
DNF
Alice Maria Arzuffi (Italy)