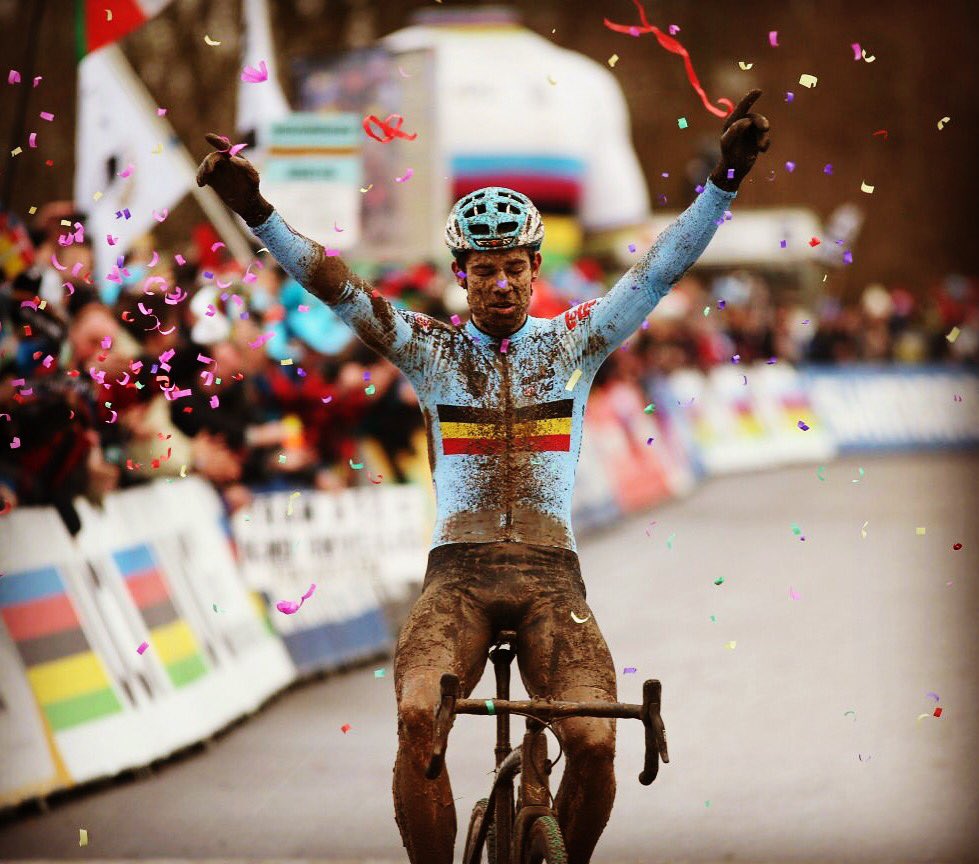 No miracle in Bieles, but

a good 4th place for Lars van der Haar. Wout van Aert won

again, on Mathieu van der Poel.
In the U23 race

Joris Nieuwenhuis

won on the Spaniard Felipe Orts Lloret.
Wout Van Aert:
"I really didn't expect this. Last week I was a week without bike. It seemed like nobody believed me. It was not the best preparation. I just wanted to give full gas for one hour. It's also a pity that bad luck is with Mathieu when he has a flat tire. Of course I couldn't wait for that. I'm so happy with my second world title.
I thought it would be a race for second place but then in the second lap I found my good rhythm."
"It's no fun to lose a race due to bad luck. It's the biggest disappointment of my career,""There's many rocks in Namur as well. Despite my disappointment, I had great fun for the full hour on this real 'cross course. The punctures were just too much. It cost too much time and energy."
Kevin Pauwels:
"The result couldn't be better," Pauwels told Sporza. I flatted three times. The last lap I took it easy to avoid a puncture. If you see the difference with the first two riders, then it's a good result."
Lars Van der Haar:
"Six flats were too much to overcome. I think I could've gotten third place easily. I did everything to avoid punctures but it kept happening. I'm happy with fourth place though after what happened in November."
"Luckily, my team had the wheels of my brothers with them. It remains a mechanical sport."
Gianni Vermeersch:
"I punctured seven or eight times. My father shouted I had to keep riding because they no longer had bikes ready. I rode half the race on a flat tubular."
Joris Nieuwenhuis:
"It was really fantastic. In the beginning, I immediately felt good. I knew before the race that I was ready for it but you don't know in such a race like this, so I'm really happy. I just rode my own race and didn't think of others. I knew I had to keep myself straight. I didn't fall so that was good."
Eli Iserbyt:
"I crashed twice. Straight away, I was completely soaked. My race was ruined. I'm too cold. I've never had it this bad."
RESULTS
Elite Men
1
Wout Van Aert (Belgium)
1:02:08
2
Mathieu Van Der Poel (Netherlands)
0:00:44
3
Kevin Pauwels (Belgium)
0:02:09
4
Lars Van Der Haar (Netherlands)
0:02:52
5
Corne Van Kessel (Netherlands)
0:03:09
6
Laurens Sweeck (Belgium)
0:03:29
7
Michael Boroš (Czech Republic)
0:03:47
8
Gianni Vermeersch (Belgium)
0:04:02
9
Simon Zahner (Switzerland)
0:04:08
10
Sascha Weber (Germany)
0:04:29
11
Jan Nesvadba (Czech Republic)
0:04:50
12
Tim Merlier (Belgium)
0:05:07
13
Philipp Walsleben (Germany)
14
Severin Sägesser (Switzerland)
0:05:18
15
Nicola Rohrbach (Switzerland)
0:05:28
16
Javier Ruiz De Larrinaga Ibanez (Spain)
0:05:35
17
Michael Vanthourenhout (Belgium)
0:05:40
18
Stephen Hyde (United States Of America)
0:05:41
19
Julien Taramarcaz (Switzerland)
0:05:57
20
Luca Braidot (Italy)
0:06:05
21
Matthieu Boulo (France)
0:06:15
22
Emil Hekele (Czech Republic)
0:06:26
23
Alois Falenta (France)
24
Marcel Wildhaber (Switzerland)
0:06:29
25
Marek Konwa (Poland)
0:06:41
26
Tomáš Paprstka (Czech Republic)
0:06:49
27
Ismael Esteban Aguando (Spain)
0:07:03
28
Martin Haring (Slovakia)
0:07:18
29
Clement Venturini (France)
0:07:38
U23 Men
1
Joris Nieuwenhuis (Netherlands)
0:53:58
2
Felipe Orts Lloret (Spain)
0:01:23
3
Sieben Wouters (Netherlands)
0:01:29
4
Thijs Aerts (Belgium)
0:01:34
5
Nicolas Cleppe (Belgium)
0:01:38
6
Joshua Dubau (France)
0:01:56
7
Gioele Bertolini (Italy)
0:02:03
8
Simon Andreassen (Denmark)
0:02:28
9
Quinten Hermans (Belgium)
0:02:30
10
Kelvin Bakx (Netherlands)
11
Clement Russo (France)
0:03:08
12
Maik van der Heijden (Netherlands)
0:03:13
13
Eddy Fine (France)
0:03:14
14
Lucas Dubau (France)
0:03:25
15
Kobe Goossens (Belgium)
0:03:39
16
Johan Jacobs (Switzerland)
17
Eli Iserbyt (Belgium)
0:03:55
18
Spencer Petrov (United States Of America)
0:03:58
19
Yannick Peeters (Belgium)
0:04:17
20
Nadir Colledani (Italy)
0:04:21
21
Timon Ruegg (Switzerland)
0:04:34
22
Cooper Willsey (United States Of America)
23
Manuel Muller (Germany)
0:04:44
24
Antonio Folcarelli (Italy)
0:05:18
25
Lance Haidet (United States Of America)
0:06:23
26
Marceli Boguslawski (Poland)
-1
27
Simon Vozar (Slovakia)
-1
28
Maximilian Mobis (Germany)
-1
29
Matej Ulik (Slovakia)
-1
30
Michele Bassani (Italy)
-1
31
Gage Hecht (United States Of America)
-1
32
Luc Turchi (Luxembourg)
-1
33
Maxx Chance (United States Of America)
-1
34
Lukas Meiler (Germany)
-1
35
Daniel Mayer (Czech Republic)
-1
36
Kevin Kuhn (Switzerland)
-1
37
Billy Harding (Great Britain)
-1
38
Niels Rasmussen (Denmark)
-1
39
David Jary (Czech Republic)
-1
40
Henrik Jansson (Sweden)
-1
41
Christian Storgaard (Denmark)
-1
42
Jonas Brezina (Czech Republic)
-2
43
Jokin Alberdi Mendizabal (Spain)
-2
44
Andreas Lund Andresen (Denmark)
-3
45
Noah Fries (Luxembourg)
-3
46
Trevor O'Donnell (Canada)
-3
47
Gosse van der Meer (Netherlands)
-3
48
Ben Walkerden (Australia)
-3
49
Hijiri Oda (Japan)
-3
50
Jakob Dorigoni (Italy)
-5
DNF
Jonas Degroote (Belgium)
DNF
Tony Periou (France)
DNF
David Eriksson (Sweden)
DNF
Felix Keiser (Luxembourg)
DNS
Curtis White (United States Of America)
DNS
Carl Sorensen (Denmark)