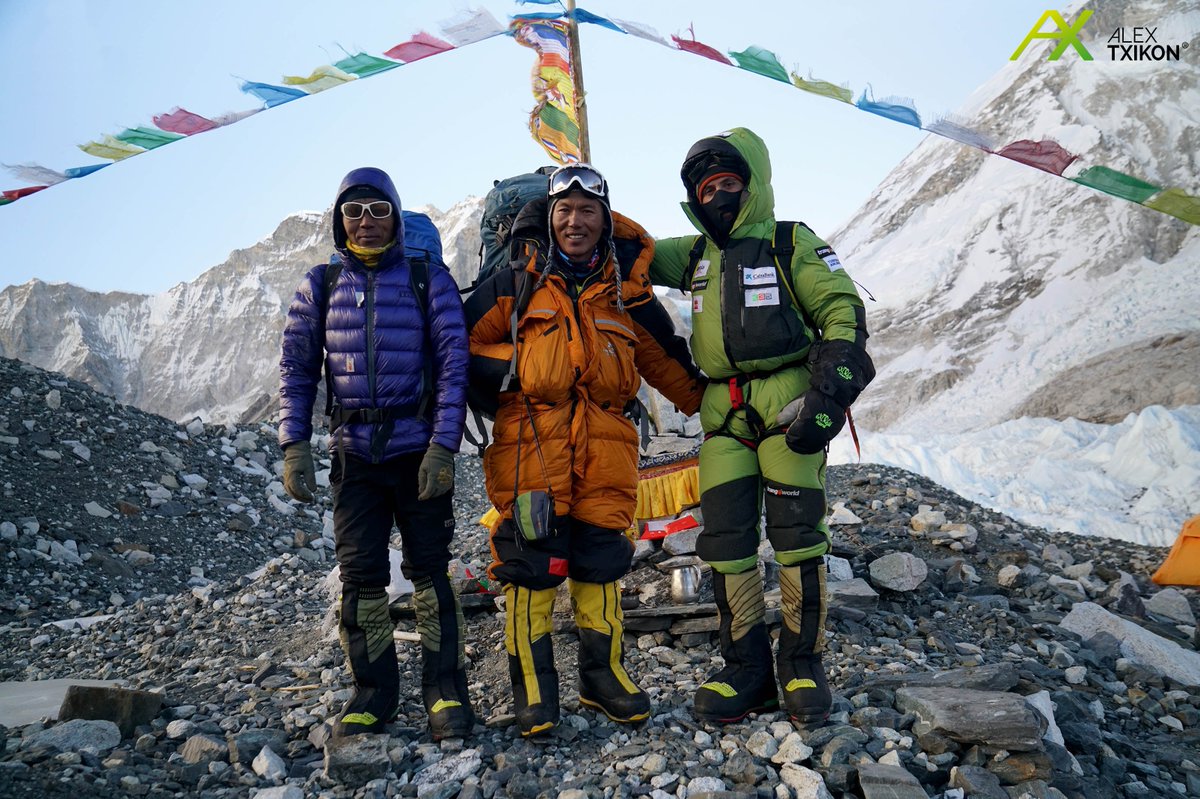 Mhm...

when sherpas say let's go down I think a montaineer should respect their advice.

1. They know it better 2. They are working...
Alex Txikon

tried to reach Everest Camp 4 yesterday but he failed and is

back to the Base Camp

.

Chhepal Sherpa got injuried in the descent.
Txikon gave a report, but the English version isn't that good, so I'll post here mine:
Things get complicated - and a lot - at about 7650 m, Chhepal comes and tells me to go down. The wind hits us more intensely, suddenly we got together and I tell everyone to trust me: the weather will change, and the wind will subside. Now it hits us from the west and it's expected from the north, northeast.
The cold is unbearable. I tell them to please use the bottles of oxygen that they carry. Usually they use 3 in a summit attack, but each one carries two bottles. "Pay attention to me and connect the regulators."
The wind blows more steadily and with much greater force. We are at 7800 m across the spur of Geneva. They don't see it clear and I take the lead. I don't know if I can keep a good pace for them since I don't use artificial oxygen, but I think the intense cold doesn't slow me too much. The wind sometimes makes us fall to the ground. It's really hard.
I speak to everybody, encouraging them, deadly trusting on them, very focused. I think f
or a moment of calling
Aitor by radio, tp to say the weather is not as expected, but that means to expose my fingers, we are about 45 degrees minus 0 and the wind is about 60 km per hour! [...]
Chhepal comes to me again and tells me: "Let's go down", I say them again: "Please, we'll do anything mad. The wind will stop." I say them: "Follow me".
The fixed rope is broken. I start equiping it again. We can already see Camp 4, but the wind is unbearable. We can't do more than two steps without throwing ourselves to the ground. [...]
We are in Camp 4. Norbu, Nuri and Pemba follow me. We can't stand. I take out the first tent but even being four we don't manage to put it together. Waiting for Furba and Chhepal, we see that one of the rods has been broken. In the South Col, at 7.950 m, there are more than 50 tents... It's such a bleak place!
And there I go looking for a rod. I reach a tent, and there is a dead person! Fuck! You have many things in your head in such a situation, and one of them is that you can end up the same. [...]
We throw some stones on it and I go to the South Col again. Arriving I have seen some epigas tanks, nobody has got a sleeping bag, so extra gas is welcome! It means we'll spend the hours before the summit attack in a less unconfortable way...
I reach the tent I had signed and I can't believe it: another dead person! I don't know their identities. A huge hug to family and friends!I drop the tank a
nd we try again to assemble the tent, but it's impossible and we give up. We drop all the equipment and start the descent.
I tell Nurbu: "I don't feel anything, please accompany me in the descent and the others will catch us. They're all hooked up. It's 5:30 p.m.: either we move, or our lives move to another level.
I ask for a radio and after a moment of complete mess I get one. Finally I talk with the Base Camp and they confirm that the weather has changed and that we must get out of here.
I don't speed up, I feel responsible for my team. I asked them to come here and they put their lives at risk, so I don't descend until the last one has started. It's difficult to calculate but the wind is constant and surely its intensity exceed 80 km per hour.
[...] Nurbu, Chhepal and me decide to spend the night in Camp 3, the others go down.
We melt some snow, just two sips each one and we put everything inside the sleeping bag. A second night without sleeping: I can't stand the pain and the cold.
[...] At 7.00 am
Nurbu wakes up
and suggests that we go down. [...] The
worst is to puton my boots, in 10 minutes I'm ready and I go first, followed by Chhepal and Norbu. [..]
Four rappels and I look up. I see Chhepal entering in the vertical and Norbu still very close to Camp 3. The wind was blowing hard all the time! [...]
I come with stiff hands. I go rappelling with the gloves, it doesn't give me for more; I'm in one of the fractionations; I'm with the mittens trying to pluck my safety carabiner to the next fractionation, the trigger has been hooked on the thumb of the glove …
Something hits me [...] I don't see anything. I'm only concerned that the safety carabiner is passed by the rope. I'm falling faster and faster. I know I'm going in an avalanche, and I know I'm going to have a good time! If I haven't plated the carabiner I know that I will die and if it's plated, I will stop after falling this fractionation that are minimum of 100 meters!
I think I hit the slope three times in these 100 meters. As I'm falling at a great speed, I finally stop short, I stop the fall, a screw, and I can't breathe. I'm very overwhelmed; I barely feel a hint of air. [...]
Finally, I begin to breathe! The avalanche begins to be of stones and hundreds of stones fall.
I look up and see Chhepal holding up, Norbu has had more luck and didn't fall. I sit looking down the valley, hit by hundreds of stones, waiting for the death.
[...]After almost ten minutes stones stop falling. I look up and I think like "Oh my god! I'm alive! One among a thousand!"
With all my energy, I start to rappel again with the gloves, as fast as I can and Norbu and Chhepal follow me. We meet again at the bottom, and Chhepal is bleeding from the head, it has a cut.
Tomorrow he's going to be evacuated to Kathmandu.
[...] I still do not know how I have not broken anything [...]
We help Chhepal. [...]
We get into the icefall. [...]
The team is very touched. We lost Carlos, then Lakpa, now we are without Chhepal and only 5 left, I am determined to try again. We'll see what happens next days."