Second day in De Panne and 122 km already done and dusted. There is

a break-away of 10 riders

including R. COBBAERT (BEL/CIB),B. HOEM (NOR/TJI),M. MCNALLY (GBR/WGG),P. ALLEGAERT (BEL/SVB),B. VAN GOETHEM (NED/RNL) L. NAESEN (BEL/WVA),B. PERRY (CAN/ICA),E. SHALUNOV (RUS/GAZ),C. DUNNE (IRL/ABS),S. VAN ZUMMEREN (BEL/VWC). Behind, the peloton has split and there are three groups at about 2''.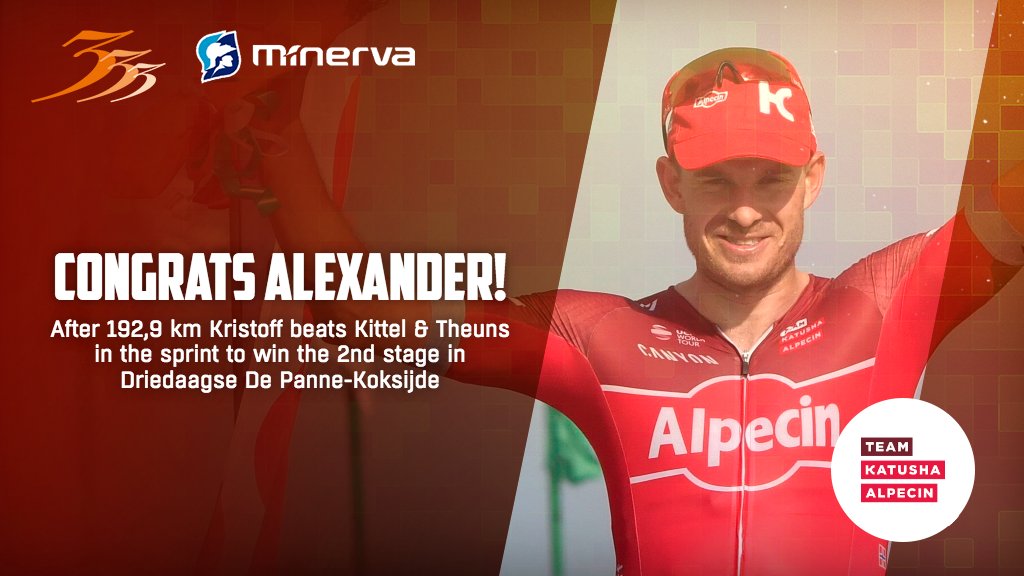 Two riders

get off the peloton and

are trying to bridge

: A. KIRSCH (LUX/WVA) and P. LIGTHART (NED/RNL) have got a 15" on the rest of the bunch.

Their move is successful

: 12 riders in the lead. 57 km to go the gap is up to about 1'. The

strong wind

is playing a role.

..... SORRY! I have been busy :D Let's see how it ended.... It looks like a sprint, and

Kristoff won on Theuns and

Kittel

.

MORE TO COME

RESULTS STAGE

1 Kristoff

2 Theuns

3 Kittel

4 Ackerman

5 Guardini

6 Vantomme

7 Petit

8 Vermeltfoort

9 Perichon

10 Dunne

GC

1

BEL

GILBERT Philippe

QST

+00:00

2

AUT

BRANDLE Matthias

TFS

+00:50

3

NOR

KRISTOFF Alexander

KAT

+01:07

4

BEL

THEUNS Edward

TFS

+01:11

5

NED

LIGTHART Pim

RNL

+01:15

6

FRA

CHAVANEL Sylvain

DEN

+01:15

7

BEL

VANTOMME Maxime

WVA

+01:17

8

FRA

PERICHON Pierre-Luc

FVC

+01:17

9

NED

VAN POPPEL Boy

TFS

+01:22

10

BEL

DE BUYST Jasper

LTS

+02:25