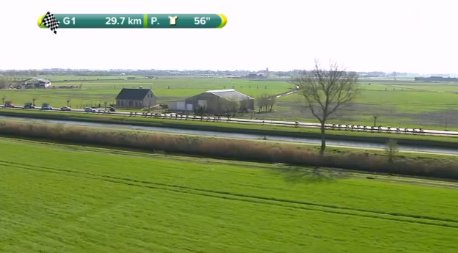 Last day in De Panne and two different race. Stage 3a in 30 km to go and

the peloton is controlling a 9 riders break

just 1' away

.

Marcel Kittel crashed but he's back in the peloton. Not only! he actually won at the sprint. Chapeau! Stage 3b was an itt and

Durbridge won

it.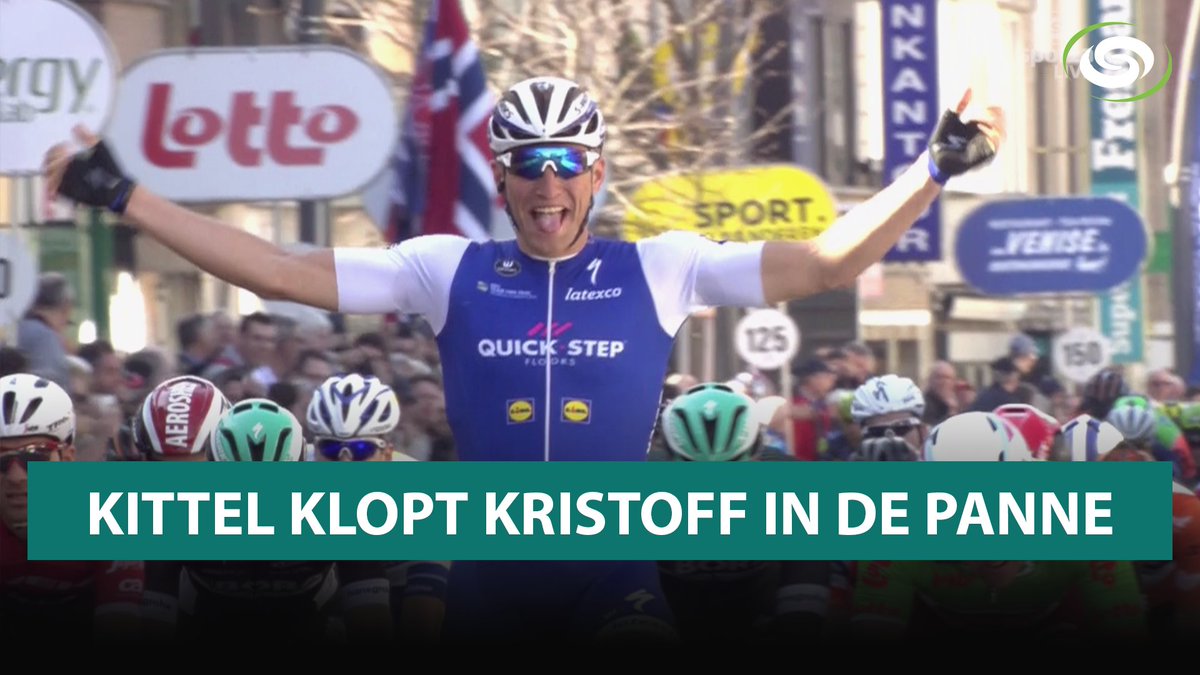 Philippe

Gilbert is the winner

of the race overall classification.
Marcel Kittel: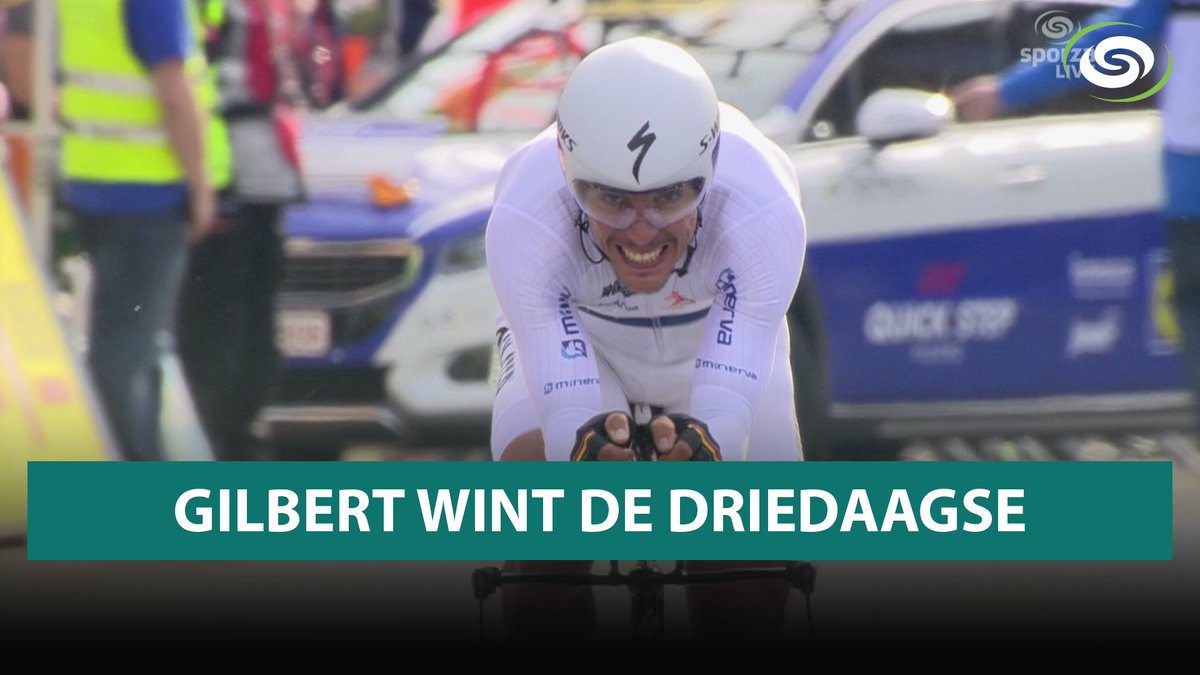 "The moment

I crashed, I said

to myself 'It's not the perfect situation, but

it's not impossible to make it back

to the bunch. Even before going on the circuit we did a great job as a team, and after crashing, Jack, Tim, Davide and Fabio waited and helped me return to the peloton with five kilometers to go, where Max and Saba played an important role in bringing me in the best possible position. It was difficult to make the catch, but I did it thanks to this impressive team.
Wednesday

I'll race Scheldeprijs and I'm very motivated

to defend my title and get my fifth victory there. I know it won't be easy, but I am in a good shape, I felt good here in De Panne and our team is very strong, so I'm looking forward to that race."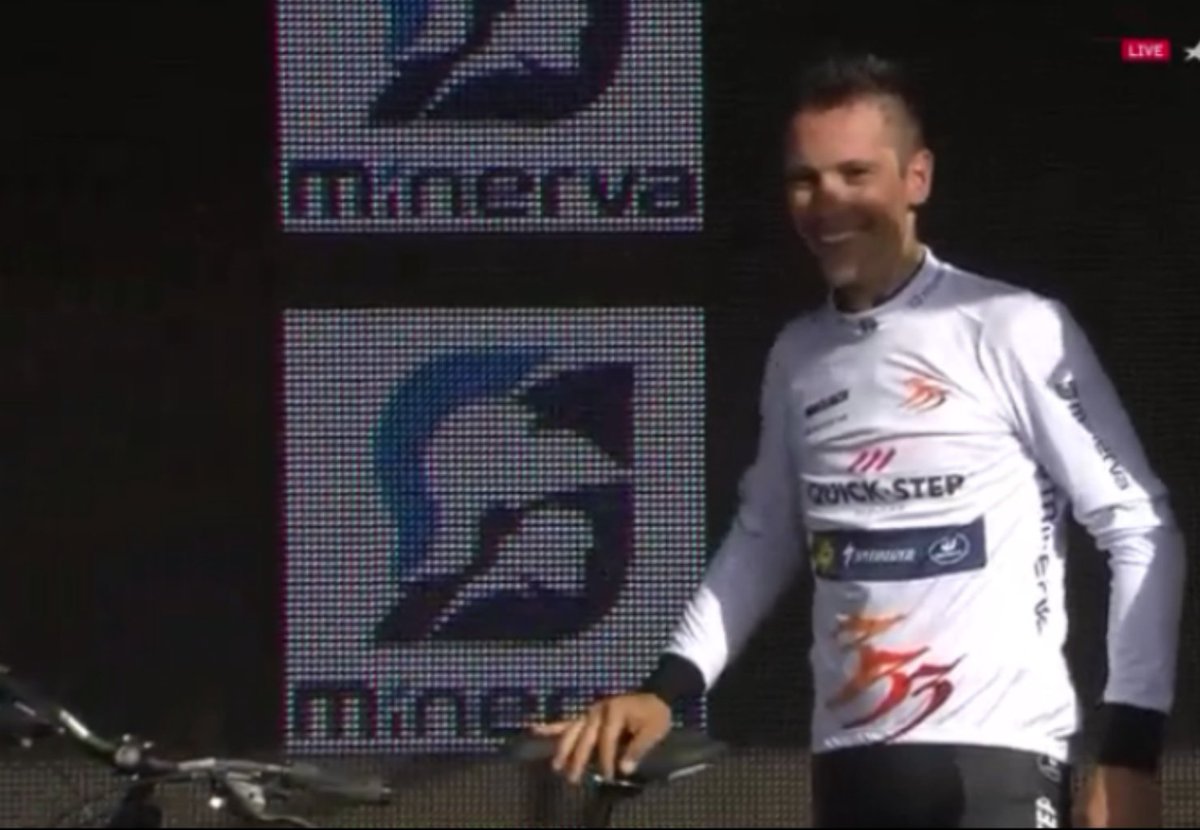 Luke Durbridge:
"I am really elated to get the win, I have been really consistent lately but a win is totally different. It has been a while since I have had a win so I am really happy with today.
Obviously

I was dissapointed with yesterday

, making mistakes and missing the split and

that made me more fired up for today.
I have done this time trial maybe five times now so I know it well and I went out as hard as I could.
It was great to finish off with a win after all the teamwork from the guys, they helped me out a lot each day."
Philippe Gilbert:
"In a time trial is always a question of remaining focused before and during the race.

Before rolling down the ramp, I got news of Marcel's result and this gave me extra motivation

to do well. I was always in control while being out on the course and securing the victory here makes me very happy.
Last year, Quick-Step Floors and Patrick Lefevere put their trust in me

and I'm glad to bring home this victory and repay them for the confidence showed. Also, I must thank my teammates, because they kept me safe and rode their hearts out to make sure I'll win this race. I think it was the right choice to prepare Ronde van Vlaanderen here and I'm really satisfied with how I felt and with the outcome.

I'm motivated for Sunday and I look forward to this beautiful race.

Hopefully, it will turn out to be another good one for our team."
RESULTS
STAGE 3a
1
Marcel KITTEL
GER
QST
29
2:37:29
2
Alexander KRISTOFF
NOR
KAT
30
+0
3
Sacha MODOLO
ITA
UAD
30
+0
4
Rüdiger SELIG
GER
BOH
28
+0
5
Edward THEUNS
BEL
TFS
26
+0
6
Matteo PELUCCHI
ITA
BOH
28
+0
7
Jens DEBUSSCHERE
BEL
LTS
28
+0
8
Luka MEZGEC
SLO
ORS
29
+0
9
Jelle MANNAERTS
BEL
TIS
26
+0
10
Jonas RICKAERT
BEL
SVB
23
+0
11
Raymond KREDER
NED
RNL
28
+0
12
Kenny DEHAES
BEL
WGG
33
+0
13
Joeri STALLAERT
BEL
CIB
26
+0
14
Timothy STEVENS
BEL
PSV
28
+0
15
Christophe Noppe
BEL
SVB
23
+0
16
Piet ALLEGAERT
BEL
SVB
22
+0
17
Eduard Michael GROSU
ROU
NIP
25
+0
18
Nicolas MARINI
ITA
NIP
24
+0
19
Erwann CORBEL
FRA
FVC
26
+0
20
Kevin ISTA
BEL
WVA
33
+0
21
Paolo SIMION
ITA
BRD
25
+0
22
Jasper DE BUYST
BEL
LTS
24
+0
23
Rob LEEMANS
BEL
PSV
24
+5
24
Nikolay TRUSOV
RUS
GAZ
32
+5
25
Aaron GATE
NZL
ABS
27
+5
26
Coen VERMELTFOORT
NED
RNL
29
+5
27
Liam BERTAZZO
ITA
WIL
25
+5
28
Mirco MAESTRI
ITA
BRD
26
+5
29
Ole FORFANG
NOR
TJI
22
+5
30
Brecht DHAENE
BEL
PSV
29
+5
31
Andrew FENN
GBR
ABS
27
+5
32
Michael COOLS
BEL
TIS
23
+5
33
Ivan SAVITSKIY
RUS
GAZ
25
+5
34
Hamish SCHREURS
NZL
ICA
23
+5
35
Philippe GILBERT
BEL
QST
35
+5
36
Eugert ZHUPA
ALB
WIL
27
+5
37
Sylvain CHAVANEL
FRA
DEN
38
+5
38
Boy VAN POPPEL
NED
TFS
29
+5
39
Arnaud GERARD
FRA
FVC
33
+5
40
Rafael ANDRIATO
BRA
WIL
30
+5
STAGE 3b ITT
1
Luke DURBRIDGE
AUS
ORS
26
17:38
2
Sylvain CHAVANEL
FRA
DEN
38
+0
3
Alexander KRISTOFF
NOR
KAT
30
+2
4
Marcel KITTEL
GER
QST
29
+3
5
Matthias BRÄNDLE
AUT
TFS
28
+5
6
Alexander EDMONSON
AUS
ORS
24
+9
7
Philippe GILBERT
BEL
QST
35
+17
8
Nils POLITT
GER
KAT
23
+31
9
Peter KONING
NED
ABS
27
+36
10
Olivier PARDINI
BEL
WVA
32
+39
11
PIERRE LUC PERICHON
FRA
FVC
30
+39
12
Jasper DE BUYST
BEL
LTS
24
+43
13
Reto HOLLENSTEIN
SUI
KAT
32
+46
14
Maxime VANTOMME
BEL
WVA
31
+50
15
Kevin ISTA
BEL
WVA
33
+52
16
Gaetan BILLE
BEL
VWC
29
+54
17
David BOUCHER
BEL
PSV
37
+55
18
Alex KIRSCH
LUX
WVA
25
+59
19
Guillaume VAN KEIRSBULCK
BEL
WGG
26
+1:00
20
Aaron GATE
NZL
ABS
27
+1:01
21
Frederik FRISON
BEL
LTS
25
+1:03
22
Simone CONSONNI
ITA
UAD
23
+1:04
23
Edward THEUNS
BEL
TFS
26
+1:05
24
Jack BAUER
NZL
QST
32
+1:05
25
Marco CANOLA
ITA
NIP
29
+1:05
26
Arnaud GERARD
FRA
FVC
33
+1:06
27
Brian VAN GOETHEM
NED
RNL
26
+1:06
28
Jonas RICKAERT
BEL
SVB
23
+1:10
29
Pim LIGTHART
NED
RNL
29
+1:12
30
Bjorn Tore HOEM
NOR
TJI
26
+1:12
FINAL GC
1
Philippe GILBERT
Belgium
QST
35
12:08:57
2
Matthias BRÄNDLE
Austria
TFS
28
+38
3
Alexander KRISTOFF
Norway
KAT
30
+43
4
Sylvain CHAVANEL
France
DEN
38
+58
5
PIERRE LUC PERICHON
France
FVC
30
+1:39
6
Maxime VANTOMME
Belgium
WVA
31
+1:50
7
Edward THEUNS
Belgium
TFS
26
+1:54
8
Pim LIGTHART
Netherlands
RNL
29
+2:10
9
Boy VAN POPPEL
Netherlands
TFS
29
+2:24
10
Jasper DE BUYST
Belgium
LTS
24
+2:46