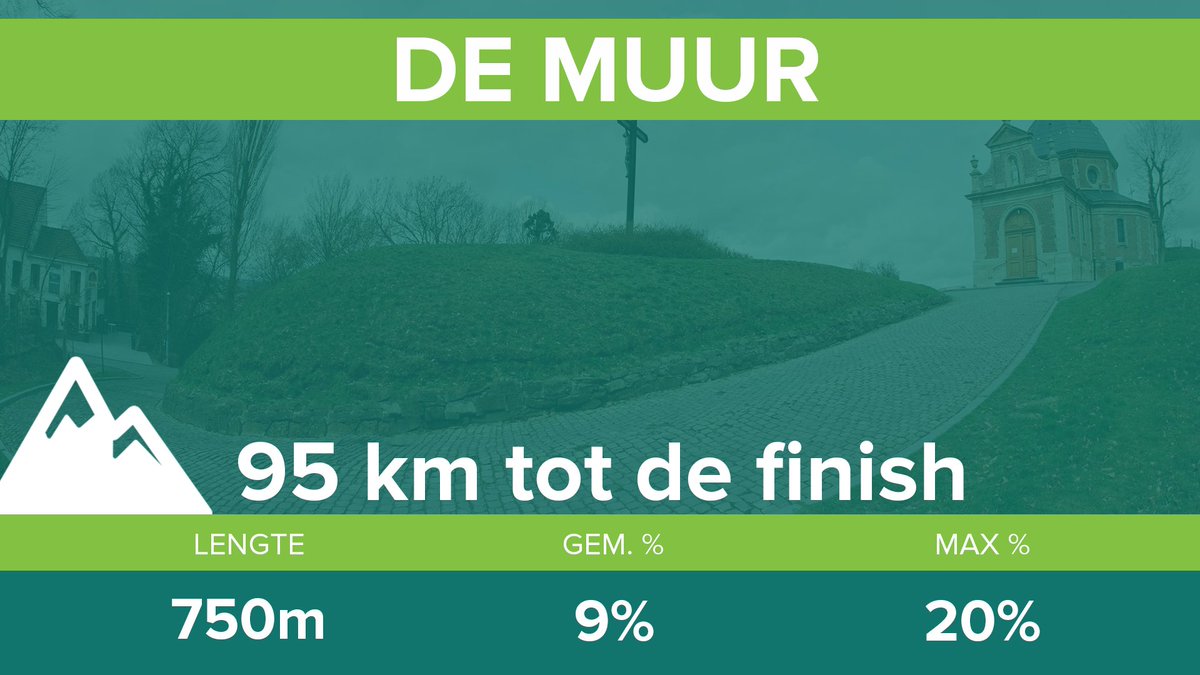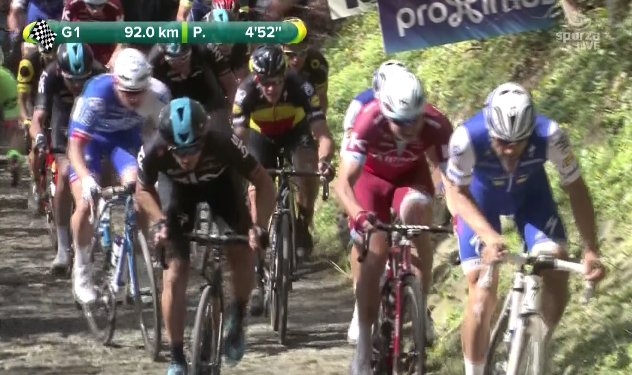 I spent the morning at my son's race, all flat and uneventful. When I turned the tv on the Ronde was already on the

Tenbosse

, the 7th climb of the day. There is

a break-away

including Mark McNally (Wanty-Gobert), Oliviero Troia (UAE Emirates), Julien Duval (AG2R La Mondiale), Stef Van Zummeren (Veranda's Willems Crelan), Michael Goolaerts (Veranda's Willems Crelan), Julien Morice (Direct Energie), Edward Planckaert (Sport Vlaanderen-Baloise) and André Looij (Roompot). They have about 6' on the peloton and are

approaching the Muur

.
Coryb Rivera wins the Ronde

Tom

Boonen

takes it in front.

Sagan and van Avermaet excluded

, all the main contenders are there. Boonen, Gilbert, Trentin, Vanmarcke, , Kristoff, Rowe, Modolo, Moscon, Bodnare and Coquard

got a gap

. Chavanel, Démare, Vanspeybrouck and Stuyven join.
Meanwhile the

women's race

is at the last km with

a 15 riders group

going to the

sprint

. Coryn

Rivera

wins!
In the men's race, the 3rd group with

Sagan and van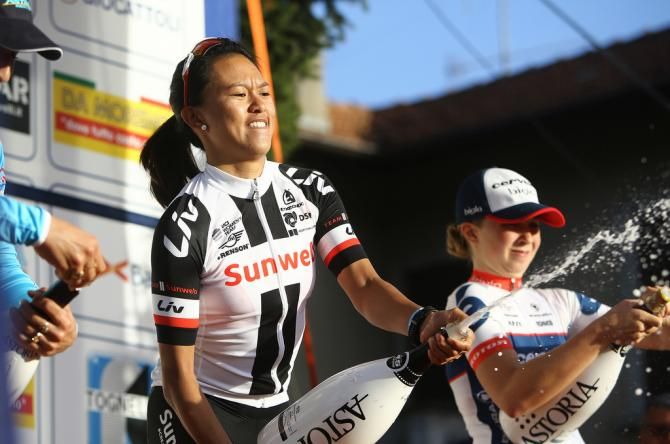 Avermaet is 1' behind

the 2nd group with all the favourites.

Kanarieberg

, 70 km to go

Goolaerts is caught

. The rest of the break is only 19'' ahead.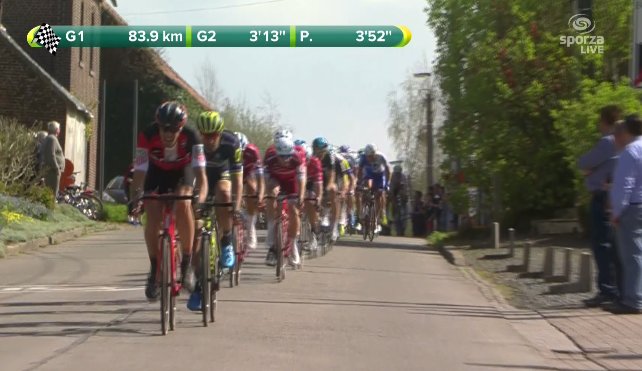 65 km to go

the first two groups merge

. So now in the lead there are: Tom Boonen, Philippe Gilbert, Matteo Trentin (Quick-Step), Bryan Coquard, Sylvain Chavanel (Direct Energie), Arnaud Démare (FDJ), Sep Vanmarcke (Cannondale-Drapac), Alexander Kristoff (Katusha), Luke Rowe, Gianni Moscon (Sky), Maciej Bodnar (Bora-Hansgrohe), Jasper Stuyven (Trek-Segafredo), Sacha Modolo (UAE Emirates), Pieter Vanspeybrouck (Wanty-Groupe Gobert), Mark McNally (Wanty-Gobert), Oliviero Troia (UAE Emirates), Julien Duval (AG2R La Mondiale), Stef Van Zummeren (Veranda's Willems Crelan), Michael Goolaerts (Veranda's Willems Crelan), Julien Morice (Direct Energie), Edward Planckaert (Sport Vlaanderen-Baloise) and André Looij (Roompot).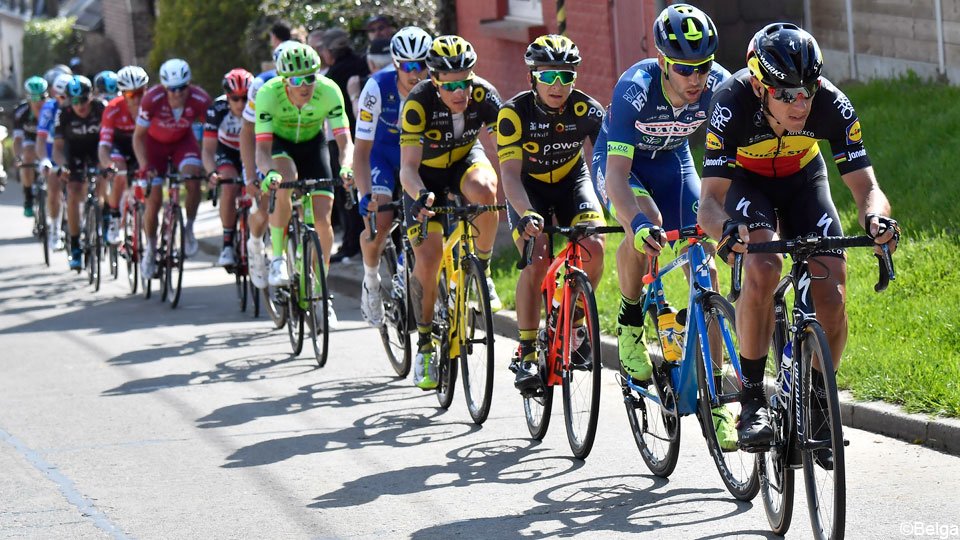 Next is the

Oude Kwaremont

, 54 km from the finish. Can Sagan and van Avermaet come back to the front?

Boonene and Trentin

sprint to be first on the climb and the front group risk to split.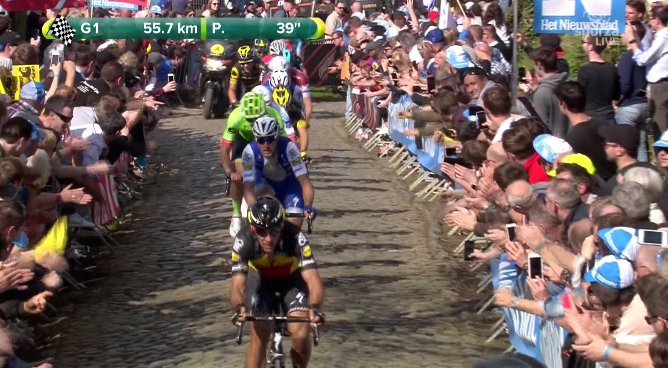 Sep

Vanmarcke

is also in front. Philippe

Gilbert attacks and gets a gap

. Troia is dropped. Gilbert goes but

the group doesn't chase

. It's still a long way to go... Luke

Rowe

and Sep

van Marcke and Macej Bodnar crashed

! Vanmarcke's bike is broken.

Paterberg

: Gilbert is 28'' ahead. Omg Sep Vanmarcke! his jersey is completely ripped!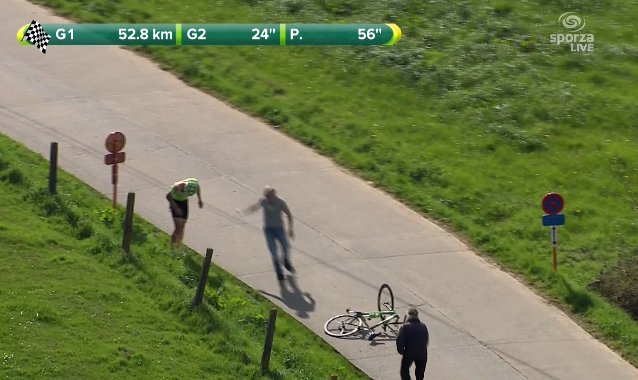 Many riders are joining the chasing group, Sagan and van Avermaet included.

Koppenberg:

Van Baarle

and Felline are chasing Gilbert.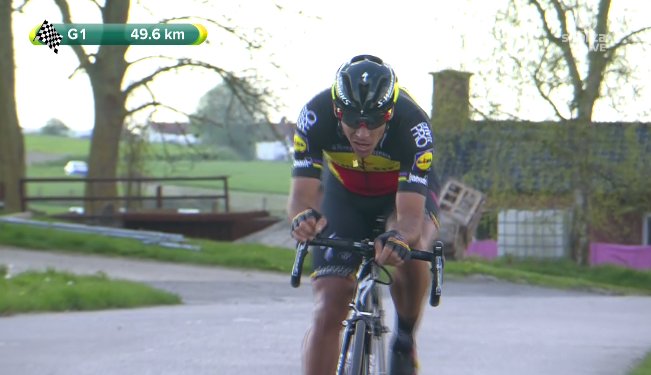 Sonny
Cobrelli
is in the Boonen's group in spite he
crashed while training
for the Ronde and
injuried his foot.
Indeed he's wearing a special shoe... Niki
Terpstra

is there too, and relatively fresh.
Taaienberg:
Boonen's chain drops!!!
He changes bike but... the chain drops again!!! race over.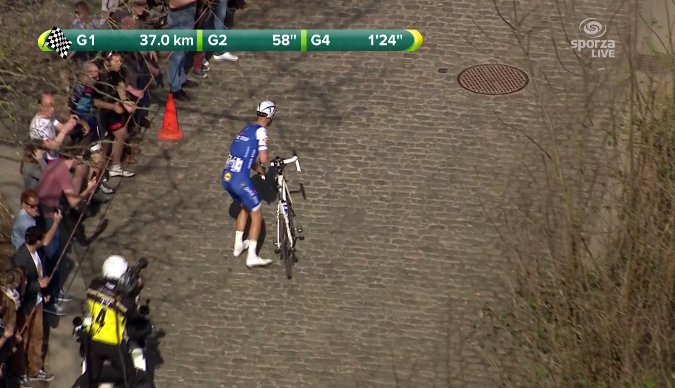 Sagan attacks! Sagan, Naesen and Van Avermaet join, as well as Trentin and Offredo. They catch Felline and Van Baarle. Seven riders in the first chasing group. Only

three climbs

are

left

: Kruisberg/Hotond, Oude Kwaremont and Paterberg.

Gilbert keeps going

and his gap is about 1'.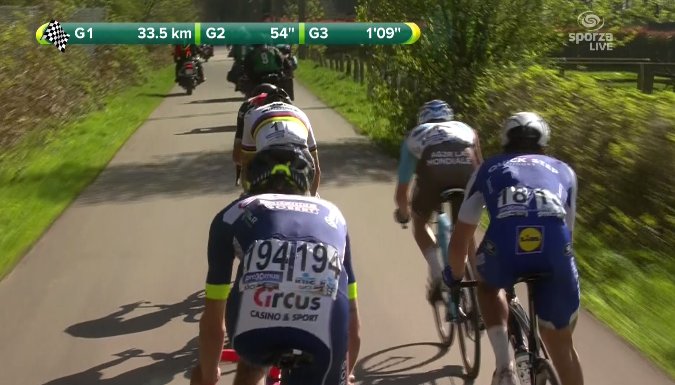 23 km to go

Greipel

gets off the peloton,

Modolo

follows with

Valgren

and Pozzato. 3rd and last time on the

Oude Kwaremont

. OMG

Sagan, van Avermaet and Naesen crash!

it seems he rode into the barrier! All back on bike but the race is over.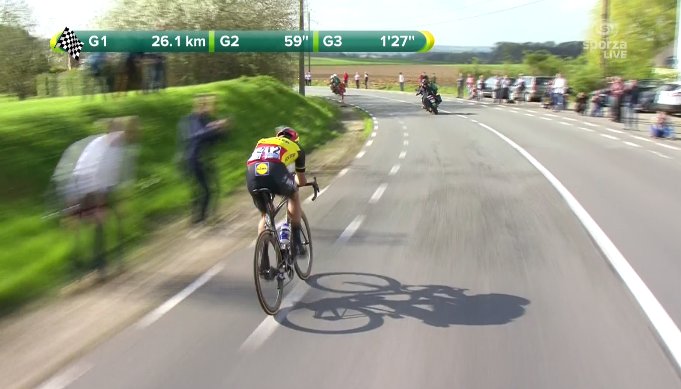 Sep

Vanmarcke

retired:

a broken finger

for him probably.

Van Avermaet

is back in the peloton and attacks,

Terpstra

on his wheel.

Gilbert is on the last climb

. In the middle there is still

Van Baarle

. 9 km to go Van Avermaet and Terpstra

join

Van Baarle.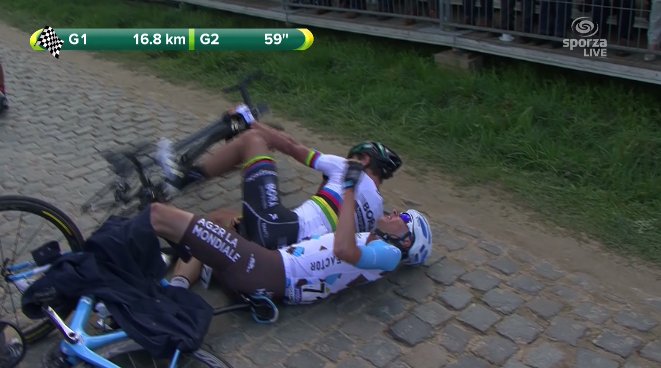 6 km to go

Gilbert's advantage is down

to 37''. Last km. It's done.

He's won

and proudly points out his jersey of Belgian National Champion. He

crosses the line on foot and rises the bike.

Sprint for the 2nd place:

van Avermaet

wins on

Terpstra

.
Coryn Rivera: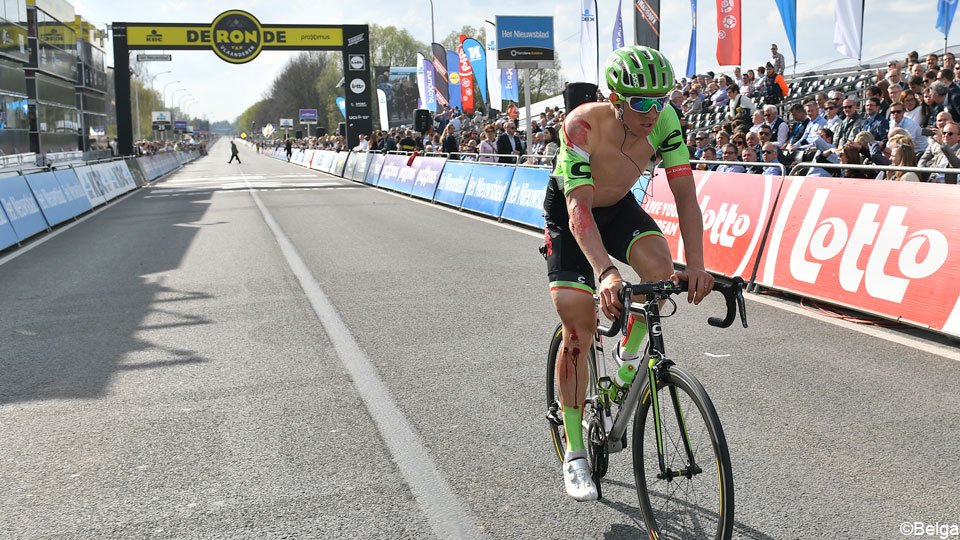 "Just to start the women's Ronde van Vlaanderen is absolutely incredible, it's such a beautiful race. The team did a brilliant job keeping the leaders safe and in a good position throughout the race. When the going got tough the team animated the race with Rozanne [Slik] taking a lead before the Kanarieberg. Here we showed our intentions to make it a hard race and when the first bunch of 30 exploded on the Kruisberg, we were up there but we couldn't follow on the climb. The team gave everything on the Kwaremont to get the group back at the wheel and we almost closed it, but in the end we couldn't follow the four best climbers. From the moment that Hans [Timmermans] made the call to go full gas for me, Ellen [van Dijk] took charge of the pace. The sprint was absolutely thrilling, but I still feel like I am dreaming."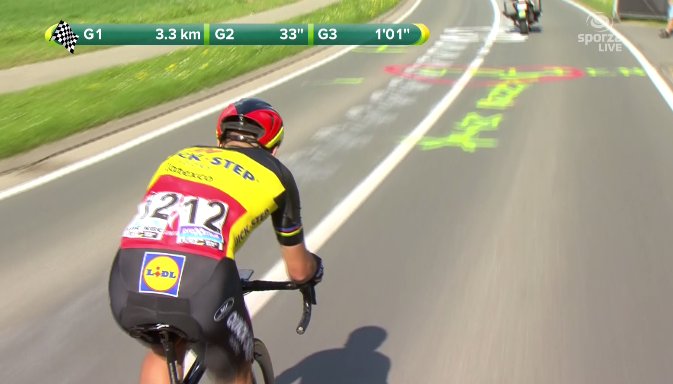 Gracie Elvin: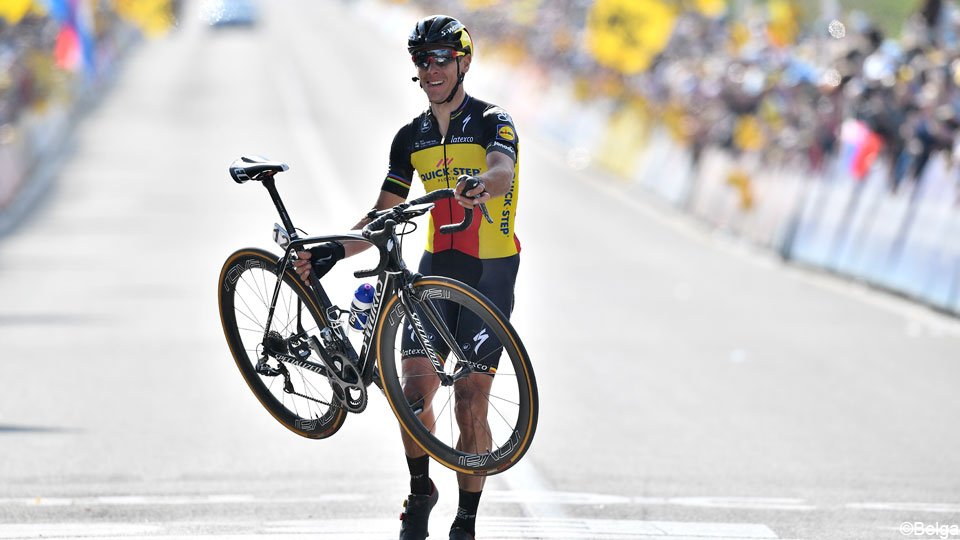 "The win would've have been amazing, but I was so close today. My best place in previous editions was not even in the front group, so to come here and be in the mix and try to go for the win is amazing.
It just goes to show all the hard work I've put in this season is paying off and how great the team was today. I really didn't have to do much before the finish, everyone had a role to play and they did it brilliantly, especially Annemiek right at the end.
She could have won today and I had to make sure I made the right decisions once that group had been caught. This is definitely a career highlight for me, I've been dreaming about this for a long time and after coming so close again and again I want to keep improving."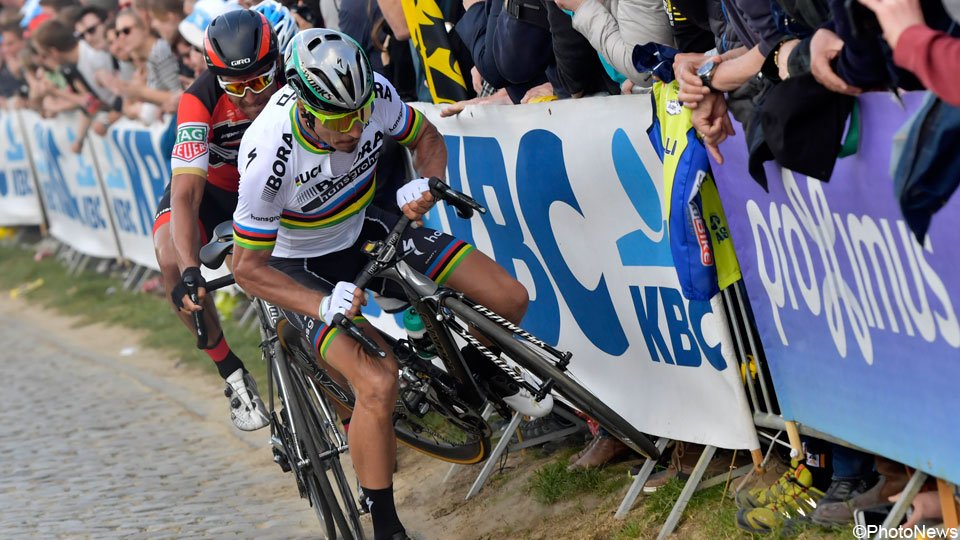 ............
Philippe Gilbert:
"I keep dreaming of the other two Monuments I still have to win.
I rode the Muur very fast with Tom on my wheel. Then it was Tom's turn.
With Tom and Matteo Trentin we had decided to attack on the Old Kwaremont. After some 100 meters, I looked back and I saw that I was alone.
I asked 10 times on the radio what to do, but I got no answer, so I just rode.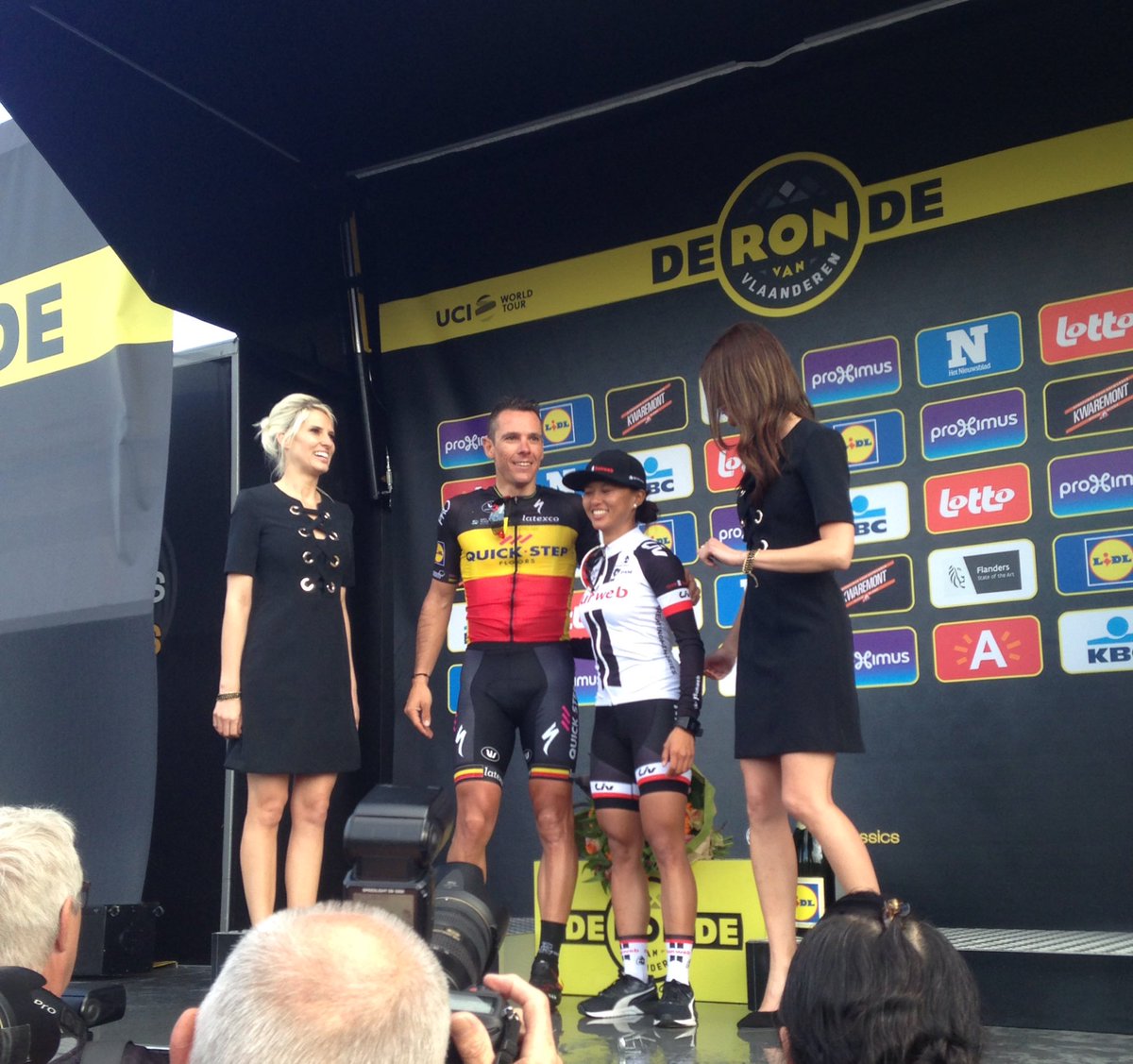 Winning here in my Belgium Champion Jersey is very special. Everybody recognised me, the support was tremendous. We rode past the village where Claude Criquielion, the last Wallonian winner of the Ronde, was born. I thought of him in the finale.
This is very emotional. My mother is here. I want to thank my team for their trust and for the hard work they have done to thwart the pursuit. This is a victory of the whole team."
"We won as a team today and everyone deserves to be on the podium, so a big thanks goes to all the guys, because they did a huge workload. After Tom initiated that move on the Muur, we continued to push and decided to go full gas on the second ascent of the Oude Kwaremont. Tom did a big pull just ahead of the hill, I took over as the road began to rise and soon noticed I opened a small gap and never looked back again. Many people thought I was crazy to attack 55 kilometers out, myself included, but I didn't go that hard, because I was aware the final 15 kilometers were very tough, so I kept some energy which I knew would prove very useful for that last part of the race.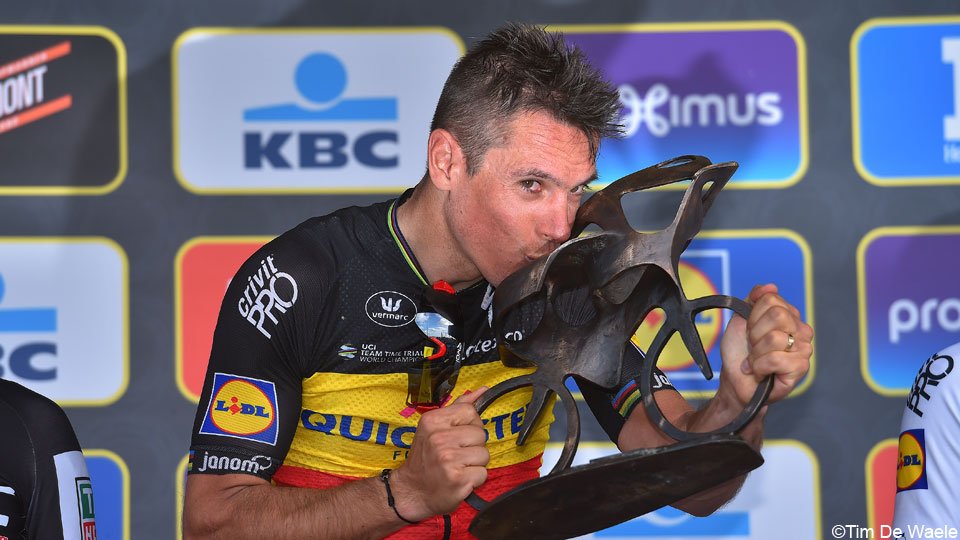 I felt good since winter, when I trained with the team in Denia. The motivation was also there, as I knew I still had it in me and Quick-Step Floors was the right team to be in. Then, going into Omloop, the form was there, but you couldn't see that on TV because I was caught behind a crash, and continued to feel stronger with every race I did.
When I approached the final kilometer, I looked behind and saw the chasers were still a long way back and thought of a nice way of celebrating my success. That's why I raised my bike over my head, because it was an important part of my victory. I'm really proud of how I managed today's race and of what I achieved!"
Greg Van Avermaet:
"It's disappointing for me because I was going for the win but it didn't happen. But that's how racing is, you have high expectations and you try to achieve them. I did my best and I came second so it is like it is. It was just a little bit of bad luck but there are still more races to come.
I think Peter Sagan was close to the barrier or the people and maybe he hit somebody on the side of the road and I was just behind so I couldn't avoid the crash. That was the moment when maybe we could have still done something with Peter and Olivier Naesen. We could have worked together but then you stop, you crash, and you lose another 30 seconds and then the race is over. If you see how close we still came at the finish I think the race was not over until that point.
Gilbert was really strong and he went early. We were a bit behind and it was hard to work together with some guys and then I had to wait until I could get away and try and close the gap. Then it was still one minute so it was a bit too far. But maybe if the crash hadn't have happened it would have been a different story. Chapeau to Philippe."
Sep Vanmarcke:
"Good luck is not by my side in the last couple of weeks. Not today. A bad crash where I lost a lot of skin, and a x ray scan shows that I have a fractured little finger.
I would like to thank my team for all the wonderful work they did in every classics already. It's a great pity that setbacks are piling up for me."
MORE TO COME
RESULTS
WOMEN
1
Coryn RIVERA
USA
SUN
25
4:02:38
2
Gracie ELVIN
AUS
ORS
29
+0
3
Chantal BLAAK
NED
DLT
28
+0
4
Annemiek VAN VLEUTEN
NED
ORS
35
+0
5
Lotte KOPECKY
BEL
LSL
22
+0
6
Elena CECCHINI
ITA
LPR
25
+0
7
Rasa LELEIVYTE
LTU
VAI
29
+0
8
Katarzyna NIEWIADOMA
POL
WM3
23
+0
9
Janneke ENSING
NED
ALE
31
+0
10
Elisa LONGO BORGHINI
ITA
WHT
26
+0
11
Maria Giulia CONFALONIERI
ITA
LWK
24
+0
12
Cecilie Uttrup LUDWIG
DEN
CBT
22
+0
13
Pauline FERRAND-PREVOT
FRA
LPR
25
+0
14
Ashleigh MOOLMAN-PASIO
RSA
CBT
32
+0
15
Anna VAN DER BREGGEN
NED
DLT
27
+0
16
Amy PIETERS
NED
DLT
26
+0
17
Elizabeth DEIGNAN
GBR
DLT
29
+5
18
Ellen VAN DIJK
NED
SUN
30
+14
19
Hannah BARNES
GBR
LPR
24
+24
20
Sheyla GUTIERREZ RUIZ
ESP
CPC
23
+3:50
21
Amalie DIDERIKSEN
DEN
DLT
21
+3:50
22
Eugenia BUJAK
POL
BTC
28
+3:50
23
Audrey CORDON RAGOT
FRA
WHT
28
+3:50
24
Arlenis SIERRA
CUB
ASA
25
+3:50
25
Shara GILLOW
AUS
FDJ
30
+3:52
26
Amanda SPRATT
AUS
ORS
30
+3:55
27
Lucinda BRAND
NED
SUN
28
+3:57
28
Olga ZABELINSKAYA
RUS
BPK
37
+5:27
29
Lisa KLEIN
GER
CBT
21
+5:32
30
Alice BARNES
GBR
DRP
22
+5:32
31
Camilla PEDERSEN
DEN
TVW
33
+5:32
32
Anna Zita Maria STRICKER
ITA
BTC
23
+5:32
33
Elise DELZENNE
FRA
LSL
28
+5:32
34
Floortje MACKAIJ
NED
SUN
22
+5:32
35
Yara KASTELIJN
NED
WM3
20
+5:32
36
Christine MAJERUS
LUX
DLT
30
+5:32
37
Marta BASTIANELLI
ITA
ALE
30
+5:32
38
Rossella RATTO
ITA
CPC
24
+5:32
39
Anouska KOSTER
NED
WM3
24
+5:32
40
Sara PENTON
SWE
TVW
29
+5:32
MEN
1
Philippe Gilbert (Bel) Quick-Step Floors
6:23:45
2
Greg Van Avermaet (Bel) BMC Racing Team
0:00:29
3
Niki Terpstra (Ned) Quick-Step Floors
4
Dylan Van Baarle (Ned) Cannondale-Drapac
5
Alexander Kristoff (Nor) Katusha-Alpecin
0:00:53
6
Sacha Modolo (Ita) Team UAE Emirates
7
John Degenkolb (Ger) Trek-Segafredo
8
Filippo Pozzato (Ita) Wilier Triestina
9
Sylvain Chavanel (Fra) Direct Energie
10
Sonny Colbrelli (Ita) Bahrain-Merida
11
Michael Valgren Andersen (Den) Astana Pro Team
12
Luke Durbridge (Aus) Orica-Scott
13
Matteo Trentin (Ita) Quick-Step Floors
14
Yoann Offredo (Fra) Wanty - Groupe Gobert
15
Gianni Moscon (Ita) Team Sky
16
Scott Thwaites (GBr) Dimension Data
17
Tony Gallopin (Fra) Lotto Soudal
18
Nelson Oliveira (Por) Movistar Team
19
Fabio Felline (Ita) Trek-Segafredo
0:01:01
20
André Greipel (Ger) Lotto Soudal
0:02:29
21
Baptiste Planckaert (Bel) Katusha-Alpecin
22
Edvald Boasson Hagen (Nor) Dimension Data
23
Oliver Naesen (Bel) AG2R La Mondiale
0:02:32
24
Alberto Bettiol (Ita) Cannondale-Drapac
25
Alexander Edmonson (Aus) Orica-Scott
0:03:30
26
Adrien Petit (Fra) Direct Energie
27
Peter Sagan (Svk) Bora-Hansgrohe
28
Nikias Arndt (Ger) Team Sunweb
29
Pim Ligthart (Ned) Roompot - Nederlandse Loterij
30
Magnus Cort Nielsen (Den) Orica-Scott
31
Julien Duval (Fra) AG2R La Mondiale
32
Matti Breschel (Den) Astana Pro Team
33
Marco Marcato (Ita) Team UAE Emirates
34
Matthieu Ladagnous (Fra) FDJ
35
Julien Vermote (Bel) Quick-Step Floors
36
Yves Lampaert (Bel) Quick-Step Floors
37
Tom Boonen (Bel) Quick-Step Floors
38
Boy Van Poppel (Ned) Trek-Segafredo
39
Frederik Backaert (Bel) Wanty - Groupe Gobert
40
Florian Senechal (Fra) Cofidis, Solutions Credits
41
Stefan Küng (Swi) BMC Racing Team
42
Nils Politt (Ger) Katusha-Alpecin
43
Luka Pibernik (Slo) Bahrain-Merida
44
Preben Van Hecke (Bel) Sport Vlaanderen - Baloise
45
Stijn Vandenbergh (Bel) AG2R La Mondiale
46
Thomas Sprengers (Bel) Sport Vlaanderen - Baloise
47
Alexey Lutsenko (Kaz) Astana Pro Team
48
Guillaume Van Keirsbulck (Bel) Wanty - Groupe Gobert
49
Silvan Dillier (Swi) BMC Racing Team
50
Eugert Zhupa (Alb) Wilier Triestina
51
Jasper Stuyven (Bel) Trek-Segafredo
52
Tom Van Asbroeck (Bel) Cannondale-Drapac
53
Andrea Pasqualon (Ita) Wanty - Groupe Gobert
54
Huub Duyn (Ned) Veranda's Willems Crelan
55
Marcus Burghardt (Ger) Bora-Hansgrohe
56
Arnaud Demare (Fra) FDJ
57
Edward Theuns (Bel) Trek-Segafredo
58
Bram Tankink (Ned) Team LottoNl-Jumbo
59
Reinardt Janse Van Rensburg (RSA) Dimension Data
60
Reto Hollenstein (Swi) Katusha-Alpecin
61
Daniel Oss (Ita) BMC Racing Team
62
Gaetan Bille (Bel) Veranda's Willems Crelan
0:03:35
63
Alex Turrin (Ita) Wilier Triestina
64
Ian Stannard (GBr) Team Sky
0:03:36
65
Bryan Coquard (Fra) Direct Energie
66
Maciej Bodnar (Pol) Bora-Hansgrohe
67
Zdenek Štybar (Cze) Quick-Step Floors
68
Ivan Garcia Cortina (Spa) Bahrain-Merida
0:04:15
69
Sam Bewley (NZl) Orica-Scott
0:04:32
70
Olivier Le Gac (Fra) FDJ
0:06:59
71
Mark Mcnally (GBr) Wanty - Groupe Gobert
72
Sebastian Langeveld (Ned) Cannondale-Drapac
73
Michael Morkov (Den) Katusha-Alpecin
74
Søren Kragh Andersen (Den) Team Sunweb
0:08:02
75
Koen De Kort (Ned) Trek-Segafredo
76
Pieter Vanspeybrouck (Bel) Wanty - Groupe Gobert
77
Federico Zurlo (Ita) Team UAE Emirates
0:08:35
78
Ramon Sinkeldam (Ned) Team Sunweb
79
Laurens De Vreese (Bel) Astana Pro Team
80
Christoph Pfingsten (Ger) Bora-Hansgrohe
81
Mike Teunissen (Ned) Team Sunweb
82
Ryan Mullen (Irl) Cannondale-Drapac
83
Iljo Keisse (Bel) Quick-Step Floors
84
Dries Van Gestel (Bel) Sport Vlaanderen - Baloise
85
Antoine Duchesne (Can) Direct Energie
86
Andrey Grivko (Ukr) Astana Pro Team
87
Imanol Erviti (Spa) Movistar Team
88
Dion Smith (NZl) Wanty - Groupe Gobert
89
Jasha Sütterlin (Ger) Movistar Team
90
Roy Curvers (Ned) Team Sunweb
91
Mathew Hayman (Aus) Orica-Scott
92
Mitch Docker (Aus) Orica-Scott
93
Wesley Kreder (Ned) Wanty - Groupe Gobert
94
Jonas Rickaert (Bel) Sport Vlaanderen - Baloise
95
Julien Morice (Fra) Direct Energie
96
Mickael Delage (Fra) FDJ
97
Lars Boom (Ned) Team LottoNl-Jumbo
98
Dimitri Claeys (Bel) Cofidis, Solutions Credits
99
Jean-Pierre Drucker (Lux) BMC Racing Team
100
Stijn Steels (Bel) Sport Vlaanderen - Baloise
101
Dries De Bondt (Bel) Veranda's Willems Crelan
102
Christian Knees (Ger) Team Sky
0:11:31
103
Hugo Houle (Can) AG2R La Mondiale
104
Bernhard Eisel (Aut) Dimension Data
105
Twan Castelijns (Ned) Team LottoNl-Jumbo
106
Lukasz Wisniowski (Pol) Team Sky
107
Kiel Reijnen (USA) Trek-Segafredo
108
Owain Doull (GBr) Team Sky
109
Stijn Devolder (Bel) Veranda's Willems Crelan
110
Tom Scully (NZl) Cannondale-Drapac
111
Rudy Barbier (Fra) AG2R La Mondiale
112
Juraj Sagan (Svk) Bora-Hansgrohe
113
Rafael Andriato (Bra) Wilier Triestina
114
Bert Van Lerberghe (Bel) Sport Vlaanderen - Baloise
115
Gijs Van Hoecke (Bel) Team LottoNl-Jumbo
116
Amund Grondahl Jansen (Nor) Team LottoNl-Jumbo
117
Yohann Gene (Fra) Direct Energie
118
Alexandre Pichot (Fra) Direct Energie
119
Gregory Rast (Swi) Trek-Segafredo
120
Luke Rowe (GBr) Team Sky
121
Tyler Farrar (USA) Dimension Data
DNF
Jonathan Diebben (GBr) Team Sky
DNF
Liam Bertazzo (Ita) Wilier Triestina
DNF
Nick Dougall (RSA) Dimension Data
DNF
Jurgen Roelandts (Bel) Lotto Soudal
DNF
Stef Van Zummeren (Bel) Veranda's Willems Crelan
DNF
Michael Goolaerts (Bel) Veranda's Willems Crelan
DNF
Jay Robert Thomson (RSA) Dimension Data
DNF
Coen Vermeltfoort (Ned) Roompot - Nederlandse Loterij
DNF
Carlos Alberto Betancur Gomez (Col) Movistar Team
DNF
Jorge Arcas Peña (Spa) Movistar Team
DNF
Héctor Carretero (Spa) Movistar Team
DNF
Brian Van Goethem (Ned) Roompot - Nederlandse Loterij
DNF
Luka Mezgec (Slo) Orica-Scott
DNF
Nuno Matos (Por) Movistar Team
DNF
Alex Dowsett (GBr) Movistar Team
DNF
Youcef Reguigui (Alg) Dimension Data
DNF
Nico Denz (Ger) AG2R La Mondiale
DNF
Tony Martin (Ger) Katusha-Alpecin
DNF
Hugo Hofstetter (Fra) Cofidis, Solutions Credits
DNF
Christophe Laporte (Fra) Cofidis, Solutions Credits
DNF
Rick Zabel (Ger) Katusha-Alpecin
DNF
Marco Haller (Aut) Katusha-Alpecin
DNF
Jens Debusschere (Bel) Lotto Soudal
DNF
Alexis Gougeard (Fra) AG2R La Mondiale
DNF
Cyril Lemoine (Fra) Cofidis, Solutions Credits
DNF
Lukas Pöstlberger (Aut) Bora-Hansgrohe
DNF
Oscar Gatto (Ita) Astana Pro Team
DNF
Nikolas Maes (Bel) Lotto Soudal
DNF
Dmitriy Gruzdev (Kaz) Astana Pro Team
DNF
Zhandos Bizhigitov (Kaz) Astana Pro Team
DNF
Gediminas Bagdonas (Ltu) AG2R La Mondiale
DNF
Giuseppe Fonzi (Ita) Wilier Triestina
DNF
Otto Vergaerde (Bel) Veranda's Willems Crelan
DNF
Matteo Draperi (Ita) Wilier Triestina
DNF
Salvatore Puccio (Ita) Team Sky
DNF
Michaël Van Staeyen (Bel) Cofidis, Solutions Credits
DNF
Borut Bozic (Slo) Bahrain-Merida
DNF
Loic Chetout (Fra) Cofidis, Solutions Credits
DNF
Marko Kump (Slo) Team UAE Emirates
DNF
Ion Ander Insausti Irastorza (Spa) Bahrain-Merida
DNF
Phil Bauhaus (Ger) Team Sunweb
DNF
Taylor Phinney (USA) Cannondale-Drapac
DNF
Bert De Backer (Bel) Team Sunweb
DNF
Kenneth Van Rooy (Bel) Sport Vlaanderen - Baloise
DNF
Sep Vanmarcke (Bel) Cannondale-Drapac
DNF
Zico Waeytens (Bel) Team Sunweb
DNF
Kenneth Vanbilsen (Bel) Cofidis, Solutions Credits
DNF
Andrea Guardini (Ita) Team UAE Emirates
DNF
Marc Sarreau (Fra) FDJ
DNF
Vegard Stake Laengen (Nor) Team UAE Emirates
DNF
Berden De Vries (Ned) Roompot - Nederlandse Loterij
DNF
Jesper Asselman (Ned) Roompot - Nederlandse Loterij
DNF
Oliviero Troia (Ita) Team UAE Emirates
DNF
Francisco Jose Ventoso Alberdi (Spa) BMC Racing Team
DNF
Manuel Quinziato (Ita) BMC Racing Team
DNF
Martin Elmiger (Swi) BMC Racing Team
DNF
Sander Cordeel (Bel) Veranda's Willems Crelan
DNF
Simone Consonni (Ita) Team UAE Emirates
DNF
Marcel Sieberg (Ger) Lotto Soudal
DNF
Niccolo' Bonifazio (Ita) Bahrain-Merida
DNF
Romain Cardis (Fra) Direct Energie
DNF
Elmar Reinders (Ned) Roompot - Nederlandse Loterij
DNF
Chun Kai Feng (Tpe) Bahrain-Merida
DNF
Meiyin Wang (Chn) Bahrain-Merida
DNF
Andreas Schillinger (Ger) Bora-Hansgrohe
DNF
Andre Looij (Ned) Roompot - Nederlandse Loterij
DNF
Edward Planckaert (Bel) Sport Vlaanderen - Baloise
DNF
Jos Van Emden (Ned) Team LottoNl-Jumbo
DNF
Tiesj Benoot (Bel) Lotto Soudal
DNF
Steven Lammertink (Ned) Team LottoNl-Jumbo
DNF
Maarten Wynants (Bel) Team LottoNl-Jumbo
DNF
Jasper De Buyst (Bel) Lotto Soudal
DNF
Jacopo Guarnieri (Ita) FDJ
DNF
Johan Le Bon (Fra) FDJ
DNF
Ignatas Konovalovas (Ltu) FDJ
DNF
Taco Van Der Hoorn (Ned) Roompot - Nederlandse Loterij
DNF
Rüdiger Selig (Ger) Bora-Hansgrohe
DNS
Jens Keukeleire (Bel) Orica-Scott