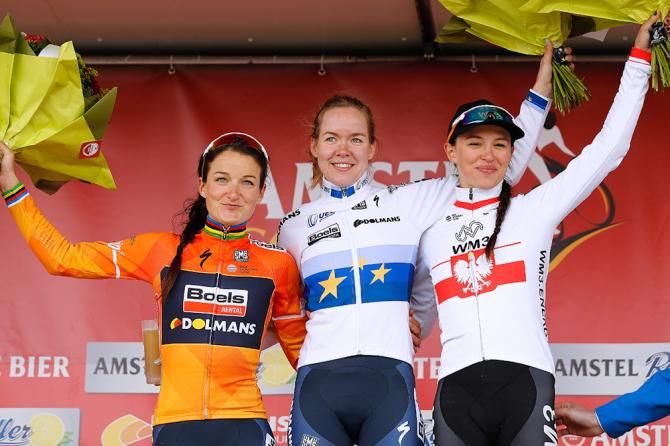 Alejandro Valverde:
"It was a victory based on confidence, strength and a great team supporting me all the way. I had lots of respect to what my rivals could do, but also knew that I was in great physical condition, and I had to take advantage from it. We believed we could win it again, and the whole team worked from the very first kilometer to keep the race together before the finish. There were plenty of attacks into the final 50 km by riders from Quick Step and BMC, but ourselves, as well as Orica who took a big share of the work in the finale, made sure it all came down to the last Huy climb. We knew it would still be difficult to win there, because only one can achieve it and many fight for it, but to be honest, this feels like a race made for me.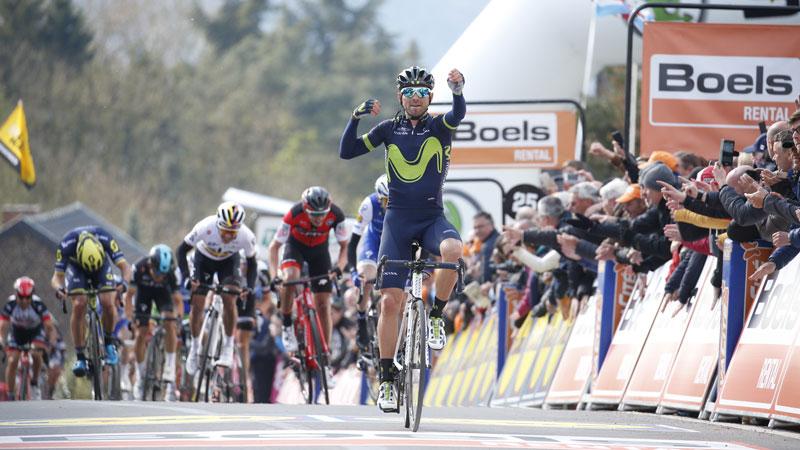 Rojas and Dani Moreno set me up in perfect position before the final kilometer and I took to the front before the double hairpin halfway through the ascent - I wanted to make sure everything was under control and also go on my own trajectory through the last few corners. I went after Gaudu's attack and didn't hesitate to launch my sprint afterwards. Even though it might seem easier, it was just as difficult as the other four wins I got here. There's no secret: you need to be in perfect form and have no doubts about how to reach when someone jumps in the final meters. No one had four victories here, and now that I've got five, it seems like it will be a record very hard to beat.
Liège? We'll see how we feel on Sunday. It's a race that I really like a lot and won three times. I'm in great shape at the moment, but as always, enjoying this win comes first and thinking about what's next comes after that."
"It was cold in the beginning and a bit difficult, but towards the end we went with our plan and on the second ascent of the Mur de Huy

I attacked. Problem was that too many of the guys behind where still fresh

and that made it impossible to go all the way to the line. Overall, I am satisfied with my legs and how I felt, and I take my ride in the Ardennes so far as a good omen for the Giro d'Italia"
Daniel Martin:
"This year's Flèche Wallonne was strange, because

we had a strong headwind on the Mur

and the peloton was very nervous.

That made for a messy finish

and as a result I didn't have the best position on the climb, where my plan was to take Alejandro's wheel. Although things weren't perfect and I didn't have good legs today, I managed to come back and grab second place at the end of the race, and this makes me look with optimism to Liège–Bastogne–Liège."
Dylan Teuns:
"I was able to keep calm until the last two or three kilometers.

The only important thing with the Mur de Huy is positioning

, to be in front, and to try and ride as fast as possible up the climb. With Alessandro De Marchi in front in the final 30km we didn't have to chase, and even if we didn't have De Marchi,

we were able to wait because Valverde (Movistar Team) was the big favorite

. The pressure was on him and Movistar Team, and ORICA-SCOTT also took the pressure because they were riding for Michael Albasini. For us it was perfect to have De Marchi in front.
You need to be in the top ten riders when you approach the Mur de Huy.

I knew from two years ago because I was in 25th or 30th position and I came up to 5th position at the steepest part but by then I had already made a big effort. I was with the big favorites towards the top of the climb so it was the perfect position for me. I was here in 2011 when Philippe Gilbert won and I was at the place where he attacked but I was boxed in by Michael Kwiatkowski and Sergio Heano, and I was thinking this was the moment to go. But

when you are in a race with a top favorite like Valverde you need to wait until he goes.

I tried to follow and I could for five meters but then I lost a bike length. Then it was just about keeping going to the end. The legs hurt.
In 2015 I was a neo pro and now it's my third year with BMC Racing Team. I did my first Grand Tour last year and they always say that this helps you to step up a lot. So, I guess that helped me. I'm 25 now and Valerde is 37 so I think I still have a lot of years to progress and try and win this race one day. Today I shared the leadership with Samuel Sanchez and I took my chance that I got from the team. I'm really thankful for this chance from the team and I think I still have time to grow, to compete more for winning in the next few years."
RESULTS
WOMEN
1
Anna Van Der Breggen (Ned) Boels Dolmans Cyclingteam
3:21:06
2
Elizabeth Deignan (GBr) Boels Dolmans Cyclingteam
0:00:16
3
Katarzyna Niewiadoma (Pol) WM3 Pro Cycling
0:00:25
4
Annemiek Van Vleuten (Ned) Orica Scott Women
0:00:43
5
Shara Gillow (Aus) FDJ Nouvelle Aquitaine Futuroscope
0:00:49
6
Ashleigh Moolman-Pasio (RSA) Cervelo Bigla Pro Cycling Team
0:00:54
7
Coryn Rivera (USA) Team Sunweb Women
0:00:56
8
Janneke Ensing (Ned) Alé Cipollini
0:00:58
9
Katrin Garfoot (Aus) Orica Scott Women
0:01:00
10
Flavia Oliveira (Bra) Lares-Waowdeals
0:01:02
11
Audrey Cordon Ragot (Fra) Wiggle High5
0:01:09
12
Marie Vilmann (Den) Cervelo Bigla Pro Cycling Team
13
Tetiana Riabchenko (Ukr) Lensworld-Kuota
0:01:21
14
Claudia Lichtenberg (Ger) Wiggle High5
0:01:27
15
Polona Batagelj (Slo) BTC City Ljubljana
16
Ellen Van Dijk (Ned) Team Sunweb Women
0:01:32
17
Cecilie Uttrup Ludwig (Den) Cervelo Bigla Pro Cycling Team
0:01:34
18
Eugenia Bujak (Pol) BTC City Ljubljana
19
Hanna Nilsson (Swe) BTC City Ljubljana
20
Danielle King (GBr) Cylance Pro Cycling
21
Katrine Aalerud (Nor) Hitec Products
22
Tatiana Guderzo (Ita) Lensworld-Kuota
0:01:37
23
Sheyla Gutierrez (Spa) Cylance Pro Cycling
0:01:42
24
Sofia Beggin (Ita) Astana Women's Team
0:01:44
25
Lara Vieceli (Ita) Astana Women's Team
0:01:51
26
Roxane Knetemann (Ned) FDJ Nouvelle Aquitaine Futuroscope
0:01:55
27
Megan Guarnier (USA) Boels Dolmans Cyclingteam
0:01:59
28
Pauline Ferrand-Prevot (Fra) Canyon SRAM Racing
0:02:02
29
Alena Amialiusik (Blr) Canyon SRAM Racing
0:02:06
30
Sabrina Stultiens (Ned) Team Sunweb Women
0:02:21
31
Leah Kirchmann (Can) Team Sunweb Women
0:04:06
32
Sofia Bertizzolo (Ita) Astana Women's Team
33
Lorena Llamas (Spa) Bizkaia-Durango
34
Moniek Tenniglo (Ned) WM3 Pro Cycling
0:04:11
35
Kelly Van Den Steen (Bel) Sport Vlaanderen-Etixx
0:04:13
36
Amelie Rivat (Fra) Lares-Waowdeals
37
Marion Sicot (Fra) France
38
Juliette Labous (Fra) Team Sunweb Women
39
Anna Christian (GBr) Drops Cycling Team
40
Sofie De Vuyst (Bel) Lares-Waowdeals
41
Agnieszka Skalniak (Pol) Astana Women's Team
0:04:17
42
Camilla Pedersen (Den) Team Veloconcept Women
0:04:18
43
Riejanne Markus (Ned) WM3 Pro Cycling
44
Valentina Scandolara (Ita) WM3 Pro Cycling
45
Lena Gerault (Fra) France
46
Rossella Ratto (Ita) Cylance Pro Cycling
0:04:23
47
Susanna Zorzi (Ita) Drops Cycling Team
0:04:24
48
Elise Delzenne (Fra) Lotto Soudal Ladies
49
Pauline Clouard (Fra) France
50
Amanda Spratt (Aus) Orica Scott Women
0:04:27
51
Eri Yonamine (Jpn) FDJ Nouvelle Aquitaine Futuroscope
52
Laura Camila Lozano (Col) Servetto Giusta
53
Georgia Williams (NZl) Orica Scott Women
54
Karol-Ann Canuel (Can) Boels Dolmans Cyclingteam
55
Anna Potokina (Rus) Servetto Giusta
56
Jip Van Den Bos (Ned) Boels Dolmans Cyclingteam
57
Martina Ritter (Aut) Drops Cycling Team
58
Clara Koppenburg (Ger) Cervelo Bigla Pro Cycling Team
59
Urša Pintar (Slo) BTC City Ljubljana
60
Elizabeth Holden (GBr) Drops Cycling Team
0:04:35
61
Soraya Paladin (Ita) Alé Cipollini
0:04:37
62
Jenelle Crooks (Aus) Orica Scott Women
0:04:41
63
Katarzyna Pawlowska (Pol) Boels Dolmans Cyclingteam
0:04:43
64
Anabelle Dreville (Fra) FDJ Nouvelle Aquitaine Futuroscope
0:04:45
65
Valerie Demey (Bel) Sport Vlaanderen-Etixx
0:04:56
66
Alison Jackson (Can) BePink Cogeas
0:04:58
67
Malgorzata Jasinska (Pol) Cylance Pro Cycling
0:05:03
68
Rozanne Slik (Ned) Team Sunweb Women
0:05:13
69
Elena Cecchini (Ita) Canyon SRAM Racing
0:05:16
70
Hannah Barnes (GBr) Canyon SRAM Racing
71
Lauren Kitchen (Aus) WM3 Pro Cycling
72
Kseniia Dobrynina (Rus) Servetto Giusta
0:05:21
73
Charlotte Bravard (Fra) FDJ Nouvelle Aquitaine Futuroscope
0:05:26
74
Olga Zabelinskaya (Rus) BePink Cogeas
0:05:29
75
Aude Biannic (Fra) FDJ Nouvelle Aquitaine Futuroscope
0:05:33
76
Alice Maria Arzuffi (Ita) Lensworld-Kuota
0:07:22
77
Annette Edmondson (Aus) Wiggle High5
0:09:01
78
Allie Dragoo (USA) Cervelo Bigla Pro Cycling Team
0:09:20
79
Daniela Reis (Por) Lares-Waowdeals
0:09:23
80
Lourdes Oyarbide (Spa) Bizkaia-Durango
0:09:42
81
Margarita Victoria Garcia (Spa) Bizkaia-Durango
0:10:28
82
Olena Pavlukhina (Aze) Astana Women's Team
0:11:14
83
Iraida Garcia (Cub) S.C. Michela Fanini
0:11:29
84
Jessy Druyts (Bel) Sport Vlaanderen-Etixx
0:11:33
85
Sara Penton (Swe) Team Veloconcept Women
0:11:41
86
Wubbigje Regina Knol (Ned) Cylance Pro Cycling
0:11:46
87
Thalita De Jong (Ned) Lares-Waowdeals
0:11:51
88
Anisha Vekemans (Bel) Alé Cipollini
0:11:53
89
Susanne Andersen (Nor) Hitec Products
0:11:56
90
Amber Leone Neben (USA) Team Veloconcept Women
91
Nathalie Verschelden (Bel) Lensworld-Kuota
0:11:57
92
Lucie Lahaye (Fra) France
0:11:59
93
Katia Ragusa (Ita) BePink Cogeas
0:12:03
94
Emilie Moberg (Nor) Hitec Products
95
Sara Mustonen Lichan (Swe) Team Veloconcept Women
96
Miriam Bjørnsrud (Nor) Hitec Products
97
Roos Hoogeboom (Ned) Bizkaia-Durango
98
Mia Radotic (Cro) BTC City Ljubljana
0:12:12
99
Abigail Van Twisk (GBr) Drops Cycling Team
100
Mayuko Hagiwara (Jpn) Wiggle High5
0:12:19
101
Annelies Dom (Bel) Lotto Soudal Ladies
102
Sarah Rijkes (Aut) Lares-Waowdeals
103
Ilona Hoeksma (Ned) Hitec Products
104
Jessica Allen (Aus) Orica Scott Women
105
Anna Trevisi (Ita) Alé Cipollini
0:12:41
DNF
Natalie Kerwin (NZl) Team Veloconcept Women
DNF
Marjolaine Bazin (Fra) SAS - MACOGEP
DNF
Jelena Eric (Srb) BTC City Ljubljana
DNF
Daiva Tuslaite (Ltu) Alé Cipollini
DNF
Ingvild Gåskjenn (Nor) Hitec Products
DNF
Kseniya Tuhai (Blr) BePink Cogeas
DNF
Annalisa Cucinotta (Ita) Lensworld-Kuota
DNF
Demmy Druyts (Bel) Sport Vlaanderen-Etixx
DNF
Lierni Lekuona Etxebeste (Spa) Bizkaia-Durango
DNF
Carlee Taylor (Aus) Alé Cipollini
DNF
Doris Schweizer (Swi) Team Veloconcept Women
DNF
Anna Ceoloni (Ita) S.C. Michela Fanini
DNF
Mónika Kiraly (Hun) S.C. Michela Fanini
DNF
Francesca Balducci (Ita) S.C. Michela Fanini
DNF
Valeriya Kononenko (Ukr) S.C. Michela Fanini
DNF
Jutatip Maneephan (Tha) S.C. Michela Fanini
DNF
Miho Yoshikawa (Jpn) Bizkaia-Durango
DNF
Ilaria Sanguineti (Ita) BePink Cogeas
DNF
Giorgia Bronzini (Ita) Wiggle High5
DNF
Emilia Fahlin (Swe) Wiggle High5
DNF
Trixi Worrack (Ger) Canyon SRAM Racing
DNF
Tiffany Cromwell (Aus) Canyon SRAM Racing
DNF
Ting Ying Huang (Tpe) Servetto Giusta
DNF
Anna Plichta (Pol) WM3 Pro Cycling
DNF
Chantal Hoffmann (Lux) Lotto Soudal Ladies
DNF
Puck Moonen (Ned) Lotto Soudal Ladies
DNF
Maria Vittoria Sperotto (Ita) BePink Cogeas
DNF
Marie Gielen (Fra) France
DNF
Marta Tagliaferro (Ita) Cylance Pro Cycling
DNF
Fien Delbaere (Bel) Sport Vlaanderen-Etixx
DNF
Abby-Mae Parkinson (GBr) Drops Cycling Team
DNF
Alice Gasparini (Ita) Servetto Giusta
DNF
Anna Kiesenhofer (Aut) Lotto Soudal Ladies
DNF
Isabelle Beckers (Bel) Lotto Soudal Ladies
MEN
1
Alejandro Valverde (Spa) Movistar Team
5:15:37
2
Daniel Martin (Irl) Quick-Step Floors
0:00:01
3
Dylan Teuns (Bel) BMC Racing Team
4
Sergio Henao (Col) Team Sky
5
Michael Albasini (Swi) Orica-Scott
6
Warren Barguil (Fra) Team Sunweb
7
Michal Kwiatkowski (Pol) Team Sky
8
Rudy Molard (Fra) FDJ
9
David Gaudu (Fra) FDJ
10
Diego Ulissi (Ita) UAE Team Emirates
11
Michael Woods (Can) Cannondale-Drapac
12
Jon Izaguirre (Spa) Bahrain-Merida
13
Romain Bardet (Fra) AG2R La Mondiale
0:00:08
14
Pierre Roger Latour (Fra) AG2R La Mondiale
15
Robert Gesink (Ned) Team LottoNl-Jumbo
16
Patrick Konrad (Aut) Bora-Hansgrohe
17
Jelle Vanendert (Bel) Lotto Soudal
0:00:13
18
Tim Wellens (Bel) Lotto Soudal
19
Jay McCarthy (Aus) Bora-Hansgrohe
20
Jonathan Hivert (Fra) Direct Energie
0:00:16
21
Tom-Jelte Slagter (Ned) Cannondale-Drapac
22
Jakob Fuglsang (Den) Astana Pro Team
23
Rigoberto Uran (Col) Cannondale-Drapac
0:00:21
24
Eduardo Sepulveda (Arg) Fortuneo - Vital Concept
25
Maurits Lammertink (Ned) Katusha-Alpecin
0:00:24
26
Alexis Vuillermoz (Fra) AG2R La Mondiale
27
Mathias Frank (Swi) AG2R La Mondiale
0:00:29
28
Igor Anton (Spa) Dimension Data
29
Rafal Majka (Pol) Bora-Hansgrohe
0:00:35
30
Diego Rosa (Ita) Team Sky
31
Rui Costa (Por) UAE Team Emirates
0:00:37
32
Georg Preidler (Aut) Team Sunweb
0:00:39
33
Pavel Kochetkov (Rus) Katusha-Alpecin
0:00:42
34
Arthur Vichot (Fra) FDJ
35
Elie Gesbert (Fra) Fortuneo - Vital Concept
0:00:45
36
Nathan Haas (Aus) Dimension Data
37
Jarlinson Pantano (Col) Trek-Segafredo
0:00:48
38
Paul Martens (Ger) Team LottoNl-Jumbo
0:00:50
39
Bob Jungels (Lux) Quick-Step Floors
0:00:53
40
Xandro Meurisse (Bel) Wanty - Groupe Gobert
0:00:54
41
Thomas Sprengers (Bel) Sport Vlaanderen - Baloise
42
Thomas Degand (Bel) Wanty - Groupe Gobert
43
Rúben Guerreiro (Por) Trek-Segafredo
44
Mikael Cherel (Fra) AG2R La Mondiale
45
Louis Meintjes (RSA) UAE Team Emirates
46
Samuel Sanchez (Spa) BMC Racing Team
0:01:01
47
Ben Hermans (Bel) BMC Racing Team
48
Julien Simon (Fra) Cofidis, Solutions Credits
49
Daniel Moreno (Spa) Movistar Team
50
Guillaume Martin (Fra) Wanty - Groupe Gobert
51
Laurens De Plus (Bel) Quick-Step Floors
52
Cyril Gautier (Fra) AG2R La Mondiale
53
Simone Petilli (Ita) UAE Team Emirates
54
Eliot Lietaer (Bel) Sport Vlaanderen - Baloise
55
Michael Gogl (Aut) Trek-Segafredo
0:01:13
56
Maxime Vantomme (Bel) WB Veranclassic Aqua Protect
57
Pello Bilbao (Spa) Astana Pro Team
58
Jacques Janse Van Rensburg (RSA) Dimension Data
0:01:17
59
Floris De Tier (Bel) Team LottoNl-Jumbo
0:01:21
60
Serge Pauwels (Bel) Dimension Data
61
Lilian Calmejane (Fra) Direct Energie
62
Silvan Dillier (Swi) BMC Racing Team
63
Armindo Fonseca (Fra) Fortuneo - Vital Concept
0:01:26
64
Sebastian Henao (Col) Team Sky
65
Bart De Clercq (Bel) Lotto Soudal
0:01:34
66
Wilco Kelderman (Ned) Team Sunweb
67
Michael Matthews (Aus) Team Sunweb
68
Enrico Battaglin (Ita) Team LottoNl-Jumbo
69
Jose Rojas (Spa) Movistar Team
0:01:38
70
Dion Smith (NZl) Wanty - Groupe Gobert
0:01:44
71
Juan Jose Lobato (Spa) Team LottoNl-Jumbo
0:01:52
72
Roman Kreuziger (Cze) Orica-Scott
0:02:09
73
Merhawi Kudus (Eri) Dimension Data
74
André Cardoso (Por) Trek-Segafredo
75
Carlos Betancur (Col) Movistar Team
76
Haimar Zubeldia (Spa) Trek-Segafredo
77
Luis Angel Mate (Spa) Cofidis, Solutions Credits
78
Stéphane Rossetto (Fra) Cofidis, Solutions Credits
0:02:13
79
Jesus Herrada (Spa) Movistar Team
80
Ben O'Connor (Aus) Dimension Data
81
Sander Armee (Bel) Lotto Soudal
82
Dimitri Peyskens (Bel) WB Veranclassic Aqua Protect
83
Alex Howes (USA) Cannondale-Drapac
84
Simon Clarke (Aus) Cannondale-Drapac
85
Brendan Canty (Aus) Cannondale-Drapac
86
Maxime Bouet (Fra) Fortuneo - Vital Concept
87
Brice Feillu (Fra) Fortuneo - Vital Concept
0:02:20
88
Alexey Vermeulen (USA) Team LottoNl-Jumbo
89
Andrea Pasqualon (Ita) Wanty - Groupe Gobert
0:02:23
90
Perrig Quemeneur (Fra) Direct Energie
91
Romain Sicard (Fra) Direct Energie
0:02:27
92
Nicolas Edet (Fra) Cofidis, Solutions Credits
93
Nikita Stalnov (Kaz) Astana Pro Team
0:02:31
94
Giovanni Visconti (Ita) Bahrain-Merida
95
Antoine Warnier (Bel) WB Veranclassic Aqua Protect
96
Michael Schär (Swi) BMC Racing Team
97
Bryan Nauleau (Fra) Direct Energie
98
Amael Moinard (Fra) BMC Racing Team
99
Sébastien Delfosse (Bel) WB Veranclassic Aqua Protect
0:02:41
100
Christophe Masson (Fra) WB Veranclassic Aqua Protect
101
Dries Devenyns (Bel) Quick-Step Floors
0:02:46
102
Yukiya Arashiro (Jpn) Bahrain-Merida
103
Manuele Mori (Ita) UAE Team Emirates
0:02:56
104
Gianni Moscon (Ita) Team Sky
105
Michel Kreder (Ned) Aqua Blue Sport
106
Tosh Van Der Sande (Bel) Lotto Soudal
0:03:00
107
Guillaume Bonnafond (Fra) Cofidis, Solutions Credits
0:03:04
108
Lennard Hofstede (Ned) Team Sunweb
109
Ángel Vicioso (Spa) Katusha-Alpecin
0:03:11
110
Fabien Grellier (Fra) Direct Energie
0:03:14
111
Kevin Reza (Fra) FDJ
0:03:19
112
Tao Geoghegan Hart (GBr) Team Sky
0:03:22
113
Franck Bonnamour (Fra) Fortuneo - Vital Concept
0:03:30
114
Christoph Pfingsten (Ger) Bora-Hansgrohe
0:03:32
115
Maximilian Schachmann (Ger) Quick-Step Floors
116
Jenthe Biermans (Bel) Katusha-Alpecin
0:03:55
117
Preben Van Hecke (Bel) Sport Vlaanderen - Baloise
118
Marco Minnaard (Ned) Wanty - Groupe Gobert
0:04:20
119
Tomasz Marczynski (Pol) Lotto Soudal
0:04:36
120
Mark Christian (GBr) Aqua Blue Sport
121
Gregor Mühlberger (Aut) Bora-Hansgrohe
122
Gianluca Brambilla (Ita) Quick-Step Floors
0:05:51
123
Michal Golas (Pol) Team Sky
124
Cesare Benedetti (Ita) Bora-Hansgrohe
125
Jack Haig (Aus) Orica-Scott
126
Petr Vakoc (Cze) Quick-Step Floors
0:05:54
127
Matej Mohoric (Slo) UAE Team Emirates
128
Matteo Bono (Ita) UAE Team Emirates
129
Jaco Venter (RSA) Dimension Data
130
Christopher Juul Jensen (Den) Orica-Scott
0:06:09
131
Tsgabu Grmay (Eth) Bahrain-Merida
0:06:16
132
Tanel Kangert (Est) Astana Pro Team
0:06:42
133
Daryl Impey (RSA) Orica-Scott
0:07:04
134
Toms Skujins (Lat) Cannondale-Drapac
135
Rory Sutherland (Aus) Movistar Team
136
Andrey Grivko (Ukr) Astana Pro Team
0:07:14
137
Damien Howson (Aus) Orica-Scott
0:07:16
138
Bert-Jan Lindeman (Ned) Team LottoNl-Jumbo
0:07:46
139
Cedric Pineau (Fra) FDJ
0:08:56
140
Quentin Jauregui (Fra) AG2R La Mondiale
141
Axel Domont (Fra) AG2R La Mondiale
0:08:59
142
Paul Ourselin (Fra) Direct Energie
143
Lukas Pöstlberger (Aut) Bora-Hansgrohe
144
Anthony Perez (Fra) Cofidis, Solutions Credits
145
Alessandro De Marchi (Ita) BMC Racing Team
146
Floris Gerts (Ned) BMC Racing Team
147
Grega Bole (Slo) Bahrain-Merida
0:09:05
148
Simon Geschke (Ger) Team Sunweb
149
Sindre Skjøstad Lunke (Nor) Team Sunweb
150
Gregory Habeaux (Bel) WB Veranclassic Aqua Protect
151
Viacheslav Kuznetsov (Rus) Katusha-Alpecin
152
Gregory Daniel (USA) Trek-Segafredo
0:12:40
153
Fumiyuki Beppu (Jpn) Trek-Segafredo
154
Johannes Fröhlinger (Ger) Team Sunweb
155
Jesus Hernandez (Spa) Trek-Segafredo
156
Jens Wallays (Bel) Sport Vlaanderen - Baloise
0:12:50
157
Romain Guillemois (Fra) Direct Energie
0:12:52
158
Antonio Nibali (Ita) Bahrain-Merida
0:12:55
159
Johann Van Zyl (RSA) Dimension Data
160
Justin Jules (Fra) WB Veranclassic Aqua Protect
161
Thomas Scully (NZl) Cannondale-Drapac
0:13:00
162
Arnaud Courteille (Fra) FDJ
163
Koen Bouwman (Ned) Team LottoNl-Jumbo
164
Alexey Lutsenko (Kaz) Astana Pro Team
0:13:15
165
Jerome Cousin (Fra) Cofidis, Solutions Credits
0:13:41
166
Yoann Bagot (Fra) Cofidis, Solutions Credits