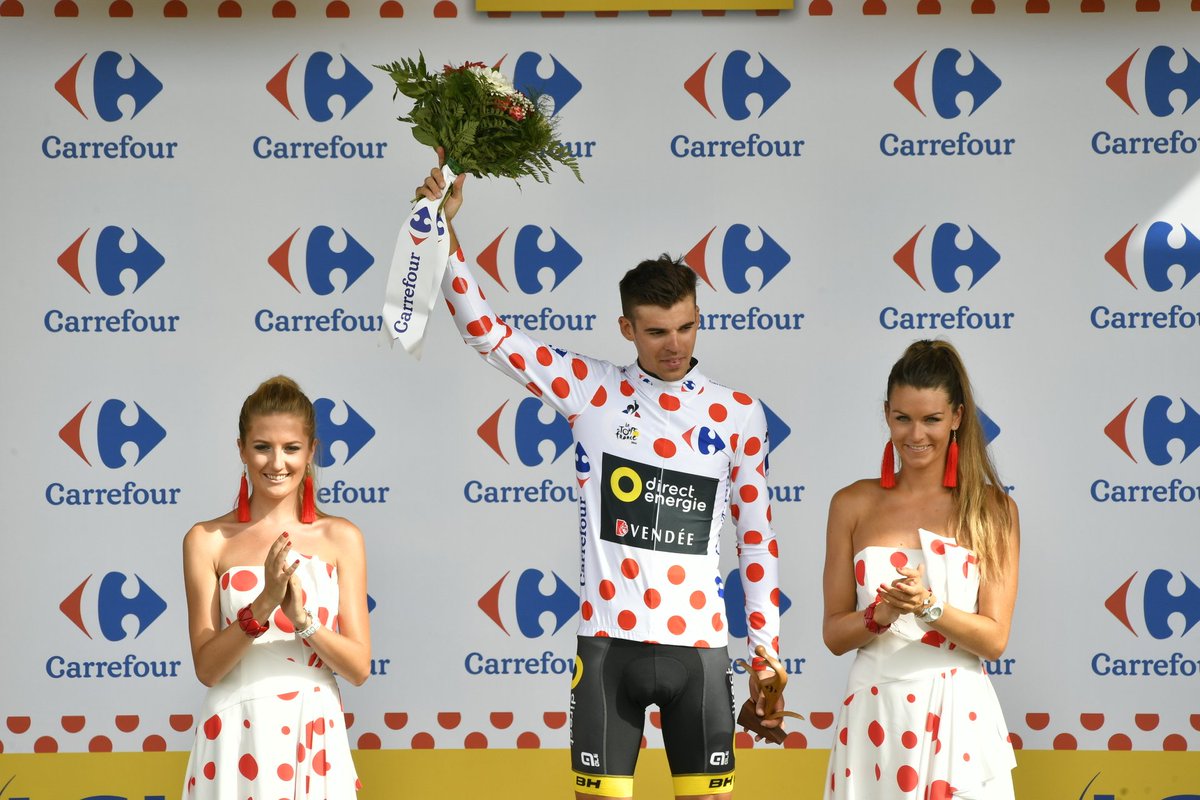 Stage 8 Calmejanel solo
This guy.

Lilian Calmejanel.

He won solo, 37'' ahead Robert Gesink.

Marcel Kittel

instead was 0.0003 seconds ahead of Edvald Boasson Hagen.

Matter of time but the time doesn't matter

: a bit of it is enough, the first one wins and the second one is a loser.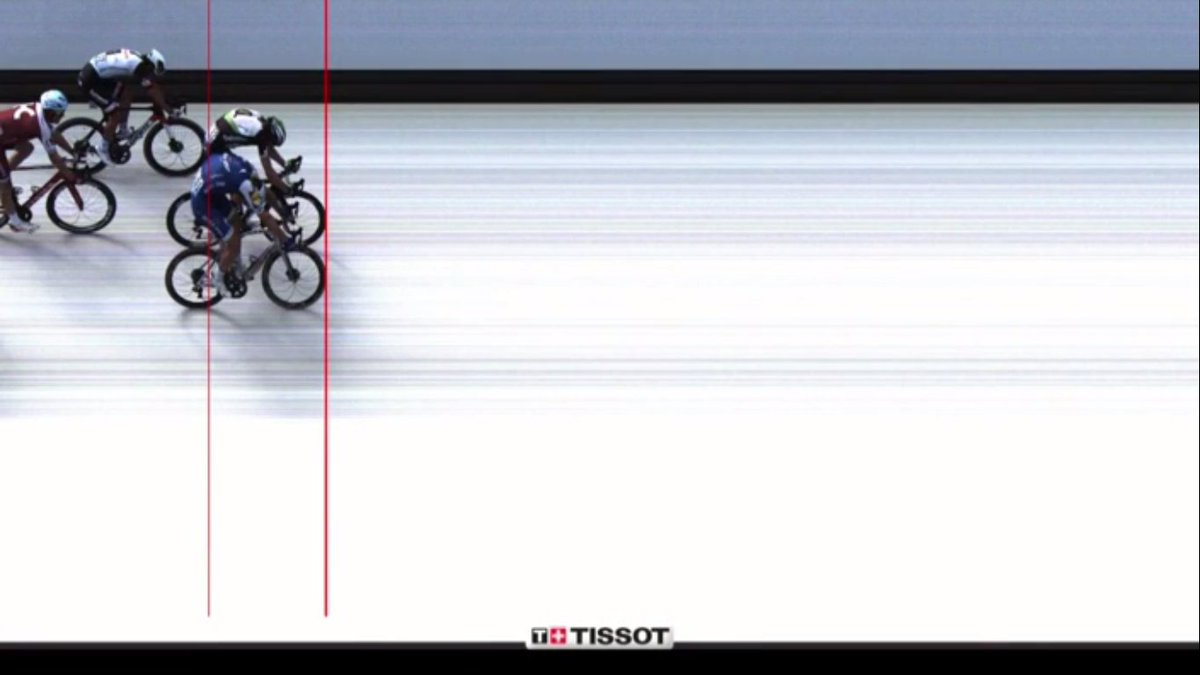 Stage 7 Kittel for way less than 1 second
How many time lasts this time to the line? Solo breakers for sure will agree with Henri Bergson: the time of the last meters, while you are riding full gas in a chaos of voices, in the roaring of the crowd, your heart exploding, your mind too full or completely empty...
this time can't be calculated by the clock. It's the inner time of the 'duration', both dilatated and contracted by subjective feelinings and sesations.
But for a sprinter there is no time.

Not in the last meters at least. Where do they stop their count down? 1 km to go? probably early. Probably it depends on the the route.

How long lasts a sprint? both a second and a whole life.

Go in front but not too much so. Keep the right position. Catch the right wheel. Jump! Brake! speed up! again! Fill the hole NOW because

the hole is just the emerging chance of this fraction of second.
Probably sprinters are more about the liquid concept of space than about the eluding concept of time.

Indead it's all in the inch of wheel you put in front. It always strikes me the fact they usually know they won, even when it's matter of nothing. Does it hurt more losing for nothing? Probably they know what they should have done different and where...
Lilian Calmejanel:
"It's incredible. Since the start of the Tour we've been at the front, but I never thought it would lead to a success like this. I'm a rider who likes to animate the race, and I said to my teammates I wanted to try something today. They did such great work today, they allowed me to realise my dream, of winning a stage at the Tour.
I never imagined such a scenario. I thought that when we went to seven in the break we might have a chance of contesting the stage, but to win solo like that, it's incredible."
From kilometre-zero right until the finish it was full gas. At the end there it was a mental battle, you couldn't let your head go. More than legs, it was about the head today."
RESULTS
STAGE 6
1KITTELMarcelQuick-Step Floors1201005:05:34
3GREIPELAndréLotto Soudal2550,,
4KRISTOFFAlexanderTeam Katusha - Alpecin1540,,
5BOUHANNINacerCofidis, Solutions Crédits532,,
6GROENEWEGENDylanTeam LottoNL-Jumbo 26,,
7MATTHEWSMichaelTeam Sunweb 22,,
8MCLAYDanielFortuneo - Oscaro 18,,
9SELIGRüdigerBORA - hansgrohe 14,,
10DEGENKOLBJohnTrek - Segafredo 10
STAGE 7
1KITTELMarcelQuick-Step Floors1201005:03:18
2BOASSON HAGENEdvaldDimension Data5070,,
3MATTHEWSMichaelTeam Sunweb 2550,,
4KRISTOFFAlexanderTeam Katusha - Alpecin1540,,
5DEGENKOLBJohnTrek - Segafredo532,,
6GROENEWEGENDylanTeam LottoNL-Jumbo 26,,
7SELIGRüdigerBORA - hansgrohe 22,,
8BOUHANNINacerCofidis, Solutions Crédits 18,,
9GREIPELAndréLotto Soudal 14,,
10MCLAYDanielFortuneo - Oscaro 10,,
STAGE 8
1CALMEJANELilianDirect Energie12010 04:30:29
2GESINKRobertTeam LottoNL-Jumbo507 00:37
3MARTINGuillaumeWanty - Groupe Gobert25500:50
4ROCHENicolasBMC Racing Team1540,,
5KREUZIGERRomanORICA-Scott532,,
6ARUFabioAstana Pro Team 26,,
7VALGRENMichaelAstana Pro Team 22,,
8MAJKARafałBORA - hansgrohe 18,,
9BROWNNathanCannondale-Drapac Pro Cycling Team 14,,
10HARDYRomainFortuneo - Oscaro 10,
GC
1(1)FROOMEChristopherTeam Sky2533:19:10
2(2)THOMASGeraintTeam Sky 0:12
3(3)ARUFabioAstana Pro Team 0:14
4(4)MARTINDanielQuick-Step Floors 0:25
5(5)PORTERichieBMC Racing Team 0:39
6(6)YATESSimonORICA-Scott 0:43
7(7)BARDETRomainAG2R La Mondiale 0:47
8(8)CONTADORAlbertoTrek - Segafredo 0:52
9(9)QUINTANANairoMovistar Team 0:54
10(10)MAJKARafałBORA - hansgrohe 1:01