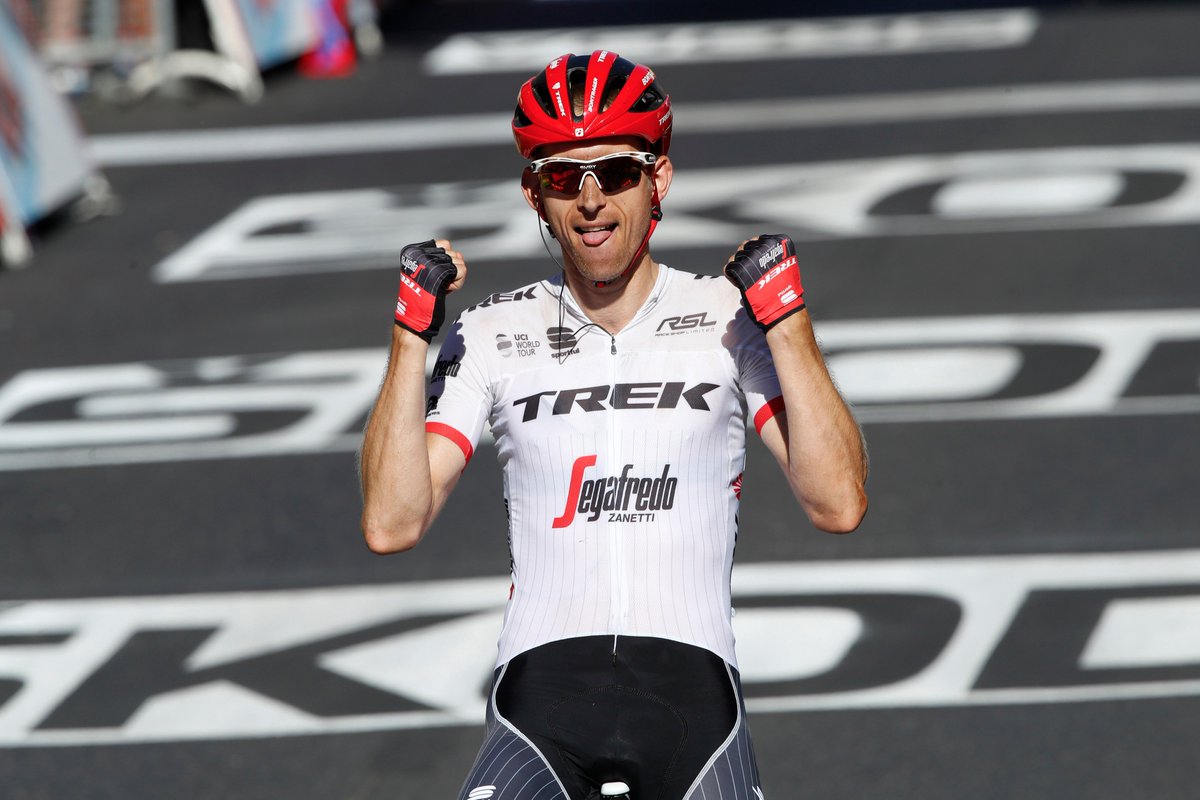 Bauke Mollema winning solo
From the sea side to Florence, to my Hakula again,

I'm on the move! I'm watching the Tour but I had few time for writing

and almost never wii-fii. Honestly I don't think I've lost that much... In my opinion this is one of the most boring Tour ever.

Chris Froome is not in his best form, that's true, but Team Sky

- even without Geraint Thomas -

is the best team in the race

. AG2R is also very strong and Romain

Bardet is a brave, this route however doesn't advantage the attackers.

So far at least.

Fabio Aru has no team

at all and

Rigoberto Uran

is good but

not good enough

to aim to the victory.
The

Polka Dot

jersey is steadily on the shoulder of

Warren Barguil

while

Simon Yates

seems a solid

White jersey

. As far as the

Green jersey

is concerned...

Marcel Kittel

is winning almost all the sprints, so...!
Bardet, Barguil and Mollema won the more exciting mountains stages

, but in different styles. Bardet and Barguil for few seconds or less, Mollema for 19'' after a day spent in the break and a long solo ride.
Lacking of actions, the Tour has been rich of rumors.

First of all the

Fair Play

never ending story. My opinion is that you don't attack the Yellow jersey on a mechanical and moreover on a crash. Mass crashes require a neutralisation.

Fabio Aru attacked Chris Froome in a way I find unsporty, not so Romain Bardet

because his attack was obviously planned and started before Froome's puncture.
Then the

Froome/Landa

story... I like Landa very much, he's one of my favourite riders, in any other team he would be the leader and he can win the Tour.

But he's loyal.

I understand that he's

leaving Team Sky looking for a more gratifying role

, given that they have Chris Froome and Geraint Thomas as Tour Tour de France leaders, present and future. That's normal. It's also normal that Team Sky prefer to lose the jersey for two days to Fabio Aru who has no team for to defend it than trying to take it by Landa letting Froome sink. When Landa is told to wait for Froome he does.

End of the story. Or better: no story

.
"This is for sure my biggest win. I just can't believe it! This is what I have worked so hard for the last few years. The Tour de France has always been the most important race for me, always been my dream, and finally, I have won a stage.
The last kilometers were really hard.

I knew I had to try because I am not so explosive and I would not have won the sprint.

I was pushing all the time

, and in one moment it came back to 11 seconds. At that moment, I was thinking I have to go; I don't want to lose it now. So with two kilometers to go, I just gave everything I had.
Yesterday I had seen the last six kilometers on Google maps, so

I knew the corners more or less, so I didn't blow up

, I could keep going to the finish line. Then in the last kilometer I knew I still had 10-15 seconds, so at that moment I knew I was going to make it.

The last few hundred meters were so nice.

I could really celebrate, enjoy all the people, and enjoy winning a Tour de France stage. I will never forget this.
At the beginning of the stage it was close to not making it [in the break].

A breakaway went with 10 guys, and a lot of teams wanted to block the road, and we were not able to pass, and they took like one and a half minutes. Finally, Michael Gogl and Koen De Kort could pass,

they went through the grass to get to the front!

They did an amazing job because that is why I could win. They kept the speed high in the peloton until the first climb and then I pulled from the bottom. I didn't get much help, I pulled the whole climb, and finally we got away with 25 guys and could bridge to the five ahead. After that, I had to recover because it was a big effort.
I saw Tony Martin that he also attacked in a small descent earlier, and I knew that I could keep going once I am in the front. When I looked back, and I saw a small gap in that descent I just went all-in from that moment. Alain (Gallopin, director) was motivating me and giving me time gaps.

I don't think I have ever did so long an attempt at riding alone

, it was close, but in the end I made it. I think this means a lot for the team – we really wanted to go for it today.

I have never been on the podium in the Tour de France, so this is really special to be there

. I have been close a few time in the last five years, and today was just my day. Yeah, I am really happy."
10
- Périgueux › Bergerac
KITTEL
Marcel
GC
FROOME Christopher
11
- Eymet › Pau
KITTEL
Marcel
GC
FROOME Christopher
12
- Pau › Peyragudes
BARDET Romain
GC
ARU Fabio
13
- Saint-Girons › Foix
BARGUIL
Warren
GC
ARU Fabio
14
- Blagnac › Rodez
MATTHEWS Michael
GC
FROOME Christopher
15
- Laissac-Sévérac l'Église › Le Puy-en-Velay
MOLLEMA Bauke
GC
FROOME Christopher
1BARDETRomainAG2R La Mondiale12010 05:49:38
2URANRigobertoCannondale-Drapac Pro Cycling Team507 00:02
3ARUFabioAstana Pro Team2550,,
4LANDAMikelTeam Sky15400:05
5MEINTJESLouisUAE Team Emirates5320:07
6MARTINDanielQuick-Step Floors 260:13
7FROOMEChristopherTeam Sky 220:22
8BENNETTGeorgeTeam LottoNL-Jumbo 180:27
9YATESSimonORICA-Scott 14,,
10NIEVEMikelTeam Sky 101:28
11QUINTANANairoMovistar Team 82:04
12BARGUILWarrenTeam Sunweb 62:08
13CARUSODamianoBMC Racing Team 42:11
14CONTADORAlbertoTrek - Segafredo 22:15
15LATOURPierreAG2R La Mondiale 12:59
16MARTINGuillaumeWanty - Groupe Gobert 4:20
17BENOOTTiesjLotto Soudal 4:33
18PAUWELSSergeDimension Data 4:36
19VUILLERMOZAlexisAG2R La Mondiale ,,
20FEILLUBriceFortuneo - Oscaro 4:56
1(2)ARUFabioAstana Pro Team2552:51:49
2(1)FROOMEChristopherTeam Sky 0:06
3(3)BARDETRomainAG2R La Mondiale 0:25
4(4)URANRigobertoCannondale-Drapac Pro Cycling Team 0:35
5(6)MARTINDanielQuick-Step Floors 1:41
6(7)YATESSimonORICA-Scott 2:13
7(9)LANDAMikelTeam Sky 2:55
8(8)QUINTANANairoMovistar Team 4:01
9(10)BENNETTGeorgeTeam LottoNL-Jumbo 4:04
10(11)MEINTJESLouisUAE Team Emirates 4:51
1BARGUILWarrenTeam Sunweb 12010 02:36:29
2QUINTANANairoMovistar Team5070,,
3CONTADORAlbertoTrek - Segafredo2550,,
4LANDAMikelTeam Sky15400:02
5YATESSimonORICA-Scott5321:39
6MARTINDanielQuick-Step Floors 26,,
7KWIATKOWSKIMichalTeam Sky 221:48
8FROOMEChristopherTeam Sky 18,,
9ARUFabioAstana Pro Team 14,,
10URANRigobertoCannondale-Drapac Pro Cycling Team 10,,
1(1)ARUFabioAstana Pro Team2555:30:06
2(2)FROOMEChristopherTeam Sky 0:06
3(3)BARDETRomainAG2R La Mondiale 0:25
4(4)URANRigobertoCannondale-Drapac Pro Cycling Team 0:35
5(7)LANDAMikelTeam Sky 1:09
6(5)MARTINDanielQuick-Step Floors 1:32
7(6)YATESSimonORICA-Scott 2:04
8(8)QUINTANANairoMovistar Team 2:07
9(10)MEINTJESLouisUAE Team Emirates 4:51
10(11)CONTADORAlbertoTrek - Segafredo 5:22
1MATTHEWSMichaelTeam Sunweb 1201004:21:56
2VAN AVERMAETGregBMC Racing Team5070,,
3BOASSON HAGENEdvaldDimension Data25500:01
4GILBERTPhilippeQuick-Step Floors1540,,
5MCCARTHYJayBORA - hansgrohe532,,
6COLBRELLISonnyBahrain Merida Pro Cycling Team 26,,
7FROOMEChristopherTeam Sky 22,,
8MARTINDanielQuick-Step Floors 18,,
9URANRigobertoCannondale-Drapac Pro Cycling Team 14,,
10BENOOTTiesjLotto Soudal 100:05
11BARDETRomainAG2R La Mondiale 8,,
12STYBARZdenek Quick-Step Floors 6,,
13YATESSimonORICA-Scott 4,,
14BAKELANTSJanAG2R La Mondiale 2,,
15MARTENSPaulTeam LottoNL-Jumbo 1,,
16CIMOLAIDavideFDJ 0:12
17BOUHANNINacerCofidis, Solutions Crédits ,,
18CLARKESimonCannondale-Drapac Pro Cycling Team ,,
19MARCATOMarcoUAE Team Emirates 0:15
20LANDAMikelTeam Sky ,,
21CALMEJANELilianDirect Energie 0:20
22CARUSODamianoBMC Racing Team ,,
23QUINTANANairoMovistar Team 0:22
24CONTADORAlbertoTrek - Segafredo ,,
25BENNETTGeorgeTeam LottoNL-Jumbo ,,
26NAESENOliverAG2R La Mondiale 0:25
27BRAMBILLAGianlucaQuick-Step Floors ,,
28MEINTJESLouisUAE Team Emirates ,,
29BUCHMANNEmanuelBORA - hansgrohe ,,
30ARUFabioAstana Pro Team
1(2)FROOMEChristopherTeam Sky2559:52:09
2(1)ARUFabioAstana Pro Team 0:18
3(3)BARDETRomainAG2R La Mondiale 0:23
4(4)URANRigobertoCannondale-Drapac Pro Cycling Team 0:29
5(5)LANDAMikelTeam Sky 1:17
6(6)MARTINDanielQuick-Step Floors 1:26
7(7)YATESSimonORICA-Scott 2:02
8(8)QUINTANANairoMovistar Team 2:22
9(9)MEINTJESLouisUAE Team Emirates 5:09
10(10)CONTADORAlbertoTrek - Segafredo 5:37
1MOLLEMABaukeTrek - Segafredo1201004:41:47
2ULISSIDiegoUAE Team Emirates507 00:19
3GALLOPINTonyLotto Soudal2550,,
4ROGLICPrimozTeam LottoNL-Jumbo1540,,
5BARGUILWarrenTeam Sunweb 5320:23
6ROCHENicolasBMC Racing Team 261:00
7CALMEJANELilianDirect Energie 221:04
8BAKELANTSJanAG2R La Mondiale 18,,
9PINOTThibautFDJ 14,,
10PAUWELSSergeDimension Data 10,
1(1)FROOMEChristopherTeam Sky2564:40:21
2(2)ARUFabioAstana Pro Team 0:18
3(3)BARDETRomainAG2R La Mondiale 0:23
4(4)URANRigobertoCannondale-Drapac Pro Cycling Team 0:29
5(6)MARTINDanielQuick-Step Floors 1:12
6(5)LANDAMikelTeam Sky 1:17
7(7)YATESSimonORICA-Scott 2:02
8(9)MEINTJESLouisUAE Team Emirates 5:09
9(10)CONTADORAlbertoTrek - Segafredo 5:37
10(14)CARUSODamianoBMC Racing Team 6:05